Most wallets have a one year warranty. Bellroy triples this with a 3-year warranty. All of the wallets in this post are backed by lifetime warranties.
I'm sure there are more wallets out there with a lifetime warranty, but I feel pretty good about recommending the 9 on this list. I can say that because I own most of them, and I've put them through my own personal stress tests.
Yes, I think every wallet in this post is made well enough to last a lifetime.
Note: The devil is the details, so I included the actual wording of the manufacturer's lifetime warranty at the end of each description.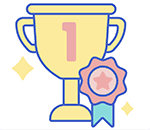 Best: Aviator Slide
This finely made wallet from Germany is built to order, with many different options.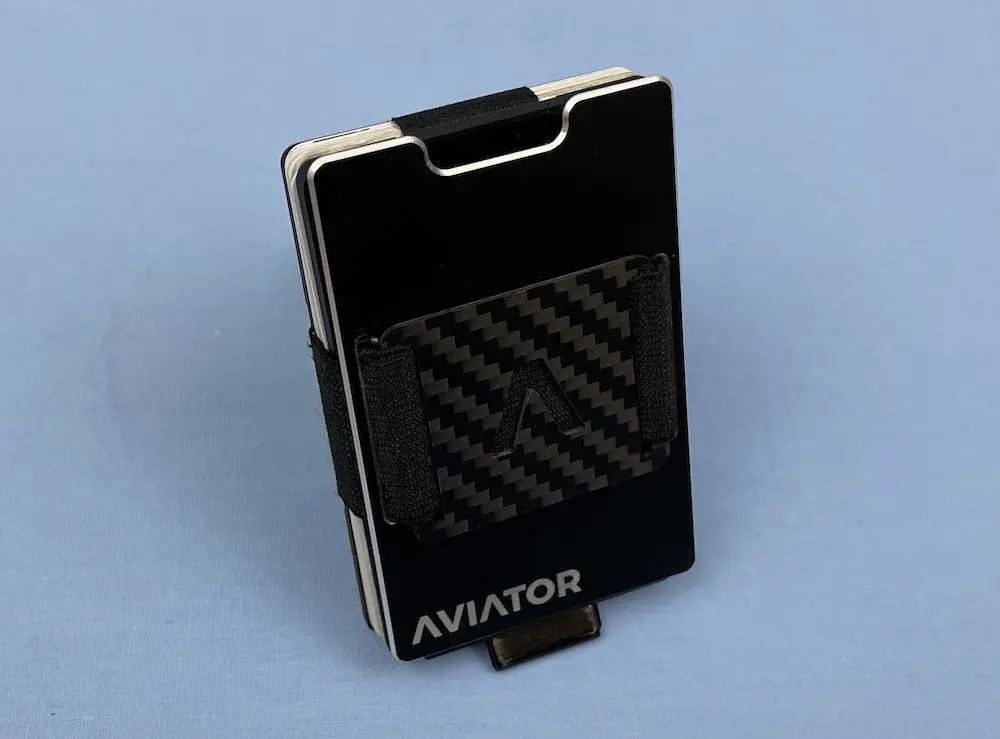 For anyone who pines for a bulletproof metal, the Aviator Slide is the creme de la creme. The Aviator improves on the much-imitated "sandwich-style" wallet design with a pull tab that ejects up to 20 cards.
Or you can flip it over and use your thumb to push them out from a slot on the opposite side. Take your pick.
The adjustable elastic band comes factory-set to whatever number of cards you plan to carry, from 1 to 20. If you change your mind after you purchase, that's okay to, too, because you can re-adjust the capacity yourself.
The best feature? It has a pull tab to eject your cards. You don't need to slide the cards out with your thumb (though you can).
In my opinion, EVERY wallet should have a pull tab. It just makes managing your cards so much easier.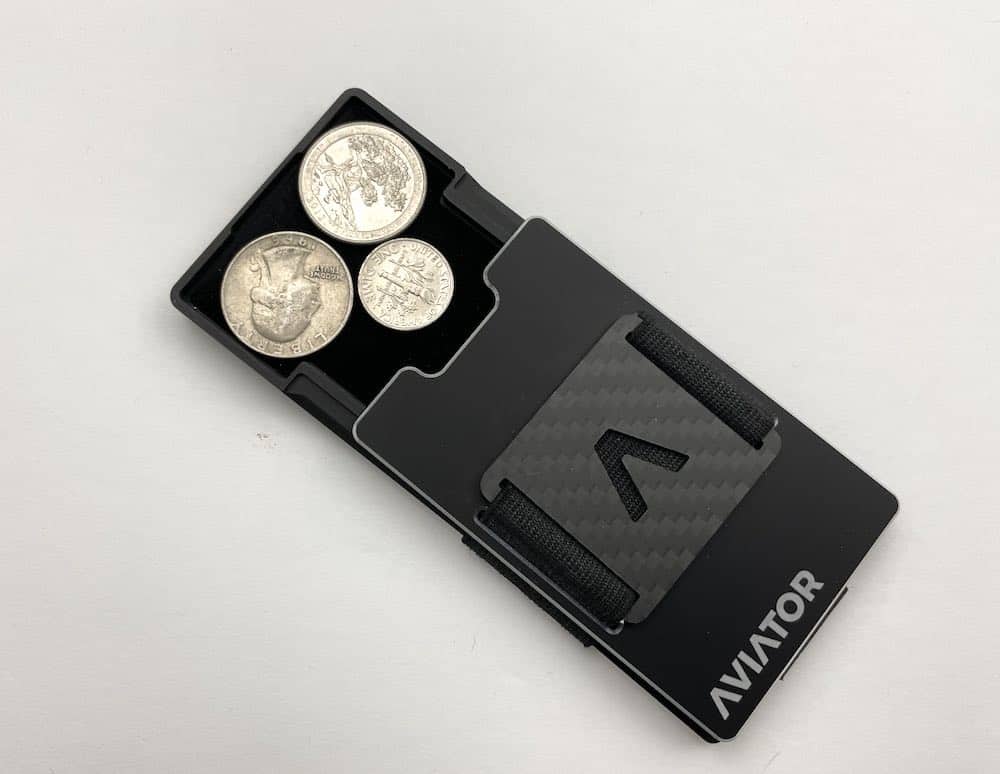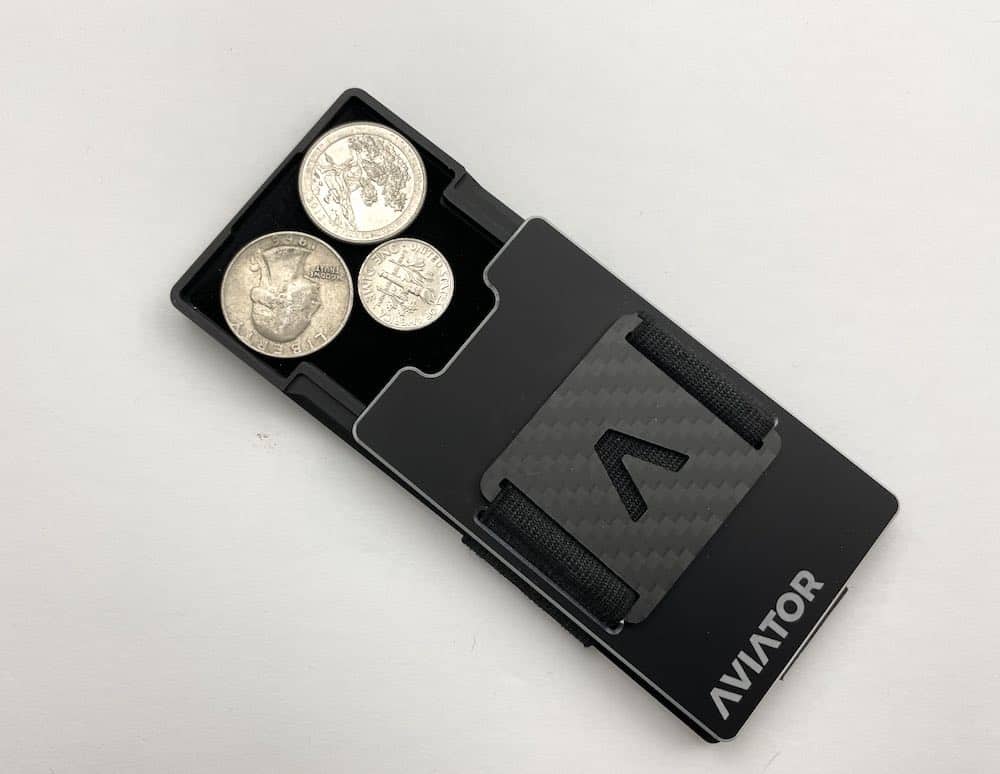 The aluminum coin holder tray is another bonzo feature. It slides in and out easily, even when the card holder is loaded with cards. The Aviator will hold up to 20 cards, but for me, the sweet spot is about 8. It just feels right.
You can order the coin tray made from either acrylic or aluminum. The same goes for the inner frame. There are plenty of cool options for this wallet when you order. But beware, the price can climb quicker than a lizard on a hotplate. Just sayin'.
The lifetime warranty is the icing on the cake and the build quality is up to the challenge. Entirely designed, made, and shipped from Germany, the shipping might be a tad longer than the sprinters at Amazon Prime.
But it will be worth the wait. It's my favorite metal wallet.
Here's the fine print of their lifetime warranty.

Also great: Dango D01 Dapper
This tactical wallet scores for style points and is built to last.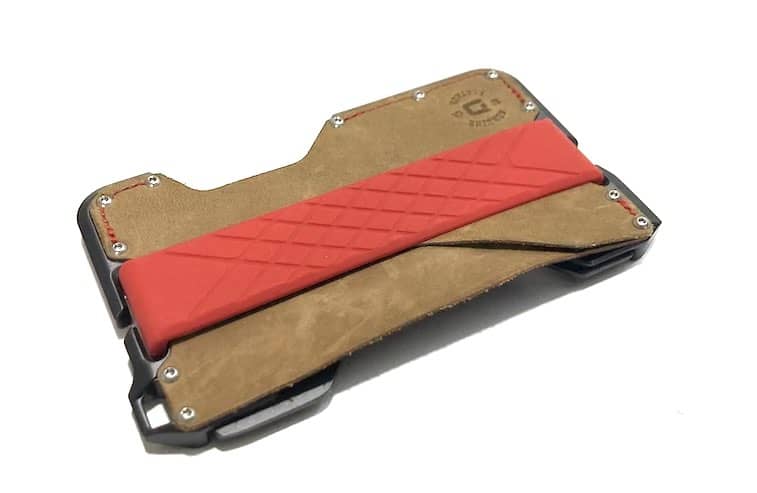 Dango's a fan favorite wallet company and for good reason. They create reliable, awesome tactical wallets and the D01 Dapper follows that trend. It's sophisticated yet rural, dressed to the nines with contrasting top-grain leather and a tough, aerospace-grade aluminum frame.
The rigid aluminum structure blocks RFID scans and is a bulwark against card bending or breaking.
Not just a pretty face, the Dango D01 Dapper is damn nearly impossible to kill. The leather is attached to the aluminum frame with no less than 11 mil-spec bolts.
A thick silicon band runs lengthwise and provides the tension that binds up to 12 cards in place. Under the band is where you store your cash, receipts, and other miscellanea. 
All this just about makes the included lifetime warranty seem almost superfluous, doesn't it? But hey, never look a beautiful, shiny, perfect gift horse in the mouth.
Here's the fine print of their lifetime warranty.

Kings Back MagSafe wallet
The full grain leather feels tough and substantial.
I've really been into MagSafe accessories so I've been happily carrying the Kings Back MagSafe wallet that magnetically attaches to any iPhone 12 or 13. And that includes my iPhone 12 Pro with an Apple MagSafe silicone case.
It's a full-grain leather wallet made by the Kings Loot company that features a pull-tab for ejecting your cards. Kings Loot says it will hold 6 cards, but I've never been able to squeeze in more than 3. This is about average for MagSafe wallets.
If you're looking for a wallet with a true 7 card capacity, check out the Peak Design Mobile wallet. It has the highest capacity of any MagSafe wallet.
The pull tab does its job of quickly extracting cards with an easy tug. It's a great feature, and one that's only found on MagSafe wallet made by Distil Union called the Wally Junior MagSafe wallet. Though I found that the Kings Back has smoother action than the Wally Junior.
The Kings Loot is an up-and-coming brand that might be under your radar screen. But it's DEFINITELY worth checking out.
Here's the fine print of their lifetime warranty.
Our LIFETIME REPLACEMENTS program is designed to add the most value to our customers. We will replace your wallet at any time for any reason. We don't just want a one time customer, but a customer for life. No gimmicks or catches. Just send your wallet in and we will replace your wallet at any time for any reason. 
Rugged Material Ranger Minimalist
Made from thick steel plates, this minimalist card holder will outlive us all.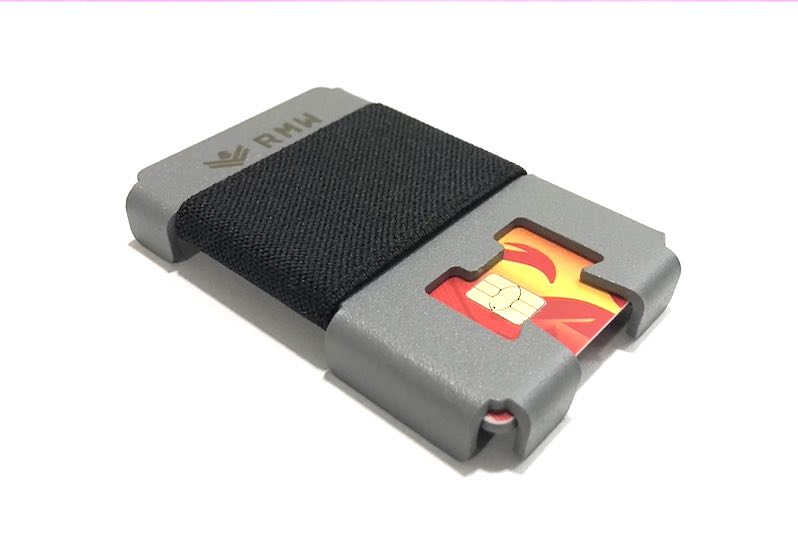 When you think of the brand name "Rugged Material," you're probably imagining something efficient, a little rustic, but most of all tough. With a no-frills metal frame made from two plates of powder-coated steel, your mental image is pretty close to the mark.
The Rugged Materials Ranger Minimalist is simple black, tan, or gray body and thick elastic band are neutral and handsome, just as ready for a dinner date as it is for the liquor store.
What's really special is its overbuilt design and stupidly handy built-in tool. You can open a beer bottle without rummaging for a "church key," then stumble outside to tighten a loose hex-head bolt on the lawnmower. 
This wallet is so overbuilt that you could use it as a weapon in a pinch. Oh, and the fact it is guaranteed for life doesn't hurt, either.
Here's the fine print of their lifetime warranty.

The Ridge
This card holder is the original that became the standard-bearer for sandwich-style wallets .
You don't need to be a wallet connoisseur to know quality when you see it. The Ridge is known for being one of the thinnest yet toughest cardholders on the market today.
So it doesn't take a genius to figure out how they can afford to offer a lifetime warranty. The odds of breaking it or willingly choosing to replace it are not in your favor.
Able to hold up to 12 cards with ease, Ridge has recently added even more colors and styles to their lineup. Choose from titanium, aluminum, or two different kinds of carbon fiber.
It's by far one of the best every day carries money can buy. That's why it has inspired dozens and dozens of lower priced knock-offs. (link).
From its beginnings on Kickstarter in 2014, the Ridge has emerged as a premium wallet with tons of brand recognition. When you whip it out at the hardware store, the guy with the load of PVC pipe behind you will notice.
Here's the fine print of their lifetime warranty.

Trayvax Original 2.0
Adjustable paracord lacing provides the tension that holds up to 12 cards between metal plates.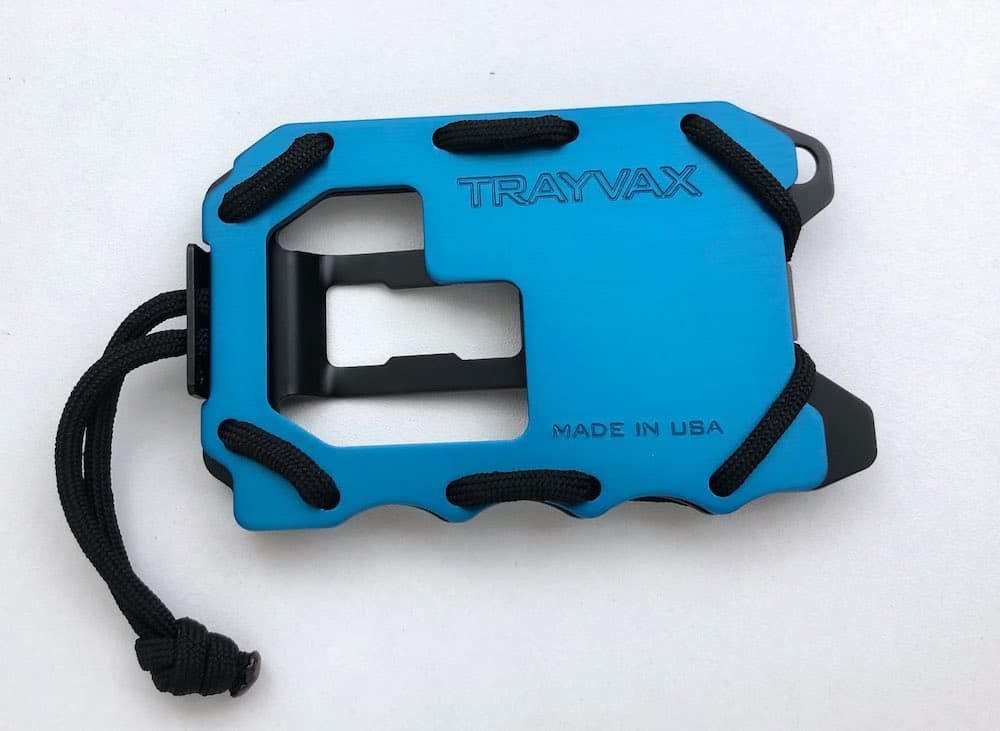 Lifetime warranties are great, but nobody wants to have to use them. I mean, who wants to be wallet-less until it's repaired or replaced? Give me something I can trust from the beginning like the Trayvax Original 2.0.
It uses two metal plates: one is stainless steel (with an integral money clip) and the other is aluminum. Mill-spec paracord that laces it all together. That's it! Just three ingredients to carry up to 12 cards with RFID-blocking security.
I found there is a learning curve to getting the tension on the paracord just right, but no harder than adjusting your lace-up running shoes. And once it's set, it's set.
Yes, it has a lifetime warranty, but the irony is you'll probably never have to use it. It's always best to get something that you can feel confident will last, relegating a warranty to what it should be: emergency insurance. The Trayvax hits this particular nail on the head, and it's all designed and manufactured in the USA.
Here's the fine print of their (almost) lifetime warranty.

Armour Supply Co. Wallet
A Ridge wallet knock-off that comes complete with a multitool and key holder.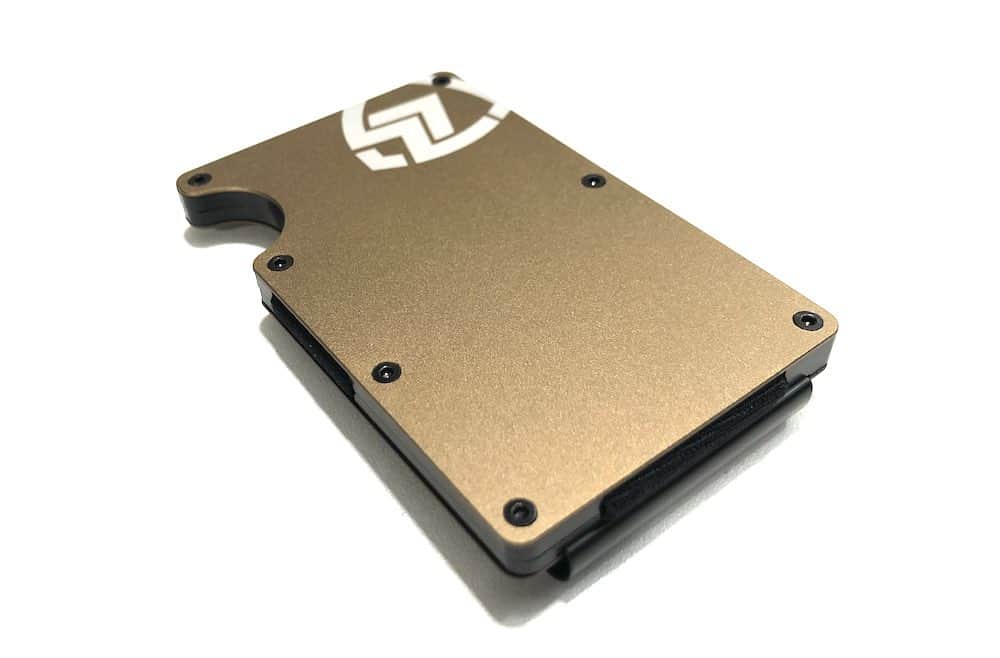 A person in possession of a modest fortune (and overstuffed pockets), must be in want of a good wallet – or however that quote goes. I might have taken a few creative liberties here.
Either way, the Armour Supply Co. wallet fits the bill. It closely resembles the Ridge with but with a few of its own tweaks like different cosmetic designs and an included free multitool, Armour Supply Co.'s offering has all the same longevity, 12-card capacity, cash-carrying options, and a lifetime guarantee.
RFID-blocking capabilities come standard, but best of all? It's a lot less expensive than the Ridge. What's not to like about that? Sounds like the Mr. Darcy of wallets to me.
Here's the fine print of their lifetime warranty.

Bryker Hyde Minimalist 1.0
Full-grain leather, interior money clip, and outside ID window propel this wallet to the top of the heap.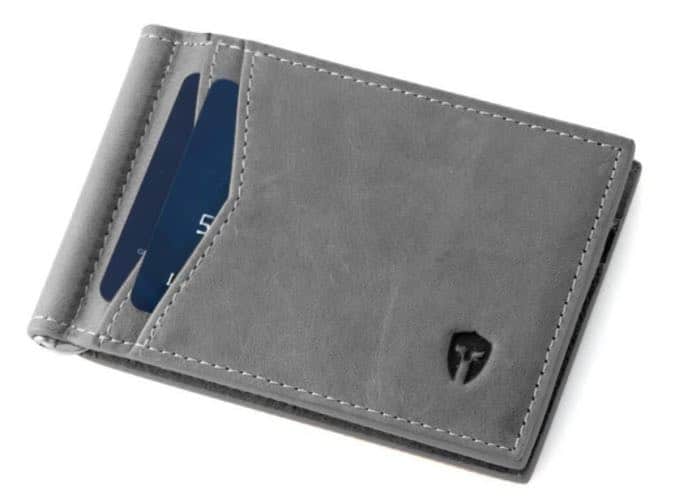 Despite being a lesser-known option compared to other wallet heavy hitters here, the Bryker Hyde Minimalist 1.0 has everything you need in one inexpensive, affordable package. The biggest draw is its design which maintains the traditional bifold aesthetic while borrowing heavily from the minimalist, front pocket ones we've collectively taken a shine to in the last few years. Although, its thinness and sleek lines are a plus.
Other high points? Bryker Hyde's Minimalist has an 8-card capacity to keep you organized. It's put together with genuine top or full-grain leather (depending on color choice), so it's sturdy and built to last. That awesome lifetime warranty is still here, however, for extra protection.
A word of caution: I read the fine print and the warranty is only available when you buy straight from Bryker Hyde. No Amazon orders here, folks.
Here's the fine print of their lifetime warranty.

7. Peak Design Mobile wallet
With a metal frame covered in waterproof, recycled canvas, it's built to last.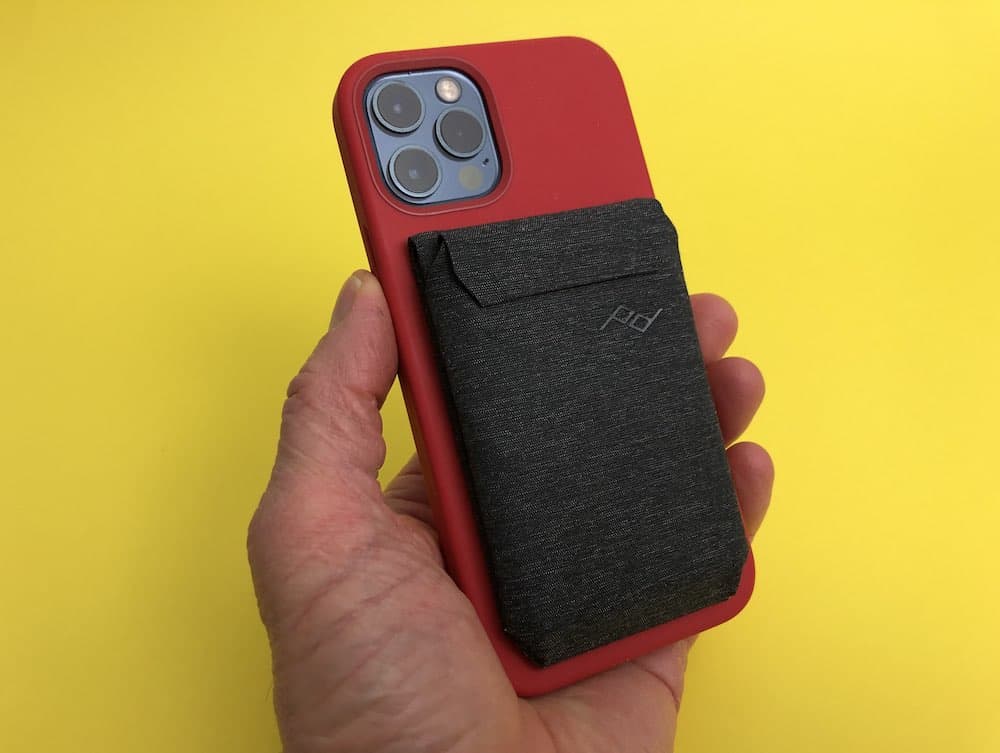 The Peak Design Mobile wallet is a MagSafe wallet designed for your iPhone 12 or 13. With a whopping capacity of 7 cards, it holds twice as many cards as most other MagSafe wallets.
The other thing I really like is that you don't have to remove the wallet from your phone to access your cards like you do with the Apple MagSafe wallet. It also has pull tab that ejects your cards quickly with an easy tug of the flap that covers the cards.
This flap also has a magnet embedded in that automatically folds over your cards when you push them back in.
The Peak Design Mobile wallet is also one of the sturdiest kickstands I have tested. It uses a friction hinge which holds the kickstand in a "sandwich board" type position. In this case, the word "friction" really means stiff and works will to hold the wallet (and your phone) steady.
A really unusual feature is the 100% recycled canvas fabric that covers the wallet. It gives it some uptown pizzaz and stylish edge, yet feels like it's going to last.
Here's the fine print of their lifetime warranty.

ACM Protek
Labeled buttons assure you can eject the card you want with zero fumbling in the check-out aisle.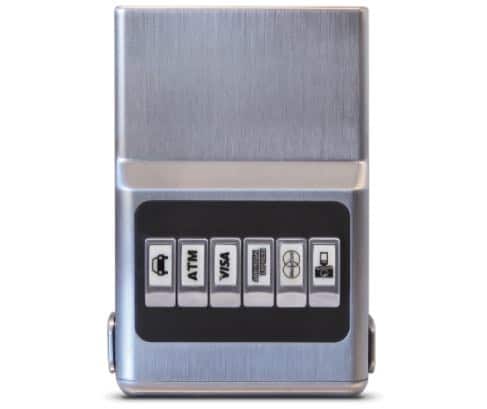 ACM's wallet may not attack, but it can certainly "protek." Looking more like a miniature safe or an ant's version of a panic room than an honest-to-goodness wallet, it's practically indestructible.
The hand-assembled metal body keeps cards from scratching, bending, and breaking to ensure cards stay safe from harm. It does this with 6 individual compartments that keeps cards separated so they don't rub together or become demagnetized.
Perhaps the coolest feature, though, beyond its surprising protection, is the flexible labeling. The ACM Protek comes complete with 18 logo stickers for easy card identification, meaning you can grab on the go with no awkward fumbling necessary.
Maybe that doesn't seem like a huge deal, but I've never heard of any other smart wallet that does it.
Here's the fine print of their lifetime warranty.