Titanium money clip wallets are the new kids on the block in the evolution of the traditional wallet. Who wouldn't want to carry a minimalist, super-light wallet that's just about indestructible?
Because of its strength and toughness, titanium is used for everything from rockets to heart valves to hip replacements. It weighs considerably less than steel but it's just as strong. And it doesn't corrode, so it stays looking new for a long long time. This makes it a good choice for money clips. 
To buy a wallet made from titanium is a splurge, to be sure. But it's worth it when you rub your fingers over this fine metal in your pocket. All of the titanium wallets in this post have a money clip, but the design and function of each of them are unique.
Let's take a quick look at 5 of them, shall we?
Best overall: The Ridge Titanium
A rugged and beautiful money clip wallet for minimalists. It's my top pick.
The Ridge Titanium cardholder wallet has become the gold standard for minimalists who long for an ultra-simple design in a front pocket EDC. It uses Grade 5 titanium that comes with your choice of 4 four different finishes. It will hold up to 12 cards sandwiched securely between titanium plates.
For me, after carrying this wallet every day for a month, I find that 6-7 cards are a lot easier to manage. For carrying cash and receipts, you can choose either a cash strap or a traditional money clip made from spring steel. 
The Ridge is such a compact wallet that it can get lost in your front pocket. That's a good problem to have (once you get over the initial panic of thinking it's not there). My favorite feature is that it rides comfortably next to my iPhone, even with tight jeans.
The Ridge provides RFID protection from digital theft and holds the cards tight but not too tight. They NEVER fall out. Use the money clip or money band for currency (folded over twice), store receipts, or a package of lens cleaning wipes. The Ridge has a lifetime warranty, too, so this may be the last wallet you ever own.
Want to learn more? Check out my full Ridge wallet review about this awesome money clip wallet. 
Best quality: Aviator Titan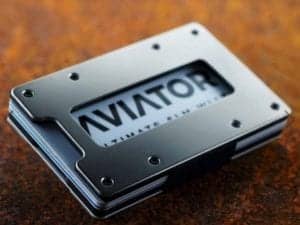 The best of the best. And the most expensive.
The Aviator Titan titanium money clip wallet is made from 99.9% pure Grade 1 titanium, the same grade that the military uses for supersonic jets. That's some top-shelf stuff. It's a sandwich design, similar to the Ridge wallet (read more about the Ridge below). An adjustable elastic band holds two titanium plates together.
You can set the tension of the elastic band with the enclosed torx screwdriver to hold from 1 to 20 cards. When you're ready to use a card, place your thumb inside the open slot on one side and slide it out.
Of course, the Aviator Titan wouldn't make the list if it didn't have a money clip for carrying cash. Well, technically, it's a cash band rather than a money clip. But they both do the same thing. Have a few coins to carry? The Aviator has a coin holder tray that will store up to 7 of them.
All components of the wallet are made in Germany and come with a lifetime warranty. Owner reviews rave about the compact size and clean design.
Best tactical: Calti titanium
A money clip wallet with a tactical look.
Like the Aviator and Ridge, the Calti titanium money clip wallet is a money clip card holder but with a much more engineered look. It is made from 100% titanium that is non-magnetic so, like carbon fiber,  it won't set off metal detectors. Rather than a strap to hold the titanium plates together, it has elastic that is laced around 3 sides of the perimeter. Over a year of testing by 100s of people, the Calti titanium wallet showed no damage or signs of wear. 
Related: How about a leather bifold wallet with an inside money clip?
Like all tactical wallets, the Calti has a futuristic look, as if it came out of an astronaut's pocket. It's a contemporary fashion statement for anyone with a minimalist, boots-on-the-ground philosophy. The Calti has RFID protection for up to 10 cards and a titanium money clip to hold cash or two entry tickets to the NASA Space Center in Houston. The titanium is laser cut and sanded with tiny glass balls. And it all has a no-questions-asked 365-day money-back guarantee.
Best all-in-one: Dango T02 Titanium Tactical Wallet
This wallet comes with a tool kit.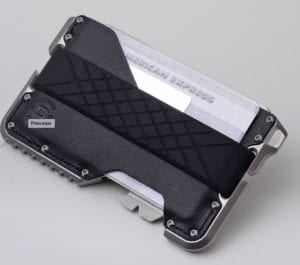 The Dango T02 is another titanium money clip wallet that doubles as a tactical wallet. Within the titanium plates, you can either carry up to 12 cards or a few less with the stainless steel multi-tool installed.
An elastic band provides the tension that holds your cards and the multi-tool in place. The elastic is also a money strap for carrying cash or a valet receipt. Because there is leather attached to one of the plates (screwed on with mil-spec bolts), it has a more refined appearance than the Calti tactical wallet. 
Who does this kind of money clip card holder appeal to? Me, for one. I like the idea of carrying a wallet that can do some of what a pocket knife can do—without having to carry a pocket knife. The footprint is only marginally larger than a credit card, so it fits neatly into a front pocket. If you remove the multi-tool, this slim titanium wallet will sail through a TSA metal detector without a beep.
Owner reviews say that the company has excellent customer service. Keep in mind that with the multi-tool installed, the wallet won't carry as many cards. 
Best minimalist: Govo titanium
By day it's a badge holder. By night it's a money clip wallet.
The Govo titanium has a hybrid design that superficially looks like a tactical wallet but its soul is much more white collar. Rather than sporting a cleverly disguised multi-tool, it doubles as a sturdy badge holder. The manganese steel money clip will hold cash, of course, but it will also clip it onto your pocket to display your work ID.
A transparent polycarbonate screen on the outside protects the ID from coffee and lunchtime ketchup splatter. Inside, a patented spring-loaded system holds 3 additional cards between the titanium plates.
The main body of the wallet is milled from one solid piece of titanium. It's water and sweat resistant, and, like all titanium, it will never corrode. Over 75% of the owners of the Govo titanium on Amazon give the wallet 5 stars. However, there are mixed comments about whether or not the titanium blocks work IDs from functioning. Some say yes. Some say no.
Everyone agrees that it is sturdily built and many love the solid lanyard attachment at the top of the money clip for hanging the Gobo around their necks. 
LEARN MORE: If titanium really isn't your thing, here are another 5 ultra-thin wallets with a money clip to choose from.