Hi! My name is Kim Stone and the following paragraphs will tell you a little bit about me and why I started WalletSurfer.com.
Until a few years ago, I was carrying a ratty black leather wallet that someone gave me as a gift sometime during the Clinton administration. It was a typical trifold wallet with a  place for cash, slots for half a dozen credit cards, and a transparent window where I kept an old faded photo of my kids. 
It was thick, brutish, and usually full of receipts that were 2 or 3 months old. I wasn't proud or ashamed. It was what it was. I just trudged along with an unbecoming lump in my front pocket that gradually created a permanent white outline in the blue denim of every pair of my Levis. 
I had heard of the new generation of innovative wallets, but only tangentially, the same way that I heard about smart thermostats and doorbells. There was technology involved, I figured. Maybe it was 3D printed or used some sort of advanced design and electronics. 
I never gave it much thought until I saw a guy making a return at a Home Depot. He was trying to find the credit card he used for his original purchase and had spread 6 or 7 cards out on the counter. When he was done, he straightened them up into a neat stack and placed them inside the tiniest wallet I had ever seen. 
It wasn't my intention to creep this guy out by staring at his wallet, but this was a first for me. I had no idea that such a thing existed. When I got home, I started to do some wallet research. It didn't take long for me to determine that his wallet was probably a Ridge cardholder or one of its dozens of knock offs. 
As I went deeper into my research, I discovered that there were minimalist wallets, trackable wallets, and wallets with RFID protection. Some wallets ejected your cards or sent an alert to your phone if you left your wallet behind.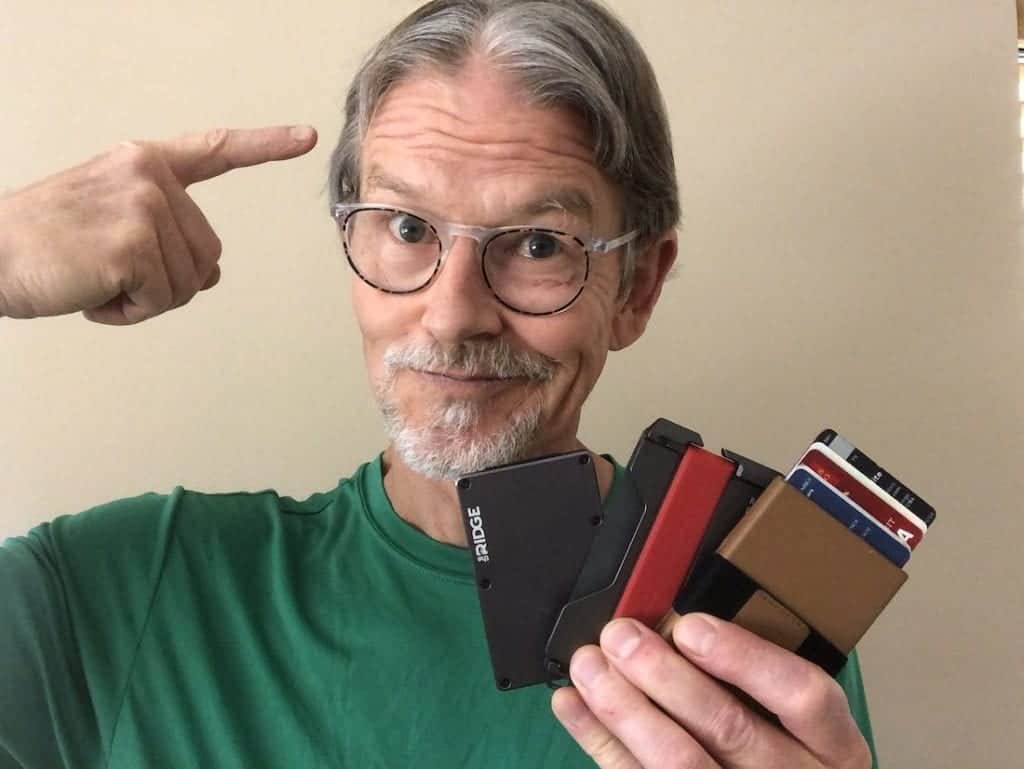 But I had to look long and hard to find this information. I was really surprised at how little was being said on the web about these radical new designs. I was sure there were more people like me who wanted to learn more. 
Why I started WalletSurfer.com
I had recently retired after 25 years as a horticulturist, arborist, writer, editor, webmaster, and IT manager for a botanical garden in Arizona. Believe it or not, I was doing most of those jobs at the same time on any given day! Call me a cross-trained multi-tasker.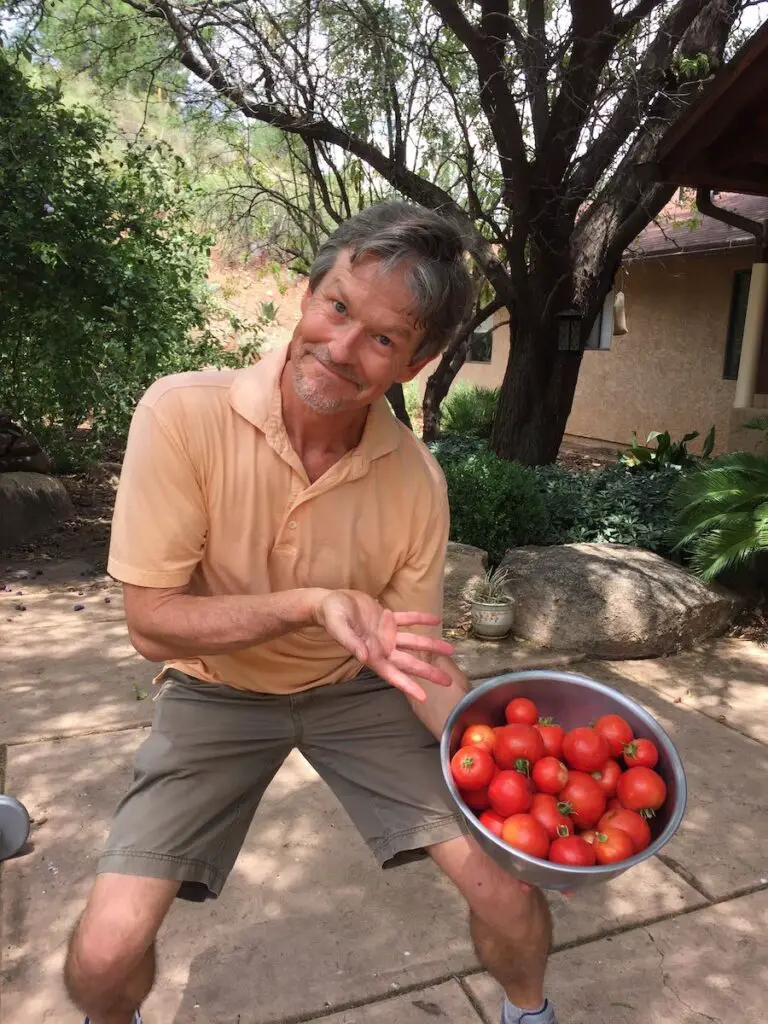 I started my first blog soon after I retired, but it was something that my heart really wasn't into. I worked diligently at it for about two years, until that fateful day at Home Depot when I got a much better idea. 
Oddly, there weren't many websites that had all of the information that I was looking for about these newfangled kinds of wallets. There were few "one-stop shops" that reviewed the kinds of wallets that I was interested in, at least not in the detail I was looking for.
So I decided to do it myself. 
Let the journey begin
I wanted to name my blog something simple that was easy to remember and went straight to the point about what I wanted to say. I chose WalletSurfer.com because it described exactly what I wanted to do: surf the web to find the coolest, most innovative wallets being made today.
If I was to become a wallet expert, I would need to buckle down and learn everything I could. And that's what I did.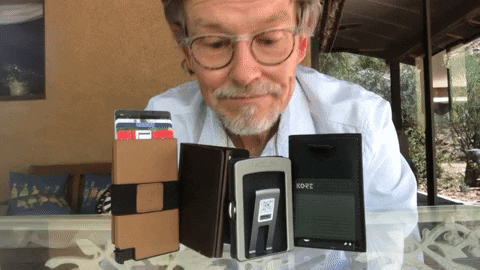 Since mid-2019, I have become a full-time resident of the wallet planet. I read every wallet-related blog I can find, watch hundreds of Youtube videos, communicate with manufacturers, and study the technology that makes these wallets tick. For individual reviews and many comparative roundup posts, I do a complete shakedown by carrying them in my pocket for several weeks or more.  
The first wallet I bought to begin my education in wallets was the Ekster Senate cardholder. To this day, I am still infatuated with the quick access ejection system. I just love to press that button and watch my cards come out.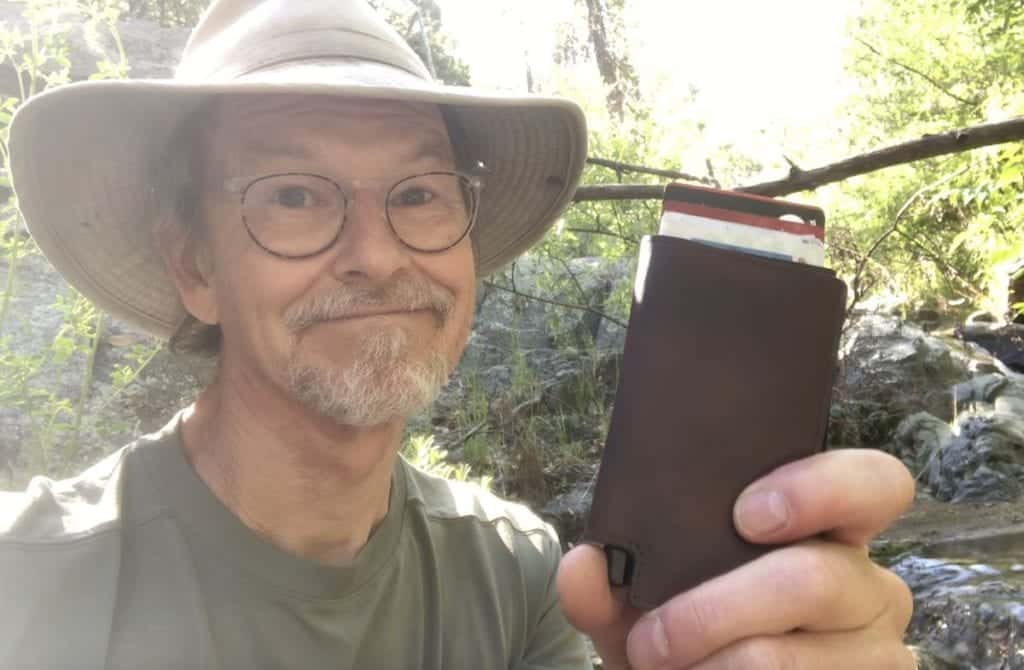 As of this writing, I have over 90 wallets, wallet tools, and tracking cards that are vying for the limited space in my office. Sometimes manufacturers send me these wallets and sometimes I buy them. But I still treat them all with the same objectivity when I review them.
After all, if I write a particularly critical review about a certain wallet, the worst that can happen is that a manufacturer won't send me any more. Boohoo. They can't all be winners.  
My goal at WalletSurfer.com
As I say on the home page of WalletSurfer.com, my goal is to help you learn about wallets. I write posts that address the kinds of questions you are asking. For every post, I do my homework and research the heck out of each wallet I review. 
If I don't actually have the wallet in hand, I read each wallet's website and sales pages. I read dozens and dozens of owner reviews and communicate directly with manufacturers if I have unanswered questions. 
I watch Youtube videos from people who give a particular wallet a thoughtful hands-on review. I often link these videos in my written posts so that you can see what I see.
I also have my own Wallet Surfer YouTube channel.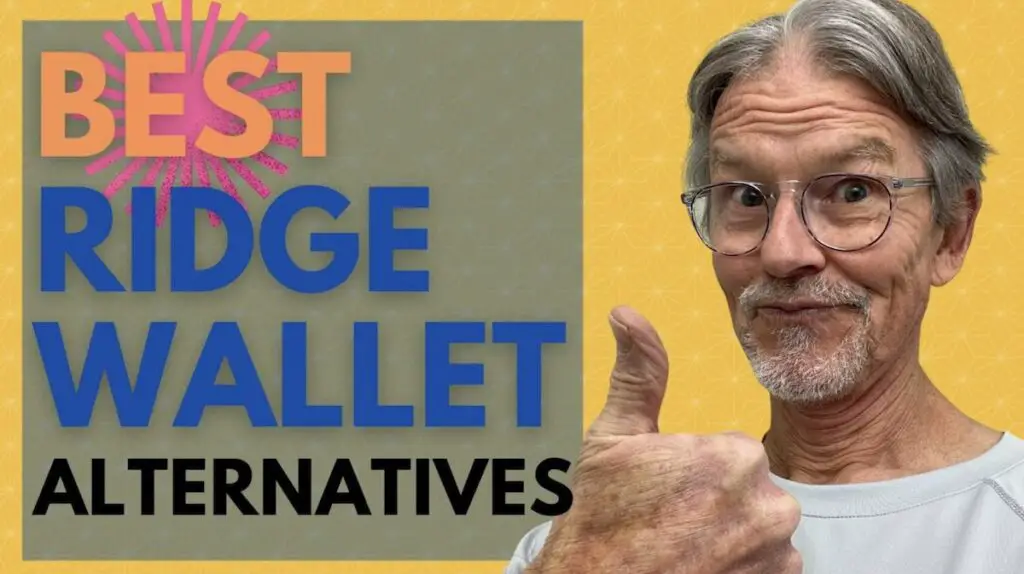 I only review wallets that are rated with 4 – 5 stars based on a good sampling of reviews. In fact, I prefer to review wallets that have at least 250 owner reviews over a period of several years whenever possible. This owner feedback is essential to make sure that a wallet has a solid track record over time.  
WalletSurfer.com is my full-time gig. That means I spend every day helping you learn about groovy wallets. As I learn more, you learn more. We're all in this together. 
Please feel free to contact me anytime. I'd love to hear from you.