---
The Ridge Wallet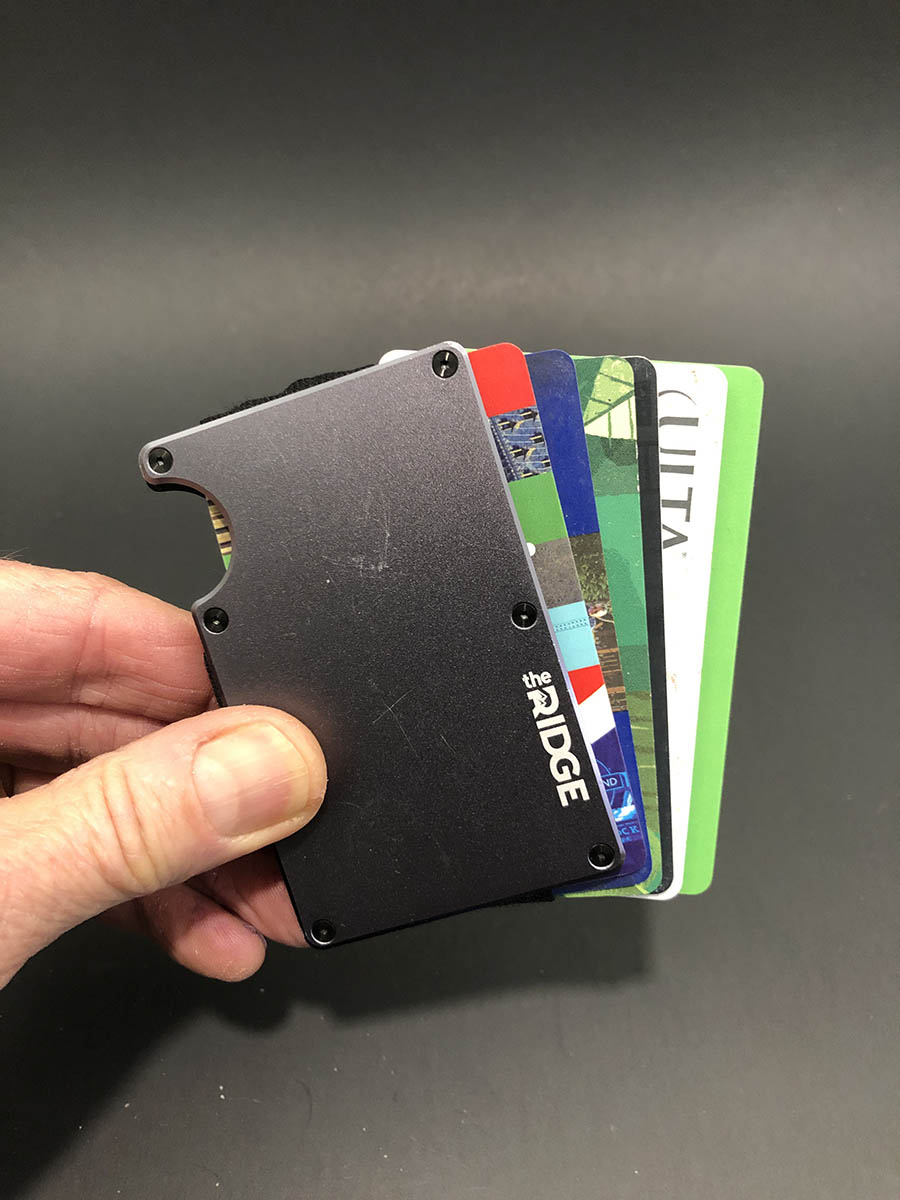 truly minimalist in size
holds up to 12 cards
cards won't bend or break
lifetime warranty
requires practice to remove cards easily
metal plates can be a little cold in your pocket
Specifications
Materials: Aluminum, Titanium, or Carbon Fiber
Weight: Carbon Fiber 1.6 oz, Aluminum 2 oz, Titanium 2.5 oz
Dimensions: 3.39″ x 2.13″ x .24″ (86 x 54 x 6 mm) 
Capacity: Holds 1 – 15 cards
Warranty: Lifetime guarantee, free returns within 45 days
Video Review
---
THE FULL RIDGE WALLET REVIEW
The Ridge has become a designer brand in the world of progressive wallets designs. For die-hard minimalists, it's THE wallet to be seen with. But does it live up to the hype?
How does the Ridge wallet work?
Rather than a conventional wallet, the Ridge is actually a cardholder. It holds up to 15 credit cards, loyalty cards, insurance cards, and your trusty Costco card using a remarkably simple and minimalist design.  
It's devised as a sandwich, made of two metal or carbon fiber plates that are held together with elastic bands on three different sides. You load the wallet by prying the plates apart with your thumbs and inserting the cards inside. 
When you're ready to access your cards, insert your finger or thumb into the thumb slot and push them out. From there, you can access your cards you want in 3 different ways.
Method 1: Use one of your hands to fan out the cards so you can see them all.
Method 2: Pinch the opposite side of the wallet. This inserts a tiny bit of space between each card so you can see which is which.  
Method 3: Remove all of the cards at one time, choose the card you want, then reinsert them. 
Personally, I use the fan method and I put my most-used card the back of the stack. For me, it's the easiest one to remove. I rarely carry more than 6 or 7 cards in my Ridge. It just seems like the right amount. A half dozen cards are much easier to remove and reinsert, particularly when I'm in a rush at some checkout line.
And it goes without saying that if you double the number of cards to 12 or 14, the wallet will be twice as thick. Who wants that in a minimalist EDC?
How is the build quality?
The Ridge wallet is made to last. There is no doubt about it. The build quality and finish are excellent and it even comes with a lifetime warranty.
From the horse's mouth. That is to say, from Ridge.com:
LIFETIME WARRANTY: Every Ridge Wallet is covered by our Lifetime Warranty. If you ever need replacement screws or elastic – or your wallet is ever not functioning in the way it should – please contact [email protected] so we can correct it. 
There are 7 tiny screws on both sides that bind two outer faceplates to finely machined aluminum inside plates. The elastic that provides the tension to hold the cards is sandwiched between the two plates. If you lose any of these screws, Ridge includes some extras in the box, along with a screwdriver.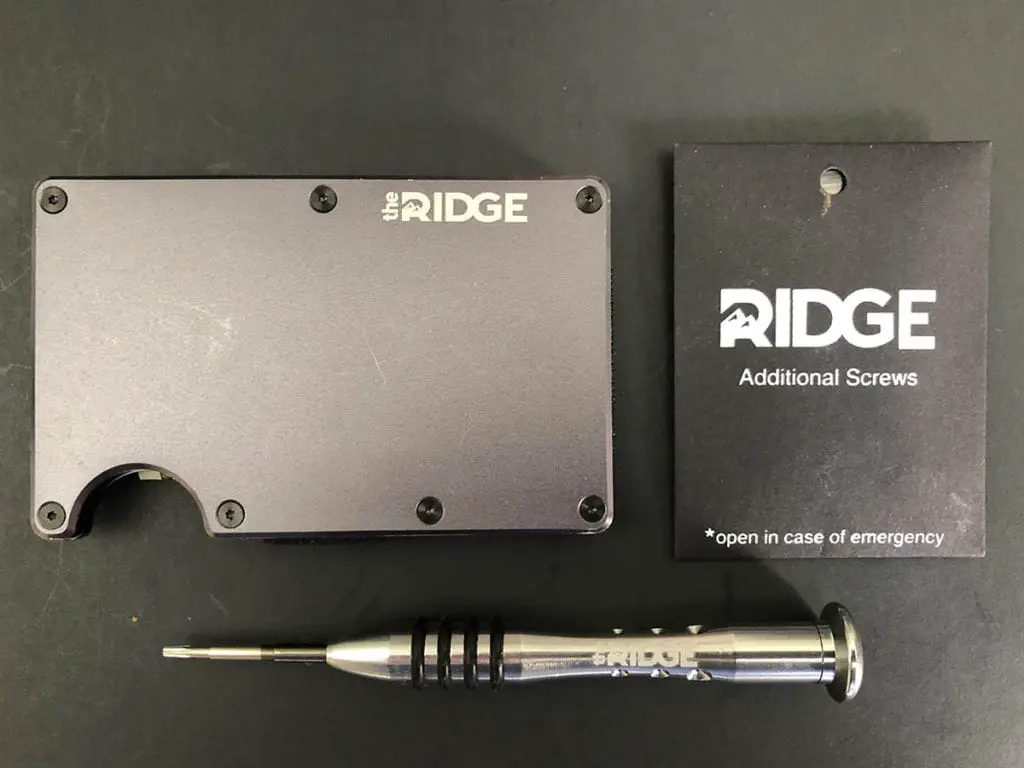 Depending on which model of the wallet you choose, the outside plates are either made from military-grade aluminum, titanium, or carbon fiber. It's the inner aluminum plates that give your cards RFID scanning protection.
When you order, you can choose from 14 different finishes and colors of aluminum, 4 different titanium models, or spring for either forged or regular 3K carbon fiber. All of these materials are super strong and hold your cards stiffly and firmly with no chance of bending.
I found that the faceplates of my Gunmetal anodized aluminum model scratch easily. To be fair, the scratches probably came from the wad of keys I occasionally carry in the same pocket. Will the lifetime warranty cover scratches like this? Doubtful…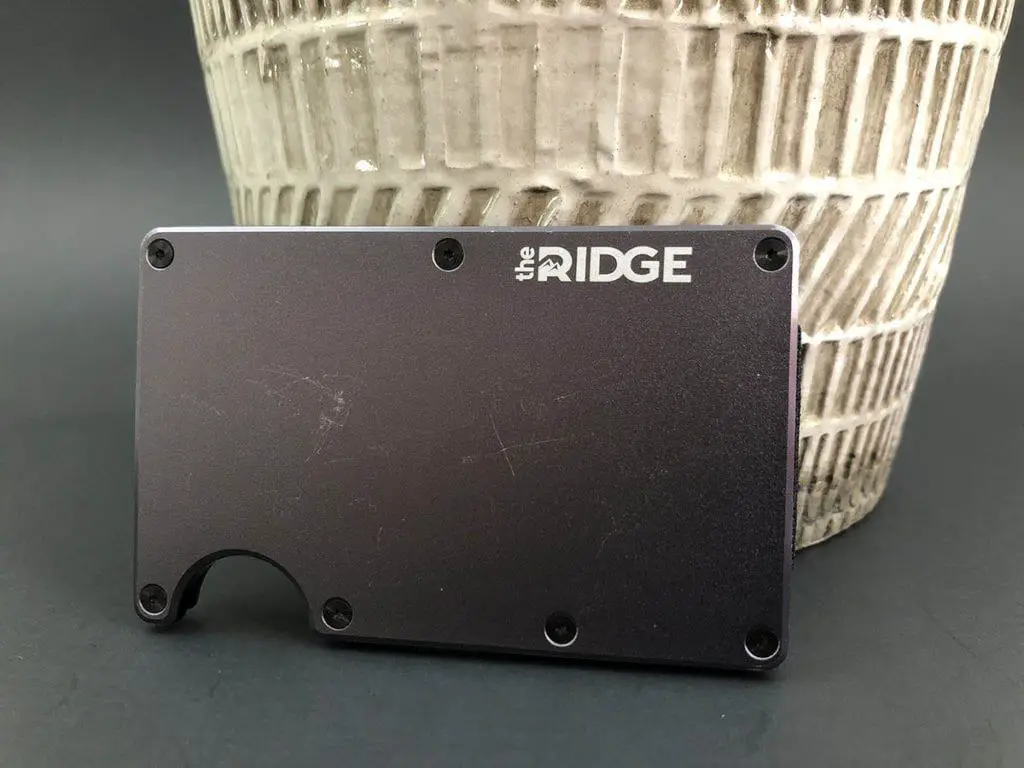 Dustin Christensen at Territory Supply.com carried his Ridge wallet every day for over a year. He said that the elastic stayed strong and the wallet barely showed its age or signs of use during that time. From my personal experience, I agree wholeheartedly.
And if any part of the wallet fails? Then march right over to Ridge's website and take advantage of their lifetime warranty.
Day-to-day use and performance
I carried my aluminum Ridge for a month straight to give it a legit road test. It went with me to the grocery store, to the movies, and when I ran out of cash, to the ATM. It's been stashed in my car, thrown into my backpack, and dropped (accidentally) on my hard tile floor. Aside from the scratches I mentioned, it has done me well so far.
You can order your Ridge with a cash strap or a money clip. My Ridge has the cash strap which I commonly use for cash (folded over twice), receipts, or a stray business card. I personally like the cash strap over the money clip because it slides much more easily in and out of my front pocket.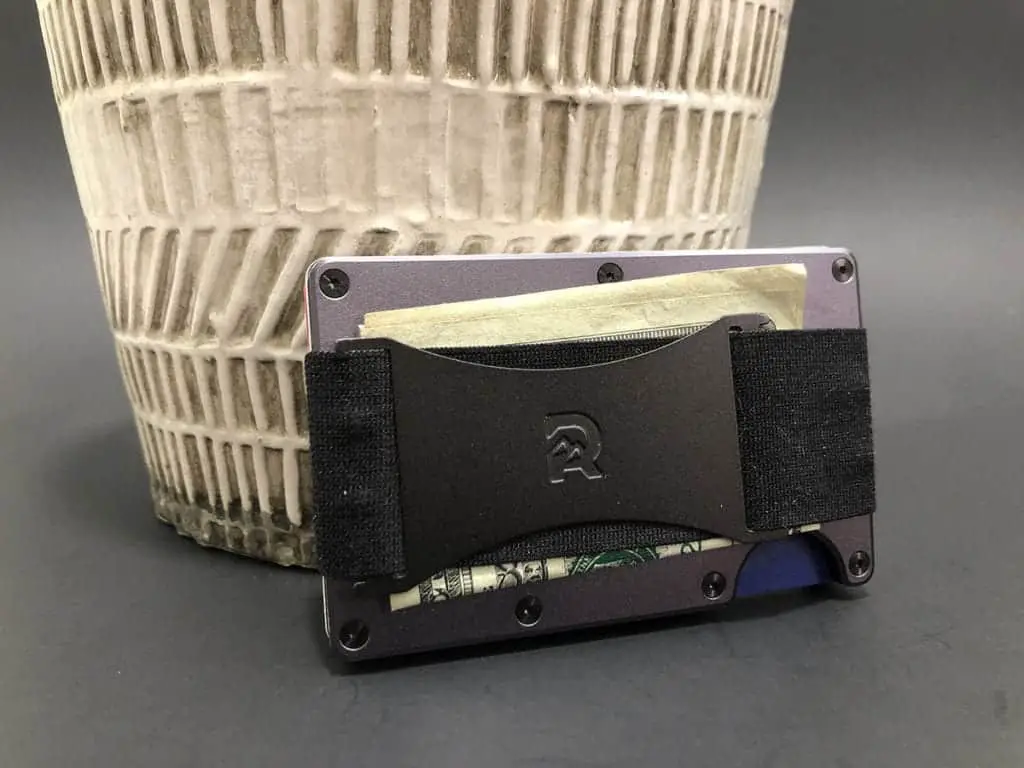 My son, however, likes the money clip because he likes to hook it onto the outside of his pocket. To each his own.
It's super compact (just 3.4″ x 2.1″) and fits next to the phone in my pocket rather than on top of it, which I really like. I usually carry my keys in one pocket and my wallet and iPhone 8 in the other. So it's important that they get on well together. And they do.
Learning to access the cards, though, is not particularly intuitive. As much as I have practiced, it still isn't as fluid as I would like. You can fan them, spread them, or take them all out completely each time. Whichever you choose, count on a bit of a learning curve.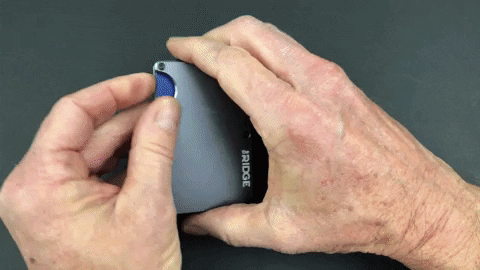 Loading, however, is very straight forward. Just use your thumbs to gently pry the plates apart and insert your cards. Even though Ridge says that it will hold 15 cards, that seems like overkill. It's like turning a minimalist wallet into a Dagwood sandwich. Plus, it makes accessing the cards a lot harder.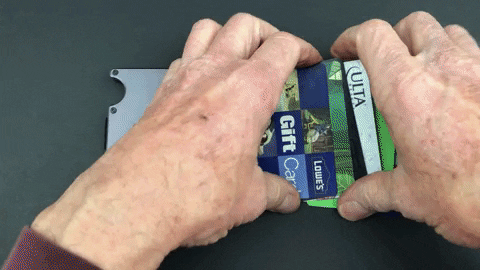 Because my Ridge is aluminum, it can be cold to handle during the winter. But these are minor prices to pay for an RFID-blocking wallet that fits tidily in the palm of a typical man's hand.
Some owners have complained that their credit cards get scratched from sliding in and out of the tight confines of the wallet. It's possible that with repeated use over time this could happen. In my experience, though, all my credit cards are still in fine shape.
Value
People are willing to pay more for things they feel good about owning. Since a father and son team funded the second generation of the Ridge wallet with a Kickstarter campaign in 2013, the Ridge has attained rock-star status in the wild world of minimalist metal wallets.
For minimalists who want to carry the best in an EDC, the Ridge is a wallet you don't want to be seen without. But prestige has its price.
Starting at well over $75 and going up from there, the Ridge is as expensive (or more so) as some of the finest leather wallets. It's undoubtedly well made and comes with an industry-leading lifetime warranty. In fact, It could be the last wallet you ever have to buy.
But is it worth the price?
Mark Ward on the Youtube channel Walletopia did a side-by-side tear-down comparison of the Ridge and a much less expensive knockoff Ridge alternative. The Ridge beat out it's a competitor with its build quality, finish, and attention to detail, but only won by a nose at the finish line.
The unique design and pocket worthiness of the Ridge wallet has made it one heck of a wallet that has rightfully spawned a legion of imitators. Dozens of other companies have literally cloned the design for a fraction of the price.
But if you want the very best, the original, and the only one with a lifetime warranty, then definitely go for the Ridge. I love mine.
Ridge Wallet Alternatives
This Ridge wallet review wouldn't be complete if I didn't mention at least one alternative. I wrote an entire guide to 7 Inexpensive Ridge Wallet Alternatives that will show you some other minimalist smart wallets that might strike your fancy.
Some of them are clones of the original Ridge. Others have a different design with a few more bells and whistles or unusual features. Here is an excerpt:
Roco RFID blocking money clip
Like the Radix, the Roco RFID blocking money clip is another sandwich design held together by a silicon band. However, the Roco uses aluminum plates rather than steel with similar wide thumb slots that are off-centered on each side. The wallet will expand to hold up to 20 cards. Many owners love the minimalist footprint and design of the wallet, but complain that getting access to their cards is sort of a hassle.
The silicon band also functions as a cash strap, and Roco includes an extra if the original breaks or loses tension. Though the rigid aluminum plates provide RFID protection and keep your cards from bending, some owners say that the aluminum scratches their cards.
The outside edges and corners of the aluminum are nicely beveled, which makes the wallet a more comfortable carry in your front pocket. At just under $18, the Roco is a very affordable wallet.
LEARN MORE: Did you know the Ridge also has a spiffy titanium model? Read more about it and other titanium wallets in my post: Best Titanium Money Clip Wallets for 2020.