Aviator Obsidian Slide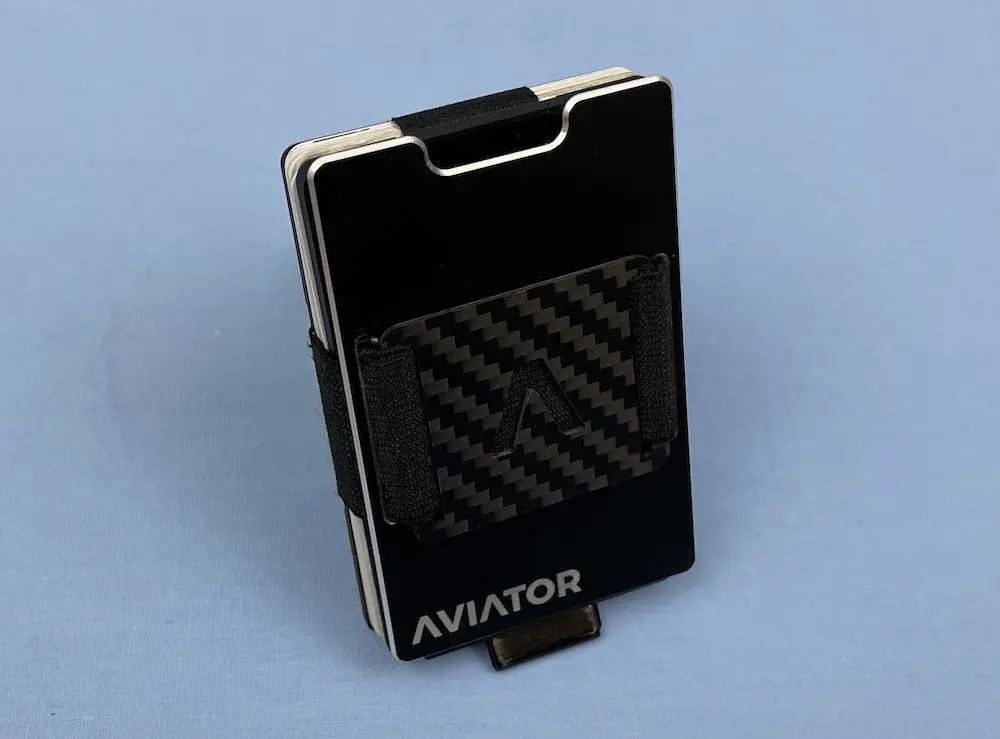 customized for the number of cards you carry
easy card access with pull strap
slide out coin compartment
a modular design
lifetime warranty
cash strap not wide enough to hold a card
coins rattle in coin compartment when walking
Specifications
Materials: Acrylic, aluminum, carbon fiber, or titanium
Weight: less than 2 ounces empty
Dimensions: 3.34″ x 2.12″ x .20″  (85 x 54 x 5 mm)
Capacity: Holds 1 – 20 cards
Warranty: Lifetime
The Aviator Slide ultimate slim wallet is designed and made entirely in Germany. If you're in the US, it will take a week or two to arrive. The good news is that shipping is free.
Full Review
The Aviator Slide is a sandwich-style wallet that holds credit, debit, and other similarly-sized cards between 2 exterior plates that are held together with elastic. Additionally, it has a modular design with options for a cash clip, sliding coin drawer, with a frame made from either acrylic, aluminum, or titanium.
The basic design is similar to the Ridge, Fidelo, and Rossm wallets. However, the Aviator takes the next step in evolution with the incorporation of modular components.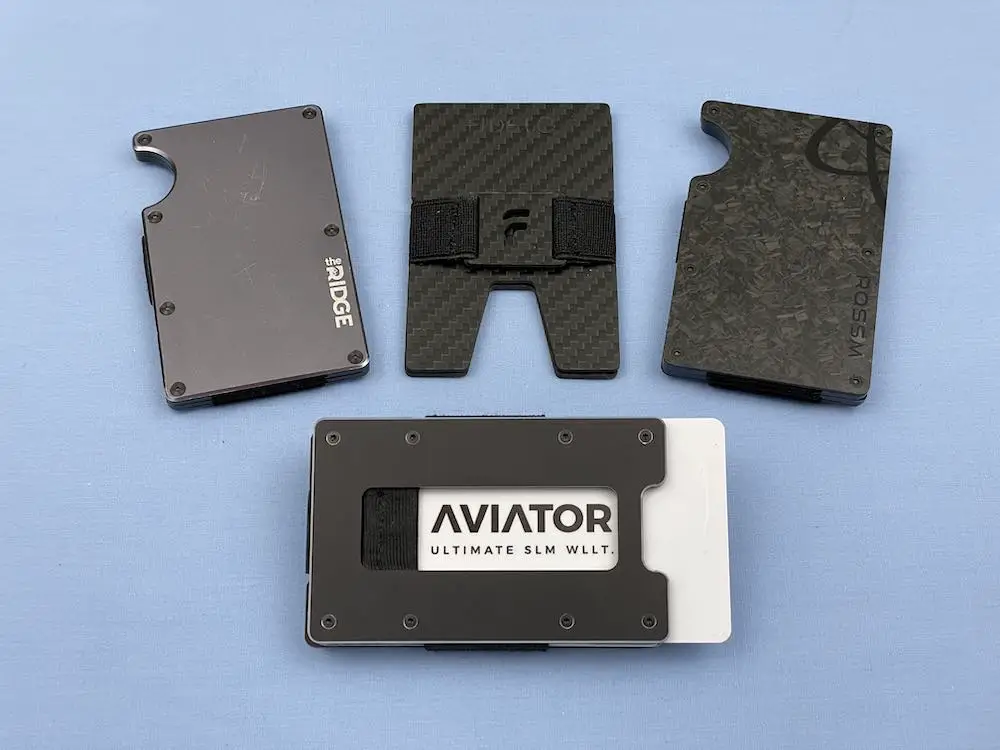 Design and Materials
A pull strap efficiently ejects your cards.
My favorite feature by far is a pull strap that lets you eject your cards quickly in one fell swoop. With just a quick tug on the built-in strap, you cards pop out so you fan them and choose the one your want. Or put the card you use the most on top to really quicken the process.
When you push the cards back in, the pull strap automatically retracts. This feature is decidedly low-tech but works perfectly without the need for a fancy card ejection mechanism.
The pull tab places the Aviator Slide leaps and bounds ahead of the original Classic Aviator wallet which only has a thumb slot to push out your cards. Both the Slide wallet and the Classic have the exact same prominent slot cut out of one side for pushing your cards out with your thumb.
But with the Aviator Slide, you have your choice of using your thumb or the pull strap.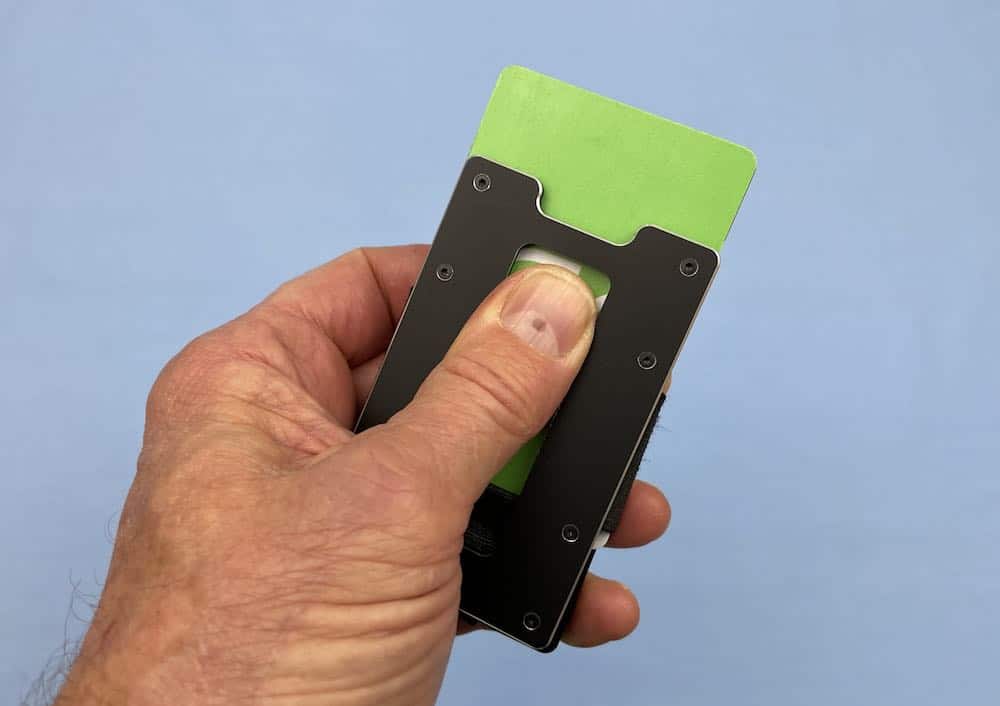 To be honest, using a thumb slot to push out cards has never worked work well for me. Older credit cards with raised account numbers are a little easier because of the friction they create on your thumb.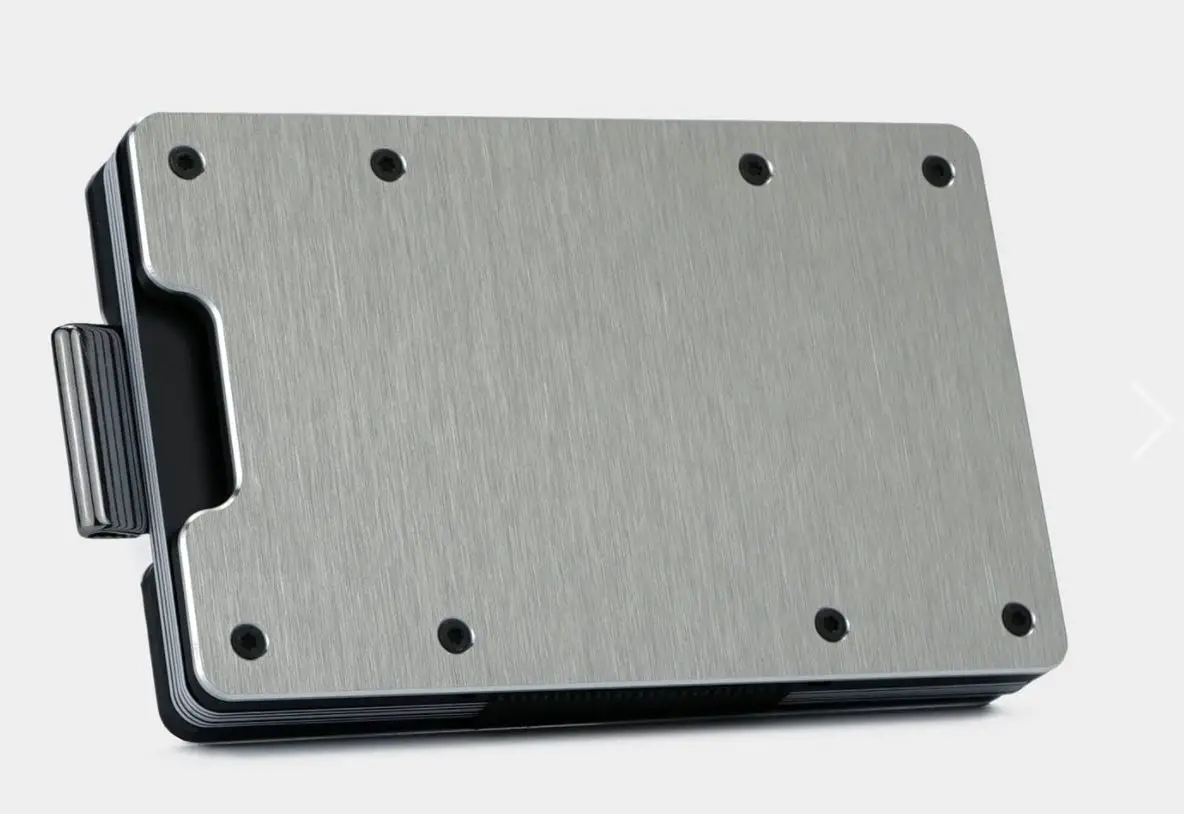 In January 2022, Aviator introduced the Aviator Slide One. With this new addition to the lineup, they eliminated the thumb slot entirely and removed the coin tray. Stay tuned for a review of this sleeker, slimmed-down version.
In the past few years, however, new cards are all being issued with account numbers that are printed on the card rather than embossed. I don't know if I have teflon-coated thumbs, but I have a hell of time pushing cards out from the slot.
It's for these new cards that Aviator Slide's pull strap is a life saver. With just a little tug, all of your cards pop out ready to use.
Removable coin holder
Next (this is a dynamite feature), the Aviator Slide has a removable coin compartment for holding loose change, a spare key, or a safety pin for potential wardrobe malfunctions. The regular size holds up to 7 coins and the "double" holds 14 (7 coins in two layers).
The bottom of the tray has a layer of felt (what Aviator calls an anti-rattle insert) that helps keep keep the contents from rattling as much.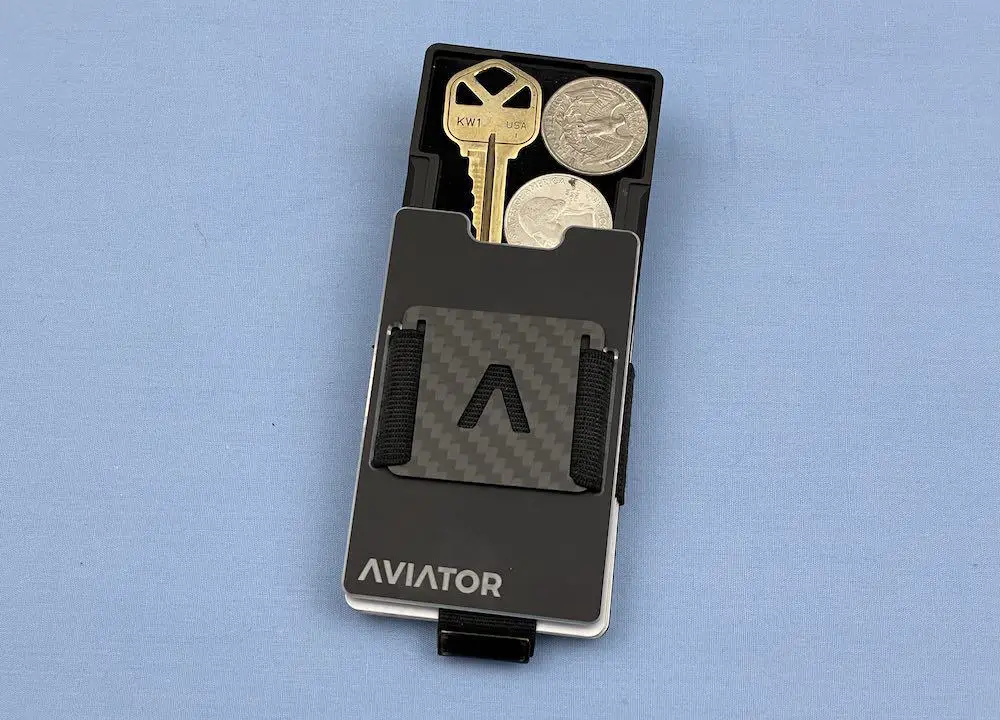 When I placed 3 USD quarters and a spare house key in mine, I could still hear a faint rattle with every step I took. It's not like walking around with a box of Tic Tacs in your pocket, but still, the sound is noticeable. 
Cash strap
There is also an optional cash strap for storing cash folded over twice, receipts, or a movie ticket. The instructions that came with the wallet say you can put a hotel room card under it, but try as I might, it couldn't make one fit.
Because most other cards like transit passes and building access cards are the same size as a hotel card, they won't fit either. Luckily, these cards will fit between the aluminum sandwich.
The cash strap is really a wide elastic band that accommodates an optional cash clip. This money strap is adjustable, depending on whether you want to max it out at 20 or carry fewer cards.
Unfortunately, you have to remove eight screws on one side of the wallet to make the adjustment.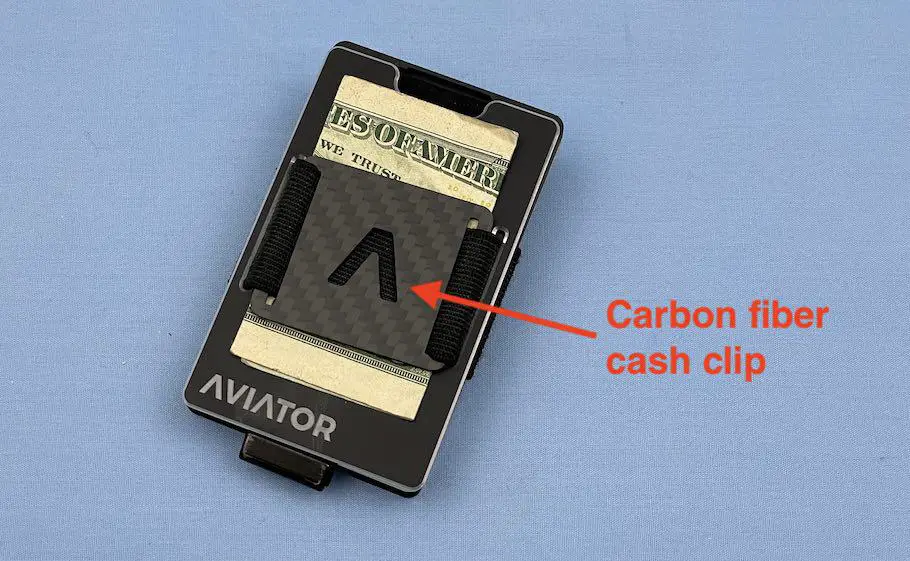 The pull tab makes it super easy to remove and then reinsert any of your cards in a New York minute.
RFID protected
The Aviator is an RFID-blocking wallet, which means everything inside is protected from legitimate and illegitimate scanning. In other words, you will have to remove any RFID or NFC cards like transit passes, credit and debit cards, and building access cards before you use them. Because of the pull strap, this is easy as pie to do. 
Anything under the cash clip, however, is unprotected because it is outside the RFID blocking zone. Unfortunately, as I mentioned, the strap is too narrow to accommodate a standard-size plastic card.
Make it unlosable
You can make your Aviator Slide unlosable by adding the Chipolo CARD Bluetooth tacker. Most other Bluetooth trackers are the size of a credit card and they won't fit. But the Chipolo CARD is 40% smaller than a credit card. As you can see below, it fits like a bug in a rug under the cash strap.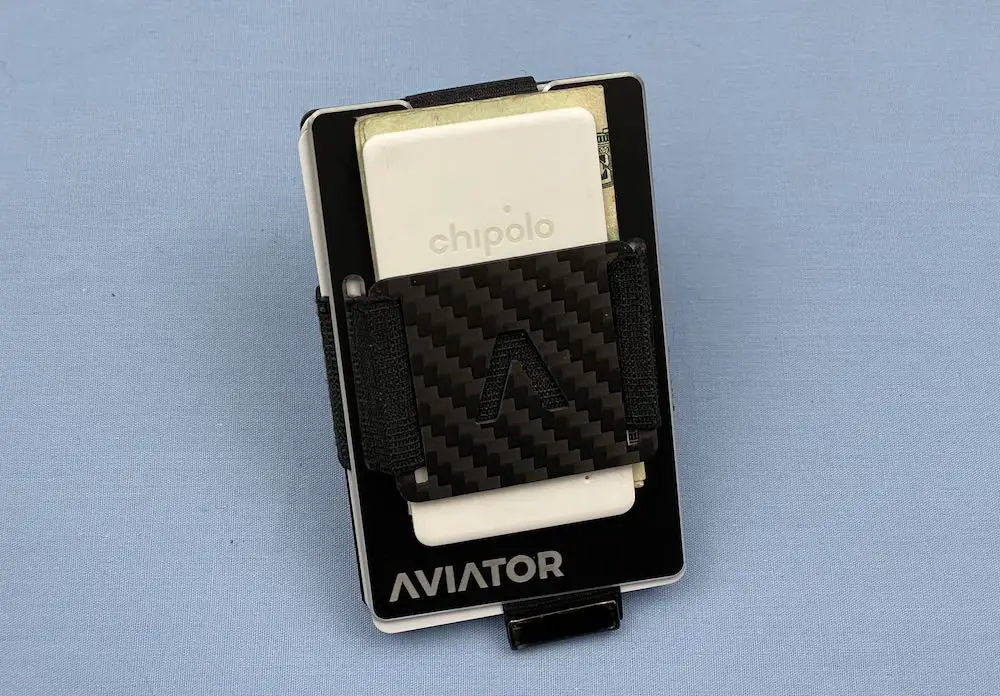 The smaller a wallet is, the easier it is to lose. With the Chipolo card, I can use my phone to find my wallet, and, more often, use my wallet to find my phone. On average, I lose my phone 3 times a day. It's pitiful, but true.
How to use it
It has a modular design, which means you have some decisions to make before you buy.
When you place your order, you have to specify how many cards you plan to carry. The factory then pre-adjusts the tension on the elastic straps to accommodate four different capacities, from as few as 1 card to as many as 20. They'll also adjust the length of the pull tab accordingly.
I Iike to carry about 8 cards in mine with a spare $20 bill under the cash clip for cash-only situations.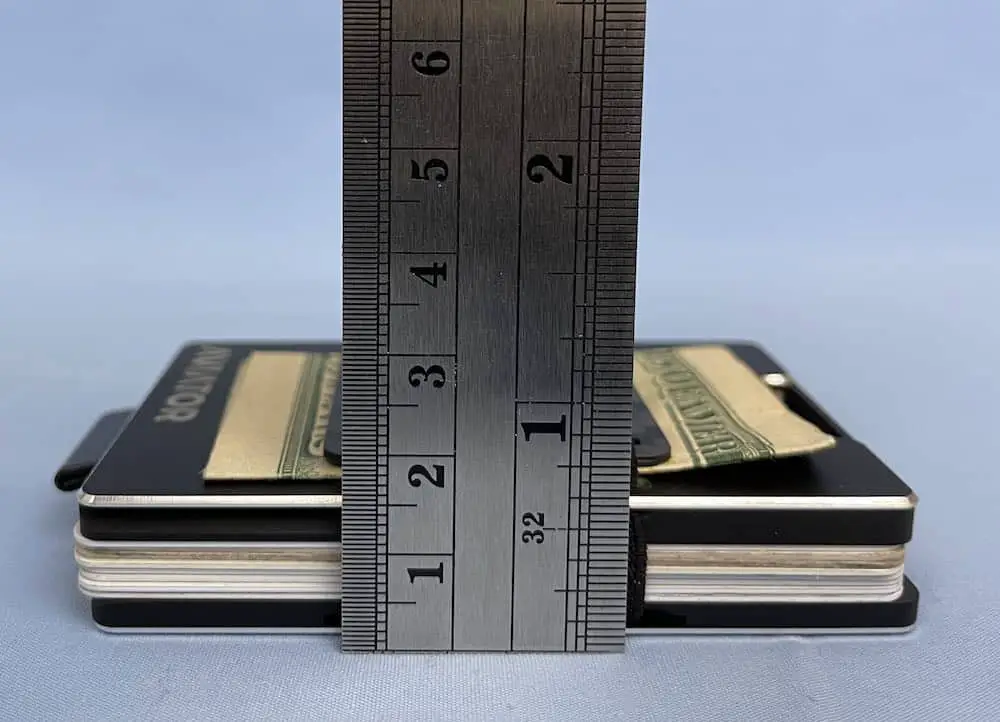 If you want, you can easily adjust the plastic straps yourself. Aviator encourages this by including a Torx screwdriver. Use it to remove the 8 screws on one side and take off the outer plate. The locations for making the adjustments are underneath.
In this video, Aviator shows you how to do it.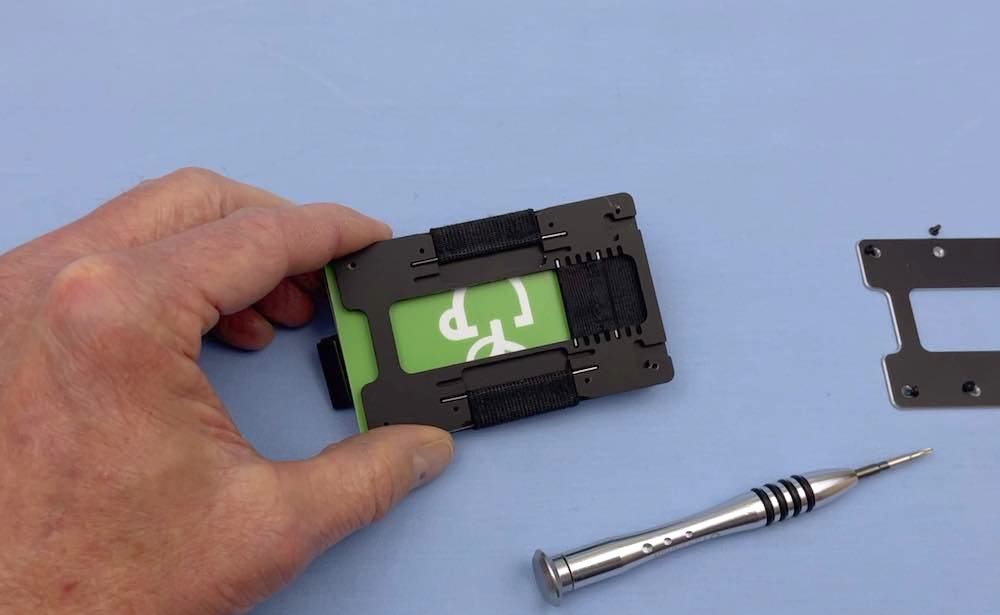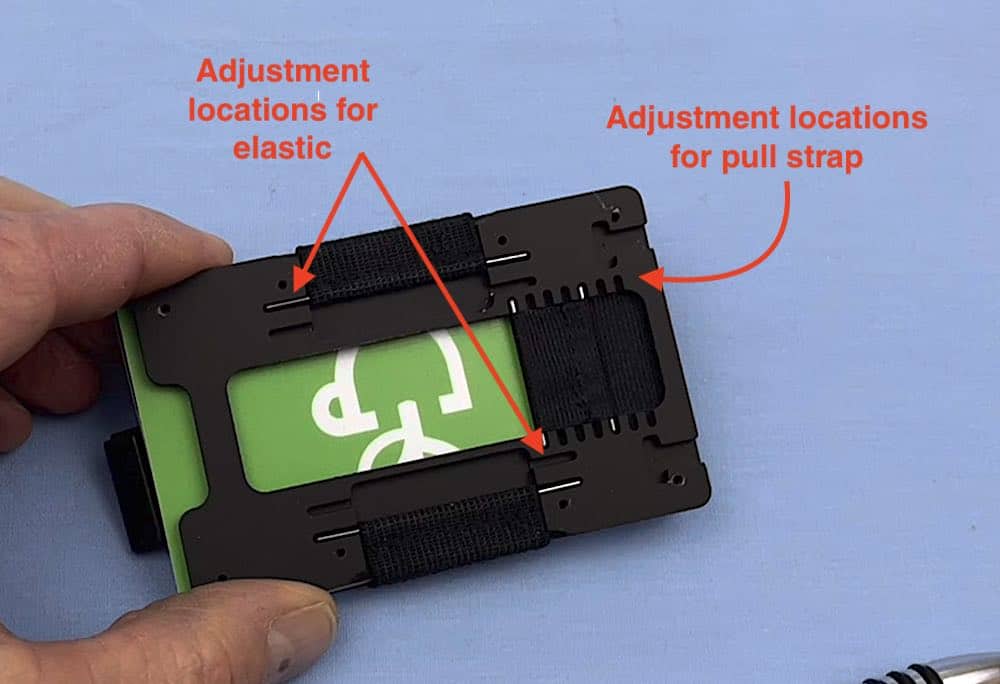 If you lose any screws, they throw in a half dozen extras in the box. And yes, take it from me, they're easy to lose. They are crazy tiny.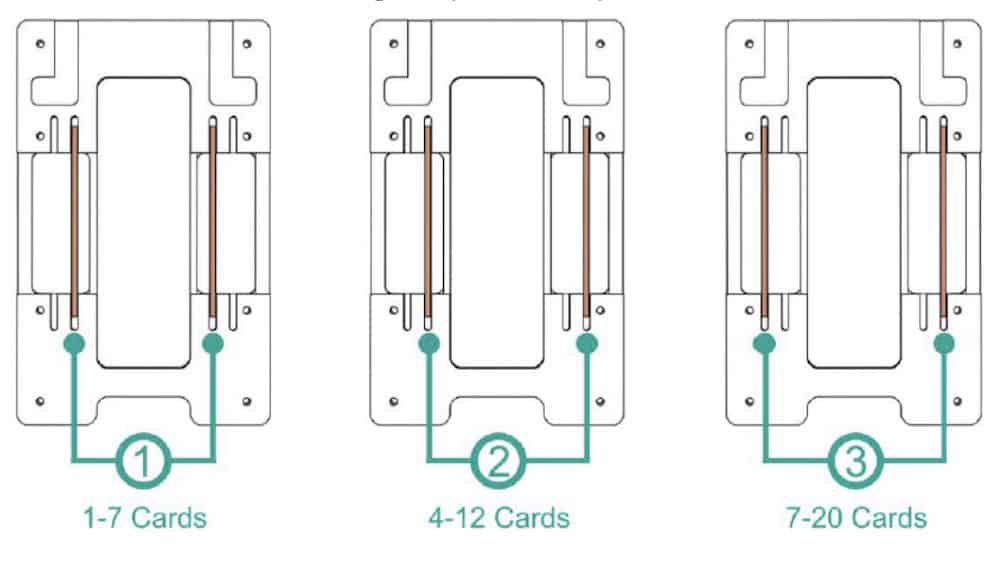 PRO TIP: While you have everything torn apart, don't forget to adjust the length of the pull strap. For some reason, Aviator doesn't mention this in their instructions. If it is too long for the number of cards you plan to carry, the end gets sort of floppy and annoying. When it's set correctly, the metal tab that covers the end of the pull strap should just clear the exterior plate.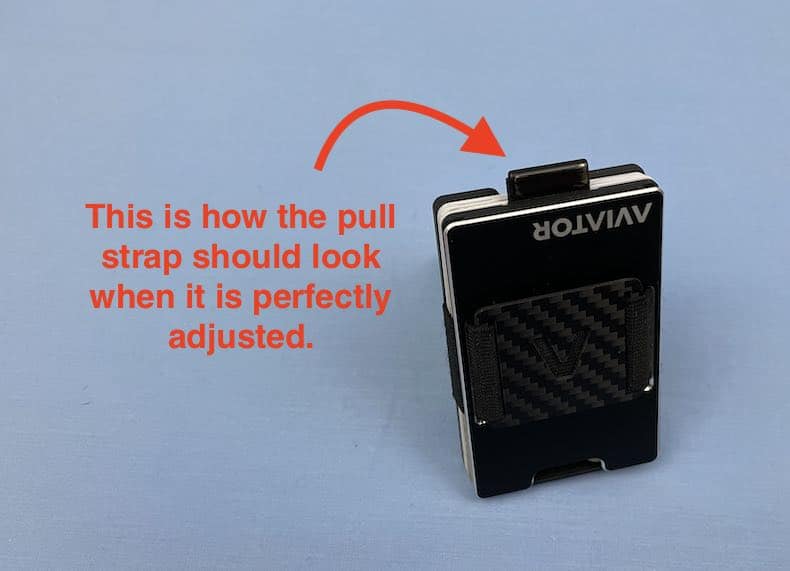 If the tension on the elastic is set too tight, I found that my thumb slips and slides on the top card when I try to push it out. That's not a problem with older credit cards with raised numbers because your thumb can get a strong "purchase" (pun intended) on the numbers.
All new cards, though, are issued with printed account numbers instead of raised numbers, so they're slicker to slide. That's probably why Aviator added the pull strap (Amen!).
It effectively eliminates the need to use the thumb slot at all. But it's always there as an option.
The model that I'm demonstrating in this review is the Obsidian Black Slide. It has aluminum outer plates, an aluminum inner frame, an aluminum coin tray, and a carbon fiber money clip plate. For that, the price is $187. That sounds like a lot because it is a lot.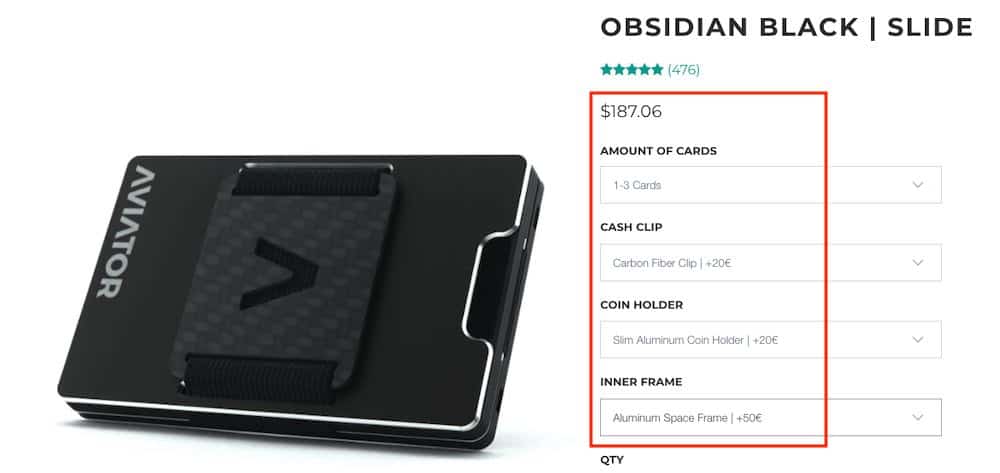 Because of its modular design, you can also choose acrylic glass instead of aluminum for the coin tray and inner frame. You can also forgo the carbon fiber cash clip.
This knocks the price down to a much more affordable $79 without losing any of the functionality (except the ability to carry cash outside).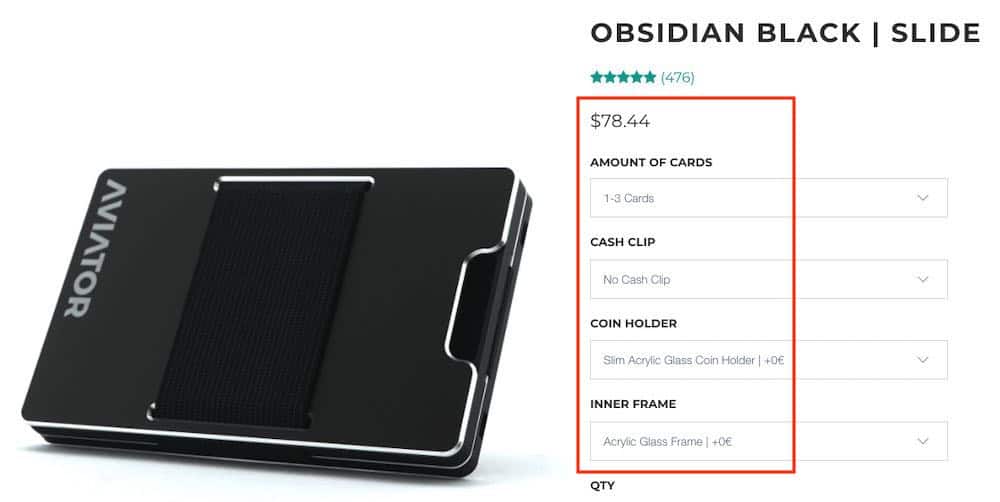 Weighing in at less than 2 ounces when empty, the Aviator is a truly minimalist wallet that barely registers in my pocket. I always carry my wallet in the same pocket as my iPhone.
That said, it's important that any wallet I carry fits next to my phone and not on top of it. Because the size of the Aviator is no larger than a credit card, it fits perfectly.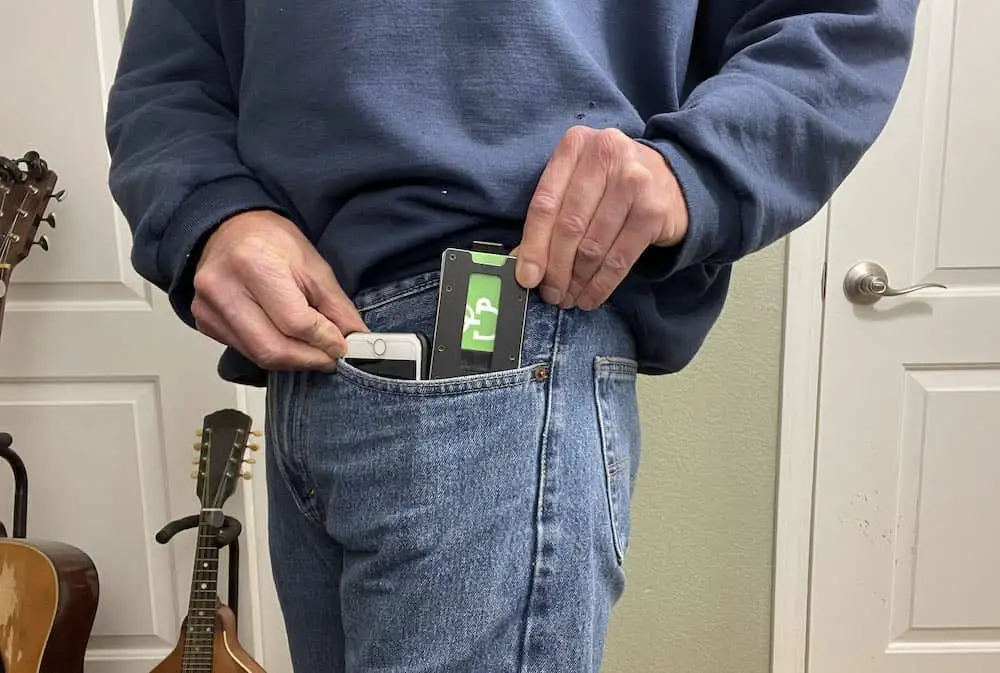 The only drawback is that the hardness of the Aviator's aluminum plates can potentially degrade my phone over time. Even though the corners and edges are rounded, I still worry that the wallet can ride up onto my phone when I'm walking or running.
Those repetitive movements can do some damage in a hurry as the miles add up.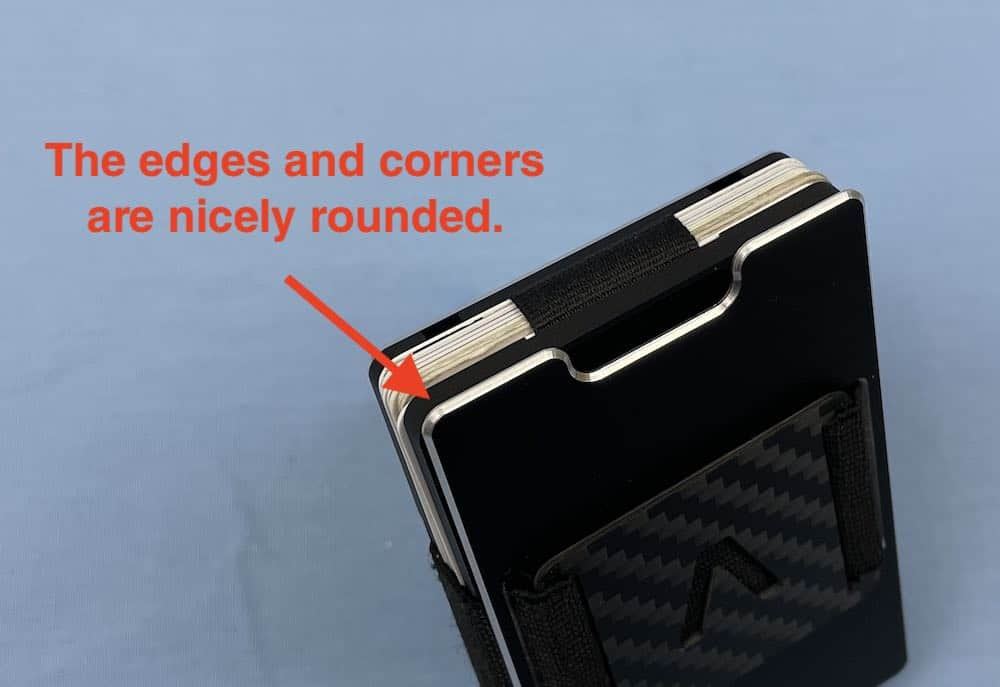 The only solution to that is to put the Aviator in my other pocket. But then, my steel keys might scratch the softer aluminum of the wallet. This actually happened to my aluminum Ridge wallet.
The reality is that metal is more abrasive than leather. It's a fact of life that you'll just have live with if you want to carry a metal wallet.
Should you buy it?
The Aviator Slide is one of my favorite wallets and I think it's the best wallet made with a sandwich-style design. It has the same footprint as the popular Ridge card holder, but the pull strap, thumb slot, and coin tray of the Aviator truly make it a cut above. 
Check out this post for Aviator wallet promotional codes, discount codes, and other ways to save.
The price of the basic aluminum Obsidian Black Slide is in line with what you would expect to pay for a high-quality wallet. It's an extremely practical and functional wallet with a clean, modern design that looks and feels good in your hand.
And yes, Aviator offers free shipping!
If you decide to upgrade some of the components to aluminum and carbon fiber or <gasp> titanium, then expect to shovel out two or three times as much. The upgrades are there if you want them, but, the cheapest version will perform just as well as the most expensive.
I have a selection of nearly 100 wallets in my personal collection, but I gravitate towards the Aviator Slide as my personal metal wallet of choice. They're all built with outstanding quality.