The Aviator slim wallets comes in 3 basic designs: the Aviator Classic, Aviator Slide, and the Aviator Slide One. All Aviator wallets are 100% made in Germany with free standard shipping to the US. 
The Ridge is made in China, but it's much better known than Aviator because of a well-honed marketing department based in the US. It has one basic "sandwich style" design with many color, pattern, and material options that distinguish between them.
The Aviator is the best Ridge wallet alternative because of a modular design that prioritizes high-quality materials, craftsmanship, and easy access to your cards and cash.
In the battle between Ridge and Aviator for the best minimal wallet, Aviator always comes out on top.
A quick look at the Aviator vs Ridge wallets
A customizable modular design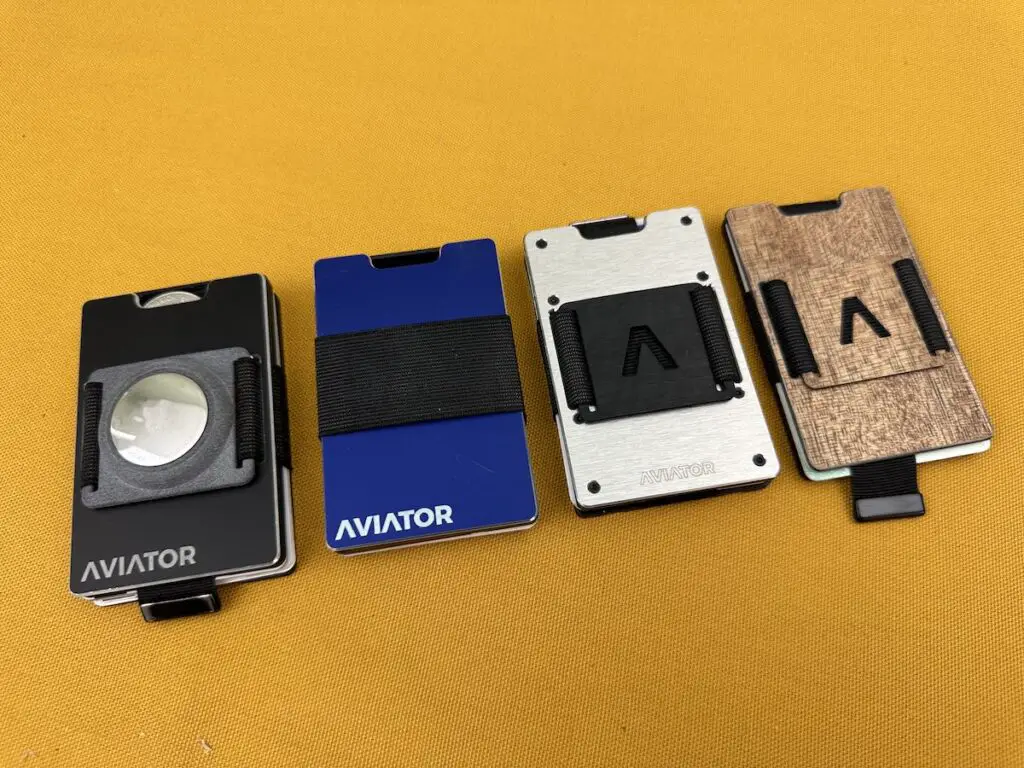 Aviator wallets are modular in design and you can order them with acrylic components (that is to say plastic) or upgrade to space-grade aluminum. On some models, you can even spring for carbon fiber components.
It's about as faraway from a traditional wallet as you can find, yet it's still a really functional wallet. What you get is a slimmed down cardholder wallet that's an easy every day carry.
The design is really simple. Two metal plates or carbon fiber plates hold up to 20 cards in between them. These plates are screwed to inner aluminum plates that give the wallet RFID protection.
When you order, the factory adjusts the elastic band for the number of cards you intend to carry. If you change your mind later, its easy to readjust the band yourself.
You can add 3 different types of cash clips, including one that will hold an Apple AirTag. Like the Ridge wallet, Aviator has the same outside dimensions as the cards it carries.
For more details about the Ridge, check out my detailed Ridge wallet review here.
Plus, the Aviator Slide and Aviator Slide One comes with a slide-out coin tray as a standard feature. A coin compartment is extra with the Ridge. All of the Aviator wallets are minimalist and slim wallets that I hardly notice in the front pocket of my Levis.
Pull tab for quick card access
I personally prefer the Aviator Slide wallet and the Aviator Slide One wallet because they incorporate a pull tab to quickly pull out your cards.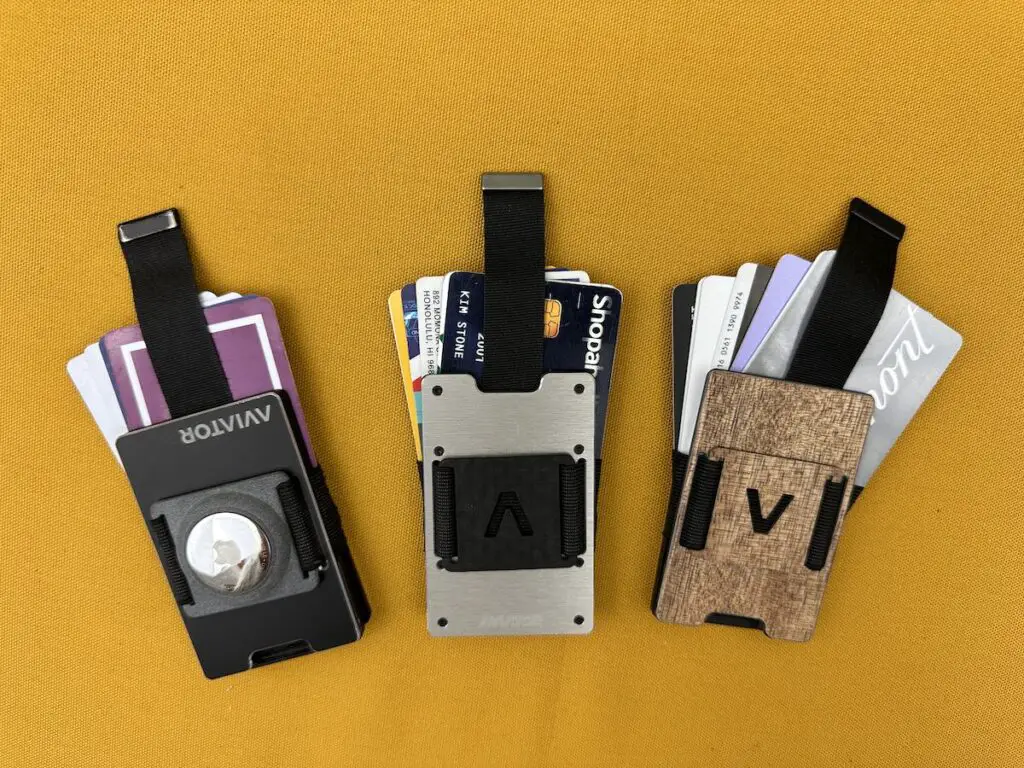 The Aviator Classic only has a slot to push your cards out with your thumb. The thumb-push method is fraught with peril for me because my slippery thumbs always slide on the cards. It takes numerous tries for me to finally push the cards out. I would definitely go for the Aviator Slide or Slide One.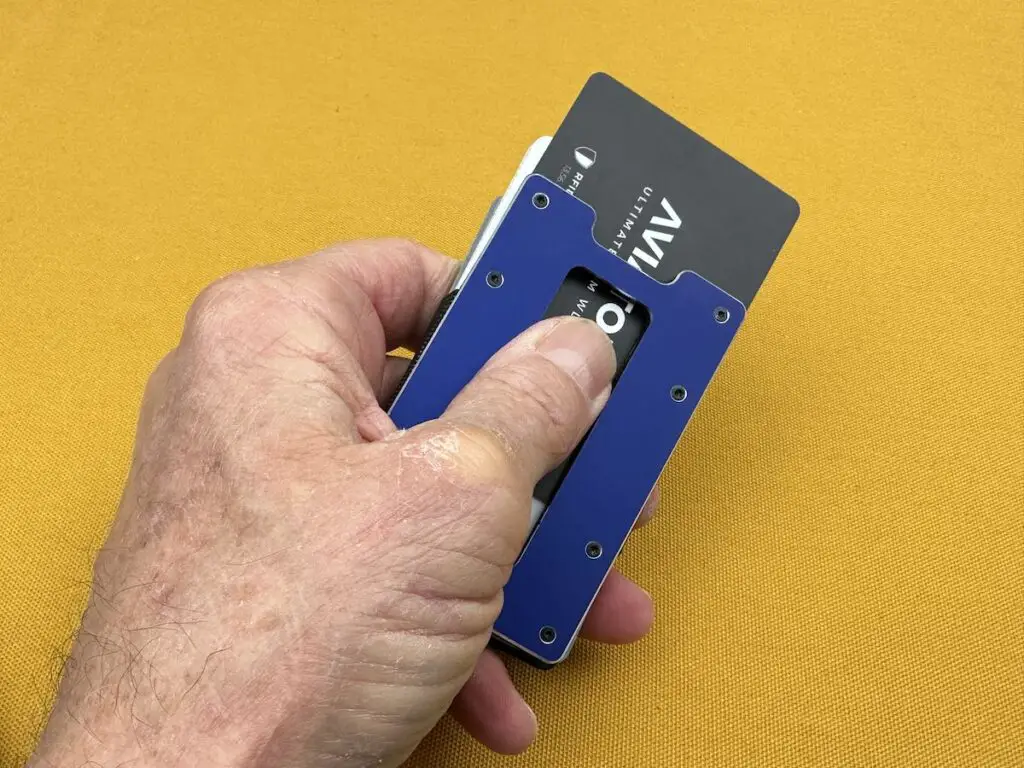 With a tug of the built-in strap of the Slide and Slide One, all of your cards come out in one fell swoop. Spread them out like a deck of cards, choose the one you want, then poke them back inside. The pull tab automatically resets.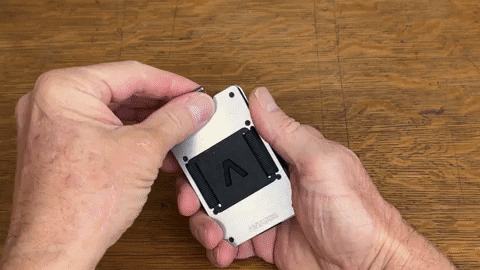 Fully adjustable for 1 to 20 cards.
All of these wallets have an adjustable elastic strap that holds everything together. You can order this band pre-adjusted at the factory in 7 different positions to hold from 1 to 20 cards. Debit cards, id cards, gift cards, and transit cards are all fair game as long as they are the same size as a credit card.
TIP: One big advantage of the Aviator over cardholder wallets that use a card ejector mechanism (like Secrid and Ekster's wallets) is that you can place paper and metal cards inside the Aviator. These non-plastic cards don't play well with pop-up card ejectors.
Down the line, if you decide to carry a few more or few less cards, you can remove the 8 screws that attach the outside plate and adjust the band tension to your liking.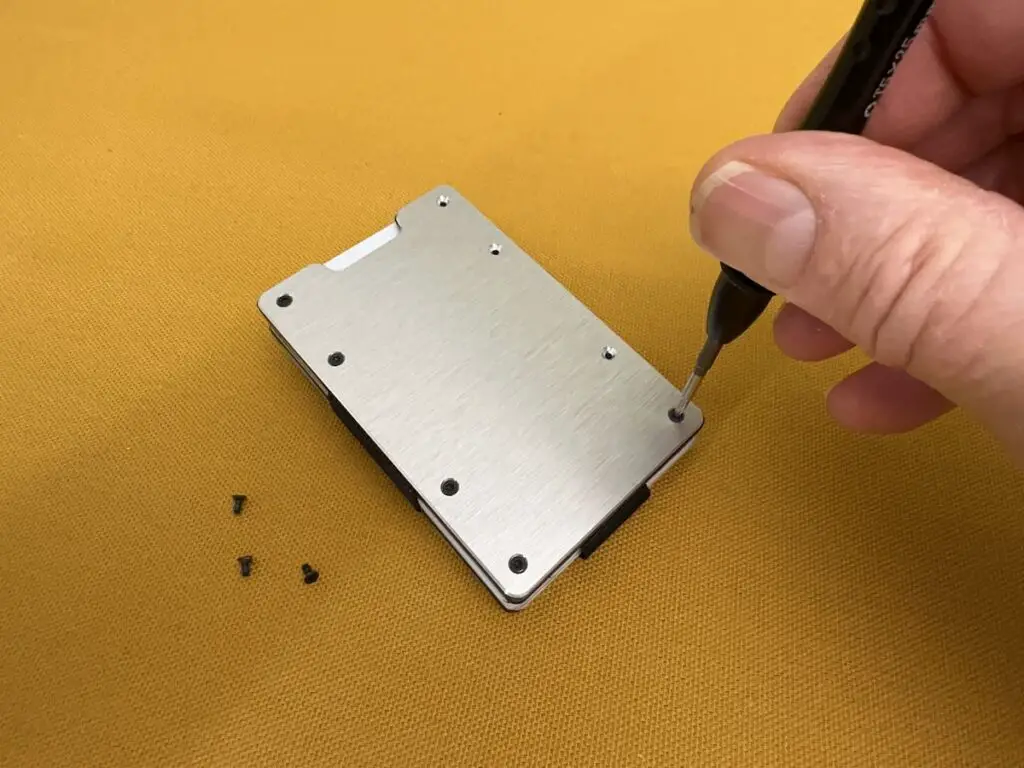 You can adjust the length of the pull tab, too.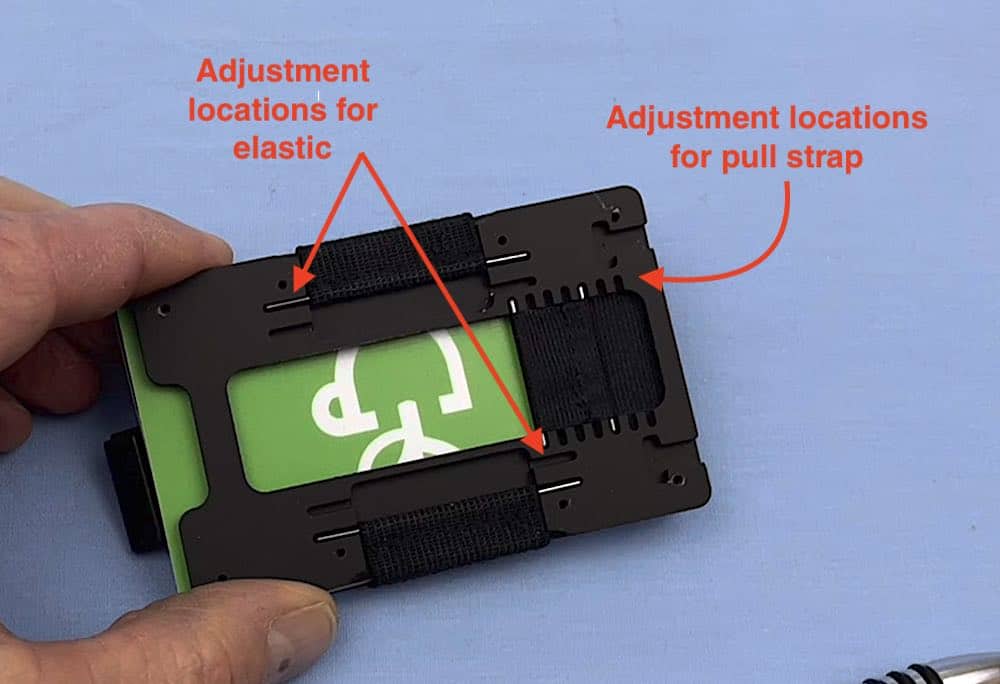 It's super easy and I've done it myself many times. Keep track of the screws, though, they're easy to lose.
Check out my full review of the Aviator Slide wallet.
More modular options
The elastic band is also the place to hold some bills of cash, folded over twice. You can order a decorative cash clip made from recycled plastic, carbon fiber, or a 3D printed AirTag clip that accommodates an Apple AirTag tracker.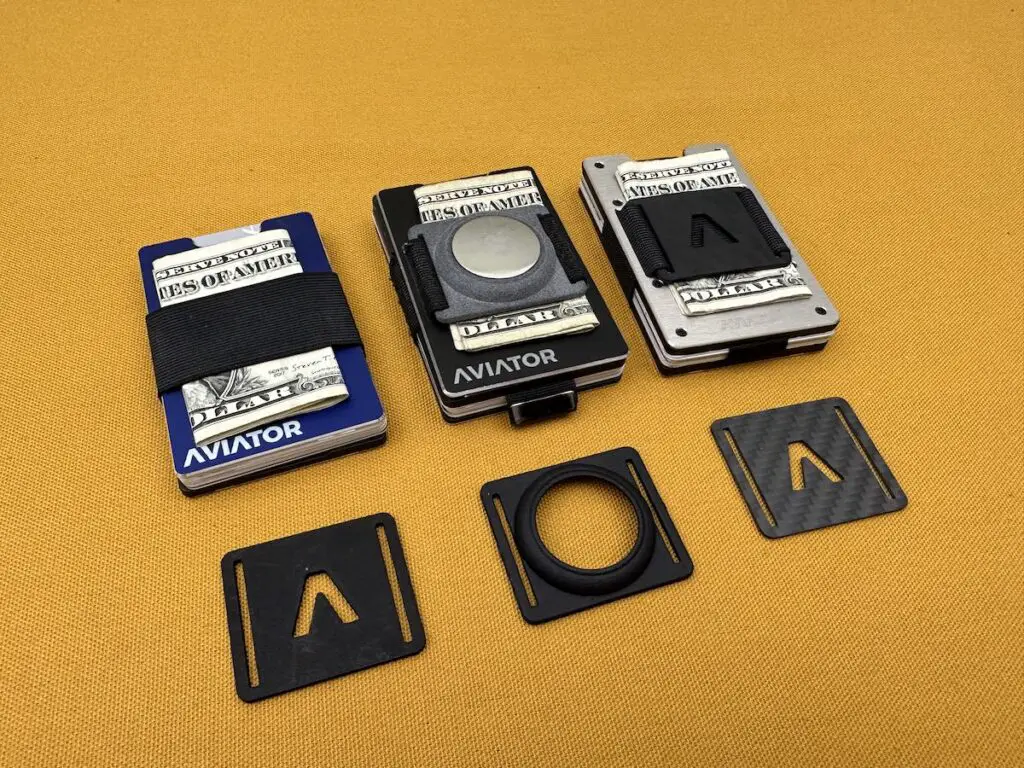 You can also store receipts or business cards under the cash clip, but the Aviator Slide and Slide One isn't wide enough for card.
One of the few advantages to the Ridge is that you can purchase it with either a metal money clip or an elastic cash strap. For me, though, my personal preference is a money strap because money clips stick out and get caught going in and out of my pocket.
Both the Aviator Classic and Aviator Slide have slide out coin trays that hold a few coins, a spare key, or a safety pin for wardrobe malfunctions.
The coin tray is lined to with felt to cut down on the rattle of the contents. But I found it can still sound like you're walking around with a box of Tic Tacs in your pocket.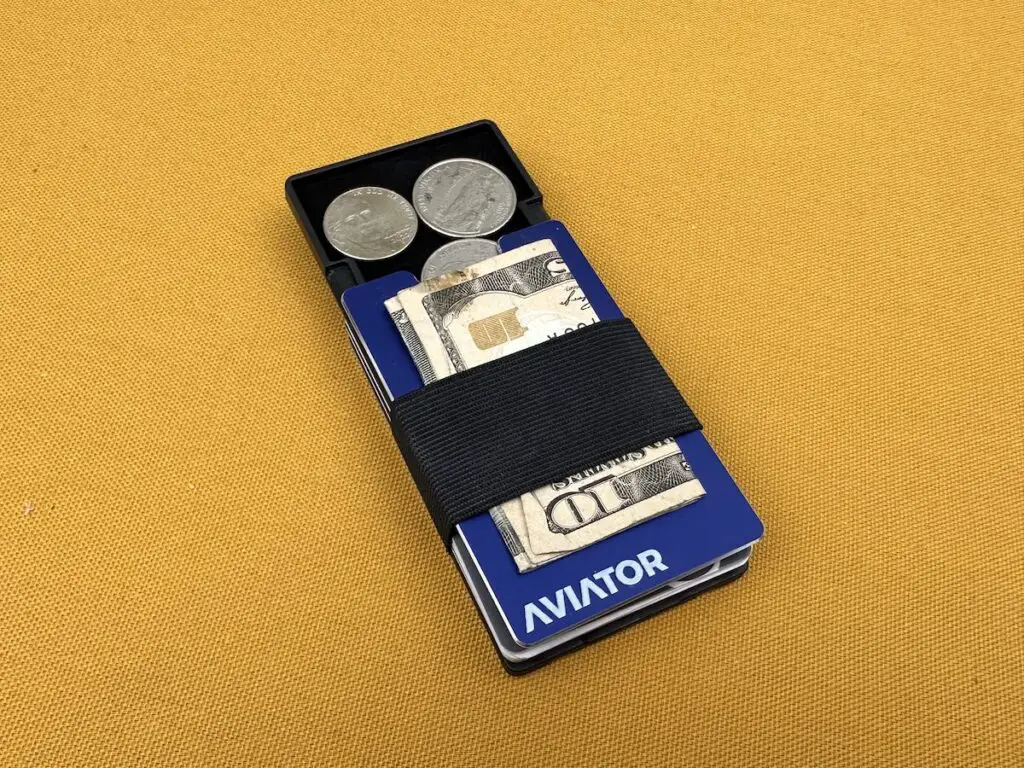 With the new Aviator Slide One, they slimmed everything down and refined the design by eliminating both the thumb slot and the coin tray. It still retains the trusty pull tab (can't live without that) and the same 20-card capacity.
I think it has a much sleeker, cleaner look than the Classic or the Slide.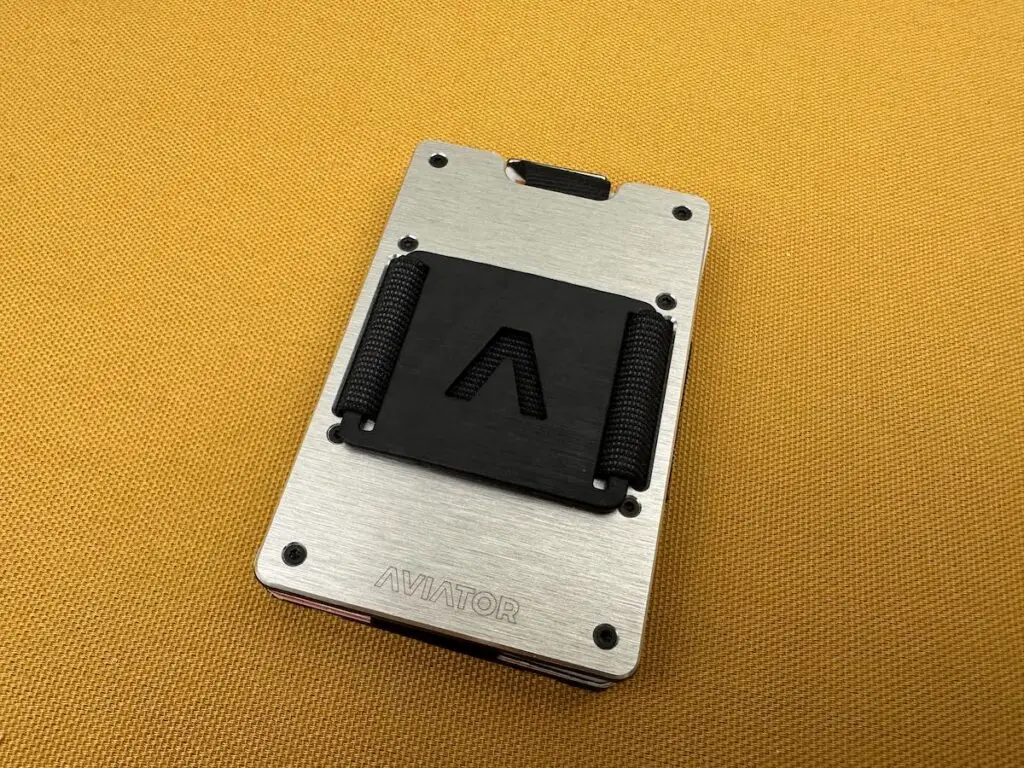 Which Aviator wallet should you choose?
At the base price of about $86, all models of Aviator wallets come with an acrylic frame. Except for the carbon fiber model, they all come with space-grade aluminum plates on the outside that give your cards RFID protection.
Because carbon fiber is less effective at blocking RFID than aluminum, Aviator throws in an RFID blocker card for their carbon fiber model that lacks aluminum outer plates.
Have your heard any headlines lately about RFID or NFC digital theft? Neither have I. That's because there isn't any. Advancement in embedded chip technology has made this a nothing burger.
The thing to remember is that the price point for all Aviator models can get really expensive really fast if you decide to upgrade the components. 
Aluminum internal frame (add $60). 
Aluminum coin tray (add $25) 
Carbon fiber coin tray (add $75)
Carbon fiber cash clip ((add $25)
3D printed AirTag clip ($35)
You can keep the price way down by choosing acrylic components (with sacrificing build quality).
If you really have money to burn, you can purchase the Titan #1 Slide which a titanium frame with titanium screws for a bargain-priced $434. That's two for under $1000. Get 'em while they're hot.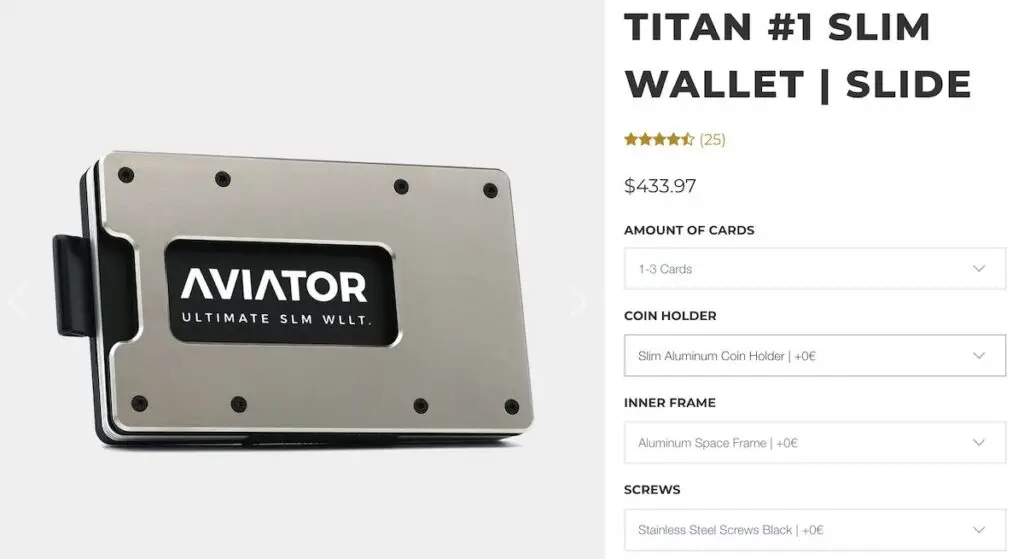 The bottom line is that the base model of the the Aviator Classic, Slide, and Slide One with basic acrylic components will most likely last you a lifetime. In fact, Aviator offers a lifetime warranty on all their wallets.
The quality of all components is really excellent, even the acrylic.  The various upgrades really aren't going to make the functionality any better. But if you want to splurge, Aviator has you covered.