In this post, I review 7 indestructible smart wallets that are as rugged as tanks and built for the long haul.
Some of them are made of metal or leather, but a few others are constructed from fabric so tough that Arnold Schwarzenegger (in his younger years) couldn't tear it apart.
But will they really last a lifetime? Well, that might be a slight exaggeration. However, four of the wallets on this list have a lifetime warranty, which is damn near the same thing.
These are the 7 wallets I review in this post:
The Mighty Wallet
QUICK FACTS:
Dimensions: 3.34 in x 4 in
Weight: Only 0.6 oz when empty
Materials: Tear-resistant, water-resistant, and recyclable Tyvek
Capacity: 2 large cash pockets, 2 credit card pockets, and 2 quick-access card windows
For those who are looking to have a little fun with their wallets, the Mighty Wallet is an absolute must-have thanks to its variety of styles, designs, and colors. Beyond just plain colors like black, the Mighty Wallets team has just about every print imaginable. Comic book print, subway map print, art prints, and more are all available.
The company even offers a unique "create your own option" for ultimate customization. It's a nice departure from most of the more boring minimalistic options out there today.
Make no mistake, though. The Mighty Wallet isn't all show. It's a serious offering that is just as, if not more, durable than other products on the market today. This is largely due to the wallet's unique Tyvek construction that uses interlocking plastic fibers to create a thin, flexible, tear-resistant product that can stand up to even the roughest treatment.
Space also isn't much of an issue, either. With multiple compartments, you can easily carry your necessary cards, your ID, cash, and a couple receipts with no worries.
Pros
super thin
un-tearable
some wild print choices
affordable
Cons
does not block RFID scanning
Ridge Card Holder Wallet
QUICK FACTS:
Dimensions: 3.4 in x 2.1 in x 0.25 in
Weight: 2 oz when empty
Materials: Aluminum, titanium, or carbon fiber
Capacity: Holds up to 12 cards plus cash
Warranty: Lifetime
If you've read any of my other posts, you've seen the Ridge rise again and again to the top of the charts. It's genuinely one of the best card holders money can buy thanks to its high-quality materials and construction, high carrying capacity, and minimalist design.
READ MORE: Looking for a gift for dad? These wallets are certified Dad-worthy.
Got a lot of cards? No problem. Up to 12 flat cards can easily fit between the rigid faceplates that provide the framework for the Ridge. (Though, to be honest, the wallet handles a lot better with just 6 – 8 cards.) A big fan of cash? The Ridge comes with or a money clip and cash strap to ensure your bills are safe and secure where they belong.
Durability-wise, the Ridge card holder gets an A plus. You can find it in carbon fiber, titanium, or aluminum, all of which resist scratching, breaking, bending, and whatever else you might throw at it. The elastic that keeps your credit cards in place can also withstand quite a bit itself.
It's guaranteed to stay nice and sturdy over its lifetime or Ridge will replace it. You really can't go wrong here.
Pros
RFID blocking
compact, sleek, and stylish
elastic resists stretching
it's the same size as a credit card
Cons
it can feel a little cold in your pocket during wintertime
Slimfold Micro Soft Shell
QUICK FACTS:
Dimensions: 3 in x 4 in x 0.15 in
Weight: 0.5 oz
Materials: Proprietary material called Soft Shell
Capacity: Up to 8 cards and cash
Warranty: 5 years
If durable, minimalistic wallets are your thing, there are few that will work better for you than the Slimfold Minimalist. Claimed to be the world's thinnest, lightest, and strongest slim wallet, it is made from a tough-ass material called Softshell. The manufacturer calls it a cross between Kevlar and GORE-TEX.
At only 5 mm thick when empty, it truly is like you're carrying nothing. Even when fully loaded with your cards, it maintains a sleek and streamlined profile that's perfect for a front pocket, a purse, or backpack alike. The Slimfold's materials play a large role in that. And yes, it blocks RFID skimming.
The wallet is both uber-thin and incredibly durable. Even if you try, the odds of it ripping or wearing are slim. It can also stand up to abrasion, dust, water, and more without even showing any real ramifications. Just don't expect it to be quite as pretty as the Ridge or as off-the-wall as the Mighty Wallet. The Slimfold Micro Soft Shell is all about practicality and longevity.
I've been carrying it for about a month now with 6 cards and a few bills of cash and its still anorexia thin.
Pros
waterproof
machine washable
made in USA
vegan
Cons
color choices are limited
Bellroy Slim Sleeve
QUICK FACTS:
Dimensions: 3.75 in x 3.15 in
Materials: Premium leather that is dyed all the way through with 10 color options
Capacity: 4 – 12+ cards with 2 quick-access slots
Warranty: 3 years
For many minimal wallets that are practicality indestructible, organization tends to be a bit of an issue. Where some offer haphazard card storage, Bellroy's cardholder wallet offers something a little bit more strategic.
Featuring two quick card access slots, a dedicated cash compartment, and a compartment with a pull tab for lesser-used cards, every space has a purpose. It allows for easy access and equally easy use, perfectly blending the practicality of the old-school bifolds with modern style and needs.
Does it actually stand up to real use, though? The answer is: absolutely. Bellroy is a high-end brand from Melbourne, Australia that uses only premium leather tanned under gold-rated LWG environmental protocols. The leather has beautiful stitching and is crafted as a long term investment.
With this wallet, you won't have to worry about replacement any time soon. The leather will age beautifully, so it will continue to look great while you two grow old together.
Pros
slim profile
beautiful high-end leather
well-organized interior layout
handy pull tab for cards
Dango T01 Tactical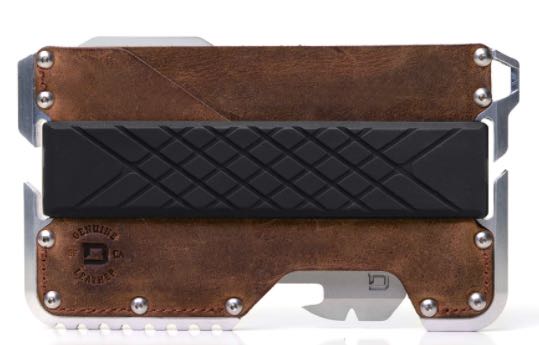 This is a man's wallet built for adventure, but still holds some credit cards for a skinny latte at Starbucks.
QUICK FACTS:
Dimensions: 4.375 in x 2.625 in
Weight: Just over 2 oz
Materials: Made with aerospace-grade aluminum, stainless steel, and quality leather
Capacity: Holds up to 12 cards plus a money band for cash
Warranty: Lifetime
Tactical wallets and durability just naturally go together. But the Dango T01 Tactical is one of its toughest and most durable offerings. This Dango wallet is handcrafted in the USA out of materials like genuine, top-grain leather, aerospace-grade aluminum, and high carbon stainless steel to ensure the thing will practically outlive you. (Frankly, I'll be surprised if it doesn't.)
READ MORE: Tactical wallets are some of the toughest of them all.
It's sturdy beyond belief and will survive no matter how harshly you treat it. It's resistant to heat, corrosion, breakage, and more. The elastic is also high-quality, providing a nice secure fit for up to 12 cards or the included MT02 multi-tool.
Of course, the Dango T01 is a tactical wallet and the tactical bits have also been created with just as much attention to detail. The bottle opener doesn't bend nor break, and the removable multi-tool offers a wide array of different functions.
With everything from a paracord tensioner to a serrated blade and even a smartphone stand, you will always have the tool you need right at hand.  
Pros
MT02 multi-tool is included
has a built-in bottle opener
TSA compliant with multi-tool removed
built to last
Cons
loading and removing multi-tool takes practice
Rugged Material Ranger
QUICK FACTS:
Dimensions: 3.3 in x 2.25 in x 0.38 in
Materials: Powder-coated steel and thick elastic band, plus multi-tool
Capacity: 8 cards plus cash
Warranty: Lifetime
Sometimes a wallet brand manages to surprise us, and the Ranger Minimalist has done it with this close-to-indestructible wallet. It's sleek and modern with solid metal construction. Its angular design is minimalist, too, only a tad larger than a credit card.
On top of the actual aesthetics, the thing just refuses to break while holding up to 8 cards plus cash. It's tough, maybe even overbuilt, so Rugged Material doesn't hesitate to offer a lifetime warranty. Even the woven elastic band that holds the wallet together is beefed up to a full 1.5 inches wide.
Much like the Dango T01, Ranger Minimalist also comes with its own multi-tool. It features wrenches, screwdrivers, and a handy bottle top opener. This credit-card-size tool is ideal for preppers or anyone who wants to be a little bit more prepared every day.
Overall, the Ranger Minimalist offers everything you need and nothing you don't. In other words, it perfectly balances minimalism and toughness without sacrificing usability. One drawback is that the steel construction makes it one of the heaviest wallets I've ever carried.
Pros
affordable
12 tools built-in
minimalist
cards push out from the bottom
Armour Supply Co. Wallet
Armour Aluminum Wallet
It's a less expensive alternative to the Ridge card holder with an additional multi-tool and keyholder to sweeten the pot.
QUICK FACTS:
Capacity: Up to 12 cards and 5 bills
Weight: 2 oz
Dimensions: 3.4 in x 2.1 in x 0.2 in
Materials: Aluminum and an RFID blocking composite
Warranty: Lifetime
On a bit of a tight budget? The Armour Aluminum wallet might an ideal choice. Similar to the Ridge smart card holder wallet but cheaper, the Armour has similar bullet-proof construction. If you know the Ridge, this design will be very familiar.
RELATED: There are a bunch more metal wallets out there that are similar to the Ridge wallet.
Elastic attaches to aluminum plates with 7 tiny screws on each side of the outside plates. Between the plates is where the cards go (up to 12 of them), and your cash fits under the stainless steel money clip. Inside the outer plates is a metal composite that blocks the possibility of RFID skimming.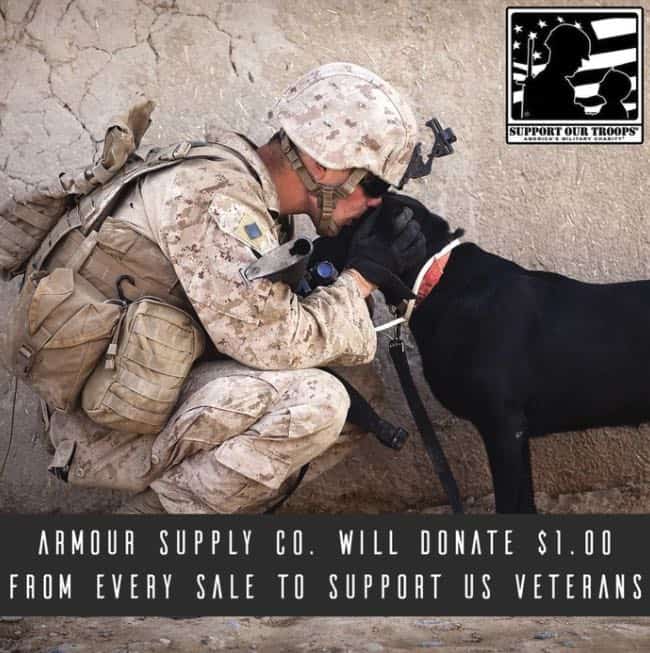 The Armour Aluminum makes for a very cool, minimal, and useful wallet that will last. Beyond this, Armour's even offers something the Ridge doesn't: an included multi-tool and a key holder.
While it might not be quite as stylish or as sleek as the wallet that obviously influenced it, it still provides an all-around excellent option for all who need something tough and indestructible.
Pros
comes with free multi-tool and key holder
$1 of each purchase donated to support U.S. veterans
good choice for survivalists and preppers
Cons
cards can be difficult to use with the multi-tool
Frequently Asked Questions
What is the most durable wallet?
The Ridge card holder wallet has a simplistic design that consists of aluminum, titanium, or carbon fiber plates. The plates are bound together with high-quality elastic and anchored with 14 mil-spec bolts. There is no stitching, zippers, or moving parts to wear out over time. And it comes with a lifetime warranty.
What is the best quality leather wallet?
When it comes to smart wallets, the leather quality and craftsmanship of all Bellroy wallets is highly-rated by a majority of owners. They use premium hides tanned under gold-rated Leather Working Group environmental protocols and the leather is dyed all the way through. It has the look and smell of fine leather, too.
How long should a good wallet last?
Metal wallets like the Ranger Minimalist or Armour Supply Co. card holder wallets can potentially last a lifetime–especially since they both have a lifetime warranty. High-quality leather wallets like the Bellroy Slim Sleeve can easily last decades, depending on how well you take care of them.