Dyed-in-the-wool outdoorsmen need to travel fast and light with a tactical adventure wallet that is built for more than just cards and cash.
These tactical wallets will appeal to men who want their wallets to be tough and stand up to the elements, while also being multi-functional. Many are made from metal, rigid plastic, full-grain leather, or a combination of these materials. They will protect your cards and cash in the worst of conditions.
Here are 5 of the top tactical wallets for outdoorsmen.
These are the Tactical Adventure Wallets included in this review.
TOP PICK: Dango T01 Tactical Bifold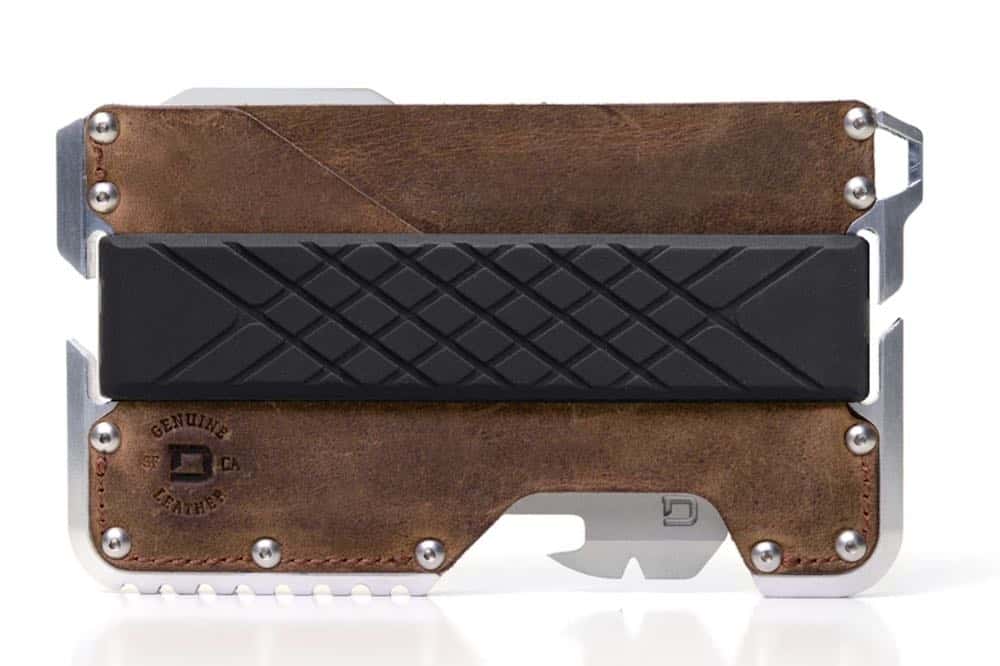 Quick Facts
---
While many wallets out there claim to be for serious outdoorsmen, few truly reach the mark. The Dango T01? It delivers. Carefully designed with the enthusiast in mind, this tactical wallet comes with 14 built-in functions, including a paracord tensioner, nail prier, sharp and serrated blade, and a glass breaker. Who knows when you might need this stuff?
It even comes with a handy phone stand for the times you're just relaxing around at home. Looks-wise, the bifold is just as impressive, made with a mixture of matte metal and a textured DTEX fabric. Bonus? The materials are also water-resistant.
Still wondering about the actual wallet functionality of this bifold? Well, it features a fairly traditional wallet silhouette, giving more space and practicality than many wallets today. It is advertised as capable of holding up to 17 cards plus cash, and of course, your removable multitool.
Unfortunately, some owners find that the TO1 can't quite meet those expectations when the tool is carried. 5 or 6 cards and a couple bills are a much more realistic carrying capacity. Despite this minor blip in the matrix, the bifold is still a great option and more than suitable for outdoorsmen everywhere.
PROS
aluminum chassis
comes with plenty of tools
heat and corrosion resistant
tool is removable to pass TSA
Armour Supply Co. Aluminum Wallet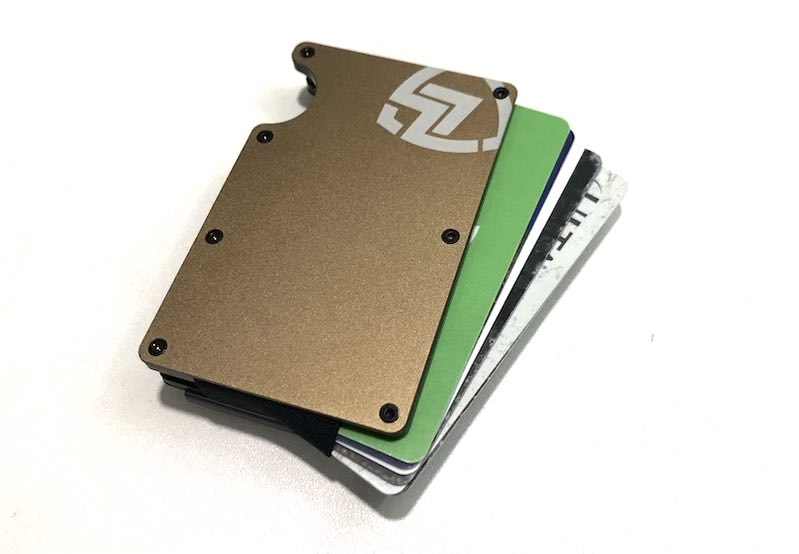 Quick Facts
Lifetime warranty
Tactical multitool included
Free keyholder
Constructed from aviation-grade aluminum plates
RFID blocking
---
For those who need a tactical wallet that can withstand just about anything thrown your way, the Armour Wallet is exactly what you're looking for. Made to be practical, durable, and long-lasting, it has a lifetime guarantee. This baby should withstand all the extreme elements a good outdoorsman will come across. 
As for the actual wallet itself, it features an ultra-light and minimal design that can hold up to 12 cards and 5 folded bills.  RFID blocking technology is also included to ensure your money and information stays safe and sound where it belongs.
As for the multitool, it functions as several things including a wire cutter, screwdriver, letter opener, bottle opener, and ruler. For comparison, it feels rather similar to the Wallet Ninja. However, it is lacking in some of the more impressive functions like tethers, tensioners, and the like.
If that's important to you, other options on this list might be better suited. But if you want a tactical wallet that is practically indestructible, look no further.
PROS
RFID blocking
lifetime warranty
incredibly durable
CONS
expensive
multitool isn't a big stand out
can't hold as many cards with tool
Trayvax Original 2.0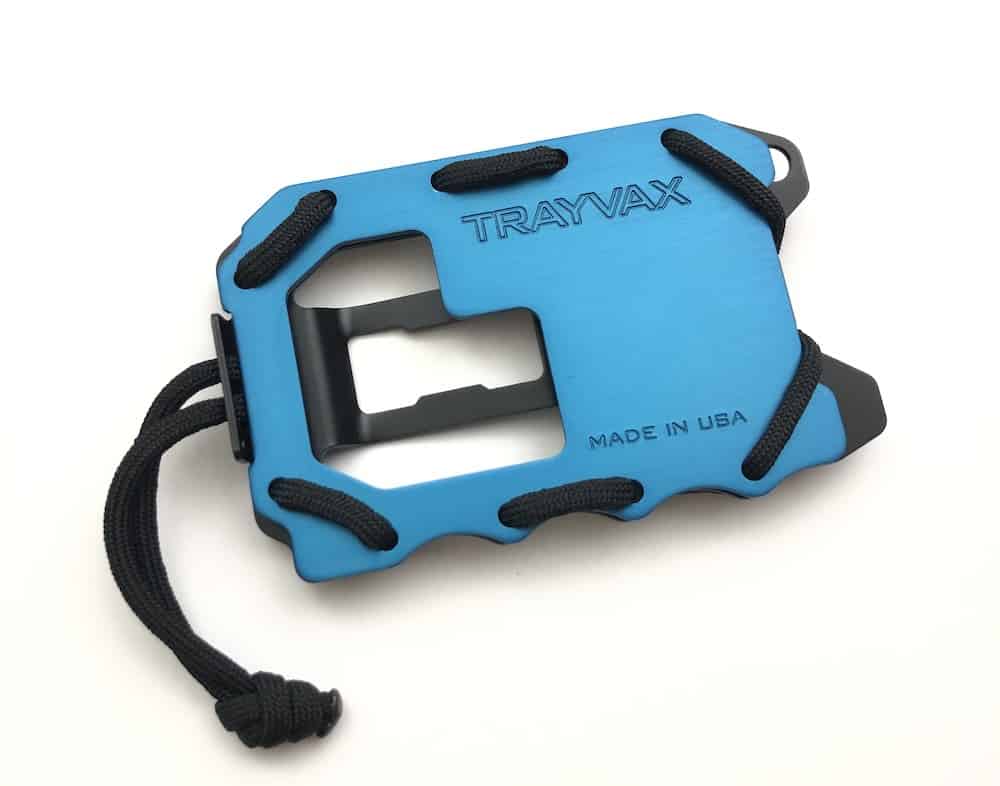 Quick Facts
Dimensions: 4.125″ x 2.625″
Weight: 2.4 oz
Materials: Aircraft-grade aluminum and stainless steel
Capacity: 15 cards and 5 bills
Warranty: 65-year heirloom
The Trayvax Original 2.0 wallet is a straight on tactical wallet, made with plates of stainless steel and aluminum laced together with mil-spec (military specifications) paracord. There's a clip on the back you can use for a few bills cash or to clip onto your pocket or belt.
It's made in the USA with a 65-year heirloom warranty which should allow you to pass this wallet down through a couple of generations.
Even maxed out with 15 cards and 5 bills of cash, it will still fit in most small pockets. But like most wallets, it is a much more efficient wallet with 6-8 cards. The paracord will need a bit of adjustment, depending on how many cards you like to carry. But once it's set, it's set.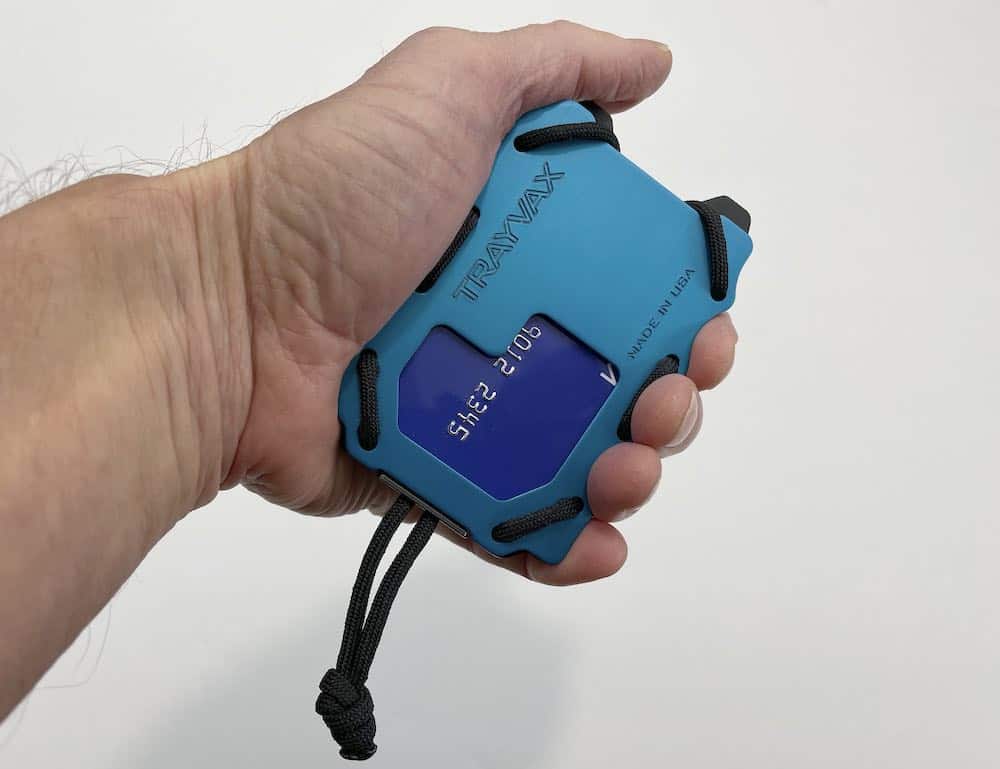 Because beer is necessary for a happy life, Trayvax includes an integrated bottle opener built into the money clip that's also TSA friendly. When you're ready to pull your wallet out of your pocket, there is a closed loop of paracord that's made just for that.
Another nice design touch is the 3 finger indentations on one side that give you a firm grip on the wallet. Use the thumb opening on top to push your cards out when you need them. Then place the paracord back over the tab to keep the card secure when you're done. It's helpful to put the card you use the most on top.
PROS
65-year warranty
solidly built from aluminum and steel
has an integrated bottle opener
clip can be used for cash or for a pocket or belt
CONS
you have to adjust paracord lacing for number of cards you carry
Pelican Micro Sport Wallet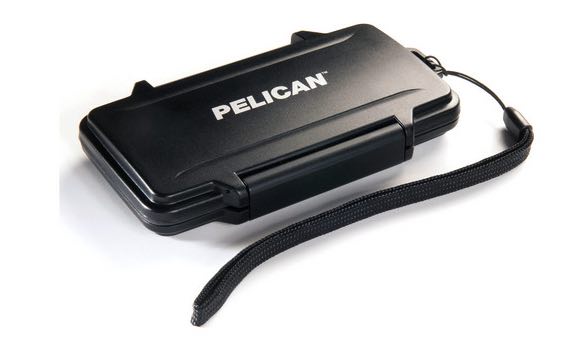 Quick Facts
Crushproof
Lifetime guarantee
Water and dust resistant
Has a hinged clamshell design
Can hold keys, cards, and cash
---
Looking for a wallet that's easy to use and will keep your stuff safe? The Pelican Micro Sport tactical adventure wallet has your back. Unlike some options on the market today, it features everything from water resistance to dust resistance to crush resistance and more. The wallet features a unique clamshell design that is incredibly efficient at keeping dirt, water, and bugs at bay.
Despite the tough exterior and tight seal, the wallet is easy to use and allows for open access to both your cards and cash – a welcome change from the wallets that hold them too tight and force you to dig around in vain. In part thanks to the tactic wallet's great mesh organizer pockets, the easy-open latch ensures no-fuss use.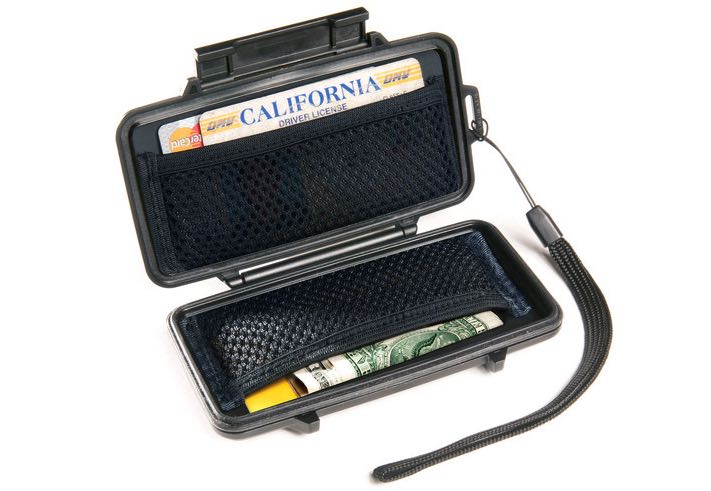 So, that is the good. What about the wallet's disadvantages? Like any product out there, it does come with some downsides. One of the biggest is how bulky it is compared to other more minimal wallet designs. It's for good cause since this option can hold a few bills and up to 6 or 7 cards without ruining the water-resistant seal. But the tradeoff is the bulk.
READ MORE: These rugged wallets are indestructible.
Neither does it make use of any RFID blocking tech, which potentially puts your contactless credit cards at risk. Despite these issues, it still does check a lot of boxes, especially price. And the water and crush resistance is huge. At less than 30 dollars, it's worth the try. 
PROS
good protection for cards
well organized
easy to use
inexpensive
CONS
bulky
no built-in RFID blocking
Rugged Material Ranger Minimalist Wallet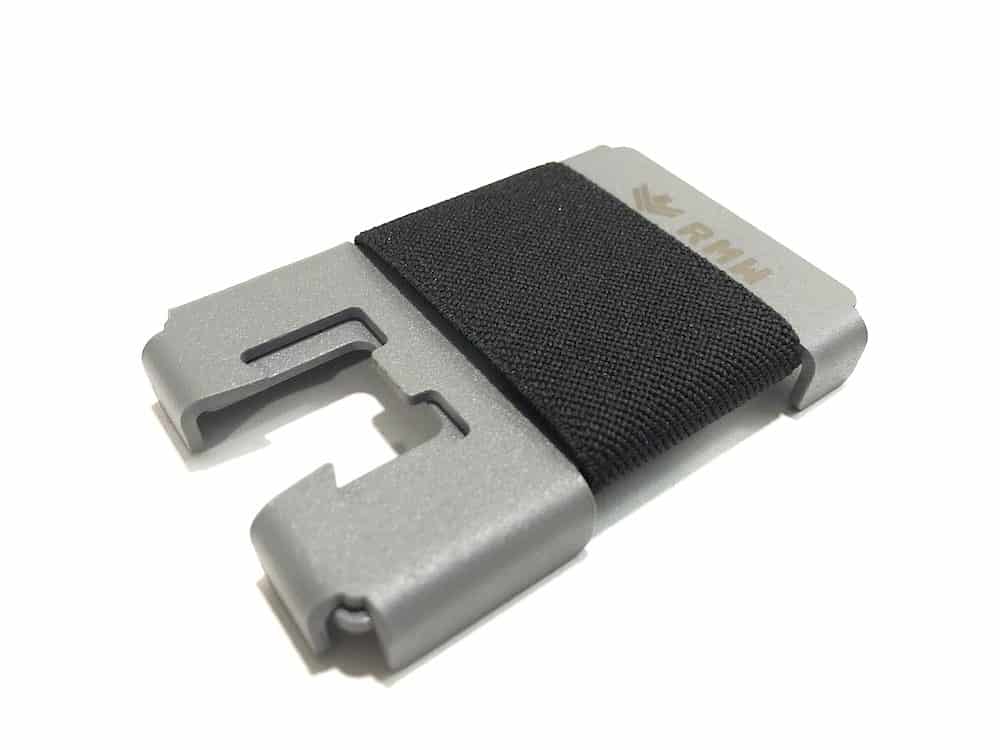 Quick Facts
Hook and loop closure
12 tools built-in
RFID blocking
Made from powder coated steel
Manufactured in the U.S. with a lifetime guarantee
---
While looks are subjective, Rugged Material's Ranger Minimalist wallet is undoubtedly one of the nicest tactical options available. The matte steel body feels expensive and sophisticated and the elastic band gives both nice texture and function.
What really matters, though, is the function and the Ranger has that in spades. Even with the small and compact body, it can hold 8 cards plus cash with ease. And yes, it actually can, making it the perfect option for those needing lots of space without the bulk.
The elastic band also does a great job holding bills, making the wallet more secure in addition to spacious. As with any band, there's a concern of this lessening over time, but with its thickness, it is still more resistant than most.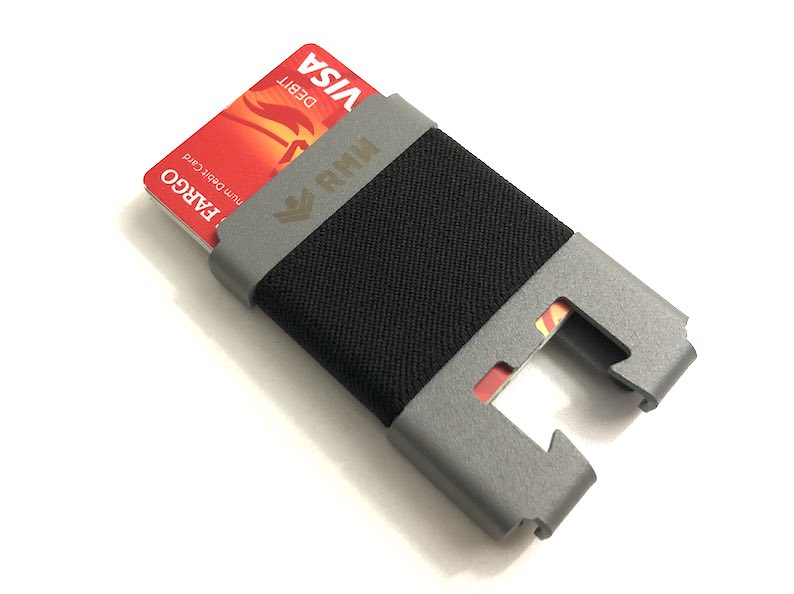 Outdoorsmen will also get a nice included multitool card along with their durable and corrosion-resistant wallet. Much like Armour Supply Co.'s offering, it includes all the common features like a screwdriver, wrenches, and bottle opener while avoiding the overly technical stuff.
However, it isn't marketed as a major survival toolbox. It's instead meant to just make you a little more prepared. It does what it says on the tin, making even this downside a rather small issue.
All in all, this is a top option, coming in a close second to the Dango T01 Tactical bifold. It's RFID-blocking, tough, minimal while still practical, and cheap. All in all, it's a kick-ass tactical adventure wallet.
PROS
thin and compact
inexpensive
RFID blocking
lifetime guarantee
CONS
fairly standard multitool card
elastic can stretch
What is a tactical wallet?
A tactical wallet is a credit card holder that typically doubles as a multi-tool. It can store a $20 bill, open a beer bottle, or pry a nail out of a 2 x 4. The tools are cryptically built-in and generally "disappear" into the wallet design. It usually has a high-tech look and appeals to outdoor enthusiasts who lean strongly towards a minimalist lifestyle.
What is a minimalist wallet?
A minimalist wallet is usually compact, slim, and lightweight.  By design, it cuts any wasted space down to the bone. It usually appeals to people who want to un-complicate and declutter their lives by carrying only the barest of essentials. The payoff is a wallet that is easy to carry and with little or no front pocket bulge.
LEARN MORE: Looking for a Christmas gift? Check out my two posts that will give you plenty more ideas for the man in the house.