A credit card holder wallet is designed to reduce the clutter. Here's how to banish your bulky billfold and downsize to a minimalist front pocket card holder.
Be honest. You've run out of reasons to keep carrying the bulky, overstuffed leather wallet that looks like it starred in a Seinfeld episode from 1998. That's why you're reading this article, right?
You've considered going with a minimalist credit card holder, but with so many choices, it's hard to know where to start. I hear you. I faced the same dilemma when I decided to abandon my own traditional wallet several years ago.
Since that time, I have deep-dived into the ocean of new and progressive wallet designs with my Speedo on tight. I have pocket-tested many card holders on the street and spent countless hours researching the rest of the pack.
In this post, you'll learn about 5 winning card holders that will make you forget all about your nasty old wallet of yesteryear.
These are the card holders included in this post.
The Ridge Card Holder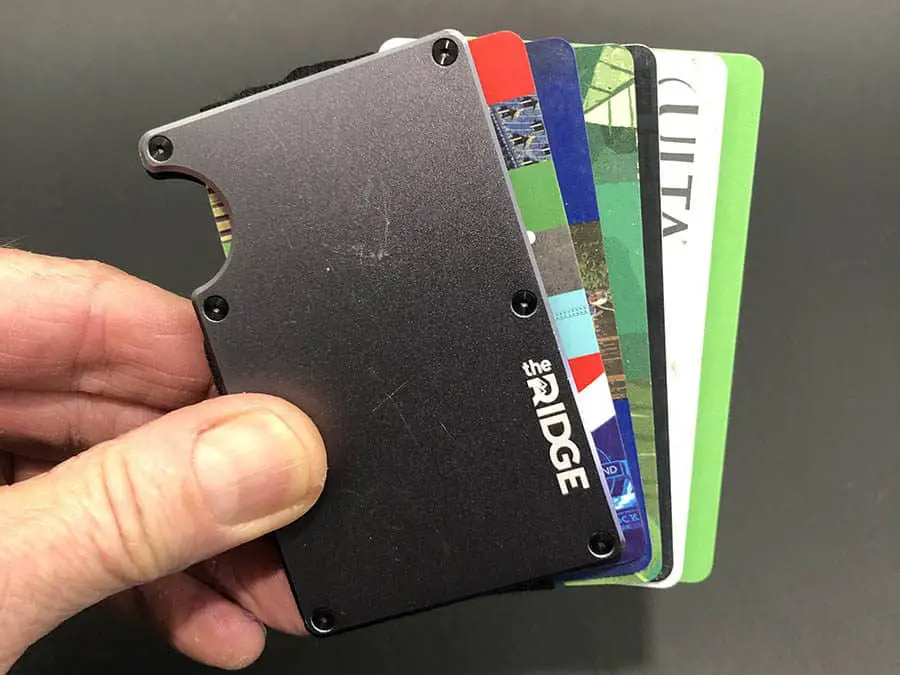 Quick Facts
Lifetime warranty
Comes with either a money strap or money clip
Holds up to 12 cards (but 6 or 7 work best)
Available with aluminum, titanium, or carbon fiber plates
RFID blocking
If you are looking for a sleek card holder wallet that's truly minimalist in size, then the Ridge might be your ticket to pocket paradise. It's the same dimensions as a credit card, about 2.25 x 3.5 inches. It's small enough, in fact, that I can palm it in my average-size hand about as good as your average magician.
The backbone of the design is a sandwich of two plates connected with elastic bands on 3 sides. The elastic provides the binding force that the manufacturer says will hold from 1 – 12 cards securely in place. In my personal experience, though, the Ridge works best with just 6 or 7 cards.
To load the wallet, you pry the plates apart with your thumbs. That part is easy and straight forward. But it took me a few days to learn how to push the cards out and squeeze one side of the wallet to spread them out accordion style. You'll master it, but be prepared to practice at home or you might find your cards piled at your feet in the checkout aisle.
PROS
cash and cards are held firmly in place
clean lines
super minimalist, fits any size pocket
super durable construction
CONS
the Ridge with aluminum plates scratches easily
metal plates can feel cold in your pocket in winter
Read my full review of the Ridge card holder here. 
Ekster Senate card holder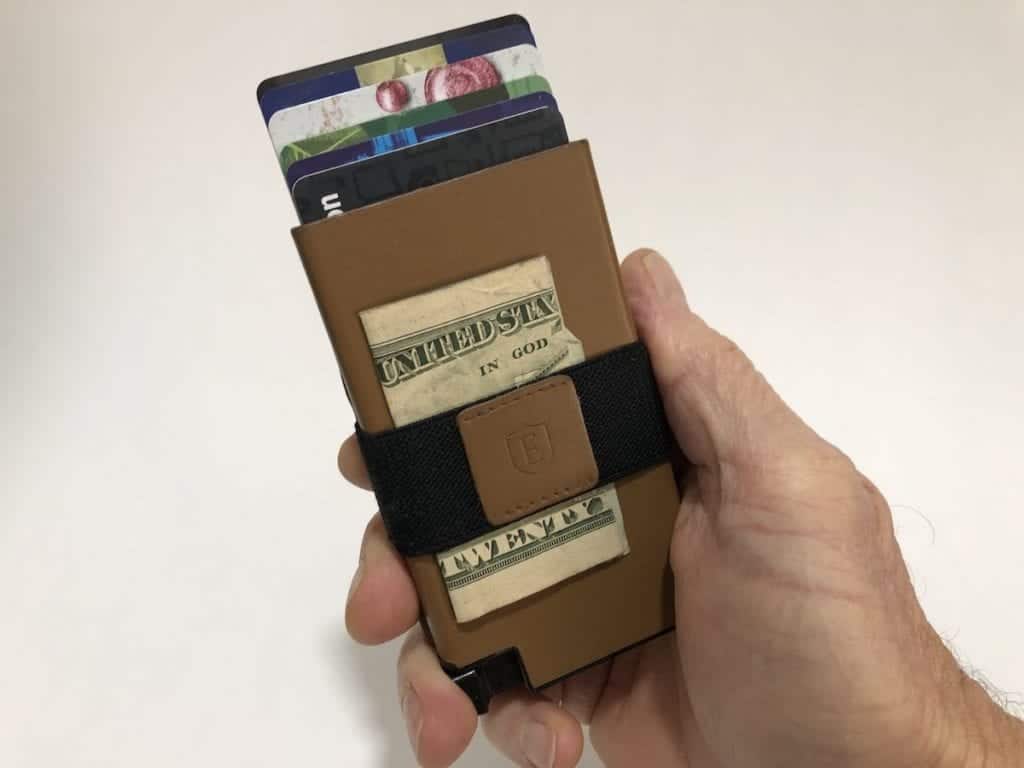 Quick Facts:
Elastic money band holds cash
Made from top-grain leather with beautiful stitching
RFID protection
Can hold up to 10 cards
Trackable with the Ekster solar tracker card

From the get-go, the Ekster Senate looks and feels like a high-quality wallet. Ekster uses top-grain leather from LWG gold-rated tanneries and then burnishes and polishes the edges so they'll never fray. Each one comes with color-matched stitching that is impeccably consistent.
What makes the Ekster Senate really stand apart from the crowd is its pop-up card ejector system. With the push of a button, up to 6 cards cascade out instantly into a staggered fan. Choose the card you want, then tuck it back into the rigid RFID-blocking aluminum case, ready to pop-up again.
I've been carrying the Ekster Senate as my daily driver for over 6 months and I never get tired of pressing that black button to see my cards pop-out. It works flawlessly every time.
Afraid of losing this ultra-cool wallet? Add the Ekster solar-tracking card that will help you locate your wallet in your house or anywhere in the world. Oh yeah, it's voice-activated, too.
PROS
high-quality leather
cards eject easily and reliably
RFID protection
cards can't bend or break
CONS
not as minimalist as some
button very occasionally sticks
Read my full review of the Ekster Senate here.
KORE Slim Card Holder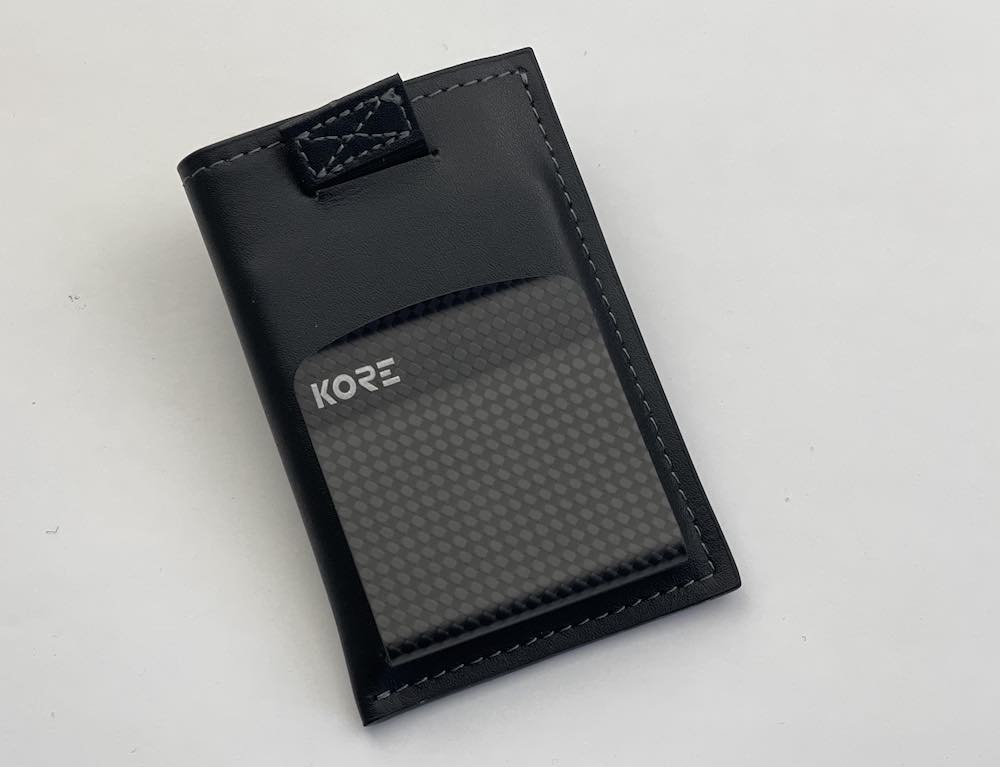 Quick Facts:
RFID blocking
Removable carbon fiber money clip can be used by itself
Holds up to 10 cards
Very thin and light, made with full-grain leather
Unique pull strap ejects cards
I love the Kore Slim card holder because of its daringly simplistic engineering. Yes, it has a one-of-a-kid carbon fiber money clip that can be removed and used independently. That's crazy cool. But the real flash in the pan is the fold-over leather design that creates an internal pocket with an RFID-protective lining sewn in.
To extract your cards, you pull up on the integral quick-access strap. This propels 8 cards about an inch out of the wallet so you can pick the one you need. There is no fancy pop-up mechanism like the Ekster. Just a simple strap that does much the same thing.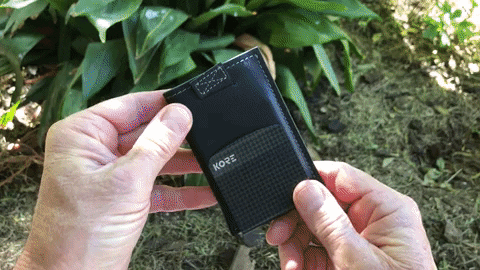 The Kore Slim only comes in black full-grain leather with a dedicated slot for its military-grade carbon fiber money clip. It's a really slim, lightweight wallet, even when loaded to the max with cards. If you want to make it GPS trackable, you can add a Tile, Chipolo, Ekster, or Innway tracker card in the external (non-RFID-protected) pocket.
PROS
high-grade leather
one-of-a-kind design
pull strap is low tech but effective
detachable money clip
feels good in your hand
CONS
a little pricey
will hold 8 cards, but works better with 5
Ybonne Slim Wallet
Quick Facts:
Made from full-grain saddle leather
RFID protection
Available in 6 different colors
Money clip on hinge inside (removable)
Transparent ID window on outside
The Ybonne Slim wallet is an affordable card holder that masquerades as a conventional bifold wallet. Its claim to fame is the quality of its leathers, available with Crazy Horse, full-grain, and Sappiano (originally from Italy) depending on the color you choose. The Ybonne opens to reveal a removable money clip on the inside of the hinge for a few bills of cash
There's room for 6 cards inside, too, but the outside has more of a card holder's heart. One side has a single slot for the credit card you use the most. The other has a clear ID window for quick access to the driver's license you'll need to show for running the red light at 23rd St. and Broadway.
Because of its throwback design to the bygone days of the standard bifold wallet, the Ybonne is a thin transitional card holder for someone trying to slim down their everyday carry. The type of waxed saddle leather used to make these wallets will inevitably show some scratches over time. But, as they say, it's part of the charm.
PROS
many excellent owner reviews
owners love the leather quality
includes extra money clip
great value for the price
CONS
leather can scratch easily
Fidelo Prestige Minimalist Card Holder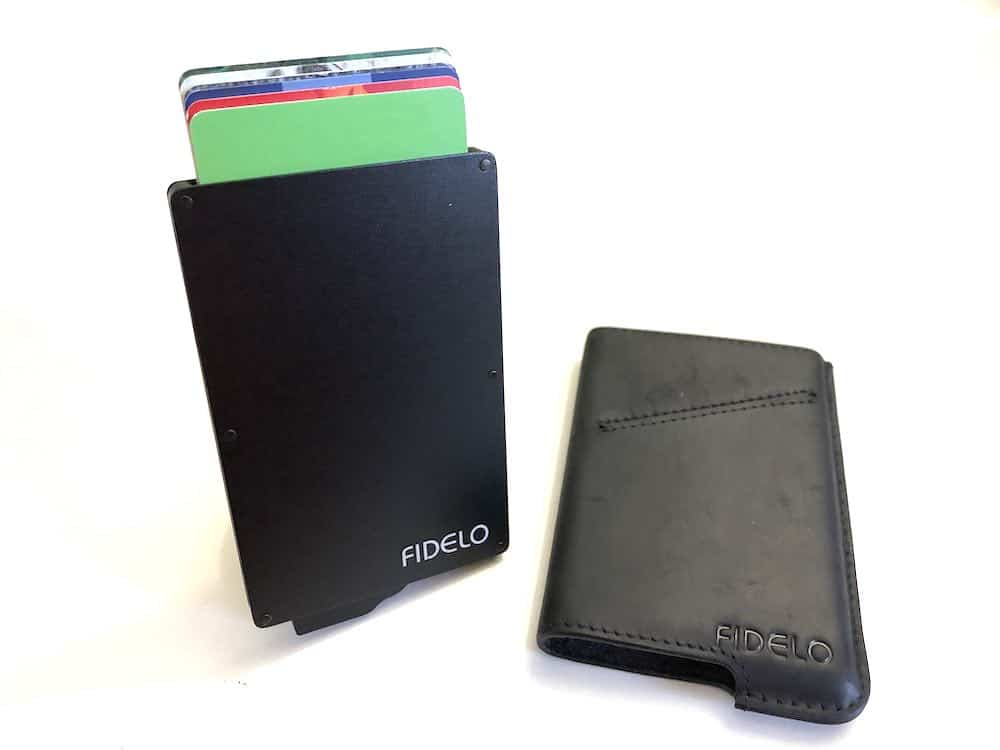 Quick Facts:
Minimalist, slightly larger than a credit card
Holds up to 12 cards
RFID protection
Made from 3K genuine carbon fiber
Comes with 4 different color money bands
The Fidelo Prestige minimalist card holder has a similar "sandwich-type" design to the Ridge. It comes with not one, but 4 interchangeable color money bands. Each of them provides the elastic force that sandwiches up to 15 cards between carbon fiber plates. This isn't run of the mill carbon fiber: it's genuine 3K with RFID-blocking protection built-in.
Whereas the Ridge has a C-shaped slot on the side, the Fidelo Prestige uses a large slot on the bottom to push you cards up through the top. The interior surfaces of the plates are polished smooth to prevent damage to the cards as they slide by. And they'll never bend or break because these carbon fiber plates are 5 times stronger than steel!
Owners fall over each other raving about this wallet. And I know from personal experience that the Fidelo support staff is super helpful and responsive. This is a thoughtfully designed minimalist card holder with high-quality materials that is surprisingly affordable. Fidelo's credo is "Be minimal, be free." How can you argue with that?
PROS
made with super strong carbon fiber
polished plates resist scratching cards
mix and match the 4 included money bands
amazingly positive owner reviews
CONS
cards eject all at once, not in a fan
card pockets can run a little tight at first
Frequently Asked Questions
Which is the best minimalist wallet?
You'll like a pop-up style wallet like the Ekster Senate if you want to eject your cards. For the smallest possible card holder, choose a wallet like the Ridge that holds your cards between rigid plates. Pick the Kore Slim for a card holder with a removable and standalone money clip.
What is a front pocket wallet?
A front pocket wallet is a slim, minimalist wallet designed to be carried in the front pocket of a pair of pants. It is smaller and thinner than a traditional wallet, often no larger than a credit card. There is usually a money clip or band to carry small amounts of cash.
What do you put in a card holder?
It depends on the person and the size of the card holder. I like to carry 2 credit cards, driver's license, insurance card, AAA card, and sometimes a gift or shopper card. Several $20 bills slide under my money clip along with occasional receipts and business cards.
LEARN MORE!
And in case you missed the Seinfeld episode that immortalized the George Costanza wallet, here's a clip.