These minimalist metal card holder wallets all use elastic bands or straps to securely hold up to 20 cards and small amounts of currency, too.
Finding a good metal and elastic wallet can be a difficult feat. What's a body to do?
To help you make an informed choice, I've compiled a list of 7 metal wallets that use elastic as an integral part of each wallet's design. Read on to discover how the rubber meets the road.
These are the metal wallets with elastic bands in this post.
Best: Ridge Card Holder

The Ridge is my top-rated pick of the litter. It's the most expensive wallet that uses an elastic strap on the list, but sometimes you get what you pay for.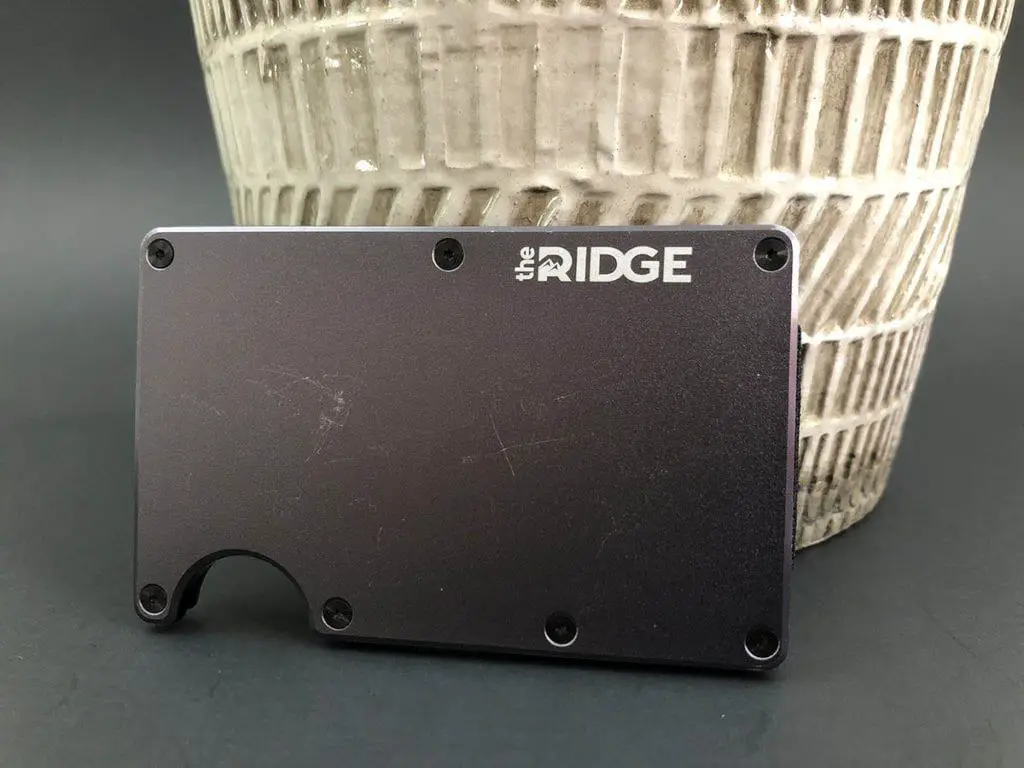 Quick Facts
Holds anywhere from 1 to 12 cards with ease
Replaceable and interchangeable elastic band
Lifetime warranty included
Super light at only 2 oz
Built like a brick sh_t house
For those who need a metal card holder wallet that will last for years to come, the Ridge wallet is an ideal fit. Made of high-quality materials like aluminum and tightly woven elastic, it is extremely durable and resistant to stretching or wearing out. The Ridge comes with a lifetime warranty that guarantees you'll always have a great wallet to protect your hard-earned cash.
Speaking of cash, the Ridge's thick elastic cash strap can hold several folded bills folded over twice. RFID blocking tech and sturdy metal plates are also big features of this wallet, ensuring your cards won't bend or lose personal data to criminal skimmers. Elastic holds this "sandwich" of metal plates together to tightly hold up to 12 cards.
The Ridge is truly a minimalist creation with outside dimensions that are exactly the same as a standard credit card. It fits all the other cards, too, like a drivers license, insurance card, and the Players' Club card that helps get you into trouble at the local casino.
Read my full review of the Ridge minimalist card holder wallet. 
PROS
durable, long-lasting
RFID blocking
strong elastic
solid warranty
CONS
aluminum Ridge scratches easily
card access need practice
Dango D02 Dapper 2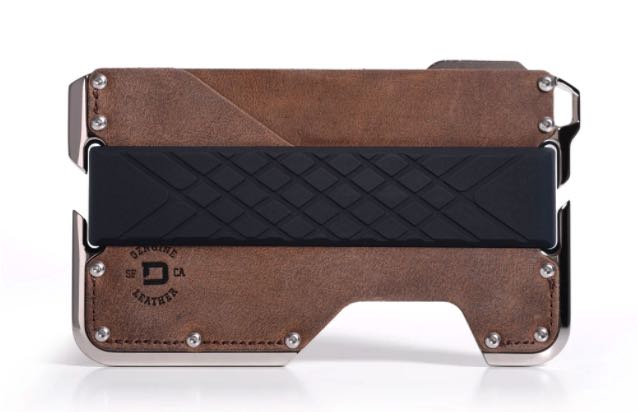 Quick Facts
Holds anywhere from 1 to 12 cards with ease
Only 0.3 inches thick with 6 cards
Lifetime warranty included
Super light at only 2.5 oz (empty)
Nickle plated and hand-polished aluminum plates
Perhaps the most striking elastic wallet on this list, Dango's D02 Dapper 2 is made for those who want both function and style. With sleek, high-polished nickel and beautiful genuine leather, this wallet strikes the perfect mix of sophistication and woodsy ruggedness.
The Dapper has a tough aluminum frame and a strong silicone elastic band to securely hold your cash, cards, or your rewards card at Dairy Queen.
Despite its durable construction, Dango's card holder is still super slim at only 0.3 inches thick with 6 cards inside. In other words, Dapper proves that minimalism doesn't have to equal flimsy. Just keep in mind that the 12-card max is a little on the generous side. 5 cards or less and just a few bills would be best if you want more security and less plate movement.
Turn the D02 Dapper 2 into a lean mean machine with the optional MT02 multi-tool. It locks into 3 different positions for inside the wallet. It can pry out a nail, cut a piece of paracord, and (my favorite) open a can of beer. We all have our priorities.
PROS
attractive and modern design
RFID blocking
a macho metal and leather design
made in USA
CONS
handy MT02 muli-tool is an additional cost
it's not easy to seat the multi-tool all the way in the wallet
Fidelo Prestige Wallet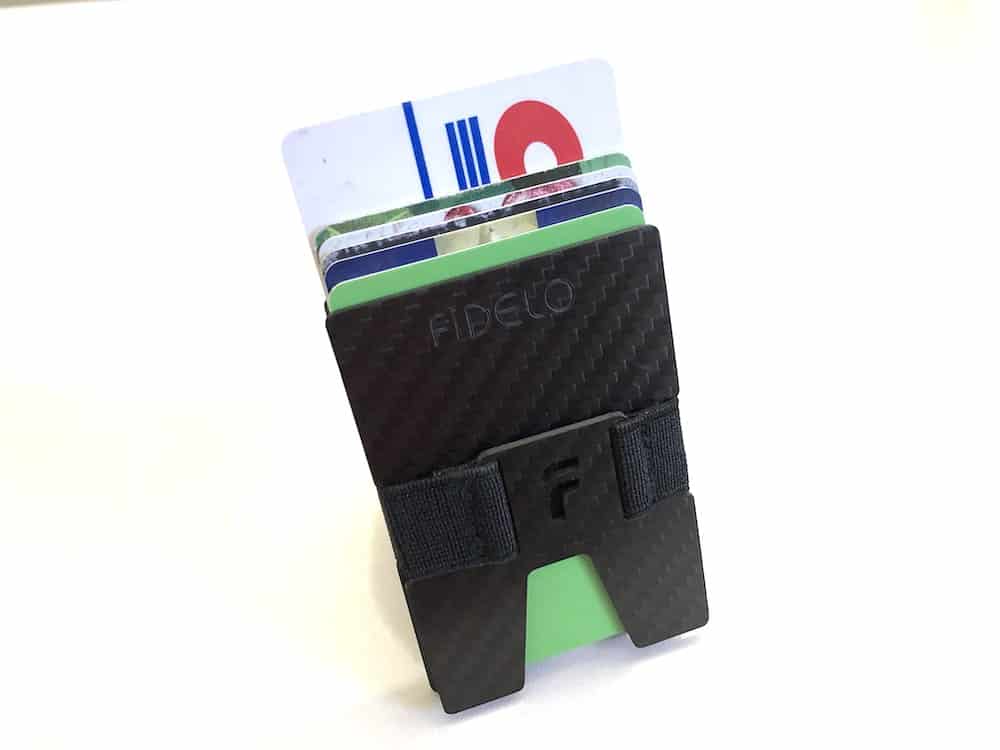 Quick Facts
3K carbon fiber construction (stronger than steel)
4 included colored elastic bands
12 card max capacity
RFID blocking
Cards push out through the top
Okay, I have to come clean. The Fidelo Prestige is made of carbon fiber, not metal. But carbon fiber is 5 times stronger than steel, so I'm going to let this one sneak in. Like other wallets on this list, it's slim, it's light, and it's compact. Best of all, it doesn't achieve this by compromise.
Made from top-end 3K carbon fiber, the Prestige is resilient against scratching, denting, and bending. And with 4 colored elastic bands to choose from, your wallet will always looking stylish and unique.
Turns out, brawn and brains can coexist, because the wallet also has a design that allows for storage space than many don't. Where the Dinghao wallet, Dapper 2, and others only really have space for up to 5 cards, the Fidelo Prestige can easily hold 6 to 8 or more while also holding 10 bills. The elastic band that circles the carbon fiber plates expands as more cards and cash are added.
Worried it'll be too crammed with cards to actually use? Don't be. This card holder is made for easy card fanning, meaning quick access and less fumbling at the shop counter. There's a lot of wallet here for the money.
PROS
1-year inclusive warranty
value priced
plenty of space for cash and cards
excellent owner reviews
CONS
only available in one style
no additional bells and whistles
Savage Spartan Tactical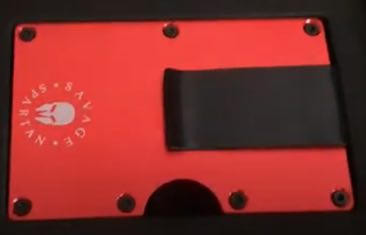 Quick Facts
Full RFID blocking technology
Super sturdy shell
Included money clip
Anti-stretch elastic webbing for a secure hold
Made from stainless steel and aluminum
What do you think of when you hear "tactical wallet?" Odds are, nothing as minimal as the Savage Spartan Tactical. Combining 304 stainless steel and premium aluminum, this cardholder wallet is built to last far longer than the leather bifold of old. Described by many as a "tank of a wallet," it's easy to see why.
Whether facing dirt, dust, sunlight, water, or an accidental drop, the Spartan Tactical can withstand it with little problem. As for its card-carrying function, it succeeds here where many fail, providing enough useable space for 12 cards. Just want to carry a few of your most used cards? The elastic strap will hold those tight, too.
RFID protection is also a central focus for Savage's wallet. Fully equipped with military-grade RFID blocking tech, it works great to protect private information from thieves' prying eyes (or rather, scanners). This is a man's wallet and a relatively low-cost option that's hard to beat.
PROS
Comes with a money clip
tough materials
relatively inexpensive
CONS
clip has been known to break off
Roco Minimalist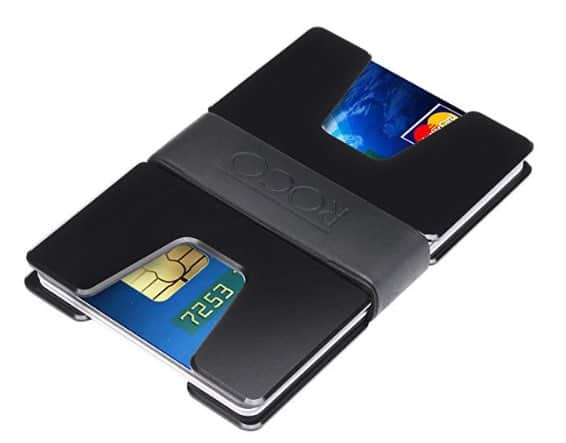 Quick Facts
Sturdy aluminum shell
2 included silicone bands –one for fuller wallets and one for emptier ones
A very compact wallet, the same size as a credit card
Hold up to 20 cards, but works better 5 – 6
Holds cash and cards securely
With its humble price tag, the Roco Minimalist gives plenty of bang for your buck. Much like Dango's Dapper D02, Roco's offering is made of strong aluminum plates held together with a silicon elastic band that keeps your cards safely sandwiched in-between. It is similarly protective but available at a much lower price tag than its higher-valued cousin.
The elastic band will expand to hold as many as 20 cards, which is about double the amount of any other wallet in this list. There are several cut-outs on each side of the wallet that look like they might provide some weak points in the RFID protection. However, I've never tested this wallet to prove me right or wrong.
Numerous owners lament that it is difficult to extract individual cards from the stack. A big saving grace is that if the elastic stretches or frays, the Roco minimalist ships with an extra band inside the box. All that said, it is still an amazing option at this price point, and a serious overall contender.
PROS
nice minimalist design
inexpensive
fits any size pocket
no screws to tighten or lose
CONS
difficult to access individual cards
Lindenle Women's Minimalist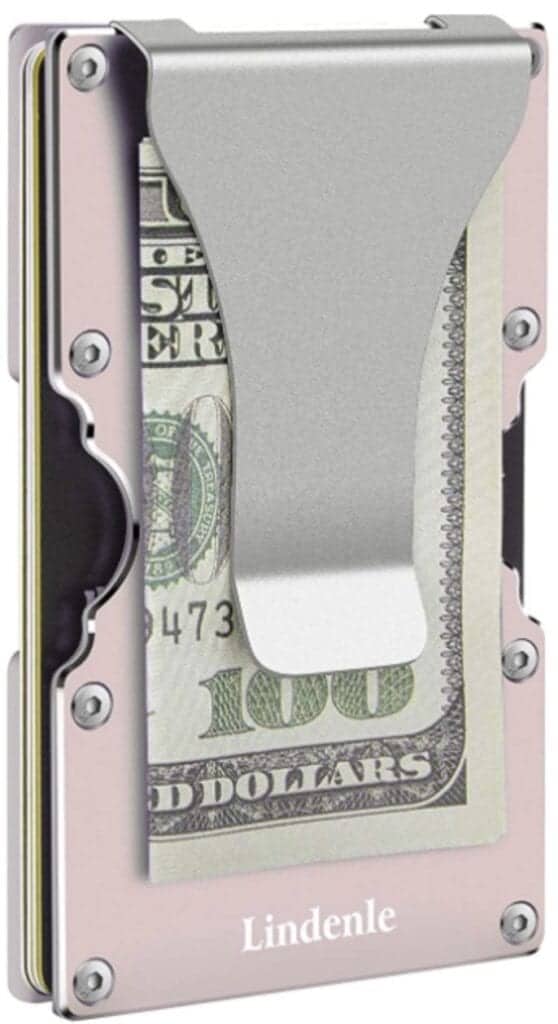 Quick Access
Stainless steel and aluminum construction
Eye-catching design available in multiple colors
Money clip included
Screwdriver to alter wallet tension included
Holds 1 -15 cards comfortably
Contrary to popular belief, the fancy metal wallet club ain't just for boys. Women are also increasingly flocking to the wallets due to their durability, aesthetics, and slim profile. With those criteria in mind, the Lindenle's women's cardholder is an excellent choice. Looks-wise, it's sleek, modern, and not overly designed, giving you a stylish and sophisticated everyday.
As for the practical stuff, construction is solid. Except for maybe the Ridge with its ridiculously high-end materials (and lifetime guarantee to back them up), Lindenie's offering easily hangs with the rest.
The shell is tough and practically indestructible (barring a horrific run-in with a stampeding buffalo), and it can hold just as many (if not more) cards than pricier offerings. The elastic money band is also pretty comparable, offering a nice, tight hold to keep cards safe and secure.
It's a good, solid offering for the price. If you're a woman wanting something light, compact, and stylish, the Lindenle wallet might just be for you.
PROS
attached money clip
excellent price
easy to carry, minimalist size
perfect for purses or pockets
CONS
can scratch easily
card access takes practice
Frequently Asked Questions
What is an elastic wallet?
Elastic wallets are wallets or card holders that make us of elastic bands to secure cards and/or cash in place. Wallets that make use of elastic tend to be made of rigid materials such as metal or carbon fiber. The elastic is incredibly durable and resistant to stretching which keeps cards and cash securely in place.
What is a metal wallet?
Metal wallets are usually made from steel, aluminum, or titanium. materials rather than leather. They are more minimalist is size than the traditional leather bifold and trifold wallets of days gone by. Designs vary widely, but typically they are made from two metallic plates secured with elastic.

What is a minimalist card holder?
Basically, minimalist card holders are the opposite of your dad's old leather wallet. Instead of holding everything but the kitchen sink, they hold up to 12 cards and a few bills under a money clip. They are made to carry just what you need and nothing you don't.
---
---