In this post, I'll tell you about 5 metal wallet alternatives to the Ridge wallet. Owners love the Ridge wallet (including me), but for a whole lot of us, it's out of our price range.
If you thought their prices were high to begin with, Ridge raised their prices twice between March 2021 and January 2022! Yikes!
Luckily, there is no shortage of Ridge imitators, clones, and copycats that closely mirror the original Ridge wallet. Others, to their credit, have used the Ridge for inspiration and developed new creative designs.
I'm sure that one of these metal wallets will be the one that strikes your fancy–and fits your pocketbook. So let's put the pedal to the metal and take a look.
These are the metal wallet alternatives to the Ridge that I recommend.
BEST OF ALL: Aviator Slide Wallet
With a pull tab for cards and a built-in coin tray, it's loaded with innovation.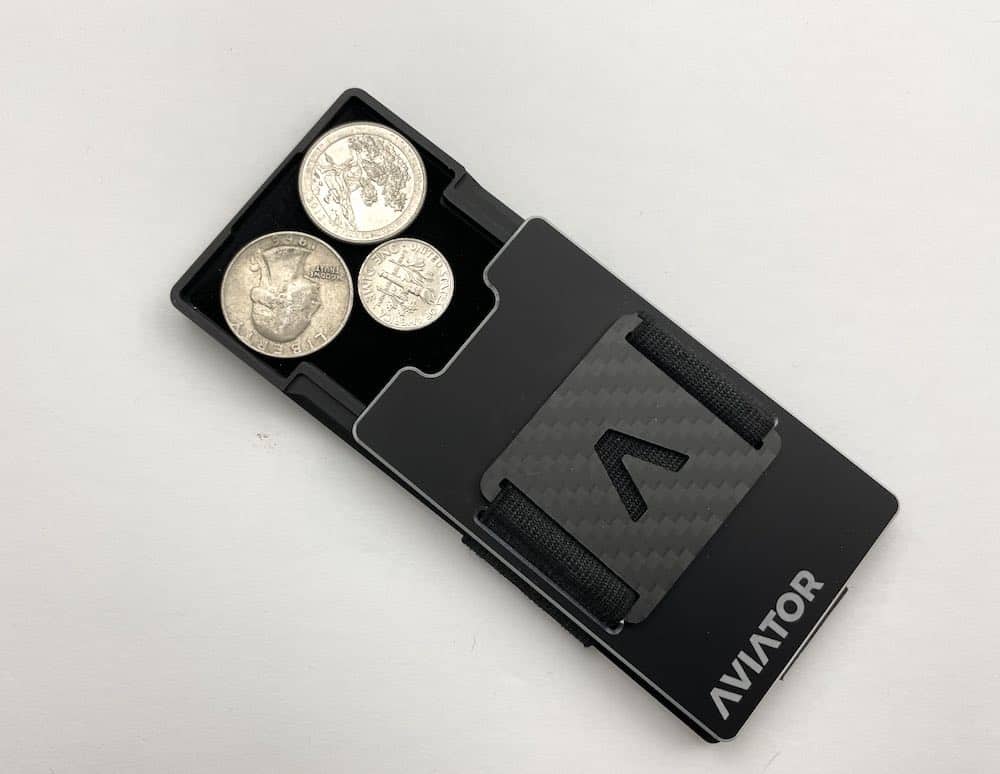 The Aviator Slide minimalist card holder is the wallet that the developers of the Ridge wallet wish they had invented. It shares the Ridge's "sandwich design," made up of two plates secured with elastic on three sides. But the Aviator has upped the ante by adding a slide-out coin tray and a pull tab for accessing up to 20 cards.
There are options galore, too. You can order a coin tray that will hold one or two layers of coins. And you can have that tray in aluminum or carbon fiber. You can choose acrylic glass for the frame or go with obsidian black aluminum like mine in the photo above.
The Aviator is sleek, compact, minimalist, and bespeaks the clean lines of German engineering. This wallet isn't outsourced — it's designed and made entirely in Germany, so it might take up to 2 weeks to arrive at your door in the US.
COOLEST DESIGN: Dango D01 Dapper wallet
Dango uses leather to soften the feel of its aluminum wallet.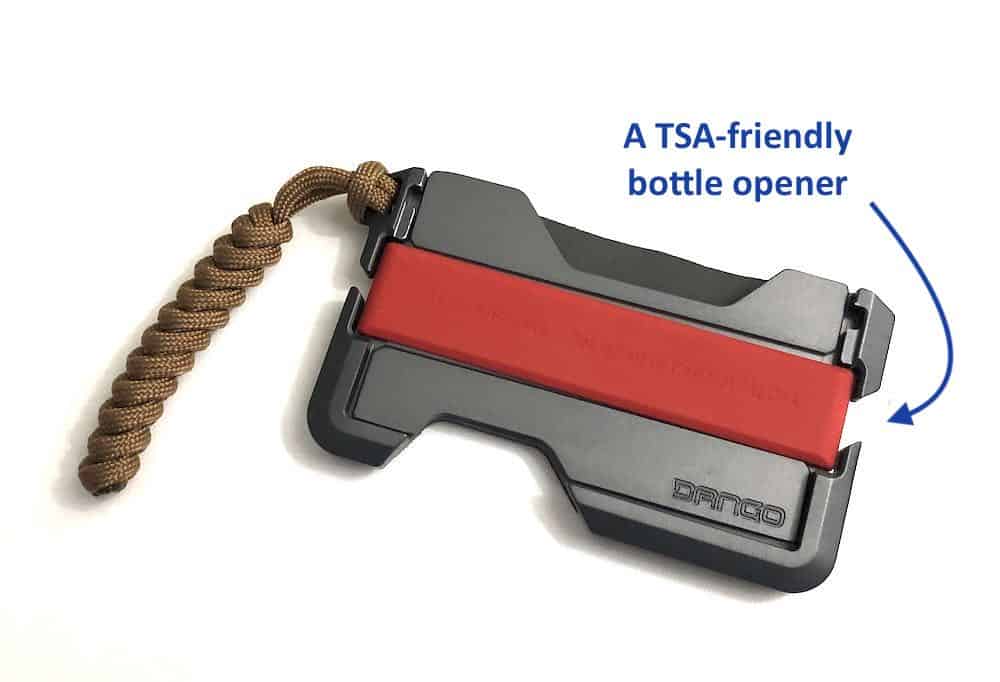 The Dango D01 Dapper strays even further from the Ridge wallet design by using leather in the design of their metal wallet. Anodized 6061 aerospace aluminum makes up the chassis of the wallet. But on one side they attached top-grain leather to the aluminum frame with mil-spec bolts. 
The leather is available in 7 different colors and gives the wallet a softer and more elegant feel than most metal wallets.  
You can store up to 12 cards in the Dango, either in the RFID-protected aluminum chassis or the unprotected pocket that's created by the leather on one side. A silicone band wraps all the way around the wallet for carrying some greenbacks.
Metal wallets tend to be a little cold when handling in cold weather, but the additional leather on one side really helps warm it up. Most owners love this wallet.
BEST ATTENTION TO DETAIL: Rossm
This wallet is nearly identical to the Ridge, but a third of the price.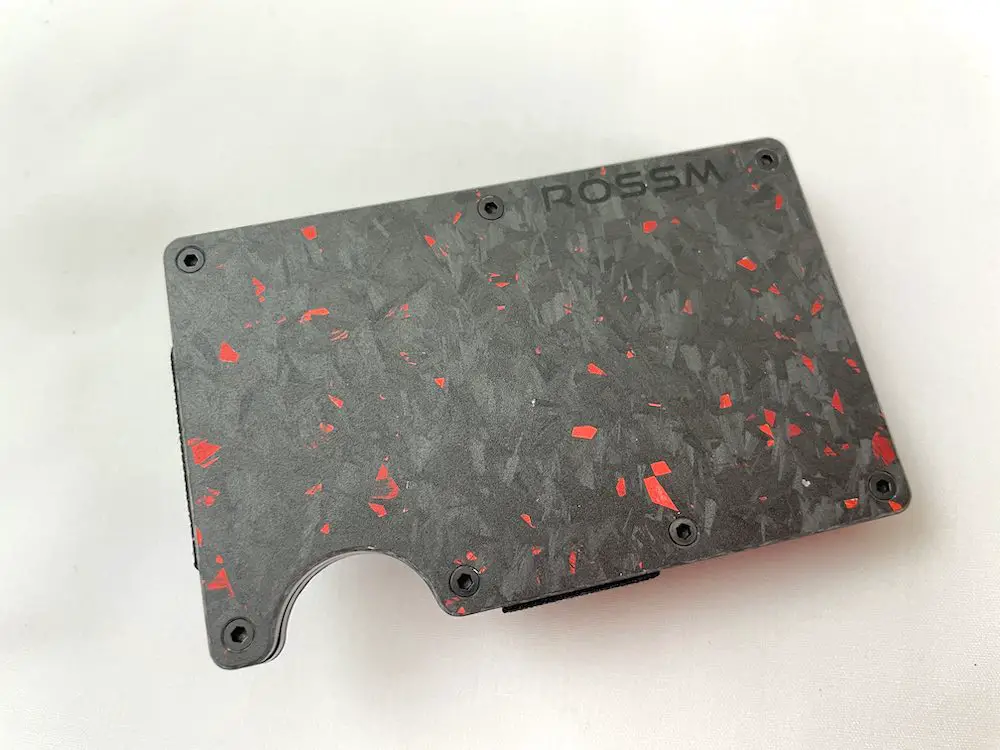 The Rossm Forged Carbon minimalist wallet is yet another incredible take on the Ridge wallet. I say that in a good way because Rossm has put together a quality carbon fiber cardholder wallet with the same specs as the Ridge for a third of the price. It's made from forged carbon fiber, which is the same high-strength material used by Lamborghini.
It's really a metal wallet, because inside the forged carbon are thin aluminum plates that not only give your cards RFID skimming protection, but provide extra strength to the whole wallet. Like the Ridge, Rossm bevels the edges on the side of the wallet where you insert the cards. This makes it super easy to slide a card back in after you've used it.
Even though it will hold up to 12 cards, it defeats the purpose of a minimalist wallet if you make it too thick. It's easiest to manage with about 6-7 cards. This is a minimalist wallet, right? Leave all those extra cards at home. 
BEST TACTICAL: Ranger minimalist wallet
An ingenious wallet you can use as a cardholder and a bottle opener simultaneously.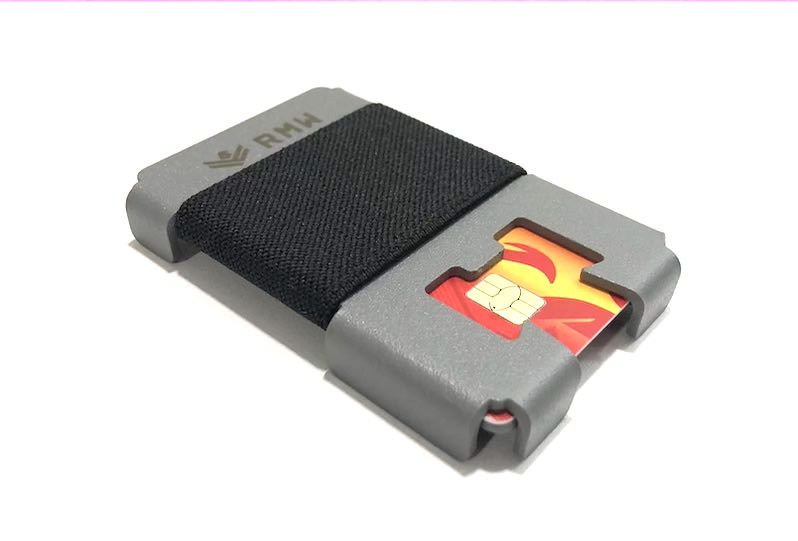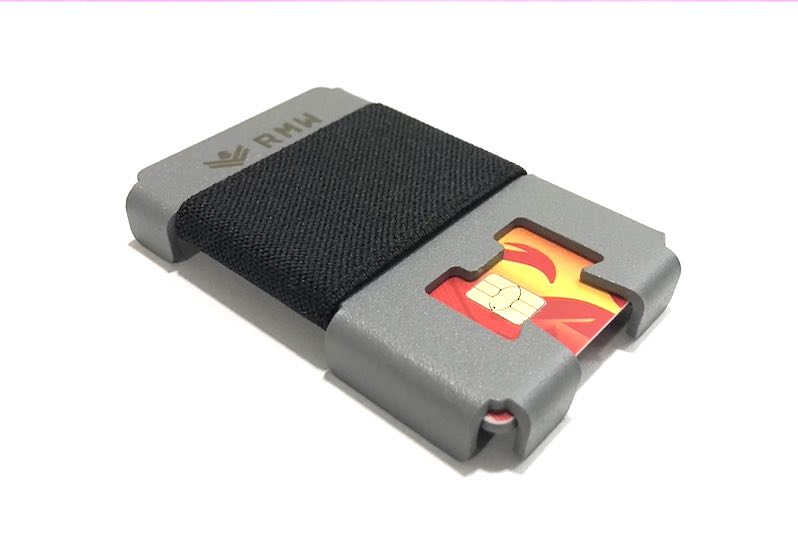 The Ranger minimalist wallet takes a different path from the Ridge wallet. Rather than using aluminum or titanium plates, the Ranger uses Teflon powder-coated steel. The company's name is Rugged Material, so it shouldn't be surprising that they offer a lifetime guarantee on this overbuilt metal wallet.
Their design uses a 1.5" wide, heavy-duty band to hold from 1 to 8 cards between the plates. The same band works as a cash strap for an emergency $20 bill or luggage receipt at the airport.
What is really cool about this wallet is that its powder-coated plates double as tools. One plate has 9 different sizes of wrenches built-in. The other has an integrated bottle opener. When you want to extract your cards, just push them up through the top from the bottle opener. It's ingenious, I think.
Most metal wallet alternatives to the Ridge wallet are made in China including the Ridge but the Ranger minimalist wallet is made in Cedar City, Utah in the USA.
BEST POP-UP EJECTOR: Secrid aluminum card protector
Secrid invented the quick access system for credit cards.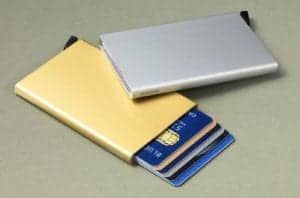 You may recognize the name Secrid as one of the original "pop-up" style wallets that eject credit cards with the flick of a lever. At the heart of this wallet is a rigid aluminum cardholder that will hold up to 6 cards. Most pop-up style wallets like Ekster and Fidelo use a similar mechanism that comes adorned in leather.
Secrid is unique in that they sell their aluminum cardholder naked, without any tanned animal skins attached. Because it houses an ejection mechanism, the Secrid aluminum card protector is slightly larger than the Ridge wallet. What you gain, though, is a quick access ejection system that pops your cards out instantly into a perfect staggered fan.
The stout metal card holder protects your cards from unwanted RFID scanning, too,  while keeping them from bending or breaking. The mechanism is patented and made in Holland since 2009. Here's a video from Walletopia that demonstrates how this mechanism works.
LEARN MORE: Would you like some leather with your metal? You can have it both ways. Check out my post: Top 5 Metal and Leather Wallets for Men.