Alright guys, if you're in the midst of your teenage years, this post is for you. You're gonna love one of these smart wallets because there's not a lame one in the bunch.
Four of these are either made from high-quality leather, canvas, or recycled sailcloth. There's a tactical wallet that uses aircraft-grade aluminum laced with paracord.
My personal favorite is a small card holder wallet that uses the same carbon fiber Lamborghini builds into its supercars! And that's no shit.
So let's take your style game to the next level with one these smart wallets. Read on.
7 Wallets Cool Enough for Teenage Guys
1. Top Pick: Rossm Forged Carbon Fiber
This beautiful alternative to the Ridge card holder wallet is made from real forged carbon fiber.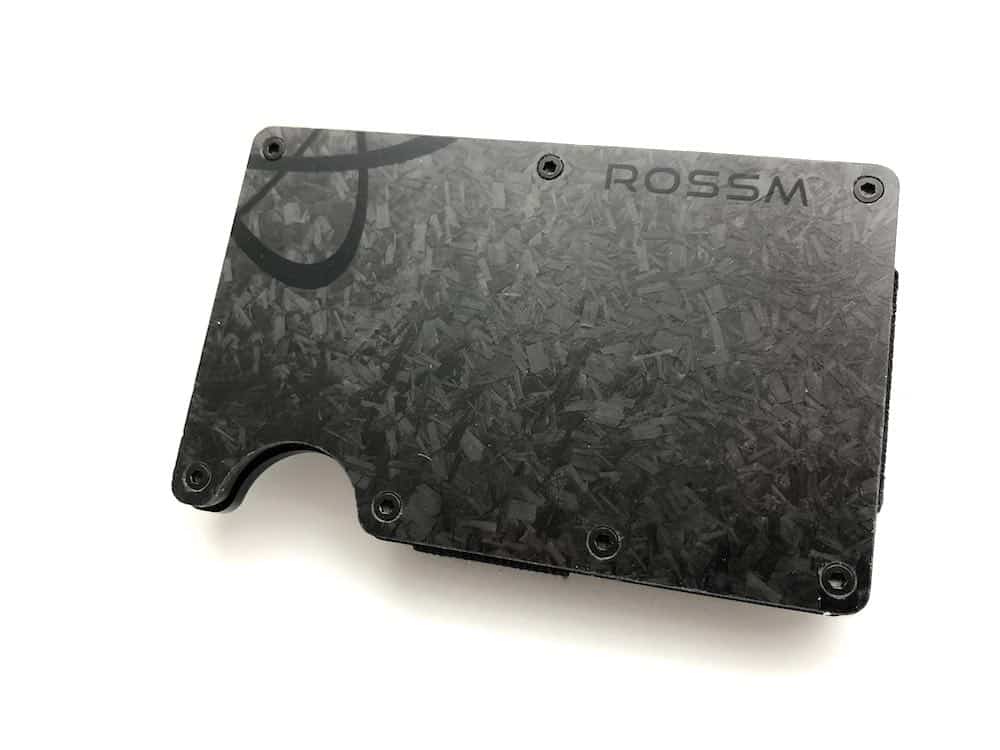 If minimalism is your thing, then Rossum Forged Carbon card holder wallet is the one to pick. Its main function is to hold up to 12 cards between two plates of forged carbon fiber with a few bills of cash folded over twice under the money strap.
With such a small footprint (it's the same size as a credit card), this wallet sinks into your pocket or backpack with hardly a whisper that's it there. The biggest draw, however, is the construction of the wallet itself.
It's made from forged carbon fiber, the exact same stuff developed and used by Lamborghini! Carbon fiber is ultra-strong while staying light. It's reinforced with thin aluminum plates inside the carbon fiber exterior that guard your card's information against RFID scanners. If you toss your wallet around a lot, this carbon fiber construction will keep holding strong.
For the type of guy who tends to go card heavy but cash light, the Rossm forged carbon fiber wallet is the way to play.
2. Flowfold Sailcloth Vanguard Bifold
This ain't your grandfather's wallet. It's one-of-a-kind, made from competition sail cloth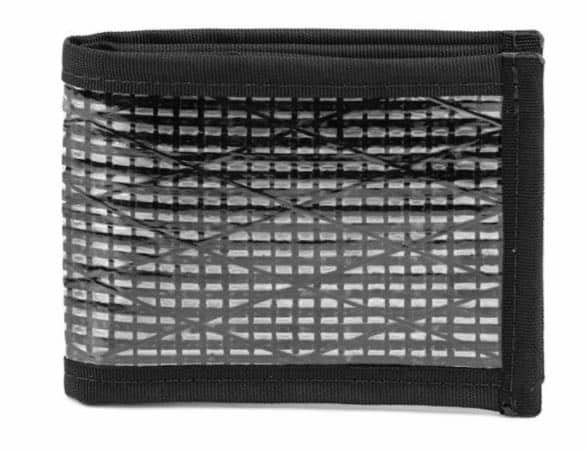 With the criss-cross of fiber reinforcement in this photo, this wallet just looks like a beast, doesn't it? It's made from composite racing sailcloth that was developed for sailboats and windsurfing. Flowfold is confident enough in the material and their workmanship that they give it a lifetime warranty.
Not only is the durable material designed to last till your dying day, but it is also meant to hold a lot too. The Flowfold Vanguard, although incredibly thin, can carry between 10 and 12 cards as well as cash. Also, there are two hidden card pockets as well as two ID windows.
One unique feature of this wallet is the fact that the sailcloth material is recycled. This means that colors and patterns will vary from one wallet to the next. It will be unique to you.
It's safe to say that many people you know won't have a wallet made of sailcloth. So, don't be surprised if your Flowfold Vanguard turns some heads.
3. Distil Wally Bifold 5.0
A trendy wallet with a quick access pull tab for cards, a coin pocket, and magnets that keep it closed.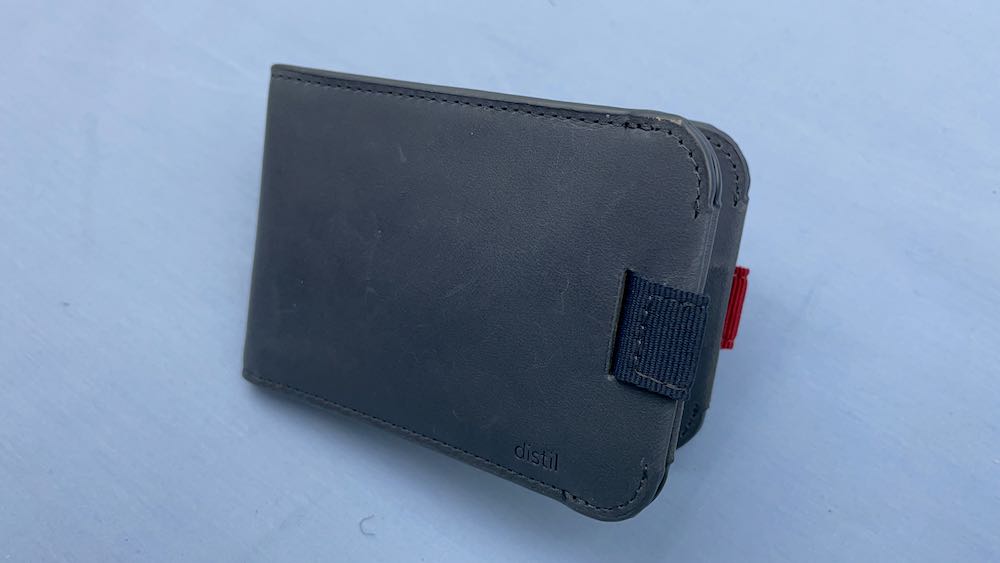 First of all, we all know that innovative wallets can really turn some heads. The Distil Wally Bifold 5.0 exemplifies this with is an incredibly sleek and functional wallet.
This wallet simplifies your EDC with an adjustable money clip inside and pull straps let you eject up to 6 cards. Close the wallet and it snaps closed with MagLock technology that keep it from opening when you don't want it to.
Functionally, it shines with its minimal design. Because of its low and unassuming profile, it takes away that annoying lump in your front or back pocket. Instead, it delivers on looks, crafted from full-grain leather with your choice of black, brown, or slate colors
Guys, this one is worth a solid look. The Wally Bifold 5.0 carries your cash, Christmas gift cards, your drivers license, and a dozen other cards if you're lucky (or unlucky) to have that many to lug around.
4. Herschel Roy
The tough canvas construction will stand up to the elements and look good while doing it.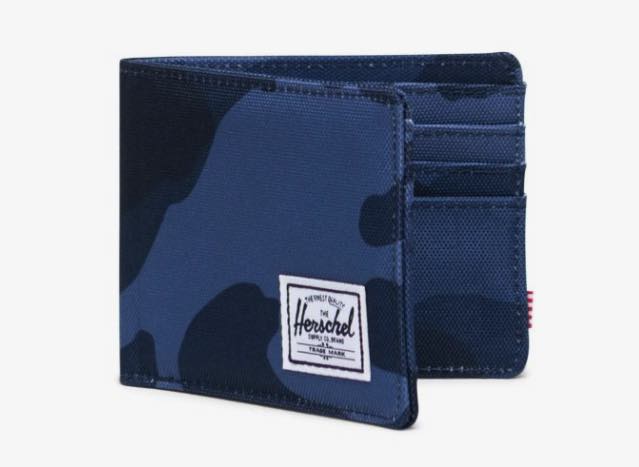 The Herschel Roy is a classic bi-fold wallet but instead of leather, it uses heavy canvas. This is Herschel's trademark material for everything they make, so they know how to make canvas bend to their will.
Coming with multiple card slots and a cash sleeve, it keeps pace with the Distil Wally Euro, but has more of a "kick around" of feel. The canvas construction is more informal than leather and definitely takes more abuse without showing it.
Where this wallet stands out for teen guys is that you can personalize it with 29 color and pattern options. Whichever one you choose, they all come with the famous Herschel logo sewn onto the front. The Herschel Roy gives you the opportunity to go bold or go low key.
Parents! This is a great gift for a teenage boy's first wallet. It won't hit your pocketbook hard but it's a knockout in terms of rugged style.
5. Trayvax Original 2.0
A metal tactical wallet made from anodized aluminum, stainless steel, and mil-spec paracord.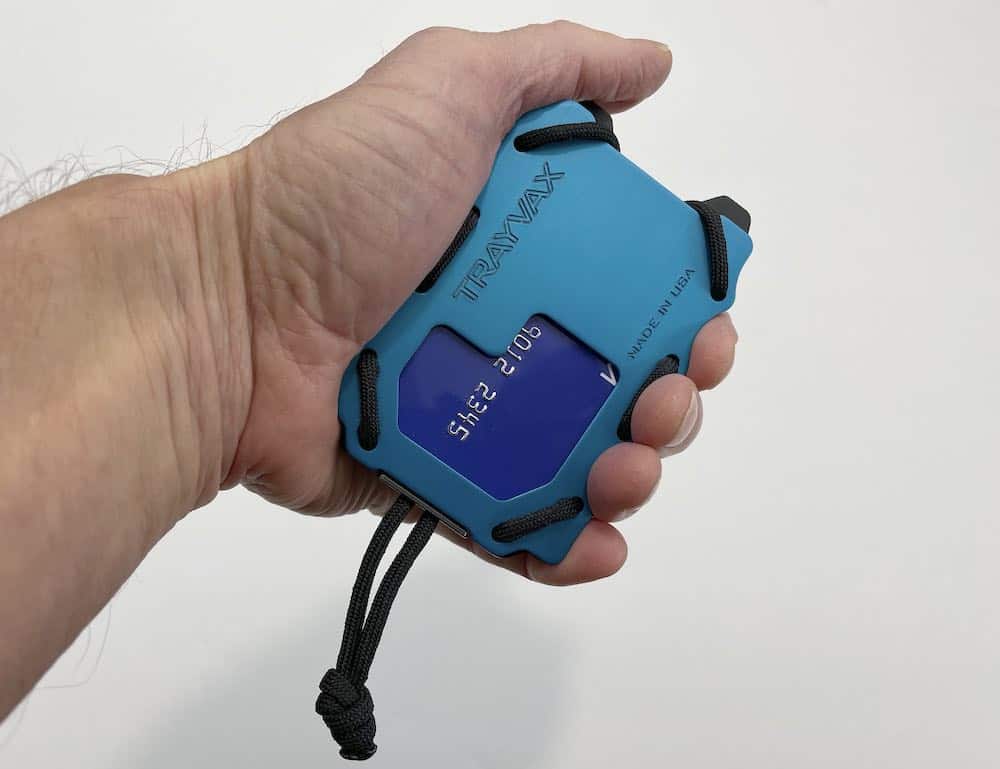 The Trayvax Original 2.0 is a tactical wallet designed specifically to be more durable than any other wallet on the market. And it's backed up with a lifetime guarantee.
Made from anodized aluminum and stainless steel plates held together with tough paracord, it has a very survivalist vibe to it. If you've got aspirations for the military or an apprenticeship with Bear Grylls, you will love this one.
In addition to these features, the Trayvax has a low profile with a front-pocket design. So no more sitting on your wallet. Also, it has a thumb-friendly opening to access your cards, RFID-protection, and mil-spec paracord to adjust the thickness of the wallet. It even has an integrated bottle opener.
Each feature was designed for a bigger purpose, to be the last wallet that a person will ever need. You'll have no regrets with this awesome tactical wallet.
6. Serman Brands 1.S
This leather smart wallet has a pull strap for cards and a money clip inside.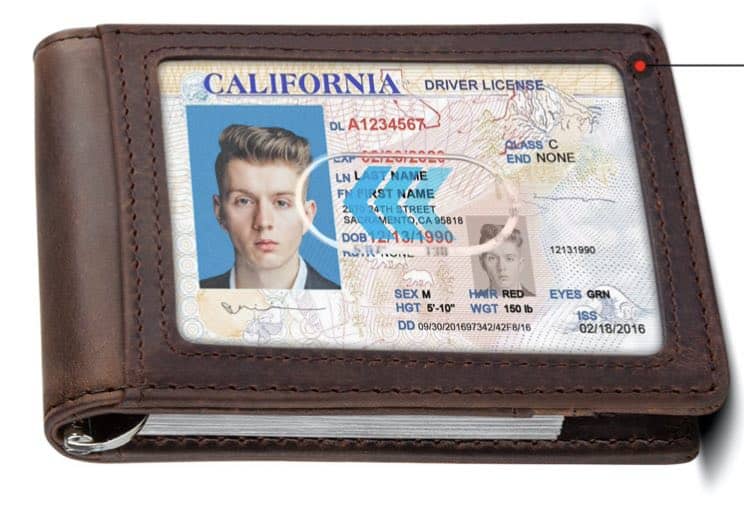 Alright guys, we have here the Serman Brands 1.S. It has a leather bifold design with a sophisticated and dapper feel without a price that's too hard on the wallet (pun intended). Even though it is minimalist, it still commands attention.
This wallet is crafted from full-grain leather (the toughest part of a cowhide) and comes in an array of colors from brown and caramel to slate gray and black. I like the transparent ID window on the outside.
Keeping a low profile with your EDC is the only way to go, and the Serman Brands 1.S follows that lead in lockstep. It's only It's only 0.2" thick, yet still has enough space to store 6-8 cards as well as cash.  Finally, it comes with  RFID security, keeping your financial and personal information safe.
Guys, this is a fine-looking wallet that won't break the bank. It belongs on the Christmas list to yourself.
7. Slimfold Micro Soft Shell
Made in San Francisco from an extreme fabric that's a cross between Kevlar and Gore-tex
Thin, minimalist wallets are the big thing right. Go on Reddit sometime and you'll find knock-down, drag-out fights between minimalists who (ironically) want to outdo each other with less.
But the Slimfold Micro Soft shell takes this concept to a whole new level. While staying razor thin. It is made from a waterproof, softshell material that will keep the contents dry when it gets doused with water. The manufacturers of this material also create materials for such companies as North Face and Under Armour.
The stretchable material allows for 10-13 cards to fit easily, along with enough space to carry your cash and ID. They have give you the opportunity to purchase their product in a multitude of colors. So, you can add some style points to your purchase.
But overall, this wallet is designed to be the most comfortable design out there. It doesn't disappoint.