When you think about phone grips that attach to the back or your phone, the first name that comes to mind is PopSockets. But did you know there are PopSockets alternatives that work as well (or better) than PopSockets?
I purchase all of the PopSocket alternatives in this post and they are all MagSafe-compatible. None of these use an adhesive. That means they will only stick magnetically to the back of an iPhone 12, 13, or 14.
Like most MagSafe accessories, they will work better with a MagSafe-compatible case than with a "naked" phone. I used an Apple silicone case with MagSafe in all of my testing.
Sorry, but if you own an Android or other non-Apple phone, you're S.O.L.
PopSockets are great, but there are other alternatives.
These are the PopSocket alternatives I evaluated.
| | | | | | | |
| --- | --- | --- | --- | --- | --- | --- |
| | | | | | | |
| | | | | | | |
| | | | | | | |
| | | | | | | |
| | | | | | | |
| | | | | | | |
| | | | | | | |
| | | | | | | |
| | | | | | | |
| | | | | | | |
| | | | | | | |
| | | | | | | |
| | | | | | | |
PopSockets introduced the PopGrip and PopWallet+ for MagSafe in May 2021. Both of them have a super strong magnet and I have enjoyed using both of them.
Before MagSafe, I was never crazy about PopSockets phone grips because I hated the idea of gluing something onto my phone or my case. What I wanted was a PopSockets alternative that was MagSafe compatible so I could use it with my iPhone 12 Pro.
When they introduced the PopGrip and PopWallet+ for MagSafe, I got excited. In my mind, PopSockets is still the gold standard for MagSafe phone grips.
PopSockets isn't the only game in town, though, when it comes to MagSafe phone grips. The five that I'm reviewing here don't have the market saturation of PopSockets, but they're still worth a look.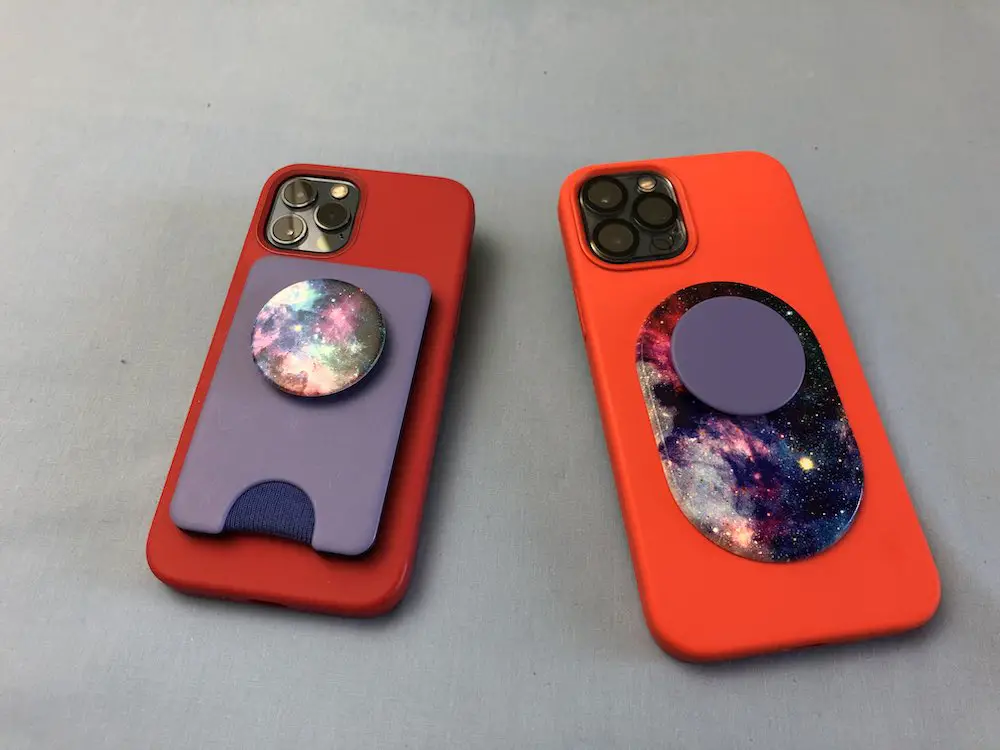 Left: MagSafe PopWallet+ on iPhone 12 Pro with Apple MagSafe silicone case. Right: MagSafe PopGrip on iPhone 12 Pro Max with same case. Photo: Kim Stone
Works with MagSafe charger: MagGone Phone Grip and Stand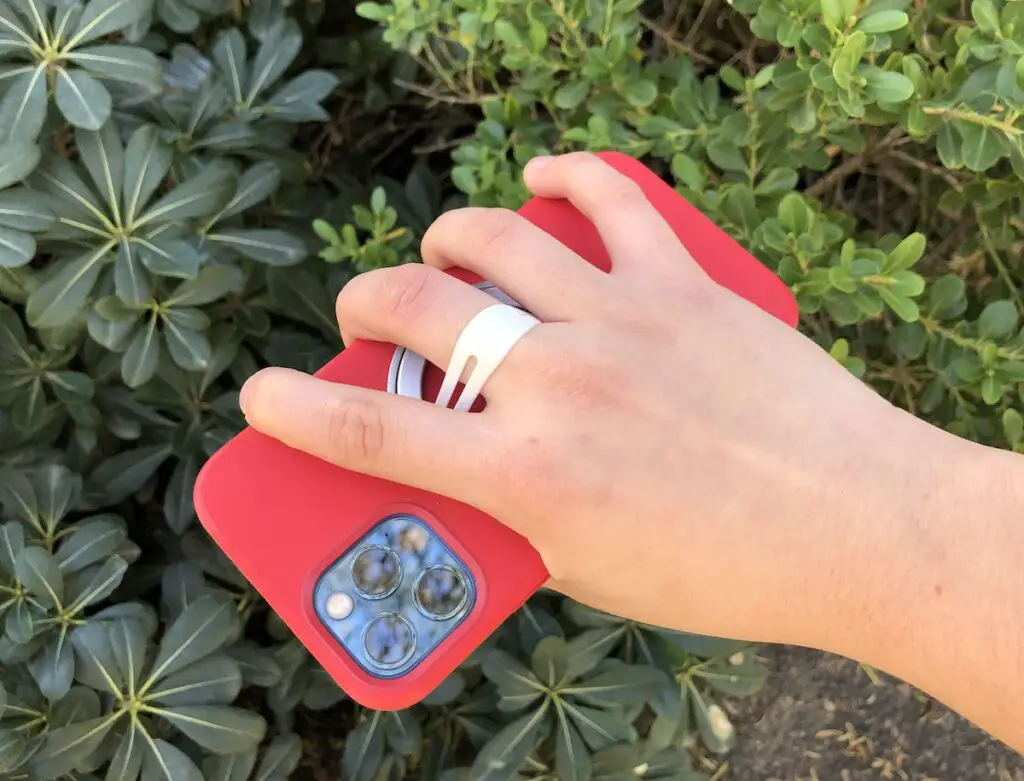 The MagGone phone grip is a simple set of two rings. One contains the magnetic ring that attaches to the phone. On the outside is a much thinner ring that pivots on a friction hinge.
You can position this ring to use it as a kickstand in either landscape or portrait viewing positions. It stays in place pretty well where you set it.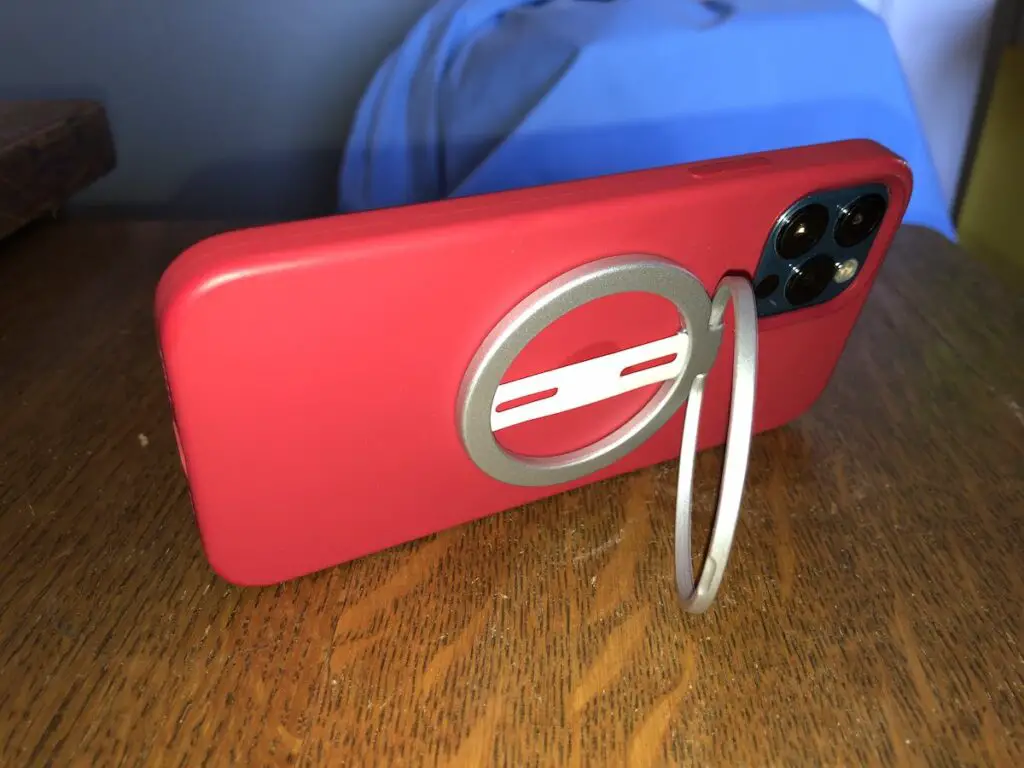 There is an elastic band that connects to both sides of the inner ring that's designed to place at least one finger underneath to hold your phone. One serious issue I found is that it's very easy (too easy) to pull the grip off the phone when you're inserting your finger underneath it.
The whole point of using a phone grip is for the grip to support your phone without your hand having to hold the phone. You need to feel confident that it will hold your phone securely, but the magnet strength of the MagOne is not reassuring.
To be fair, some MagSafe compatible cases for the iPhone 12/13 are stronger than others. I find that my Apple MagSafe silicone case has good all-around magnet strength. But other cases, like the Moft MagSafe-enhanced case, has a considerably stronger magnet than the Apple case. The MagOne sticks much better to my Moft case than my Apple case.
You can also use the movable outer ring as a grip, if you like. I can get 3 of my fingers comfortably through the outer ring.
The magnetic inner ring that attaches to the phone can be rotated to whatever position is most comfortable. There is less chance of the MagOne pulling off your phone when you place your fingers through the ring.
The outside of the MagOne is also magnetic so it will stick to any MagSafe mount or charger. This means you don't have to remove it like you do with most other phone grips. This is a unique feature that no other MagSafe compatible grip has.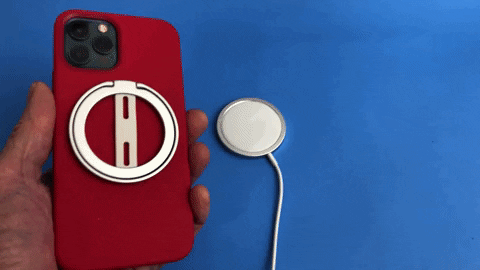 EWA, the company that makes the MagOne, says that you can also charge your phone without removing the grip. Unfortunately, this will NOT work with my Apple MagSafe compatible case, but it will with a naked phone.
Most Versatile: Sinjimoru Phone Grip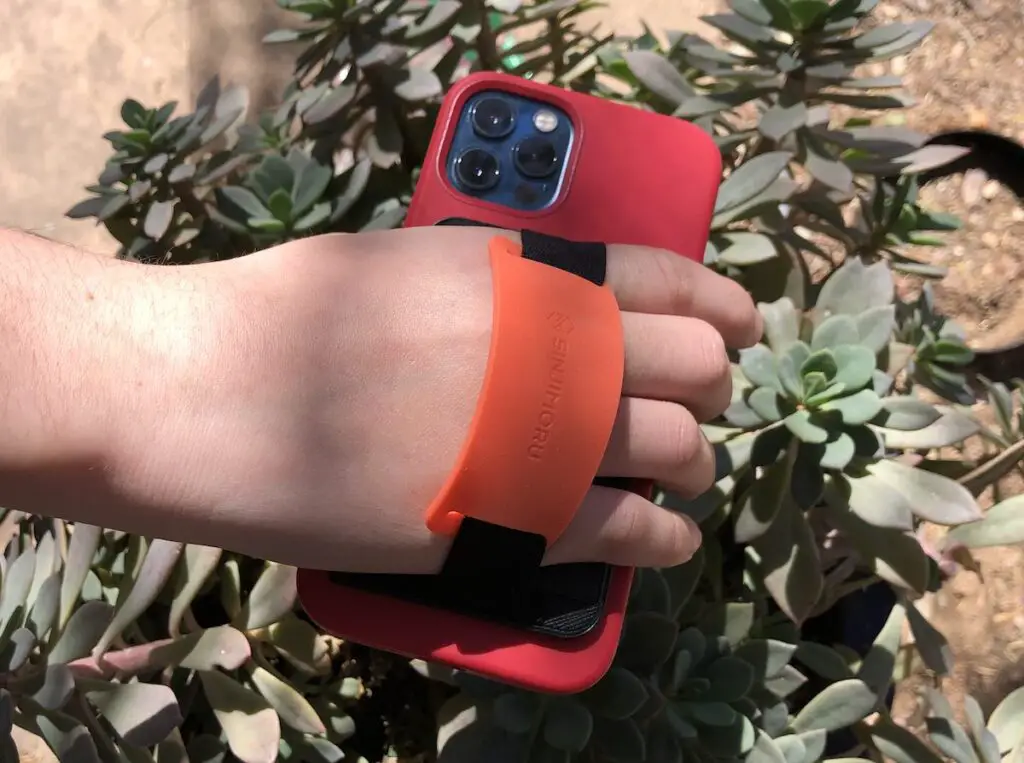 The Sinjimoru Phone Grip is designed in Korea, made in China, and marketed exclusively on Amazon. It's a card holder and a phone grip in one, which makes it the only grip in this review that does double duty.
The magnet strength is considerably stronger than the MagOne and feels really secure. The Sinjimoru is a smidgeon larger than the size of a credit card which gives it extra room to include the orientation magnet inside the grip.
The orientation magnet is the tiny vertical magnet at the base of the circular MagSafe magnets. This helps keep the grip from twisting.
You grasp the grip by slipping your fingers underneath the elastic band in back. It feels pretty comfortable to hold–not too tight, not too loose.
I was able to fit 4 cards comfortably inside, though it might accommodate more. There is an envelope flap that you can fold over the cards and tuck underneath the elastic band. This helps to protect the cards from falling out.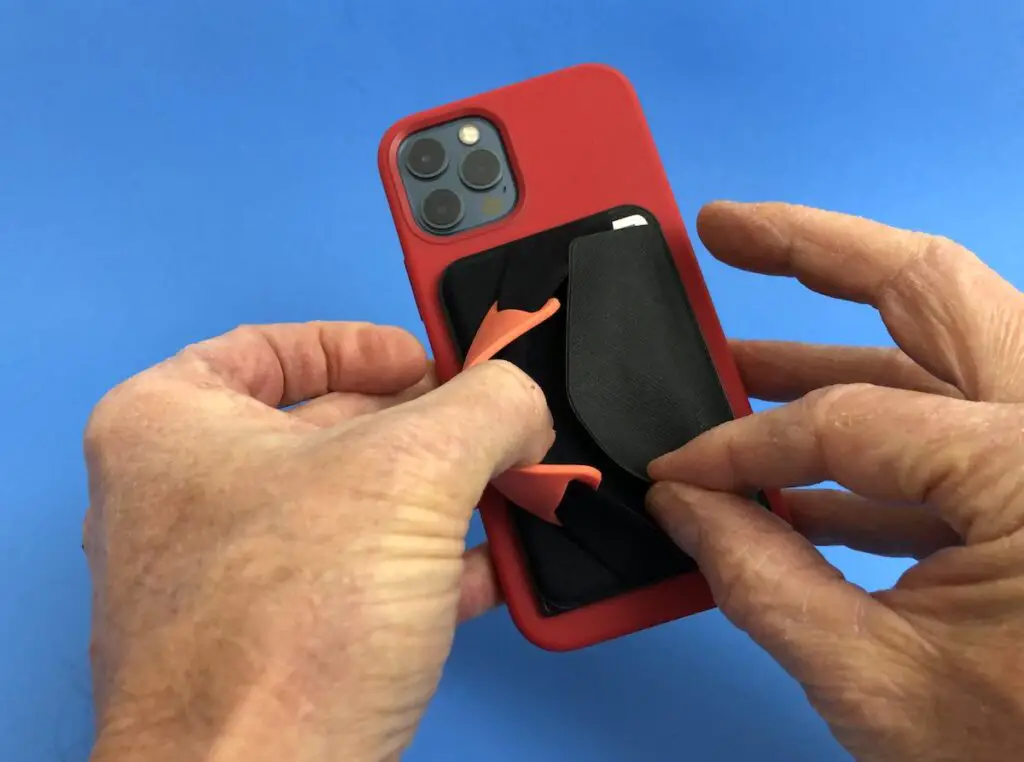 The protective flap is a good idea, but I found that it sometimes got in the way. The cards seem to stay inside fairly well on their own, so I folded the flap inside the cards slot just to get it out of the way.
A nice improvement would be to make this envelope flap double as a pull tab like the Peak Design mobile wallet. This would also make it much easier and more efficient at removing the cards.
This phone grip is also a kickstand for landscape viewing because of a piece of silicone rubber that moves up and down on the elastic grip like an inchworm. Slide the silicone until it forms an arc on the elastic grip strap and it will easily support your phone in landscape position.
Best Basic Phone Grip: Anker 610 Magnetic Phone Grip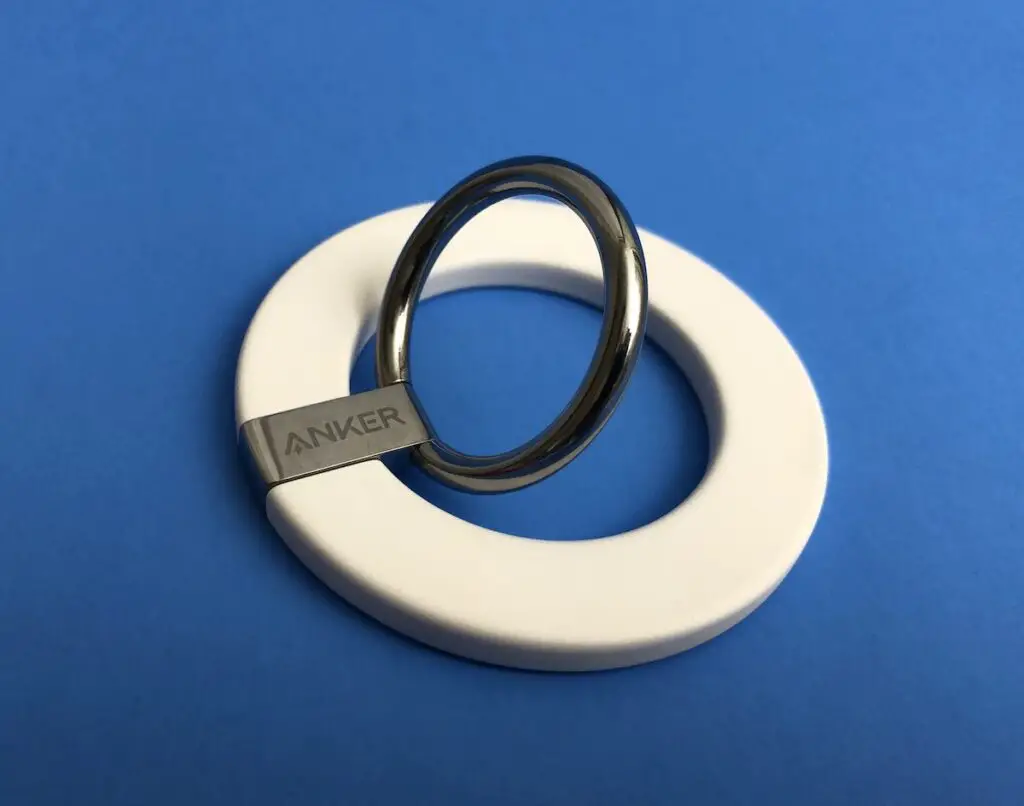 The centerpiece of the Anker 610 MagGo Phone Grip is a heavy chrome ring that you pull out from the outside ring of magnets that attaches to your phone. The ring pivots on a friction hinge and is designed to fit just one finger.
I find it most comfortable to slide my middle finger through the ring to hold my phone.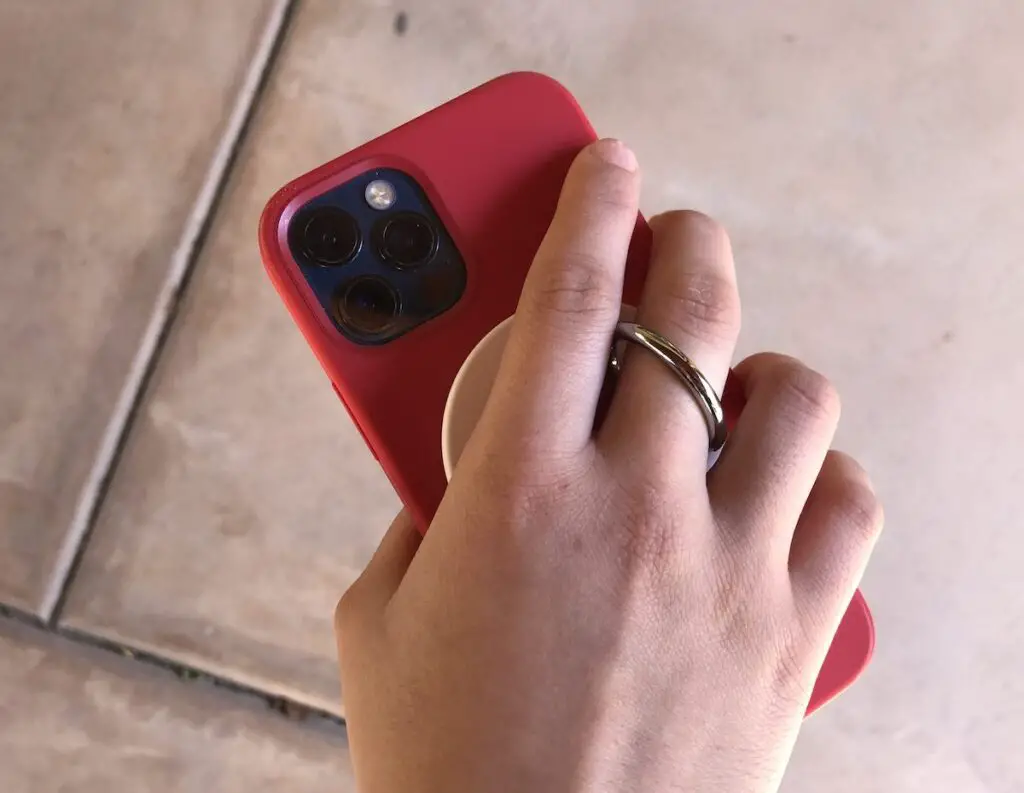 A minor problem I found is my fingertips easily slip off of the round ring when I try to pull it out to use it. In fact, even after practicing, my thumb is the only finger I can use to get under the ring and pull it up.
Anker is mainly known for its chargers, but they've come up with a MagSafe phone grip that confidently attaches to your iPhone 12/13. The magnet isn't as strong as PopSockets, but then, PopSockets is really unmatched in magnet strength.
The design is similar to the MagOne phone grip and stand, but the Anker magnetic attachment feels much more secure. I gave it a good shaking with my iPhone 12 Pro and Apple MagSafe silicone case, and it stayed reliably attached to my phone.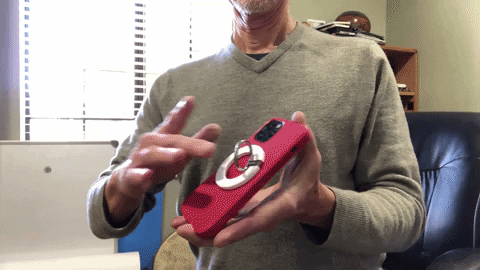 When you're not holding your phone with your finger through the chrome ring, you can also use the ring as a kickstand to place your phone in landscape viewing position.
It also works in portrait position, but the angle is so shallow that the phone is barely lifted out of a horizontal position.
Anker says that you can use the phone grip with a naked phone or a MagSafe compatible case, but I found that the magnetic "grip" on my naked phone was substantially reduced.
It was particularly weak for resisting a twisting motion. As with all MagSafe accessories, I'd definitely recommend using a MagSafe compatible case.
The Anker 610 phone grip comes in 4 different colors. The grip is about 3/16″ thick, so it hardly adds any thickness to your phone in your pocket.
Best Kickstand: Clckr Phone Grip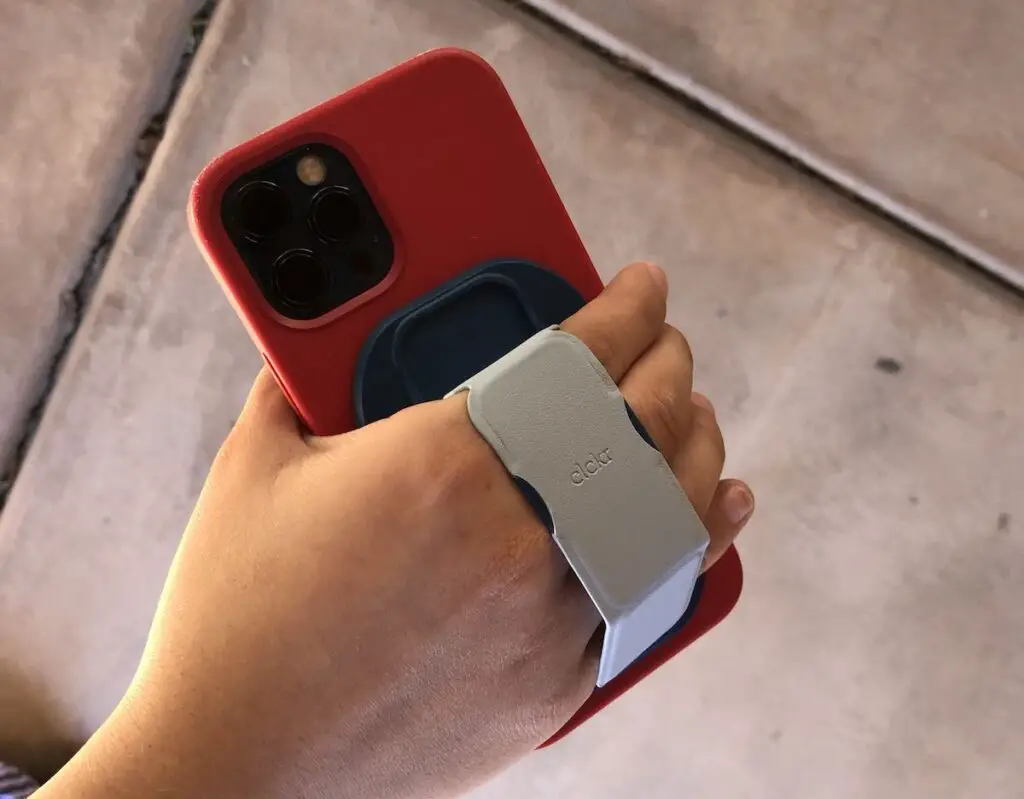 The Clckr phone grip gets its name from the clicking sound it makes when you lock it into position. You have push the grip into position by engaging two tiny tabs (one on each side) that snap into position.
It makes the "click" when you place the grip in two different positions.
When you fold the grip out to form a kickstand.
When you collapse the grip to close it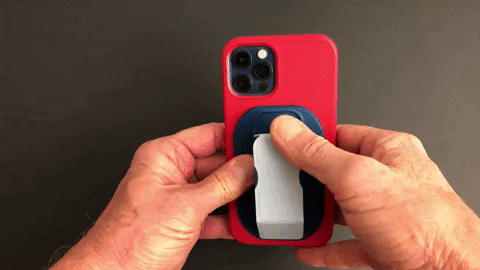 Other grips, like the Moft Stand and Wallet and the Moft MagSafe wallet, for instance, also fold out as grips and kickstands. But they use tiny magnets to hold them in place. The Clckr phone grip opted to use a more "old school" mechanical approach for theirs.
There are other similarities with the Moft design, too, because the grip of the Clckr folds out like Origami. There are two hinges and three sections that easily fold out and then back in.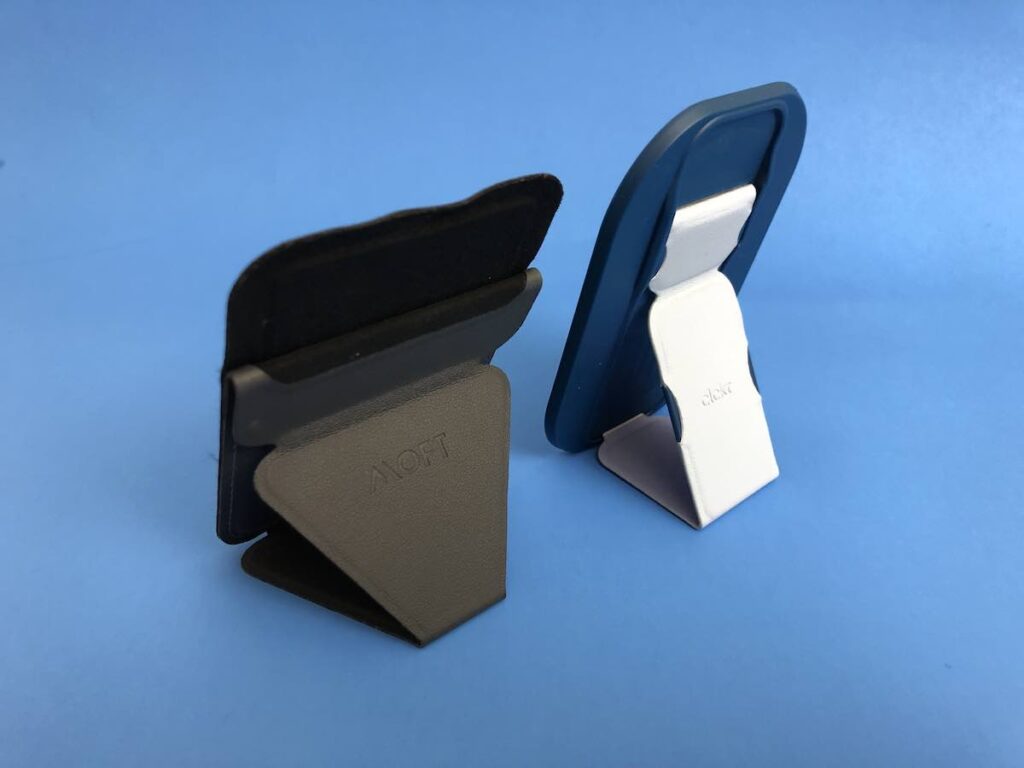 The only part of the design that bothers me is that the hinges look like they could easily wear out over time. The material is a type of faux (vegan) leather and you can see "crinkly" lines in the hinges that started to form almost immediately. Time will tell whether this becomes a serious issue.
When the grip is folded out, three fingers fit through it easily to carry your phone. The magnet is very strong, the strongest of any of the MagSafe phone grips I tested. It exudes confidence that my phone won't fall off.
I think kickstands are super useful and the kickstand of the Clckr is one of the best of the bunch. Portrait, landscape, and floating viewing positions are at just the right angle and all are very stable. It clicks and locks into position until you "unclick" it.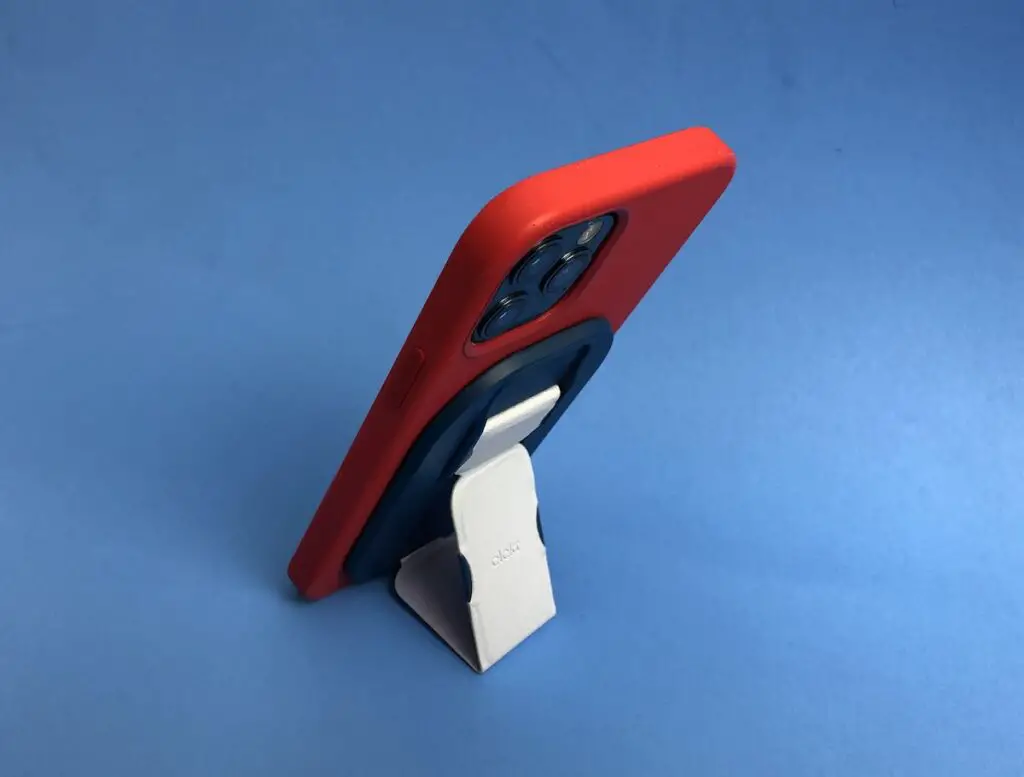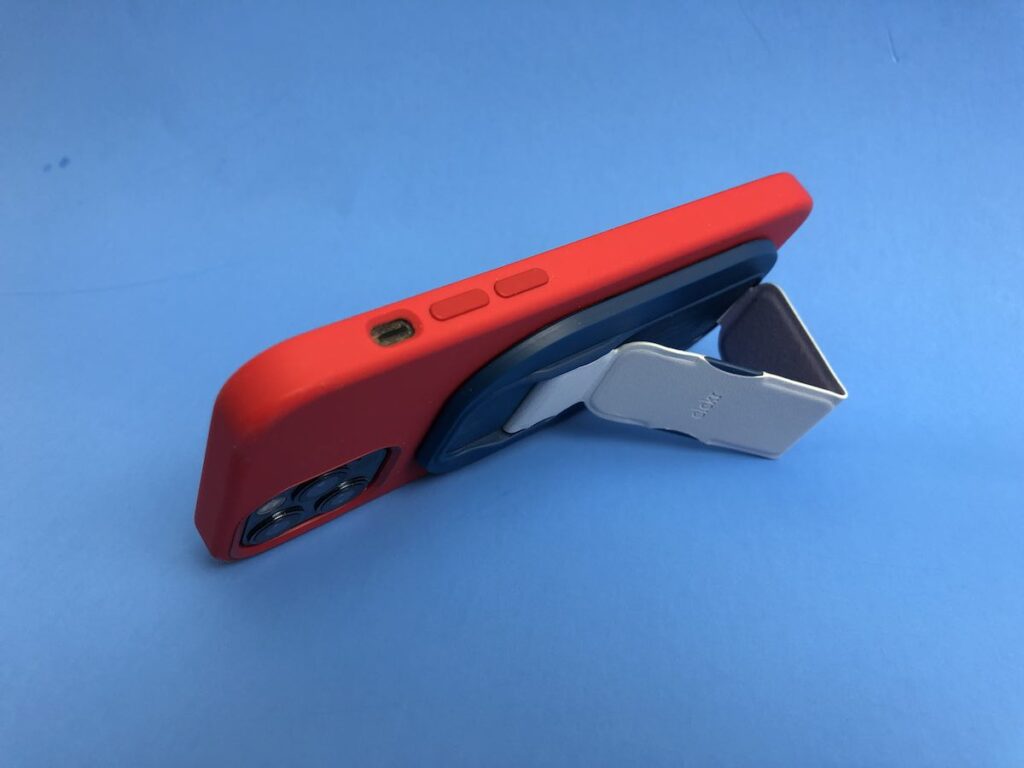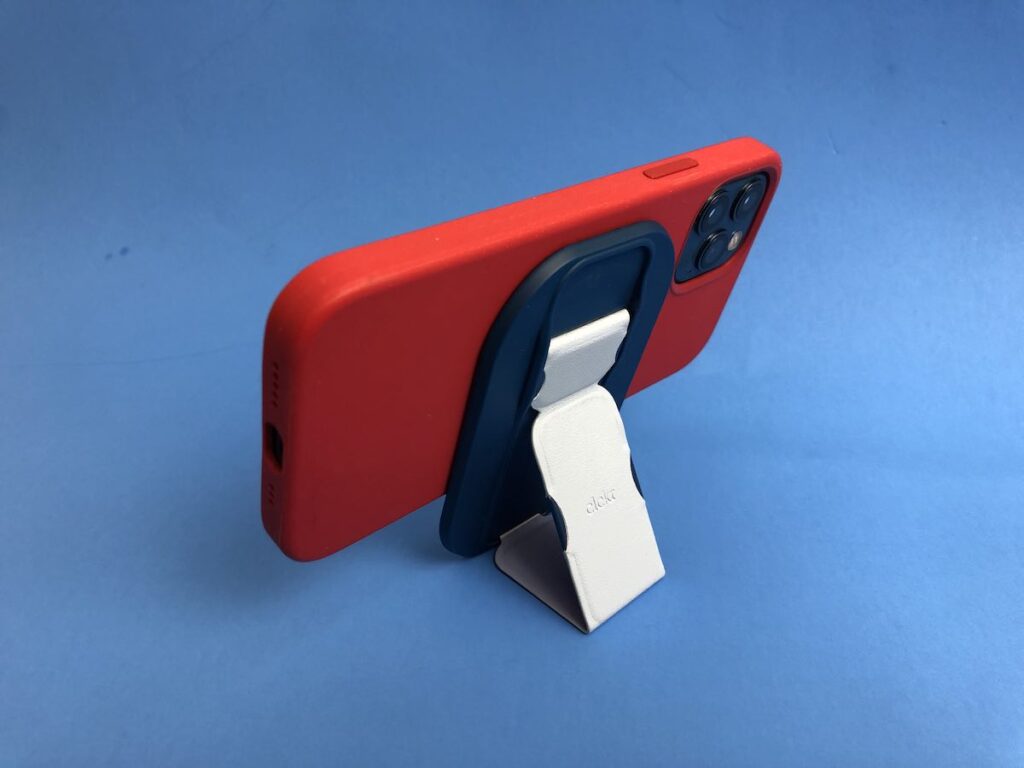 My only gripe is that it's really hard to pull out the grip when it's in its closed position. There is no well-designed place to get a fingernail underneath to pull it out. And when you do, it's an invitation to breaking a nail. Just sayin'.
Coolest Design: Moft Snap Phone Grip and Stand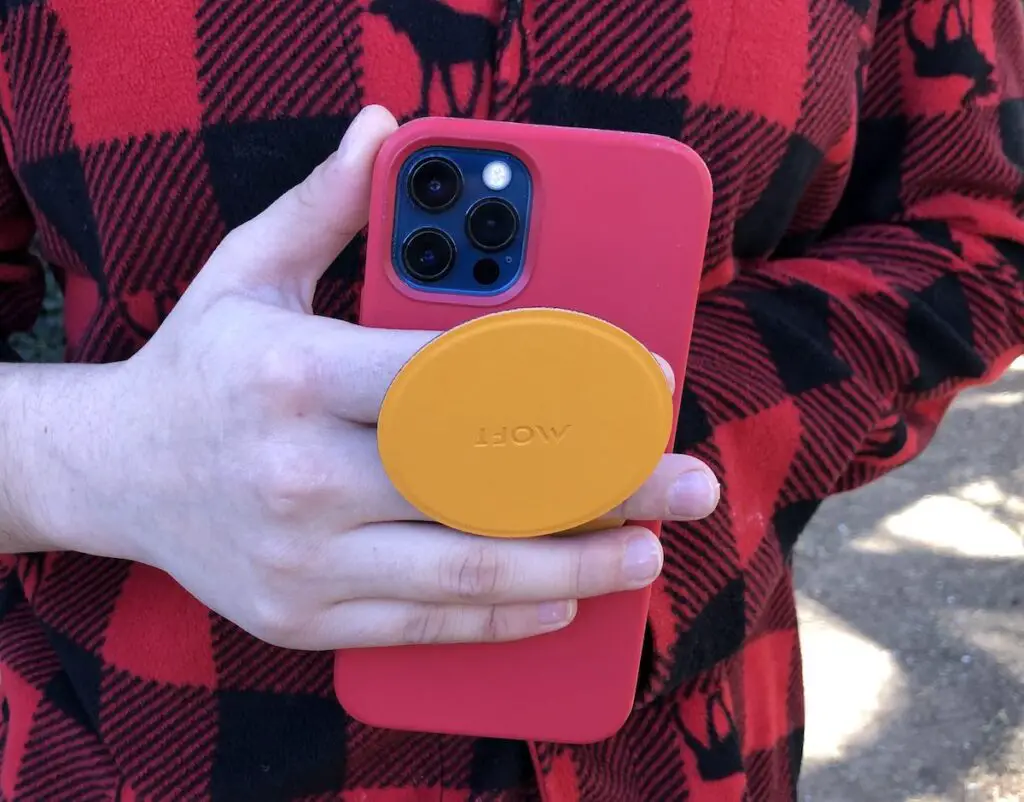 I was excited to try this MagSafe compatible phone grip from Moft because I absolutely love the Moft MagSafe wallet. The way that Moft products fold out into grips and stands is just short of revolutionary in its functional simplicity.
The biggest improvement I see in the the Moft Phone Grip over the Moft MagSafe wallet is a huge increase in magnet strength. Undoubtedly, they beefed up the power of the magnet because no one wants their phone to fall off their grip. It really feels secure.
The Moft Phone Grip has a great magnet, but the magnet for the Moft MagSafe wallet is less than half the strength. This could definitely be improved. Moft, are you listening?
Like the Clckr phone grip (and other Moft stands), the Moft phone grip folds out "origami-style" into a grip and kickstand. It also uses the same vegan (faux) leather material. In the same way as the Clckr, I worry about the hinges wearing out over time.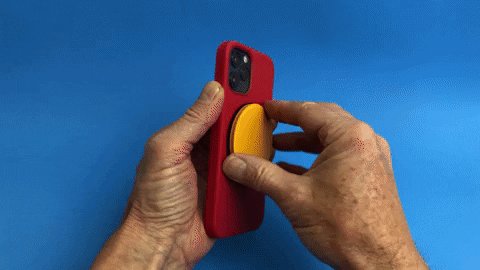 It's basically a pancake of two disks that are 2.5′ in diameter. You can buy it in 4 different colors, but my hands down favorite is Hello Yellow (pictured).
The bottom disk contains the magnet that snaps to the back of your iPhone 12 or 13. The top disk folds out to form the grip and the kickstand.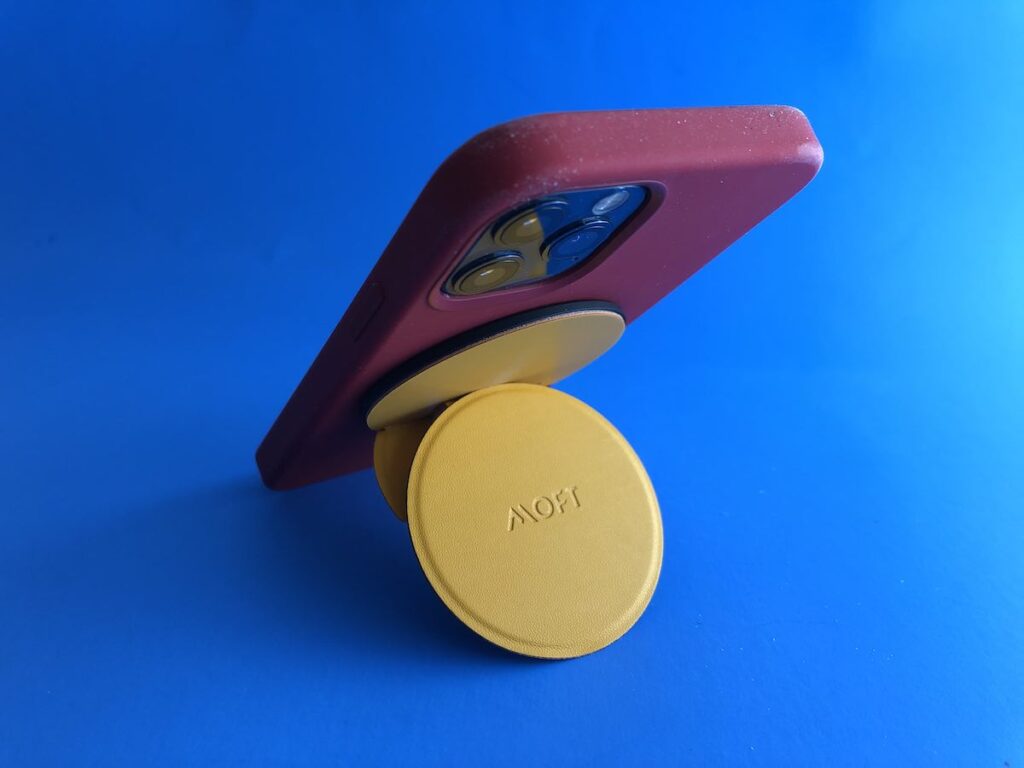 For the grip, you use two fingers in a "V", similar to the way you hold a PopSockets grip. It's comfortable and gives you good control of your phone. It smoothly flattens back into a closed position when you're done.
The kickstand folds out the same way as the grip, but it locks into position with strategically-placed magnets. This is same way that all Moft stands work.
The kickstand has a perfect angle for portrait view, but landscape is a little too vertical for my tastes. The Clckr phone grip is a much better choice if you want an ideal landscape viewing position.
An unusual feature is that you can place the magnet facing down on a table top and hold your phone in a near vertical position. It's not super stable like this, but it's an optional position to play around with.