PopSockets PopWallet+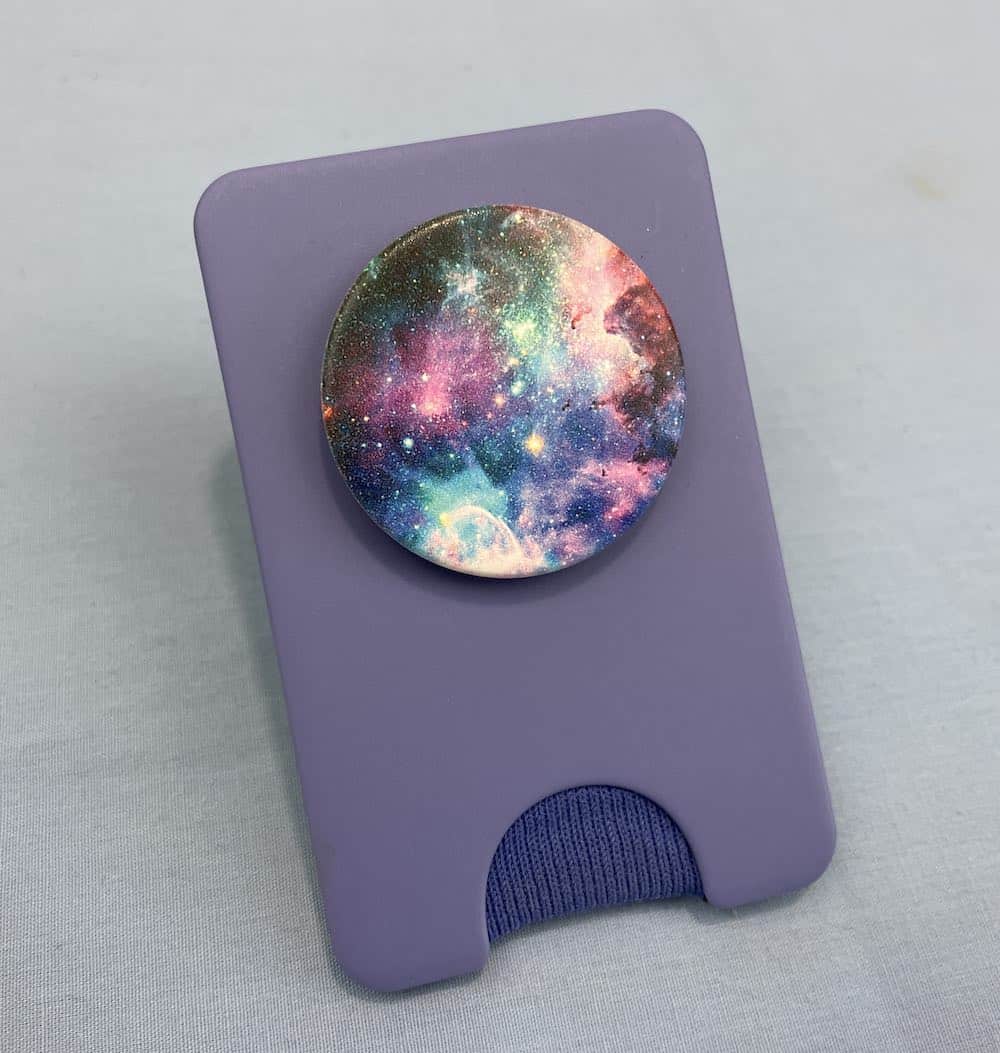 The PopSockets wallet for MagSafe is called the PopWallet+. It has the strongest magnet of all 14 MagSafe wallets I tested. No others even comes close.
By the way, this is the PopWallet+, not the Pop Wallet or PopWallet. Confusing? The PopWallet predated the PopWallet+ and uses adhesive to attach to your phone or phone case. The PopWallet+ uses a magnet.
It holds up to 3 cards and a bill of cash. And it shares the same interchangeability with all of the PopTops that PopSockets makes.
It's MagSafe compatible, so it only works with the iPhone 12 and 13 and newer. What you get is a way to securely hold your phone while carrying some cards and cash at the same time.
Excellent Magnet strength
Until the iPhone 12 with MagSafe came along in October 2020, I was reluctant to use the super popular PopSocket grips because of the yucky adhesive needed to attach the grip to your phone.
Having the Grip permanently attached also prevented the use of wireless charging because the grips got in the way of the inductive charging coils on the back of the phone.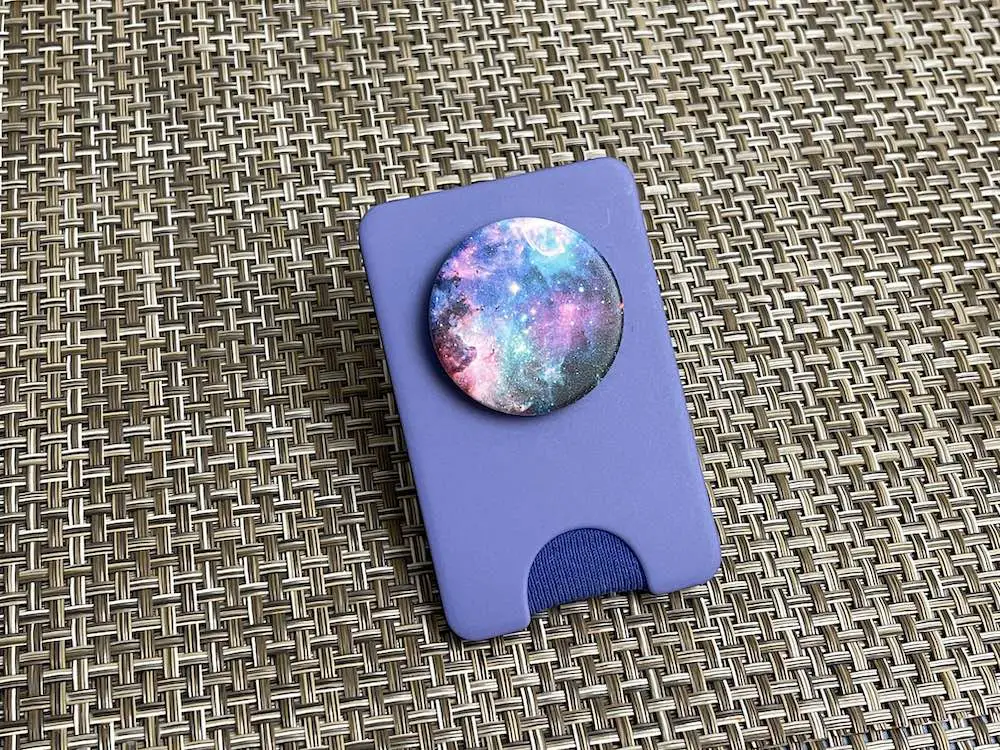 When PopSockets introduced the PopWallet+ for MagSafe (and PopGrips for MagSafe), that all changed because of the easy on, easy off, magnetic attachment. The powerful magnet attaches securely to my phone, then pops off when I'm ready to place my phone on my Apple MagSafe charger.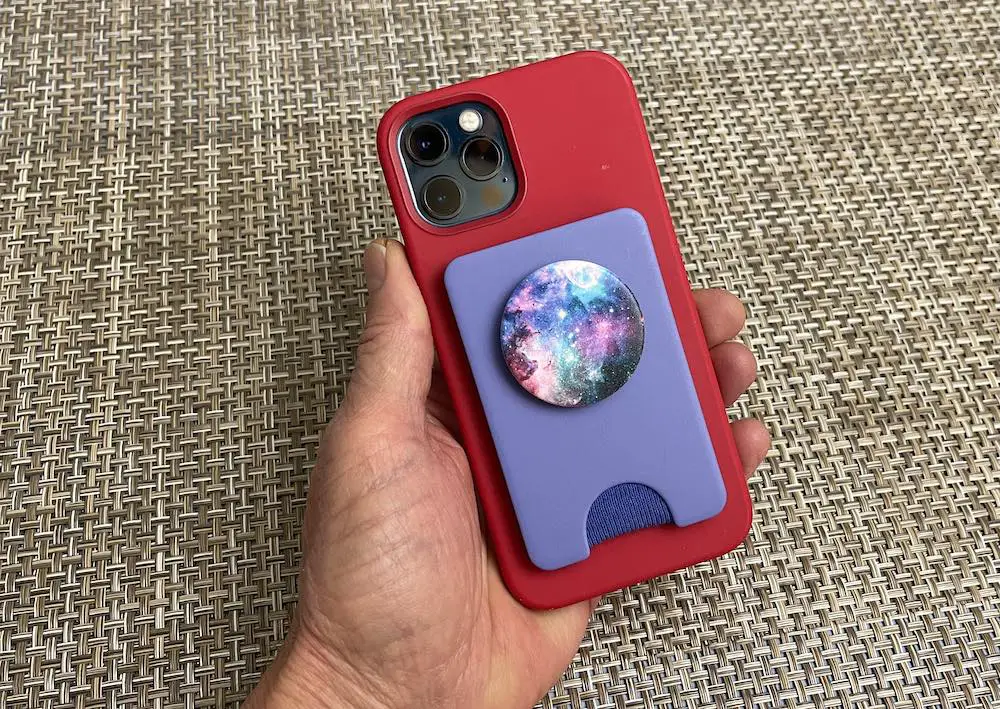 I can't say enough about how strong the PopWallet+ magnet is compared to other MagSafe compatible wallets.
It really locks onto the back of your phone as if it were epoxied. That's an exaggeration, of course, but it takes quite a bit of effort to pry it off. And yes, that's a good thing.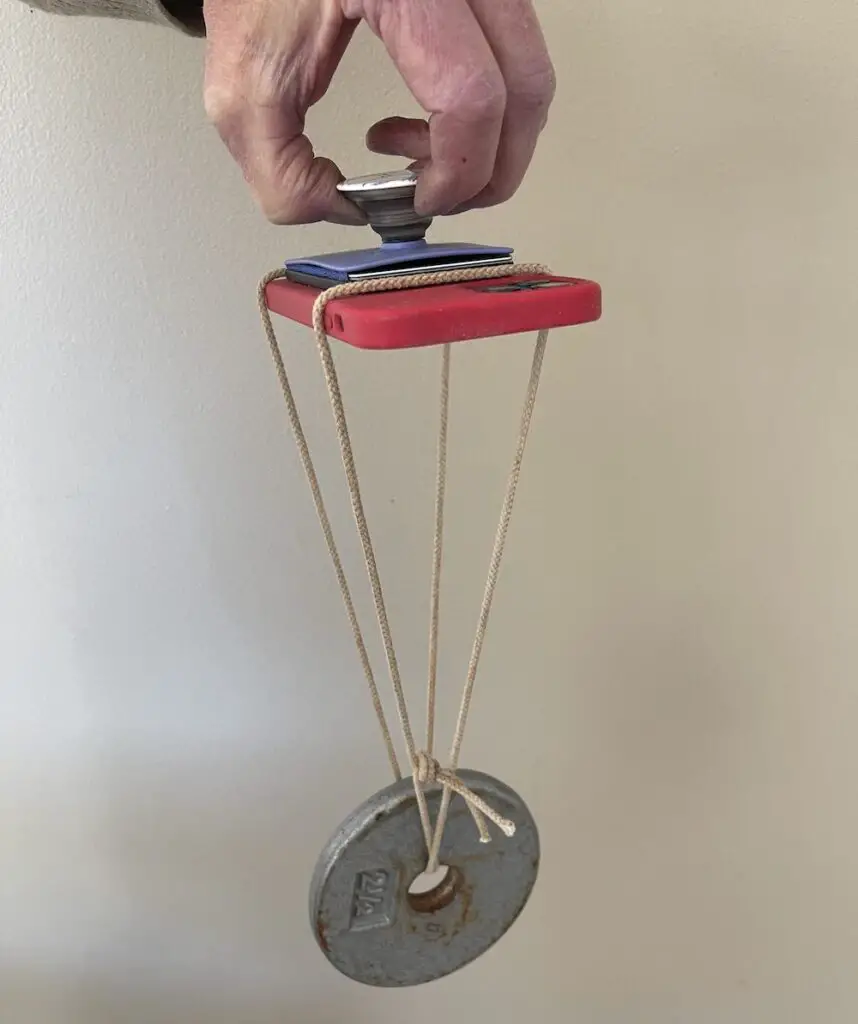 PopSockets, in general, are so popular because they give you such an easy and secure way to hold your phone. Only the Magbak wallet (with a finger loop) and the Moft MagSafe wallet (with it's kickstand) give you a way to carry your phone without having to hold your phone.
But neither of these wallets give you the secure feeling of the PopWallet+ for MagSafe when it is attached. If magnet strength is a priority, the PopWallet is the only choice.
Dateline March 2022. I contacted PopSockets to ask them what kind of magnet they used inside the PopWallet+. Most MagSafe accessories use a Neodynium magnet. But PopSockets told me they can't reveal the type of magnet they use. Presumably, this is a "trade secret."
Easy access to your cards
My biggest pet peeve about Apple's MagSafe wallet is that you have to take the wallet off you phone before you can use it. To me, this is a serious design flaw on their part.
With the PopWallet, it's easy to push your cards out from the thumb slot at the bottom. It holds a maximum of 3 cards and a bill of cash folded over twice.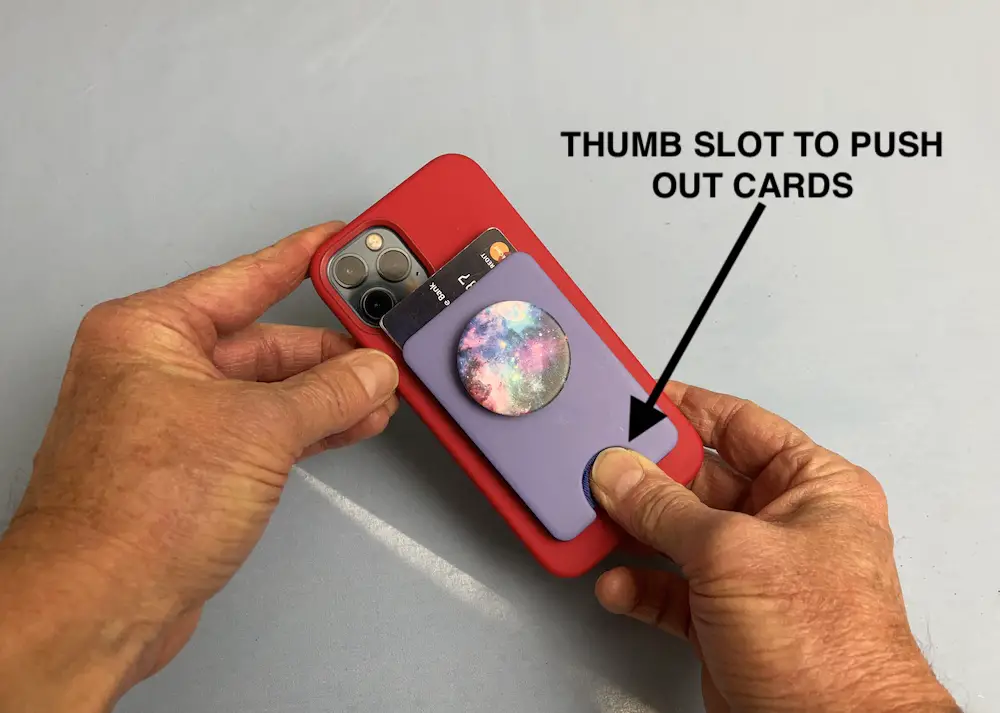 Rather than being open like most thumb slots, the PopWallet+ is covered in a knitted material, which is softer on your thumbs when you push out your cards. I only wish that the thumb slot was a little deeper because the cards don't get pushed out as far as I would like.
In most MagSafe wallets made from leather or faux leather, there is some flex that allows you to use your index finger and thumb to remove a card. Because the case of the PopWallet+ is made from rigid plastic, there is no "give" to it when you try to remove your cards.
So instead of grabbing an individual card from the top, you have to grab all of the cards from the side and pull them out another half inch. This gives a plastic card enough flex to pull it forward so you can slide you index finger behind it and pull it out.
It's an extra step that I'm not crazy about, but it's definitely not a deal breaker.
If you're looking for other rigid MagSafe wallets that won't bend your cards, check these out. They are either made from rigid steel, aluminum, or plastic.
It carries a bill of cash
Like most people, I like to carry at least one bill of cash with me at all times. Don't leave home without it, is what I say.
However, I don't know of any MagSafe wallets, including the PopWallet+, that has a dedicated place for cash.
I found that if I just stuffed it in with the cards, it would sometimes get stuck in the slot. So I found that if I place it between the cards, it will pop out at the same time when I push the cards out.
Works like a champ.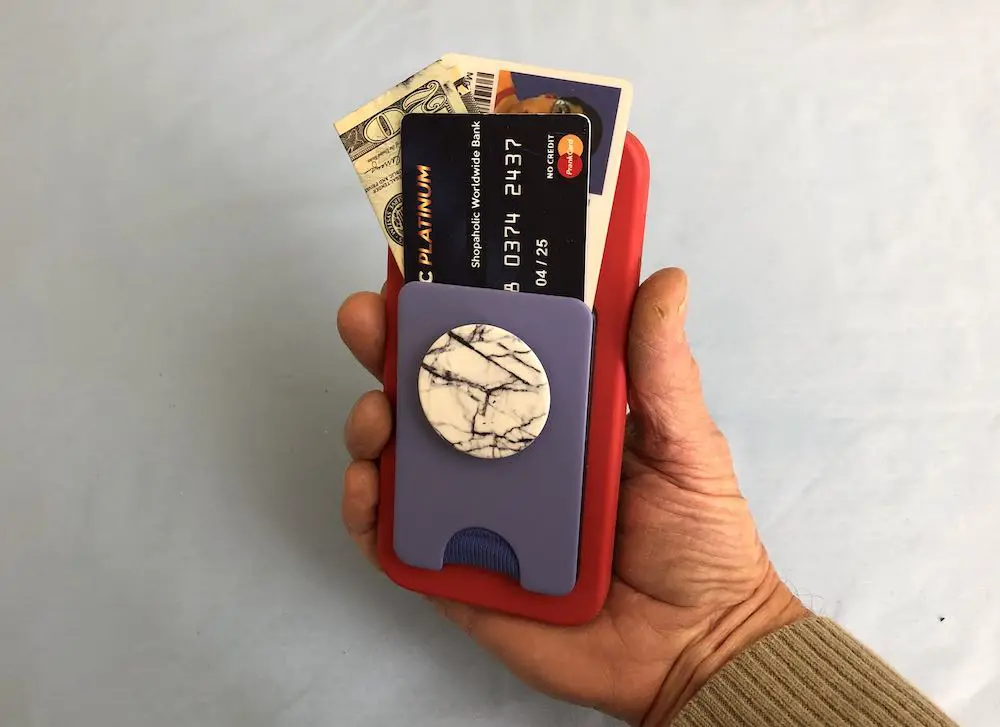 A phone holder and kickstand
The big selling point to all PopSockets is how you can hold securely hold your phone with just two fingers. Just pull out the Top from the back of your phone and slide your fingers behind it in a "V" shape.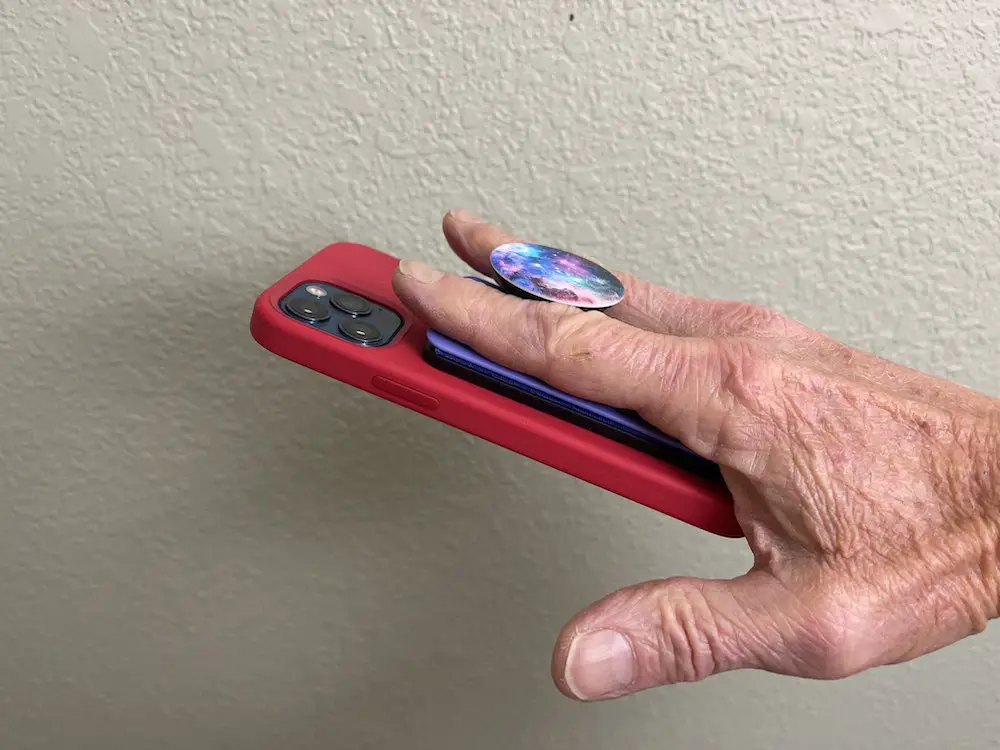 Because of the strength of the magnet, the PopWallet+ for MagSafe feels just as secure as the one you attach with adhesive.
Like all PopSockets, you can pull out the Top and use it as a kickstand for your phone. Keep in mind that it only works in landscape viewing position.
The only PopSockets grip that does allow to use your phone in portrait position is the PopGrip Slide. I wrote a review about it here.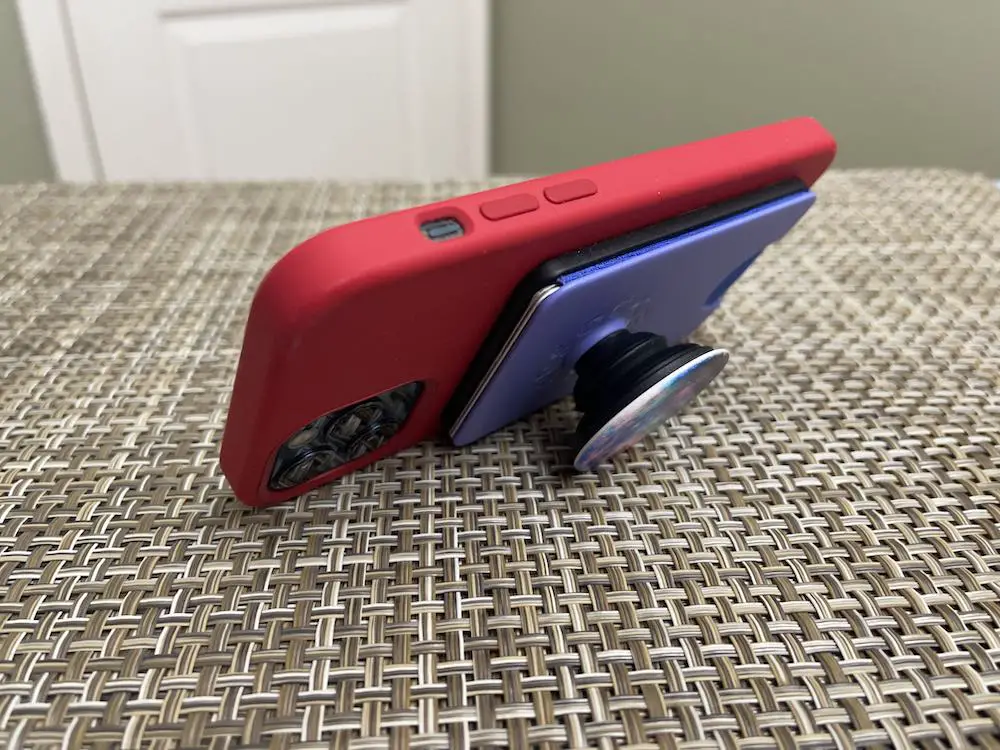 Customize the PopWallet with interchangeable Tops
PopSocket makes over 100 different designs of PopTops. But currently, they only make 5 different designs of the PopWallet+ for MagSafe.
This isn't really a creative limitation, because you can choose from a different Top design if you want to swap out the Top. Unfortunately, PopSockets doesn't sell the Tops individually. You have to buy them with the Grip.
All of the Tops are interchangeable with the magnetic PopWallet+ and all other PopSockets.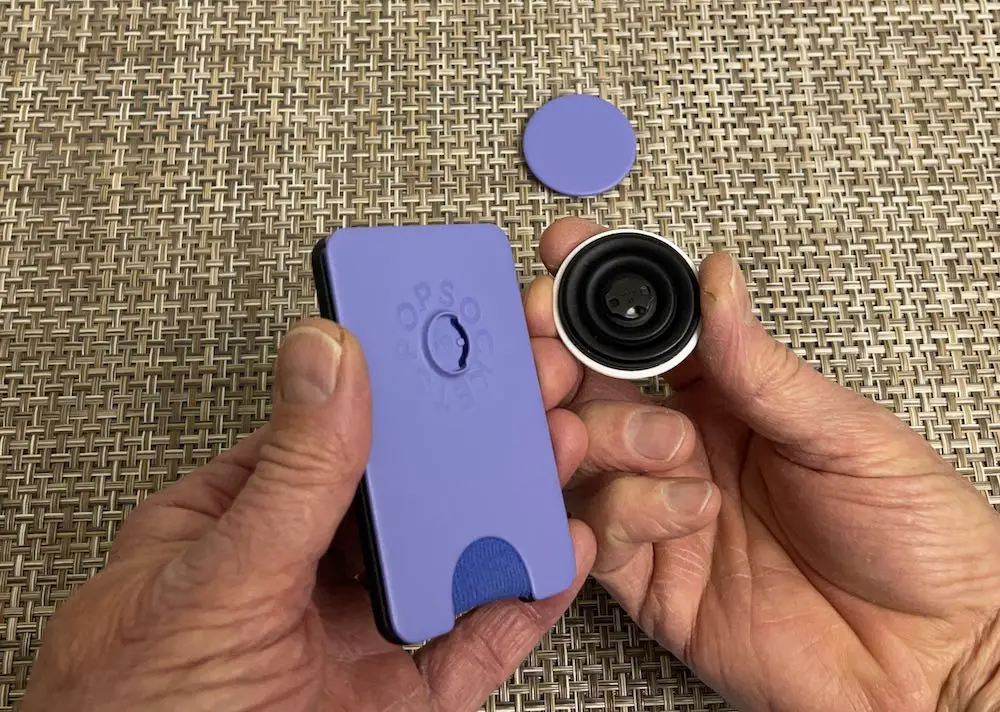 The most unusual top that PopSockets makes is the PopGrip Multi-Tool. The tool has bottle opener, hex driver, and slotted screwdriver, and it magnetically sticks in the recesses slot on the top.
It has the largest diameter Top of all the Tops that PopSockets makes, but it still works exactly the same way.
Works with PopMount 2 car vent mount
There are two types of PopSockets car vent mounts. They are both called PopMounts, but only one the PopMount 2 will hold your iPhone without removing the the PopWallet first.
First, you attach the PopMount 2 to one of your car vents by pushing the hard rubber prong onto on of your vent louvers. All you have to do is pull out the Top on the PopWallet and hang it in the cradle of the PopMount 2.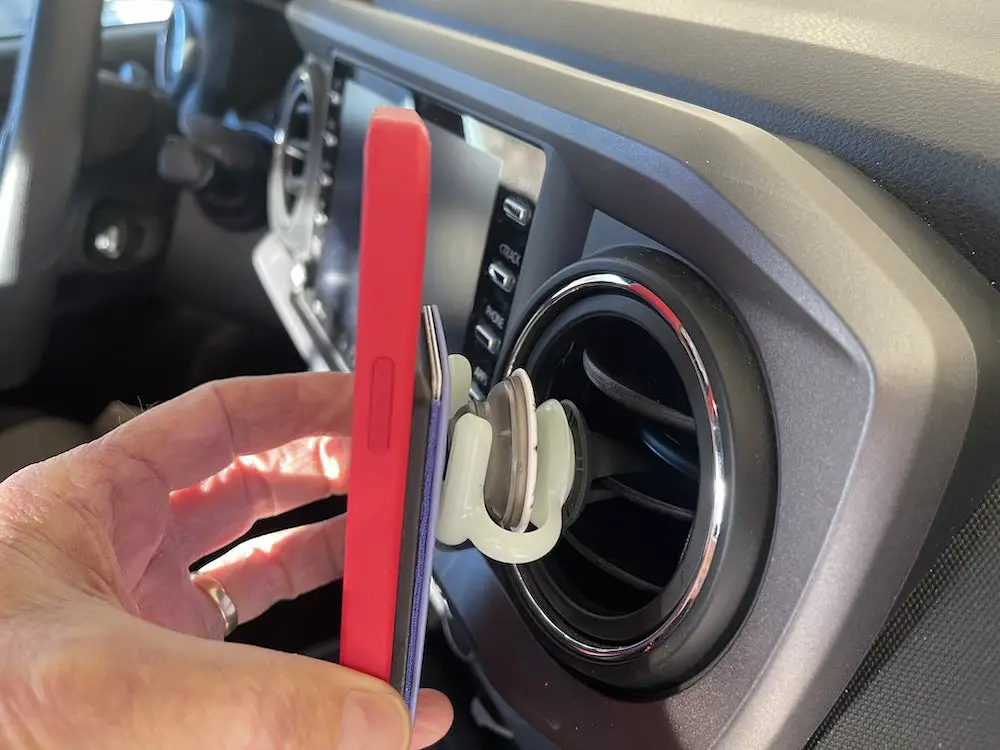 PopSockets also makes a magnetic car vent mount, but you'll have to remove the PopWallet first to use it.
It will work with the magnetic PopGrip, but strangely, not with the PopWallet. It's a disappointment that they didn't make the PopWallet adaptable to the magnetic PopMount.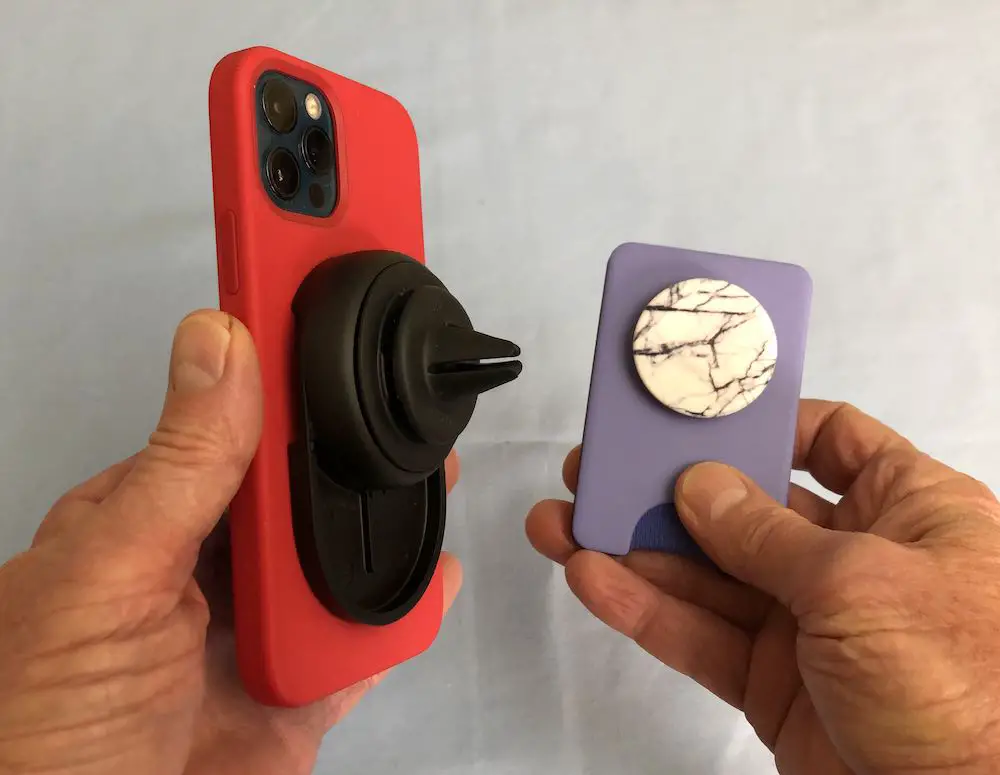 If you happen to have the traditional glue-on type PopSocket Grip on any model phone (it doesn't have to be an iPhone), the PopMount 2 will also work fine with that. It doesn't hold it as steady as the magnetic PopMount, but it feels stable enough.
Carryability
Like all MagSafe compatible wallets, the MagSafe PopWallet doesn't add much thickness to your phone. And with it attached, it's one less thing to forget when you leave the house.
I usually carry a credit card, my driver's license, and a $20 bill. All of the other cards and miscellaneous things that I need go into another wallet I keep locked up in my car or at home.
I really like the way my iPhone 12 Pro and my PopWallet+ act as a unit. Except when I'm wirelessly charging my phone, they are inseparable.
They both fit effortlessly in my front pocket. Even with the tight-ish Levis that I often wear, it's easy to slip my phone and PopWallet+ in and out of my pocket like it's second nature.