I personally tested the usability of 14 different MagSafe wallets on my iPhone 12 Pro with an Apple MagSafe silicon case.
I attached each MagSafe wallet to my phone, then carried each of them around in the left front pocket of my pants for a minimum of one week.
I evaluated each wallet for ease of card access, magnet strength, card and cash capacity, and whether they also function as a kickstand for your phone.
| | | | | | |
| --- | --- | --- | --- | --- | --- |
| | | | | | |
| | | | | | |
| | | | | | |
| | | | | | |
| | | | | | |
| | | | | | |
| | | | | | |
| | | | | | |
| | | | | | |
| | | | | | |
| | | | | | |
Moft: Best MagSafe wallet overall
It becomes a kickstand for your iPhone 12 or 13


With a kickstand, it is the most versatile and gets top marks in every category. It's not the prettiest, but it is incredibly functional. Not to mention slim and lightweight. And at just $30, the price is right.


The best MagSafe wallet overall is the Moft MagSafe Snap-on Stand and Wallet. It holds up to 3 cards and a folded bill of cash with sufficient magnet strength to adhere securely to the back of any iPhone 12 or 13. The kickstand unfolds smoothly into a stable support that holds your phone in portrait, landscape, or floating viewing positions.
I love the Moft as a minimalist wallet but I love the kickstand feature even more. The wallet is thin and barely increases the thickness of my phone in my pocket.
The cards are hidden when the kickstand is closed, but easily accessed after you open it. It's made with vegan leather with 8 bright colors that will never get boring.
Even though the Moft MagSafe wallet is my top pick overall, there are others that really excel in the other categories.
Kings Back: Best for Ease of card access
BEST FOR EASY CARD ACCESS

A pull strap ejects your cards and cash


I just love pull straps. With a quick tug, up to 3 cards will pop out of the Kings Back, ready to use. The pull strap also pulls out a folded bill of cash as easily as the cards.


The Wally Junior and Kings Back eject cards in much the same way with pull straps. And their full grain leathers are similar in quality. But the Kings Back is a much better value because it has considerably better magnet strength than the Wally Junior.
In my evaluation, I automatically disqualified any MagSafe wallet that you have to remove from your phone before you can use it. This is a really irritating extra step that you shouldn't have to take. It's a deal breaker for me.
This eliminates the Apple MagSafe wallet right off the bat.
All of the other wallets either use vertical or horizontal card slots to access your cards without having to remove your wallet first. You can pull out your cards in basically three ways.
Pull strap. Just tug on the pull tab and all of your cards pop out, ready to access. The Distil Union Wally Junior and Kings Loot Kings Back both use this feature and both do it well. Pull straps are the most efficient way to access cards in just about any wallet.
Thumb slot. Most of these MagSafe use some version a thumb slot to push your cards out of the wallet. The most useful location is on the outside of the wallet at the bottom, though the Fantom C has an efficient thumb slot on the side. Some have a thumb slot on the inside, but you have to remove the wallet first to use it. The longer the thumb slot, the further you can push he cards out. And the easier they are to access. The thumb slot on the Magbak really shines here.
PopSocket PopWallet+: Strongest magnet
This MagSafe wallet stays firmly on your phone


Within the world of MagSafe wallets, the strength of the magnet that holds the wallet to your phone varies quite a bit. The PopWallet from Popsockets clearly has the strongest magnet by far.

The PopWallet+ with MagSafe has the strongest magnet of all the wallets I tested. It is noticeably stronger than any other wallet in all three tests. The increased strength is necessary because the wallet has pop-out disk that is designed to allow a user to hold their phone by the PopWallet+ itself.
I assessed the magnet strength with 3 different subjective tests.
Prying the wallet off the wallet by pulling straight back on each wallet from the top
Sliding each wallet up and down
Twisting each wallet back and forth
Since they're MagSafe wallets, they have to have strong enough magnets to stay attached to your phone. Kind of a no-brainer. Having your wallet fall off your phone unintentionally is not an option.
MagSafe wallets will attach to a "naked" iPhone 12/13 (no case) or an iPhone 12/13 with a MagSafe compatible case. I tested all 12 of these wallets on my iPhone 12 Pro with an Apple MagSafe silicone case.
Many MagSafe wallet manufacturers make matching MagSafe compatible cases that are specifically made to maximize the ability of their wallet to adhere to a phone. However, I did not test any of these dedicated MagSafe compatible cases.
The bottom line is that all of the MagSafe wallets in this post have a strong enough magnet to stay attached to my phone in most circumstances.
The wallet with the weakest magnet is the Wally Junior. I talked to support at Distil Union about it and they are working to correct it in the next production run.
The strongest magnet is definitely the PopWallet+ with MagSafe.
Peak Design: Best card capacity
The Peak Design Mobile wallet is dressed in waterproof canvas material for a really spiffy look. It also has a pull tab for ejecting up to 7 cards. The wallets folds out into a kickstand to magnetically hold any iPhone 12 or 13. 
The Peak Design Mobile wallet has the best card capacity with a total of 7 cards. The magnetic flap that folds over the cards to protect them and doubles as a pull tab for ejecting the cards. The wallet also folds out into a sturdy kickstand.
The capacity of the Peak Design Mobile wallet is 7 cards which is twice as many as the capacity of most MagSafe wallets. The only other MagSafe wallet comes close except is the MagBak MagSafe wallet which holds a total of 6 cards.
The other thing I really like is that you don't have to remove the wallet from your phone to access your cards like you do with the Apple MagSafe wallet. It also has pull tab that ejects your cards quickly with an easy tug of the flap that covers the cards.
This flap also has a magnet embedded in that automatically folds over your cards when you push them back in.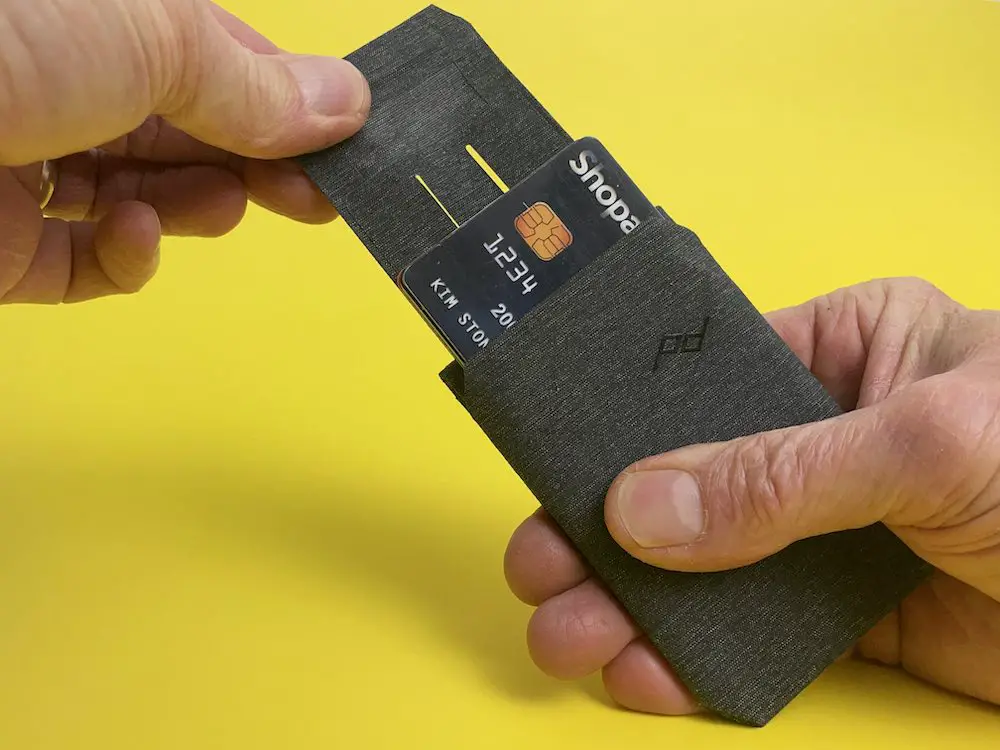 The Peak Design Mobile wallet is also one of the sturdiest kickstands I have tested. It's not as versatile as the Moft, but it's a close second.
A really unusual feature is the 100% recycled canvas fabric that covers the wallet. It gives it some uptown pizzaz and stylish edge on just about every MagSafe wallet out there. And that includes the ones made of leather.
It's a MagSafe compatible wallet that attaches firmly to your iPhone 12 or newer, even the iPhone Mini.
Best for carrying cash
BEST FOR CARRYING CASH – An 11-way tie. Except for the Apple MagSafe wallet, all of the MagSafe wallets will hold a small amount of cash.
No matter how much we approach a cashless society, I still like to carry at least $20 of cash with me. Most of the MagSafe wallets that I tested will allow this, even if they aren't specifically designed for that purpose.
I usually fold a $20 bill over twice and slide it in next to my cards. Even a wallet with a 2-card capacity like Andar's The Mag will manage to hold at least one bill.
Moft: Best Kickstand
It becomes a kickstand for your iPhone 12 or 13


With a kickstand, it is the most versatile and gets top marks in every category. It's not the prettiest, but it is incredibly functional. Not to mention slim and lightweight. And at just $30, the price is right.


The Moft Snap-on Stand and Wallet has the best viewing kickstand with an innovative design that folds into all three viewing positions, including portrait, landscape, and floating. It forms a sturdy support for all iPhone 12 and 13 models, including the larger and heavier iPhone 12/13/14 Pro Max.
A MagSafe wallet that also functions as a viewing stand is a huge bonus for me. I love the convenience of watching a Youtube video without having to search for something to prop my phone up against.
Ideally, a kickstand can hold your phone in all three viewing positions, including portrait, landscape, and floating. The only wallet that does this flawlessly is the Moft.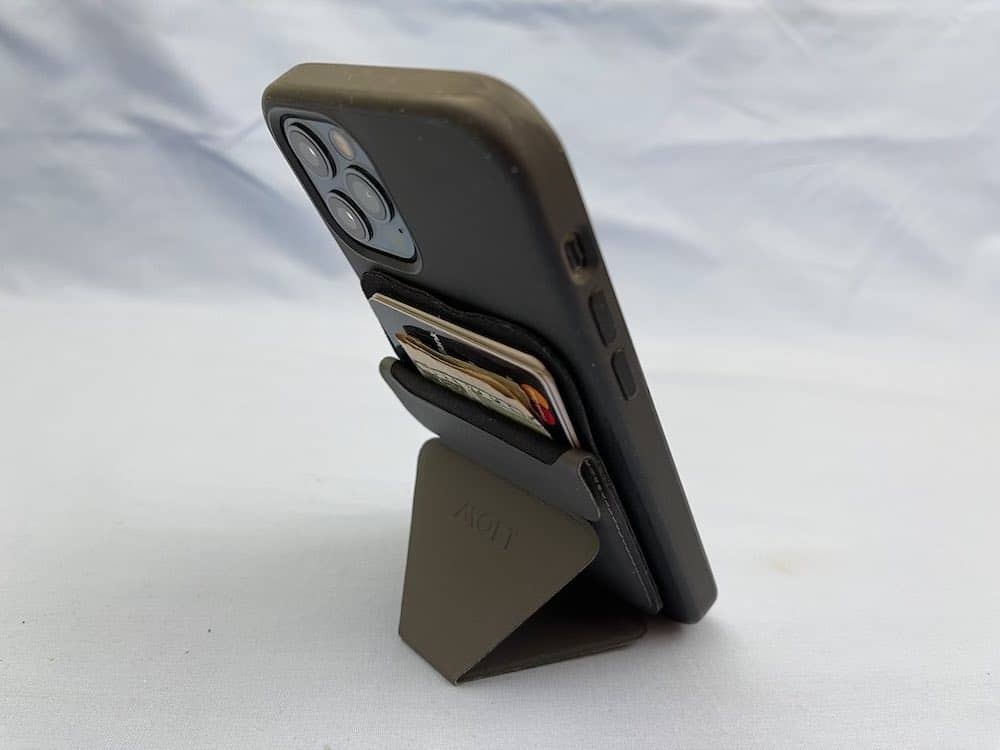 The Spigen Smart Fold also has a fold out kickstand but it doesn't work in landscape position and the iPhone Pro Max is too large and heavy for it in portrait mode.
The Magbak also doubles as a kickstand but it needs the proprietary Magbak MagSafe case to work properly in all positions.
PopWallet: Best for Holding your Phone
Confidently hold your phone with the PopWallet.

PopSockets are ergonomically designed to grip your phone. The same tech goes into the PopWallet, with a strong magnet that won't let go till you want it to. 

The MagBak has an adjustable leather loop that's just the right size for a single finger to slip through. For fatter fingers, you can remove a stitch to enlarge the loop.
The Moft Snap-on Stand and Wallet has a unique kickstand that you can also use to hold your phone with your hand. I can insert 3 fingers into mine and hold my phone securely.
The Moft magnets isn't the strongest of the bunch (especially if you shake your phone upside down) so I like to place the tips of my fingers on the side of my case just to be sure.