Moft MagSafe Snap-on Stand and Wallet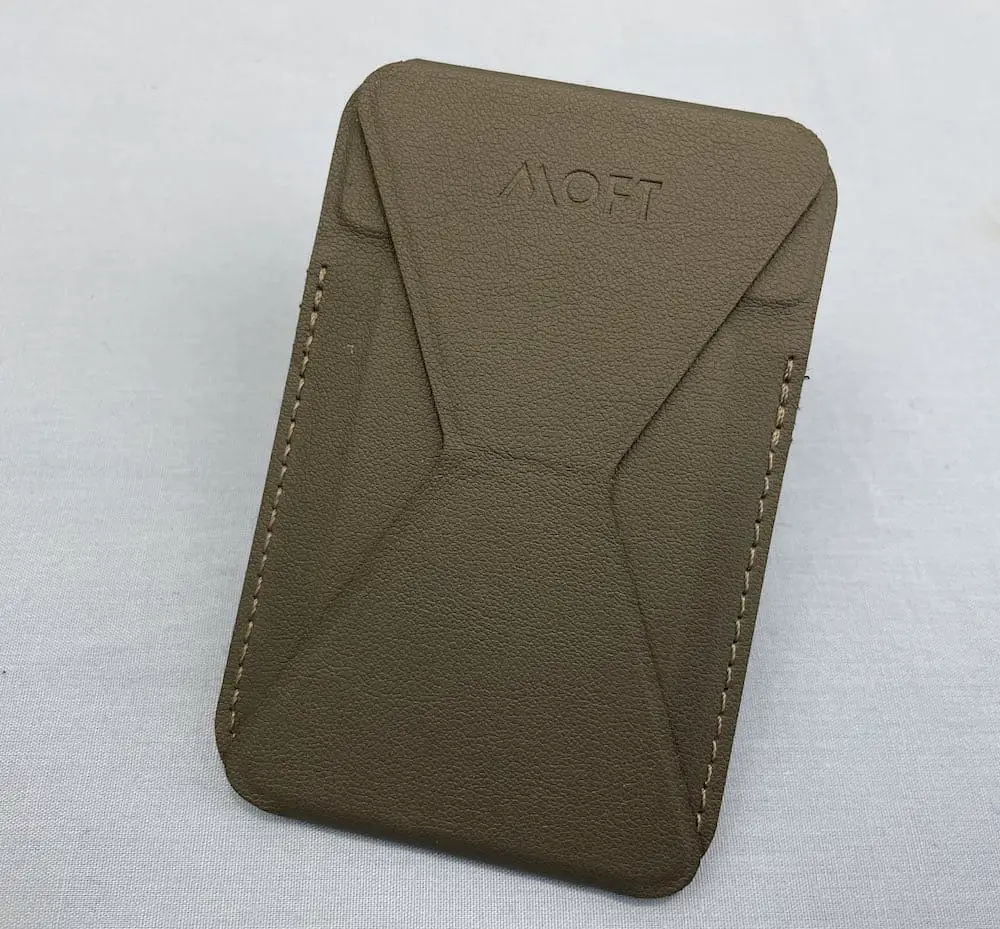 Highlights
The Moft MagSafe wallet is one of the most versatile MagSafe wallets because of the folding stand that holds your phone in vertical, horizontal, or floating viewing positions. You have easy access to 3 cards and cash without removing the wallet from your phone. It's really affordable, too.

The Moft MagSafe wallet is a magnetic wallet that attaches to the back of your iPhone (iPhone 12, 13, and 14 only) with Apple's MagSafe technology. It will hold 3 cards and some cash. It's most important feature is the 3-position kickstand that lets you view your iPhone in vertical, landscape, or floating position.
The Moft MagSafe wallet would be my everyday carry if I wasn't always testing other innovative wallets and writing reviews like this one. But I always come back to the Moft because it works so damn well. It's my favorite wallet. Honestly.
The Moft MagSafe wallet has the following features that every MagSafe wallet should have.
1. Easy access to your cards without removing the wallet from your phone 
It's super easy to access up to 3 cards and a bill of cash with just your index finger and thumb. You can even add a receipt or two and retrieve it easily.
There is no stupid thumb slot on the back like the Apple's MagSafe wallet that forces you to remove the wallet first. That extra step is deal breaker. What was Apple thinking?
With the Moft Snap-on phone wallet and stand, everything is right in front of you. Just pull back on the folding kickstand that covers your cards and pick the one your want.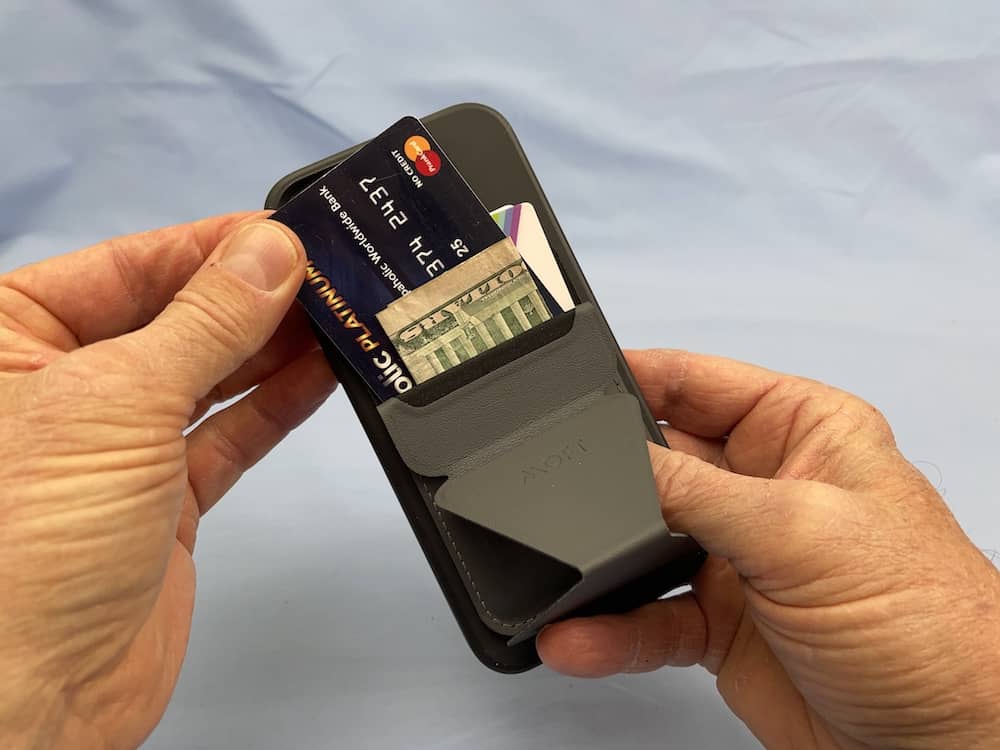 Your cards are readily accessible in a jiffy at the gas pump or your grocery store's self-checkout aisle without having to remove the wallet first. There is just no way to over emphasize the importance this feature. 
TIP: Sometimes you have to place your thumb over the wallet so the wallet doesn't pop off while you're pulling out a card. But that's an easy habit to get into because you have to hold the phone with your other hand anyway.
In my Moft MagSafe wallet, I keep:
driver's license
one credit card
$20 bill of cash
That's really all I need 99% of the time. But it will also hold ID cards, medical cards, a transit card, gift cards– any card, really, as long as it is no larger than a credit card. Just remember that 3 is the max.
2. Adequate (but not great) magnetic strength
The MagSafe magnet in a wallet doesn't have to be strong enough to hold your body weight over a teaming river of crocodiles. It just has to be strong enough to stay on your phone, which it does just fine with my Apple MagSafe silicone case.
To be honest, they could have made the magnet a little stronger. That's why I gave the Moft 4.5 stars rather than 5.
The most challenging time for any MagSafe wallet is when you take it in and out of your pocket. The Moft may twist or come out of alignment in a tight pocket, but it usually stays on.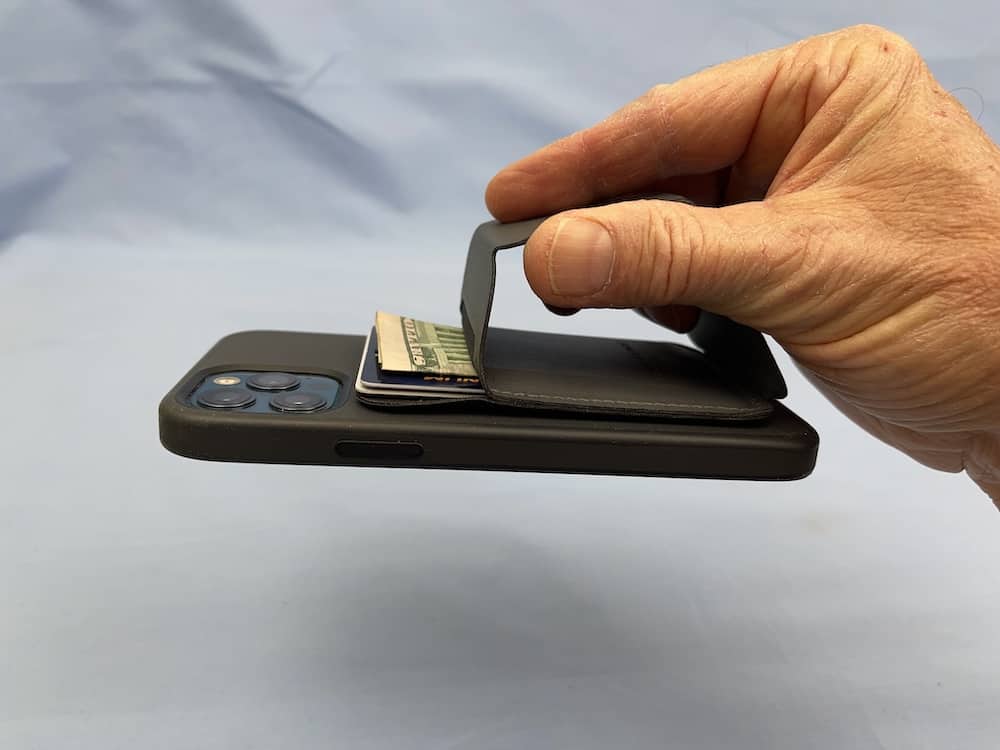 It's not as strong as the PopSockets PopWallet+ but it's much stronger than the Distil Wally Junior. 
In April 2022, Distil re-issued their Wally Junior with a much stronger magnet. Now it's a smidgen stronger than the Moft. Check out that review here.
Some reviewers have poo-pooed the magnet's strength, but in my experience of using the Moft wallet for 6 months, it is plenty strong enough.
3. Improved magnetic strength with the Moft MagSafe-enhanced iPhone 12/13/14 case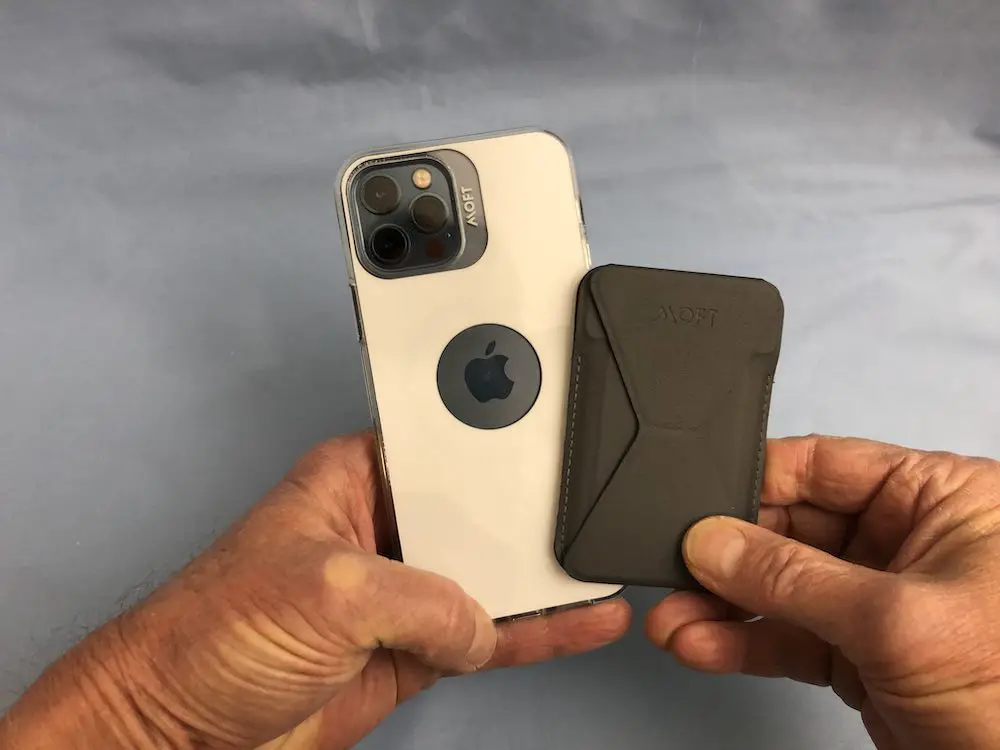 If you really want to goose the magnet strength of the Moft Snap-on Stand and Wallet, Moft has recently introduced a MagSafe-enhanced case they claim will increase the magnet holding strength of their Moft wallet by 2X.
In fact, this video below shows that it is 154% stronger than the Apple MagSafe silicon case!
I usually test all MagSafe compatible wallets with my Apple's MagSafe case. But the moment I put my Moft wallet on the new Moft MagSafe-enhanced case, I immediatley felt how much better it adhered to my iPhone 14 Pro.
The only thing I don't like about the Moft case is that it is much smoother than the Apple MagSafe silicone case. I have to be more careful holding my phone because it slips through my fingers easier than it does with than the "grippy" silicone feel of my Apple case.
I love the styling, though. It's clear on the sides and white on the back with a circular clear area that exposes the Apple logo on my phone.
The case really does make a dramatic difference in magnet strength. In fact, the magnet inside the Moft MagSafe Enhanced case is strong enough you can stick it securely your refrigerator, a white board, or even a car door. No kidding.
4. A dynamite kickstand
I use the kickstand feature a lot, and it works flawlessly with my iPhone 14 Pro and my wife's iPhone 12 Pro Max in all 3 positions. This handy stand folds out into vertical, horizontal, and floating viewing modes. I use this feature for watching YouTube videos all the time.  
Other MagSafe wallets have kickstands, but the Moft is the only one that holds your phone in all three positions. Even more, the kickstand also works as a phone grip. Totally cool.
You can also charge your phone at the same time as using the kickstand by sandwiching your Apple MagSafe wireless charger between your phone and the Moft wallet.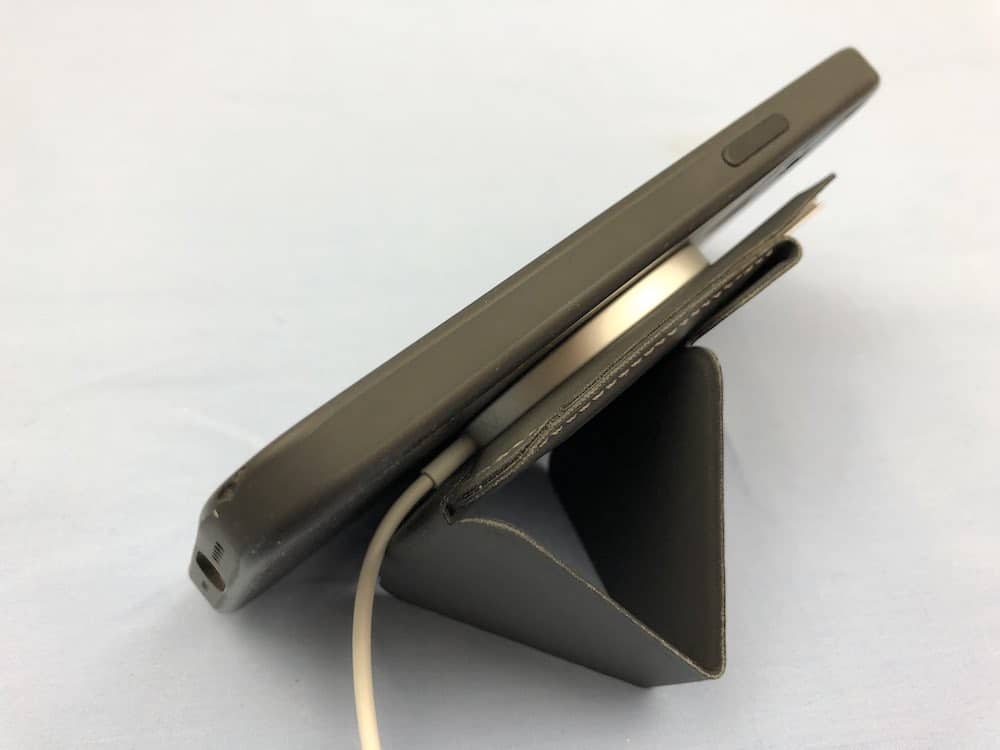 This sandwich charging arrangement holds well for vertical and horizontal positions but it slips in the floating position on my iPhone 14 Pro. This position doesn't work at all with the heavier iPhone 12, 13, or 14 Pro Max, which is 2 oz heavier.
It also works well as a phone grip, but you have to be much more careful about the magnet letting go when you're using it this way. I like to keep the tips of my fingers on the edge of my phone just to be sure.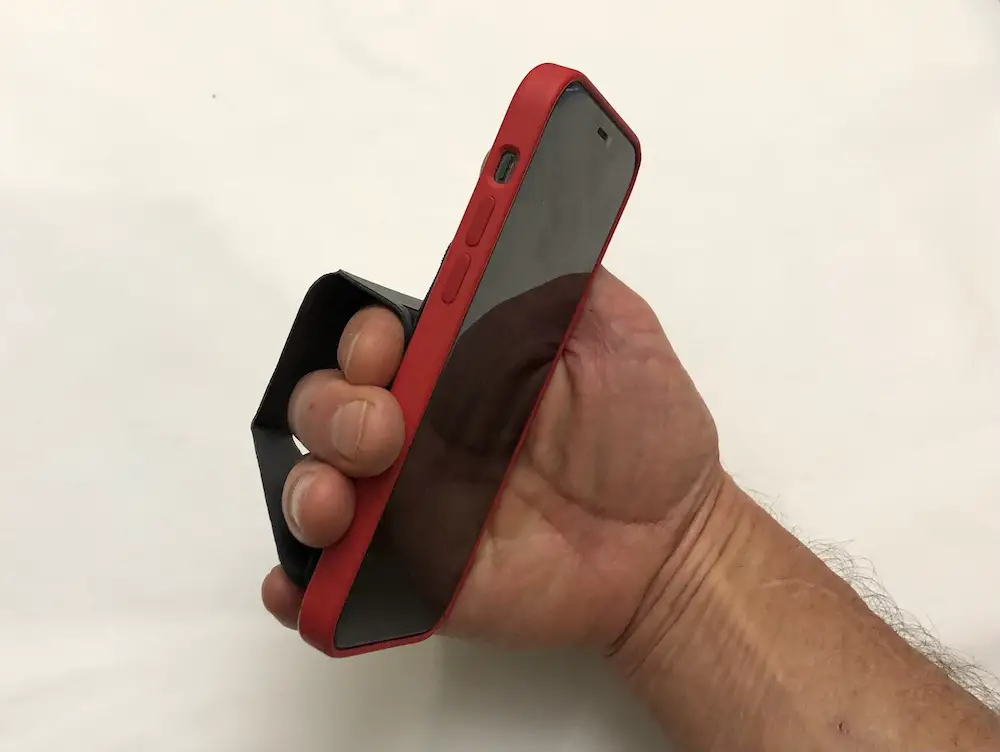 It can also be used as a grip to hold your phone. Photo: Kim Stone
You may not think you would use a kickstand, but I don't know what I would do without mine. I can look at Instagram in portrait mode or watch a video in landscape orientation completely hands free.
I use the kickstand mostly for viewing when I'm eating or washing the dishes. It holds my iPhone rock steady.
5. It's an attractive and slim wallet
The Moft is slim and trim and doesn't add much girth to your iPhone, even with 3 cards inside. It's as slim as the Apple MagSafe and Ekster MagSafe wallets but quite a bit thinner than the Kings Back and Magbak. It doesn't weigh much either.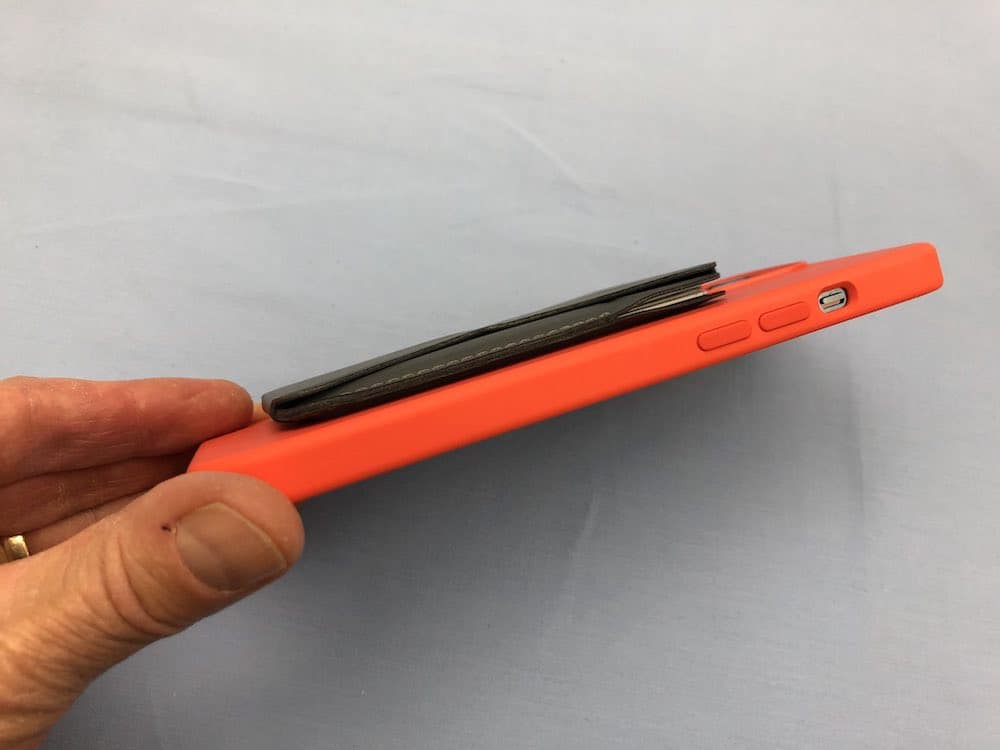 One of the few drawbacks is that the Moft does not have a leather option. The material kind of looks like leather, but it's really a faux, vegan leather. However, it comes in 6 different colors, so you can color-coordinate with the color of your iPhone case. 
6. Holds cash
Even with 3 cards inside, the Moft MagSafe will accommodate at least one bill of cash folded over twice. No matter how minimalist and card centric our society has become, everyone needs to carry some cash.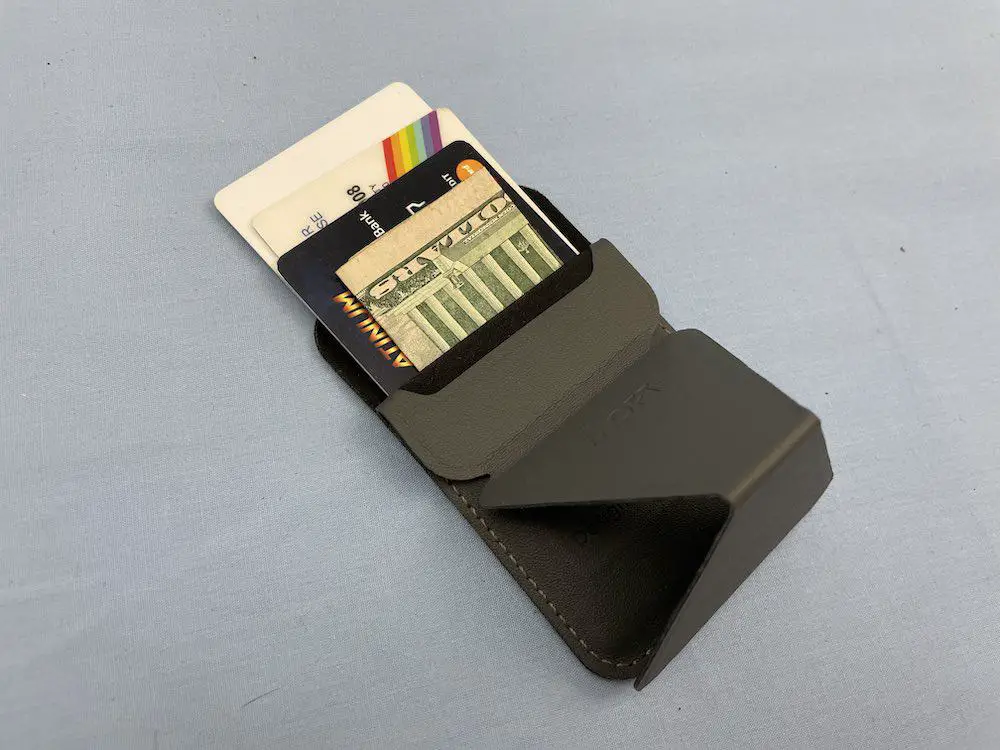 Just as important is that the cash is just as accessible as the cards. The Moft easily handles 3 cards and a $20 bill with no fighting needed to extract the cash like some MagSafe wallets (are you listening Apple?).
You can also place receipts, medical appointment cards, or business cards. However, there is limited space for these extras if you have 3 cards inside.
7. Protects your cards
This feature is where the Moft MagSafe wallet could stand some improvement. First, it is not an RFID blocking wallet. To me, this isn't a big deal because blocking RFID scanning is more of a sales gimmick than a real threat.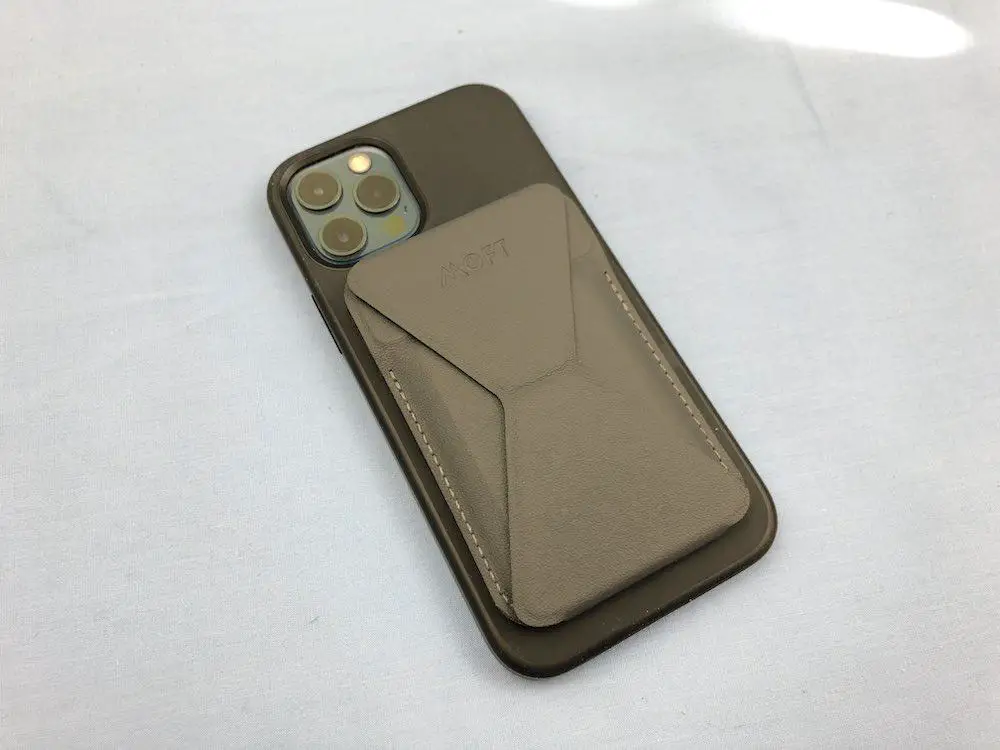 When the wallet is closed, your cards are hidden. Photo: Kim Stone
But Moft also says in their FAQ that there is a chance that the magnetic strip on your cards could be damaged by a magnetic environment. As you know, MagSafe technology is all about magnets.
This won't affect your chip cards, just the magnetic strip. Most other MagSafe wallets do shield your cards from magnetic fields, so I'm not sure why Moft left this out. As far as I know, none of my credit cards have been compromised.
Should you buy it? 
My vote is yes. I have tested 14 different MagSafe wallets and the big selling point for the Moft is the kickstand. When I'm at home, I often slap on the Moft just to watch Youtube videos while I'm washing the dishes or reading the news during lunch. Yes, my life is boring.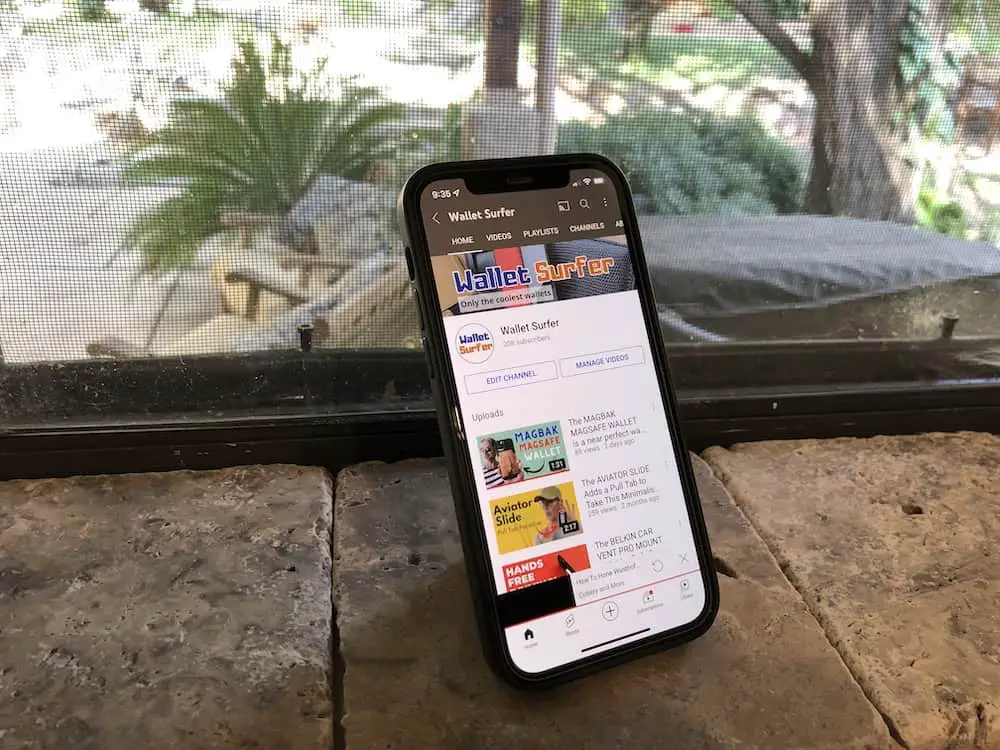 And I don't have to remove the wallet to access my cards. This is a huge feature and one that is shared by all of the best MagSafe wallets (except the Apple MagSafe wallet).
The Moft is reasonably priced and the wallet I come back to time and time again. Even if you never carry any cards, the Moft is worth the price for the 3-position kickstand.