Many MagSafe wallets do little more than magnetically stick to your iPhone 12 and hold a few cards. Pretty boring. Pretty basic.
The Distil Wally Junior has several unique features that aren't found on any other MagSafe wallet. The most innovative feature is a pull tab that ejects up to 4 cards. This allows you to access your cards without having to remove the wallet from your phone.
In this review, I'll take a close look at four innovations to help you decide if this MagSafe wallet is right for you.
1. You don't have to remove the Wally Junior from your phone
The most important feature of the Distil Wally Junior is the fact that you don't have to take it off of the wallet in order to access your cards. This seems like a no-brainer, but even the original Apple MagSafe wallet left out this indispensable feature.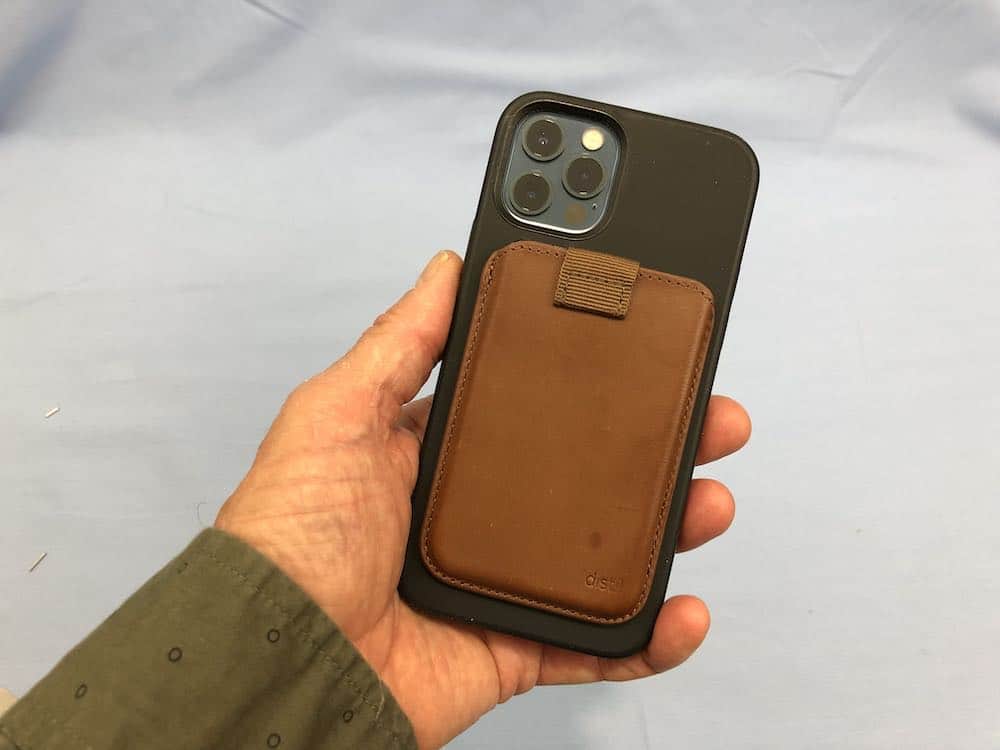 Having to remove your MagSafe wallet from your phone to use it is a deal breaker!
Distil realized that the entire idea of carrying any minimalist MagSafe compatible wallet is that it adheres to your iPhone magnetically and allows your phone and wallet to act as one unit. If you have to remove the wallet first (like Apple's version), you might as well carry a separate wallet.
To access your cards, you just pull up on the Wally Junior's integrated pull tab and it will eject up to 4 cards while the wallet stays firmly attached to your phone.
2. The wallet has a pull tab to access your cards
I own about 14 MagSafe wallets, including ones made by Apple, Ekster, Spigen, Moft, MagBak, and others. The Distil Wally Junior is only one of three that is designed with a pull tab to access your cards. (The other two are the Kings Loot King's Back and Peak Design Mobile wallet). Give that tab a tug and up to 4 cards will pop out ready to use. I LOVE this feature.
SIDE NOTE: The Wally Junior is one of the few MagSafe wallets built for 4 cards. Most other MagSafe wallets on the market (including Apple, Ekster, Spigen, and Moft) only hold 2-3.
After you use your card, slide it back in and push all of your cards back into place. The pull tab will retract back into position, ready to use again. It helps to place your thumb over the wallet to keep it in place when you pull and under the wallet when you push your cards back in, especially if you have four cards inside.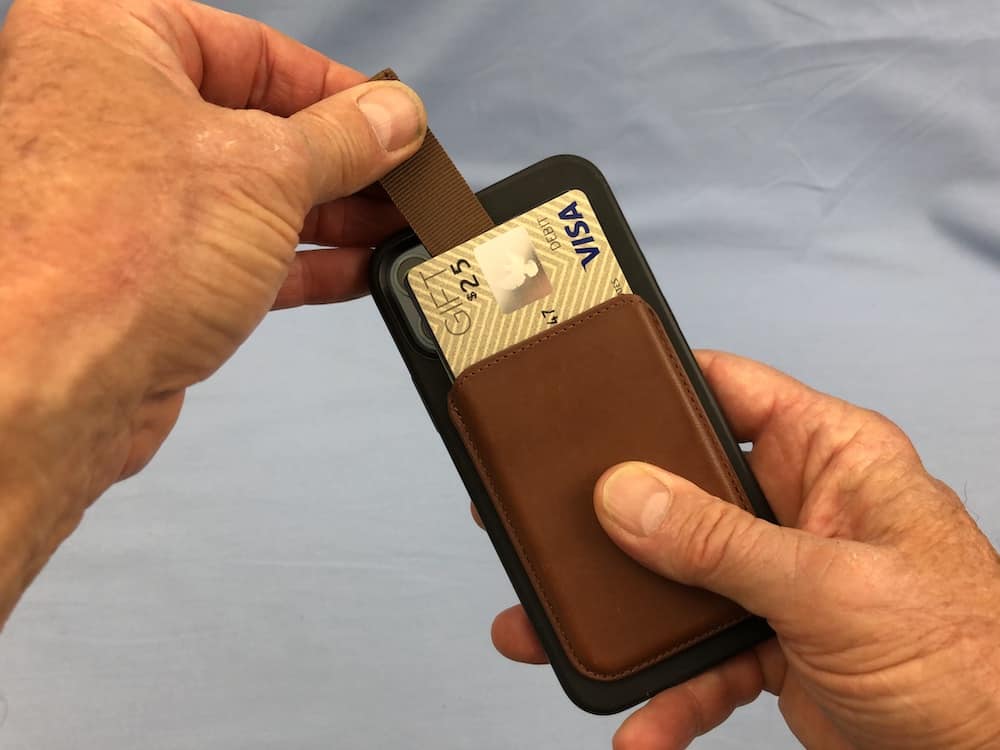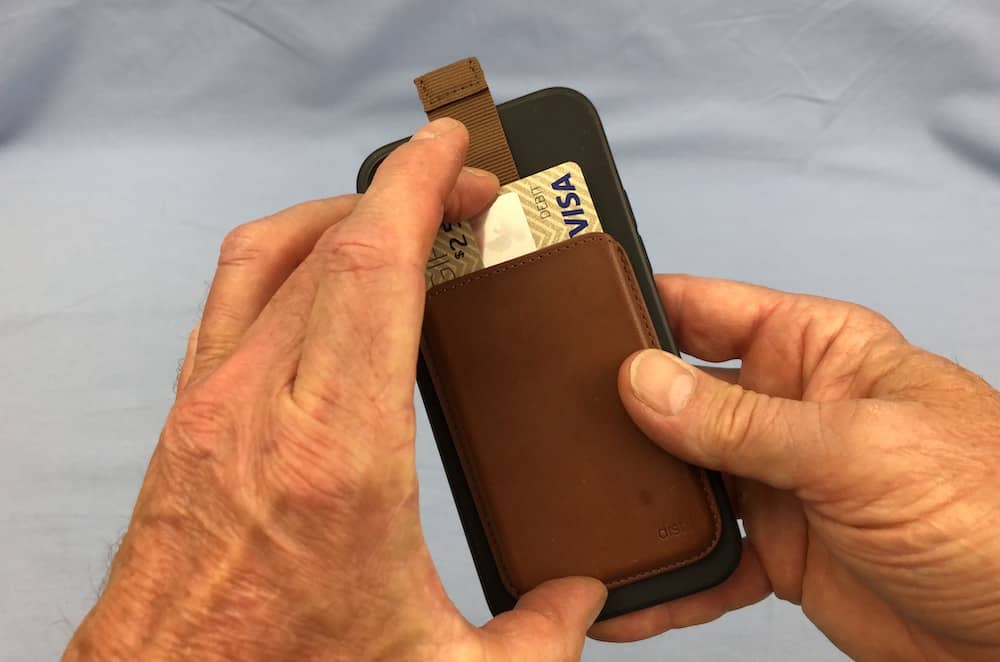 Every wallet that Distil makes uses this "Wally" pull tab, so they've had experience getting this feature right.
The only minor issue I have is that the weave of the strap has raised ridges that can catch on the cards when you push them in. This is a minor annoyance with 3 or 4 cards and never happens with just 1 or 2.
Distil doesn't recommend this specifically, but I also stick a $20 bill (folded over twice) behind my cards. When I pull up my cards, my bill always follows. And because it's behind my cards, no one ever sees it. Even tried and true minimalists like to carry a bit of cash, I think.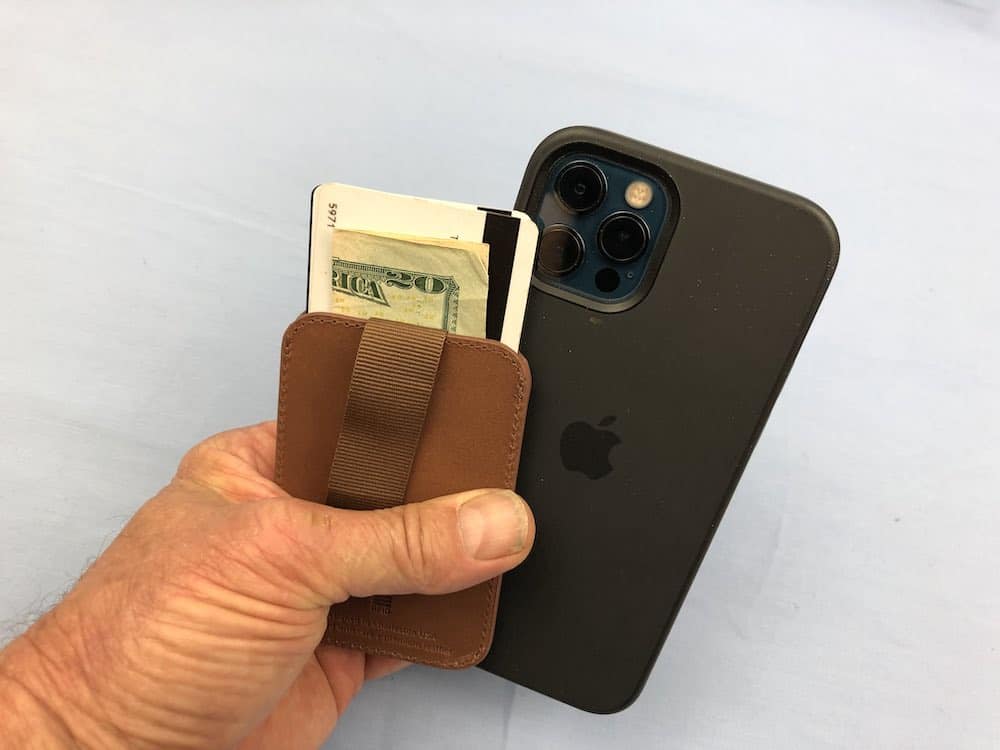 3. Magnet strength
The magnet strength in the original Wally Junior was actually quite pitiful. It just didn't meet a minimum standard for staying reliably on my iPhone 12 Pro with an Apple silicone case. It was the weakest of all of the 14 MagSafe wallets that I tested.
Check out my post: What is the Strongest MagSafe Wallet?
I contacted Distil Union in November of 2021 about this and they told me it was a known issue which they attributed to "production inconsistencies." They also said that the magnet would be improved in the next production run.
In April 2022, they sent me a replacement that had a vastly improved magnet. This pushed the wallet up the rankings into the medium to high range. Now, I feel confident that it will stay reliably on my phone.
With the latest version, they also corrected the problem with cards hanging up on the pull tab when you pushed them in.
4. The tip of the pull strap is magnetic
Instead of just having the end of the pull tab flopping around willy nilly, the Wally Junior has a magnet sewn into the end. You just fold the strap of the pull tab over your cards and the magnetic tab will adhere to the front of the wallet. This helps to hold the cards in place.
I haven't found that my cards slip out easily, but the strap does provide some extra insurance against that happening.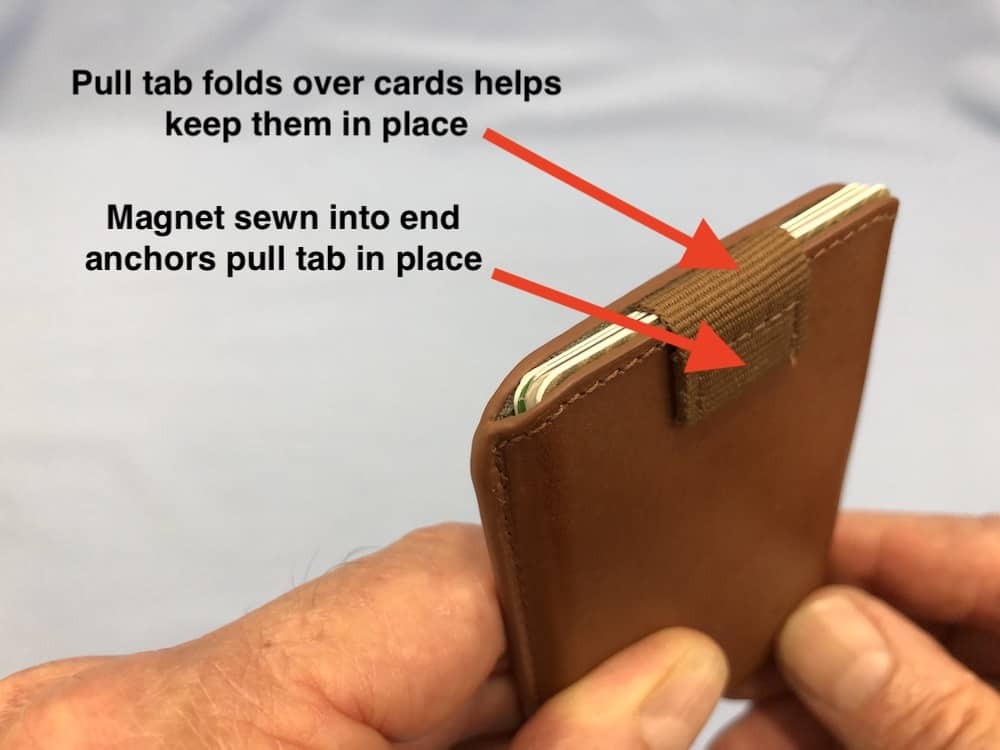 I have mixed emotions about this little magnetic feature because it sometimes sticks to the back of the wallet when I don't want it to. That means I have to move it before I can stick the wallet to the back of my phone.
It also gets in the way when it sticks to the front of the phone just as I'm ready to stick the wallet on a MagSafe car vent mount. However, as I explain in detail below, this method doesn't work very well anyway.
5. A metal plate is sewn into the front of the Wally Junior
Distil has pioneered another feature that no one else has done by sewing a thin metal plate into the front of their wallet. They did this so you can use a MagSafe compatible car mount without having to remove the wallet first.
This is a great idea because up to now, I had to remove any MagSafe wallet first from the back of my phone before I could stick it to the MagSafe compatible car mount I have attached to a vent on my truck's dash. That means I have to remember to reattach my wallet before I get out of my truck.
SIDE NOTE: I use the Belkin MagSafe Car Vent Mount Pro for holding my iPhone 12 Pro. My phone has an Apple MagSafe compatible silicon case and my phone sticks like glue to the mount. I've tested it over all sorts of rough terrain and my phone has never fallen off.
In theory, embedding a metal plate in the front of the wallet is a great idea. But in practice, my Belkin Car Vent Pro Mount (mentioned above) does not have a strong enough magnet to hold the weight of the wallet and phone together.
I have also tried it with 3 other car vent mounts, but none of them will hold the phone reliably. It's probably best to remove the Wally Junior first. You have to do it anyway if you want to wirelessly charge your phone.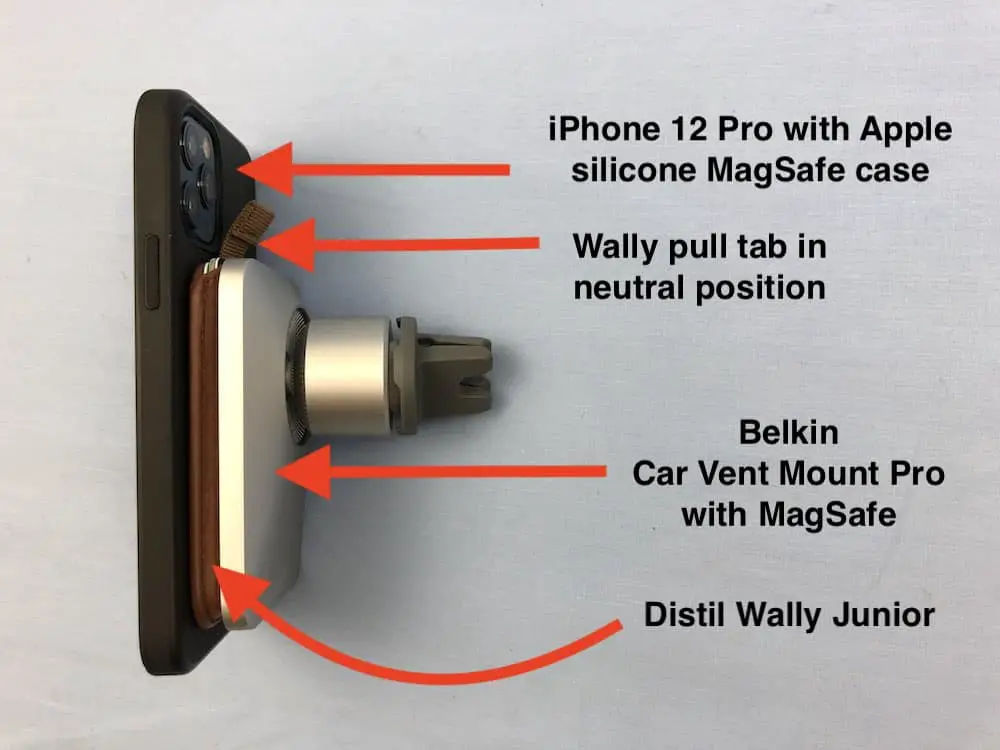 The Wally Junior stays attached to my phone, but together, they have fallen from the car mount more times than I can count. This means that using the heavier iPhone Pro Max would be out of the question.
This another feature they will have to improve with the next generation.
Final Takeaway
I've been carrying the Wally Junior with me for a few weeks and it hands-down has the easiest access to the most cards (4) of any other MagSafe wallet I've tested. It even carries a bill of cash folded in quarters and tucked in behind my 4 cards.
What seals the deal for me is that I don't have to remove the wallet to access my cards. This keeps the Wally Junior and my iPhone 12 together as a married unit. They are joined at the hip, so-to-speak. And when they're unified, it's one less thing to forget when I leave my house.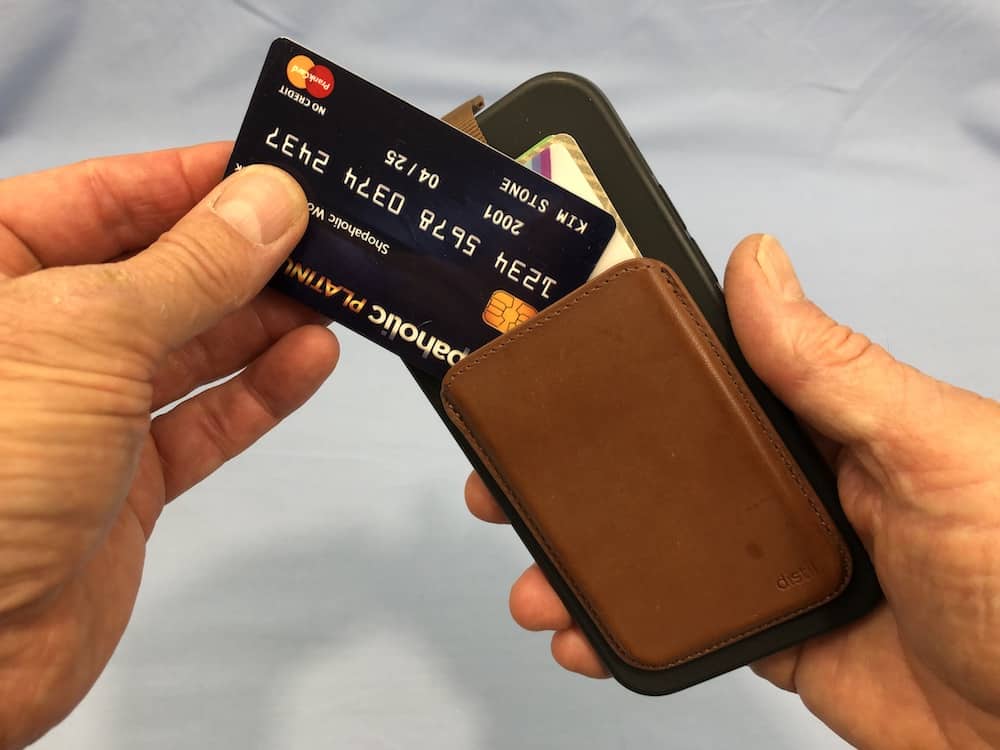 Like most MagSafe wallets, the Wally Junior stays in place better with a MagSafe compatible case on the iPhone 12 rather than a bare phone. The friction of the case helps to keep it from twisting.
The pull tab really makes card access a pleasant, even fun, experience. With every other MagSafe wallet I've tested, there is a bit of a fight to get at your cards. But the Wally Junior pull tab makes grabbing a credit card for $100 worth of groceries a little less painful.
I wish the metal plate adhered better to my car mount, but I can live with taking the wallet off first.
What I like
Don't have to remove from phone to use!!
Fabulous pull tab card access
Nice feel of full-grain leather with 4 different color choices
Cards are shielded from magnets
1-2 card more capacity than other MagSafe wallets
What I wish was better
The original magnet for the Wally Junior was weaker than all MagSafe wallets I tested. The magnet in the new version released in April 2022 is vastly stronger.
The magnet in my Belkin Car Mount is not strong enough to reliably hold the weight of my iPhone 12 Pro and the Wally Junior when attached to the side with the metal plate.
Additional MagSafe wallet info
If you'd like to know more about the other MagSafe wallets that I referenced in this post, here are some links.
Other MagSafe wallets to consider