I tested the Magnet strength of 14 different MagSafe compatible wallets. Unquestionably, the strongest MagSafe wallet is clearly the PopWallet+ for MagSafe from PopSockets. 
In fact, the PopWallet+ magnet is twice as strong as its nearest competitor. If magnet strength is your only criteria, you can stop reading right now and buy it.
HOWEVER, super duper magnet strength isn't everything. The magnets in all of the MagSafe wallets I tested are strong enough to hold tight to the back of your iPhone 12 or 13.
Other factors such as the type of magnet, wallet material, and design also come into play to assure that a MagSafe wallet stays stuck to your phone.
How I tested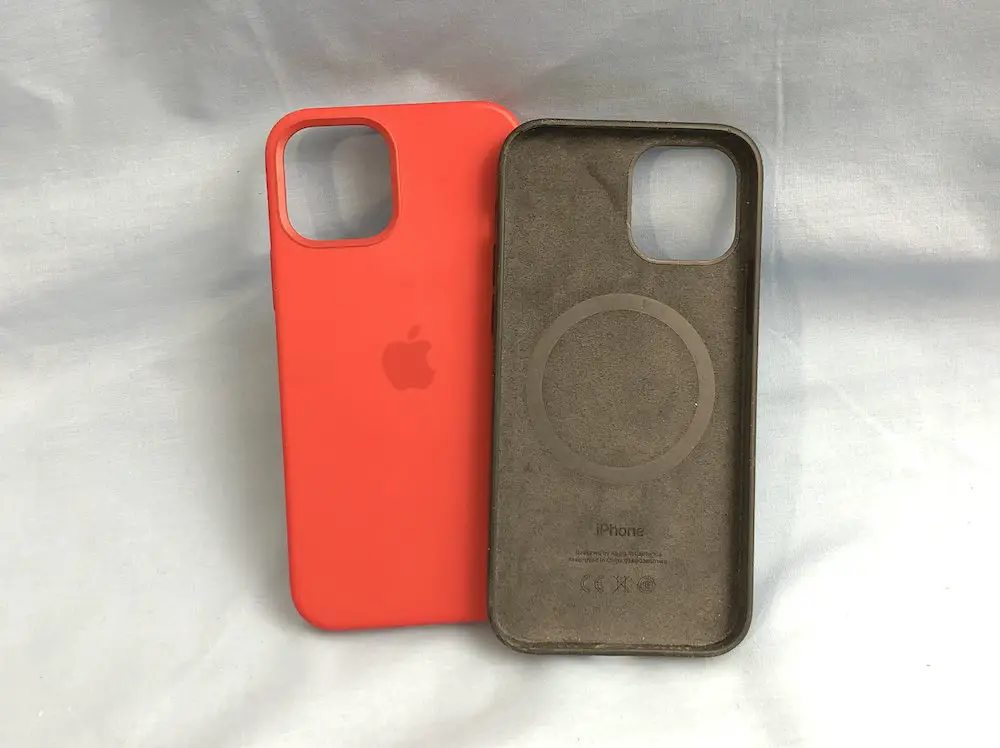 All of my tests were done with my iPhone 12 Pro with an Apple MagSafe silicone case. I didn't do any tests with a naked phone because a vast majority of people use a case to protect their phone.
In fact, some companies, like PopSockets, require a MagSafe compatible case because a naked phone doesn't hold MagSafe accessories as well.
Some MagSafe wallet manufacturers make their own proprietary cases which they claim will increase the holding strength of their wallet. The only non-Apple case I have tested is the Moft MagSafe-enhanced case. Its magnet is MUCH stronger than the Apple MagSafe silicone case and holds all MagSafe wallets with increased magnetic force.
I assessed the strength of the magnet by the resistance to movement for each wallet in 3 different ways.
Pry and pull resistance – I pried the wallet off the phone by pulling straight back from the top.
Sliding resistance – I slid each wallet up, down, and sideways off the phone.
Twisting resistance – I twisted each wallet back and forth in a circular motion.
In interest of full disclosure to all you engineers and nitpickers out there: All of my tests were done by feel rather than with a measuring instrument.
That means all of my data are subjective and relative (not absolute). I used the PopWallet+ for MagSafe as the gold standard for comparison because it has the strongest magnet strength of all. All of my measurements are relative to the PopWallet+.
This table shows the relative magnet strengths of 14 different MagSafe wallets. All were tested on an iPhone 12 Pro with an Apple MagSafe silicone case.
BEST RESISTANCE TO PRYING/PULLING

The magnet has an iron grip. 

The PopWallet+ has a stronger magnet than any other MagSafe compatible wallet. When it attaches to your iPhone 12/13, you'll immediately feel the strength of the magnet.  


Some reviewers who test the strength of MagSafe wallets use a force meter to pull directly up at 90 degrees from the wallet. In fact, this is how Apple's developer guidelines recommend that the test be done to certify MagSafe accessories.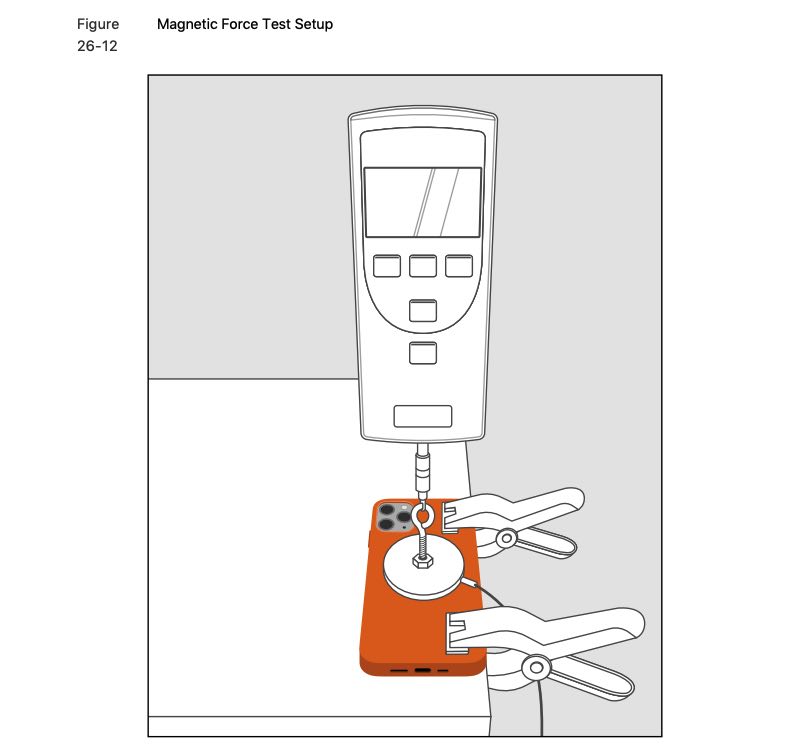 Even so, I don't think this is an accurate "real world" test of a MagSafe wallet's strength because it isn't the way a wallet is likely to fall off.
In my experience, a wallet reveals its resistance to pulling when you try to remove a card from the top of the wallet. You inevitably pull back on the top of the wallet when you place your finger behind a card to pull it out.
This turns the wallet into a lever. This lever action requires less force than pulling straight up on the wallet.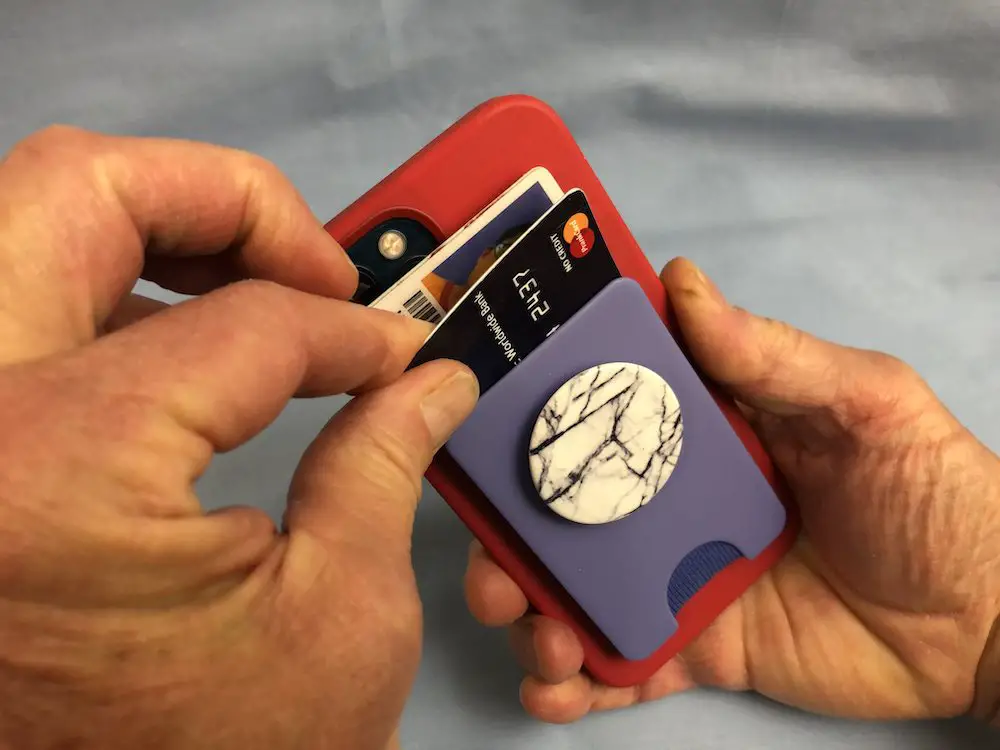 If a pull test shows that it takes 4 pounds of force to pull it directly off the phone, it may only only take 2 pounds to pry it off from the top because of the mechanical advantage of the lever. Physics!
The 5 MagSafe compatible wallets with the greatest resistance to prying off a phone.
The wallets made from rigid plastic like the Spigen Rugged Armor and PopWallet+ have more potential to pull away from your phone when accessing your cards than those with flexible leather or faux leather construction.
MagSafe wallets made of soft leather like the Andar The Mag or faux leather like the Moft MagSafe wallet will flex slightly when you remove a card.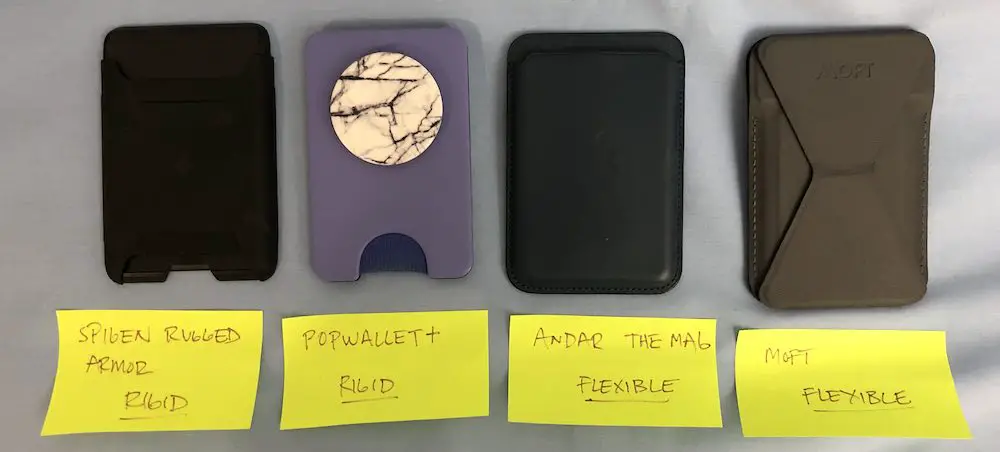 Because the leather and faux leather wallets "give" more than the rigid wallets, they absorb some of the force and stay attached better. This all depends on the strength of the magnet, of course.
To make sure that a wallet always stays attached, I've gotten into the habit of placing my thumb on top of all MagSafe wallets whenever I remove a card. This keeps even the weakest magnets from letting go.
BEST RESISTANCE TO SLIDING

Sliding is the easiest way for your wallet to fall off your phone. 

If a MagSafe wallet moves a quarter inch in any direction, it will fall off your phone. So resistance to sliding is one of the most important qualities for any MagSafe wallet to have. The PopWallet+ meets the challenge. 
When you attach a MagSafe wallet to an iPhone 12/13, there is only one place where the ring of magnets will line up perfectly. You can feel this sweet spot instantly because it's where the wallet will snap into place.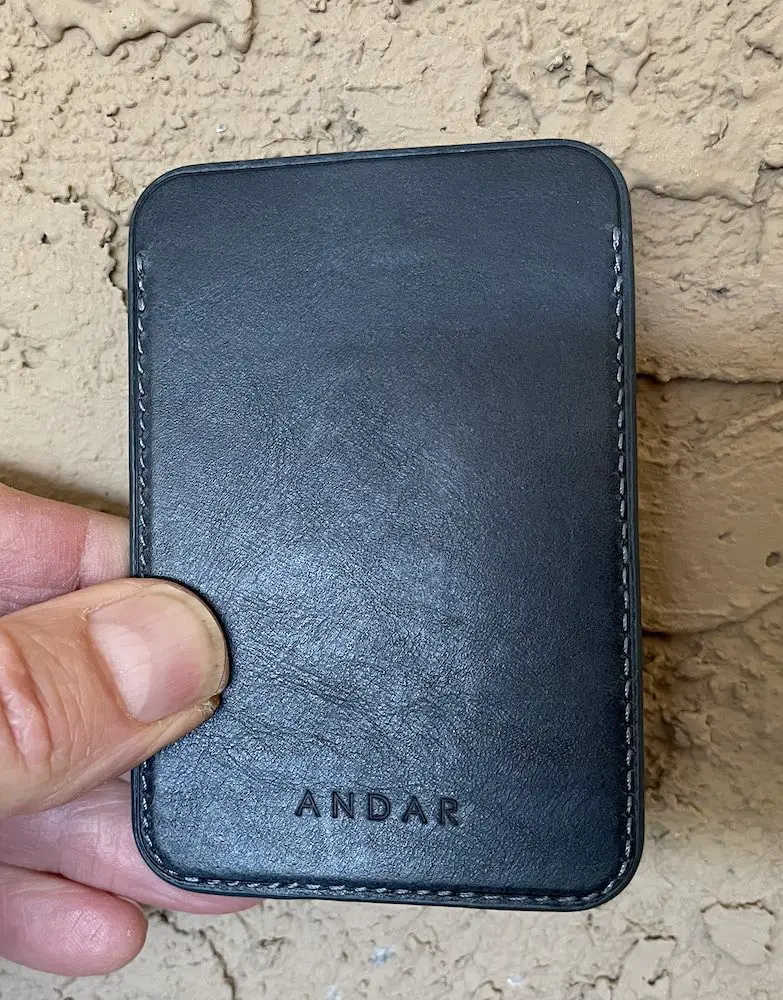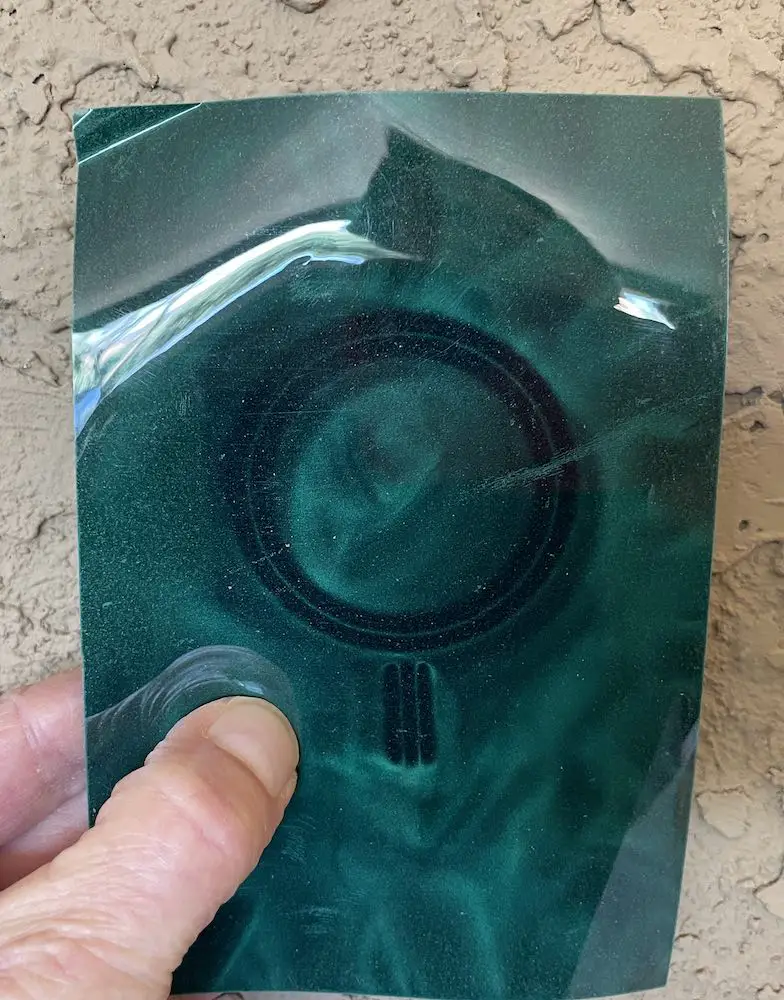 The reason your MagSafe compatible wallet always lines up perfectly is not just because of the circular magnets aligning. It's also because of the orientation magnet in the case, phone, and wallet.
But if your wallet slides even a quarter inch in any direction on your phone, the wallet will fall off every time. All MagSafe wallets are very unforgiving that way. It's all or nothing when it comes to sliding movement.
The most likely place for your MagSafe wallet to slide off is when you put it in or take it out of your pocket or purse. It can also happen while it's jostling around inside your pocket. (Plus, a thousand other ways, I s'pose.)
The material the wallet is made of makes as much difference as the magnet strength itself.
The Mous MagSafe wallet has 160 tiny gripping dots that do a super job at keeping the wallet from slipping and sliding. The hard plastic surface of the Spigen Rugged Armor also really grips my Apple MagSafe silicone case.
Leather has a tendency to be more slippery, but not always. The Apple MagSafe wallet is leather and yet is very resistant to sliding. The Kings Back is made from nice full-grain leather but slides easier than any other wallet I tested, even though its magnet is quite strong.
Remember that all of my tests were done with my iPhone 12 Pro with an Apple MagSafe silicone case. Depending on what MagSafe compatible case you use, your results might be different.
The Apple MagSafe silicone case has a nice grippy feel to it. This not only helps you hold your phone, but the grippy surface helps keep MagSafe wallets from shifting on your phone.
Other MagSafe compatible cases my also have some of the same qualities, but the only other one I have tested is the Moft MagSafe-enhanced case. It is made from poly carbonate and it's not as grippy. The Moft case compensates with a stronger magnet than Apple.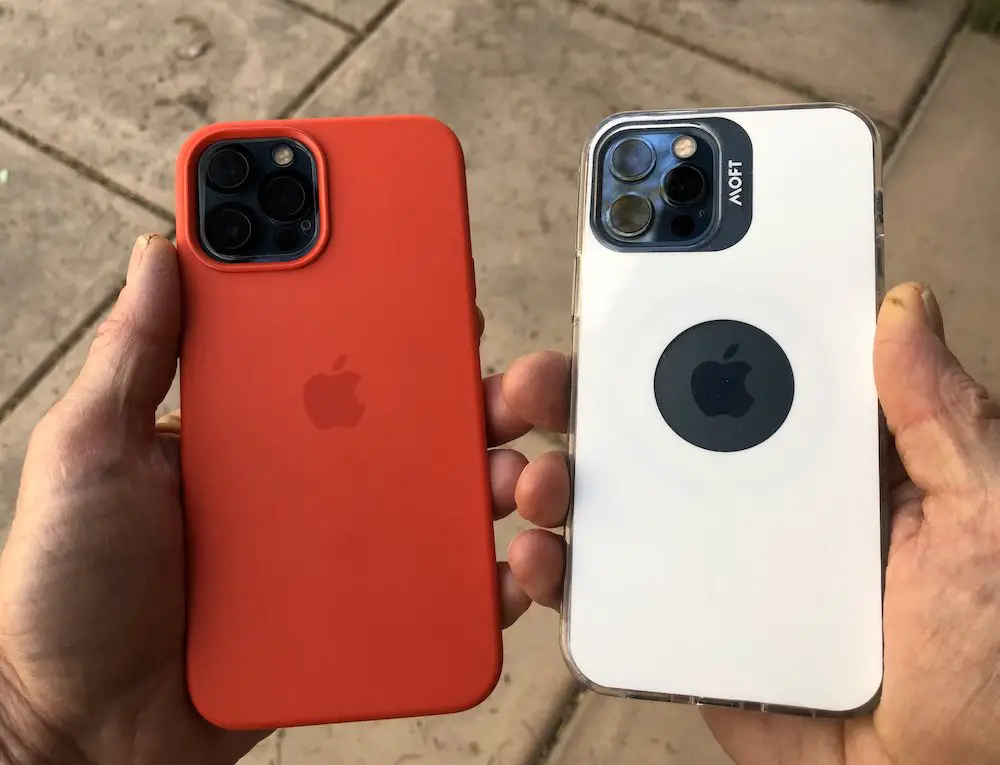 I have seen one reviewer do a drop test from various heights to see when the MagSafe wallet will slide off. Yes, as the drop height increases, any MagSafe wallet will eventually fall off. I'm just not sure what metric this is trying to show.
What matters to me is that the strength of the magnets and the combinations of materials that will keep my wallet attached to my phone in most day-to-day situations. All of the MagSafe compatible wallets I tested earn a passing grade for minimum magnet strength.
BEST RESISTANCE TO TWISTING

Twisting on your wallet is something this wallet doesn't want to do. 

It really takes some muscle to force the PopWallet+ to twist in any direction on an Apple MagSafe silicone case. The magnet strength is outstanding. 

When it comes to resistance to twisting, the magnet location, the strength of the magnet, and the wallet materials all come into play.
What makes twisting different than sliding and prying is that the wallet pivots on the center of the MagSafe magnet array. No matter how much you twist it, even multiple 360s, the magnets stay lined up. That means your wallet doesn't fall off like it does if you pull it off or slide it off.
This is why you can use MagSafe wallets with kickstands, like the Moft, Peak Design, and Spigen Smart Fold, to watch videos on your phone in floating position. Unless you pull or slide the wallet it off, it will rotate on the magnets in just about any position and still holds tight.

When you rotate it back to its original position, you'll feel it lock into place when the vertical orientation magnet in the case or phone line up with the matching orientation magnet in the MagSafe wallet.
Most MagSafe wallets use what's called a Neodynium magnet. That's also the same kind that is used in the Apple MagSafe silicone case. Neodynium is used because it is super strong even when it's wafer thin.
PopWallet+ is best for resisting all 3 types of movement.
If the wallet drifts up, down, or sideways even a quarter inch from the MagSafe magnet array, it will fall off lickity split. The same thing will happen if something accidentally pries the wallet off your phone.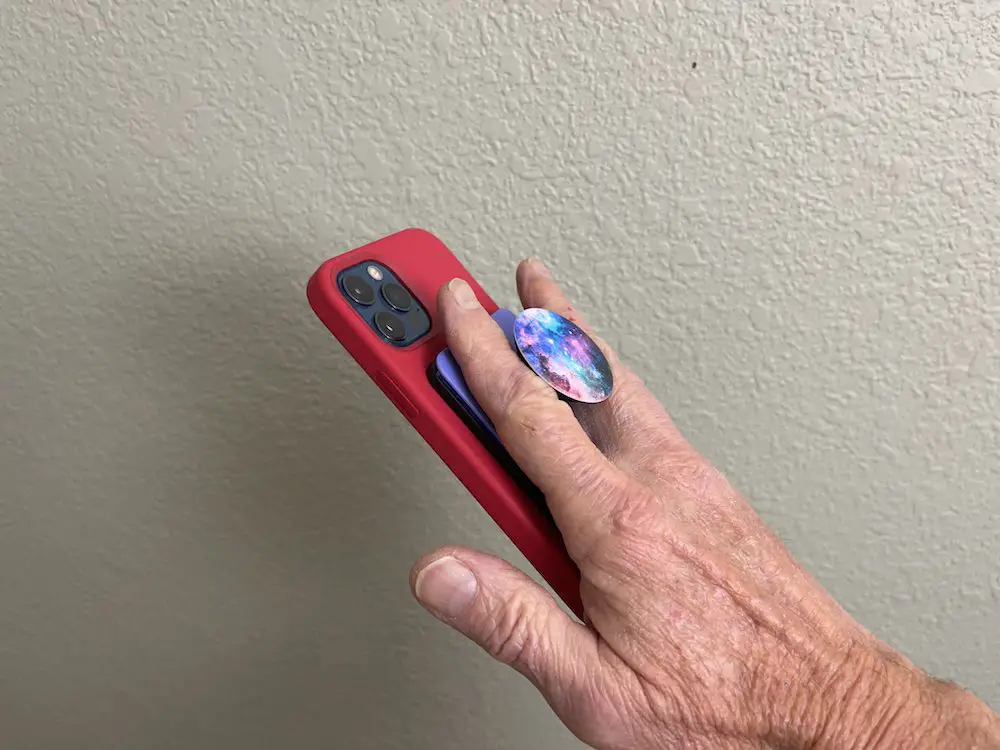 Generally speaking, though, if your wallet gets a little cock-eyed and rotates out of position on your phone, the magnets will still hold tight. All you have to do is straighten it again and you'll feel it snap back into place when it's in the correct position.
As I described, your MagSafe wallet has the potential to fall off your phone in 3 different ways. The PopWallet+ for MagSafe from PopSockets is clearly the best for always staying firmly attached to your phone.