All of these car vent phone chargers magnetically hold your iPhone 12, 13, or 14 and charge it using MagSafe technology. All you have to do is place your phone on the charger and it will start charging immediately.
Even though your phone is charged wirelessly, the charger itself has a cable that must be plugged into a power source. That means it's not truly wireless.
Note: I purchased all of these chargers and evaluated each of them in my 2021 Toyota Tacoma.
Comparative features of five wireless car chargers with MagSafe
You will also need a power adapter
For your cell phone to charge at maximum capacity, many wireless chargers need a high-powered USB-A or USB-C port for a power source. Even in newer vehicles, the USB ports that come pre-installed from the factory often don't put out enough power.
Some of these wireless MagSafe compatible car chargers include a USB-A or USB-C cigarette lighter adapter and cable. These will provide the charger with the optimal wattage to provide maximum wireless power delivery to your phone.
For the Journey, Halolock and Spigen, you'll have to purchase power adapter separately. The Apple MagSafe charger that fits inside the Scosche and Spigen car chargers, for example, needs a minimum 20-watt, PD 3.0 power adapter.
Best: Belkin Boost Charge Wireless Car Charger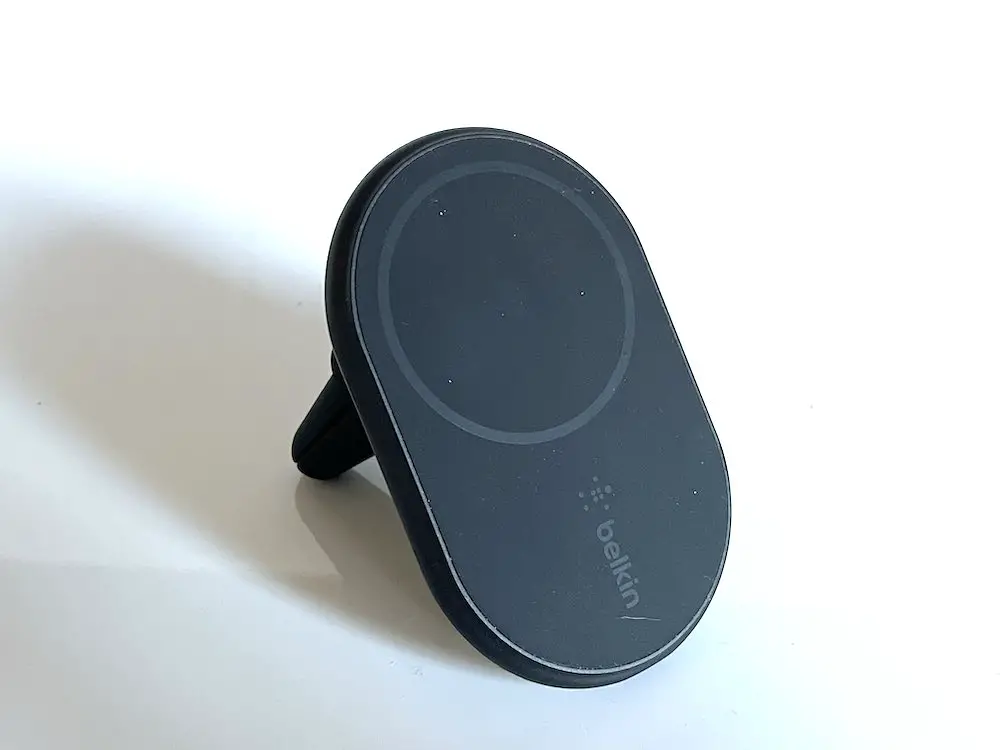 This is my favorite magnetic wireless car charger because it comes complete with everything you need. It includes a cable and cigarette lighter power adapter to give you 10 watts of charging power. That's 2.5 watts more than the Journey or ESR HaloLock which means faster charging.
It uses a hard rubber, press-on adapter that holds your iPhone firmly yet won't mar your vent louver. The strong magnet holds your phone vertically or horizontally and will securely hold all sizes of iPhone 12 and 13s, even the heavier iPhone Pro Max.
Maximum charging power delivery to iPhone 12/13/14: 10 watts
Comes complete with a 20 watt power adapter and USB-C cable.
Scosche Magic Mount 4-in-1 Car Charger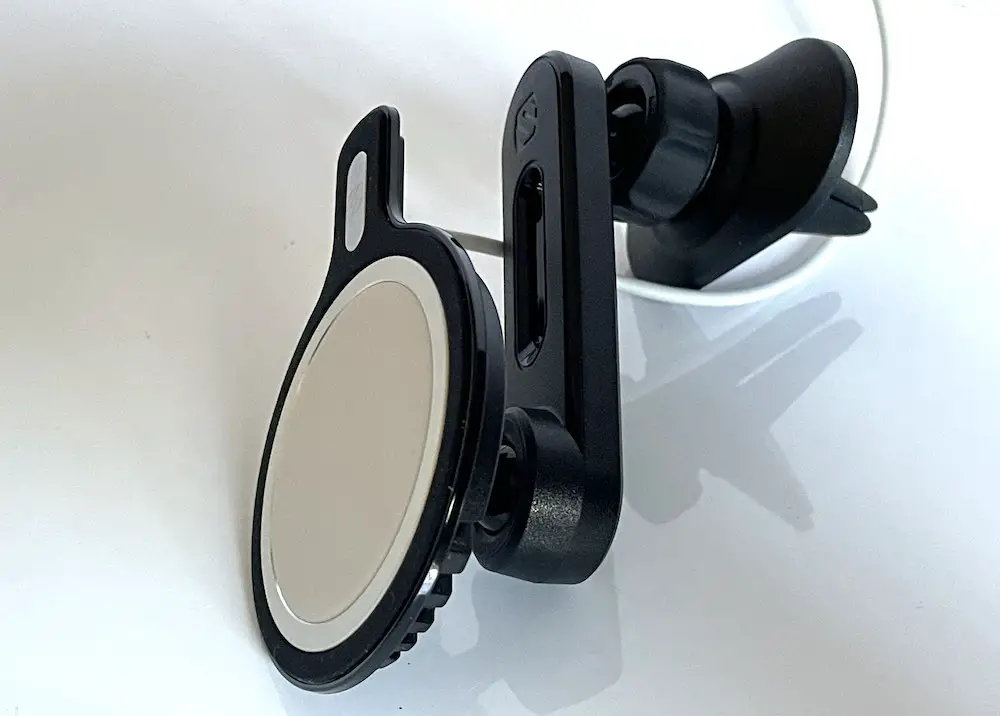 The Scosche MagSafe wireless car charger is the only car mount that won't block your car's vent. It uses an innovative swing arm that positions the charger away from the air flow. The Scosche requires an Apple MagSafe wireless charger that you have to buy separately. With the Apple charger, you can charge your iPhone 12 or 13 at the maximum 15 watt capacity. The Scosche car charger comes packaged with a USB-C cigarette lighter adapter that provides the correct power delivery. 
Maximum power deliver to iPhone 12/13/14: 15 watts
Comes with a cigarette lighter power adapter
Requires an Apple MagSafe wireless charger
Journey Wireless Charging Car Mount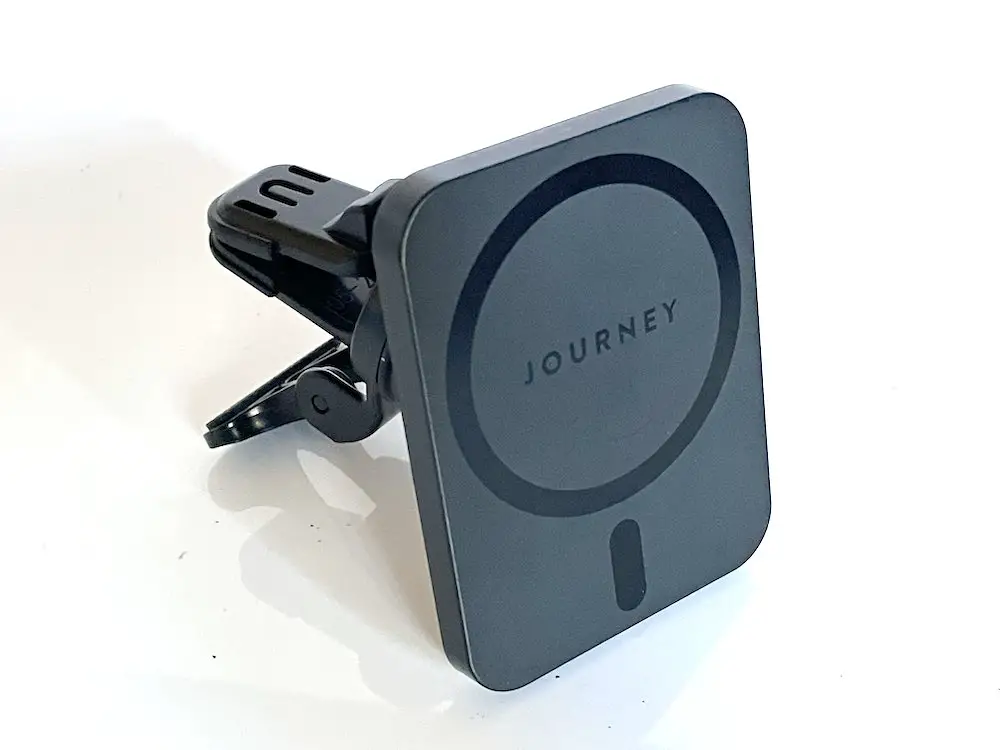 I really like this car mount because of the unique strut that helps to stabilize the mount on your car vent. It's MagSafe compatible, so it securely holds your iPhone 12 or 13 magnetically while charging it at a maximum of 7.5 watts. There is a padded alligator clip to easily attach the car mount to your most convenient vent louver.  Rotate the face of the mount into the perfect position, then lock it into place. 
Maximum charging delivery to iPhone 12/13/14: 7.5 watts
Comes with a USB-C to USB-A cable
Requires a USB-C power adapter
ESR HaloLock Magnetic Wireless Car Charger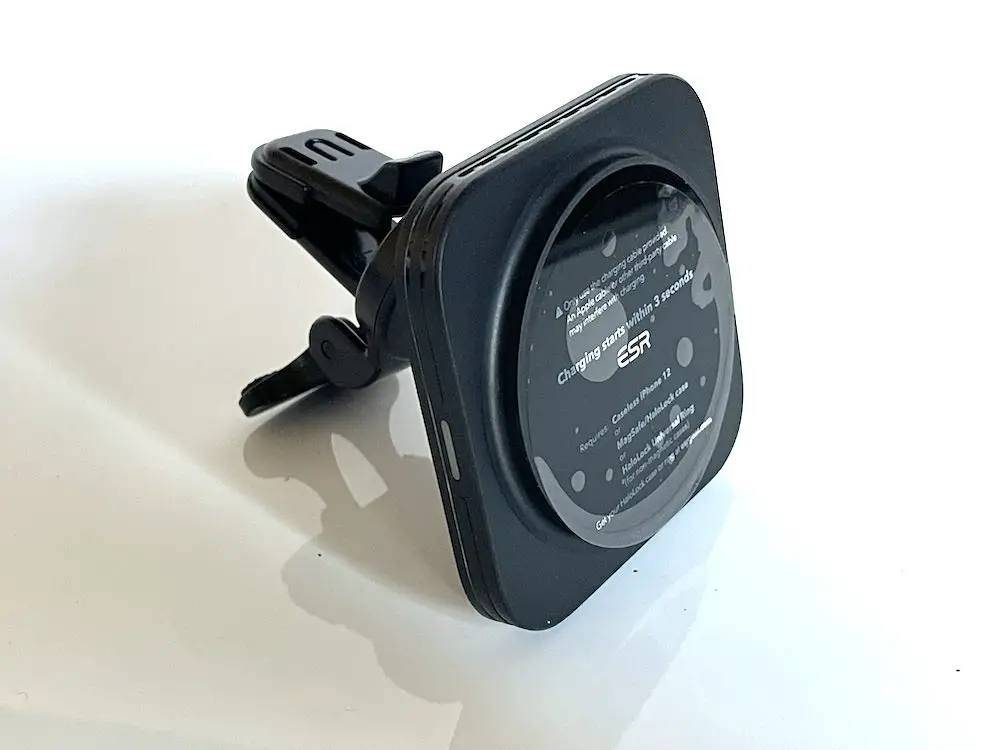 This design of this MagSafe car charger is nearly identical to the Journey car charger, but it holds your iPhone 12/13 with a stronger magnet. Attach your phone in either portrait or landscape position. A locking ball joint gives you ultra fine adjustment to your viewing angle.  It comes with a USB-C to USB-A cable, but requires an 18 watt charging adapter. It works well with both thin and thick vent louvers. 
Maximum charging delivery to iPhone 12/13/14: 7.5 watts
Comes with a USB-C to USB-A cable
Requires a minimum 18 watt power adapter
Spigen Mag Fit Car Mount Charger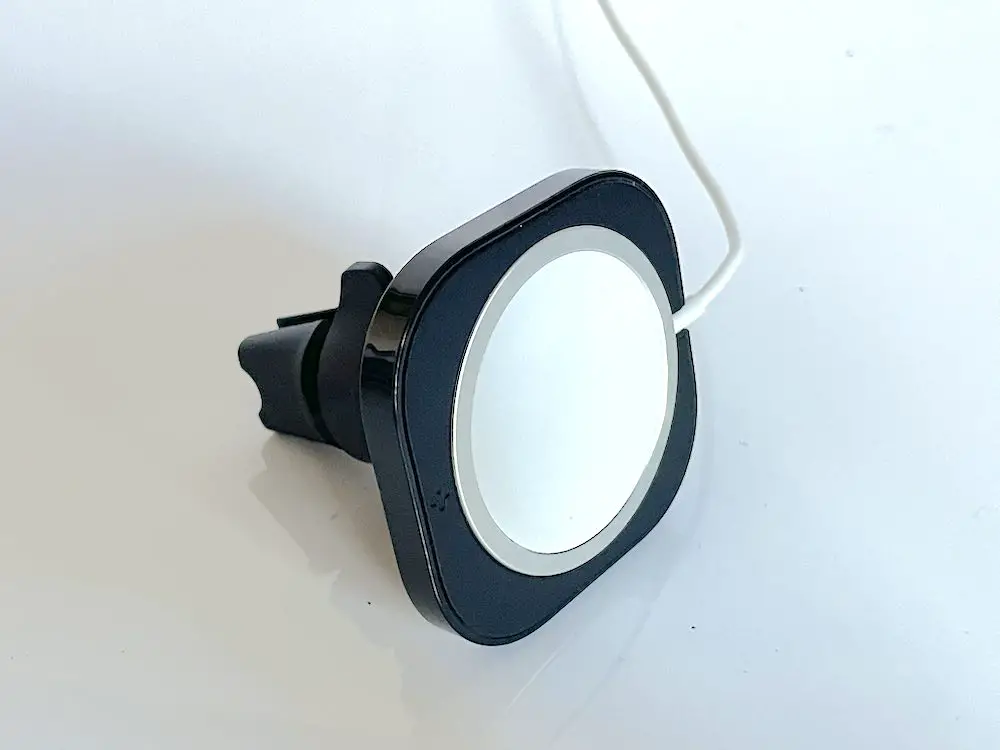 Like the Scosche Magic Mount, the Spigen Mag Fit requires the Apple MagSafe wireless charger to charge your iPhone 12 or 13. A locking ring holds the mount to your car vent louver and another locks a ball joint that holds your phone in the ideal viewing position. In many ways, it's has the simplest design of all with a low purchase price to match. But to make it all work, you'll need an Apple MagSafe charger and a USB-C cigarette lighter adapter that pumps out 20 watts.
Maximum charging delivery to iPhone 12/13/14: 15 watts
Requires an Apple MagSafe wireless charger and 20 watt PD 3.0 charging adapter