The Spigen MagFit car vent mount is designed to work with an Apple MagSafe charger. The Apple MagSafe charger fits inside the recessed face of the Spigen mount. The charger keeps your iPhone 12 charged while holding it magnetically in place.
The MagSafe charger attaches to the Spigen mount with a peel-off adhesive. To provide power to the charger, you'll need to plug the cable into a USB-C car charger.
This table includes all the necessary components you'll need to purchase.
The mount easily attaches to your car vent
The best part of the Spigen Car Vent Mount is the secure and fully adjustable way that it attaches to your car vent.
It's made from hard plastic with softer rubber inside the jaws that protects the louvers of your vent.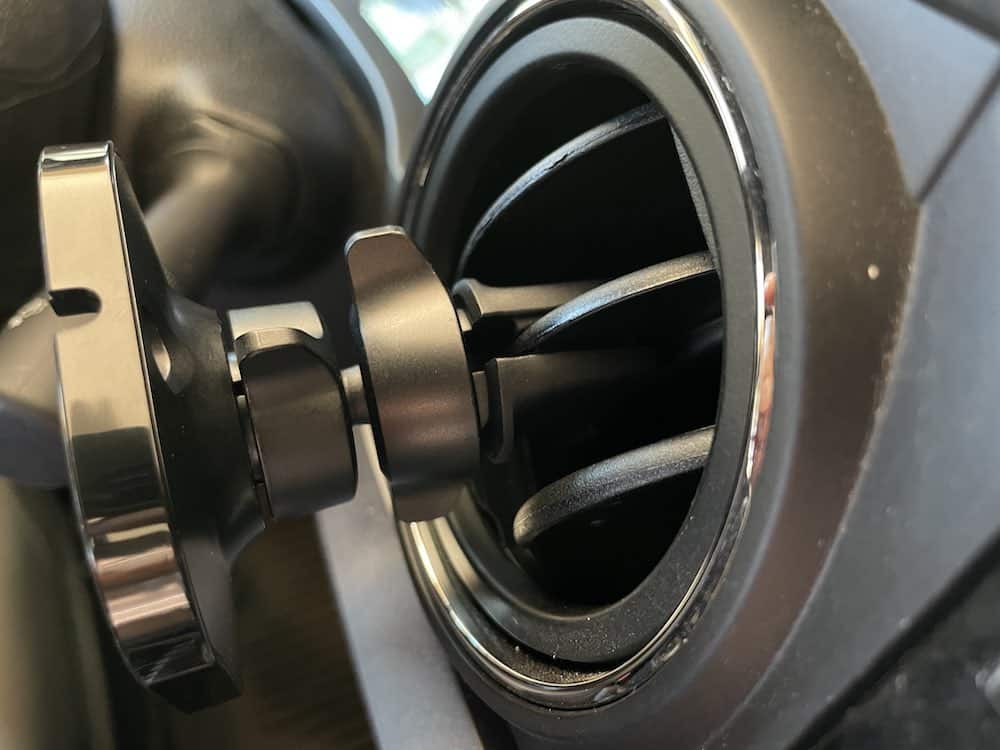 The jaws slide on easily to any size vent louver, whether thick or thin. Once it's in position, you just tighten the nut to secure it in place.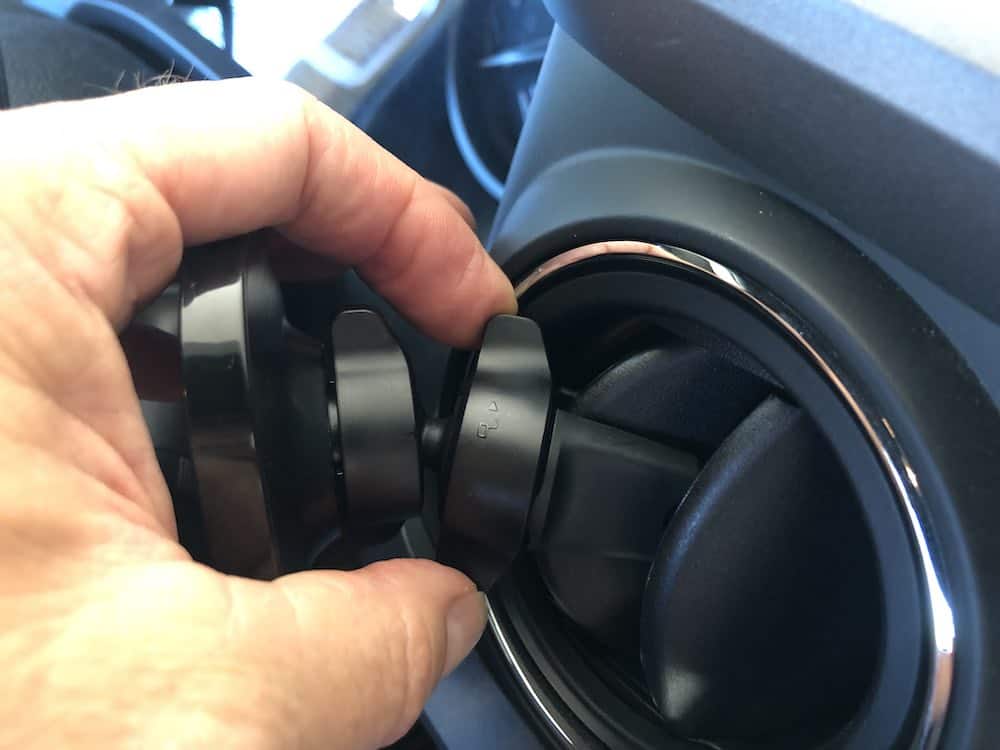 Actually, it's a huge improvement over hard rubber attachments from Belkin, and Popsocket that you have to push onto the vent and hope it stays put. 
In fact, I have to use so much force to push on my Belkin Car Vent Mount that I feel like I'm going to break one of the louvers. The adjustable jaws of the Spigen Car Vent Mount are a godsend. 
It's easy to adjust
Air vent louvers rotate, flip up and down, move back and forth, or (infuriatingly) combine all these movements. So it takes some time and diligence to figure out the best place on the louvers to mount the mount. 
Once you have the Spigen mount attached to your air vent, you can fine tune the position of your phone by rotating the ball joint.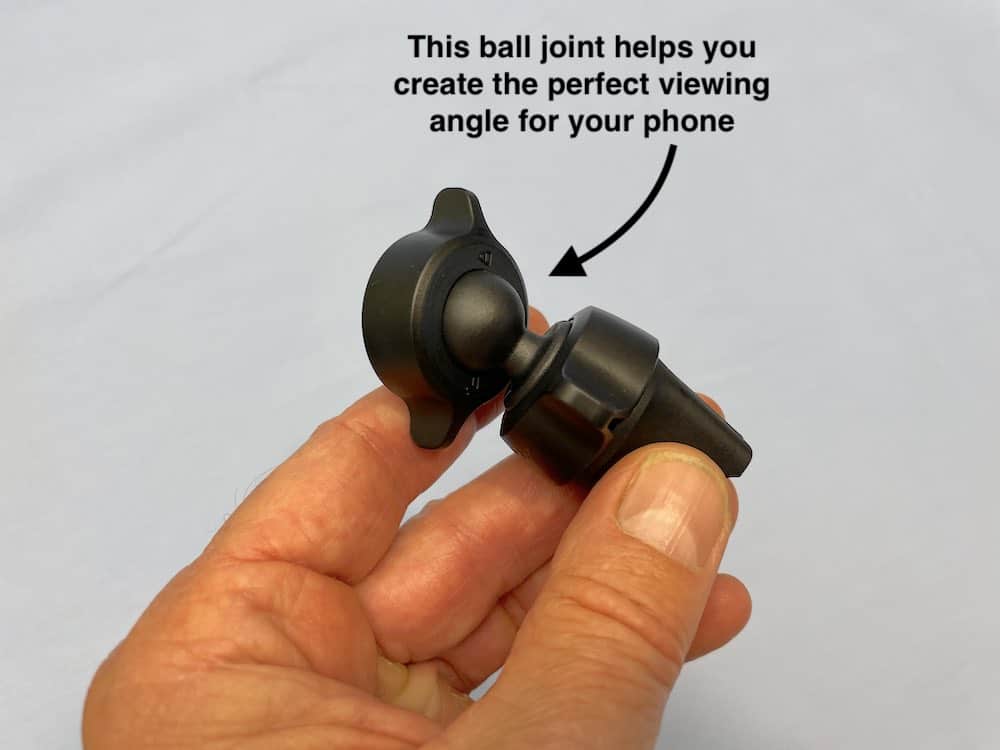 When you're happy with the location, tighten the nut to lock it down. My iPhone 12 Pro stays reliably in place right where I set it, even with the jostling of everyday driving. Over time, though, I usually need to do some minor readjusting.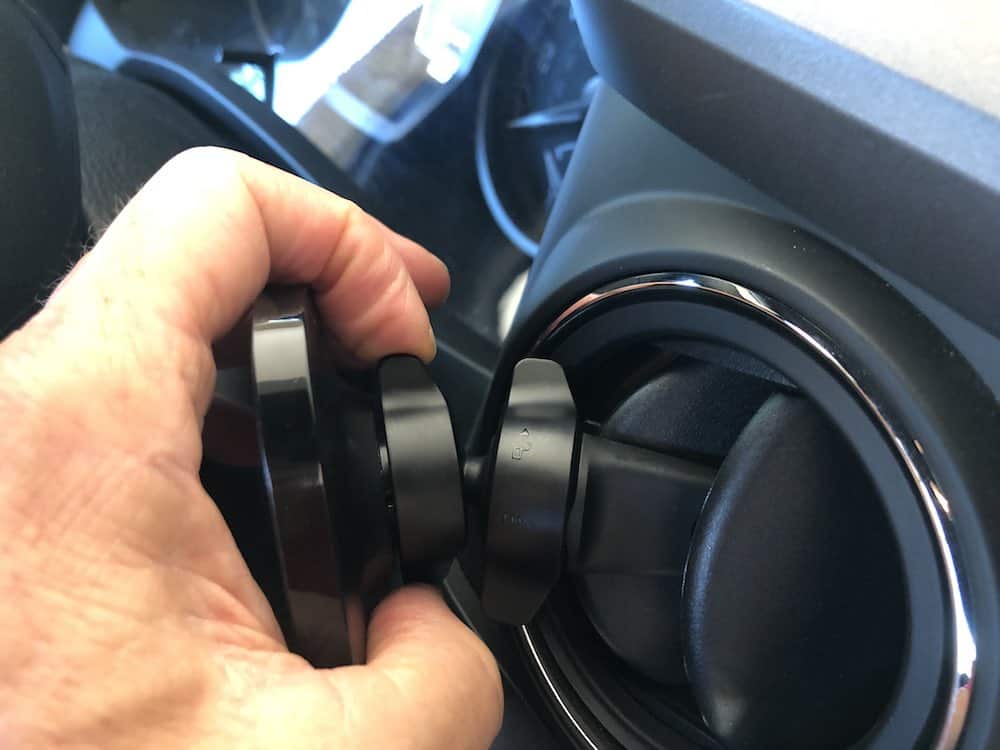 The next step is to peel off the adhesive from the mount and attach the Apple MagSafe charger. There is a slot below the mounting area for the cable to rest in.
This is more or less a permanent mount, so you'll have to buy yourself another Apple charger if you want to use one inside your house.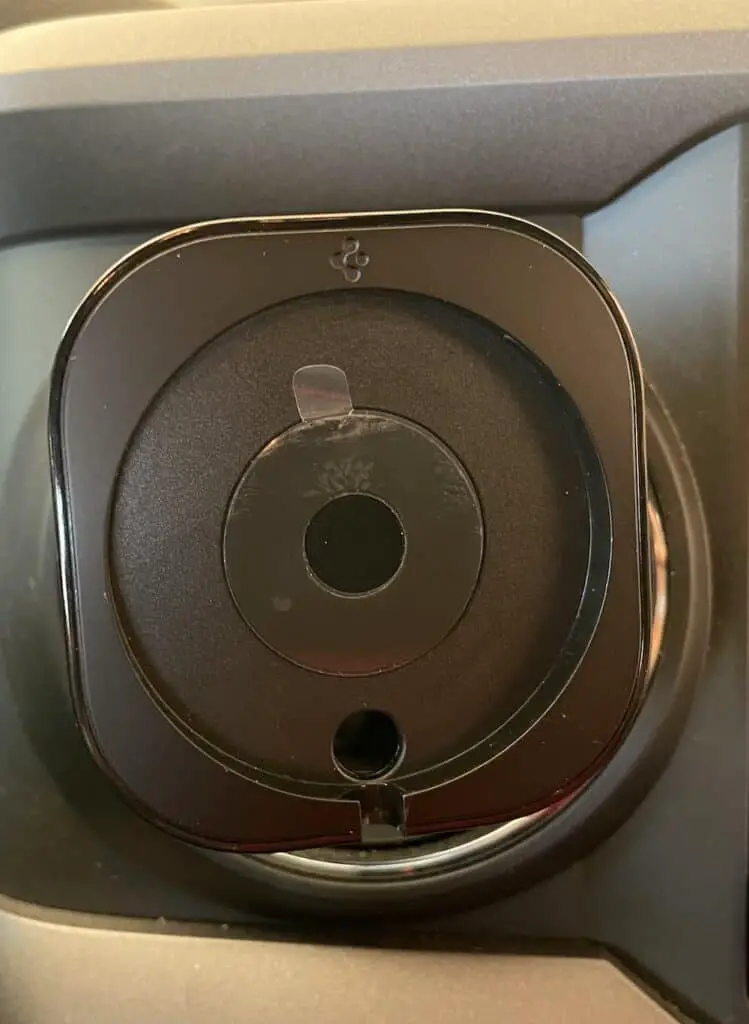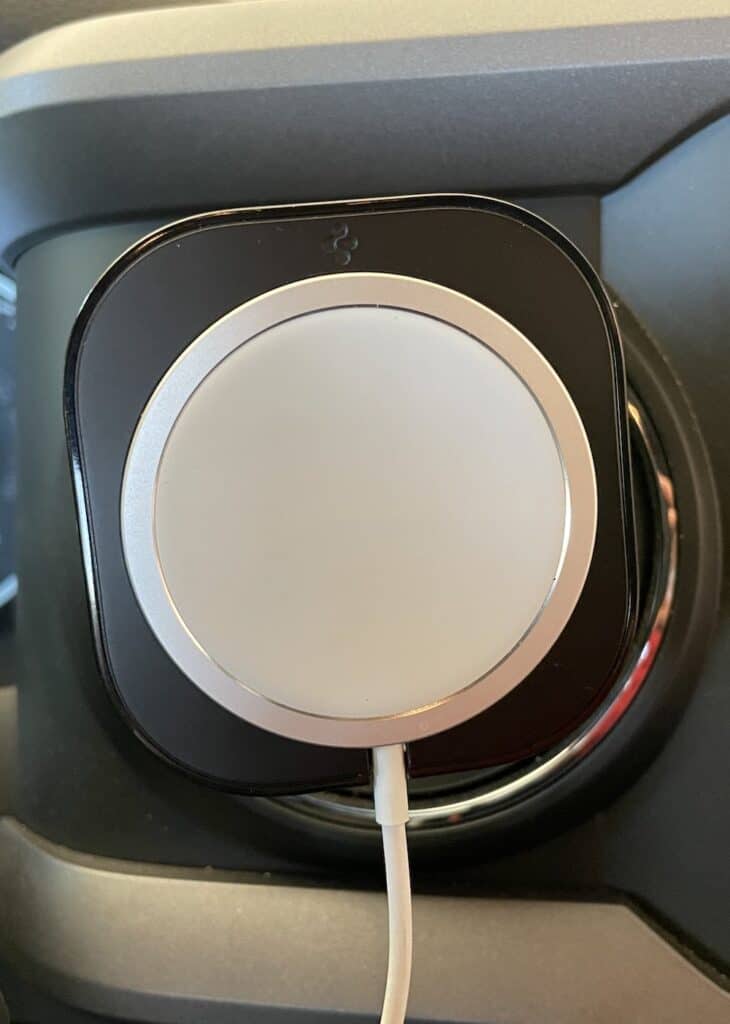 A car vent is a good mounting location
Some people don't like car vent mounts because they block some of the air from the the vent. This is definitely true, but it hasn't bothered me.
The alternative is to use some gooey adhesive to attach another type of mount to your dash or windshield. I just HATE the idea of gluing anything to my car. Plus, a car vent mount can be adjusted or moved to another location without leaving a sticky mess behind.
Another common complaint is that cold air is constantly hitting your phone. In my experience, cold air from my air conditioning vent has had no negative effect on my phone. In fact, it keeps it nice and cool.
Hot air from a heater is more likely to be a problem, but hot air is usually redirected to the vents at your feet during the colder season. In fact, during the winter, nothing will be coming out of the vent.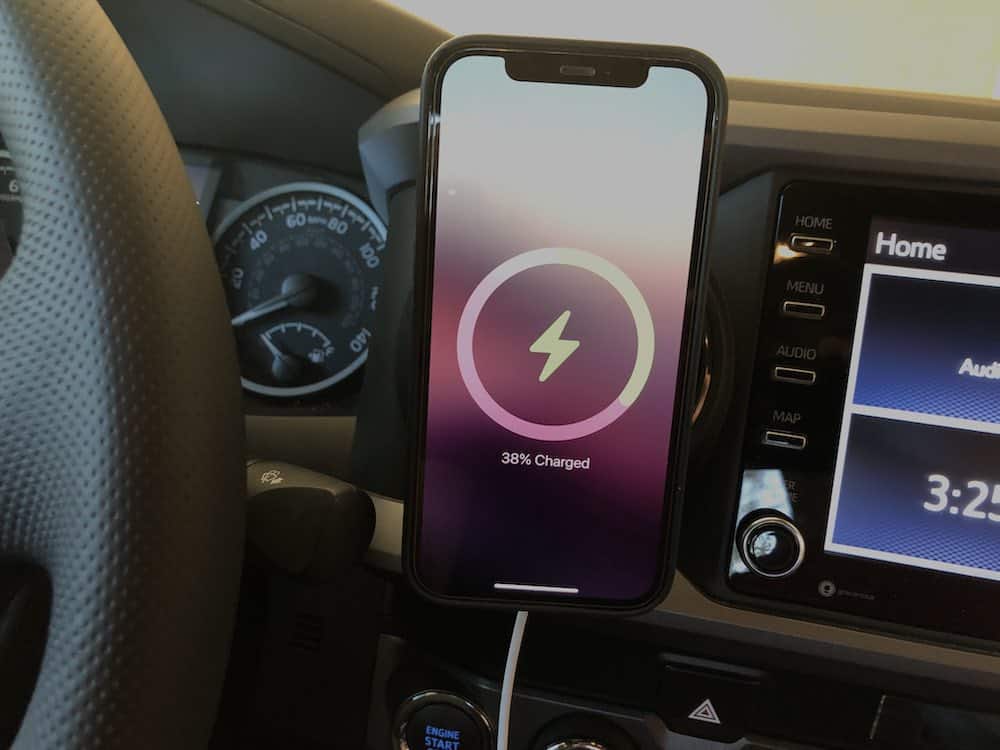 The Spigen mount needs extra accessories to work
For all of the functional and practical design, you would think that the $37 price tag is a bargain. And I think it is. Most car vent mounts cost about this much without the option of charging your phone. 
However, in order for the Spigen mount to hold and charge your phone, you're going to have chuck out another $40 for the Apple MagSafe Charger. Now, we're up to $77.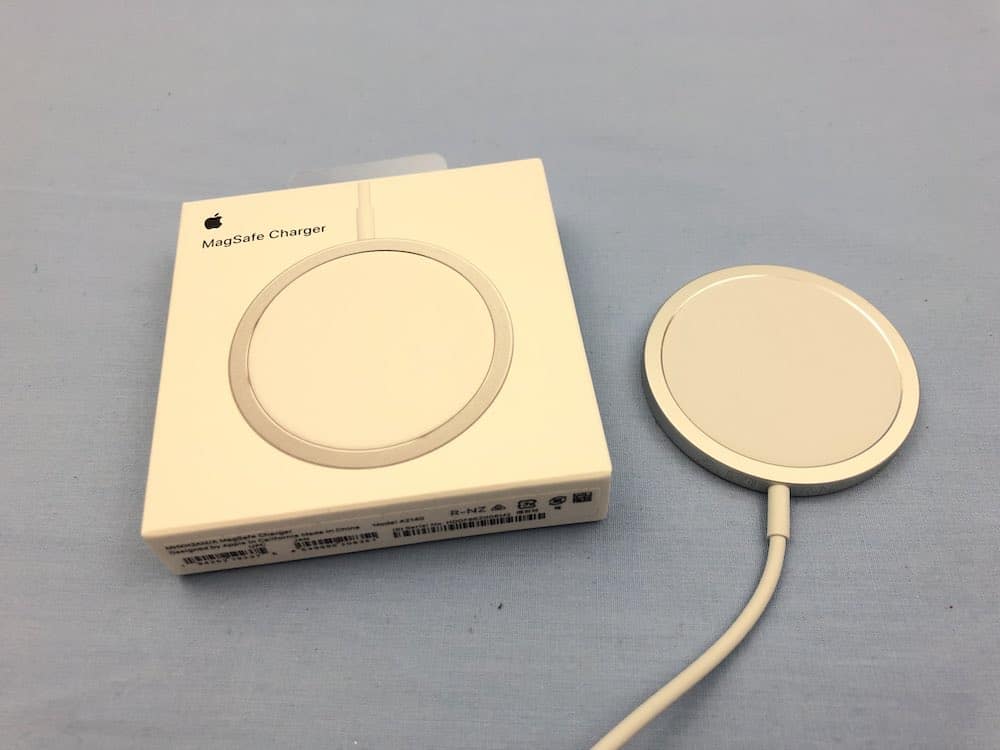 Oh, but there's more. It also needs a USB-C port for the Apple MagSafe charger to plug into. Only the newest cars have one of these built in.
The problem is: Even when a USB-C port is built in, it often doesn't deliver the minimum 20 watts that the Apple MagSafe charger needs to charge your phone at it's maximum capacity of 15 watts.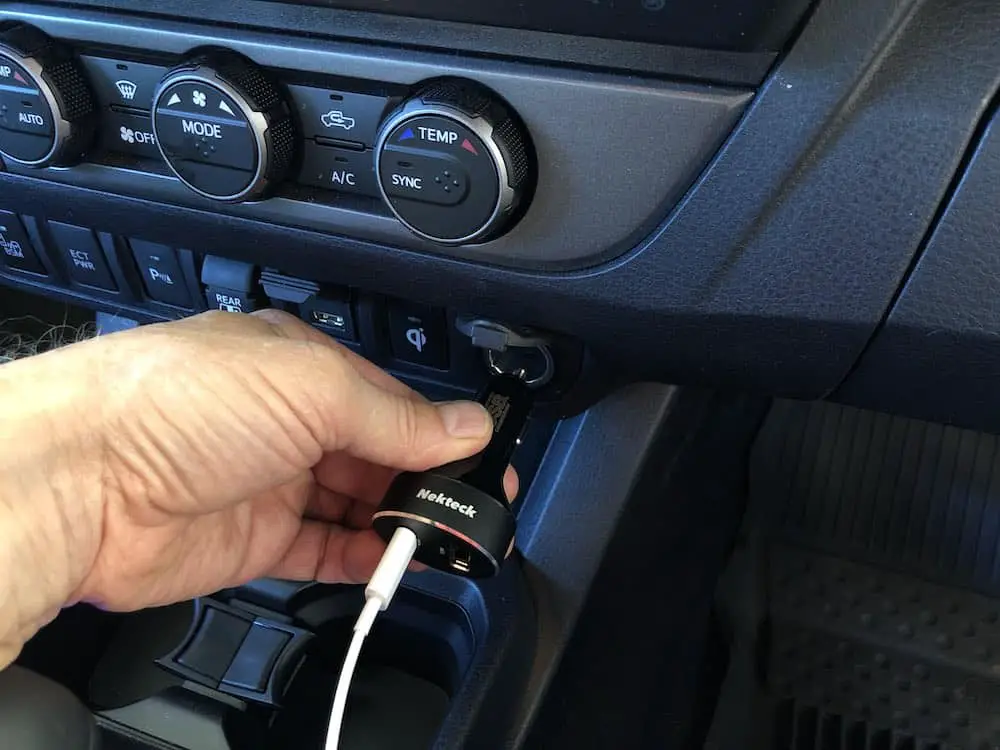 This means you'll have to buy a car charger that plugs into your cigarette lighter. I decided to go with the Nekteck USB-C car charger that puts out 45 watts so I can charge my Macbook Pro, too. A bonus is that the Nekteck also has a standard USB-A port.
This will run you another $20. Now the total price is nearly $100. That's a big "ouch" but I still think it's worth it. Especially because the high-power car charger with USB-C will come in handy for charging other devices when needed.
The good news is that once you've made the extra purchases and everything is hooked up, you'll be able to slap your phone onto the Spigen mount and be off and running.
Should you buy it?
My recommendation is YES, because:
I love the adjustability of the mounting mechanism.
The MagSafe magnet has plenty of holding power.
My phone is always charging without having to plug it in.
In Arizona, where I live, it's now illegal to hold a phone while you're driving. That makes the Spigen MagFit Car Vent mount a perfect hands-free home for you iPhone 12.
There's no better feeling than keeping both hands on the wheel with your phone easy to reach and in plain site. Not to mention the peace of mind in knowing that it's always charging.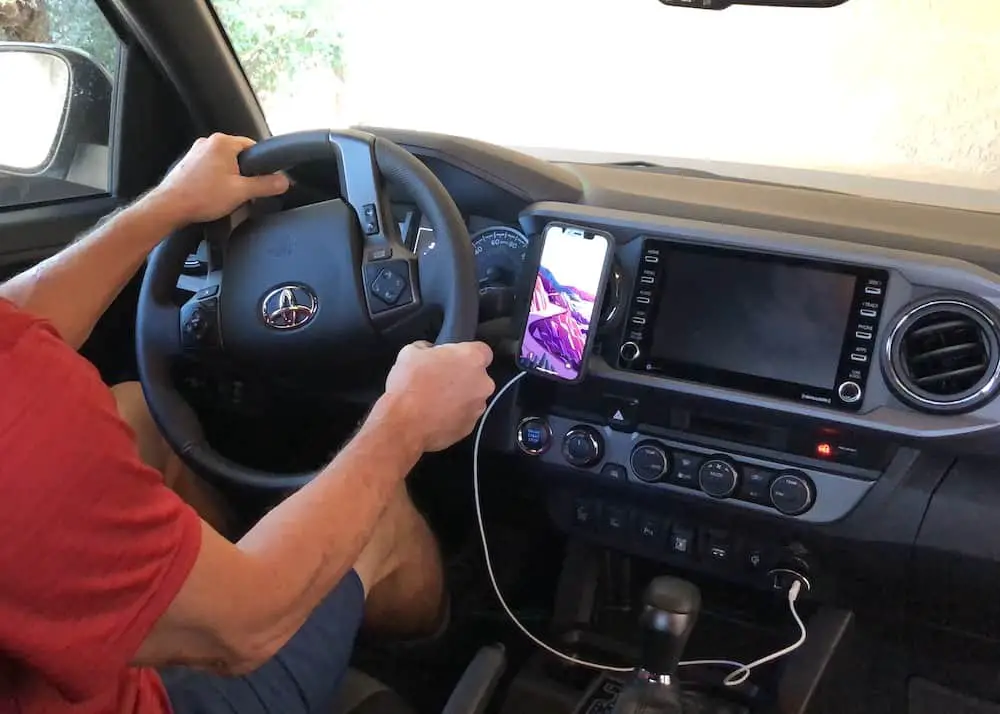 Best of all, with the Spigen MagFit mount and the Apple MagSafe Charger, you'll never have to plug a cable into the lightning port to charge your phone again. At least, not while you're driving your car.