Each of the 5 wallets on this list either has a secret compartment within it, or the entire wallet is made to hide under a layer of clothing. Either way, these wallets incorporate ingenious ways to give us more control about what we reveal and to whom.
Sometimes, it's just a matter of stashing a house key or a $50 bill for emergencies. When traveling, it's more about securing your passport and credit cards so you can avoid a panic-filled visit to the embassy.
Whatever your motivations might be, here are five smart wallets with hidden compartments to help keep your secrets.
Eagle Creek Undercover Hidden Pocket
Despite the name, the Eagle Creek Undercover Hidden Pocket isn't really a wallet with a hidden compartment. Instead, the entire wallet disappears under the waistband of your pants. That means no wallet bulge in your front or back pocket and no competition for space with your phone or keys.
I have used an older version of this hidden wallet for years while traveling abroad, and it works like a champ. It's large enough to hold a few passports, local currency, and cards while remaining totally invisible. 
The only exposed portion of the wallet is the straps that your belt slips through to keep the wallet in place. It comes with brown and black straps, so you choose the one that matches the color of your belt or pants.
The material is ripstop nylon with a back panel that is moisture-wicking and breathable. It's so comfortable that I have to pat my hip every so often to remind me that it's still there. I like it far more than a clumsy money belt. Another option is to use a wallet that goes around your neck like the Eagle Creek Undercover Neck wallet. It is just as hidden under your shirt.
Nomad Slim Tile Tracking Edition 
The Nomad Slim Tracking Edition has what the manufacturer calls a stealth pocket that is built to hold a Tile Slim tracking device. The idea is that even if the wallet is stolen, the concealed 2" square tracker won't be easily detectable. If you lose your wallet, the Tile community network kicks in and uses crowd finding to help you locate it. 
Oh, you don't want your wallet to be this smart? You can just as easily use the stealth pocket to hide a memory card, house key, or the combination to your bicycle lock. 
The Nomad Slim doesn't have the small footprint of a credit cardholder, but it still strives for minimalism with a really slim profile. It can hold 4 cards without much fuss with two pockets for cash, and a quick-access pocket on the outside.
It is all put together with a classy design that uses vegetable-tanned leather from the Horween Leather Company of Chicago. The leather develops a rich patina and personality over time that is unique to each individual owner. 
Bellroy Hide and Seek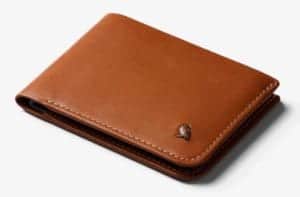 The Bellroy Hide and Seek is a bifold wallet with RFID protection that has a hidden section for paper currency and loose change. A flap folds over the standard area that holds the flat bills. When you flip it up, there is the hidden compartment behind it. 
Use it to stash the $100 bill you don't want to advertise and put your gold sovereigns or extra cards in the equally hidden pocket. Your day-to-day cash goes just where you would expect it.
For gift and credit card hogs, the Bellroy Hide and Seek will hold up to 12 of them. It uses premium leather that is dyed all the way through so that lighter leather colors underneath don't reveal themselves as the wallet ages. The leather is tanned under gold-rated Leather Working Group protocols.
The wallet is about the same size as a standard passport and comes in an optional "Hi" version that accommodates paper currency taller than USD. You can purchase it with 7 leather colors that are each complemented by different contrasting liner colors. Bellroy.com has an excellent video about its hidden compartment.
Zero Grid Bra Wallet
A bra wallet is probably the ultimate hiding place for anyone born with a Y chromosome. This fact didn't allude the designers at Zero Grid were when they created a wallet that clips to the front or side strap a bra. It's large enough to hold a passport, and will easily fit credit cards, cash, or jewelry.
Like the Eagle Creek Undercover wallet mentioned above, the wallet is thin and flat so it's completely unnoticeable under a shirt. That means it's a no-brainer for international travel. 
The Zero Grid Bra wallet is made of ultra-soft nylon spandex with an elastic nylon strap and nylon buckle. The buckle can also hook onto a belt or underwear if the bra location doesn't suit you. Owners claim that it feels soft and comfortable, even against sensitive skin.
Zero Grid is so confident of the security of their product that they offer $300 trip insurance if anything gets stolen from it.  Even more, it also ships with 2 recovery tags from the lost and found company, ReturnMe.
Mighty Wallet
I know of no other wallet on the planet that makes a wallet out of paper-thin, indestructible Tyvek. It's a radical concept borrowed from document envelopes and mailers that are impossible to tear open. It makes the Mighty Wallet super light and water-resistant. There are 6 different storage areas inside including a secret compartment that folds out if you know where to look. 
To add to its quirkiness, every Mighty Wallet is printed with a selection from an off-the-wall collection of graphics. Choose from a ballpark hot dog, the Simpson's cast, the label from Sriracha hot sauce, or a dozen others including a one-half dollar bill.
Does it last forever? Owners report that it finally starts to disintegrate after 2 to 3 years. The good news is another $15 will buy you a new one. Here's a video from Unbox Therapy that puts the Mighty Wallet through an (unsuccessful) tear test.
LEARN MORE: Even better than a wallet with a hidden compartment is one where the entire wallet is hidden. Check out this post about travel wallets that go around your neck (and hide under your clothing).