The Peak Design Mobile Wallet is a MagSafe compatible wallet that's designed to attach magnetically to your iPhone 12 or 13. It attaches perfectly to my iPhone 12 Pro with an Apple MagSafe silicone case.
It's a brilliantly functional and refined MagSafe wallet dressed to the nines in fine canvas fabric with a pull tab for your cards and a kickstand for your phone.
These three standout qualities that rank it above and beyond most other MagSafe wallets.
Pull tab ejects up to 7 cards
Folds out into a kickstand
Covered in tailored, high-quality canvas
Pull tab with room for lots of cards
The capacity is 7 cards which is twice as many as the capacity of most MagSafe wallets. The only other MagSafe wallet comes close except is the MagBak MagSafe wallet which holds a total of 6 cards.
The good news is you don't have to remove the wallet from your phone to access your cards like you do with the Apple MagSafe wallet. Any wallet you have to remove from your phone to use is a deal-breaker for me.
Access to up to 7 cards is super easy and convenient. The flap that covers your cards is also the pull tab. Grab the end of it an eject all of your cards in one fell swoop. You can even tuck in a folded $20 bill.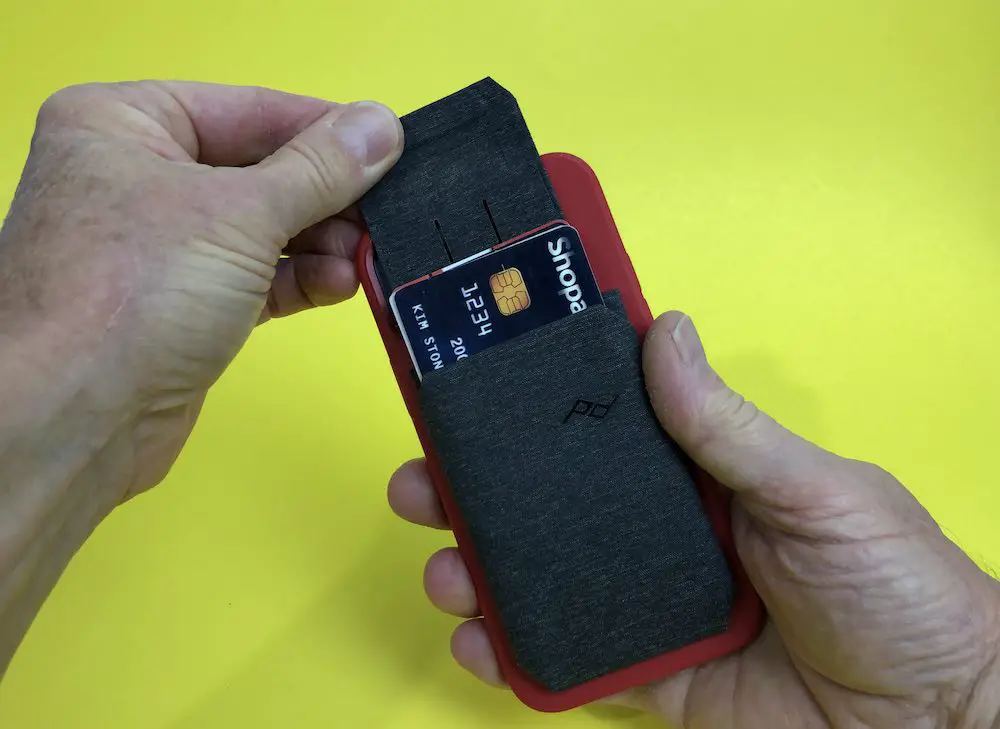 Just pull up on this pull tab and away you go. When you're done, just push them all back inside. 
Not only does this flap keep your cards nice and secure, it also has a magnet inside. It so well designed that it closes automatically when you push your cards in. In my experience of carrying the Peak Design Mobile wallet, this feature works flawlessly.
Awesome sturdy kickstand
The kickstand can hold your phone in portrait or floating landscape view positions. The magnet is plenty strong enough to hold all sizes of iPhones 12 and 13, right up to the heavy iPhone Pro Max.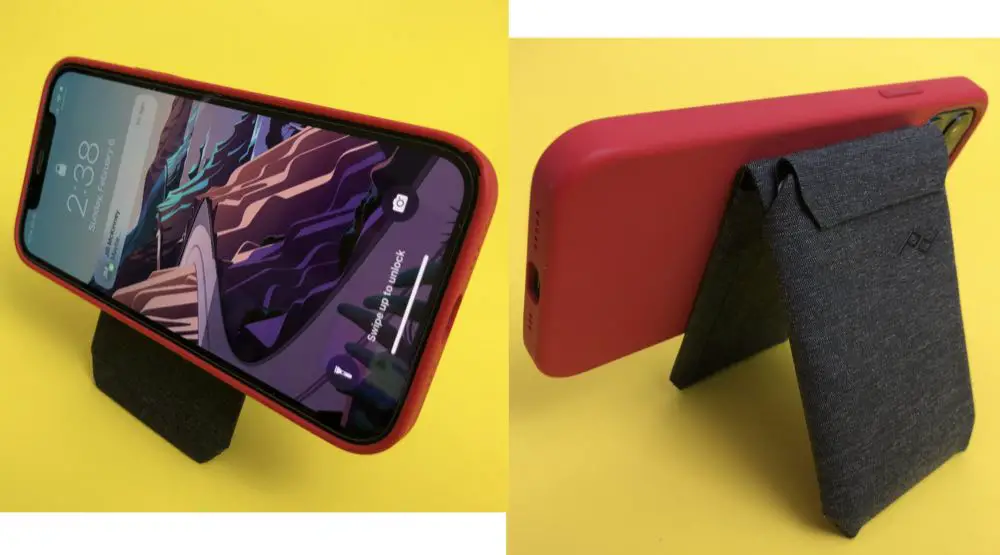 It will also work in standard landscape (horizontal) position, but the phone position is too straight-up-and-down to view comfortably.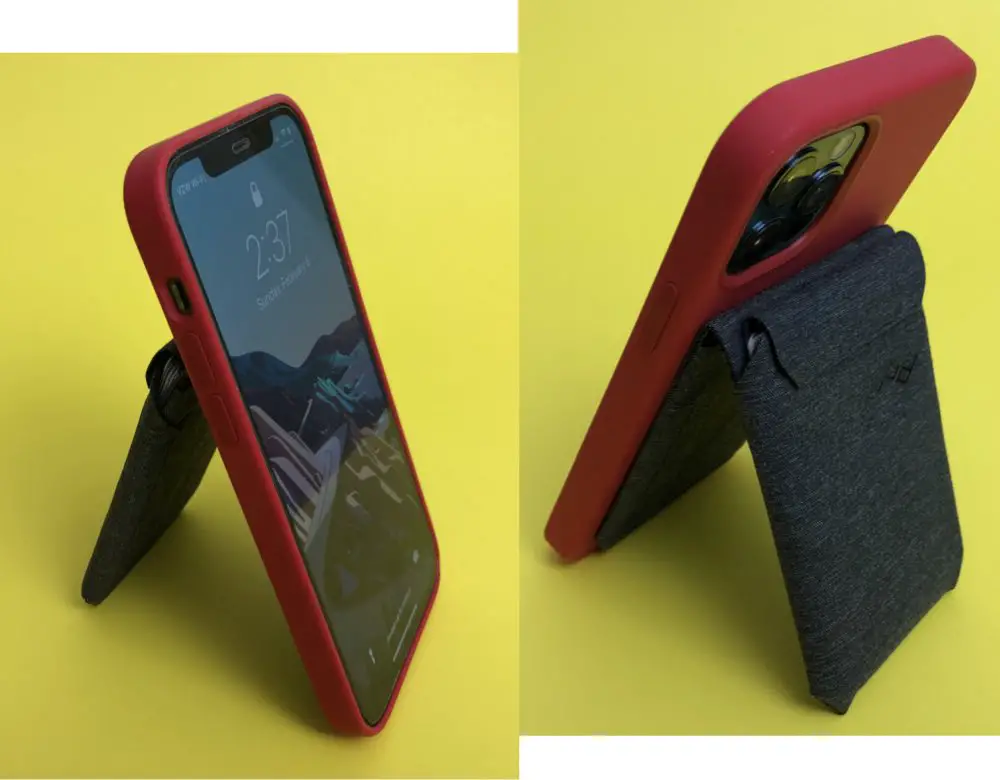 The kickstand is sturdy because of a friction hinge here in the middle. It's a very tight hinge that's designed to keep the wallet in position once you extend it. It kind of looks like a miniaturized sidewalk sandwich board sign when the kickstand is extended.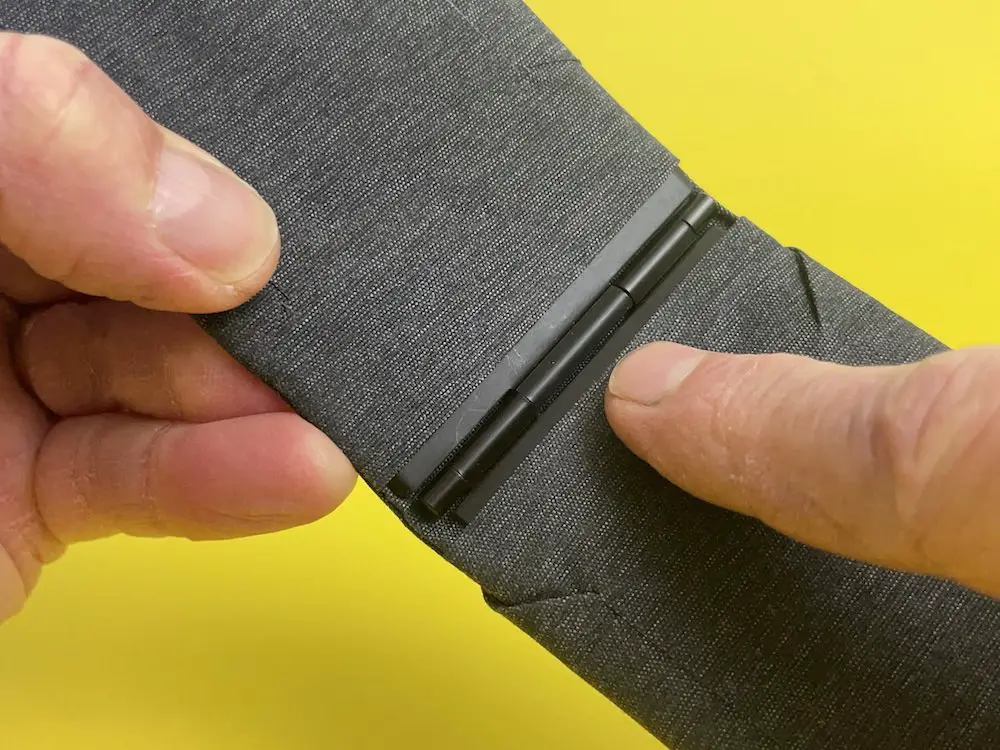 These 3 MagSafe wallets also have kickstands
One issue I found was that even though the MagSafe magnet holds the wallet to the phone with adequate holding force, the hinge is so tight that it's easy to pull the wallet off the phone when you open it.
It helps if you use your thumb to hold it down at one of the lower corners to open it.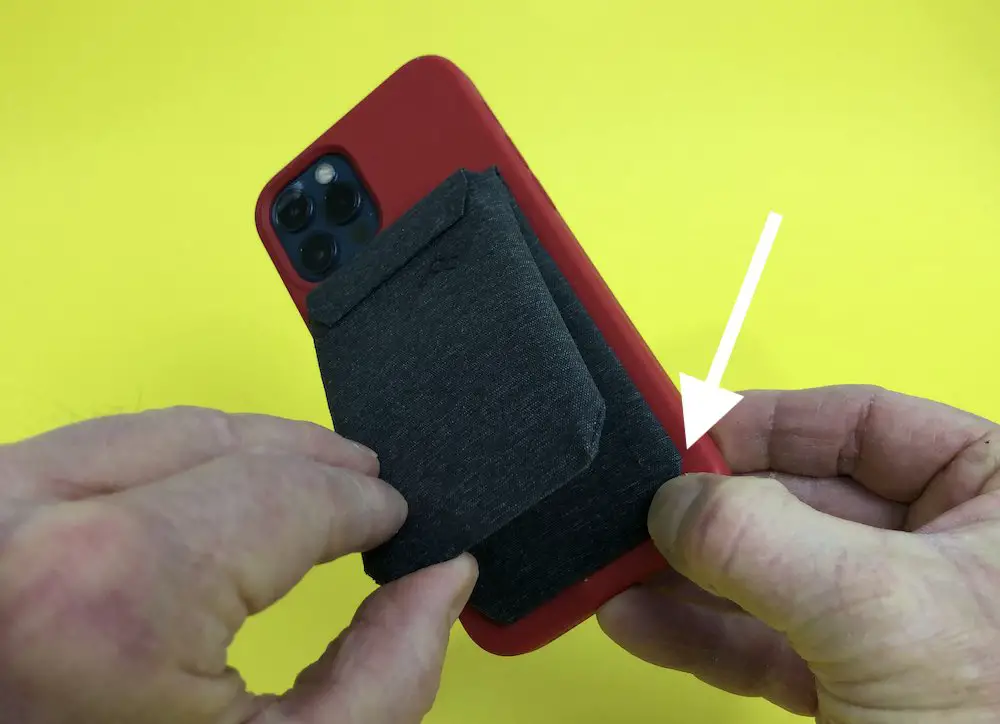 When you close the kickstand, there is also another magnet at the bottom that keeps it closed. It's a nice touch that I have only seen Distil Union use in their Wally 5.0 wallets.
The cool thing about this friction hinge is that it lets you adjust the wallet to any angle you want. 
Once it's in position, it's as rock steady as any wallet kickstand I've seen.
Tightly woven canvas fabric
The entire wallet is covered with a thick, densely woven fabric that feels like quality. According to Peak Designs, it is durable, weatherproof, and made from 100% recycled canvas. 
If you look at the details closely, you'll see that the fabric is wrapped around the frame and assembled like an envelope.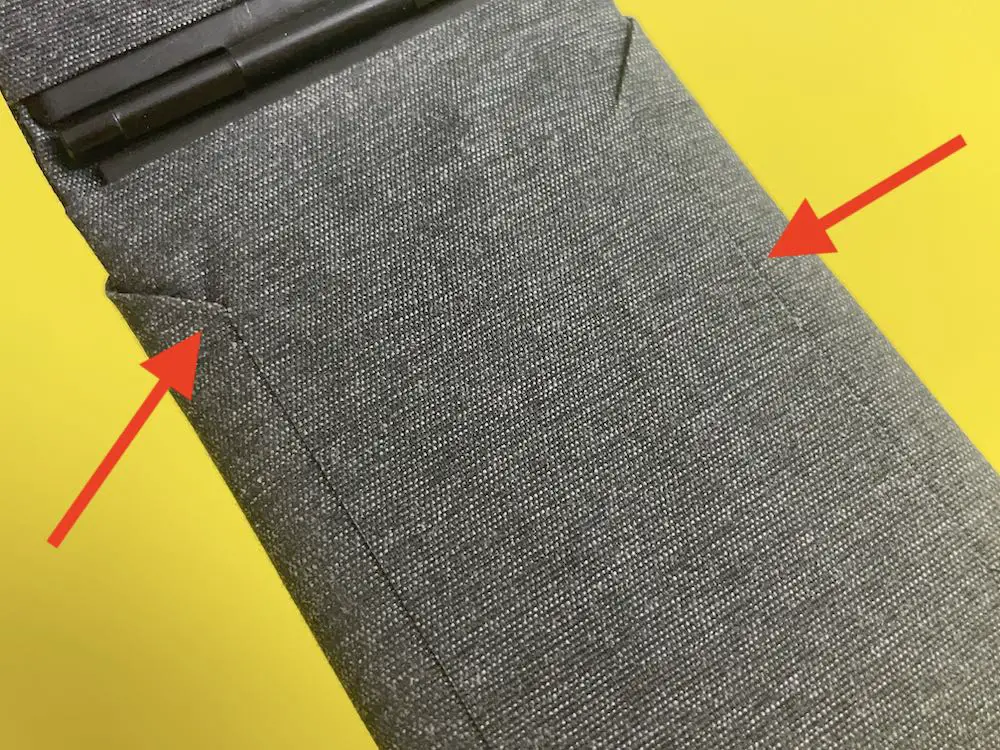 To me, the seams look they are heat-sealed or glued in some way. There are no really no visible signs of stitching.
The only drawback I see over time is that all fabrics will eventually get dirty or stained. It's inevitable. All other MagSafe wallets are either made from real leather, faux leather, or plastic, which means that they're inherently easier to clean.
Only time will tell how the Peak Design MagSafe wallet will fare in the grit and grime department.
I don't think it's really designed for this, but on the inside there is space between the material and the frame.
This might be a good place for a spare house key, a few quarters, or a guitar pick. I tried it with a key and the wallet still closes fine, but it's hard to get the key out afterwards. 
And how does it fit in my pocket? Like a bug in a rug. 
This Peak Design MagSafe wallet is one of the nicest MagSafe wallets I've reviewed. It's super functional and looks great on the back of your phone. The kickstand is the icing on the cake.