The perfect wallet can be hard to find, and it's even harder if you want one specifically American made. You want something handsome and trendy, but you still want smart features to be there and (hopefully) at an affordable price.
It's a constant balancing act and not every company gets it right. There are some that do, though. Here are 5 home-grown wallets made in the good old USA.
These are the 5 American-made wallets I review in this post.
Trayvax Contour Wallet
This Trayvax Contour Wallet is a man's tactical wallet that's made in the USA. It is hand-crafted with a combination of leather and metal that gives this tactical wallet a definite masculine edge.
PROS
A rowdy design of metal and leather that's built to last
65-year warranty
Made in USA
JUST THE FACTS:
Design: Crafted from a combination of metal and Horween leather, the Trayvax Contour has a refined design that is slim, protective, and functional.
Unique features: It comes with quite a few bells and whistles including an integrated bottle opener and attachment point for a lanyard.
Performance: Most owners agree that the Contour is high quality, stylish, and worth the money.
Where it's made: Bellingham, WA
For those who need a wallet that's both badass and incredibly practical, the Trayvax Contour should be your first shopping stop. Featuring a mixture of CNC-machined stainless steel, brass, or titanium (who doesn't love some options?) and top-grain oil-tanned leather, this smart wallet is beyond durable.
And it should be because it was made with real-life use in mind. It can stand up to constant use and abuse, never bending, breaking, or even showing its age thanks to the genuine leather that will just develop an even richer patina over time.
This increases not just its functional longevity, but also the style longevity for a great EDC wallet. Still nervous? Trayvax offers a 65-year warranty that covers all workmanship defects and even has a repair service should your wallet manage to run into any unexpected bumps during your adventures. In other words, the Trayvax Contour is top-notch and always has your back.
Rogue Front Pocket Wallet
The unique tapered design of the Rogue Front Pocket Wallet lets you slide your wallet into a tight pocket with ease. And it's made from American Bison leather!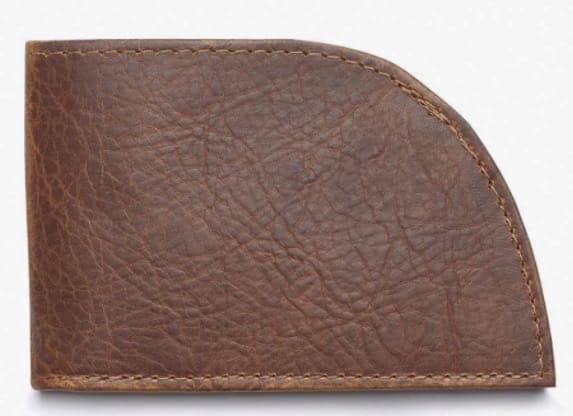 Sale
Rogue Front Pocket Wallet
Genuine American Bison Leather with RFID Block
Features a Full Size Banknote Divider, 3 Card Slots, and ID Pocket
PROS
Streamlined design makes for easy front pocket carrying
RFID protection
Handcrafted in USA
Comes in two colors with optional embossing
CONS
Card slots are tight at first
JUST THE FACTS:
Design: The Rogue Front Pocket Wallet uses an unusual rounded profile and premium top-grain leather to create a front pocket wallet that stays incredibly comfortable all day long.
Unique features: A billfold/stash pocket and 2 different pocket styles let you carry this wallet the way you want to.
Performance: The Rogue has hundreds of reviews with a 5-star rating. Owners consistently point to its comfort, security, and the company's stellar customer service.
Where it's made: Lewiston, Maine
Many wallets on the market today try to reinvent the wheel, but Rogue-Industries resist that urge. Instead, they strive to tweak the small things. They optimize their design for a leather wallet (made in the USA, of course) that's simultaneously familiar but also far better than what came before it. It's got all the makings of a traditional wallet: it's leather, it's a bifold, and it can carry both cards and cash like usual. However, it improves upon these, too.
Rather than stiff, cheap leather, the Rogue Front Pocket Wallet uses premium top-grain leather for better feel and performance, and it trades the angular, pointy construction of yore for a curved one that makes carrying it comfier and safer from pickpockets.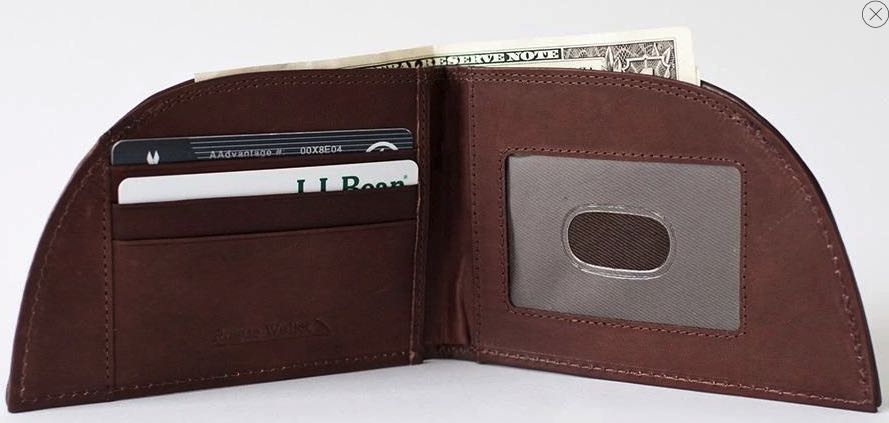 Use-wise, the Rogue front pocket wallet can hold all of the essentials you use day to day. It also comes in two different configurations: one with 6 card slots and one with 3 card slots, each holding 12 or 6 cards plus ID, respectively. This gives you greater customization options that will fit you and your lifestyle, rather than the other way around.
Akeeni XSTO
Nobody makes a wallet like this. Nobody.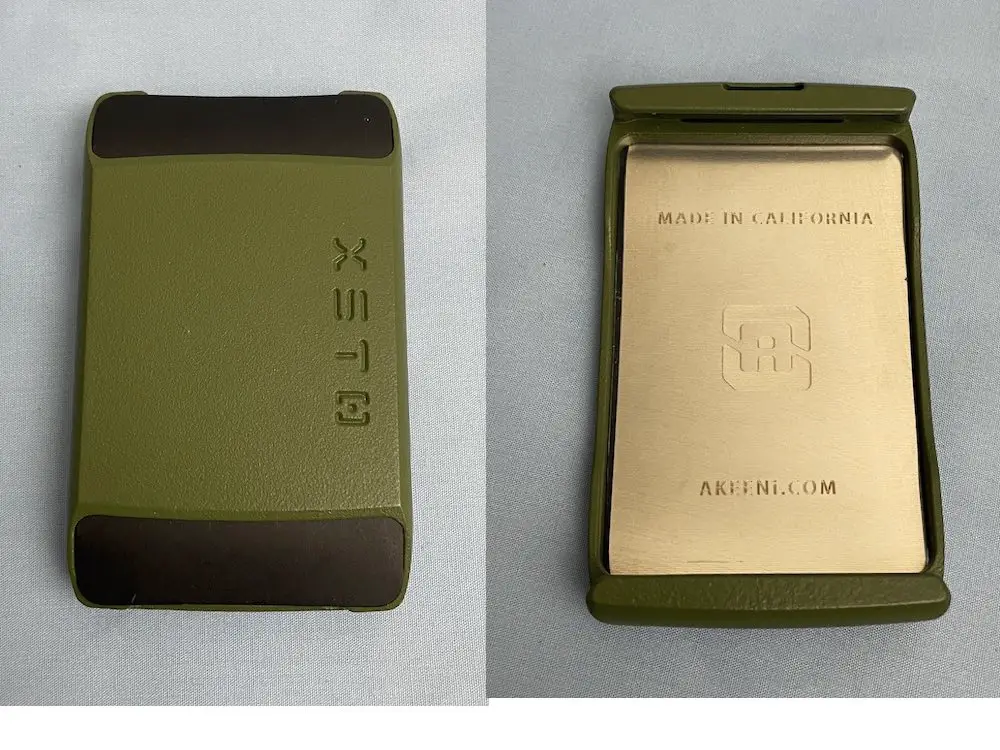 PROS
Card carrying design holds cards at edges
Cash and receipts fit under cards
Handcrafted in USA
Can be ordered from 4 – 10 card capacity
CONS
Top card is exposed to view
JUST THE FACTS:
Design: Made from aluminum and stainless steel. One side holds cards and cash. The other side holds business cards.
Unique features: Cards are only held by two edges. Slide them out and then back in with a satisfying click. If cards get too loose, the case is adjustable.
Performance: I personally LOVE the way this wallet works. Over 2000 5-star reviews on Akeeni website.
Where it's made: Ashland, Oregon
I really marvel at how well this wallet manages cards. You can order it with 4, 6, 8, or 10 card capacity.
The aluminum case that holds your cards only touches the cards on two edges. Push them into the case from the side and they snap securely into place. It's precision made to hold all standard-size cards and tunable (adjustable) if the cards every get too loose.
The top card is completely exposed, and for credit cards, that might seem like a drawback. But all new credit cards are now issued with the account number on the back. With older cards, you can just flip the top card upside down.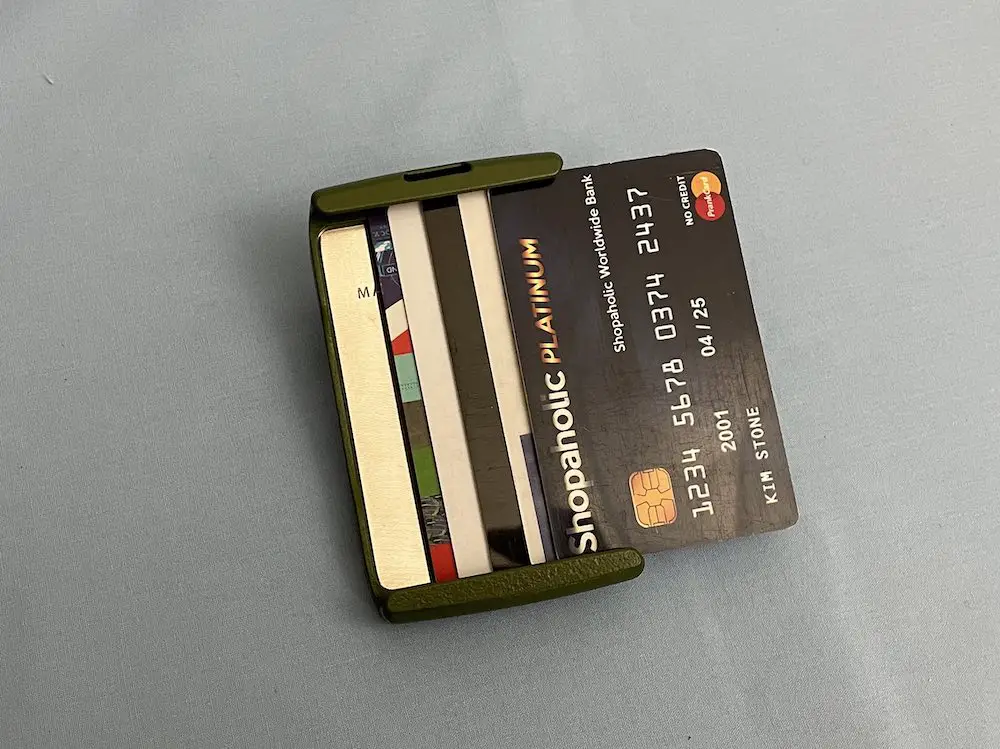 This isn't a "sandwich style" wallet like the Ridge that holds your cards together with an elastic band. Because the cards are held only at the edges, they aren't crushed together with pressure. That means they have a minimum amount of friction between them.
There is an ideal cavity under the cards for cash and a spring loaded slot for business cards or more cash and cards on the other side.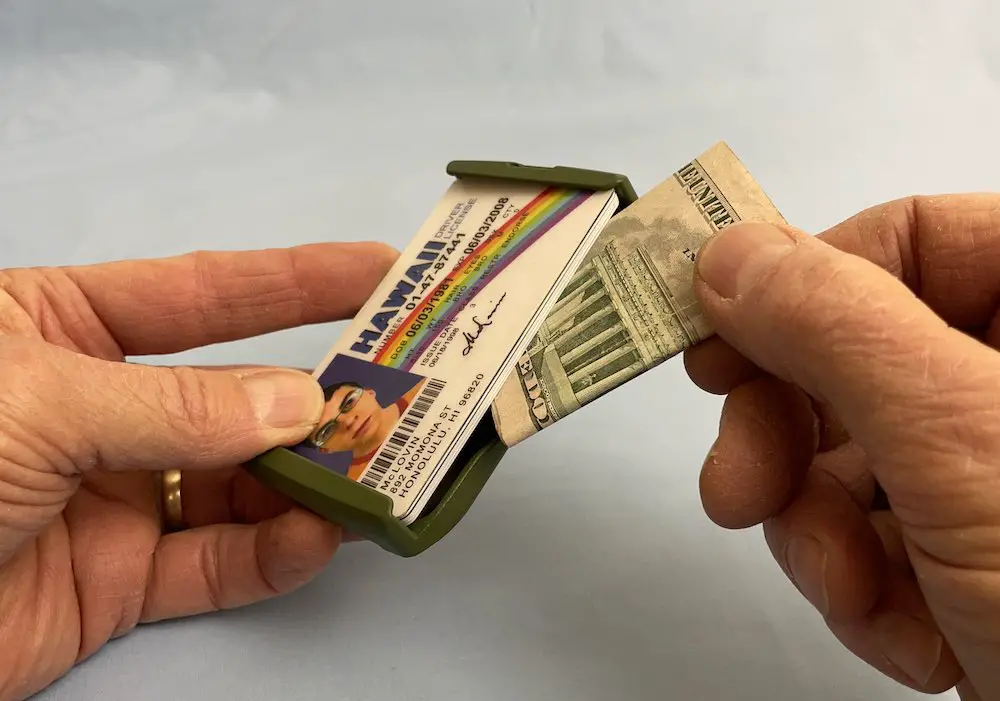 A team of designers with their collective neurons humming at full capacity really outdid themselves with the Akeeni XSTO.
Recycled Firefighter "The Sergeant"
The Recycled Firefighter "The Sergeant" is made from the same fire hoses that firemen use in their daily line of work. After a trusty hose has put out enough fires, craftsmen repurpose it into durable and slim smart wallets.
PROS
Insanely durable
Fire and water resistant
Looks as unique as it is
Affordable
JUST THE FACTS:
Design: Thanks to the recycled fire hose material used, the wallet is tough, water-resistant, and fire-resistant. It's also lightweight.
Unique Features: Perhaps one of the most unique features out there, this slim minimalist wallet is actually made from genuine retired fire hose material.
Performance: Owners are by in large very happy with this wallet. Most point to excellent craftsmanship, good materials, and a premium feel.
Where It's Made: Louisville, Kentucky
We are all about recycled materials. That's good because the Recycled Firefighter The Sergeant wallet uses genuine recycled fire hose. Yes, fire hose. It's one of the toughest and most interesting fabric choices we've seen in the contemporary wallet game. And it works like a champ.
The repurposed material gives the wallet character and a built-in story.  It also gives it a lot of practical qualities such as fire and water resistance. They build this wallet with 1″ mil-spec (military specifications) nylon ribbon edging, 0.5″ mil-spec elastic cash strap, and T-90 nylon thread that collectively make it next to impossible to destroy.
As for actually carrying the thing, it ticks all the boxes you're looking for in a proper wallet. It's minimal, slim, comfortable, and slips right into a front pocket without a problem. It has an elastic cash strap for a few folded bills and room for 4 cards.
Besides that, all signs point to an ideal EDC you'll be proud to pull out of your pocket. And it's American made.
Dango D01 Dapper EDC
For anyone who loves a tactical-style wallet, the Dango D01 Dapper EDC will slide into your front pocket like it was heaven-sent. It's a perfect blend of leather and metal for cards with a silicon money strap for cash.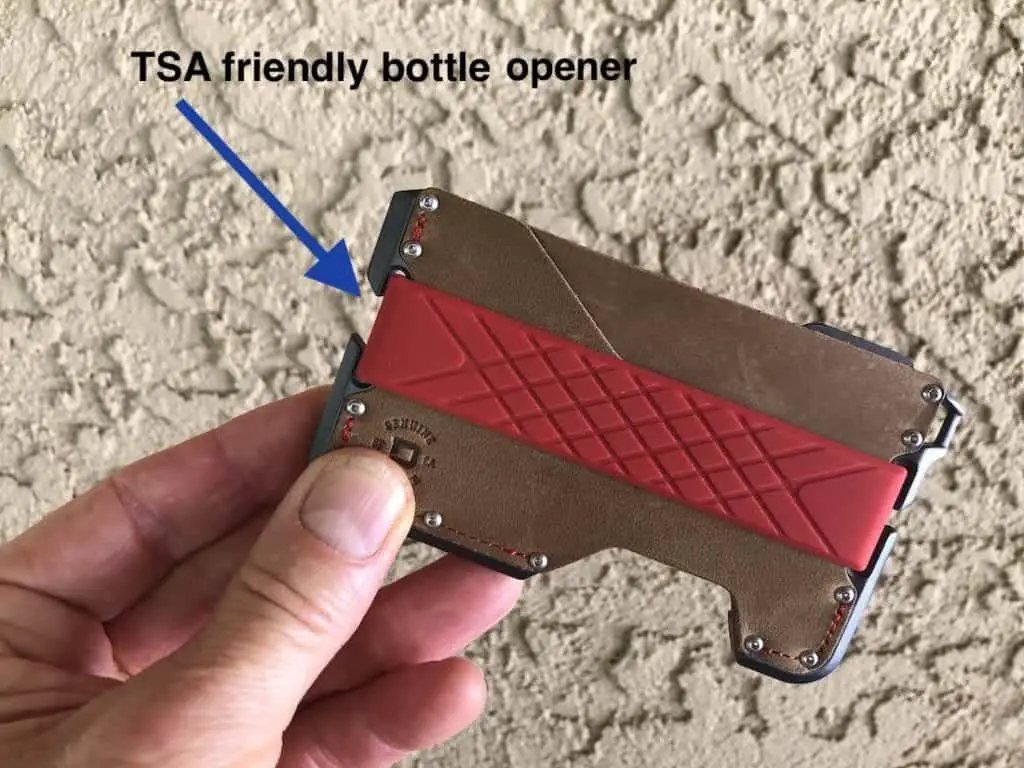 PROS
Smart looks
Solid build
Quality, durable leather
Available with a multi-tool
CONS
Somewhat cumbersome to access more than 5-6 cards at a time
JUST THE FACTS:
Design: A metal chassis covered with quality leather, the Dango D01 Dapper's design feel luxurious and edgy all at once. Practicality has also been a priority when considering its 12-card capacity, RFID blocking tech, and easy card fanning.
Unique Features: Push cards part way out then pinch the side of the wallet and your cards immediately spread like an accordion. It has an integrated bottle opener an emergency car window smasher.
Performance: Dapper receives a lot of love for its handsome looks, small size, and substantial materials and construction.
Where It's Made: Santa Clara, California
If you've been here on the site for any time at all, you probably recognize this minimalist wallet. It's kind of become an old friend for us and with valid reason: it's a really great product. The Dango D01 Dapper EDC lives up to its namesake, with clean lines and a masculine but sophisticated look. It's definitely a wallet made for a gentleman.
Don't let it fool you, though. The Dapper is one of the best American made wallets with an aerospace-grade aluminum chassis, top-grain leather covering, and mil-spec (military specification) bolts. It will stand up to plenty of hard use.
All this comes at a price, of course. Dango's Dapper isn't an especially cheap carry and is certainly one of the more expensive on the list, but the quality is well worth it. Handcrafted in the USA, TSA compliant, RFID secure, and big enough to hold 12 cards plus cash, it's everything you need in a wallet. It also makes a great partner on any adventure when paired with Dango's compatible multitool.
Frequently Asked Questions
What materials are wallets made of?
Wallets are made from a variety of materials depending on specific brand and style. Some of the more common materials include leather, vegan or faux leather, aluminum, titanium, carbon fiber, and stainless steel. Less common materials are Tyvek, plastics, and recycled firehose.
Who makes the best wallet?
Which pocket should I keep my wallet in?
The best pocket for men is definitely the right or left front pocket. It's more comfortable, it's safer from pickpockets, and it's easier on your back than sitting on a wallet in your back pocket. Most contemporary wallets are minimalist enough to fit in just about any front pocket.
What is the difference between a card holder and a wallet?
A cardholder is designed to carry cards along with a small amount of cash. Most card holders are not much larger than a credit card. Example: Ekster Senate. Wallets usually have a bifold or trifold design. They are better suited for people who carry lots of cash, coins, keys, business cards, receipts, or photos. Example: Bellroy Note Sleeve.