Most pop up wallets eject your cards with a button or lever. But MagSafe wallets are too thin and minimalist to incorporate a fancy ejection mechanism.
So they use the next best thing: a pull tab. It's a disarmingly simple feature that's super efficient at giving you lightning quick access to your cards with a quick tug.
So why doesn't every MagSafe wallet have a pull tab? Good question. There are only three and I have personally used them extensively on my iPhone 12 Pro. I like them all, but my fav is probably the Kings Back.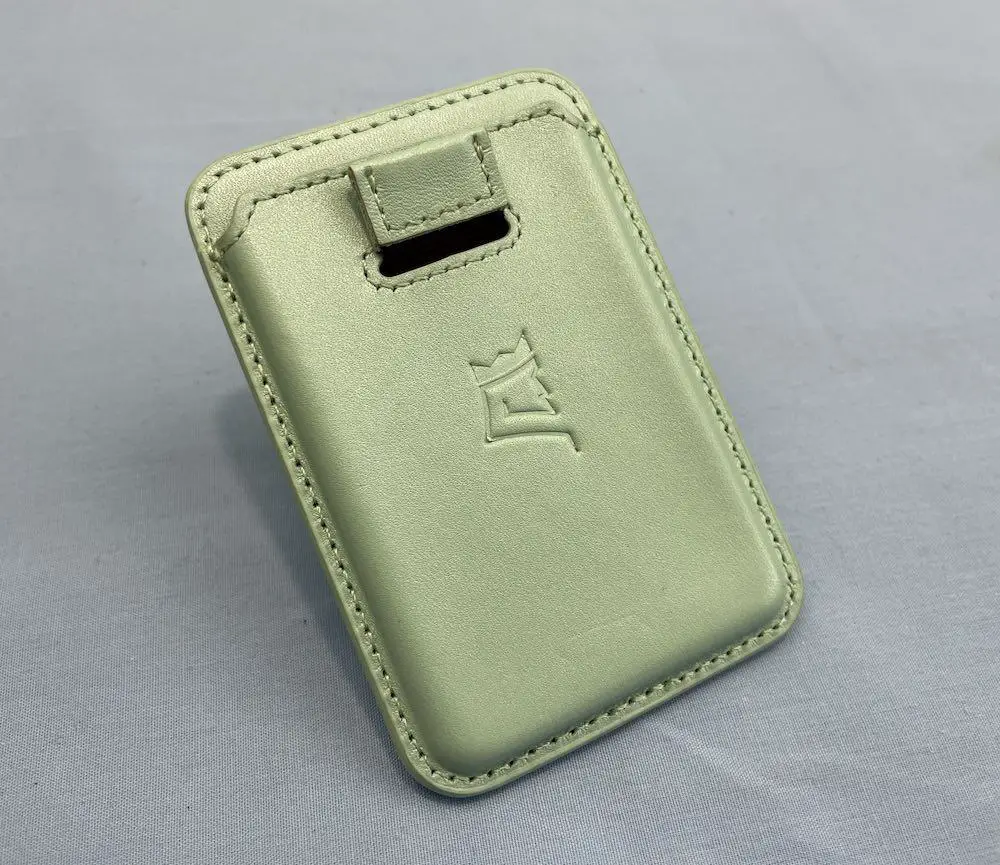 A smooth pull strap ejects up to 3 cards
This Kings Back places the pull tab in front, so that it's easy to pop up your cards without removing the wallet from your phone. It uses full grain leather and is less than 1/4" thick so it rides comfortably in your pocket with your phone. You can load it with up to 3 cards and a bill or two of cash. The MagSafe magnets is sufficiently strong to keep the Kings Back anchored securely to your phone.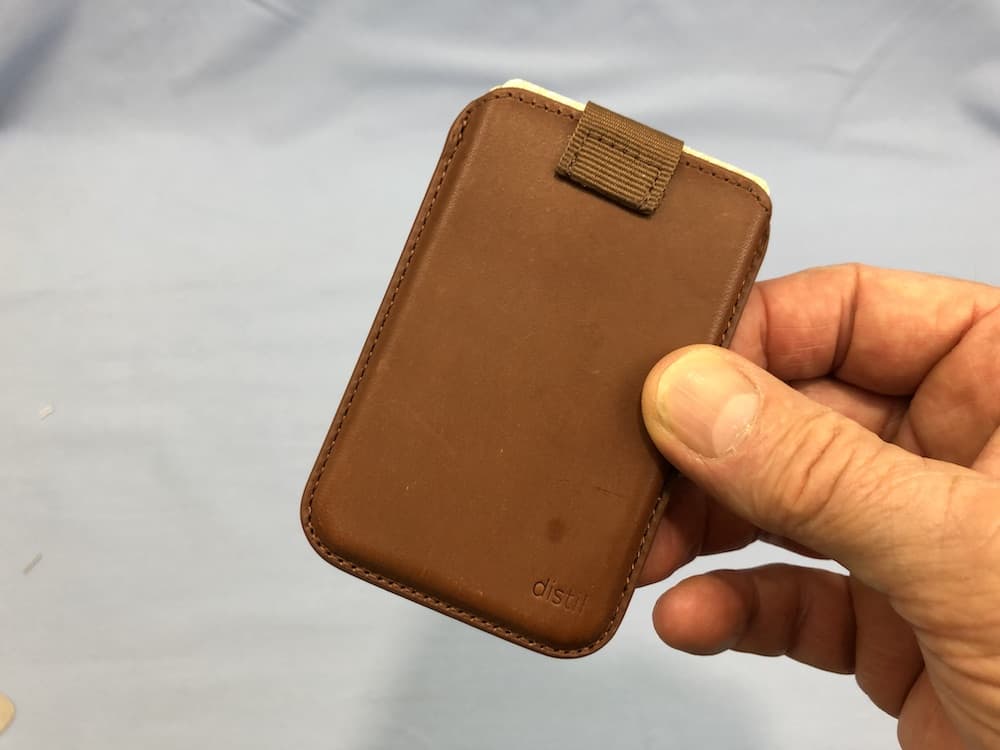 Distil Union Wally Junior
The latest version has enhanced magnet strength
The pull tab of the Distil Wally Junior ejects up to 4 cards in exactly the same way as the Kings Back. The difference is that the pull tab is located behind the cards rather than in front. The tab of the pull strap is magnetic, so it can be folded over the opening where the cards are inserted. This helps prevent the cards from falling out. The new Wally Junior also has vastly increased magnet strength over the original version.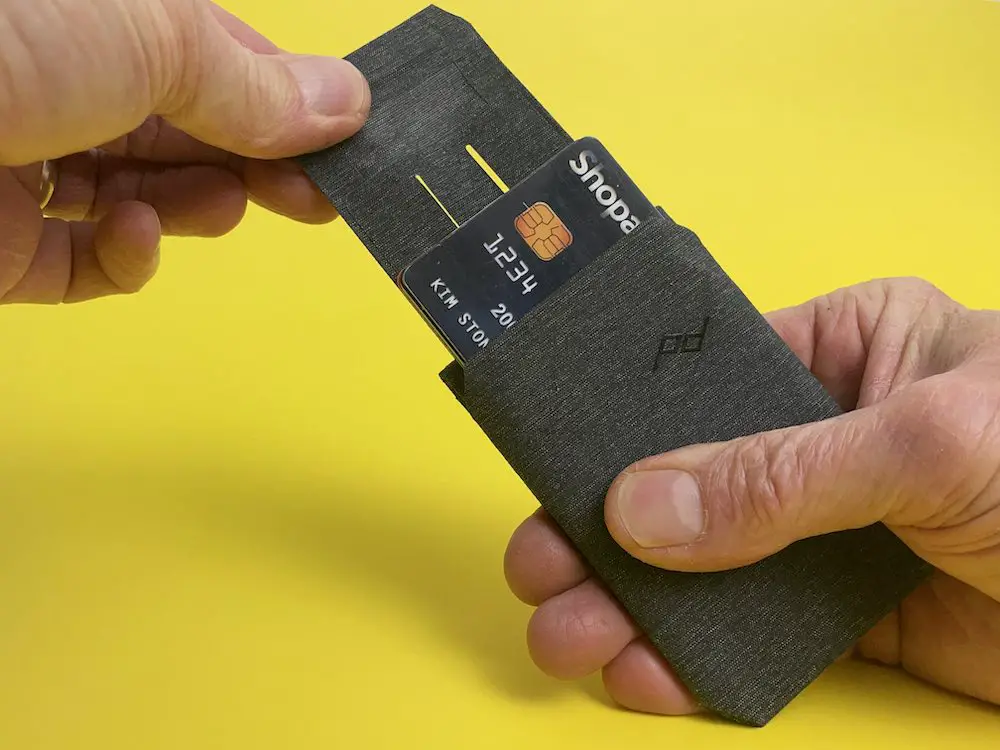 Peak Design Mobile Wallet
High card capacity and a kickstand for your phone
The Peak Design is the snazziest MagSafe wallet with a pull tab. Rather than leather, the entire wallet is covered in durable canvas. It has a friction hinge that folds into an A-frame to hold your phone in portrait position. It holds 7 cards that are easily ejected by lifting the magnetic flap and lifting up. When you reinsert your cards, the flap snaps back into place as if by magic. Pretty slick. 
MagSafe card holder wallets that are really pop up ejector wallets
I have personally tested 14 different MagSafe compatible wallets, but I keep coming back to the ones with a pull strap. Why? Because it's actually a joy to access my cards. And kind of fun, too.
A pull strap, like the one found on the Kings Back, Distil Wally Junior, and Peak Design, all pull your cards out with one fluid motion. On each of these wallets, the cards are exposed by at least an inch. This gives your cards plenty of "wiggle room" to easily pull out the card you want.
I personally like the Kings Back because of the pull tab that's located in front of the cards. It just seems like a cleaner design to me. I like the full-grain leather, too.
Yet, I love the option of folding the Peak Design mobile wallet out into a kickstand for supporting my phone. The high capacity and waterproof canvas is also a big plus.
Then again, the new Distil Union Wally Junior has vastly increased magnet strength over their previous version. And Distil is the king of pull tabs–their entire line of wallets have at least one pull tab, so they have plenty of experience at getting it right.
You really can't go wrong with any of these pop up wallets. Just remember that MagSafe wallets will only attach to an iPhone 12 or newer. An iPhone 11 just won't cut it.