A card ejector wallet, aka, a slide wallet, pops up credit cards and other same-size cards into a staggered vertical fan. Also known as a pop up wallet or slide wallet, this type of wallet has a button, lever, or slider that ejects up to 6 cards from a rigid aluminum case. It is a fast and efficient method to access your cards.
In this post, I'll describe 7 different wallets that all get the job done in similar ways. Even though each of these wallets can vary wildly in price and quality, a vast majority of owners (including me) are generally pleased with the value of their purchases.
So let's hit the ejector seat and get going.
These are the card ejector smart wallets that I cover in this post.
My Top Pick: Ekster Senate  
This is my top pick and my personal everyday carry. It's the best pop-up card ejector wallet, hands down. You can't go wrong with the Ekster Senate.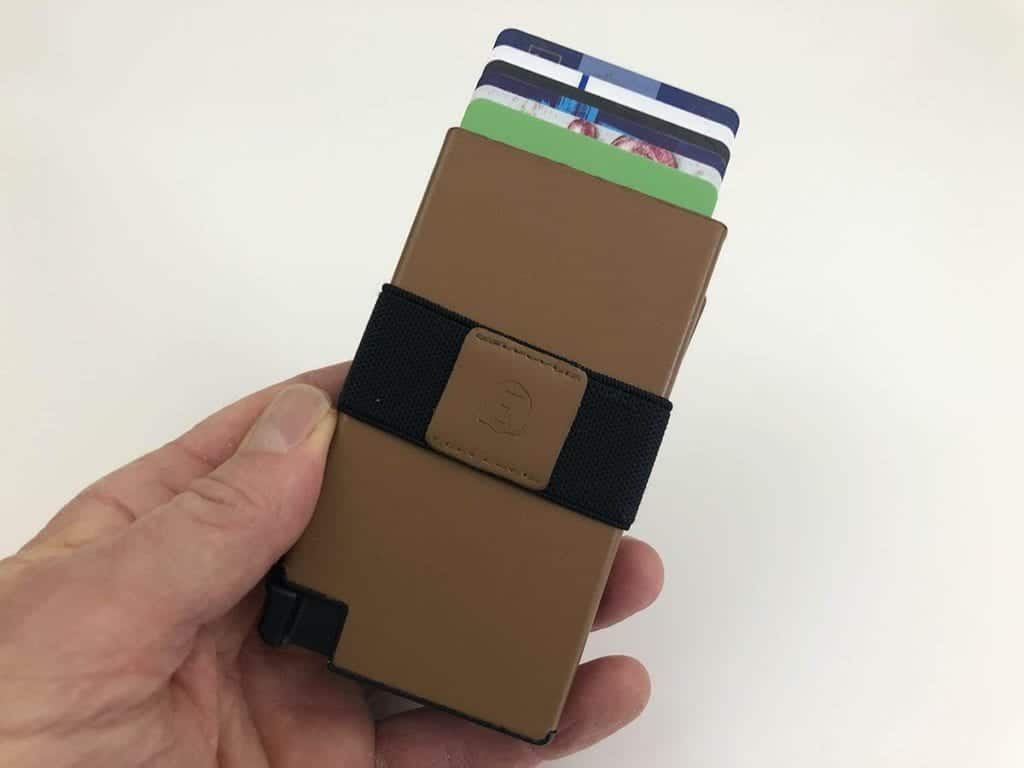 PROS
RFID protection for 6 cards
trackable with Ekster tracker card
superb leather quality
ejects cards into a staggered fan
CONS
back pocket is a little too tight to easily insert and remove tracker card
The Ekster Senate can hold up to 8 cards, 6 with RFID protection inside the aluminum case, and 2 in the back pocket. The 6 cards can be brought out in a staggering fan with the help of the card ejection button. The button is smooth as silk and nearly flawless in my personal experience.
You can also hold a few bills folded over twice under one of the two included money bands.
This Senate is made from high-quality top-grain leather from bulls that have no stretch marks (sexist but true, according to Ekster) with a two-tone finish. I like the fact that they also burnish the edges of the leather so there are no stray fibers that can fray over time.
It's smooth, sleek, and slim and fits as comfortably in my wife's hand as it does in mine. You can carry it comfortably in the front pocket of a pair of chinos or toss it into a wristlet, clutch, or purse. I particularly like the way it rides next to my iPhone in the front pocket of my Levis.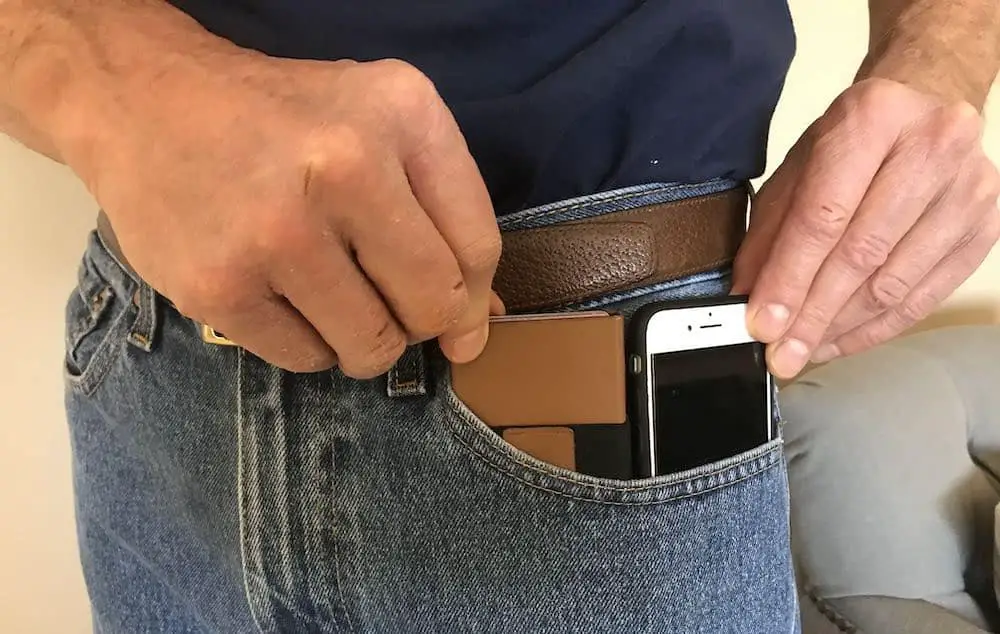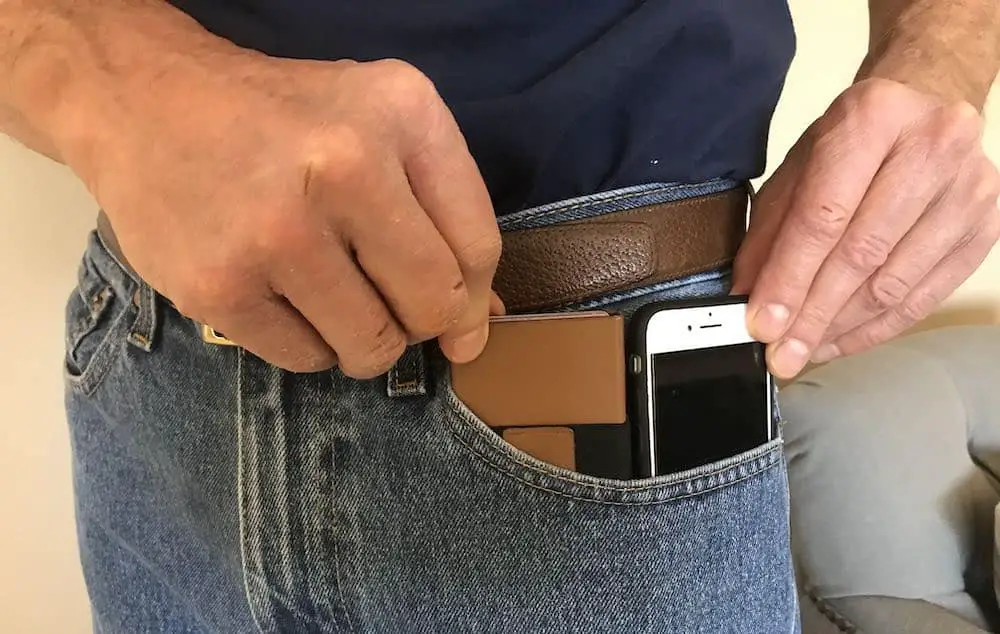 The Ekster Senate is one of a long line of recent wallets that owes its beginnings to crowdfunding on Kickstarter. It's a pop-up ejector wallet that's also trackable when you add the Ekster solar-powered tracking card.
Ekster Solar-powered tracker card
The Ekster solar tracker is designed to fit in the back pocket of the Senate but I find that it's a little too tight out of the box. It's easier to wedge the card inside of the outside cover. The tension on the elastic money band holds it in place. It holds a 2-month charge with just 2 – 3 hours in the sun.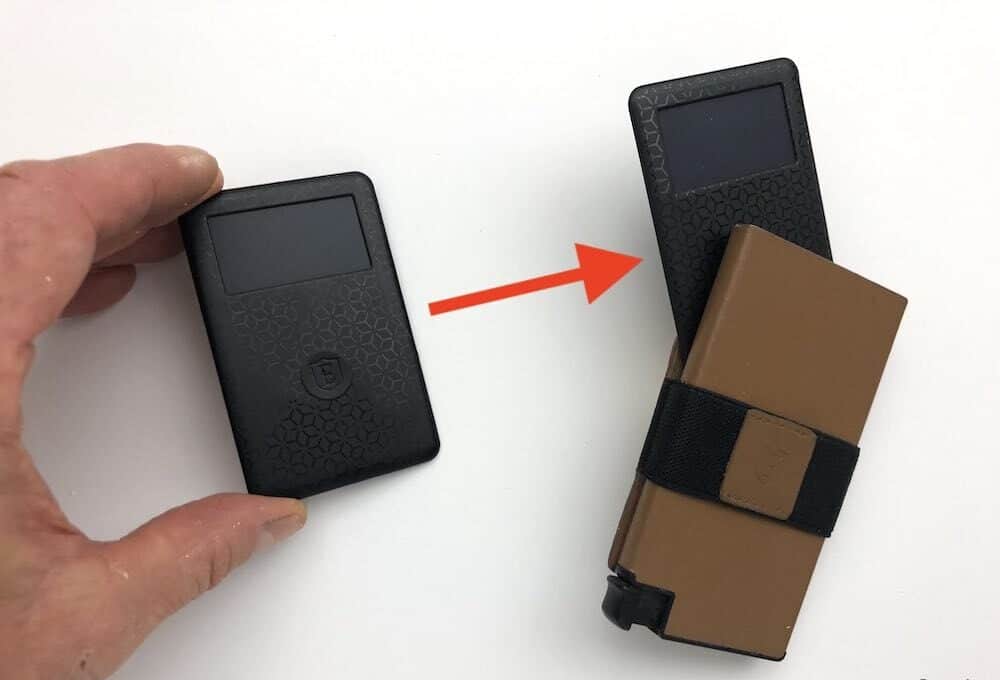 Ekster Parliament
The Senate has an elder sibling called the Ekster Parliament. The designs are fundamentally the same, but the Parliament has an extra flap of leather that covers the money band. The Parliament is also available with several leather upgrades.
Fidelo Hybrid
PROS
mix and match components
RFID protection for 5 cards
card ejector
top-grain leather
CONS
the slider can be difficult to operate with one hand
The Fidelo Hybrid is a card ejector wallet with a trigger that pops out up to 5 cards so quickly you'll miss it if you blink. The cards are stored in a rigid aluminum case that keeps them from bending and gives them RFID-blocking protection. It can hold up to 7 cards total, 5 in the aluminum RFID protected case, and 2 in the back pocket.
The Fidelo is called a "hybrid" because it has a unique three-piece design that can be mixed and matched. It comes with an aluminum RFID protection cardholder, a crazy horse grain leather case, and 2 money bands. Use whatever combination suits your fancy.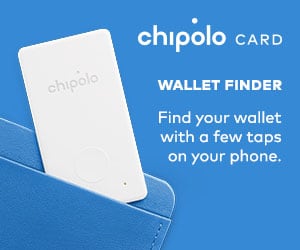 It's a minimalist wallet that's perfect for anyone who mainly carries a few credit cards, driver's license, insurance card, and a shopper's card or two. The Fidelo is a card holder so cash is really a sideline. But the included money band will hold enough to tip the airport baggage handler and still leave a few $20s leftover for other "cash is king" situations.
The Fidelo is thin, just 4.3 x 2.6 x .32 inches without the leather case, so it invisibly slides into your front pocket. Most owners rave about the quality and value. It's quite a bit less expensive than similar wallets like the Ekster and Secrid ejector wallets.
Dlife Credit Card Holder
PROS
RFID protection
holds 5-6 cards in rigid aluminum card holder
ejects up to 6 cards
holds cash in inner plastic sleeve
CONS
ejector mechanism could be smoother
Dlife card holder wallet has a rigid card holder box made from aluminum that is wrapped in leather. The leather smooths out the comfort level for the hands and pockets, whereas the aluminum provides RFID protection for the cards.
The Dlife pop up credit card holder can keep your cards safe from being RFID scanned and prevents any unauthorized access, so you will be safe from any electronic pickpocketing. You also have the option of carrying some bills with the help of a money clip.
The Dlife wallet is quite slim at just 0.62 inches and can hold 5-6 cards with 2 more in additional pockets. You can also hold cash or bills in the money clip or a compartment. The Dlife has a robust build quality so don't need to worry about bending it after placing it in your front or back pocket. But just to be sure, this wallet is designed to be a front pocket wallet. (So don't sit on it.)
To be honest, the Dlife is really a knock off of the Secrid Slim wallet. But the Dlife adds a snap to keep it closed and sells for a small fraction of Secrid's asking price. Most owners give it top reviews.
Conceal Plus Card Blocr
PROS
RFID protection
made from aircraft grade aluminum
sliding lever ejects cards
relatively inexpensive
CONS
cards sometimes fall out
eject button can be noisy
This Conceal Plus Card Blocr is made from aircraft-grade aluminum and is perfect for those who carry just a handful of cards. It comes in various colors and designs and appeals to men and women alike.
Although made from high-grade aluminum, it is quite lightweight and robust and fits conveniently into your pockets and bags. It can hold up to 6 cards without embossment or 4 cards with embossment with RFID protection.
The Conceal Plus Card Blocr is different from some slide wallets in this post because the ejector slider is located on the side rather than near the bottom. Plus, it's not spring-loaded so you have to push it down when reinserting your cards.
What is like the other wallets is that your cards are ejected into a fan. The cards are raring to go so you can spring for that expensive piece of jewelry for your wife (or husband's) anniversary gift.
The design of the Conceal Plus is really a clone of the Dlife and both are knock offs of the Secrid Slim wallet. But the price is right. Most owners are pretty darn happy with it.
Lungear Credit Card wallet
PROS
RFID protection
inexpensive
a knock off of a proven Secrid Slim design
CONS
made PU leather
ejection mechanism can stick
The Lungear Credit Card wallet is made from premium aluminum interior plates and PU (polyurethane) leather. The faux leather keeps the price down on this bargain wallet. It comes in various colors but the brown and black models are the classic choices. It also has RFID protection which discourages thieves from stealing the information on your cares.
This wallet can hold up to 7 credit cards without embossment and 5 cards with embossment. You can also store ID cards, Costco card, or your driver's license.
This is yet another pop-out card ejector wallet that is a clone of the Secrid Slim wallet. You just click the trigger at the bottom and your cards will cascade out of the wallet into a fan. It also ensures that your cards do not fall out with the help of soft arched inner edges. The quality of the leather is far inferior to the Secrid, but again, the price is a third less.
The Lungear Credit Card wallet provides a 12-month warranty or a 30-day money-back guarantee. A majority of owners really like this wallet. It's probably a good choice for someone who just wants to test the waters of a slide type waallet without dropping the big bucks for the Secrid Slim wallet.
Lefada US 2 in 1 Minimalist Wallet
PROS
Excellent Crazy Horse oiled leather
RFID blocking
bifold design similar to Ekster Parliament
aluminum card holder is removable
CONS
cards can occasionally slip out
card holder can sometimes slip out of leather exterior
The Lefada US 2 in 1 is a bifold RFID minimalist wallet that comes with full-grain crazy horse or saffiano leather. It's really unusual for a wallet in this price range to have such high-quality leather.
The Lefada US has a pop out credit card holder made of lightweight aluminum. It mirrors the convertible design of the Ekster Senate and Fidelo because you can detach the aluminum case for a super slim carry. This cardholder can hold up to 6 cards without embossment and 4-5 cards with embossment.
While many of the other wallets in this post borrow the design of the Secrid Slim, the overall layout of the Lefada is far more like the Ekster Parliament. There is one pocket in the back and two inside. The critical difference is that the money strap (the wallet comes with 2) on the Lefada can only be used when the card holder is carried alone.
A majority of owners say that they love the leather quality but are mixed about the reliability of the ejector lever over time. Still, for the price, this seems like a really good value.
Secrid Slim
PROS
beautiful full grain leather
RFID protection
holds cash inside
ejects cards into a nice fan
CONS
ejector lever often sticks after cards are ejected
The Secrid Slim wallet comes from the Secrid family which invented the first pop-up, ejector style wallet. It's the grandaddy that has had more time than anyone to perfect their design. It shouldn't surprise anyone, then, that so many of the other wallets in this post have honored the Secrid by ripping off its design. (I say that in the nicest possible way, of course.)
The Slim can hold from 4 to 6 cards depending on the embossment on the cards. There is also a plastic cash slot where you can fold your bills. They also give you the option between 10 leather types. And beautiful, high-class leather it is. It has the looks and the smell!
The Secrid Slim fits perfectly in your front pocket and the company does claim that you can put this wallet in your back pocket as well. But why would you want to do that? A back pocket is perfect for a handkerchief or a shopping list, but definitely not a wallet. (Or even worse: a phone!)
The wallet has good friction which helps to hold the cards in place and ensures that the cards don't fall out.
I have personally carried this wallet for several weeks and the cards really do stay put. My only complaint is that the ejector lever sticks almost every time I eject my cards. I have to pull them all out a millimeter or so for the lever to snap back into position. Kind of irritating.
How do I stop cards from falling out of my wallet?
Try a card ejector wallet that holds your cards in a rigid aluminum case. Your cards stay reliably inside until you press a button or lever that pushes them out. These wallets usually hold about 6 cards, are minimalist in size, and display your cards in an easy-to-access fan. Good example: Ekster Senate card holder.
What is a pop-up wallet?
A pop-up wallet utilizes a mechanism to eject credit cards for quick access. Generally, the wallet uses a lever, button, or slider to fan out credit cards so that a single card can be quickly and easily chosen. Lefada, Secrid, and Ekster are 3 wallets manufacturers that use this pop-up delivery system for credit cards.
What do you put in a card holder?
It depends on the person and the size of the card holder. I like to carry 2 credit cards, driver's license, insurance card, AAA card, and sometimes a gift or shopper card. Several $20 bills slide under my money clip along with occasional receipts and business cards.
LEARN MORE: Are you concerned about keeping your cards from bending but don't need a card ejector wallet? Check out my post: Wallets the don't bend credit cards.