All of the wallets on this list protect your cards from bending and breaking by holding them in rigid cases that are either made from aluminum, stainless steel, or durable plastic.
They do this using progressive designs that also help you organize and access your cards in new ways. You'll never look at your ancient leather billfold in the same way again.
I tested all of these wallets and each one is sure to keep your cards straight and true.
Best: Ekster Senate
A beautiful card ejector wallet that keeps your cards from bending in a rigid aluminum case.
My perennial favorite is the Ekster Senate. It's a card holder that houses your cards within a rigid aluminum case. This not only protects your cards, but allows you to eject up to 6 of them into a perfect fan. It's a miracle, really. I just love this wallet.
The cards pop-up with just the right amount showing so you can identify each card individually. When you're done, place the card you just used back into the stack and tap them back into the aluminum case. It's slicker than sh_t!
The cards can't bend because the aluminum case (aluminium case for those in the UK) is rigid enough to sit on. But this is a minimalist wallet for your front pocket and not for the hip pocket that you sit on. In fact, it fits nicely next to (not on top of) my iPhone inside my right front pant's pocket.
An elastic band holds a few bills of cash. To make the Ekster Senate even slimmer, you can remove this band (and the leather panel it's attached to in back) and just carry the leather-covered aluminum case by itself. Ekster even includes another slightly smaller elastic band that's designed to fit the case by itself.
Groovy doesn't even begin to describe it.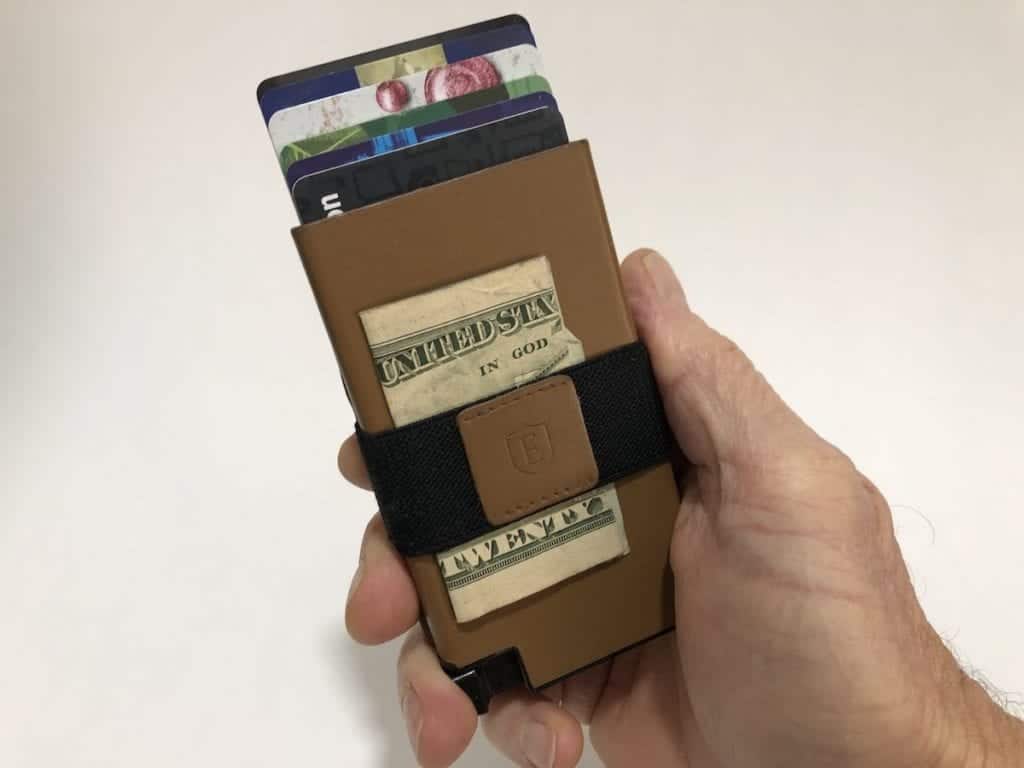 The leather that covers the aluminum is smooth with dyed and burnished edges. All-in-all it's a class act and my favorite EDC–that is, when I'm not evaluating other ultra-cool wallets.
Also Great: Aviator Slide
This rigid metal wallet is made in Germany and comes with a lifetime warranty.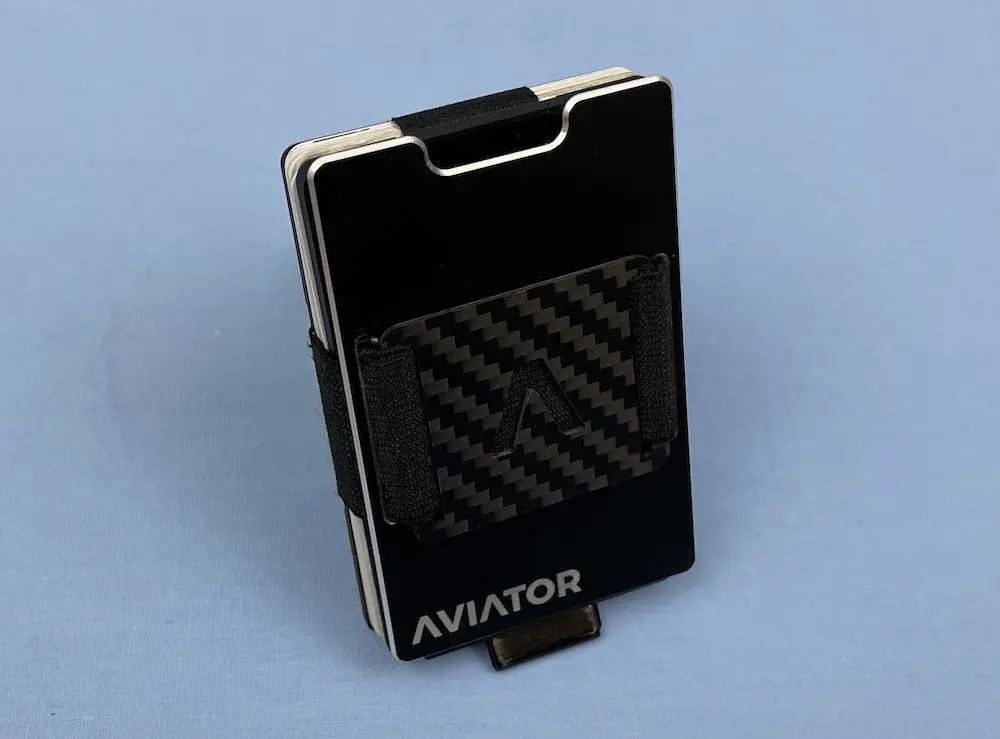 The Aviator Slide is a sandwich-style wallet that holds your card rigidly between metal plates. There is just no way for them to bend or break.
In some ways, the design is similar to the Ridge wallet. What really sets it apart, though, are some innovative features, such a pull tab for ejecting your cards and a padded slide out coin tray. (The felt padding keeps your coins from rattling as much.)
You can customize the Aviator with either an aluminum or acrylic interior frame. The outer plates that give the wallet much of its structural rigidity are either anodized aluminum or grade 1titanium.
There's also an optional carbon fiber money strap. I like to carry some cash, so I use this all the time.
The entire wallet is designed and made in Germany—and shipped from there, too. The only drawback with all these high-grade materials is that the price of the Aviator Slide can go up really quickly.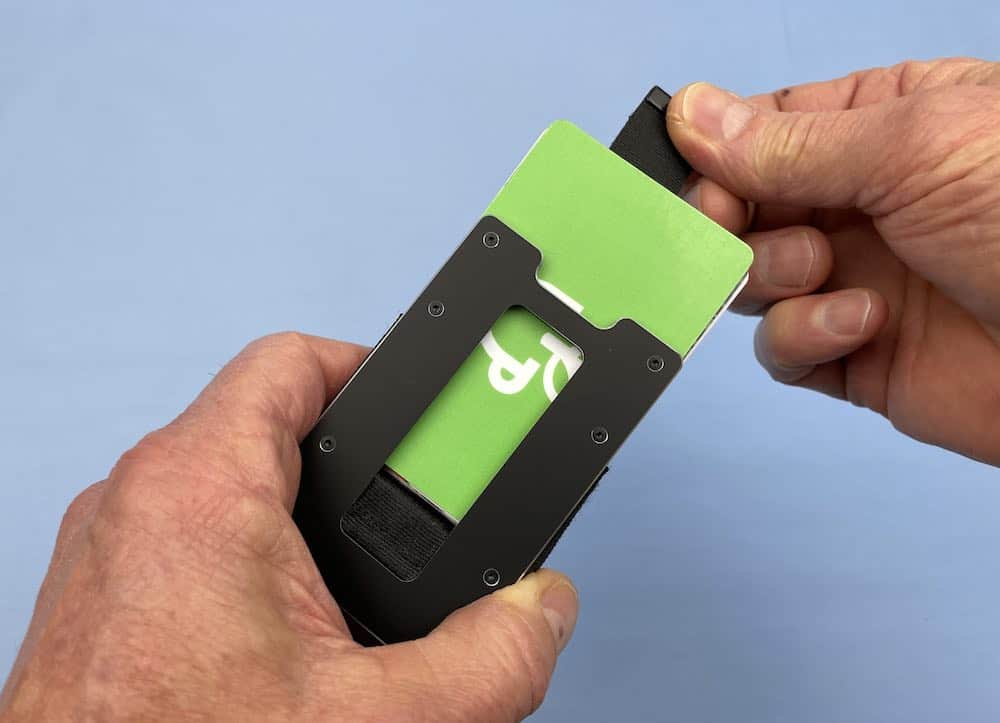 It comes pre-adjusted from 1 to 20 cards (depending on which you choose when your order). But you're not stuck with your choice because you can easily adjust it yourself with the screwdriver that comes with the wallet.
Is it worth the price? Absolutely, I love mine. The pull strap is my favorite feature, but I dig the slide-out coin tray, too.
ACM Wallet Credit Card Holder
The ACM Credit Card Holder is near the top of the list of wallets that don't bend credit cards. That's because everything is protected inside a rigid case. What's more, it separates them into their own separate tracks.
The RFID skimming- proof holder has a capacity of 6 cards which are individually accessible with the flick of your thumb. Just slide one of the corresponding labeled buttons on the front of the wallet and the exact card you want pops out, ready to use.
Because the cards never touch, there is less chance of wear-and-tear on the surface of the cards or demagnification of the magnetic strip. The track system grips the cards firmly so they don't fall out.
This is a minimalist wallet designed mainly for credit cards, but there's also a money clip for the cash you'll need for the farmer's market or a festival taco booth.
The brushed aluminum finish and labeled buttons give the ACM Credit Card Holder an enviable secret agent quality. Best of all, you'll never have another scratched, scuffed, bent, damaged, or demagnified card again.
Fidelo Hybrid Minimalist Wallet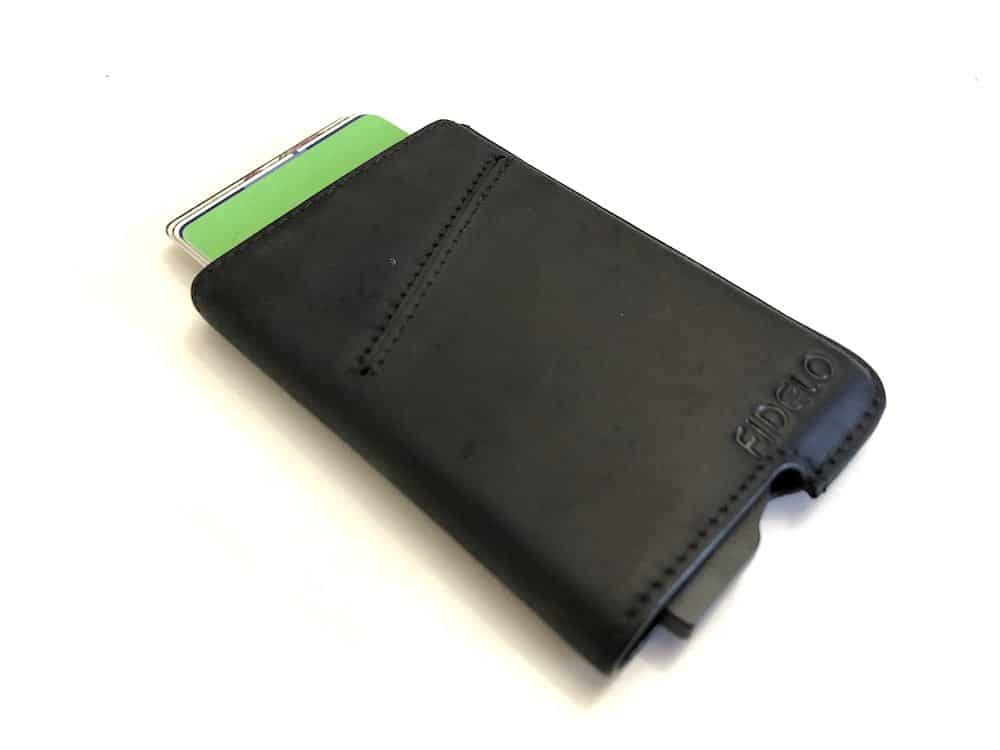 The Fidelo Hybrid minimalist wallet uses a rigid aircraft-grade aluminum holder with the capacity of about 6 cards—1 or 2 less if the cards have raised letters. By activating the quick eject trigger at bottom of the aluminum cardholder, the cards pop up into a fan for quick access.
The design is very similar to the Ekster Slim wallet and the Secrid Slim wallet, though these two wallets are almost twice the price. The Fidelo Hybrid wallet has what they call a hybrid design. It has 3 parts:
the rigid aluminum cardholder,
two straps for cash or receipts,
a removable top-grain vegetable-tanned leather case.
The minimalist size of the wallet makes it a joy to carry. It even fits comfortably in your front pocket with a smartphone. In fact, it's barely larger than the credit cards that are contained inside.
It prevents your cards from bending and scuffing within the credit card holder—and from the hazards of unauthorized RFID scans. The wallet looks pretty darn good, too. 
Flipside 4 wallet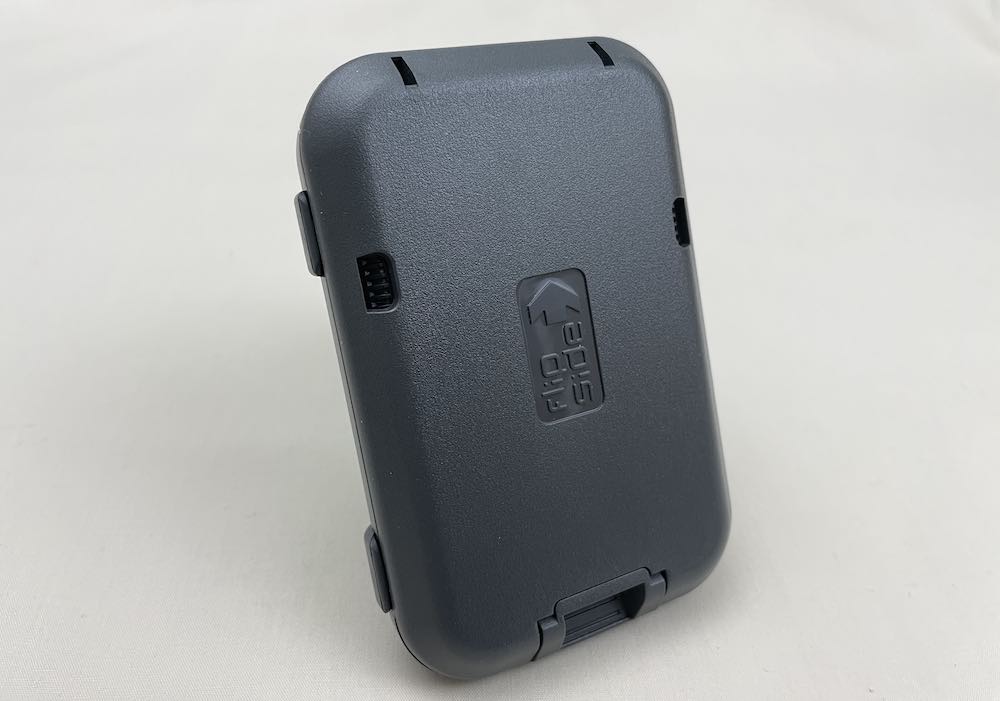 The Flipside 4 wallet breaks the mold of the typical wallet because it is made of high strength polycarbonate plastic. From the outside, it resembles the kind of case that could protect a very thin camera. It flips open when you push the button at the bottom and then shuts securely when you close it.
The hard plastic case prevents your cards from being bent, broken, or damage. It also has integrated aircraft aluminum alloy plates that enhance the strength and block RFID skimming.
There are areas for 6 cards (divided in 3 by 3 sections) and they are intuitive to access just by sliding your thumb. It comes in some wild colors, including orange and hot pink. They surely won't disappear on your desk or a crowded bedroom dresser.
The Flipside 4 is minimalist in overall size but it's over 3/4 of an inch thick. It's as unforgiving as a thick, armored smartphone if you plan to sit on it. This wallet is definitely one to carry in your front pocket. 
Ridge Cardholder Wallet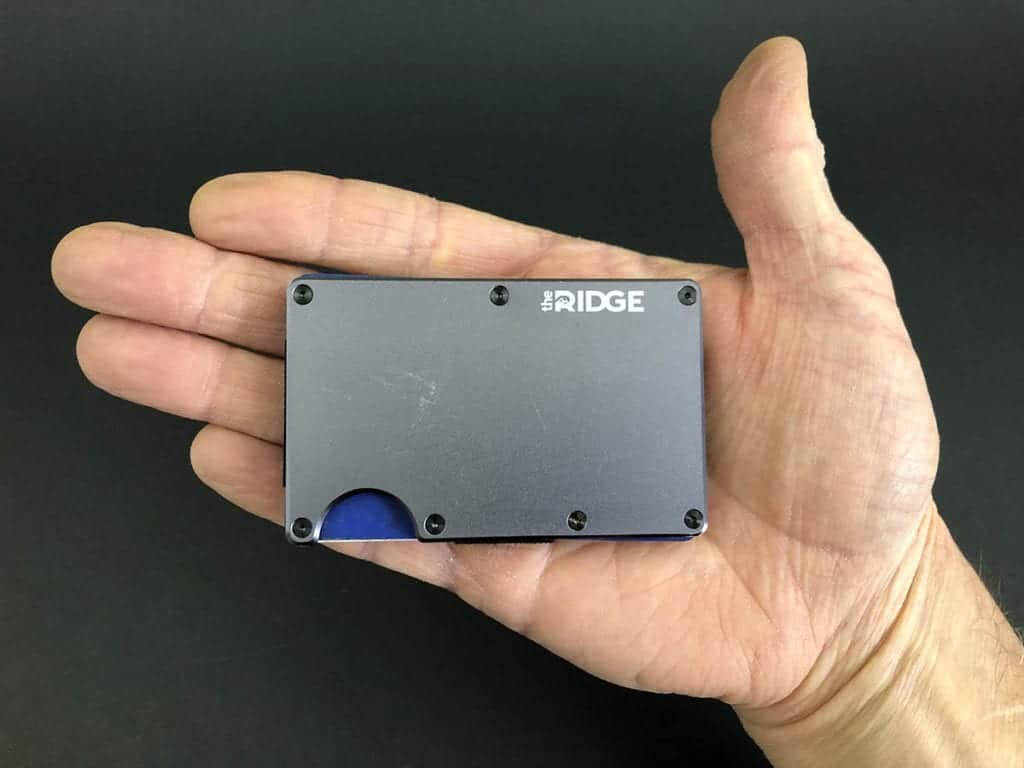 The Ridge wallet has a stout metal body that is so overbuilt that the manufacturer offers a lifetime warranty on the wallet. And while this rigid aluminum housing is holding and protecting up to 12 of your cards, it is blocking criminals from stealing your cards' information.
The Ridge wallet doesn't pretend to be anything that it's not. It has no fancy leather or intricate stitching. It's a highly practical man's wallet that comes in four different colors, including rose gold for men with lower testosterone levels.
There is a thumb-sized notch on the outside that allows you to push your cards out when you need them.
It's definitely minimalist in size but still has a money clip on the outside to tip the valet. For men with big hands, this wallet might feel a little small. However, you'll hardly notice it in your front pocket as it securely protects your cards from bending, breaking, and RFID skimming.
Read my full Ridge wallet review here.
MaxGear Credit Card Wallet
At first glance, the MaxGear Credit Card wallet looks like a miniaturized briefcase. Press the release button in front, and the wallet opens up to reveal accordion slots that hold up to 7 credit cards.
In reality, the entire wallet is just a smidgeon larger than the dimension of a credit card. It's small enough and thin enough to fit handily into a front pocket almost unnoticed.
The case is made of high-quality stainless steel which not only protects your cards from crushing and bending but gives it reliable RFID skimming protection.
There is no clip or strap for cash, so you'll have to use one of the accordion slots to keep a few bills for those increasingly rare cash-only transactions. There is nothing fancy about this wallet, but you can give it some extra personality with 5 different available colors.
If you're looking for an inexpensive (dirt cheap, really) minimalist wallet that won't bend your credit cards or break the bank, the MaxGear Credit Card wallet might be worth a try. 
LEARN MORE: It doesn't take a fancy wallet to protect your cards from bending and breaking. You can find the same protection in one of these 5 Convincing Ridge Wallet Knock offs.