Credit card companies are now beginning to issue contactless-type cards (also known as tap-and-go cards) that use RFID and NFC wireless technologies. Instead of inserting your card into a credit card terminal, you just have to wave it nearby.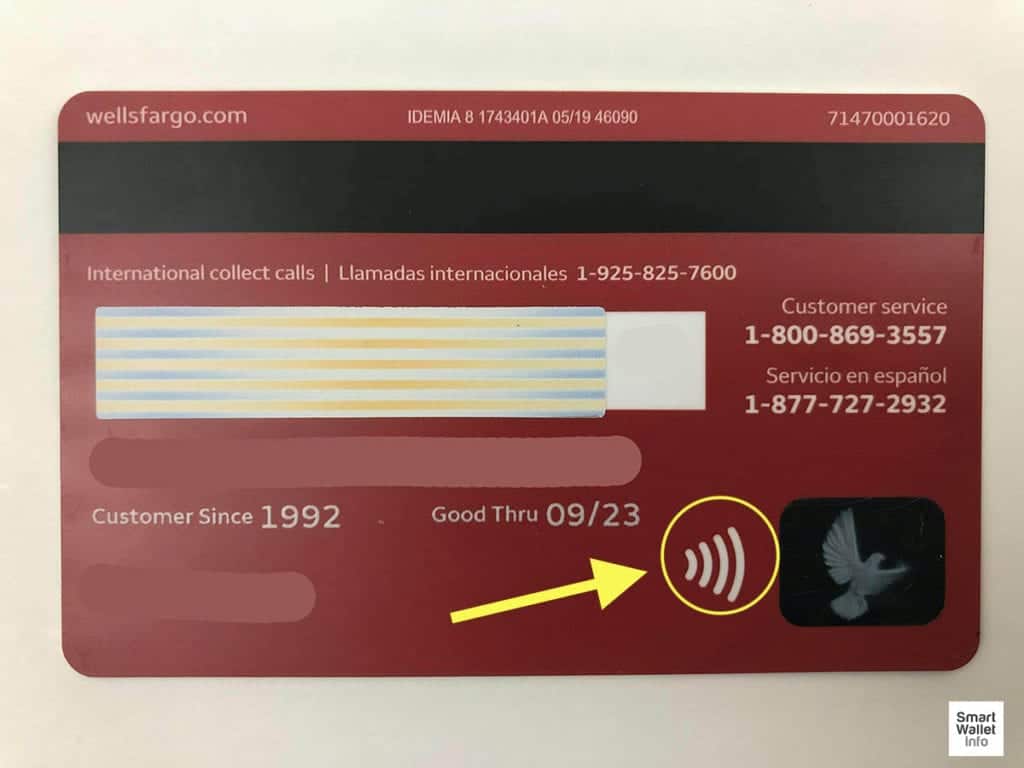 When you do, the terminal powers up the electronic chip in your card. Then your card wirelessly transmits your financial information to the terminal to complete the transaction.
Because this digital information is passing through the air, someone with their own portable RFID scanner could potentially steal your card's information just by getting close to you. It might happen in a subway station or in the crowded bleachers at your daughter's volleyball game.
This kind of electronic thievery is called RFID skimming. Here are five wallets that keep credit cards safe by shielding them from the eyes of digital pickpockets.
These are the wallets that block RFID skimming.
Ekster Parliament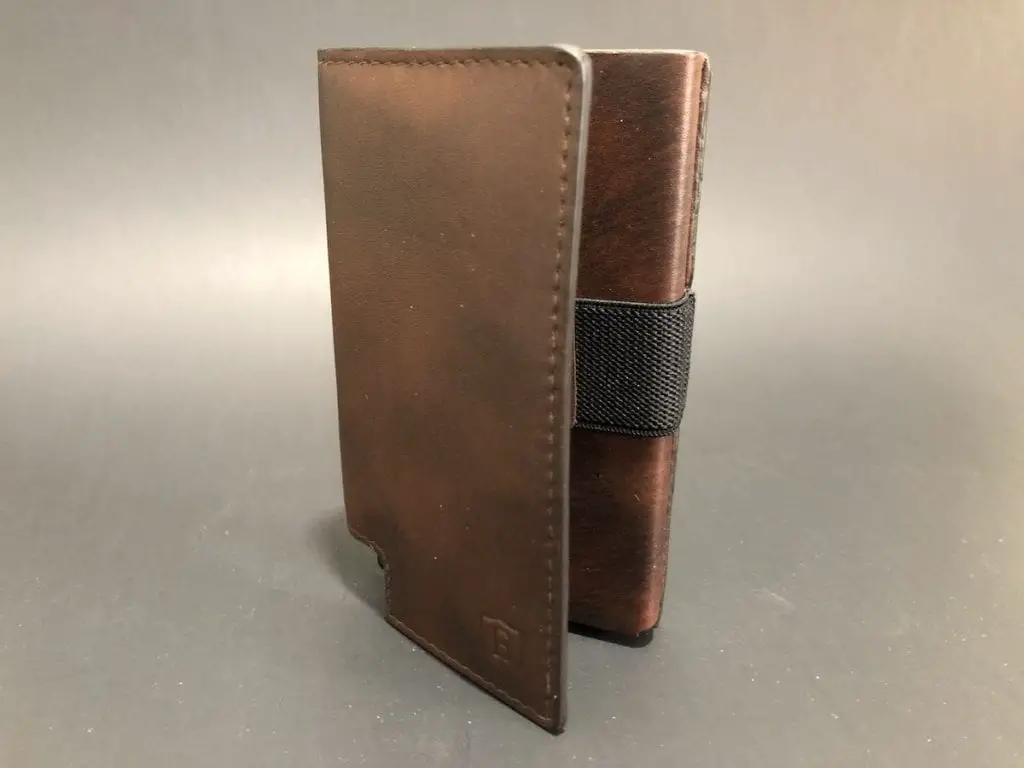 Do you want to up your game and invest in a wallet that gives your quick access to your credit cards with the push of a button? While still giving you RFID scanning protection to keep your credit card information safe? The Ekster Parliament is a beautifully designed minimalist wallet for someone who carries 4 – 6 credit cards and not much cash.
Its size is scarcely larger than the credit cards that it holds. An aluminum case holds and protects your cards and that's joined with premium, top-grained leather sewn in a bifold design. 
Inside, an elastic band tightly holds several folded bills of cash, with room for a few restaurant receipts and one or two of those plastic-wrapped toothpicks. Just press the button at the bottom of the wallet and your cards pop out in an evenly-spaced fan so you can quickly and easily remove the one you want.
The Ekster Parliament is also available with a solar tracking card that just about guarantees that you'll never lose your wallet again. 
Check out more in my full Ekster full review.
Amazon Essentials RFID Wallet
If you're looking for the most basic of wallets to protect your credit cards from illicit RFID scanning, this is for you. It's an inexpensice wallet that is as no frills as you get, with room for 6 cards and a place for your unfolded bills.
A flip-up, transparent ID flap holds your driver's license or daily inspirational quote with easy access to insert or remove. The Amazon Essentials RFID wallet is perfect for someone who works in construction, auto repair, or anywhere that generates dust, oil, water, and grit. 
The wallet doesn't protect the contents in any special way from these elements, but at this price, it can be inexpensively replaced when needed. It's made of 80% polyurethane and 20% leather, so not quite vegan, but close. Let not say it's cheap… how about casual? It has a soft feel to it, can be carried in your hip pocket or front, and best of all, it keeps your cards safe without breaking the bank. What's not to like?
Timberland Pro Cordura Nylon wallet
Not everyone is looking for leather in an RFID wallet. Maybe you're of the vegan persuasion and you want to avoid leather. Or leather might not be the best materials for your occupation or lifestyle.  The Timberland Pro Cordura Nylon wallet gives you a leather alternative that still performs in every way like a wallet. 
It's made of tough cordura nylon with a velcro tab to keep it closed. Most importantly, it protects the information stored in the RFID chips embedded in your credit cards. 
This is a working man's wallet built to withstand the rigors of physical work while still handling the essentials. It's a trifold design that has a horizontal pocket for cash, holds up to 13 credit or other similarly sized cards, and has a hinged, transparent ID flap. It comes in your choice of 3 different colors.
The best part? Just like the  Amazon Essentials RFID wallet, it's under $20.
ACM Protek Wallet Credit Card Holder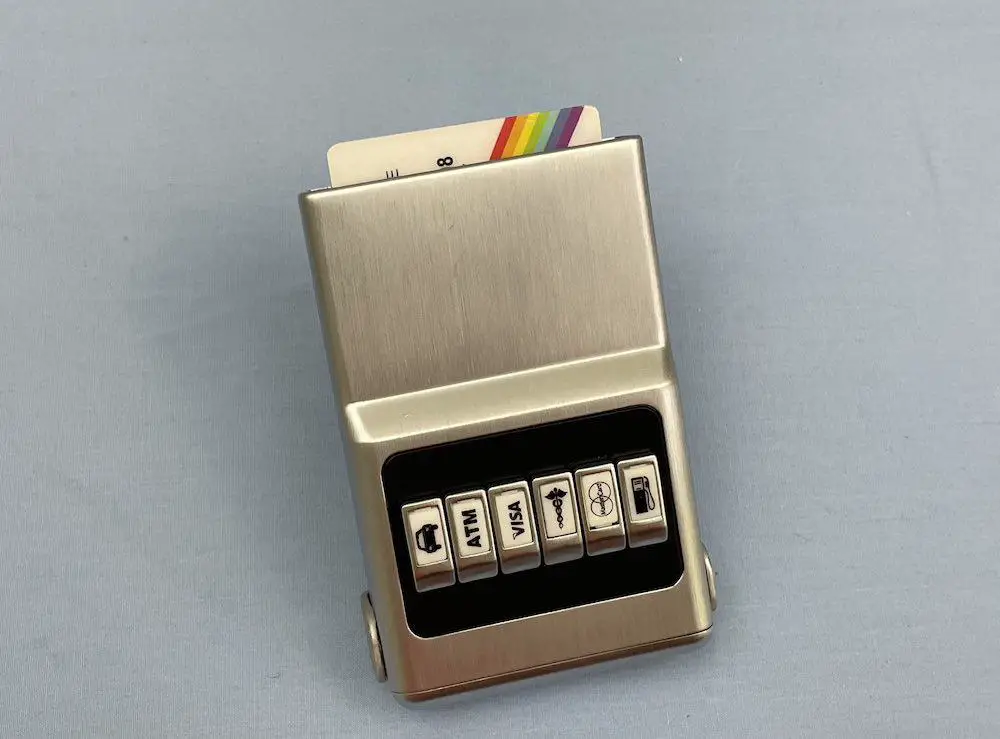 The ACM Protek Wallet Credit Card Holder is definitely a unicorn in the world of smart wallets. Its novel design lets you individually dispense the exact card you want, one at a time.
The brushed chrome finished mechanical cardholder provides RFID scanning protection and holds 6 cards without any of them touching each other.
By keeping the cards separated in individual tracks, there is less chance of damage and demagnification. With a flick of your thumb on one of the 6 sliders, the corresponding card pops out for super quick access. 
A money clip on the backside of the ACM wallet holds a few bills of cash, but you can remove the clip if you don't need it or if you want to make the wallet slimmer.
The ACM Credit Card wallet comes with stickers so you can correctly label the slider that corresponds to each card. Don't be surprised if this fascinating wallet attracts the curiosity (and envy!) of fellow shoppers in the check out aisle. 
Bellroy Leather Travel Wallet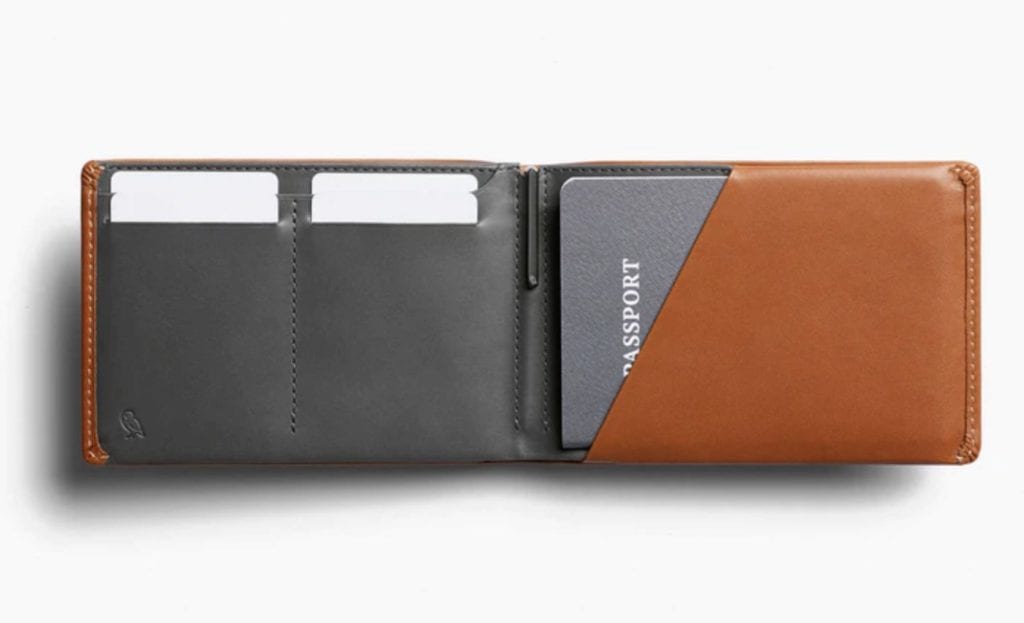 This ultra-cool wallet is perfect for travelers. It's a standard bifold design that holds either US bills or the slightly larger British pounds, with enough room left over for a couple of boarding passes. Best of all it, has a special pocket that fits standard-size passports.
There are pockets for up to 10 cards and a SIM card slot. Everything you keep in the wallet, including your passport, has RFID protection.  On the inside of the wallet's hinge is a micro pen to hurriedly fill out those pesky international customs forms as you descend from 35,000 feet.
All of this makes the Bellroy Leather Travel wallet larger than most, measuring 3.8" tall and a whopping 6" wide. But what you sacrifice in minimalism, you gain in having all of your travel docs in one place that are safe from elicit scanning by digital pickpockets.
Bellroy uses environmentally certified leather and donates a portion of its revenue to effective charities. Because of its size, it's probably not going to be your everyday carry. But for travel? Can't beat it. 
Secrid Slim wallet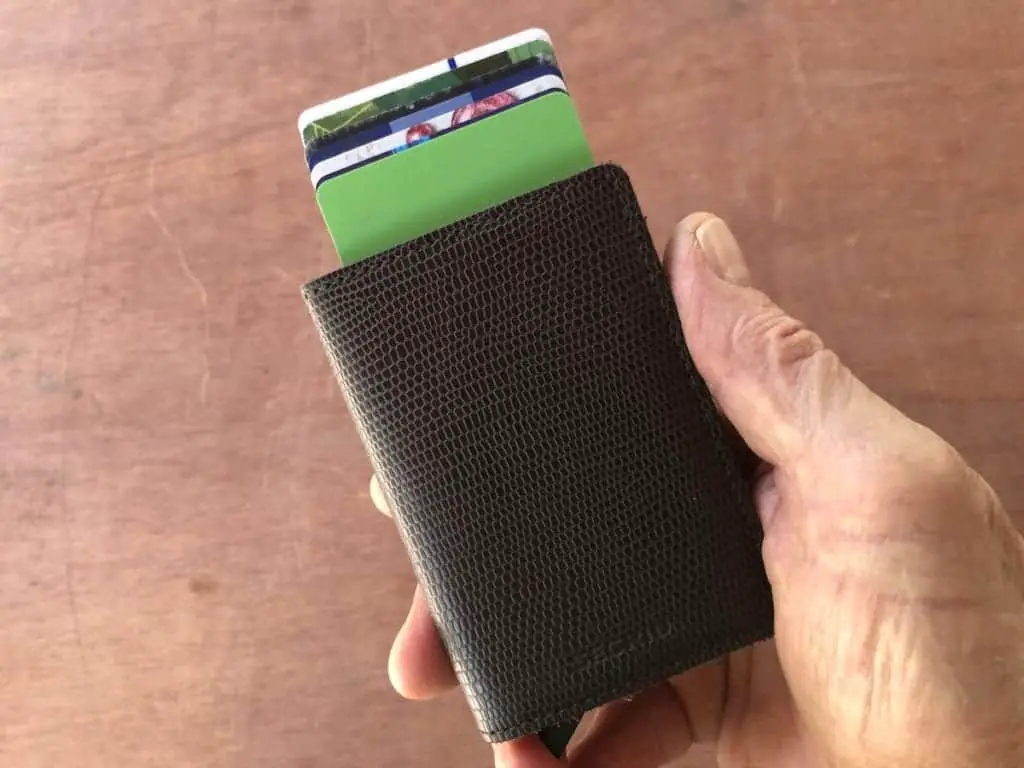 This is a really finely crafted wallet. The specially designed Secrid Slim wallet is made from quality leather and aluminum. The Slim wallet is truly miniature, easy to fit into any pocket with barely a bulge. It is often compared to the Ekster Parliament wallet which has a similar design.
This bad boy holds from 1 – 6 cards in the card protector, plus the leather interior offers space for six extra credit cards, business cards, and banknotes. This is a pop-up style wallet that ejects your cards into a fan. In fact, Secrid is the first wallet to use this quick access card mechanism.
With one cool move, the cards slide out in an overlapping sequence, so it's quick and easy to grab the right card. The high-quality aluminum casing is sturdy so your cards are protected from breakage or bending inside. The aluminum case keeps your cards safe from NFC and RFID skimming.
The Secrid wallet is similar to the Ekster Parliament, but differs because of a slightly different lever mechanism that ejects the cards.
Ogon 3C Carbon Fiber RFID Blocking Card Clip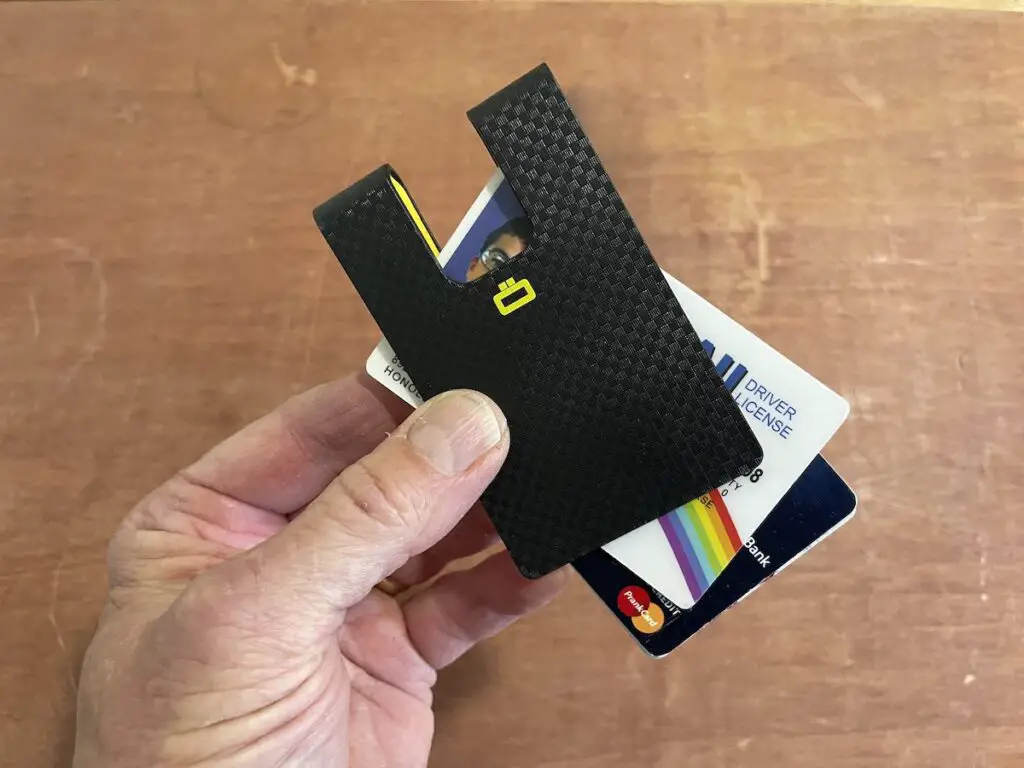 If you are looking for a super minimalist wallet that will keep our cards safe from RFID skimming , you'll want to consider the Ogon 3C Carbon Fiber Card Clip. It is the sparest wallet with the simplest design on the list.
The sleek, barely-there design includes a slot for pushing your cards out with your finger or thumb for easy access. Designed and made in France from real carbon fiber, this unique money clip wallet will satisfy the hardest core ultra minimalists.
The Ogon Card Clip functions like a high-tech money clip, but it's specifically designed for cards. It uses what Ogon call a monobloc gripper system to securely hold up to 7 cards. An inner microfiber keeps your cards from being scratched. You'll love the super-light feel of this thin, low-profile card clip in your pocket.
RFID blocking material keeps your cards safe from fraud. If the simplistic design crosses the "too minimalistic for me" threshold, you might try the slightly larger Ogon Stockholm Money Clip.
What is RFID?
RFID stands for Radio Frequency Identification
. Contactless-type credit cards have an RFID chip imbedded in them. The chip uses NFC technology to transmit account information wirelessly with radio waves to a vendor's credit card reader. A high tech thief could potentially intercept these transmissions, so many smart wallets have RFID-blocking technology built into them.
What is RFID blocking?
A 
contactless credit card
, also called a tap-and-go card, uses a RFID chip that wirelessly transmits the card's account information to a credit card terminal. Because thieves can potentially steal this information, many 
smart wallets and credit card holders
 are made with special materials that block the specific wavelengths that RFID chips use to communicate.
What is RFID skimming?
Contactless-type credit cards, also known as tap-and-gocards, contain an RFID chip. A vendor's credit card reader wirelessly captures the card's account information when the card is waved in front of it. A criminal with his own RFID reader can potentially steal or "skim" this information simply by getting close enough to the person carrying the card.
Looking for even more smart wallets that can protect your credit cards? Check out 6 RFID Wallets That Prevent Credit Card Scanning.