Andar's "The Turner" is a classic minimalist card holder made from full-grain leather that features a pull tab that ejects up to 8 cards from a center pocket. An exterior pocket on one side has a thumb slot to push out your most frequently used card. A sloping pocket on the other side holds cash or another favorite card.
If you're doing the math, that adds up to the wallet's capacity of 10 cards. But personally? I like to carry just 7 to 8. Most of them fit lickety-split in the center section and the pull tab expels the cards with a quick tug.
Design and Use
I just love pull tabs, don't you? They're as low tech and basic as you can get, yet they work flawlessly every time.
The strap of the Andar The Turner is made from a strong synthetic material with a piece of leather folded over the end and stitched in place. Grab it with your thumb and index finger pull it straight up. The cards will instantly follow.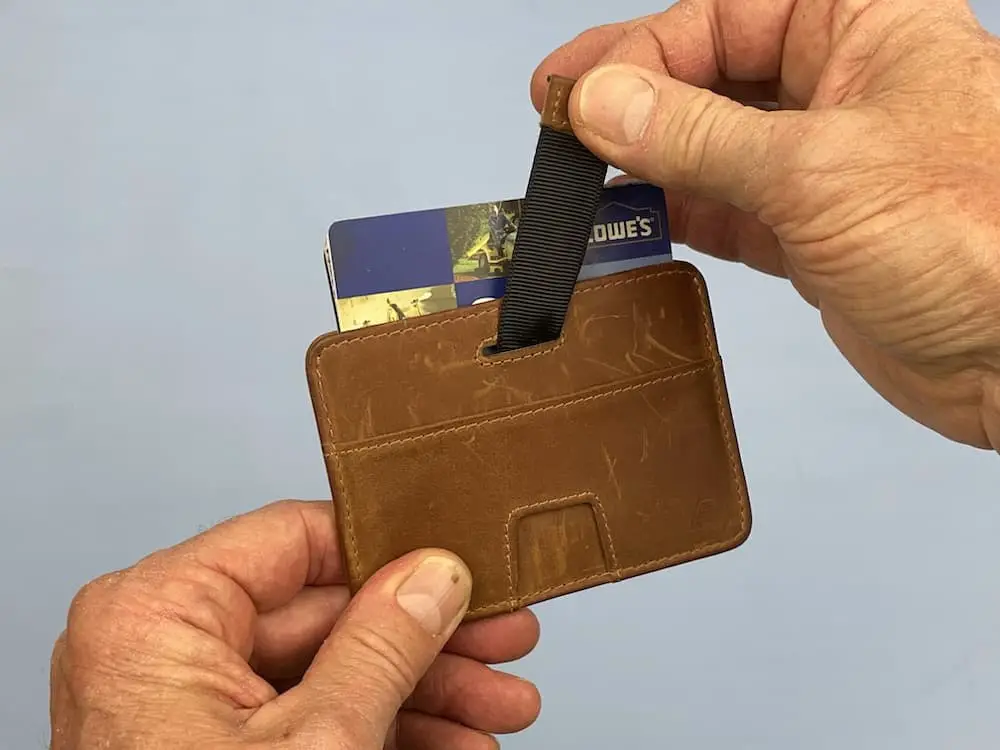 Then it's just a matter of sifting through the cards and choosing the one you want. I find that putting my most often used card in front or in back of the stack saves me a few milliseconds in locating the card I want. The pull strap also works well with paper cards as long as they are mixed with a few stiffer plastic cards.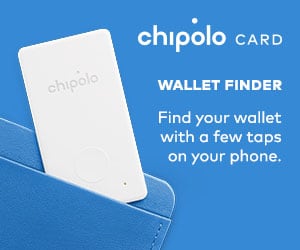 When you're done, push the cards back inside. This also retracts the pull tab so it's ready to go next time you need it. I found that cards will occasionally get caught in one of the corners when I pull them out, but that's just a minor annoyance. 
On the exterior, there is a quick access pocket where you can insert one or two cards. When you're ready to use the cards, just place your thumb in the thumb slot and push up.
A slanted pocket on the opposite side is perfect for cash folded in half or folded over twice. It will hold a few quarters, too, or a spare house key. Just push them down far enough that they wedge down in the bottom. I've found that coins will generally stay put until you give the wallet a good upside-down shake.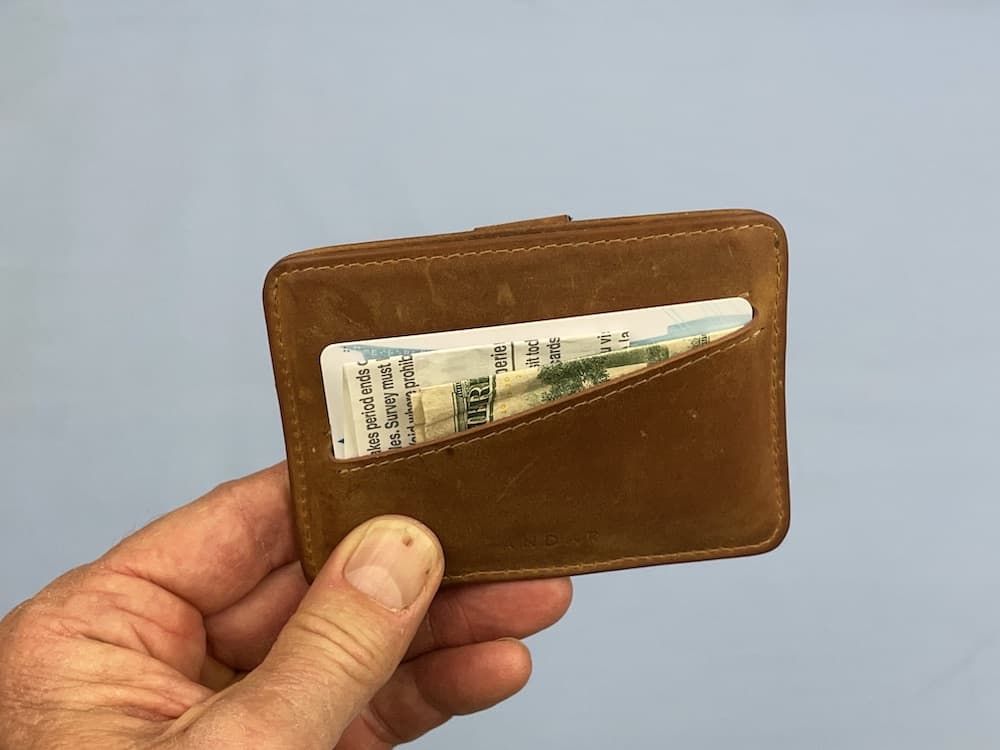 The slanted pocket is also great for receipts. No matter how cashless our society becomes, we still have receipts to deal with it. You either stick them loosely into your pocket or purse, or store them in your wallet. I prefer the wallet. 
Materials
The wallet is full-grain leather. It's the toughest part of the cowhide, but it also has a surface that reacts more closely with the environment. I found that it leaves marks behind as you use it, such as tiny scratches from your fingernails. This is especially apparent along the thumb slot.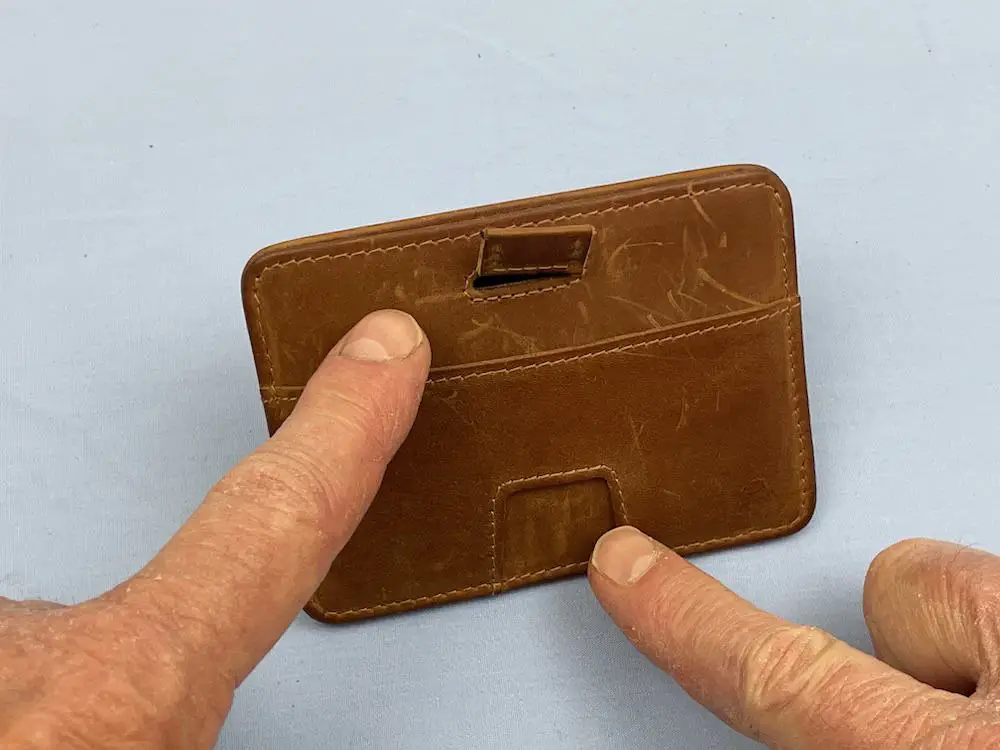 But heck, that's part of the charm of leather, right? It gives it the "lived in" look over time. Those crow's feet around your eyes are called character lines, not flaws. The same goes for leather.
I'm not completely sure if the leather is veg-tanned or chrome-tanned, I'm leaning towards natural vegetable tanning because of the delicious smell. Chrome-tanned leather usually has a slight chemical fragrance while veg-tanned smells like you walked into a custom leather shop.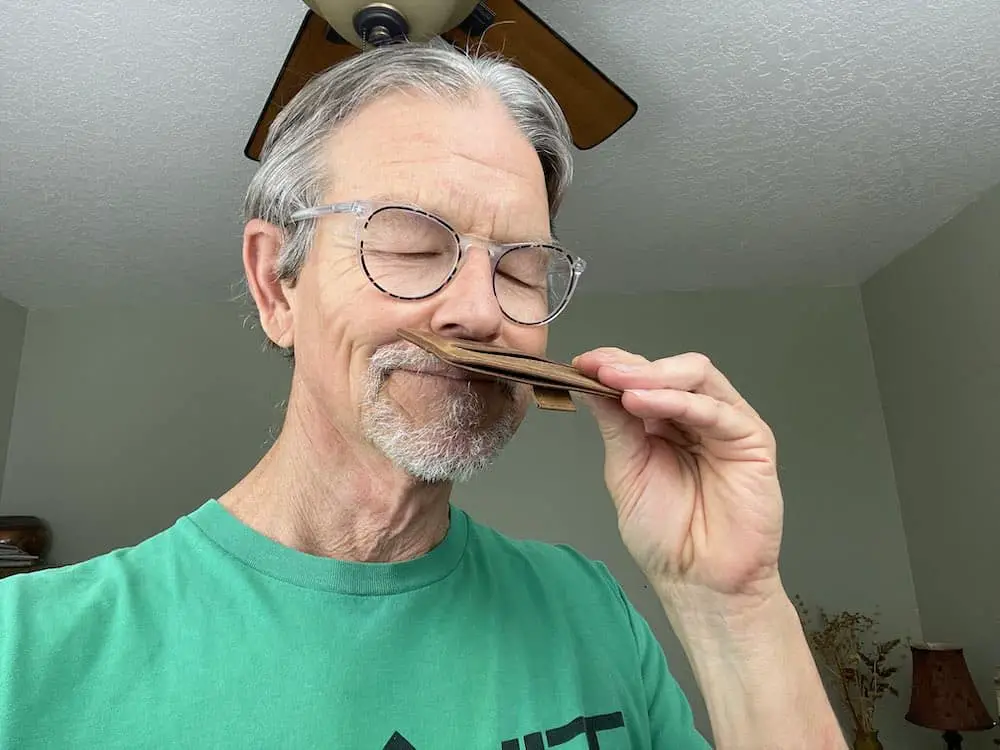 Andar doesn't commit to telling you which tanning method their leather is made from. They just refer to it as vintage leather. Either way, the leather smells mmm mmm good. 
How does it carry?
In terms of carry-ability, the Turner is super slim and thin, even with 10 cards inside. It slides easily into the pocket of a jacket or pants. Personally, I like to carry mine in my right front pocket alongside my iPhone. Thats means it must meet several important pocket criteria:
It should be narrow enough to ride comfortably next to my phone.
If it should "ride up" and overlap my phone, it must be thin enough that my pocket bulge is kept to a minimum. 
Does it pass the test? Yes, that's another reason it remains on top of my list of favorite minimalist wallets.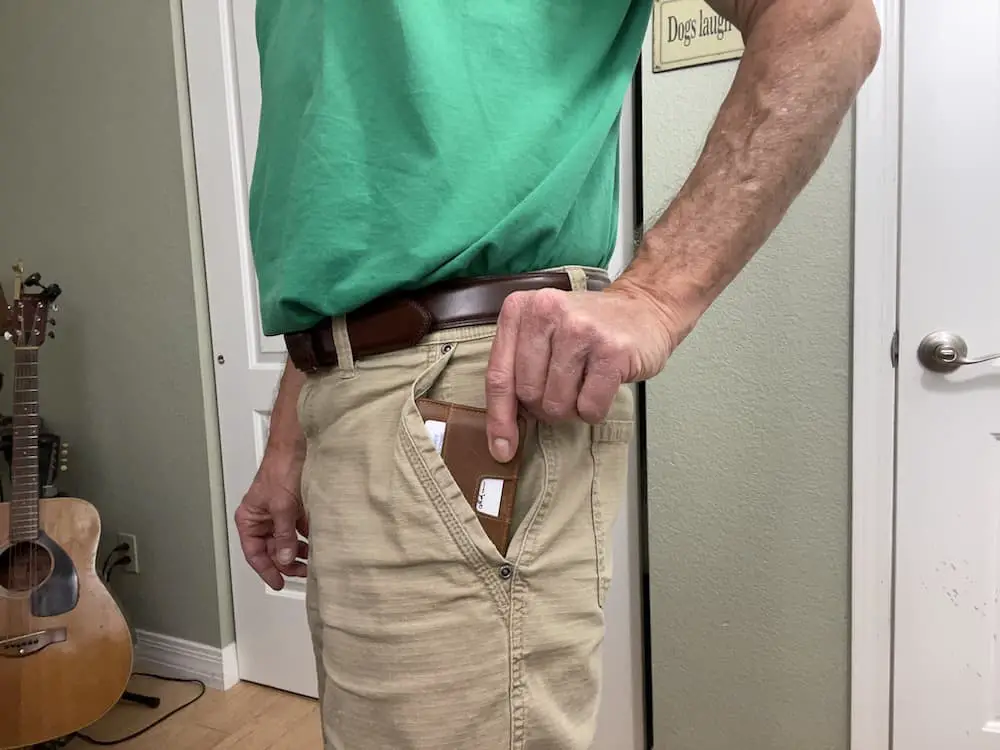 All parts of the wallet, inside pockets and outside, protect your contactless, tap-and-go credit cards from RFID scanning. These are the cards that run at 13.56 Mhz. That means you have to remove them before you use them.
But the RFID lining that's sewn into each wallet still allows your gym pass, hotel room card, and other building access passes (125 Khz) to work fine without taking them out. That's a time saver I like.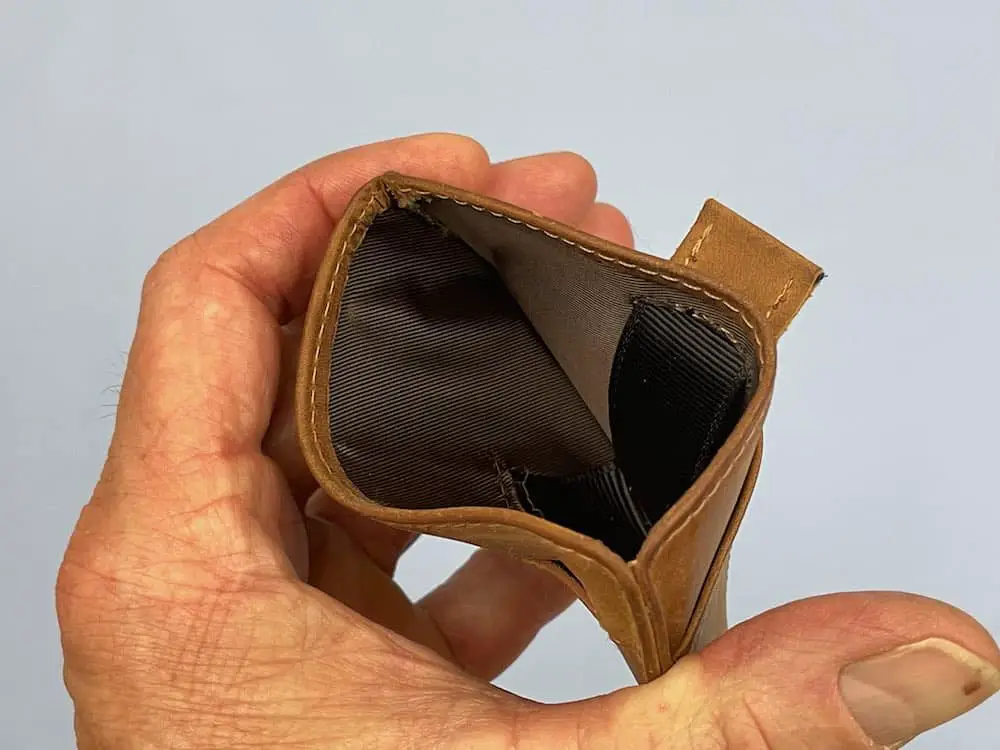 Should you buy it? 
For me, this is a no brainer. It's slim and minimalist but still holds as many cards as a conventional wallet. This may not be the best choice if you like to carry a lot of cash of coins. But it's perfect for carrying a few bills for situations like the local flea market or tipping the barista where cash is still king. 
All in all, I love the full-grain leather, the pull-tab that extracts the cards from the center pocket, and, of course, the RFID protection. It's slim and light, with a classic look and feel.
One thing I should mention: After carrying the Andar The Turner for a few weeks, I noticed that the center pocket loosened up a bit. This means that you have to keep a minimum number of cards in the center pocket or they will easily fall out when you shake it. But if you carry a minimum of 6 or 7 cards or so, that won't be an issue.