The reason folks are looking for an alternative to the Ridge wallet can be summed up in two words: sticker shock. In fact, Ridge recently increased their prices to $85 for an aluminum body and $125 for titanium and carbon fiber. Ouch.
Late Breaking News: In January 2022, Ridge raised most of their wallet prices by another 10%. The Ridge aluminum is now $95.
In response, dozens of other wallet manufacturers have risen to the challenge of making their own versions at a fraction of the price. The wallets aren't necessarily clones of the original, but the designs are functionally similar.
I own all of these 7 Ridge wallet alternatives and have tested them myself. I have also read plenty of reviews to see what other owners have to say about their own experiences with each of these Ridge alternatives.
These are the 7 inexpensive Ridge wallet alternatives.
Check out my video review of seven Ridge wallet alternatives
Best: Aviator Slide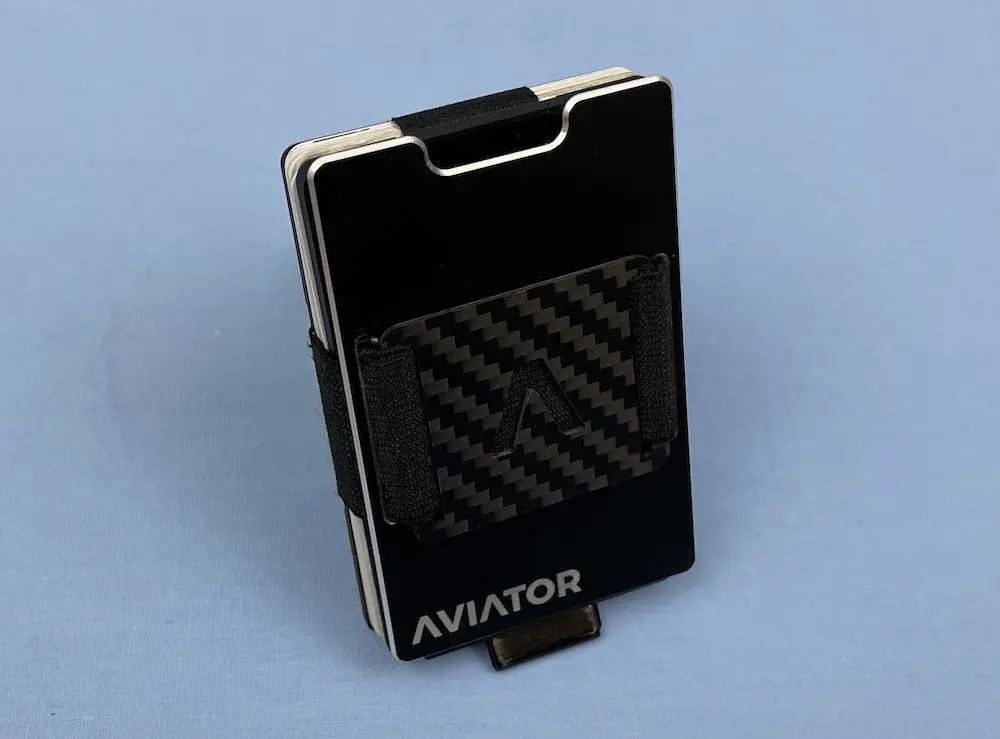 My favorite Ridge wallet alternative is the Aviator Slide. Like the Ridge, the Aviator is a sandwich-style wallet that holds your cards between rigid plates held together with elastic. From here, it really leaves the Ridge sitting on the runway.
Made entirely in Germany, the Aviator Slide adds a pull tab that extracts your cards with one quick tug. Then it's quick work to fan out your cards and choose the one your want. The Aviator is SO much easier at accessing your cards than the Ridge.
And for those of us who still like to carry a few coins, the Aviator has a slide-out coin tray that will fit a couple of USD quarters and even a house key or spare guitar pick. The tray is padded on the bottom so the coins don't rattle around too much as you walk. 
To be completely honest, the Aviator Slide is only a few dollars cheaper the Ridge. But with the pull tab and coin tray, you're getting a HUGE amount of extra value with the Aviator Slide. It's one of my top five wallets to carry. 
Also Great: Ekster Carbon Fiber cardholder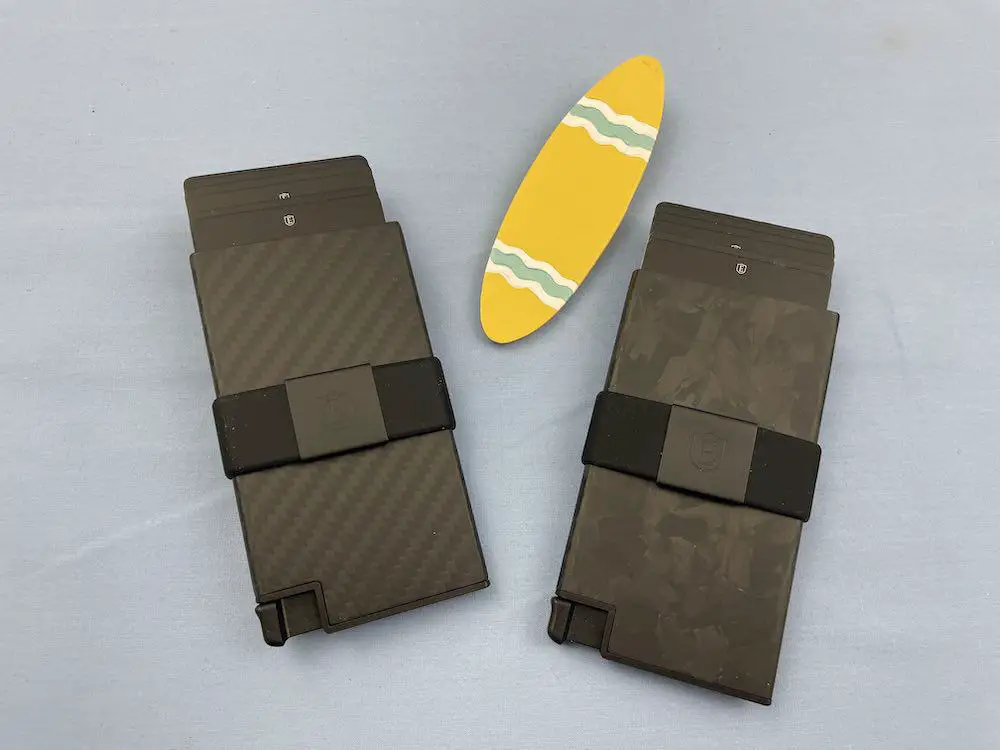 Ekster is well known for its Senate and Parliament leather wallets that use an aluminum pop-up ejector system to eject up to 6 cards. Now, they've created another cardholder made entirely from carbon fiber that uses the same reliable card ejector system. 
To this carbon fiber cardholder case they added and aluminum plate that is held to the wallet with a silicone band that doubles as a cash strap. Under the aluminum plate you can carry as many as 9 cards. On the opposite side, you can carry a few bills or receipts under the cash strap. 
If you're doing the math, 6 cards in the pop-up ejector and 9 under the expandable aluminum plate equals 9. 
Unlike the Senate and Parliament wallets, there isn't a stitch of leather to be found on this wallet. The carbon fiber is ultra strong, even lighter than aluminum. It's thin, sleek, and slides in and out of my Levi's like its coated in Teflon. 
My favorite part of all Ekster wallets is that I can eject my cards with the push of a button while holding it in just one hand. The pop-up ejector is a fidget spinner for listening to boring lectures, and quick as lightning quick for choosing the right card to buy a six pack afterward. 
Fidelo Prestige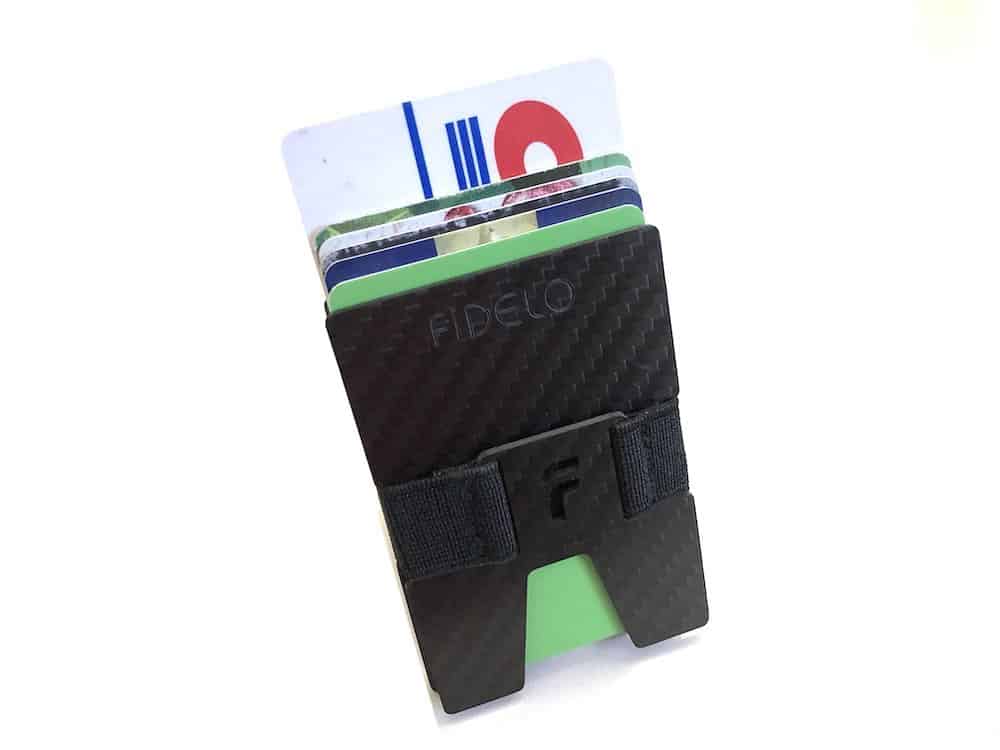 The Fidelo Prestige is the only carbon fiber card holder (or any wallet, for that matter) that comes with 3 extra money bands. When is the last chance you had to color coordinate your wallet with what you're wearing? That's going the extra mile, man.
Fidelo's credo is Be minimal, be free. At just 1 ounce in weight, this card holder is super light, but still 5 times stronger than steel! That's the kind of performance that carbon fiber buys you. 
To display your cards, push them up from the V-shaped slot at the bottom. Pinch the bottom of the plates together and your cards will spread accordion style so you can pluck the one you want with two fingers.
The plates have beveled edges so you can easily replace your card when you're done. The inside surfaces of the plates are polished so that cards slide out without scratching.
Radix One Black Steel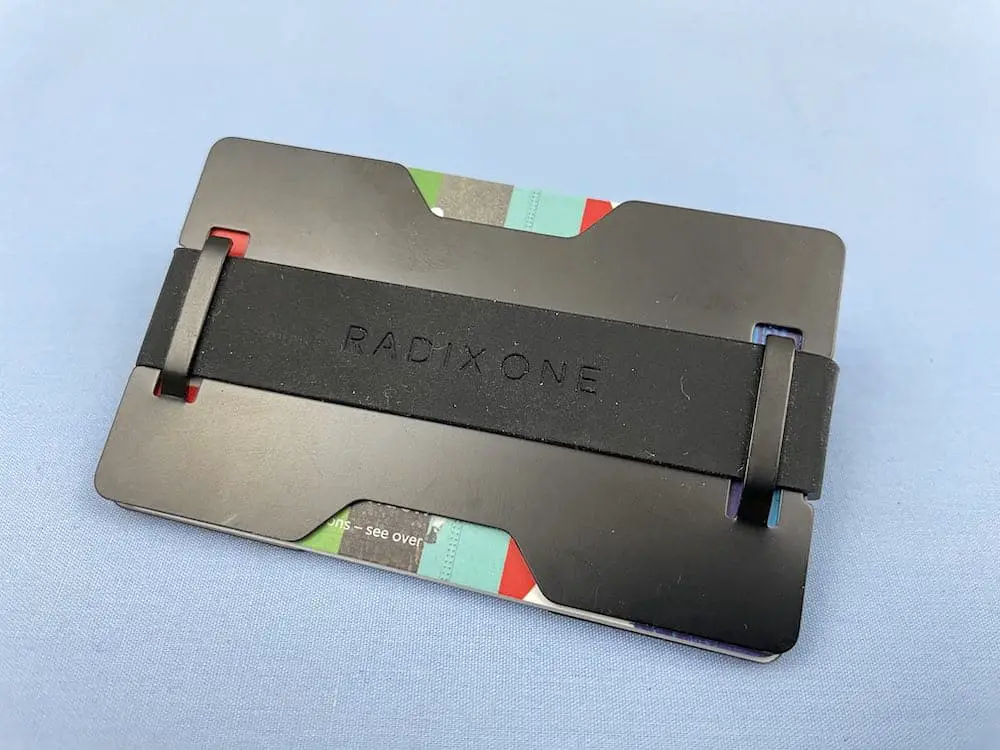 The Radix One Back Steel may be the most basic minimalist wallet of all. It uses two black stainless steel plates to create a credit card sandwich. A silicon band holds the wallet together and doubles as a money band.
To make it even simpler, there are no screws holding anything together. The wallet expands to hold up to 10 cards and the heavy gauge steel plates give them RFID protection. It's another ounce heavier than most of the wallets in this post which gives it a more substantial feel. 
The other design feature that separates it from the Ridge card holder wallet is the lack of a thumb notch. Instead, there are two wide slots, one on each side, that are opposite of each other. Because you push the cards out from the middle, the cards don't flare out like the Ridge.
Some owners say that they have to remove all of the cards, shuffle through to the one they want, and then reinsert them all. The silicon band holds the wallet together firmly even if you only carry 3 or 4 cards. 
Roco RFID blocking money clip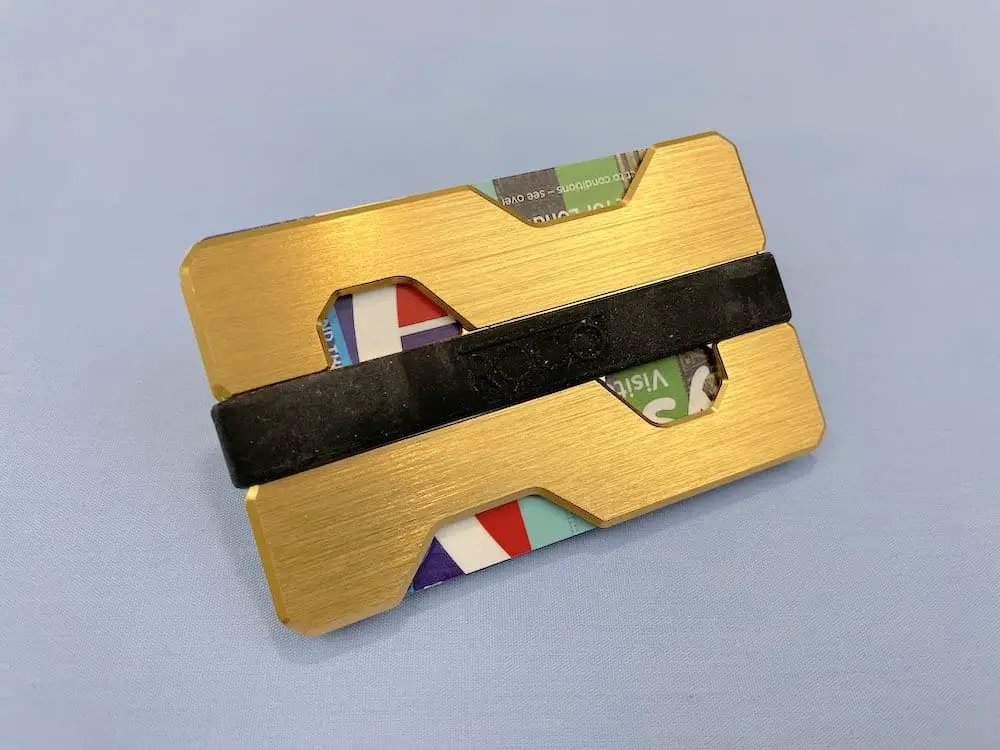 Like the Radix, the Roco RFID blocking money clip is another sandwich design held together by a silicon band. However, the Roco uses aluminum plates rather than steel with similar wide thumb slots that are off centered on each side.
The wallet will expand to hold up to 20 cards. Many owners love the minimalist footprint and design of the wallet, but complain that getting access to their cards is sort of a hassle.
The silicon band also functions as a cash strap, and Roco includes an extra if the original breaks or loses tension. Though the rigid aluminum plates provide RFID protection and keep your cards from bending, some owners say that the aluminum scratches their cards.
The outside edges and corners of the aluminum are nicely beveled, which makes the wallet a more comfortable carry in your front pocket. At just under $18, the Roco is the least expensive wallet on the list.
Ekster Senate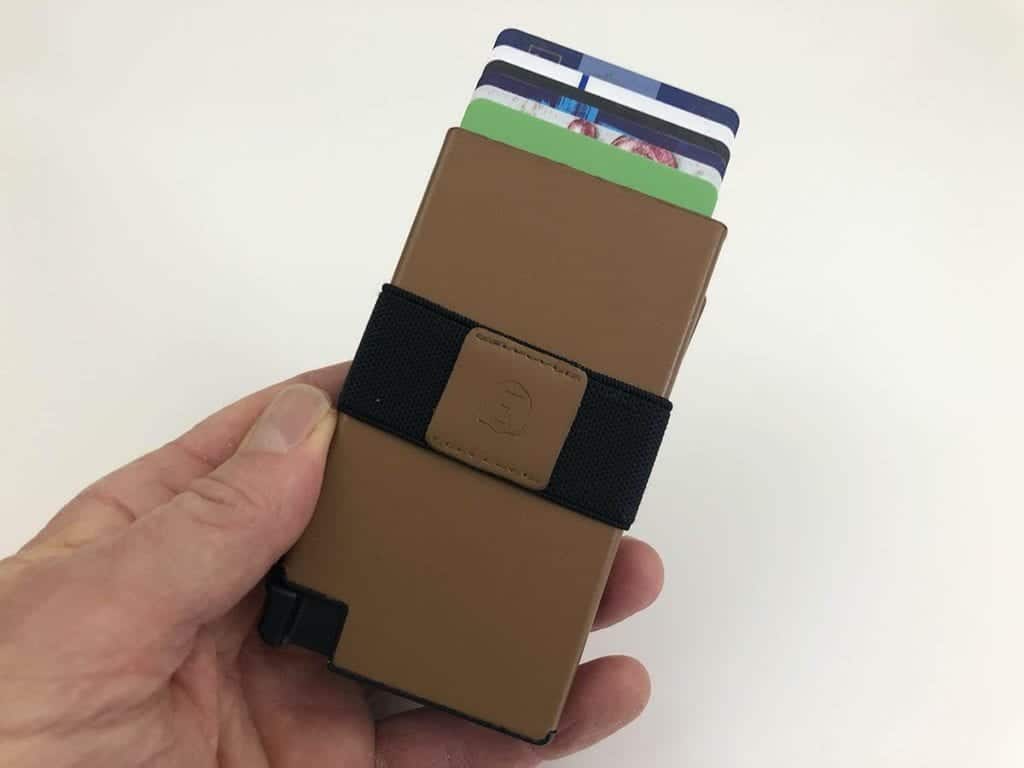 The Ekster Senate diverges from all of the other wallets in this post because it is a pop-up wallet that uses a mechanical card ejection system. Instead of manually pushing your cards out with your thumb or finger, you just push the slider button at the bottom and your cards eject into a perfect fan.
It's a smooth-as-silk operation that adds ECCO top-grain leather to "dress up" and soften the solid aluminum case that holds your cards. There is also an elastic money strap for cash, gas receipts, or a random business card.
The Ekster Senate is one of my top five all favorite wallets because of its slim, high-quality construction that fits in my pocket like a glove. Plus, the pop-up slider acts as a fidget spinner when you find boredom overtaking you.
The only drawback is that it can only hold 6 cards (less if your cards have raised numbers) and it doesn't really like medical cards, membership cards, and others that are made from paper card stock rather than plastic.
The Ridge
Like Elvis, the Ridge wallet has spawned many imitators. It is a beautiful example of minimalistic design, with outside dimensions that are no larger than a credit card.
Tiny screws attach 2 exterior plates to inner plastic layers. Elastic bands, two of them, hold the plates together and grip up to 12 cards in a tight sandwich. That's about as uncomplicated as it gets.
Check out my full Ridge Wallet Review for the full details about this amazing wallet. There are alternatives, but there is only one Ridge.
There is a thumb notch on the lower corner of one side so that your thumb or finger can push the cards partly out. Squeeze the side of the wallet on the notched side and the cards will flare out like an accordion. Then it's just a matter of choosing the card you want. 
The wallet ships with either a money clip or a money band that holds currency folded over twice. Use the clip or band for other incidentals, too, like store receipts, your valet stub, or that grocery list from your wife.
The Ridge wallet is a model of functional simplicity and so small that its length is no wider than the palm of your hand. With its rugged construction, you'll never have a bent or broken card. And it comes with a lifetime warranty.