Dango D01 Dapper
Summary
The Dango D01 Dapper has a few flaws but also a fantastic design that clearly stands out from the competition with super high-quality materials and an edgy but sophisticated aesthetic. Although it could use a little refining as far as the performance side of things goes, it's still an amazing find for any tactical wallet enthusiast.

High quality and made to last
Made in USA with a lifetime warranty
RFID blocking protection
TSA compliant integral bottle opener
Will accommodate a Bluetooth tracker card
Difficult to quickly access individual cards
Does not (comfortably) hold as many cards as advertised
Specifications
Materials: Anodized aluminum, top-grain leather, stainless steel, and silicone band
Weight: About 2.5 oz. empty
Dimensions: 2.625" x 4.375" x .375"
Capacity: Up to 12 cards (but I'd recommend less)
Warranty: Lifetime
The Dango D01 Dapper is a leather and metal cardholder/wallet known for its sexy leather looks and top-notch construction. But does it actually hold up to its longstanding reputation, or is it all just hype? Continue reading below for my full review of Dapper to find out.
Full Review
The Dapper D01 Dapper boldly embraces modern-day wallet designs with an ultra-thin profile, handsome looks, and an aluminum chassis that secures your cards between two plates, much like the Ridge, the Aviator Slide, Fidelo, and other competitors of a similar design.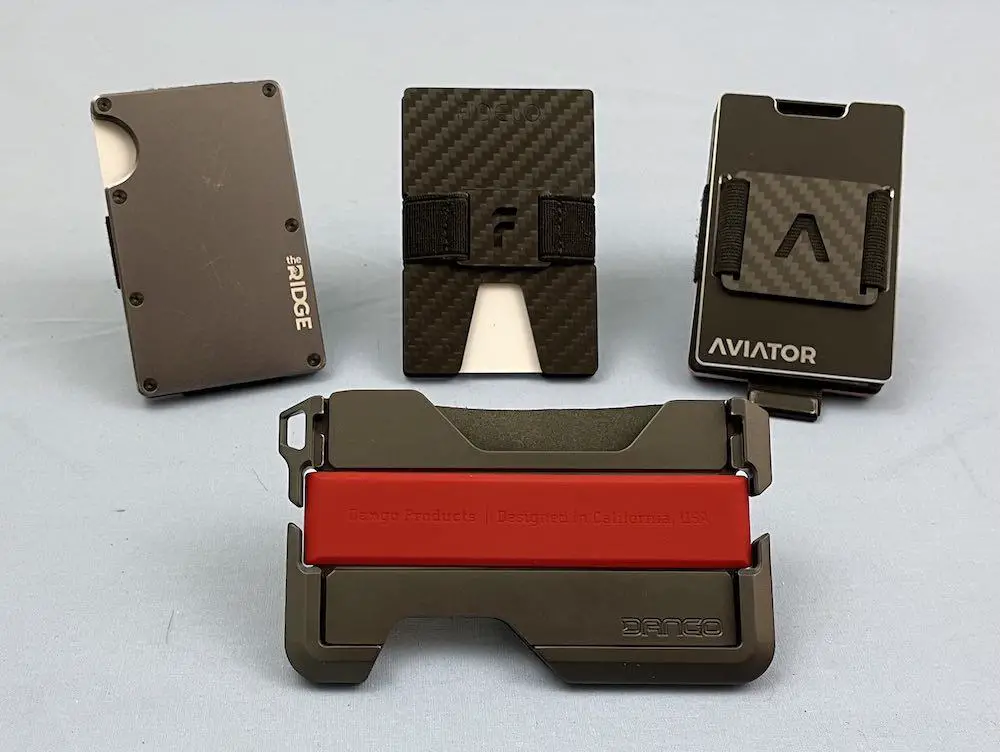 However, the wallet also offers its own flair through the addition of top-grain leather and a leather front pocket for quick access to a few cards. It's this combination that makes Dapper stand out from the crowd with its own proprietary design hacks.
The Dango D01 Dapper has a few flaws but also a fantastic design that clearly stands out from the competition with super high-quality materials and an edgy but sophisticated aesthetic. In terms of performance, it could use a little refining, but it's still an amazing find for any progressive wallet enthusiast.
Materials & Design
If you've seen the Dango tactical wallet on their website (or watched my Youtube video here), you know that it's a gorgeous piece of work, comprised of contrasting materials and textures. The CNC'd 6201 aluminum and top-grain leather blend into something masculine and edgy yet elegant and eye-catching.
Indeed, the cardholder's leather portion brings in a more natural and rugged element on top of the now-expected metal. There's also a further contrast here as the leather is super supple and soft – like, seriously soft –while the CNC aluminum chassis feels nearly unbreakable.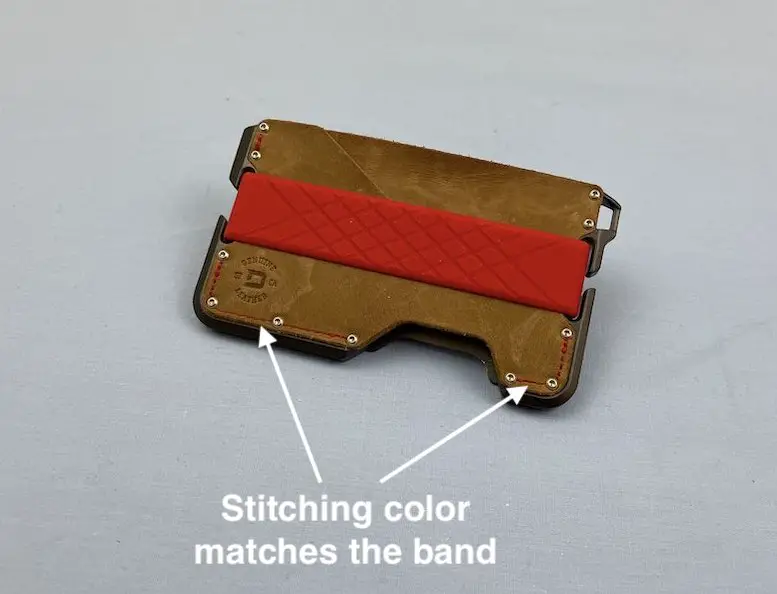 WHAT DOES CNC MEAN?
CNC stands for Computer Numerical Control. When aluminum is machined using CNC, a computer program guides the machining process. CNC can produce highly complex 3D objects with a high degree of precision. Many high-quality aluminum wallets such as the Dango D01 Dapper are machined this way.
Since the Dapper is essentially a couple of pieces of machined aluminum with a silicon band that sandwiches them together, you don't have to worry about cards bending, breaking, or snapping. They stay nice and straight and considerably more protected than an old-school bifold or leather cardholder can. 
All this stout aluminum blocks RFID frequencies, too. So if you have any contactless, tap and go credit cards, they are protected from an illicit scanning.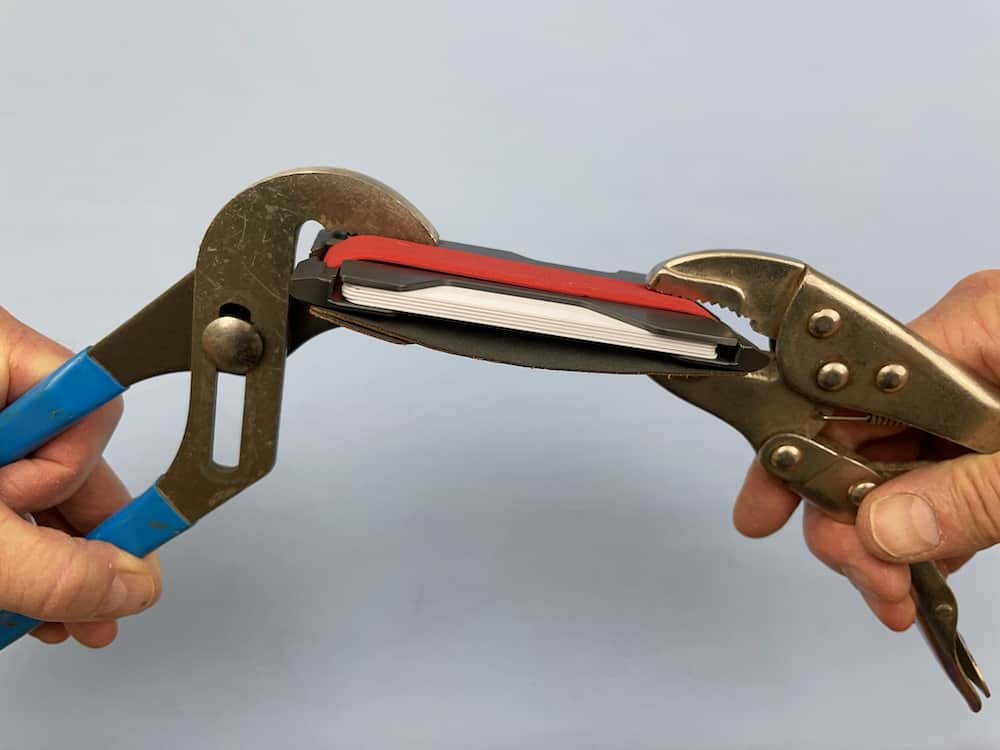 Besides the construction and materials, a couple of specific design features deserve a nod of recognition:
a finger/thumb slot
a silicon cash strap
an integral bottle opener
a front leather pocket
The first three are dynamite features but the last leaves a little to be desired.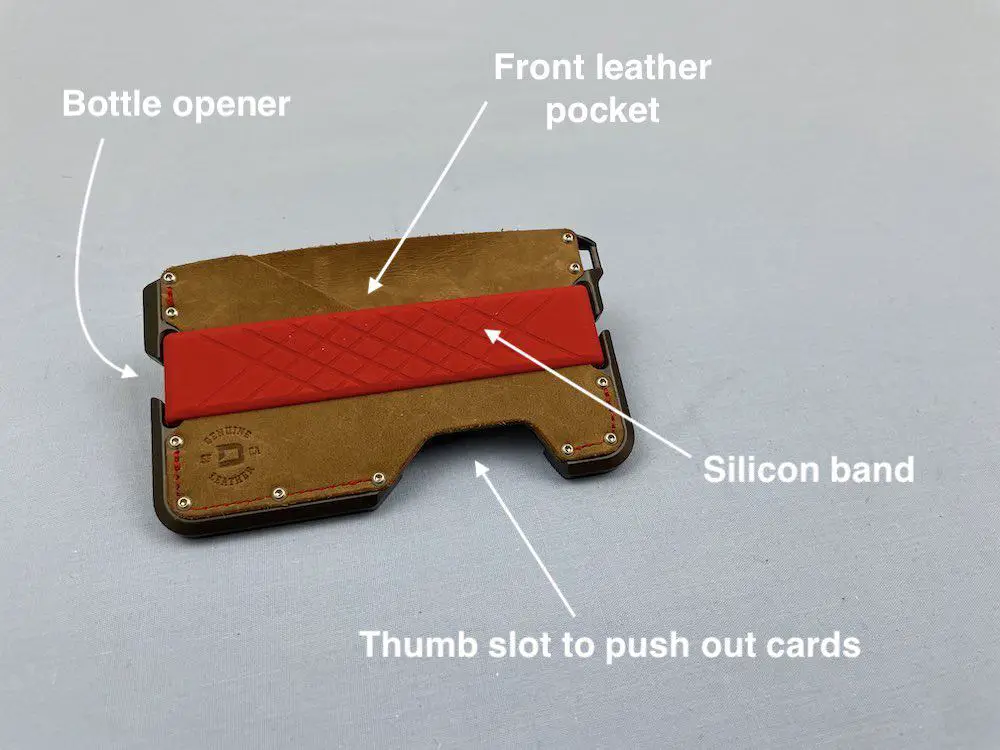 The cutout/thumb slot is beyond essential for card access, and the strap holds a ton of bills without any of the overstretching associated with most elastic bands, making carrying cash in this cardholder feel just as secure as any bifold or trifold.
And the integral bottle opener? It facilitates your drinking habit.
They're all low-tech, to be sure, but they both work perfectly for what they're intended. 
One drawback is Dapper's aforementioned front card pocket. It's incredibly snug, even with one card in it. In my mind, it hurts performance in a way that feels like it could be readily avoidable. But I'll go into that more in a minute.
Daily Performance
I've carried this wallet for three or four months now, and it doesn't even seem to have any visible scratches on it, nor does the leather look too worse for wear. That's impressive, as I tend to abuse my wallets a bit (or a lot, if I'm being honest). Even though I'm a notorious wallet killer, Dango's Dapper has stayed in great shape.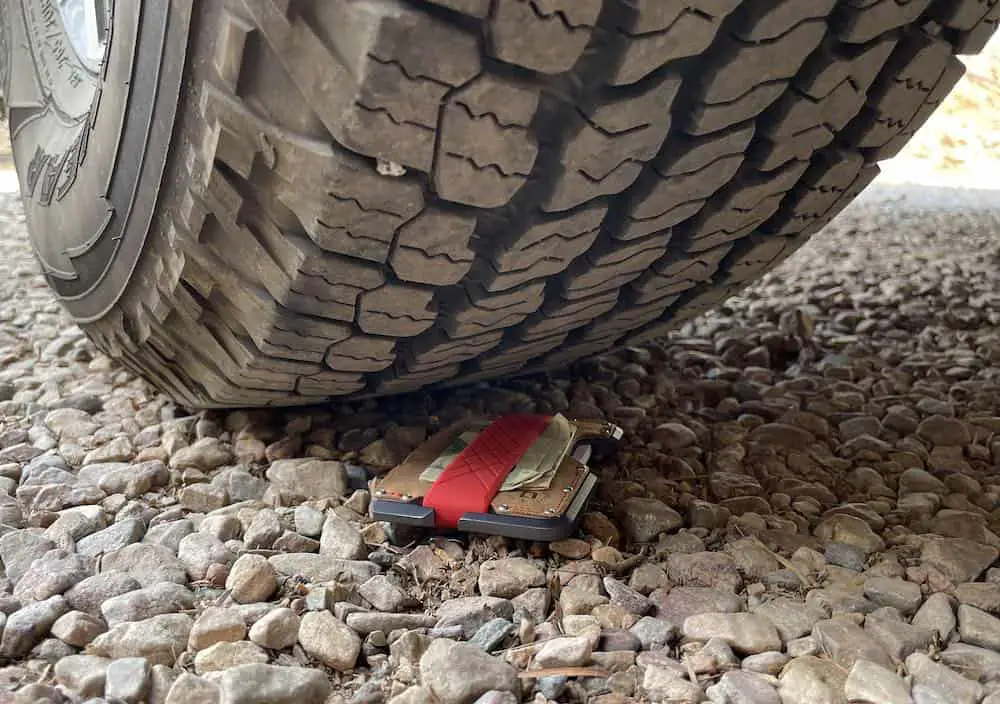 I've already hinted a bit at this wallet's performance, but it's time to get into the thick of it. There's more than a little hype with the Dango. And when expectations are so high, there's no way the end product can ever match. 
That's not to say Dango's offering is terrible at being a wallet. It's just that its effectiveness as a cardholder and general everyday carry is okay – nothing more and nothing less.
Not overly offensive and not overly applaudable, it nestles itself straight into the middle of the pack as far as performance is concerned.
The problem lies with the pocket I mentioned earlier which holds significantly less cards than advertised. Dango themselves claims that it can carry four flat cards, but I have to call them out on that.
I've tried to shove that much in there, and let me tell you; it does not work. At all. Trust me. The best I have managed to do is 8 cards between the plates and 2 inside the front pocket. Even then, it is god-awful tight.
The Dango D01 Dapper wallet makes you look like you have your life together even when you don't.
The Dapper's easiest to use when packing 7 cards, and that's taken up with only a license, student/work ID, insurance card, debit and credit card, and a couple of additional membership cards.
Those are the barebones essentials for most people and it would be nice to have more wiggle room. And they'll all fit between the aluminum plates.
The really good thing about the front leather pocket is that is not RFID protected. The means you can put a transit pass, building access card, or gym pass in the slot and tap it on a reader without having to remove it. That's a big plus.
The overall experience is still damn good.
It feels lovely in hand, substantial but oh-so-soft thanks to its genuine leather, and fits in a front pocket perfectly without any sharp edges or bulk.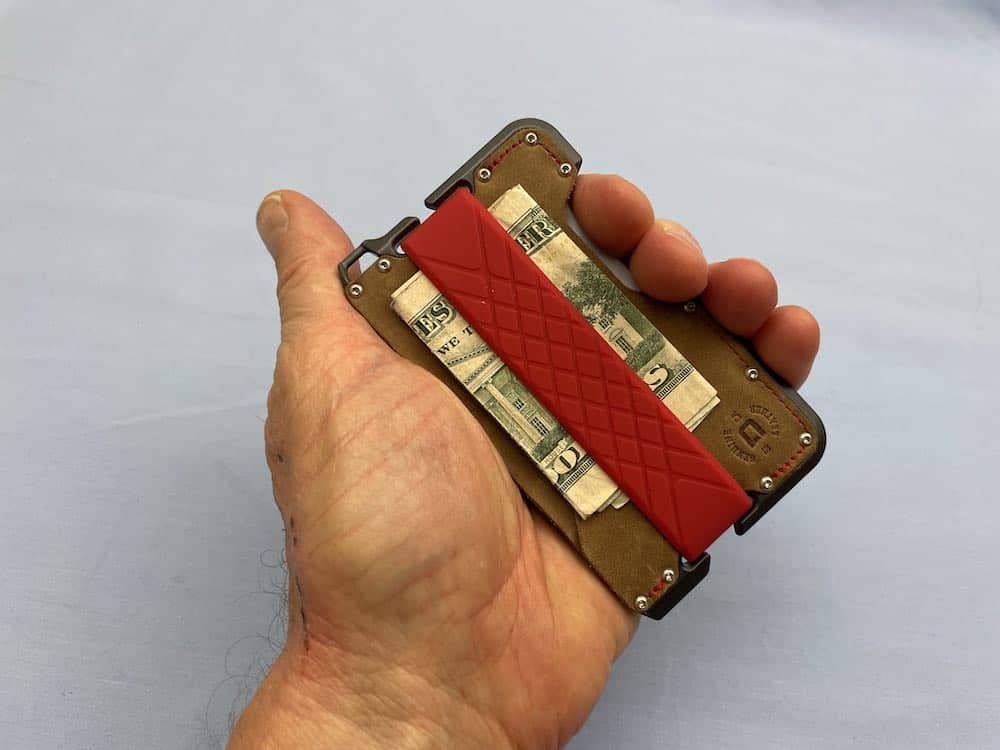 It also looks great, rugged but also incredibly put together. I can't describe it better than this wallet makes you look like you have your life together even when you don't. That alone makes carrying it on the daily a real treat regardless of the wallet's slight performance downfalls.
Make the Dango D01 Dapper unlosable with a Bluetooth tracker
The leather front pocket is tight as the dickens, but as I said, it's also not RFID protected like the rest of the wallet. That means you can use a Bluetooth tracker card to monitor the location of your wallet. My favorites are the Chipolo CARD and the Tile Slim.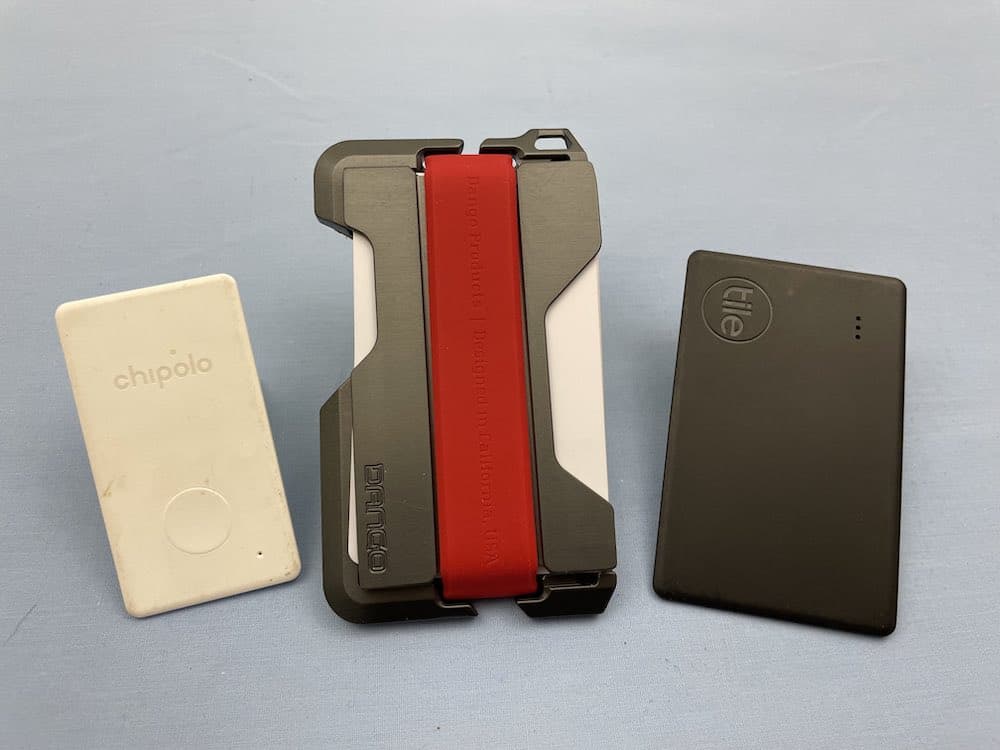 They're both about twice the thickness of a typical credit card, and both of them will fit inside the leather front pocket. It's a crazy tight fit, but once the tracker card is inserted, you don't need to remove it.
Now you can ring your wallet to find your phone in your house or anywhere in the world. Check out this post that explains how to do it.
Should You Buy It?
Let's recap.
The front pocket and main card compartment could use some refining. It's too small to accommodate the advertised carrying capacity comfortably. Even going towards the light end of recommendations doesn't completely streamline usage.
Cards are a pain to get out on the fly, and god forbid you only want one card out at a time. It doesn't matter if you only need to grab your ID for a second. It's honestly easier to take out the whole lot than slide a specific one out and put it back.
A great feature is that the front leather pocket is not RFID protected, so you can make the Dango unlosable by incorporating a Bluetooth tracking card. A huge plus.
You can also put your transit card, gym pass, or building access card in the front pocket and use it without having to remove it from the wallet.
It looks great and feels equally good in your pocket. All of the aluminum corners and edges are nicely rounded. It's just heavy enough to reassure you that the wallet is still in your pocket.
And yes, I just love the integral bottle opener.
The Dango D01 Dapper is imperfect and could use a little extra work. But it's still a beautiful cardholder and has materials and construction that basically make the price point a steal. Plus, the function isn't terrible by any means. It holds the essentials like a wallet should and looks pretty doing it. For me and my life, that's all I really need.
If your priority is tracking down a wallet that's well-made, handsome, and would fit in just as well with a group of lumberjacks as the brunch crowd, then I can't recommend it more. Throw your money at it! But if you only care about keeping lots of cards on hands with as minimal fuss as possible? You might want to shop around for a while yet.