I'm not crazy about the Apple MagSafe wallet.
My main beef is that you have to remove it from your phone in order to use it. And it's really bad at handling cash.
There are definitely better alternatives out there.
I acquired every MagSafe compatible wallet alternative out there and evaluated them individually. I compared, tested, and carried 14 of them over the past 3-4 months. 
Here's the full list of the wallets I tested.
Magbak
Kings Loot Kings Back
Moft Snap-on stand and wallet
Distil Union Wally Junior
Ekster MagSafe card holder
Spigen MagSafe card holder Valentinus
Spigen MagSafe card holder Rugged Armor
Andar The Mag
Fantom C
Peak Design Mobile wallet
My 5 favorite MagSafe wallets alternatives for your iPhone 12, 13, or 14.
How I did my evaluation
I looked at 5 different factors for evaluating each wallet. If the wallet needs to removed in order to use it, I didn't consider it. (This means YOU Apple MagSafe wallet.)
Materials and craftsmanship
MagSafe magnet strength
Capacity for cards and cash
Ease of access to cards and cash
Carryability
Best Overall:
Moft Snap-on MagSafe wallet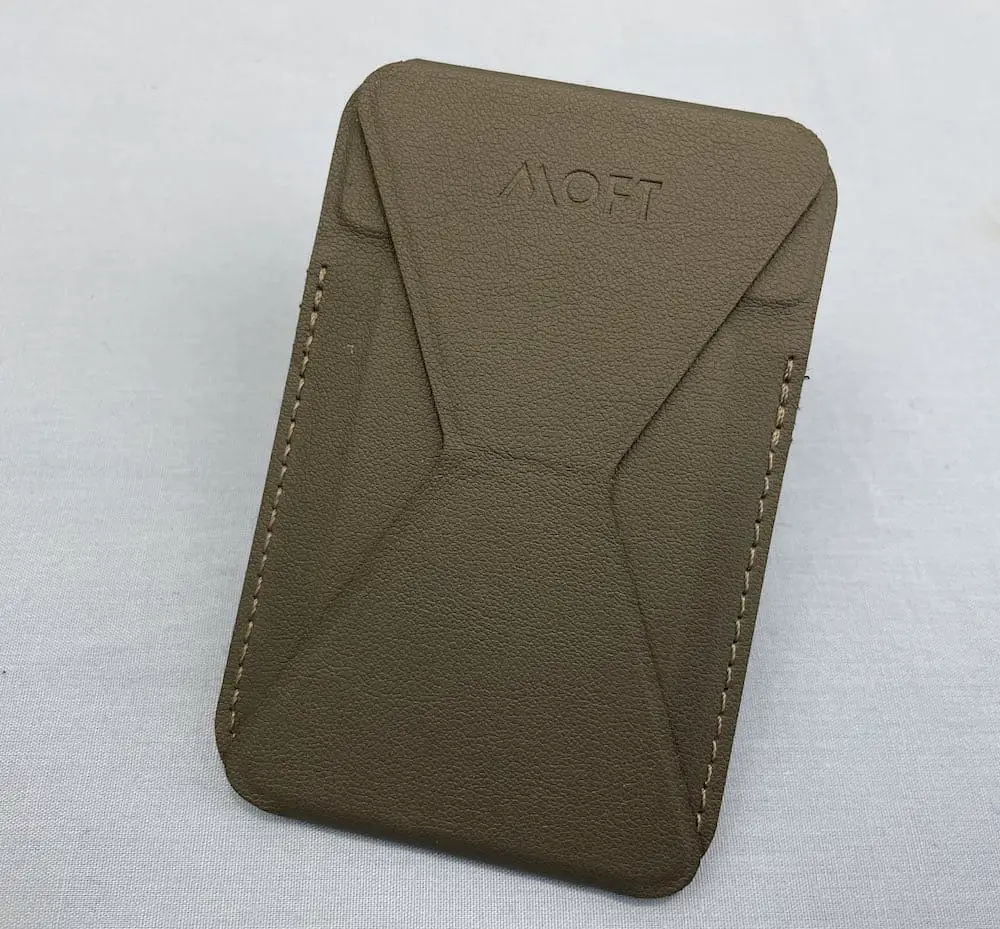 My favorite MagSafe wallet alternative.
The big selling point of the Moft MagSafe wallet is the kickstand. The mechanism for pulling it into position is quick and intuitive. It will hold any size iPhone 12/13/14 in portrait, landscape, or floating position. I use this feature all the time for watching Youtube videos.
I use the kickstand feature all the time. It's another reason that the Moft MagSafe wallet is my favorite.

It hold up to 3 cards which are covered until you pull down the kick stand to expose them. Almost an inch of each cards sticks out of the wallet, which gives the cards enough flex to pry it back with your index finger to pull out. 
With some MagSafe wallets, like the Spigen Valentinus and PopWallet that use a thumb slot to push out your cards, they only stick out less than a half inch.  This makes the cards too stiff to easily grab. 
I like to carry a $20 bill in my MagSafe wallet, and the Moft accommodates it fine, even when loaded with the max of 3 cards. 
It uses vegan leather (aka synthetic leather), which helps keep the price lower than any other wallet in this review. Admittedly, it's not the prettiest wallet you'll ever see, but it compensates with some wild colors and rewards you with its crafty design and steady functionality. 
Some reviewers have poo-pooed the magnet strength of the Moft, but I find it perfectly adequate. It stays anchored to my iPhone Pro 12 in my pocket. And if it twists, I straighten it. The magnet is plenty strong enough to hold an iPhone Pro Max in all three viewing positions. That's all you need.
Want to double the magnet strength of the Moft MagSafe wallet? Check out the Moft MagSafe-enhanced case. I've been using for several weeks and you can REALLY tell the difference in how well the Moft wallet stays attached.  
Best Card Access: Kings Loot 'Kings Back'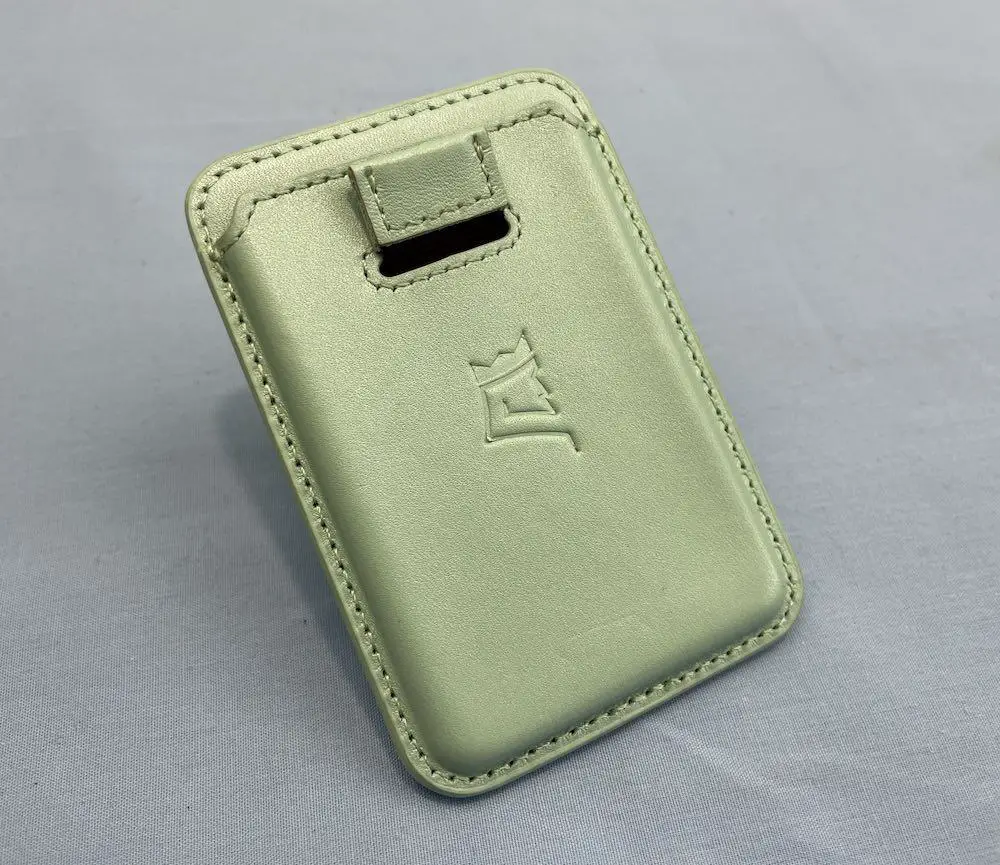 This Kings Back MagSafe wallet comes from an up-and-coming leather wallet company called Kings Loot. It's in my top five because of some really cool features. 
My favorite is the pull strap that pulls up to 3 cards with a simple tug. The Kings Loot website says it will hold up to 6 cards, but there is no way you can squeeze in more than 3. 
The Distil Union Wally Junior is another nice MagSafe wallet with a pull tab, but the pull strap action isn't as smooth as the Kings Back. 
It's made from heavy full-grain leather which feels stout and protective. It also has a lifetime warranty, which is really unusual for a wallet made of a natural material like leather that has a finite life span. 
A lot is made about magnet strength, but in my experience, most MagSafe wallets (including the Apple MagSafe wallet) are plenty strong enough to stay attached to your phone. The Kings Back falls somewhere in the middle. 
The biggest challenge to any MagSafe magnet is resistance to twisting and sliding. This happens more in your pocket than outside of it. The Kings Back is a little slicker than others I've tested, so it twists and slides more than I'd like, but not by much. 
None of the MagSafe wallets are specifically designed for cash, but the Kings Back handles a folded up bill nicely. It pops up with the cards when you pull the tab. 
It adds no more than a quarter inch to the thickness, so it barely changes the feeling of phone in your pocket. 
Largest Capacity: MagBak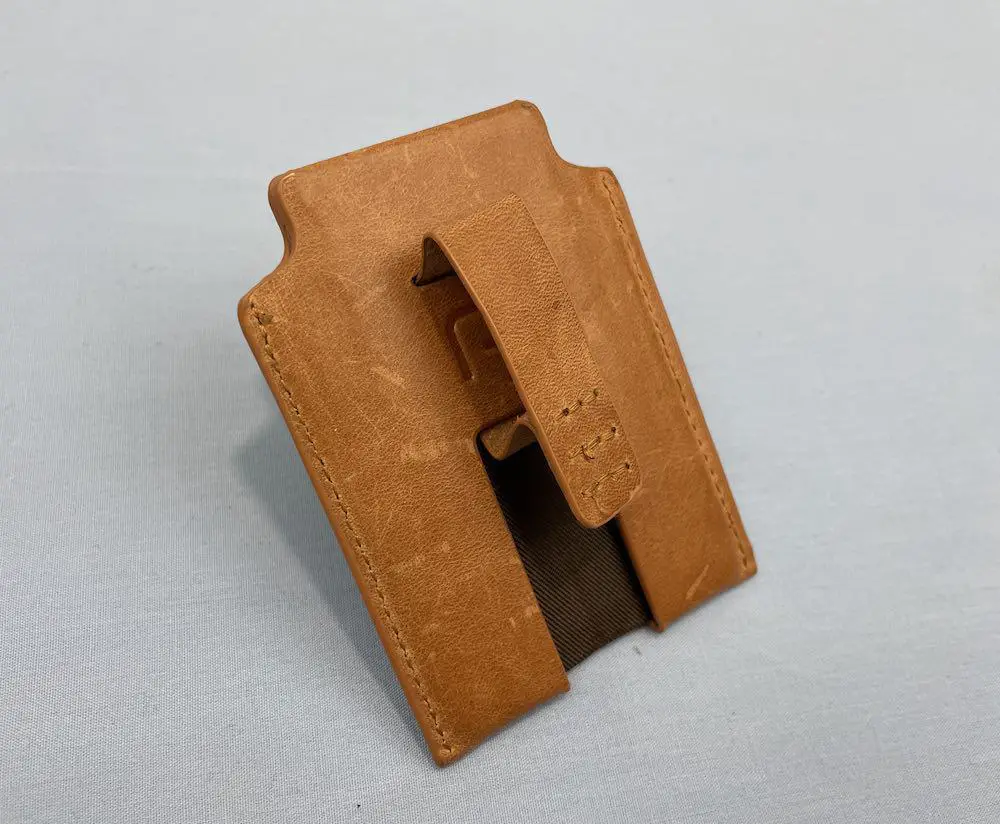 The Magbak MagSafe wallet is particularly interesting wallets because of a leather finger loop in back for holding your phone. My finger fit in it right out of the box, but for fatter fingers, you can adjust it by pulling out some threads. Or you can remove it completely if the finger loop isn't your thing. 
The magnet is a little stronger than most. In fact, Magbak sent me a video of test they did, comparing their magnet strength to the Apple Magsafe wallet. 
If you want the strongest magnet of all, you'll probably want to choose the PopWallet from PopSocket. It didn't make this list because the cards are really difficult to remove. 
The Magbak also has the distinction of holding up to six cards, more than any other wallet I tested. It has a divider in the middle and 3 cards are split on each side. The one ding to this design is that only 3 cards are accessible without removing the wallet first. 
I love the deep thumb slot on the outside that pushes your cards out a full 1.5 inches. In fact, the stick out so far, you can even fan them out. If you add a folded bill of cash, it pushes out just as easily. 
The leather is top grain and smells delicious. As I've used it, a few marks and scratches have appeared, but the just add to the charm of high quality leather.
In terms of carryability, the finger loop might be too much in the way for some people's tastes. It's kind of floppy when you put it in and take it out of your pocket. But it can easily removed if it bugs you. 
Strongest Magnet: Fantom C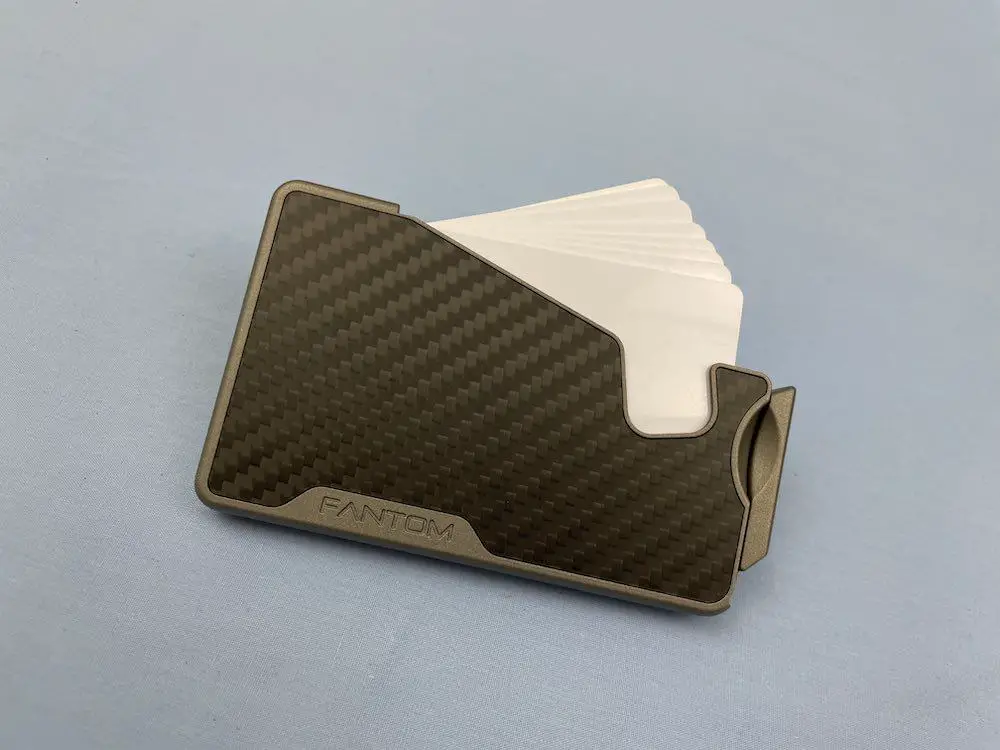 The Fantom C is the outlier of the bunch with a radical design made from ceramic-coated aluminum. It holds up to 5 cards that you can access from either side. 
It has a cutaway design that exposes the top part of your cards. When the Fantom is mounted to your phone, you just use your thumb to fan them out. A bill of cash can be stashed inside, too. 
Its larger cousin, the Fantom R, uses a lever to push the cards out into a fan. But I've often wondered why they needed a lever because the cards could be fanned out without the lever. The Fantom C slims everything down by losing the lever and the extra bulk.
The ceramic coating definitely softens the feel of the aluminum, but all-in-all, this is still a metal wallet. The corners are beveled so that it slides easily in and out of your pocket. It's no thicker than the Magbak wallet, but it seems like it's more because of the angularity of the design. 
The aluminum chassis makes the Fantom an RFID-blocking wallet, the only one in this post.  
The MagSafe magnet strength is a little better than average, though it twists a little easier than I would like. I may bad mouth the Apple MagSafe wallet, but the Apple is better than any wallet in this top 5 for resistance to twisting. 
There is a lifetime limited warranty, but also a wear-and tear warranty. They'll replace your wallet for 50% of the cost if you beat it up too badly. 
Best Craftsmanship: Andar 'The Mag'
The Mag MagSafe wallet is made by Andar, a wallet company based out of Arizona. They're known for their high regard for quality leather, and they use oil waxed full grain leather in The Mag. 
The leather quality is on a par with the Kings Back, but the Mag is about $30 cheaper. The biggest difference between them is that the Kings Back has a pull tab and the Mag does not. 
It only holds 1-2 cards, but that's plenty. Personally, I only need two cards with me 95% of the time. I carry a drivers license, credit card, and a $20 bill. The Mag is perfect for this. 
This Mag is as basic as the Apple MagSafe wallet, except you don't need to remove the Mag to use it. There is a thumb groove at the bottom to push your cards out the top. They stick out just far enough to easily grab them. 
I would rate the magnet strength as slightly below average. As with most MagSafe wallets, it helps to apply a little bit of pressure to the top of the wallet when you're accessing your cards. Otherwise, the wallet can pop off your phone. It's a habit you get into quickly. 
It also helps to put your thumb on the bottom edge of the wallet when you're placing your card back inside. This keeps it from sliding down from the force required to re-insert the card. 
With a maximum of just 2 cards, the slim Mag is barely a baby bump on your phone. The combination is an easy pocket carry. 
Best Carryability: 5-Way Tie
All of these wallets are excellent pocket carries because of their slim profile. It's easy to forget that any of these MagSafe wallets are even attached to your phone. They slip in an out of tight jeans like there's no tomorrow.
As along as you don't forget your phone, you'll never forget your wallet. Because it's always attached.