First of all, if you're here for a review of the Apple MagSafe wallet, you're going to be disappointed.
This post is about 13 other MagSafe compatible wallets that I consider to be far superior to Apple's version.
I'm not down on Apple. Far from it. If it weren't for the Apple iPhone 12 and 13, there would be no MagSafe. It's just that they missed the mark with the Apple MagSafe wallet.
What the Apple MagSafe wallet is lacking
My biggest complaint is that you have to take the Apple MagSafe wallet off your phone first to use it. The cards don't stick out of the top of the wallet far enough to grab them with your fingers, so you have to take the wallet of your phone and use the thumb slot in the back to push them out.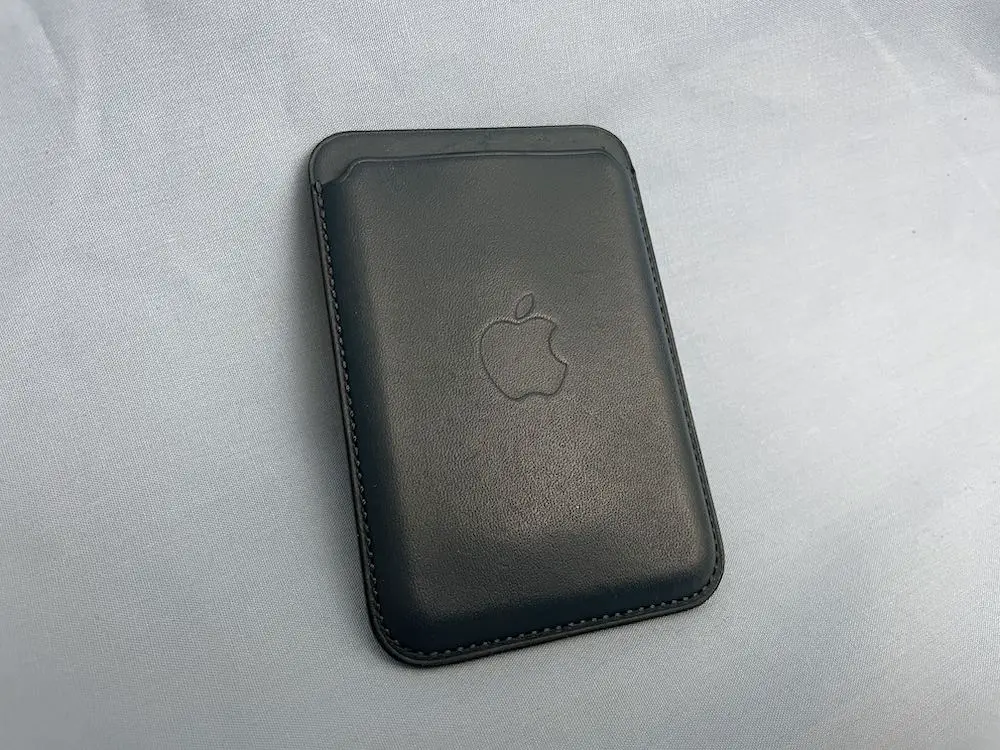 All Apple would have had to do it is to lower the front lip of the wallet by one quarter inch. They could have done that when they released version 2 with the Apple Find My NFC chip. That way, you could have pulled the cards out with the tips of your fingers. But they didn't do that.
However, that's not the only thing that bugs me.
It holds 3 cards, but it's a really tight fit. So tight that it's hard to slide the cards out from the thumb slot on the back. To be fair, this will loosen up over time.
It's also terrible at managing cash, and a receipt could get buried inside until it decomposes. I had to use needle nose pliers more than once to extract receipts and cash. And God forbid you try to stash a guitar pick or house key in there. 
I do like the fact that the new version released in September 2021 has Apple Find My, which no other MagSafe compatible wallet has. That's pretty cool.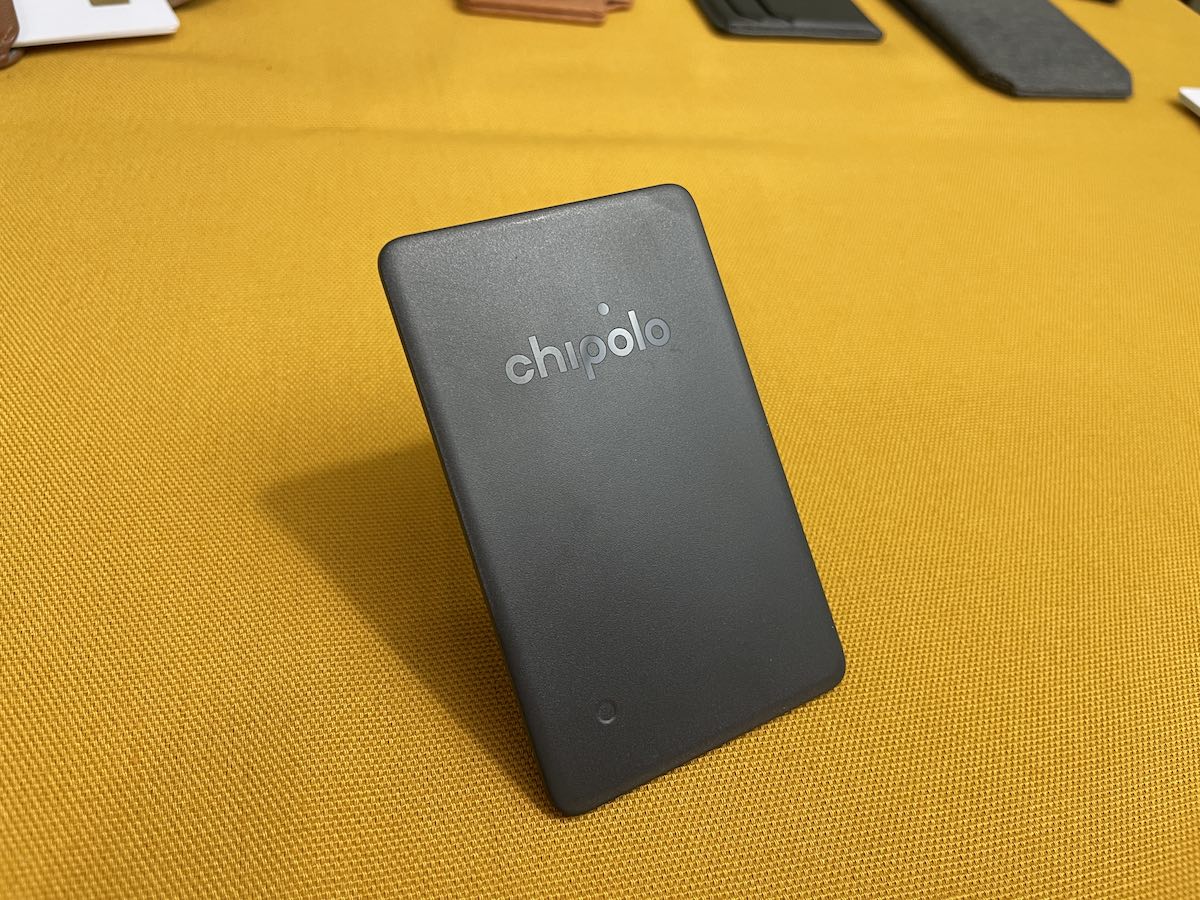 You can also locate other MagSafe compatible wallets with Apple Find My, but to do that, you have to add the new credit-card-sized Chipolo CARD Spot. The drawback with that it is about twice the thickness of a credit card, so for most MagSafe wallets that only have 2-3 card capacity, you'll only have space for left for one card.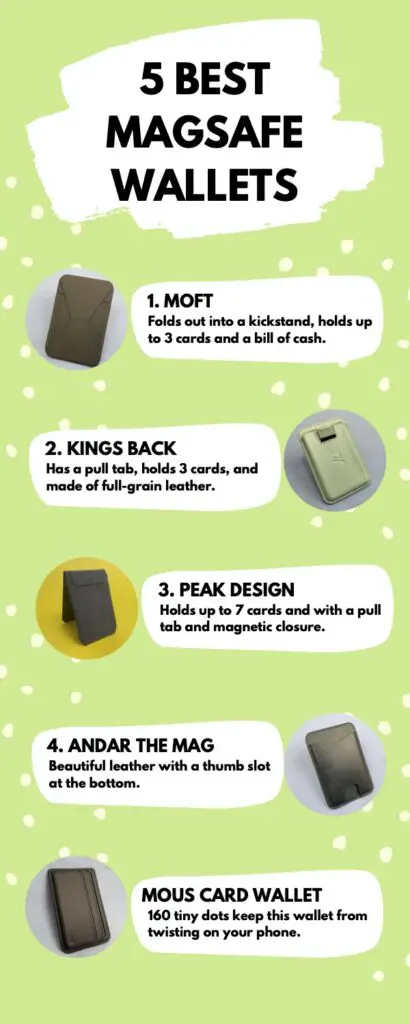 There are much better MagSafe wallet alternatives
As it turns out, Apple isn't the only game in town when it comes to MagSafe wallets. Far from it.
I was able to find 13 MagSafe compatible wallet alternatives made by major manufactures. They all have different attributes, which I'll get to in a minute. But what they all share is that YOU DON'T HAVE TO REMOVE THEM THE WALLET TO USE THEM.
I carried them all (not at the same time, of course) and evaluated them for 
card and cash capacity
ease of use
magnet strength
kickstand functionality,
ability use the wallet as a grip to hold my phone.
And remember, all of these MagSafe wallets are designed for either the iPhone 12 or 13. If you use a case, that case needs to be MagSafe compatible.
In fact, most manufactures say that their MagSafe wallets work better with case than with a naked phone. I have also found this to be true. The case keeps the wallets from moving as much.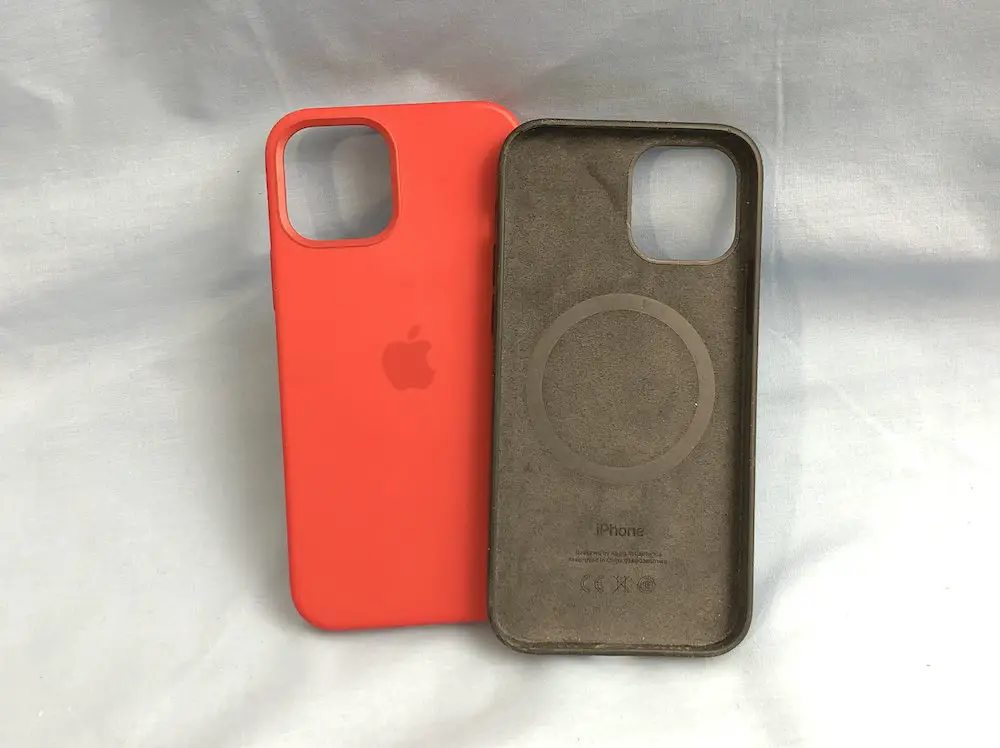 I tested all of these wallets on my iPhone 12 Pro with an Apple MagSafe silicon case. 
Need to carry more than 3 cards?
As you see here, most MagSafe wallets only hold 3 cards. That seems like a negative, but it's really not.  I generally just carry a driver's license, a credit card, and tightly folded $20 bill for cash- only emergencies.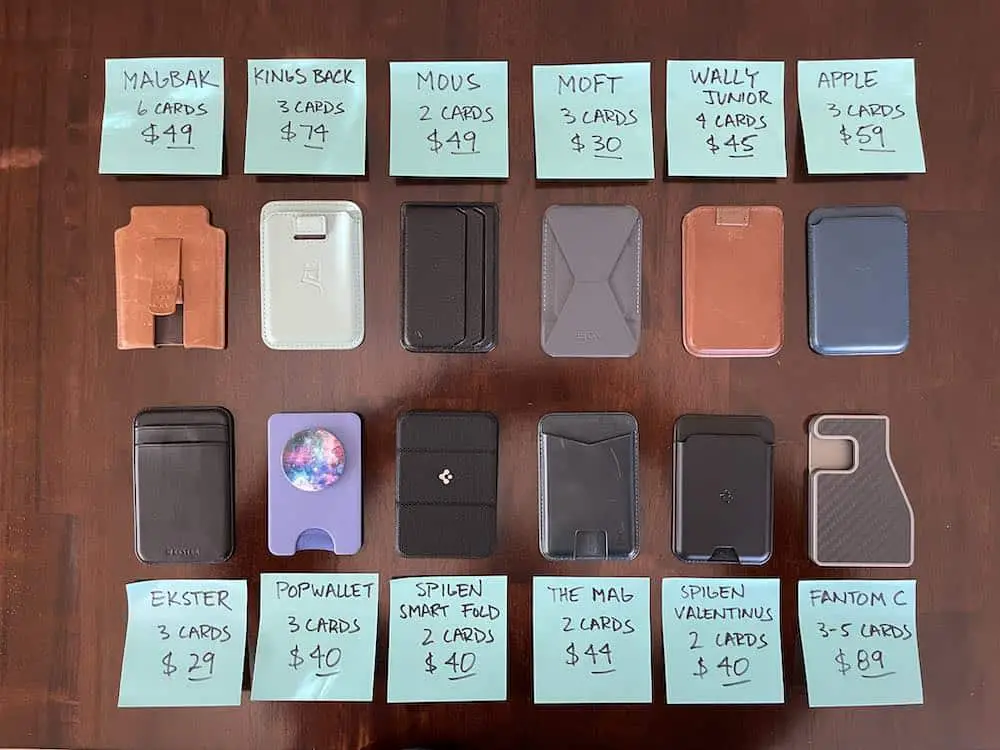 If you use a transit pass, the three-card capacity will accommodate that.  Even though no MagSafe wallet is specifically designed for cash, I can usually cram in a bill of cash, plus a receipt or two. (Though I wouldn't try this with the Apple MagSafe wallet.)
For medical cards, extra credit cards, gym passes, loyalty card, and the like, I generally keep another higher capacity wallet locked up in my car. 
If you absolutely need to carry a bunch of cards, the Peak Design Mobile wallet has the highest card capacity of all with a total of 7 cards.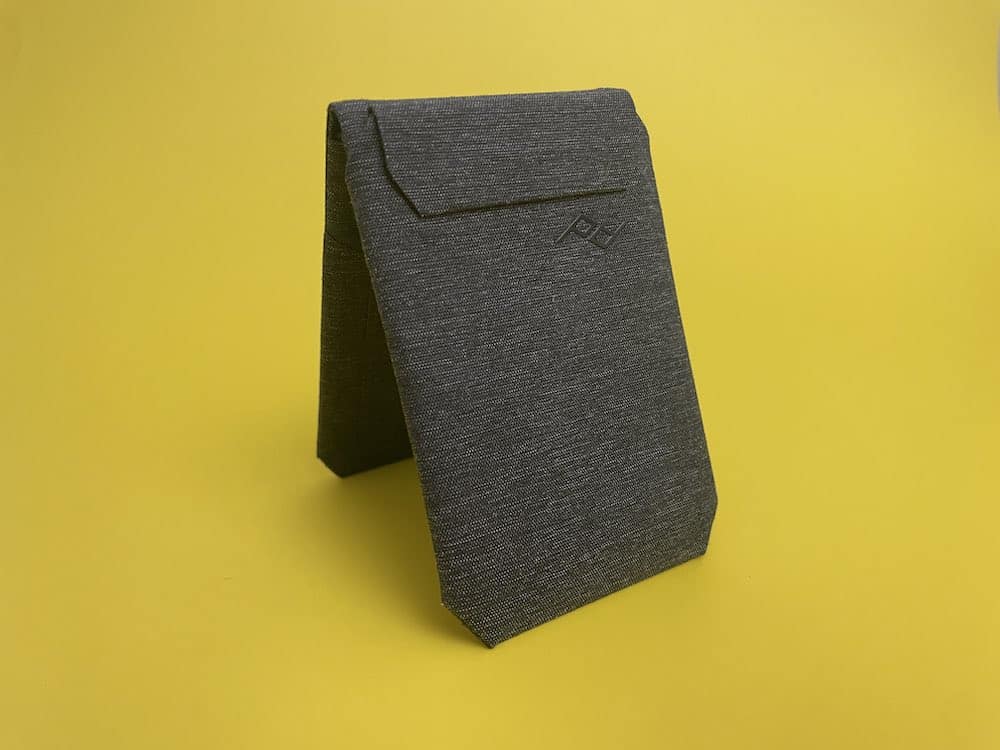 The only other MagSafe wallet that comes close is the MagBak wallet which holds a total of 6 cards and the Fantom C with 5.  With the MagBak, there is a divider that separates them, so you can only access the front 3 without removing the wallet from your phone to reach the other side. 
The Peak Design has a magnetic flap that folds over the cards and doubles as a pull tab for ejecting the cards. Push the cards back in and the flap feels like it closes automatically.
The wallet also folds out into a sturdy kickstand. It's not as versatile as the Moft kickstand (which I'll get to in a minute), but it's a close second.
With 100% recycled canvas fabric covering the entire wallet, the Peak Design Mobile wallet has more than just high capacity.  It exudes some uptown pizzaz and scores style points over just about every MagSafe wallet out there. And that includes wallets made of leather.
Every MagSafe wallet should have a pull tab
My pick for the MagSafe wallet that gives you the best access to your cards is the Peak Design mobile wallet. But stay with me now,  because there are several close seconds. And some of it just comes down to personal preference. 
Check out my full review of the Peak Design Mobile wallet here.
I automatically disqualified the Apple MagSafe wallet because you must remove it from your phone before you can use it. This is a really irritating extra step that you shouldn't have to take to access your cards. (thumbs down). It's terrible at handling cash, too.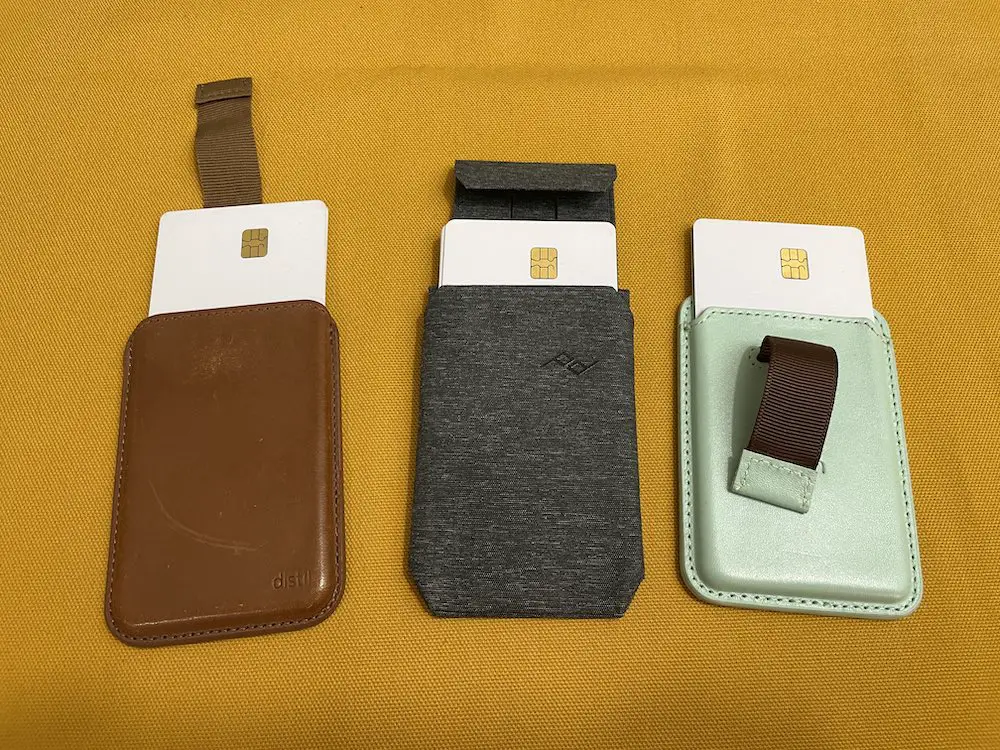 Pull straps are the most efficient way to access cards in just about any wallet. I love being able to eject all of my cards with a quick tug. The Peak Design, Distil Wally Junior, and Kings Loot Kings Back both use this feature.
The Peak Design adds a nice twist by incorporating a magnet into the top of the pull tab so that it snaps over the cards when they are pushed back in. And it's the only one that folds out into an A-frame kickstand.
Some have a thumb slot, too.
Another clunkier way to access your cards is with a thumb slot. Many MagSafe wallets use some version a thumb slot to either push or slide your cards out of the wallet.
I've never been crazy about the slide-type thumb slot because my teflon-coated thumbs always seem to slip on the cards when I try to slide them out. It was easier when cards had raised letters, but all new cards (in the US) have smooth printed account numbers.  
The most useful location of a push-type thumb slot is on the outside of the wallet at the bottom, like Andar The Mag, the Spigen Valentinus, and Spigen Rugged Armour. The Fantom C goes a little off the rails with an efficient thumb slot on the side. 
For some strange reason, all of the wallets with a sliding thumb slot have them on the magnetic side that attaches to your phone, which means you to remove the wallet first to use it. To me, that' a deal breaker.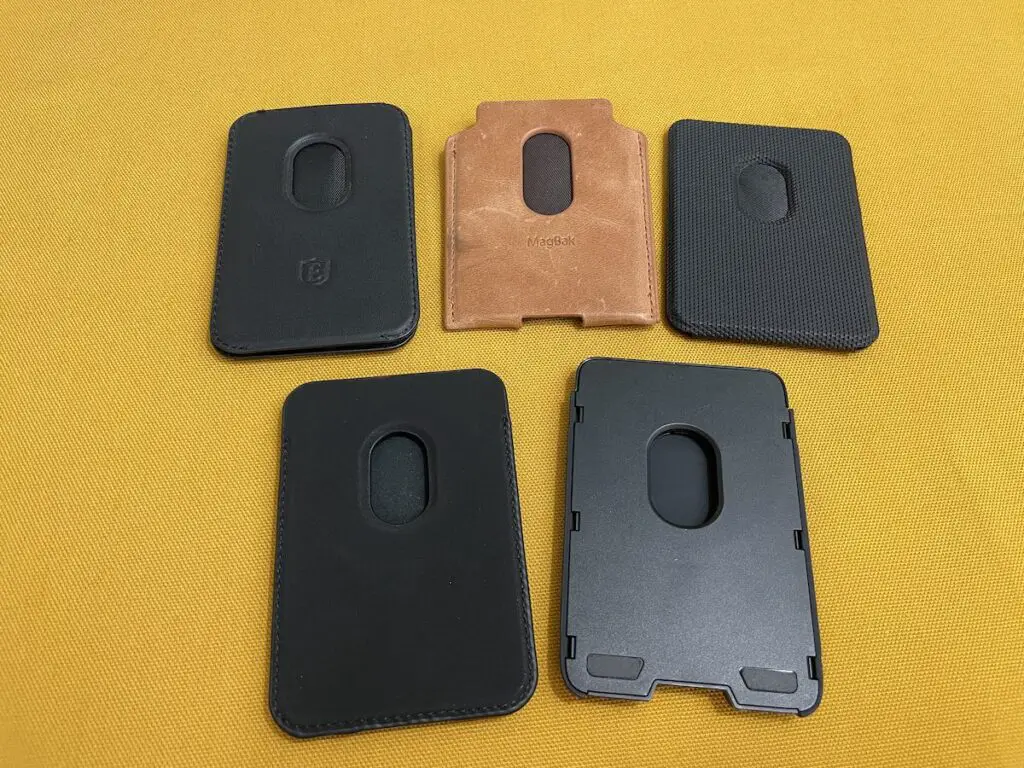 The good news is that (except for the Apple MagSafe wallet) you can access your cards from either side of the wallet.
In general, the longer the thumb slot, the further distance you can push the cards out of the wallet and the easier they are to grab. The thumb slot on the Magbak really shines here.
Then, there's the old-fashion way of manually removing them from slots with your finger and thumb. This includes the Spigen Smart Fold, Mous, Moft, and Ekster MagSafe wallets.
None of these wallets are specifically designed to handle cash, but I have been able to carry at least one useful bill of cash in all of them except the Apple MagSafe wallet.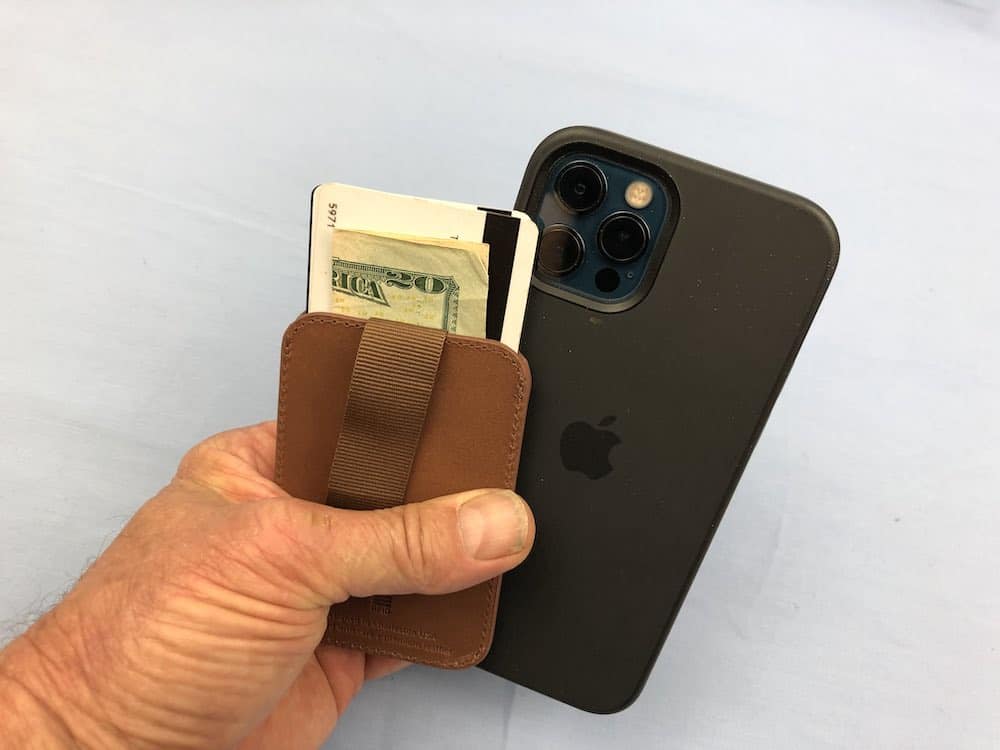 The Wally Junior and Kings Back are made from full-grain leather. The Peak Design has a metal armature that's covered with a durable canvas that feels like it will last. All three have reliable pull straps that eject your cards cleanly and easily.
Of the three, the Peak Design Mobile wallet has the best magnet strength and the highest capacity. If you like leather, though, both Wally Junior and Kings Back are fine choices.
Don't stress over MagSafe magnet strength
I think the preoccupation with the need for powerful magnet strength is really overblown. It just needs to be strong enough to keep your wallet reliably attached to your phone. You won't be picking up any crushed car bodies at the scrap yard. 
But now that I've said that, the strongest magnet of all of these 14 different MagSafe wallets is clearly the PopWallet+ for MagSafe by PopSockets. And that's by a long shot.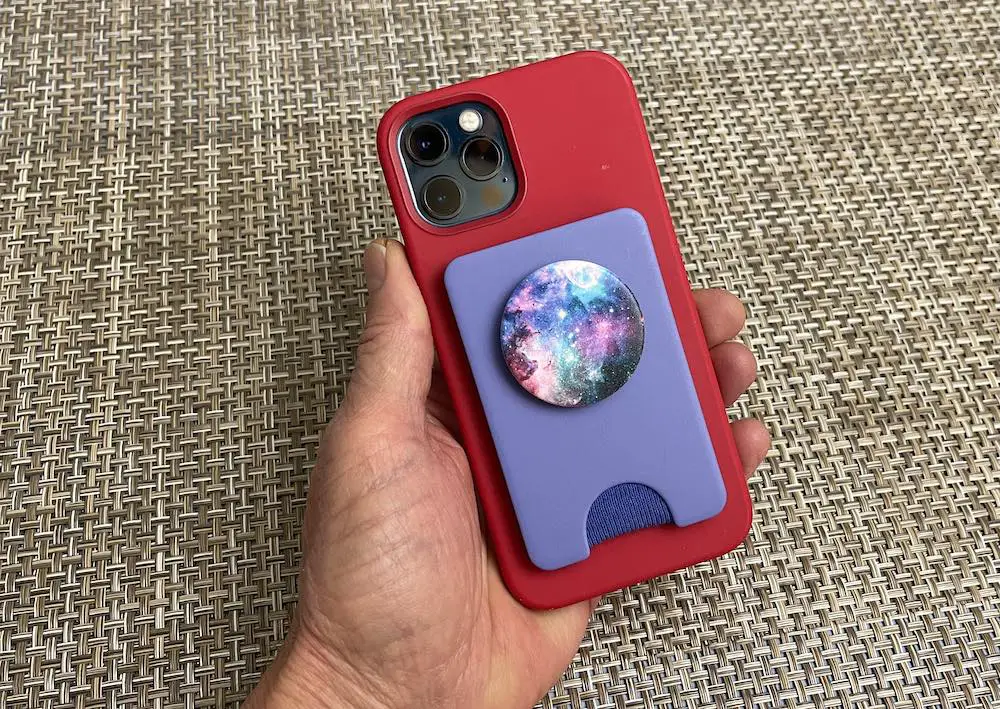 As I mentioned earlier, I tested the magnet strength of all of these MagSafe wallets on my iPhone 12 Pro with an Apple MagSafe silicone case. I replicated 3 actions I thought would most likely cause a wallet to let go of my phone. 
I pried the wallet off from the top, as if I was removing a card.
I slid it up and down, like what might happen when going in and out of your pocket.
I twisted it back and forth, because, well, that just sort of happens sometimes. 
I didn't measure the strength of the magnets with an instrument for two reasons. Number one I don't have an instrument, and number two, the difference between the PopWallet and the next runner up is like night and day. No contest.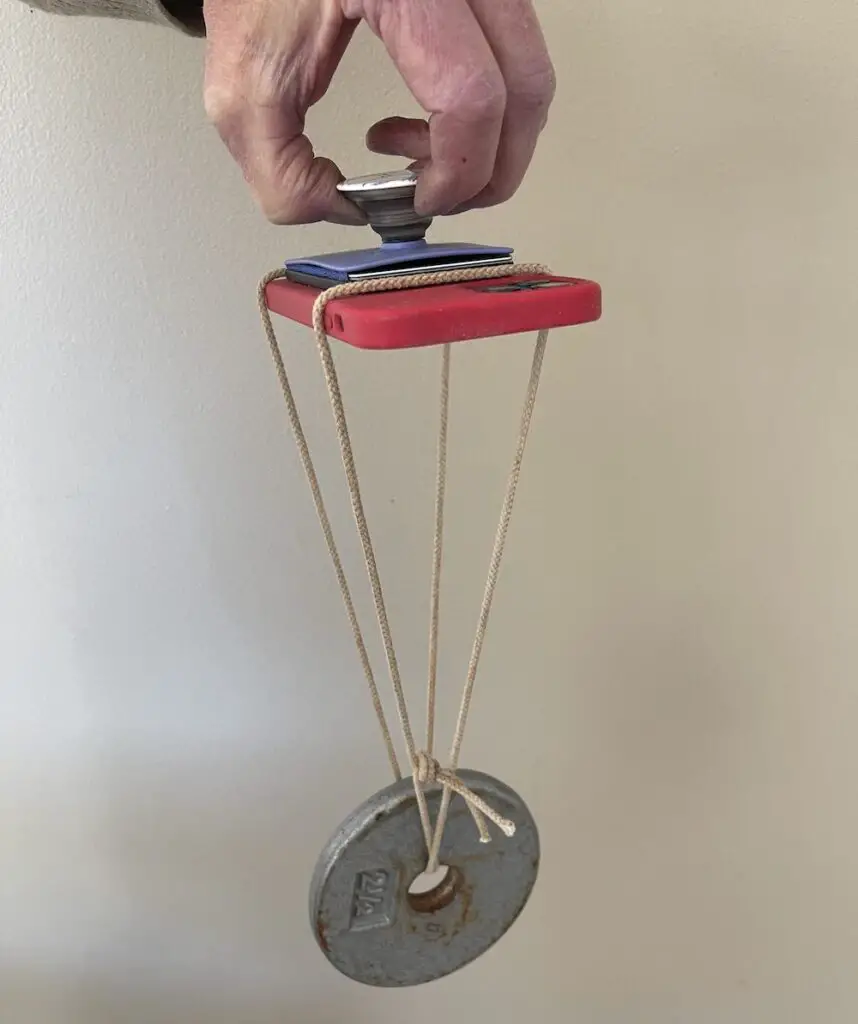 Some of these wallets, like the Magbak, Moft, and Mouse, have proprietary cases that are made to increase the overall magnetic attachment of their wallets. If you really want to maximize a a wallet's magnetic attachment, you might look into buying a matched set. 
But if magnet strength is your main bailiwick, you can't go wrong with the PopSockets PopWallet. 
A kickstand is indispensable
The Moft Snap-on Stand and Wallet has the best kickstand with an innovative design that folds into all three viewing positions.  It forms a sturdy support for all iPhone 12 and 13 models, even the larger and heavier iPhone 12/13 Pro Max.
A MagSafe wallet that also functions as a kickstand is a huge bonus for me. I love the convenience of watching a Youtube video or reading a Kindle book without having to search for something to prop my phone up against.
Ideally, any kickstand can hold your phone in all three viewing positions, including portrait, landscape, and floating. The only wallet that does this flawlessly is the Moft.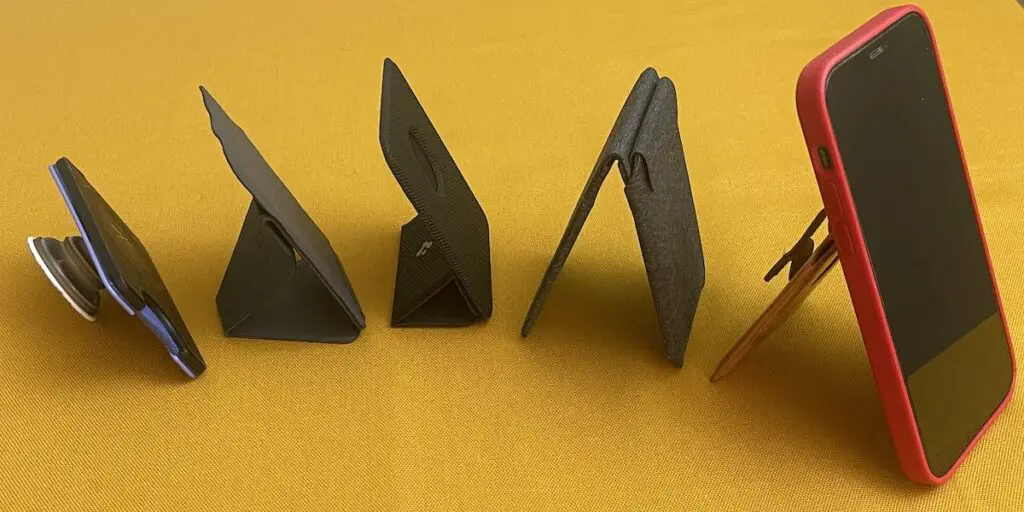 The Peak Design mobile wallet is a close second with a friction hinge that makes a very stable A-frame in portrait position and floating, but too vertical for landscape. 
The Spigen Smart Fold also has a fold out kickstand but it's not as stable and doesn't support the iPhone 12/13 Pro Max at all in portrait mode. The PopSockets PopWallet+ also has a kickstand but it only works in landscape position.
The Magbak also doubles as a kickstand but it needs the proprietary Magbak MagSafe compatible case to work in all positions. 
I'm definitely sticking with the Moft for best kickstand. 
Grip your phone
When you want to hold your iPhone 12 or 13 with your wallet, The PopSocket PopWallet+ is the clearly the best. The magnet inspires confidence when handling your phone. Shake it vigorously upside down and the wallet will eventually let go. But you gotta work at it. 
It also has a very comfortable, ergonomic grip that's designed to fit every size hand. It feels every bit as solid as if it were glued on. 
The PopWallet+ uses the exact same PopTop that pops out and allows you to slip your fingers comfortably behind it. And the magnet is strong enough that it feels safe to use it without bracing your hand and fingers against the phone.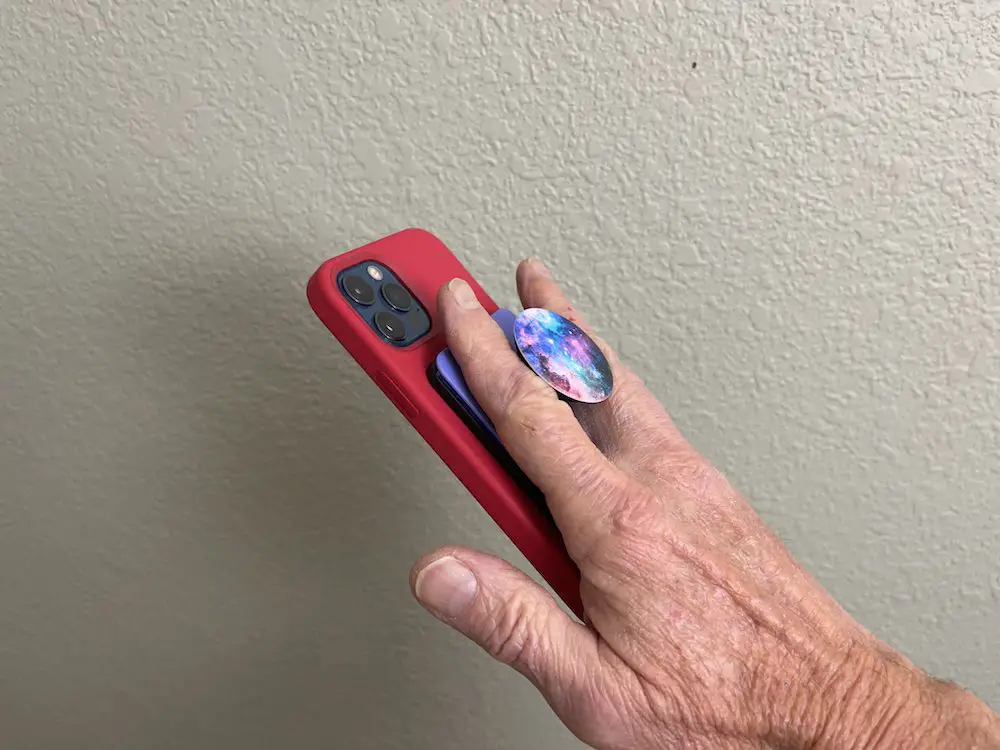 There are just three other MagSafe compatible wallets also give you a way to hang on to your phone without actually grasping it. 
The MagBak has an adjustable leather loop that's just the right size for a single finger to slip through. For fatter fingers, you can remove a stitch to enlarge the loop.
The Moft Snap-on Stand and Wallet has a unique kickstand that you can also use to hold your phone with your hand. I can insert 3 fingers into mine and hold my phone securely.
The Moft magnets aren't the strongest of the bunch (especially if you shake your phone upside down) so I like to place the tips of my fingers on the side of my case just to be sure. If you purchase the Moft MagSafe compatible case, the magnet strength increases substantially. 
To sum all of this up, my perennial all-around favorite is the Moft MagSafe compatible wallet. it's also one of the least expensive at $30. It will hold 3 cards, a $20, and a couple of receipts. The kickstand is flawless in all 3 viewing positions and I can even unfold it to use as a phone grip.