Okay, Mother's Day is fast approaching. Lucky for you, I know the best Mom wallet you can buy for dear old Mom. 
It's the Vaultskin Notting Hill and it's my wife's favorite wallet. She carries it everyday, so I have the inside track on why this wallet is the perfect wallet for mom.
Vaultskin Notting Hill Review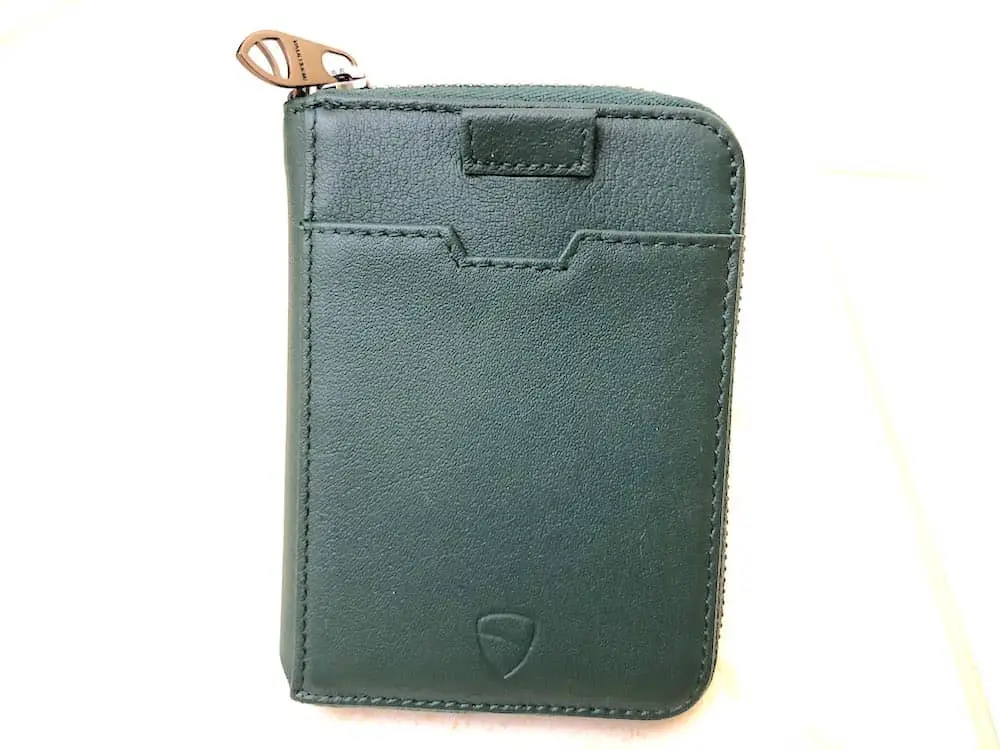 Here are 5 reasons why your mom, wife, (or even your mother-in-law) will love this wallet.
Quality leather and craftsmanship
Vaultskin is an under-the-radar luxury wallet brand that combines excellent leather with an affordable price. Designed in Britain, it uses supple, top-grain Italian leather with 4 different exterior color choices.
The leather has a great fragrance, too. That's generally a good sign of high-quality leather.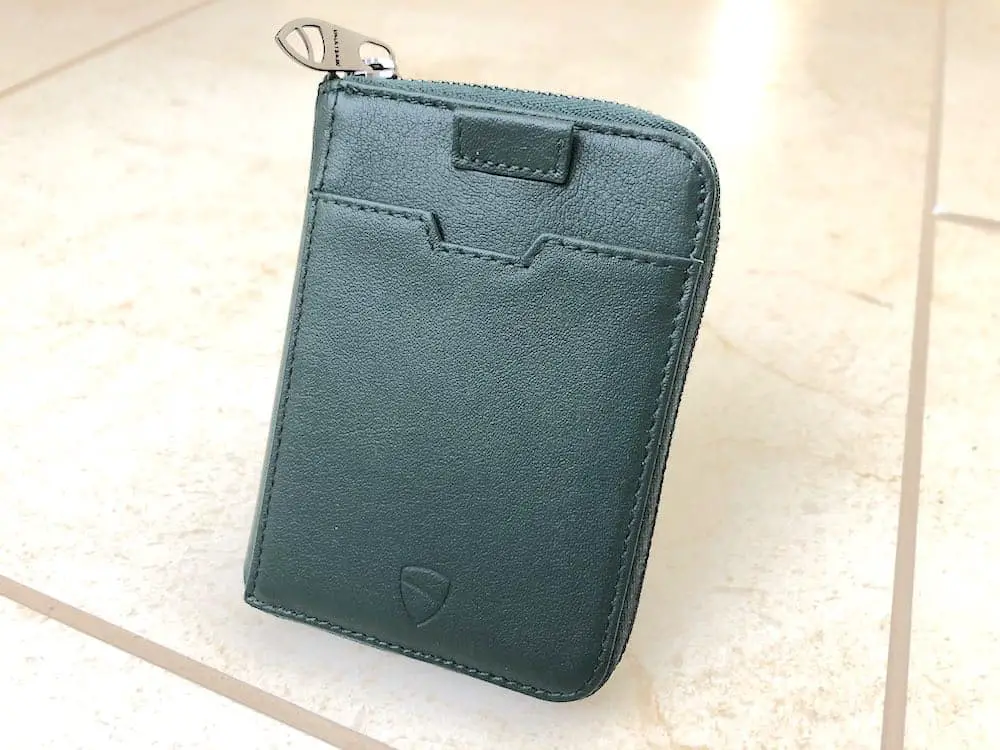 On the inside, there are contrasting colors of leather that give it a really classy look. The stitching is precise all the way around, inside and out. My wife has been carrying hers for over a year and it is showing no signs of wear. 
Excellent internal and external organization 
The Vaultskin Notting Hill is a zip-around wallet but it's designed so that most of your most-used cards (like transit pass or building access card) are easily accessible from the outside without having to open the wallet. 
My wife's favorite feature is the retractable pull tab that lets you eject up to 4 cards with an easy. tug. There are also 3 other external slots for carrying at least 3 other cards.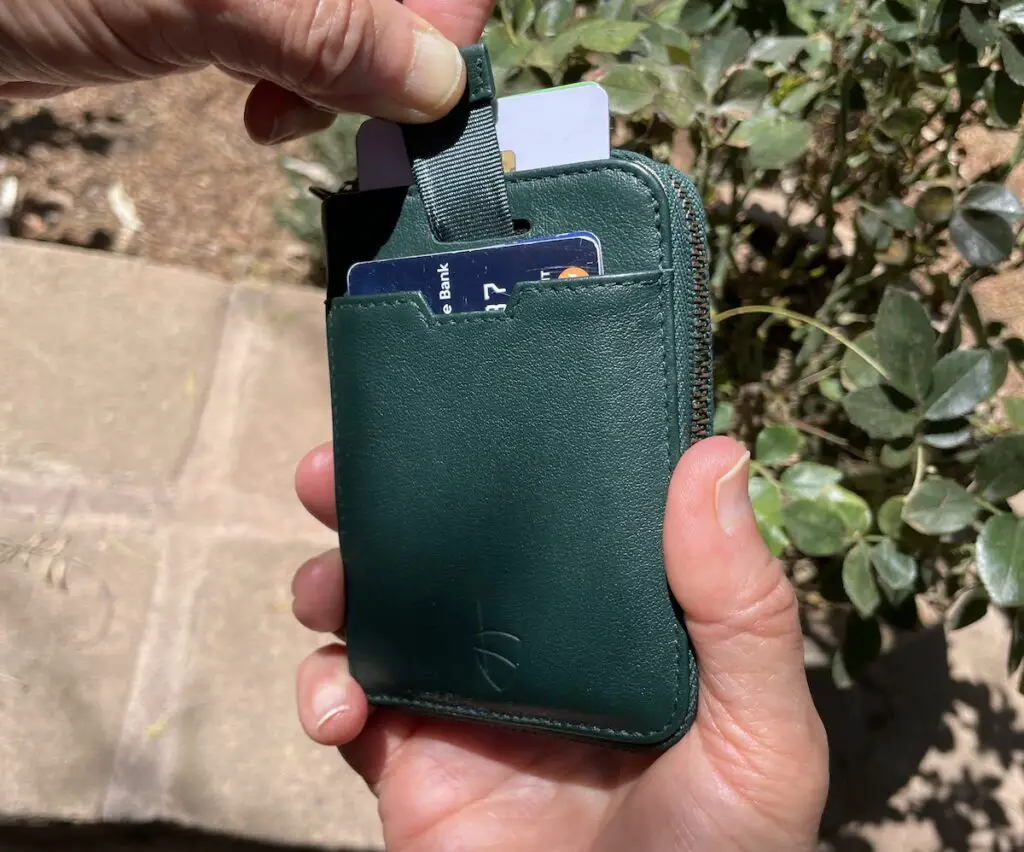 On the inside there is snap-up coin pocket, a leather strap for holding cash, and another slot for…whatever. There is even an external hook for keys that can be zipped inside.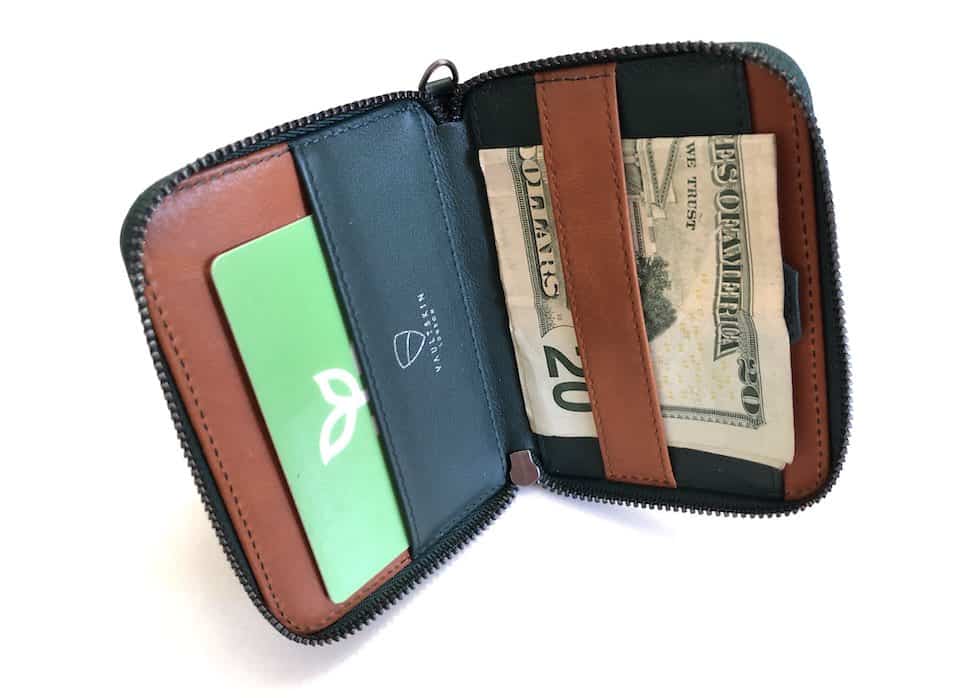 Overall, the design is clean and efficient. Some serious thought went into squeezing so much function and utility into this wallet without sacrificing its good looks. 
Not too big, not too small
With a capacity of 10 cards, you'd think that the Vaultskin Notting Hill was a massive accordion-type wallet. In reality, it's about the same dimensions as standard bifold wallet, but it's a little thicker.
The Notting Hill is not designed or marketed to be just a women's wallet. But (as a man), I find that it's just a little too thick for my front pocket. Plus, most guys probably shy away from zippered wallets. (Or am I an outlier?)
Most women will probably carry it in their purse where the added thickness of the wallet really isn't an issue. It's really fine-looking wallet, too. So when this stylish wallet makes it out into the open air, it will undoubtedly impress onlookers in the check-out line.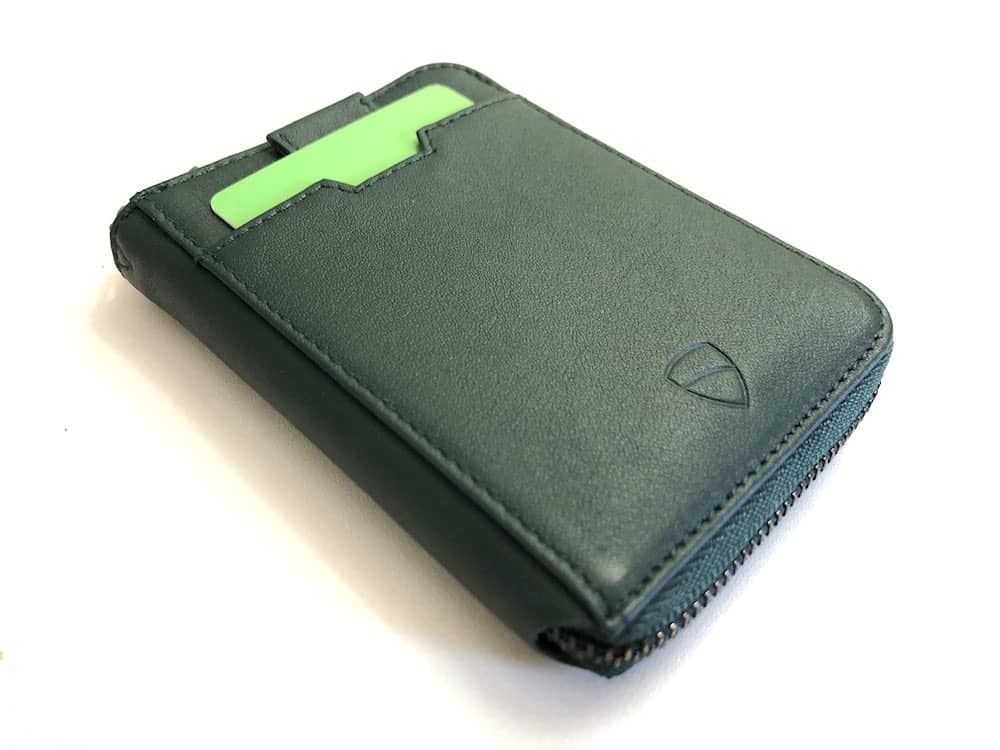 It's a Mom wallet through and through. It holds just the right amount of stuff without her having to carry something that looks more like an overblown clutch.
Zips up tight to protect everything inside
If your Mom is anything like my wife, keeping everything secure is a top priority. It's all about protecting the nest. And the zip around design keeps everything inside nice and secure. 
It's a quality YKK zipper, so it's meant to last. Of course, as I mentioned, Mom can still store a bunch of her most used cards on the outside with having to mess with the zipper every time she needs something.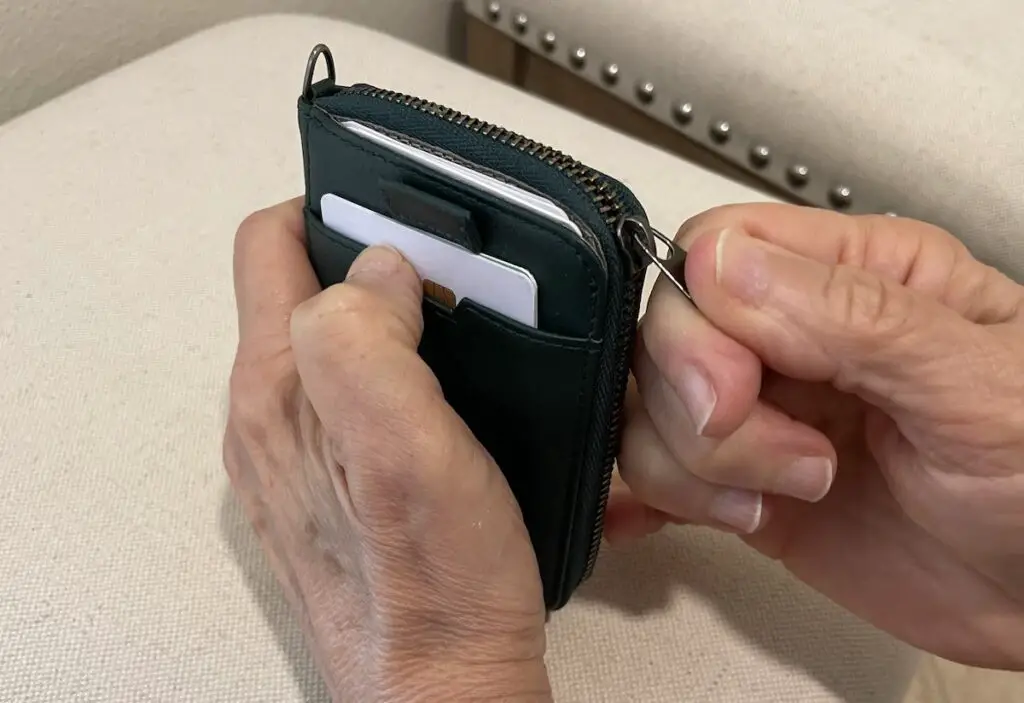 But for cash, coins, or a few safety pins, there is plenty of storage inside, all protected from falling out by the durable zipper.
RFID protection
To be honest, RFID scanning by criminals is much ado about nothing. But to some people, this is important feature. 
That's why all internal and external pockets are lined with RFID-blocking material. The drawback, of course, is that you have to remove your cards to scan them.
But with the pull tab on the inside, it's easy to quickly access a gym pass or tap-and-go credit card with an effortless tug on the retractable strap. 
If you're looking for a compact and elegant zippered wallet with excellent internal and external organization,  the Notting Hill is hard to beat. 
Alternatives to the Vaultskin Notting Hill
Coach Signature Minny Skinny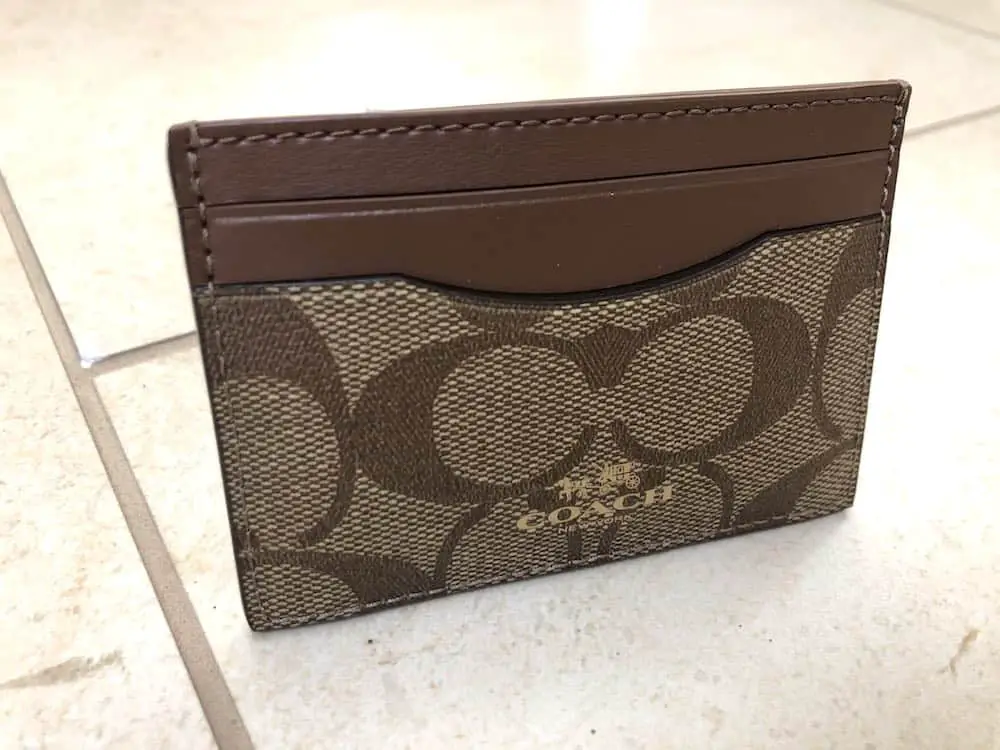 The Coach name is well known for quality. Their signature canvas that's all wrapped up in a simple minimalist package that's slim ad skinny. It carries a handful of cards and some cash, perfect for staying slim while holding just the necessities.
The Signature PVC Mini ID Skinny wallet stands out as one of the best inexpensive coach wallets. It has beautiful contrasting color scheme, quality construction, slim design, and a 9 card capacity with a little room for cash.
Kate Spade Jeanne card holder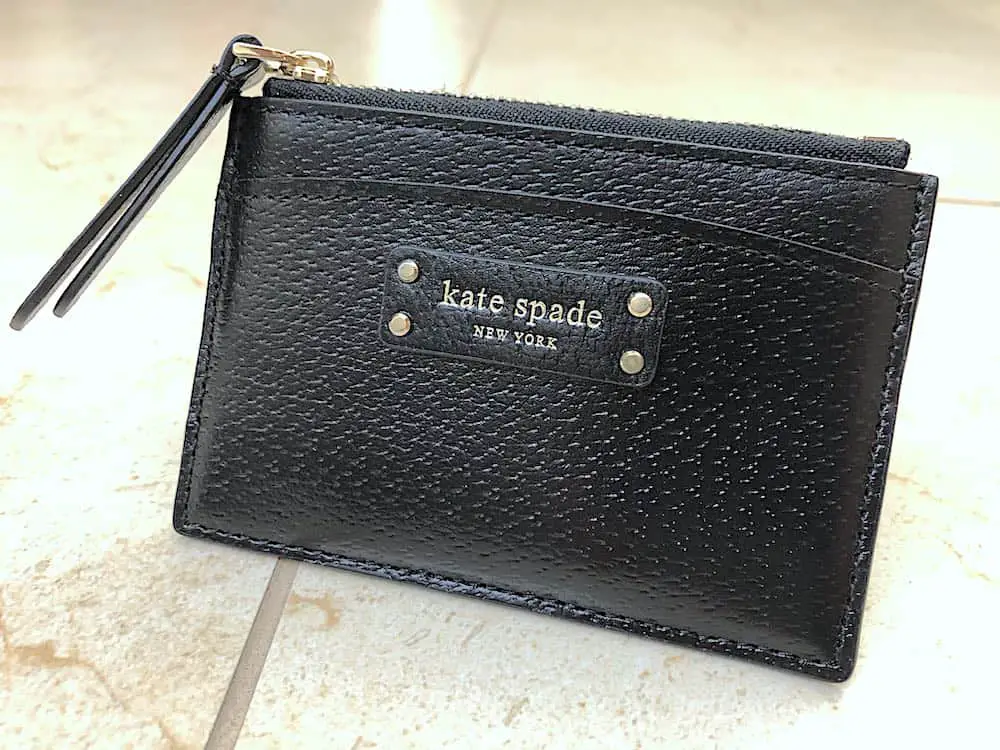 Kate Spade has some of the trendiest wallets, and other accessories around. Jeanne is made with high-quality richly grained leather and gold hardware. The price tag is less expensive than you might think, particularly for a wallet with such a sophisticated look.
I personally love the zipper that keeps everything where it's supposed to be. It has 3 exterior slots for quick access to cards. You could really think of this as a Coach coin purse with the roomy center pocket secured with a zipper and leather strap for opening.
Here are a few more women's wallet ideas