First off, let me say that I have tested all of these wallets myself. Yes, I own them all.
I love the Kate Spade Jeanne for its zipper top but I like the Vaultskin Notting Hill for the same reason. The Ekster Senate and Secrid Cardprotector are both excellent card ejector wallets if you want a wallet that pops out your cards.
The Herschel Charlie and Coach Mini Skinny have a similar basic design, but, you know, Coach has the name. Of course, many think of the Ridge wallet as a man's wallet, but Ridge has come up with more feminine designs to lure us into their fold.
Some of these aren't RFID-blocking wallets, so I included the Vaultskin RFID jamming card at the end.
It might be a tough choice, but you're sure to find a card holder wallet on this list that you'll love to love.
1. Coach Signature Mini Skinny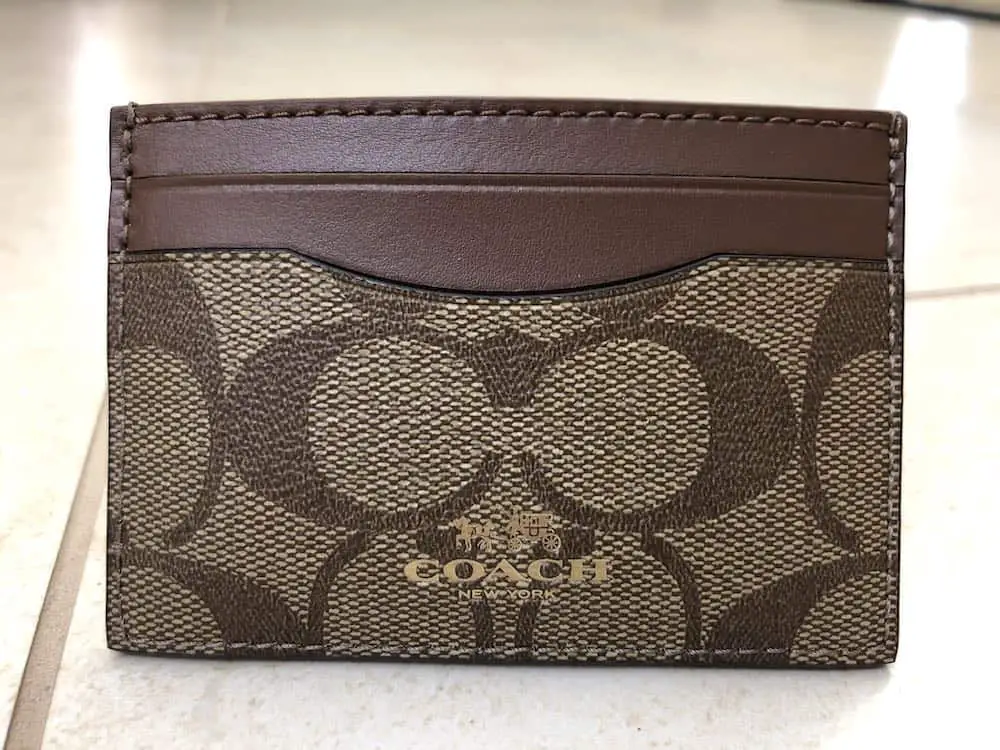 KEY FEATURES
Coated leather and canvas construction
2 card pockets on each side
zip closure on center pocket
SPECIFICATIONS
Brand: Coach
Model: Mini Skinny ID case
Dimensions: 4.25″ x 3″
Made in Thailand
Handsome and basic, this is my top pick. It has the Coach name and quality, with it's signature canvas that's all wrapped up in a simple minimalist package. It carries a handful of cards and some cash, perfect for staying slim while holding just the necessities.
Perhaps best known for their bags, it turns out that Coach also has some amazing wallets for women. Among them, the Signature PVC Mini ID Skinny wallet stands out as one of the best thanks to its beautiful contrasting color scheme, quality construction, slim design, and good card-carrying capacity.
Holding up to 9 cards plus cash, you'll always have everything you need right at hand and look great all the while. It even comes with a handy ID window, so you don't even have to fumble around when presenting your ID. Who doesn't love a little extra convenience?
2. Kate Spade Jeanne Card Holder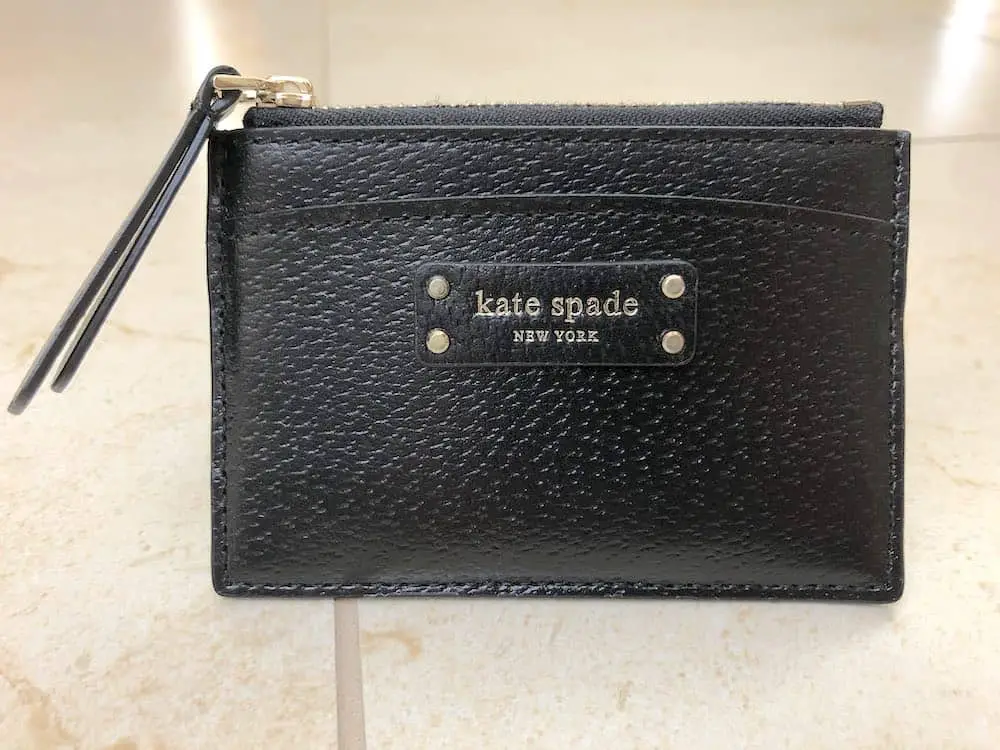 KEY FEATURES
Zip closure with gold-toned hardware
Fabric lining
Front slim pocket and 2 back card slots
SPECIFICATIONS
Brand: Kate Spade
Model: New York Jeanne
Dimensions: 4.5″ x 3″
Made in Cambodia
Kate Spade has some of the trendiest, most beautiful purses, wallets, and other accessories around, and the Jeanne Small Zip Card Holder is no exception. Jeanne is made with high-quality richly grained leather and gold hardware, for a sophisticated and luxurious look that feels infinitely more expensive than its reasonable price tag.
The aesthetics really are everything, but the function of this tiny wallet is also highly impressive. It's durable, easy to carry whether in a pocket or in a bag, and can handle around six or seven cards despite its small size. I personally love the zipper that keeps everything where it's supposed to be.
3. Ekster Senate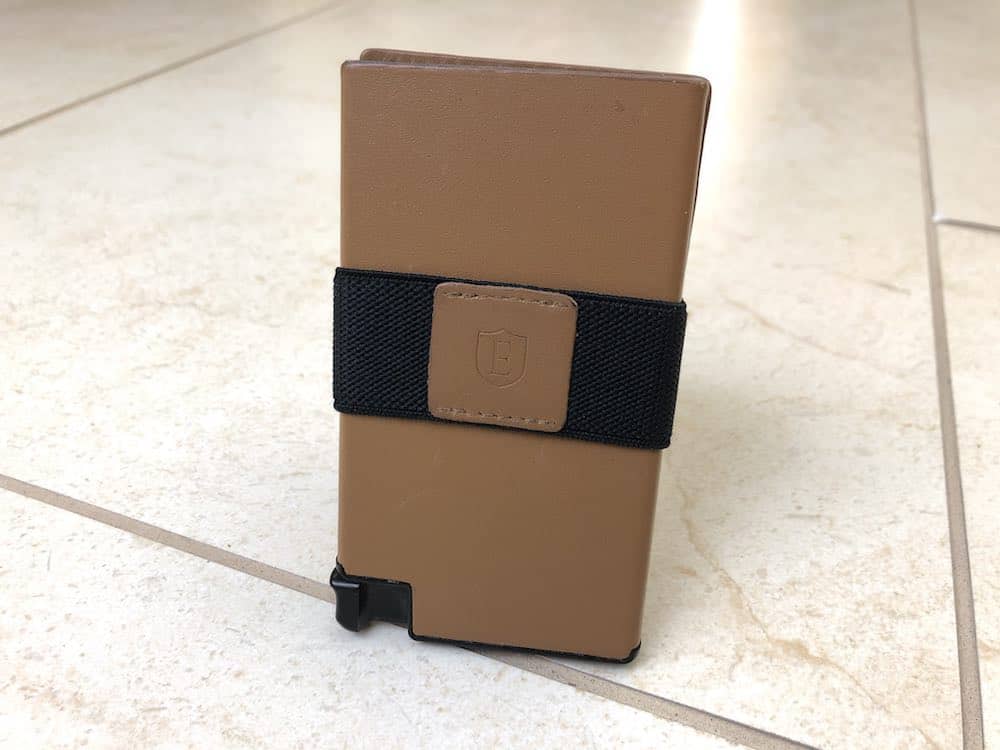 KEY FEATURES
Quick card access button
Removable cash strap
Premium top-grain leather
RFID-blocking
SPECIFICATIONS
Brand: Ekster
Model: Senate
4.1″ x 2.3″
Made in China
While I (obviously) love a good wallet, none of them are perfect. There seems to always be some sticking point that disallows it – whether it's lackluster aesthetics, useability issues, bad craftsmanship, etcetera. However, Ekster's Senate is pretty damn close to perfect.
It holds 7-10 cards with ease, is RFID-blocking to protect from skimming, and it comes with quick card access so you're not the woman struggling to get her card out at the Ulta counter. Senate is also made to last and comes in 7 neutral tones to easily match your wardrobe and other accessories.
4. Secrid Cardprotector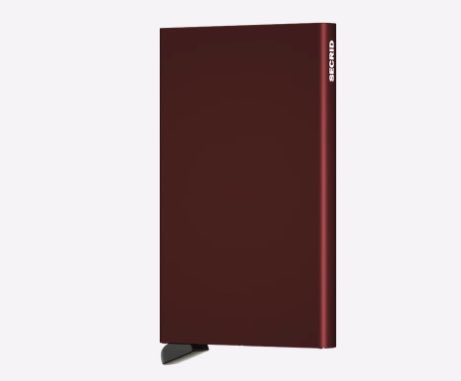 KEY FEATURES
Patented card slide mechanism
Slim and lightweight at only 48g
Aluminum case
SPECIFICATIONS
Brand: Secrid
Model: Cardprotector
Dimensions: 4″ x 2.5″
Made in Holland
Are you a fan of the Ekster Senate but want something even simpler? If so, the Secrid cardprotector should be at the very top of your list. This pop-up style wallet essentially consists of little more than a smooth aluminum casing, but it works extremely well.
Up to six flat cards or four embossed can be slid in, completely safe from any possible scratching, bending, breaking, or wireless theft. And, just like the Senate before it, getting your cards out is a cinch. Just use the patented mechanism and all your cards pop up for quick selection. It's a joy to use and one that honestly never gets old.
5. Herschel Charlie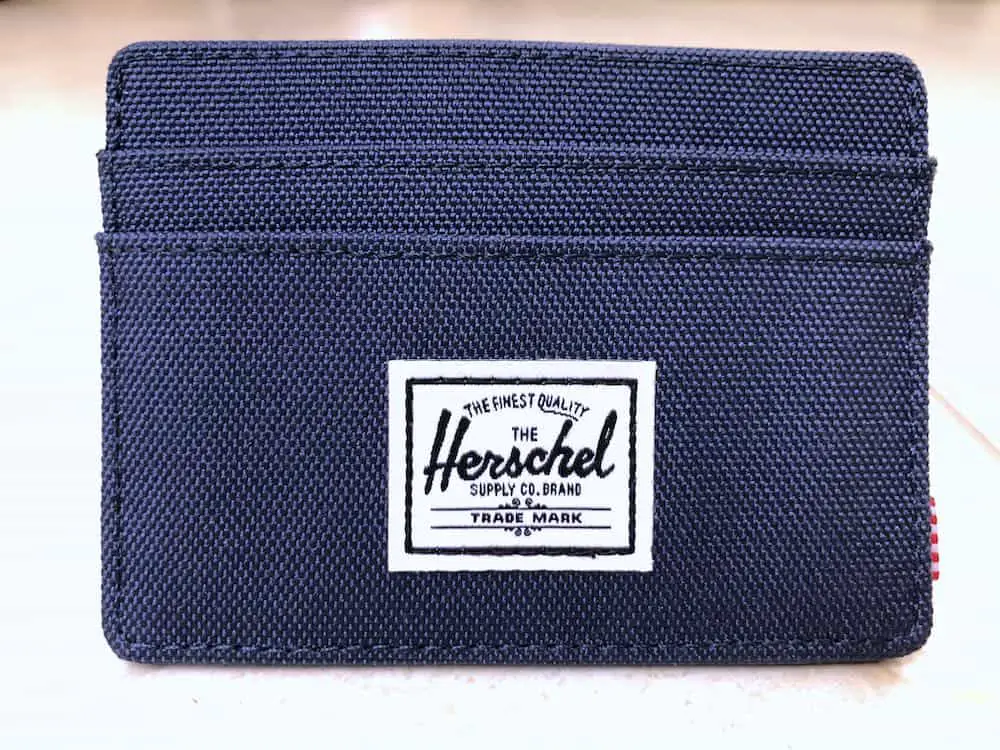 KEY FEATURES
Striped fabric and RFID-blocking liner
Up to 10 card capacity
Top-access storage sleeve
SPECIFICATIONS
Brand: Herschel
Model: Charlie
Dimensions: 4″ x 3″
Made in China
Opting for cute, casual, and fun, the Herschel Charlie is a compact wallet that doesn't take itself too seriously. The design of it is incredibly straightforward, made entirely out of tough canvas with a couple card slots and an RFID-blocking storage sleeve that can hold either cash or cards just as well.
The minimalist card holder design gets the job done, though, carrying eight to ten cards without all the extra bulk. However, the real highlight of Charlie is its wide array of colorways. With over 60 pretty colors and bold patterns available, you can easily find an EDC that has as much personality as you do.
6. Vaultskin "Notting Hill"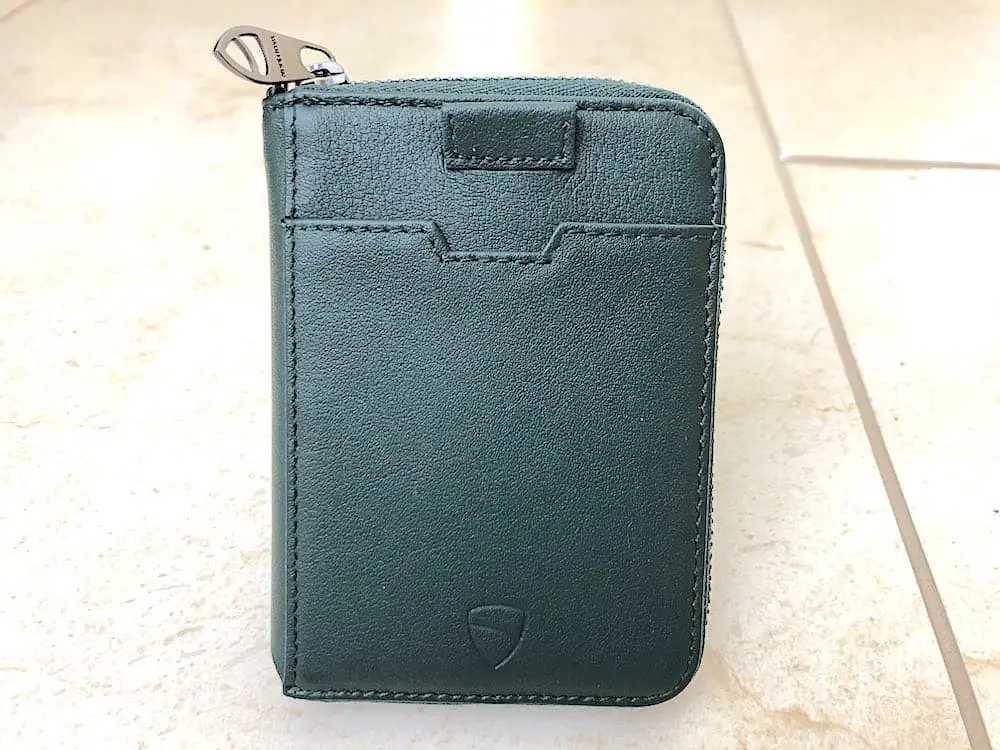 KEY FEATURES
Leather pull-up strap
Zip-around closure
Multi-use inner compartment
SPECIFICATIONS
Brand: Vaultskin
Model: Notting Hill
Dimensions: 4.13″ x 3.15″
Made in China
Where other wallets on this list primarily focus on carrying only cards plus a little cash (and maybe a receipt or two if you really feel compelled), the Vaultskin Notting Hill zip-around wallet was crafted to carry all the small items everything else leaves behind.
It boasts enough space for 10 cards and the built-in cash strap allows you to carry a couple bills. But it also makes use of a multiple-purpose compartment, so you can securely keep a key, SIM card, a few coins, or the like with you at all times – ideal for the woman on the go. 
7. Ridge Tropical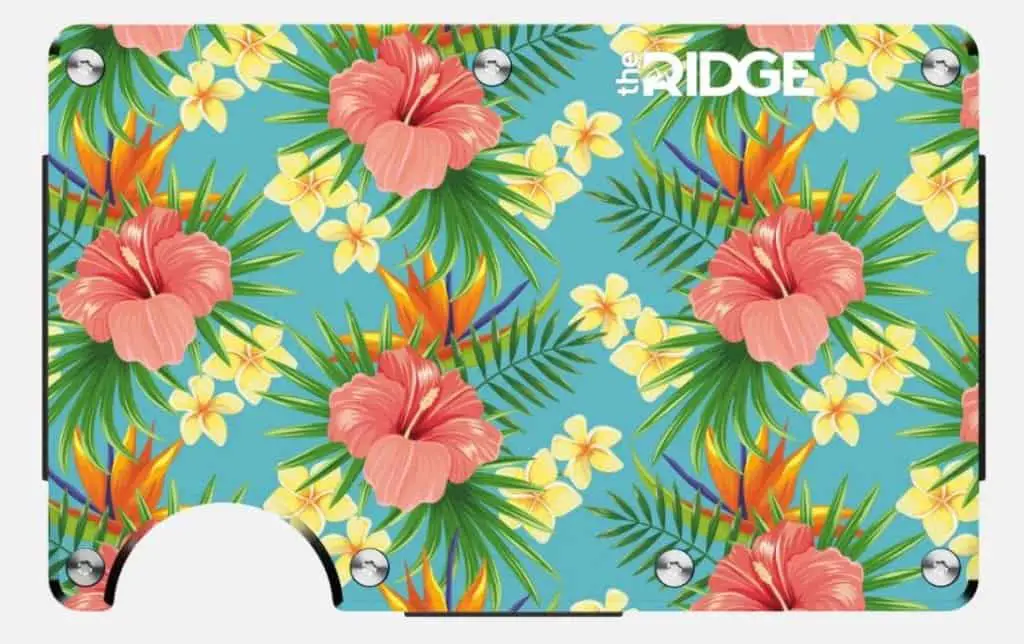 KEY FEATURES
Thick, replaceable elastic strap
Lifetime warranty
Sturdy aluminum body
SPECIFICATIONS
Brand: Ridge
Model: Tropical
Dimensions: 3.4″ x 2.1″
Made in China
Out of all the wallets on the market today, the Ridge wallet is probably the most famous– and with good reason. It's cutting-edge, modern, and ridiculously slim at only 6 mm thick. Even some of the smallest pockets can carry this cardholder.
Combine this thin profile with the fact it can hold up to 12 cards, and you've got an ideal super tiny wallet. This is especially true when you consider that it's made of 6061-T6 aluminum, which basically means it'll survive anything.
Don't be fooled by its heavy-duty rep, though. Its sleek shape and gorgeous tropical flower pattern make it a beautiful fashion statement as well.
8. Vaultcard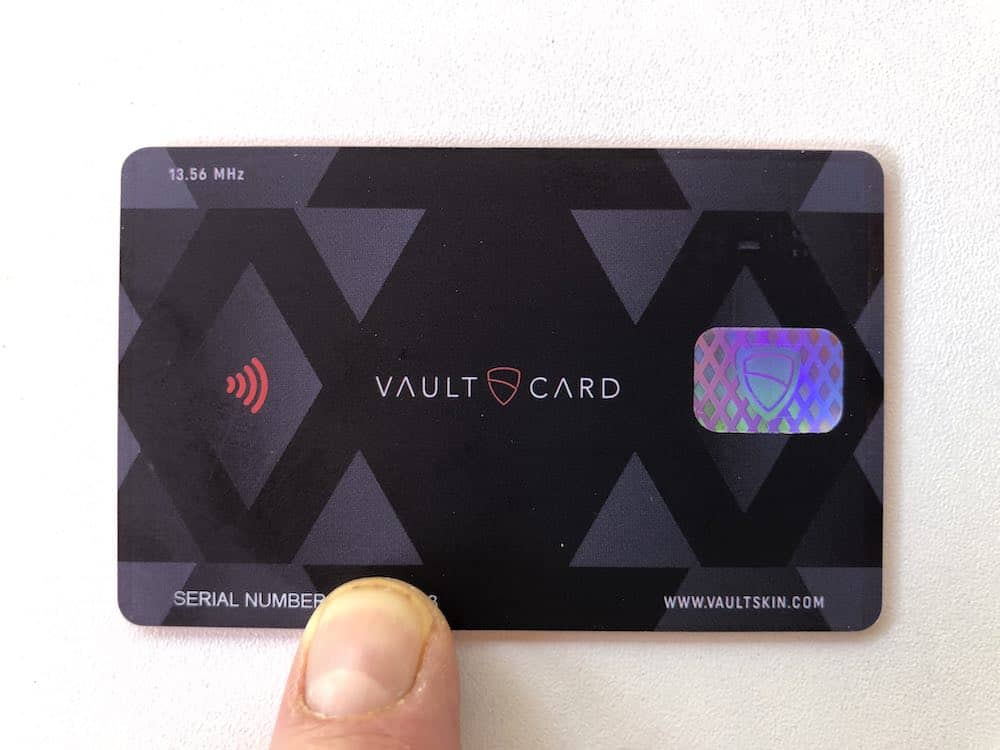 KEY FEATURES
1.1mm thickness
No battery required
Auto-adjusting power
SPECIFICATIONS
Brand: Vaultskin
Model: Vaultcard
Dimensions: 2.1″ x 3.4″
The Vaultcard is a bit of an outlier on this list, but I just had to include it. This thing isn't actually a wallet. What it does is transform any wallet you've got into an RFID-blocking wallet. Lost? I don't blame you. The Vaultcard is a card-sized tool that you can slip inside a cardholder to block electromagnetic signals and prevent RFID theft.
It does this by using sophisticated jamming signals that self-regulate to automatically ensure you're protected from even the most powerful RFID skimming devices. Basically, it's very cool and an absolute must-have for anyone worried about wireless theft.