Each of these wallets is full of cutting-edge technology to help keep your wallet from walking away. But if the worst-case scenario happens and your wallet disappears, this same technology will help you find it. 
Some of these wallets have integrated wallet tracking that is built into their design. Others use off-the-shelf trackers from Tile, Chipolo, and Ekster to convert any conventional wallets into a really smart one.
It's important to know that all these wallet trackers are all Bluetooth trackers that connect with your phone to provide GPS tracking ability.
REMEMBER: It's your phone that has GPS, not the tracker.
These are the trackers that make your wallet unlosable
| | | | | |
| --- | --- | --- | --- | --- |
| | | | | |
| | | | | |
| | | | | |
| | | | | |
| | | | | |
| | | | | |
| | | | | |
| | | | | |
| | | | | |
| | | | | |
| | | | | |
| | | | | |
| | | | | |
| | | | | |
| | | | | |
| | | | | |
| | | | | |
The Best: Ekster Senate
This is my top pick for a trackable wallet. It's slim, stylish, and unlosable.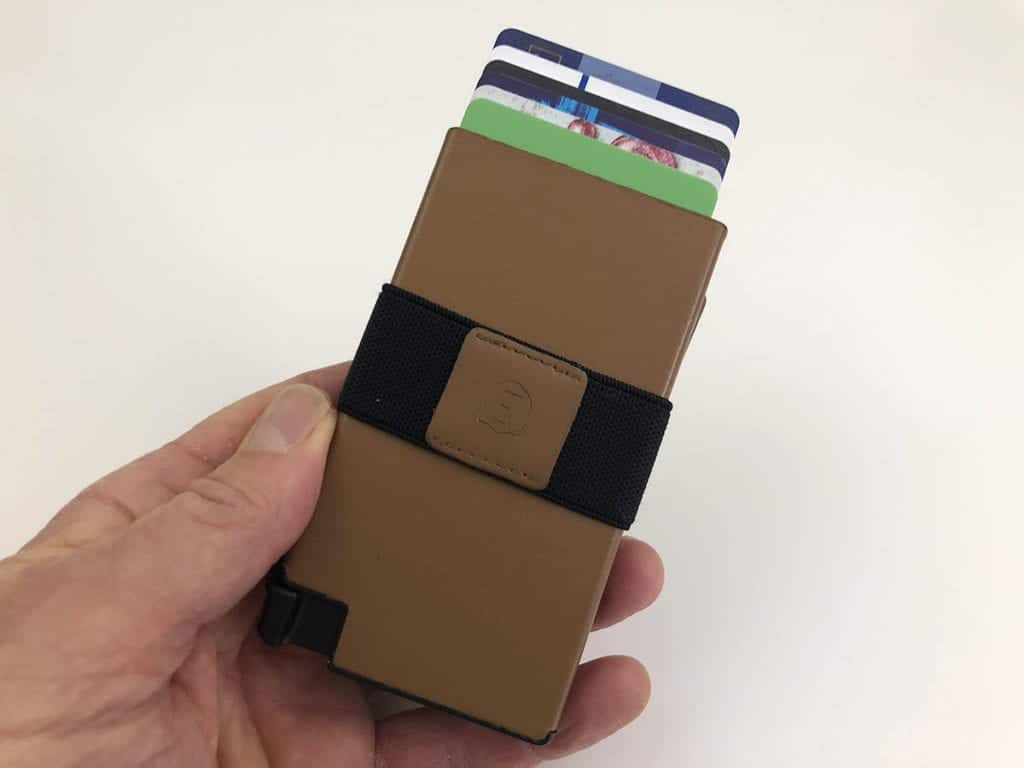 When I'm not testing out other wallets, the Ekster Senate is my personal everyday carry. It has the same features as the Ekster Parliament, but it's slimmer and leaner.
You'll quickly become addicted to using the quick access system that ejects up to 6 cards into a fan with the push of a button. The cards are nestled in a rigid RFID-protected aluminum case that won't allow any of your cards to bend or break.
With the high-quality bull leather, it feels good to hold and slips easily in and out of my front pocket. It's small enough to sit comfortably next to–not on top of– my cell phone. (Down with the pocket bulge!)
An external elastic money band holds a couple of spare $20s or miscellaneous store receipts. Best of all, it has a dedicated pocket for the super-thin Ekster solar tracking card that makes this wallet hard to lose.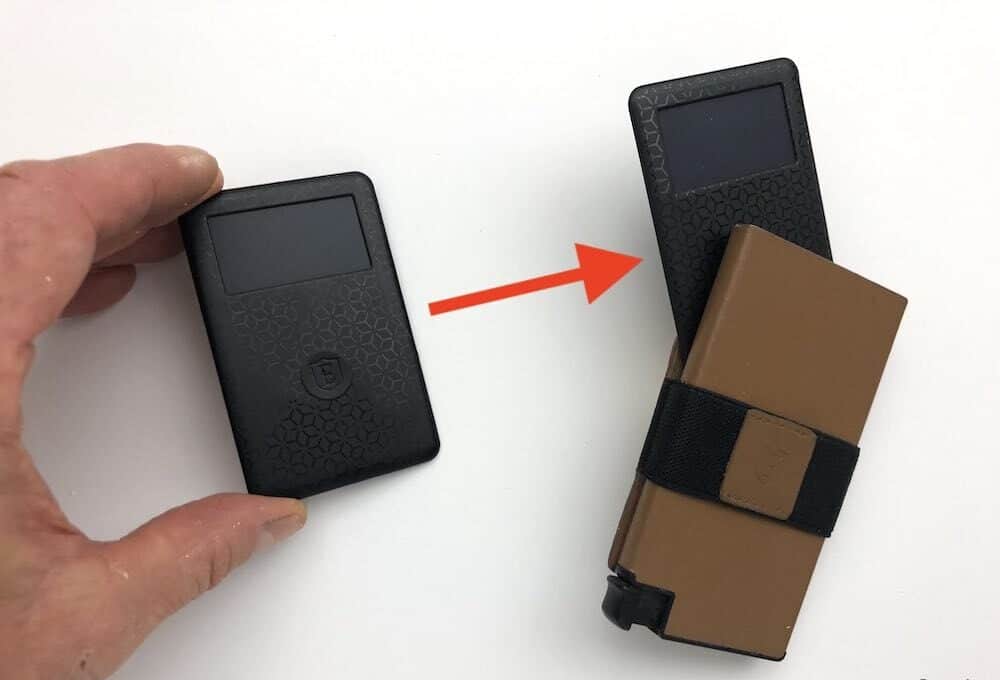 Read my full review of Ekster wallets here.
JUST THE FACTS:
Trackability: The Ekster Solar tracking card is powered by the Chipolo worldwide network. It connects to your smartphone via Bluetooth and the Chipolo app. Play a tone to find your wallet under a seat cushion. Or use the crowd GPS tracking feature Community Search to locate it anywhere on the planet.
Design

: Ekster uses

top grain European bull leather that is silky smooth with a two-toned finish. It stores up to 6 cards in an RFID-protected aluminum case that is wrapped in fine leather. The wallet is slim, minimalist, and unabashedly good looking.
Unique features: The nifty quick card access system fans out up to 6 cards with the push of a button. The solar tracking card makes the Ekster Senate trackable and nearly impossible to lose.
Performance: I have carried this wallet more than any other and I really love it. The ejection mechanism is consistent and reliable. (I once dropped my Ekster Senate in a bowl of hummus. After a lot of swearing and a good cleaning, it still works.)
Second Best: Ekster Parliament
It's a minimalist wallet that becomes a trackable GPS wallet with the Ekster solar tracking card.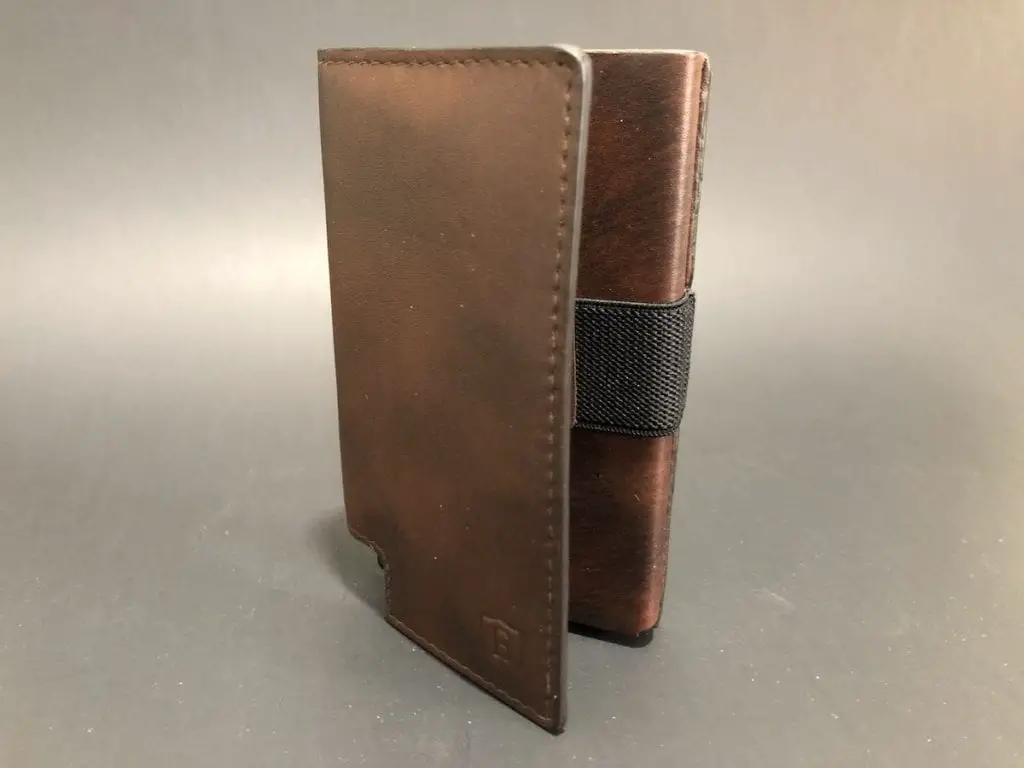 The Ekster Parliament has a luxurious feel to it while being supremely practical. It doesn't just store up to 6 cards in a rigid RFID-protected aluminum enclosure. It also ejects them into a staggered fan with a quick card access mechanism.
With the push of a button, you can quickly choose the card you want for a latte at Starbucks or to pay at your local gas pump.
Ekster uses leather from around the world (the wallet is made in the Netherlands) that is sourced from LWG gold-rated tanneries. The leather has a smooth rich feel in your hand.
Just like the Ekster Senate, it becomes a GPS wallet with the optional Ekster solar tracking card powered by Chipolo. With the Chipolo app you can ring your lost wallet when it's within Bluetooth range (about 200 feet), or find it anywhere in the world with Community Search. 
JUST THE FACTS:
Trackability: With the Ekster solar tracking card and the Chipolo app, use your GPS enabled smartphone to find your wallet anywhere in the world. With just 3 hours of light, the solar card will stay powered up for 2 months.
Design: This minimalist wallet ejects your cards in a staggered fan with the push of a button. It is made from luxurious European bull leather that slides smoothly in and out of your front pocket.
Unique features: It holds up to 6 cards in an RFID protected aluminum case. The quick access card slider system lets you to instantly choose the card you need. The Ekster solar tracker card is voice-activated, too, with Amazon Alexa, Google Assistant, or Siri.
Performance: Most owners are super happy with this wallet. A few owners complained that it is too small. (Ha! They obviously aren't dedicated minimalists.)
Read my full review of Ekster smart wallets here.
Bluetooth wallet trackers
You can make any wallet unlosable with a Bluetooth tracking card.
There are two Bluetooth tracking cards that run on the Chipolo network that will turn any old "dumb" wallet into a GPS tracking wallet.
Chipolo CARD. It's just 2.12 mm thick and smaller than the size of a credit card. It has a non-rechargeable battery with one year of battery life. It's the perfect size to place in any wallet.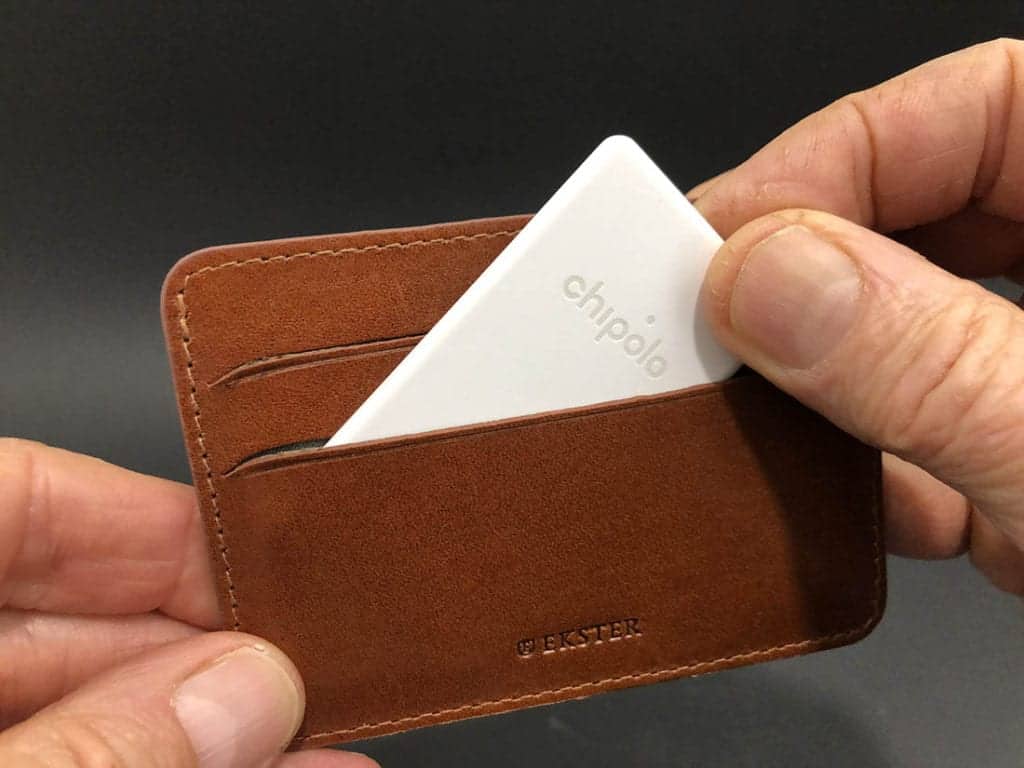 Ekster solar tracking card. This card is marketed by Ekster wallets but uses Chipolo technology. It is exactly the same size as a credit card and about twice as thick. 3 hours of light charge the card for 2 months.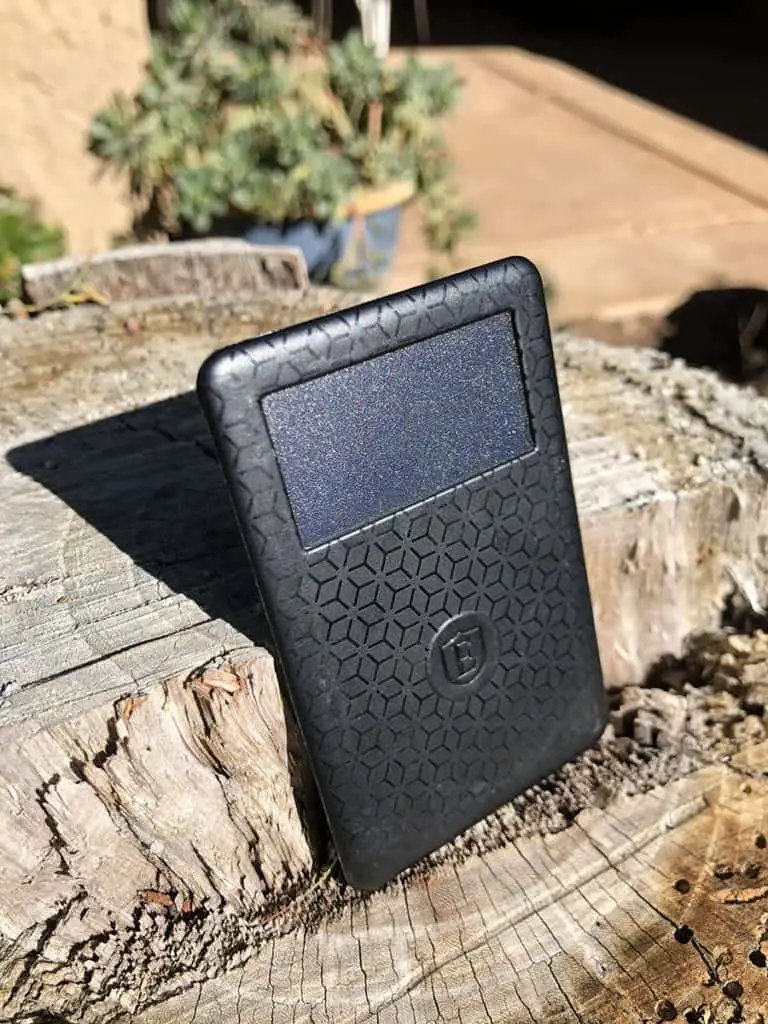 Both of these cards connect with your smartphone with Bluetooth. With the Chipolo app, you can find your wallet in your house or anywhere in the world with their crowd GPS feature Community Search.
They both have out of range alerts that notify if you've walked away from your wallet. Both of them have the option of voice control, too, with Google Assistant, Amazon Alexa, and Siri ready to help you find your wallet.
JUST THE FACTS:
Trackability: Both of these cards use the worldwide Chipolo network to help you find your lost wallet. A map on your smartphone shows your wallet's last known location. Community Search will help you locate your lost wallet anywhere in the world.
Design: These tracking cards are designed to fit into just about any wallet, even the smallest minimalist wallets. They are no larger than a credit card and ultra-thin.
Unique features: They can be voice-activated with Amazon Alexa, Google Assistant, or Siri. Use your smartphone to find any wallet with the card installed or double press the card to find your phone. Both cards will take remote selfies, too.
Performance: Both of these trackers get generally good reviews. There are occasional unexplained failures when I try to ring my phone from the solar tracker.
The battery in the Chipolo CARD only lasts a year. When it runs out, Chipolo will sell you a replacement for half price. The Ekster solar-powered card is about $20 more, but can hypothetically last forever. Chipolo h
Read my full review of Chipolo vs Tile trackers here.
Tile Slim wallet tracker
The Tile Slim was redesigned in 2020 to feature a non-replaceable battery that lasts an amazing 3 years.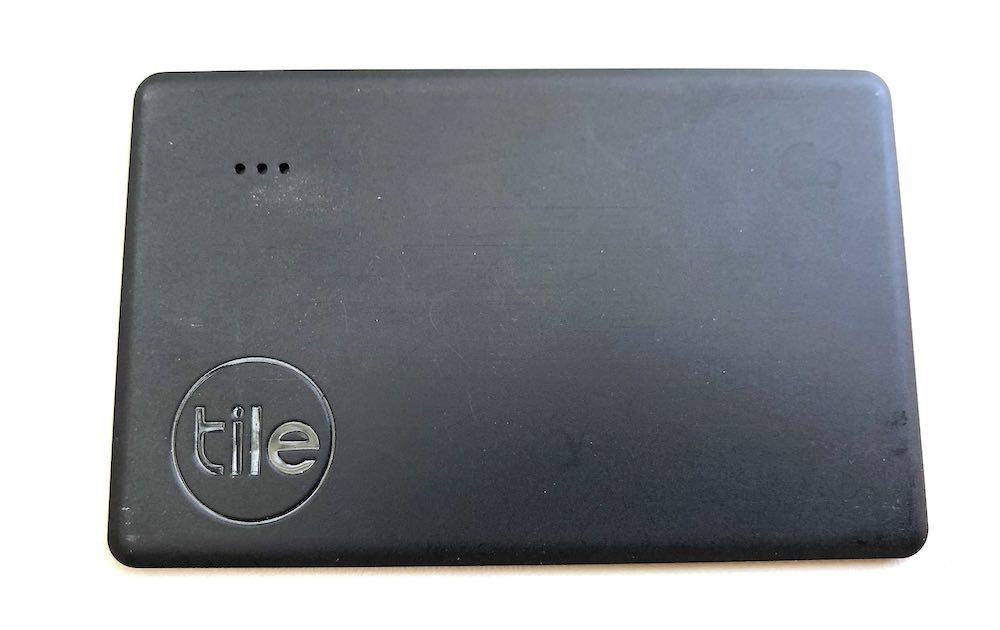 The older version of the Tile slim was a little over 2 inches square with a non-replaceable battery that only lasted a year.  The newest version for 2020 is now the size of a credit card and a little thinner than the previous version.
Best of all, it has a whopping 3-year battery life. That's 2 years longer than the Chipolo CARD for about the same price. The new size is perfect for any wallet.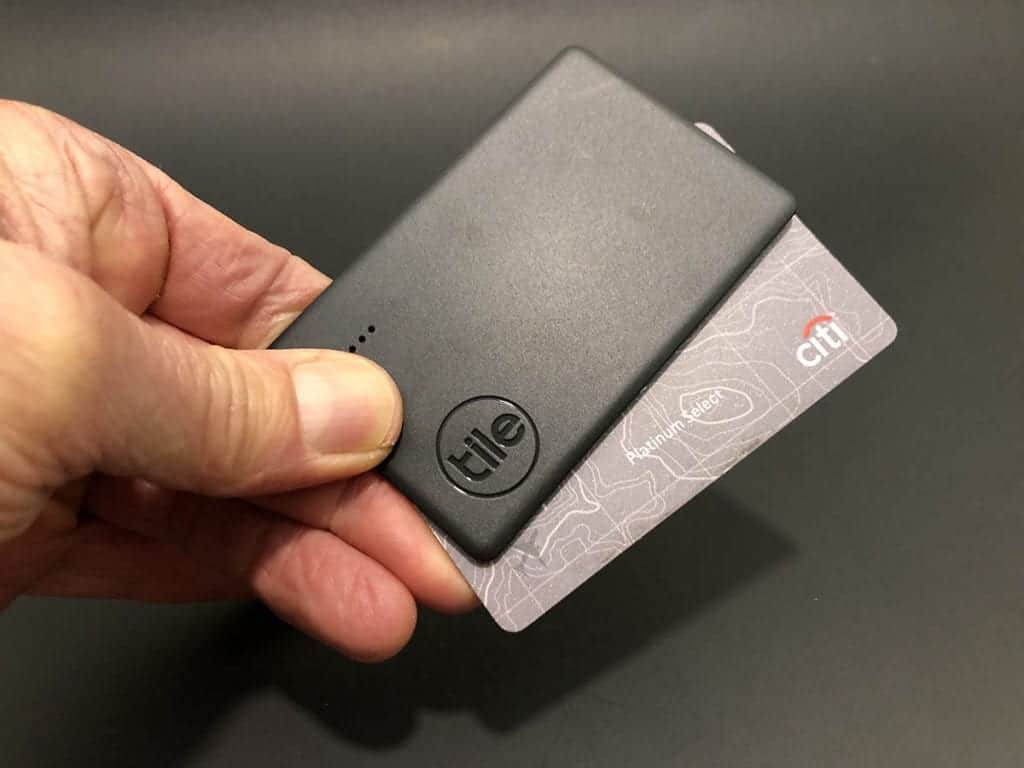 The Tile Slim has a 200 feet Bluetooth range when paired with your smartphone. Tap the Find button in the Tile app and the card will play a sound if it's within that range. The app always shows the last known location of your card on a map on your phone.
The Tile Community Search feature uses everyone who has the Tile app installed to anonymously help find your wallet. 
JUST THE FACTS:
Trackability: Like the Chipolo, the Tile is a Bluetooth tracking card that pairs with your smartphone that has GPS capabilities. With the Tile Community Search network, you can locate your wallet just about anywhere on planet earth.
Design: The new design for 2020 is the size of a credit card and only about twice the thickness. It's now solid black in color and will fit into any wallet that you want to make smarter.
Unique features: The 3-year battery life is a real game-changer. With a Tile Premium subscription, you can access 30 days of location history. Use voice activation with Amazona Alexa and Google Assistant.
Performance: Tile is the grand old dame of trackable technology and their network is the largest. Over 80% of owner reviews the give Tile tracking devices 5-star ratings. Time will tell whether the 3-year battery life lives up to the hype.
Read my full review of Chipolo vs Tile trackers here.
New Tile Slim for 2022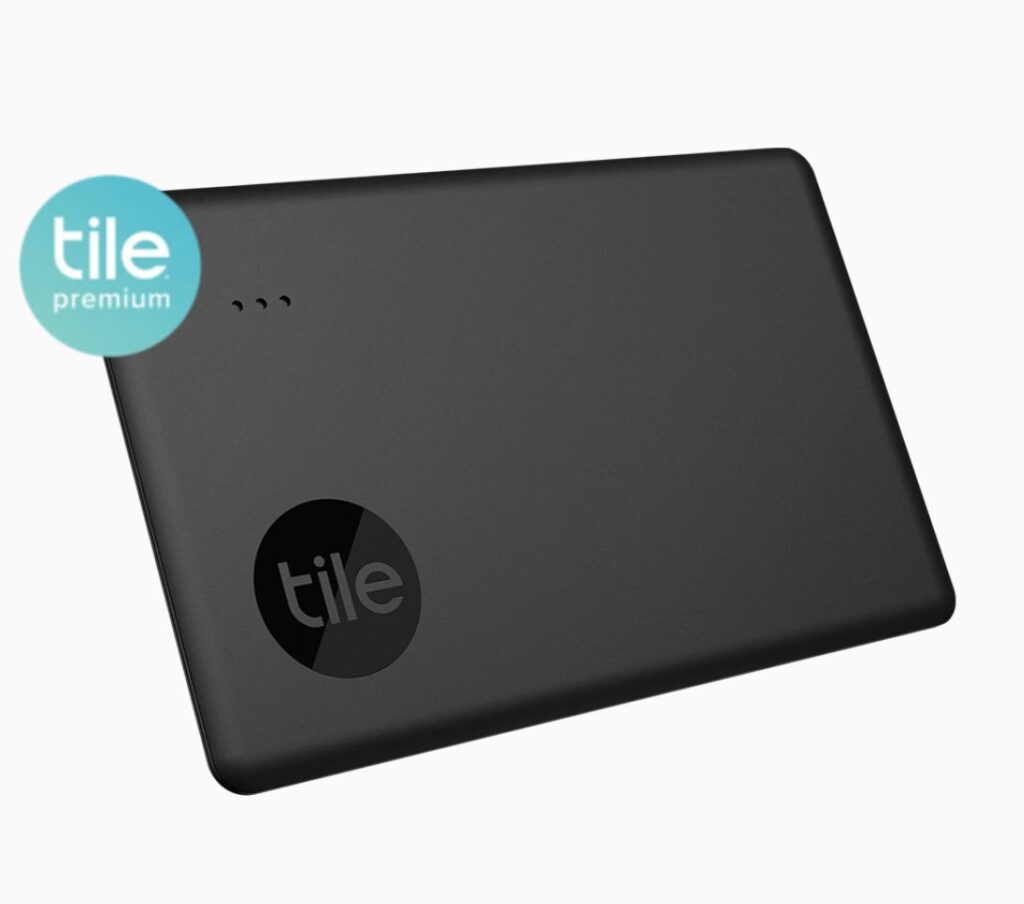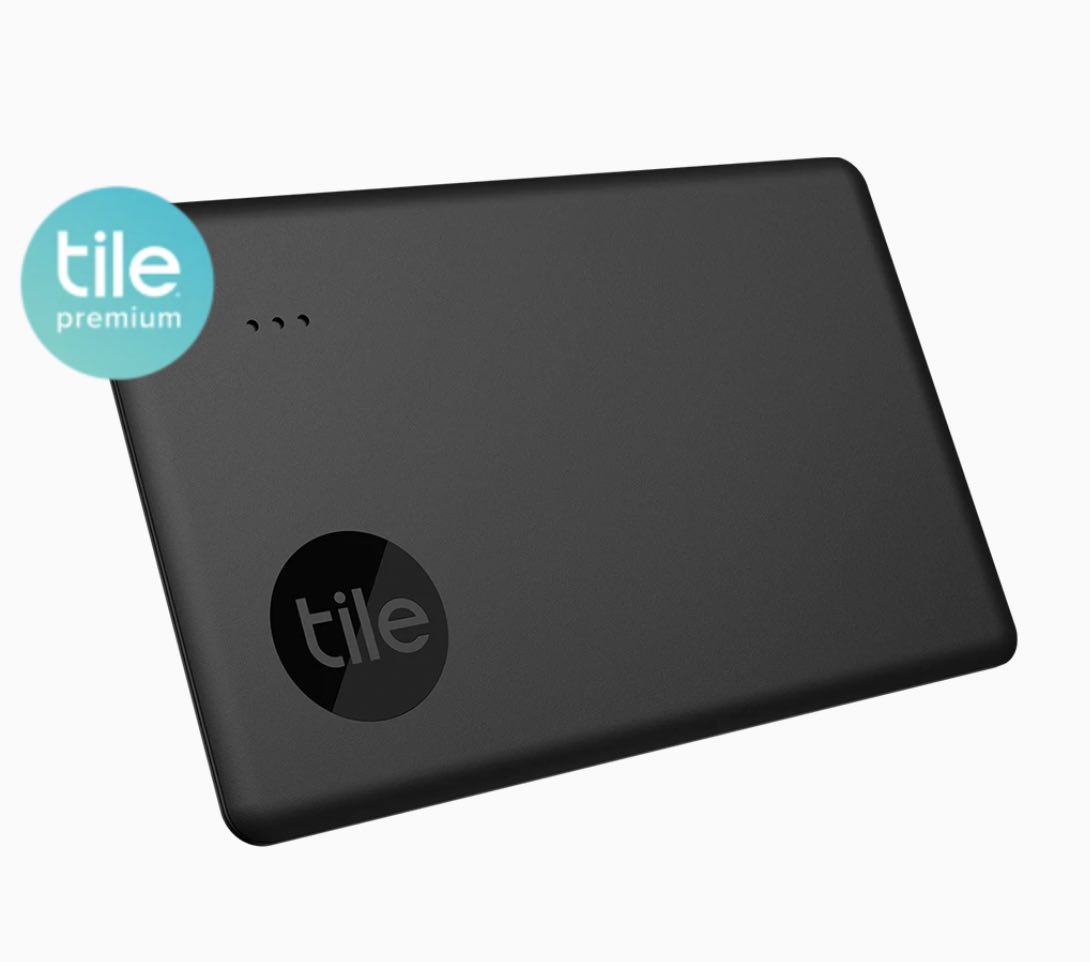 The latest Tile Slim is much the same as the 2020 version, but with a few improvements.
It has increased its Bluetooth range to 250 feet. The previous range was 200 feet.
There is now a new QR code on the back to help you recover your card if you lose it. If someone finds it, they scan the code with their phone to discover your contact information. Then they can let you know that they found it.
Brand new Chipolo CARD Spot 2022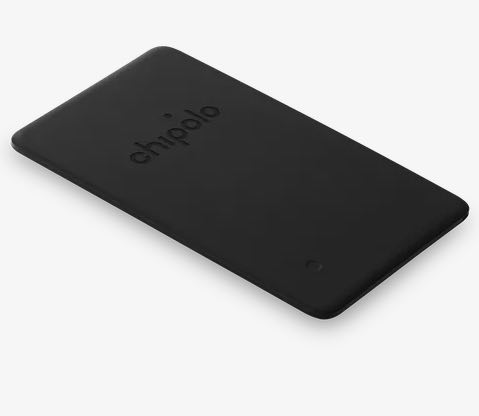 The latest wallet tracker from Chipolo breaks new ground.
First off, it's now the full size of credit card and just marginally thicker. It will fit comfortably in just about any wallet slot or minimalist wallet.
Most importantly, it now uses the same crowd search network as Apple's AirTag. The Chipolo CARD Spot now runs on the Apple Find My network.
You can still find wallet tracker by ringing it from your phone when it is in Bluetooth range. But your will lose most of the other features that were part of the Chipolo app.
The huge advantage that you gain is now you are tapping into Apple's Find My network with 200 million users in the US alone. That means there are 200 million iPhones capable of finding your tracker and alerting you (anonymously) with the location of the tracker.
Volterman Wallet
Volterman has FINALLY gotten its act together and their wallets are available at last.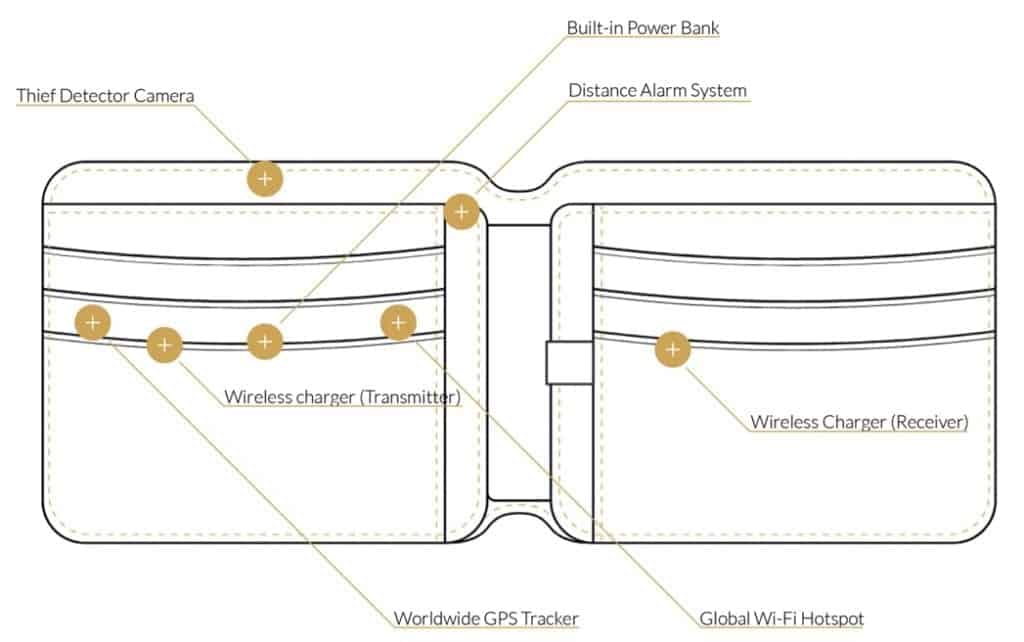 Yes, the Volterman is finally shipping their wallet. After years of hype, bad press and angry customers, they appear to have gotten their shit together.
As of this writing (May 2022), some people are still having having problems receiving their wallet.
The Volterman has put more technology into their leather wallet than any other wallet maker. It's almost too good to be true. First, it has worldwide global GPS tracking ability that is built into the Volterman app that you download onto your smartphone. It has its own power bank and a SIM card you can use to turn the wallet into a mobile hotspot.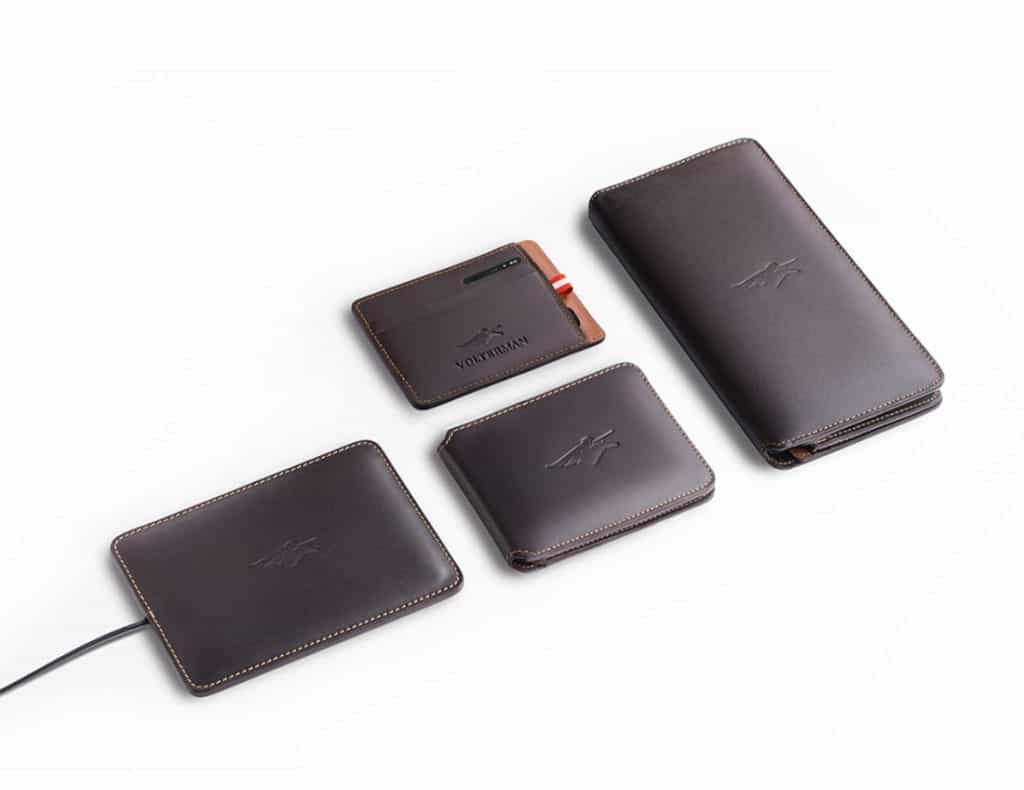 A distance alarm will sound if you walk too far from your wallet. If you have Lost Mode enabled, the integrated camera inside the wallet will take 3 photos of the person who opened it and upload them automatically to your Volterman account. Wow. It's expensive, but if you want a rocket in your pocket, this may be your wallet.  
JUST THE FACTS:
Trackability: The Volterman has an integrated SIM card that automatically logs onto any available cellular network. You can track your wallet with the GPS capability of your smart\phone with the Volterman app installed.
Design: The three available wallet designs include a cardholder, bifold, and a travel wallet that is large enough to carry a passport. It's made in Armenia and comes in either brown or black leather.
Unique features: The built-in power bank can charge a smartphone. A hidden camera will take a photo of a would-be thief if he opens the wallet. A mobile hotspot can connect up to 10 different devices.
Performance: Volterman has just begun to reliably deliver this wallet as of June 201. Many owners have complained about long delivery times and poor support in the past. The jury is still about the tech, but it looks great on paper.
How GPS tracking works with trackable wallets
Most wallets do not have standalone built-in GPS tracking capability. What they do have is Bluetooth connectivity. They connect with your smartphone with Bluetooth through an app that supports the brand of tracking device inside your wallet. 
Your phone is the realtime GPS tracker, not your wallet. If you are within Bluetooth range of your wallet (about 200 feet), a map on your phone will show the exact location of your wallet. If you lose your wallet outside of Bluetooth range, crowd GPS kicks in.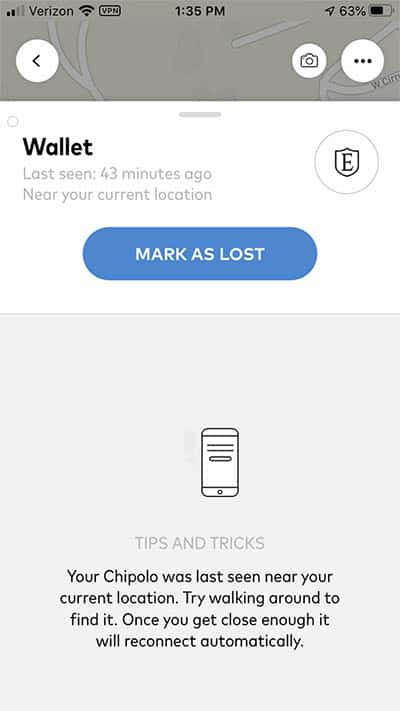 Crowd GPS (Crowd search) uses the individual users in a particular tracking network (like Tile, Chipolo, or Apple Find My) to find a lost wallet. When you mark your wallet as lost in the network's app, every phone that has that network's app installed will start looking for it—anonymously. The larger the network, the better the chance that your phone will be found.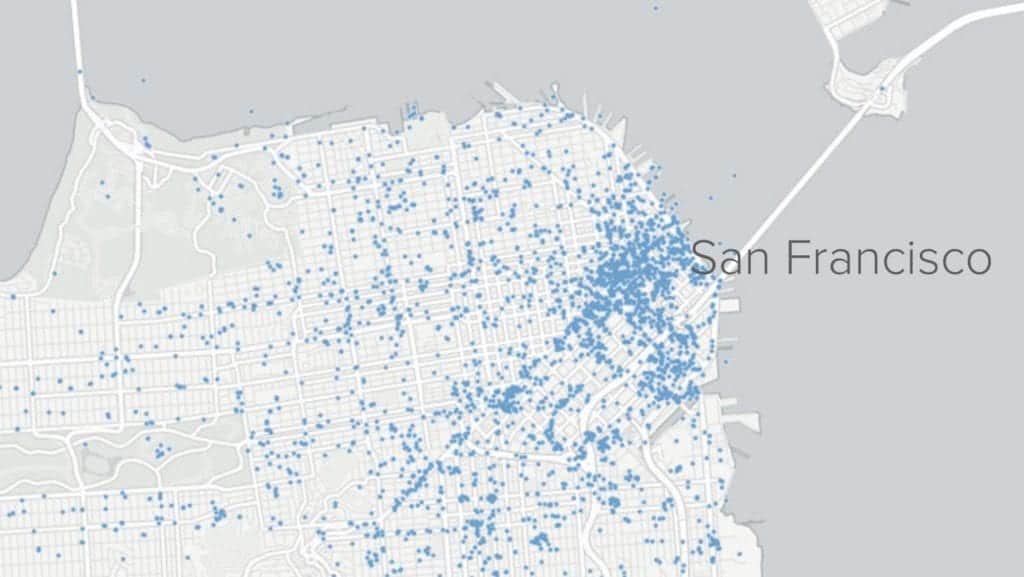 When one of these phones comes within Bluetooth range of your wallet, it will send a message over the network to your phone. To your relief, your phone will show the location of your lost phone on a map. 
The person whose phone found your wallet will never be the wiser. It's kind of complicated and there are variations, but that's the Cliff Notes version of how it works.
LEARN MORE
If you're still not decided, keep in mind that just about any wallet can become a GPS trackable wallet with the use of a tracking card. Check out my post: