Tile is the best-known Bluetooth wallet tracker. It can find your wallet, your keys, your cat, or anything else you attach it to. It's reliable with a loud ring and a 200 foot range.
But is Tile the only game in town? The answer is no. So I tested 5 Tile wallet tracker alternatives to see how they stack up to Tile and against each other.
I purposely left out the Apple AirTag because it is just too fat to fit in a slim, minimalist wallet.
After reading this post, you should have a good idea about which (if any) is a worthy alternative to the Tile tracker.
Spoiler alert: The best alternative by far is the Chipolo CARD.
Comparative Features of 7 wallet trackers
68.2 dB normal
71.4 dB loud





| | | | | |
| --- | --- | --- | --- | --- |
| | | | | |
| | | | | |
| | | | | |
| | | | | |
| | | | | |
| | | | | |
| | | | | |
| | | | | 4-6 months between charges |
| | | | | |
| | | | | |
| | | | | |
| | | | | |
| | | | | |
| | | | | |
| | | | | |
Tile Slim Wallet Tracker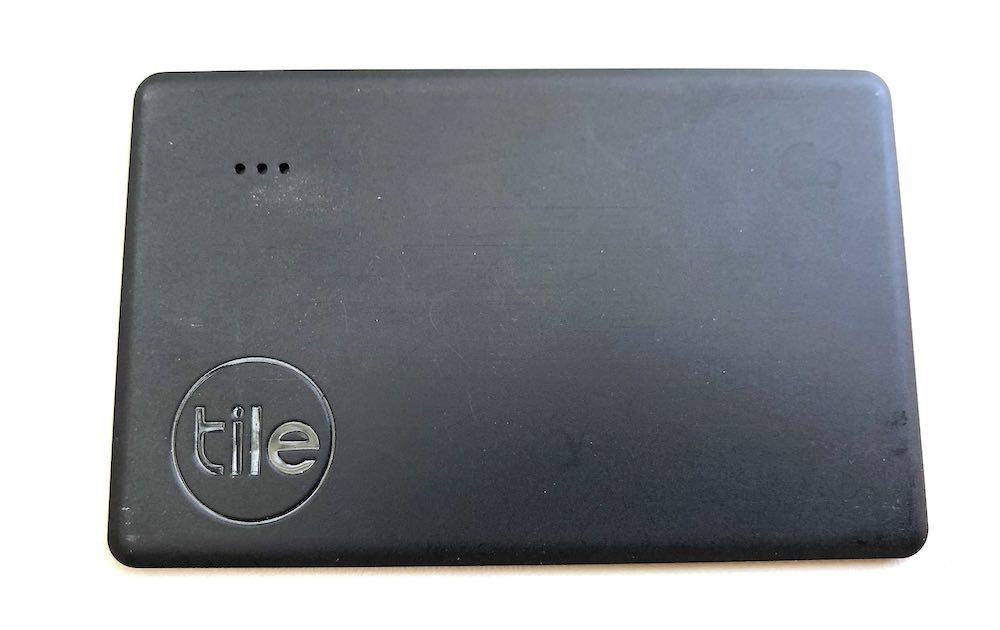 PROS
Super loud ring
3-year battery life
Large network of users
Well-designed app
CONS
Have to replace tracker after 3 years
The Tile Slim tracker is a thin, credit-card-size piece of tech designed that easily fits inside your wallet and provides secure tracking in your house or anywhere in the world. Thanks to this design, you can easily set it and forget it while still resting assured that your valuable cards, cash, ID, and more can be easily located should you ever misplace it.
Tile comes with the additional benefit of being more than just a wallet finder. Stick it in a laptop, briefcase, bag, or any other flat surface you can think of and you'll be able to track down all of your most important valuables.
How does it work in practice? Let me just say from personal experience that this is clearly the best Bluetooth wallet tracker you can buy. And I've tested them all.
This is what makes the Tile Slim a great tracker
It has a 3-year non-replaceable battery. No other Bluetooth tracker comes close to this battery life.
The ringer alarm is LOUD. Louder than any other tracker, hands down.
Tile has the largest network of users. 10 million strong in 197 different countries with the largest market penetration right here in the US.
The Tile app is well-designed and straightforward. My favorite feature is a graphic that shows you when you're getting close to your phone. "You're getting warmer, warmer, warmer…"
How far can you track the Tile Slim?
The Tile Slim, like most all trackers that use Bluetooth, have a limited range. Generally, your tracker and your phone will maintain a connection up to 200 feet (60 meters) away from each other. This is under ideal line-of-site conditions. In a building with lots of walls, doors, and twists and turns, it will usually be less.
To find your wallet tracker, just open up the Tile app and press find. Simple as that. This will then make your Tile Slim ring, which will hopefully help you quickly reunite with your lost wallet or whatever else you placed your tile inside.
Should you find yourself cursed enough to still be clueless of its whereabouts, you still might not be out of all your luck just yet. The Tile app is also built to remember the last place you put your wallet, so you'll always have an idea where to start your search.
Can the Tile be used as a GPS tracker?
Well, sort of. The Tile trackers is a Bluetooth tracker. It connects to the Tile app on your smartphone with Bluetooth. Your phone has GPS location capability. As long as your Tile is connected to a phone with the Tile app installed and connected, it becomes a GPS tracker that can find your phone anywhere on earth.
If you lose your wallet tracker, the Tile community can help you with the crowd GPS feature called Community Find. Anytime someone with the app comes within range of your tracker, its location will automatically and anonymously be sent to Tile's servers. You'll receive a notification with the location of your tracker marked on a map.
And now, for the rest.
2.
The

Best Tile Alternative:

Chipolo CARD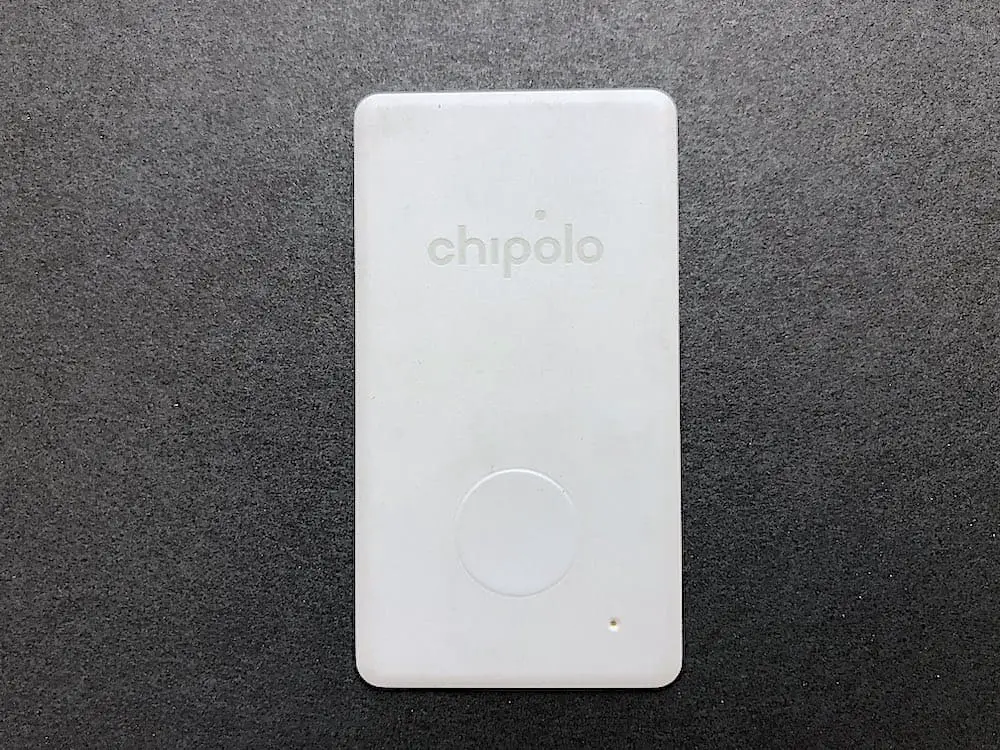 [wptb id="7813" not found ]
JUST THE FACTS:
Design: Similar to the Tile Slim except 40% smaller, the Chipolo CARD is thin, lightweight, and designed with minimalist wallets in mind.
Unique features: Comes with a variety of cool extra features like an out of range alert and a selfie mode that allows you to use the tracker as a wireless shutter release.
Performance: Other than the battery, performance is on par with the Tile and other trackers on the market today. It uses Bluetooth with a 200-foot range.
Trackability: When out of Bluetooth range, you can use Community Search to help see its most recent location anywhere in the world. The Chipolo user community will anonymously help you find it. There are 2 million users worldwide.
The Tile Slim is definitely king of the Bluetooth tracker mountain, but the Chipolo CARD is a very close second. It's sleek, lightweight, and 40% smaller than the Tile Slim.
The range is the same at about 200 feet, but the battery is significantly smaller. It's rated to last only one year and isn't replaceable, so be prepared to repurchase in the fairly near future. We all have our flaws.
What it lacks in the battery department, it makes up for in other critical areas. For example, the Chipolo app is excellent. When the battery runs out, you can buy it again at half price.
It doesn't fully assuage our disappointment with future costs, but it sure as hell makes it better. In reality, the technology changes so fast that you might want to buy the next model after a year anyway.
The usability is also spot on, offering a loud, high-pitched ring that's pretty easy to hear, a solid Chipolo community with Community Search feature, a handy "out of range" alert, and voice activation. Take that, Tile.
PROS
Small and thin
Loud ring
Easy to use, dependable app
Fits in smaller spaces than Tile
CONS
Chipolo user community is only 20% as large as Tile with most users in Europe
3. Ekster Solar Powered Tracker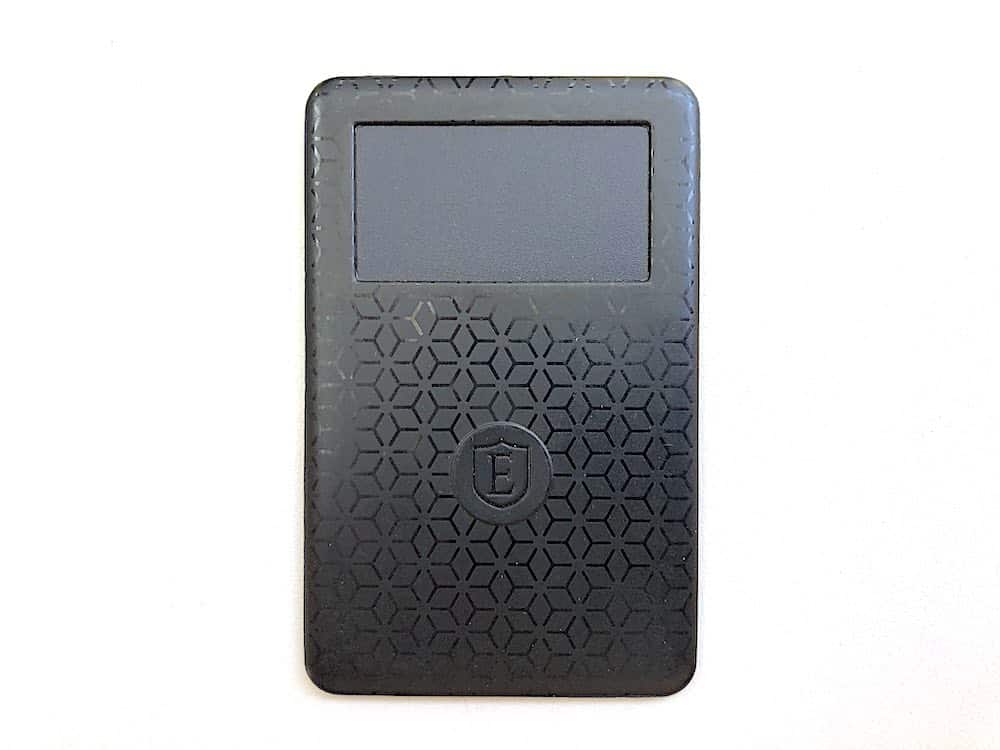 JUST THE FACTS:
Design: A credit card size tracker (2 in x 3.5 in x 0.15 inch) with a sophisticated look, the Ekster Solar Powered Tracker adds a little class to a crowded market.
Unique Features: Solar powered for no fuss charging and consistent power and made from high-quality materials that will last for years.
Performance: High reviews across the board, with many saying that the tracker works "flawlessly," is high quality, and unlikely to run out of power anytime soon.
Trackability: The tracking feature works like a charm, with a pretty traditional range of 200 feet. Even when out of range, the Chipolo network use Community Find to locate your missing wallet.
We're potentially a little biased because we love all of Ekster's products, but the Ekster Solar Powered Tracker truly is one of the best options money can buy. Why do we say this?
For starters, it has amazing build quality, shares the same features as all the others on this list, and its voice activation works perfectly whether you're using Siri, Google Assistant, or Alexa. Even better, however, there's no battery you need to replace, charge, or needlessly throw away.
The Ekster wallet finder is 100% solar-powered and can hold a charge for around 2 months with 2 – 3 hours of charging in the sun. It might not seem like a huge thing at first, but it's so much more convenient. Well worth a few extra bucks.
Ekster's solar powered offering also uses Chipolo's network for a better, more robust crowd GPS feature with none of the tradeoffs. All this added up creates a wallet tracker that's the best of both (or all) worlds.
PROS
Solar-powered so battery never needs replaced
Can potentially last a lifetime
Uses reliable Chipolo app
CONS
Ringer could be louder
Card can warp if left in hot direct sun
4. Orbit Wallet tracker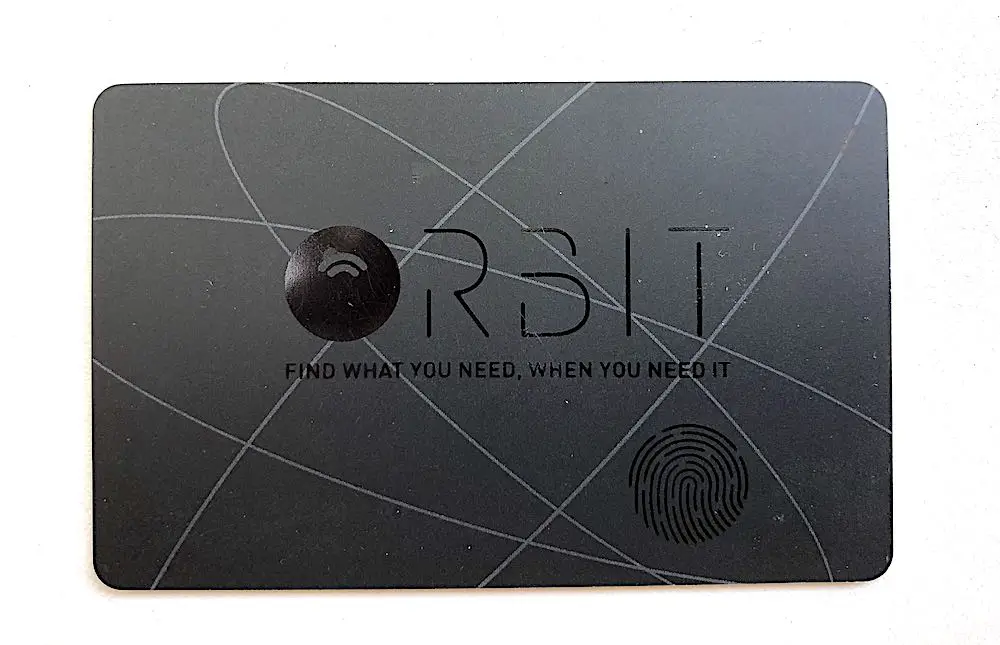 JUST THE FACTS:
Design: The design is pretty much as expected, although the color does help distinguish it as a little more modern and handsome.
Unique Features: Unlike many of the card trackers you can get, this one has a battery you can plug in and recharge. This really gives the Orbit an advantage over the others.
Performance: Customers are largely happy with their tracker, although older models oftentimes have issues with the alarm. For best results, buy from their website to ensure you get the newest model possible. 
Trackability: Tracking works well on the app and location is usually accurate, although Bluetooth range is shorter than competing brands.
The Tile and Chippolo are two of the top players out there, but Orbit is also perfect for the right audience. The design is just as you'd expect. Shaped and sized like a card for a perfect wallet fit, you won't need to be concerned about it falling out or being overly bulky in your pocket. In fact, it's one of the thinnest wallet finders available.
Function-wise, the Orbit Card is as simple and straightforward as all the rest. Simply press a button in the proprietary app to make it ring or check its last known location on the map. Just don't expect a stellar range on it. The range is approximately half of what you can expect from the Chipolo or Tile.
That's not necessarily a bad thing – it's ideal for those who don't tend to wander far, and it keeps the costs down for a tracker that looks nice, functions properly, and still won't break the bank. Oh, and bonus? It comes with a rechargeable battery, which we count as a major draw.
PROS
Rechargeable battery
Compatible with older and newer phones
Super thin and minimalist
CONS
Some users have had poor experiences with connectivity
5. Cube Shadow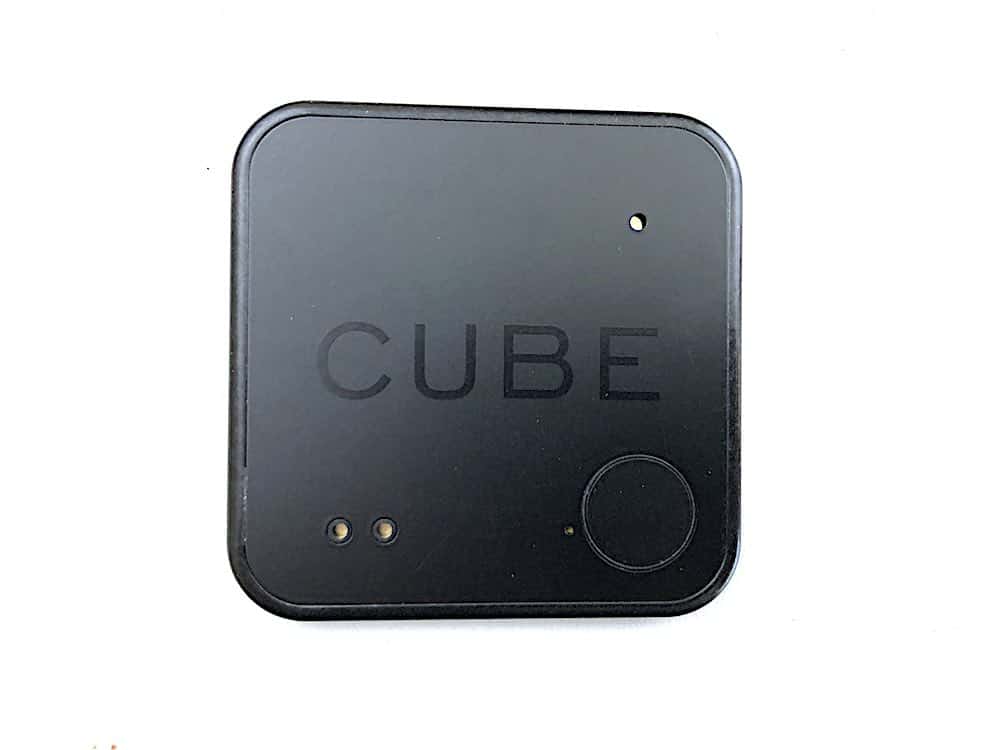 JUST THE FACTS:
Design: For those a little tired of the typical card-like tracker, the Cube Shadows gives a little reprieve with its square shape.
Unique Features: Beyond the obvious shape difference, it has a rechargeable battery and can survive in sub-zero temperatures.
Performance: Reviews are consistently high with users citing it as super thin, painless to use, and as a great gift to give family and friends.
Trackability: The 200-foot range has good reach but can sometimes struggle around lots of walls or objects. It's not a big deal most places, but it's important to keep in mind.
After a while, wallet trackers can sometimes feel a little uninspired in the design department. The Cube Shadow attempts to break that trend and mostly succeeds.
Just the change in shape does make it feel a little more interesting amongst the crowd, but it can also hinder its use as a wallet finder. After all, square shapes aren't known for fitting the best inside a wallet. It's not a major con since it comes with an included adhesive, but it's worth mentioning.
Beyond this minor issue, the Bluetooth tracker works just as you want it to. Just tag, ping, and find what you're missing. It's a familiar process and it works well here. Quick rechargeable battery and a build made to last help make the experience even better, though, and all with no additional subscription fees.
PROS
Affordable option
Adhesive included
Small and thin
Rechargeable battery
CONS
Charger is not the best
Not as waterproof as advertised
6. Nutale Nut Find3
JUST THE FACTS:
Design: The most unique in the bunch. Reminiscent of the size and shape found in the Cube Shadow but made pastel. It isn't everyone's taste however we appreciate having color choice.
Unique Features: One of the more versatile options we've had the pleasure to come across, the Nutale Nut Find3 can be attached on everything from your wallet to your keys and even to your dog's (or cat's –we don't judge) collar.
Performance: Performance is good for the price, with one reviewer even saying it survived an accidental trip through the washing machine. Although, some users have found the Bluetooth a little unreliable at times.
Trackability: Not quite as trackable as others thanks to a 50-meter maximum range outside or 30 inside, it still functions great for finding items around the house or within your block.
The responsibility of rounding out our list for top Tile alternatives goes to the Nutale Nut Find3 and it doesn't disappoint. Available in an affordable 4 pack on Amazon, it is a deal we're definitely not mad at.
Just as importantly, the Nutale tracker has everything you should get in a tracker. It has got out of range alerts, a community search network, the ability to also track your phone, and can list the last known location of your wallet with just the touch of a button. Overall, it's an option that can easily hold its own against the others listed.
Its main issue lies in its size. It's a little too bulky and is one of the thickest trackers you'll come across. The minimal wallets of today don't work the best with it, although we figure you'll be just fine with a more traditional bifold. If nothing else, we highly encourage trying out the Nutale finder on a laptop, your keys, or a bag.
PROS
Nice choice of pastel colors
Replaceable battery
Tough nut despite cheaper price
CONS
Range could stand improvement
Thicker than it needs to be
Comparative Table of Tracker Volumes
I used the NIOSH sound measurement app on an iPhone 6S to measure the comparative volumes of these trackers at a distance of 1 inch and 1 meter. I pointed the microphone of the iPhone at each tracker and recorded the maximum sound level in a 10 second period.