Wallets aren't quite as straightforward as the bulky bi-folds we all carried once upon a time. Now the rulers of the roost are minimalist, high-tech wallets.
The problem is choosing the right one for you. With so many choices in design, materials, colors, and technology, it's a formidable task.
Shopping should be fun, not an intimidating plunge into the unknown. So here are 7 expert tips to help you choose the perfect wallet for you.
1. Decide on Your Must-Haves
It goes without saying that should have some kind of clarity regarding any features that you absolutely must have in a wallet. After all, it's challenging to find the perfect wallet if you don't even have a clue what that might entail.
So, always think about your biggest needs.
Are you a minimalist at heart, or do you tend to believe that more is always better?
Are you relatively old school and need more space for bills than credit cards, or has carrying cash become a foreign concept for you?
Would you like smart features like a hidden coin pouch, RFID-blocking, quick-access card fanning, or Bluetooth and GPS connectivity?
Answering these questions can help get you a little closer to the right fit for you. Of course, you should consider the importance of regular features, too, and what you're willing to compromise on.
Even the best wallets require a little prioritization. A good starting point is figuring out whether form or function is a bigger deal or even non-negotiable. That can help easily filter out your options and make your shopping experience a whole lot more pleasant.
Getting your priorities and must-haves straight can ensure you make the best wallet buying decision possible. Buying something that fits your life and needs rather than the other way around.
What wallet features and characteristics are important to you?
There is absolutely no shortage of savvy wallet designs out there. The cool thing is that every one of them does more than the boring wallet you've probably been carrying since the Clinton administration. Your upgrade opportunities abound and they're ripe for the picking.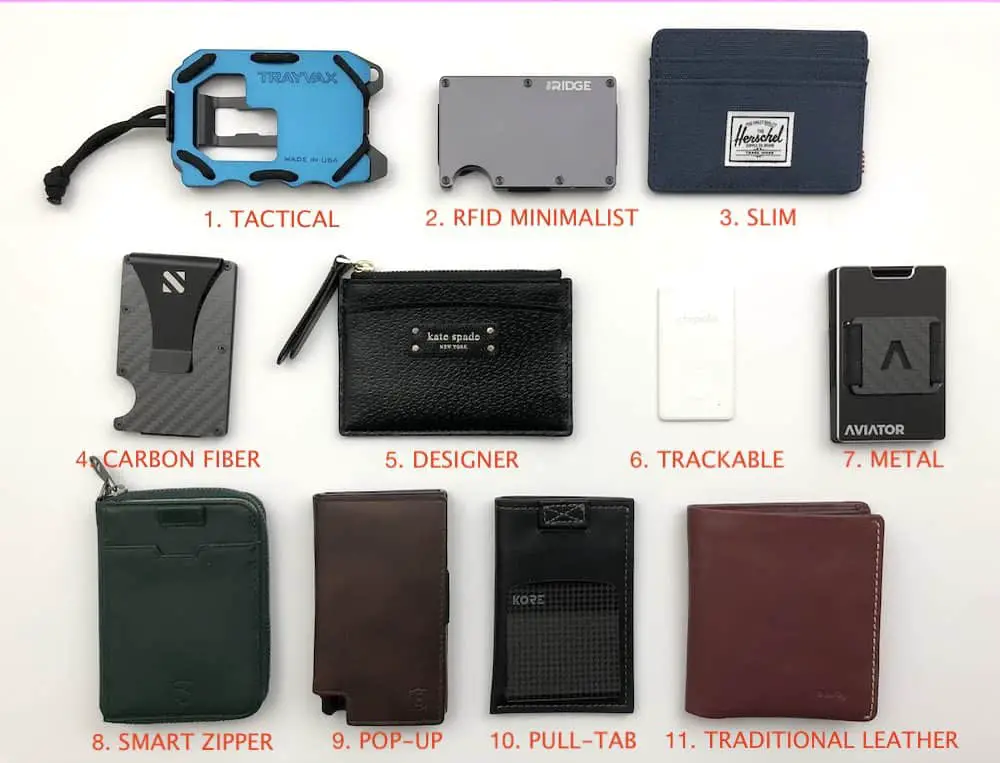 Click on any of the links below for more information about these individual wallets in the photo above. (You think you have problems? I have to decide which one of these to carry every day.)
2. Consider Your Personal Aesthetic
A wallet's main mission is to carry your cards and cash. But If function were the only consideration, all you would need is an ugly black binder clip, a thick rubber band, or a recycled Altoids tin.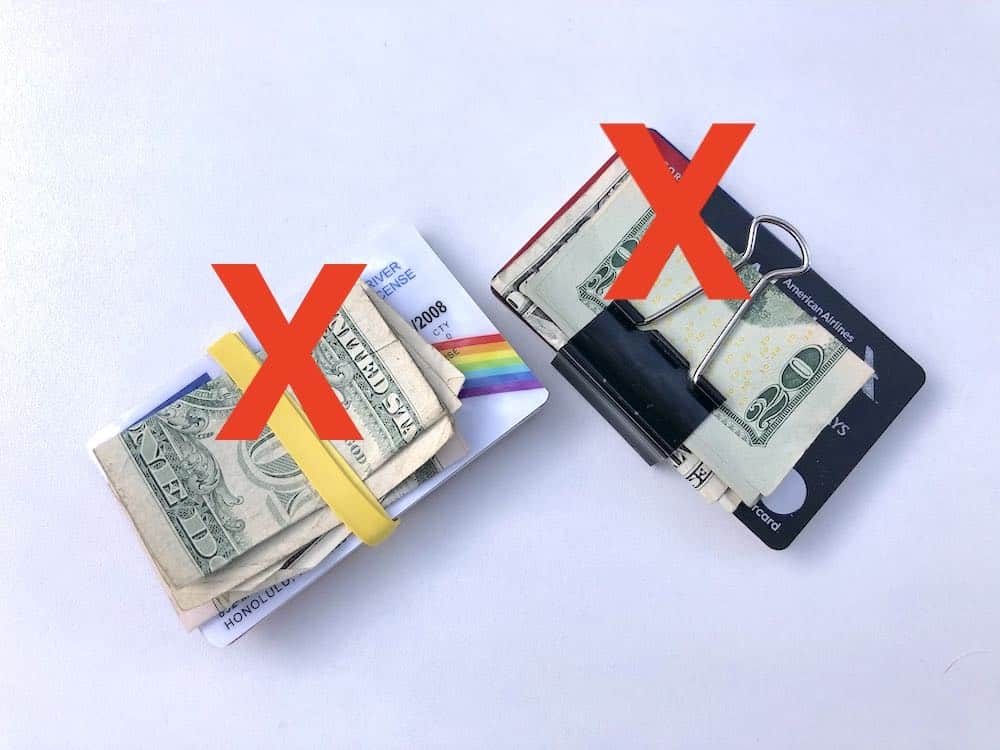 In truth, guys like looking and feeling as trendy and stylish as women, and wallets can be a big part of that. The right wallet not only has clever ways of storing and accessing your cards. It's an attractive accessory that communicates a ton of information about our style and personality.
Are you:
More modern or traditional?
A master minimalist?
Flashy or down to earth?
An over-the-top tech weenie who always wants the latest gear?
Even if you wouldn't consider yourself particularly worried about looks or don't consider yourself incredibly trendy, it always feels nice to have a wallet reflecting who you are. That doesn't have to be a big production. Just pick something that speaks to you.
But what about if you aren't quite sure about your personal aesthetic? Or what if you're trying to change things up a bit?
First thing's first, don't overthink it too much.
No one will slap your hand if you favor an old school leather bi-fold or tri-fold. But the casual classics have received progressive wallet upgrades with super slim versions like the Bellroy Note Sleeve.
More of the sleek and modern type? You can't go wrong with the metal Ridhttps://www.walletsurfer.com/recommends/ridge/ge card holder wallet or tactical wallets from Dango or Trayvax.
What if you appreciate accessories that lean more rugged but still trendy? Go for a wallet that combines traditional, neutral materials with a more modern shape like the Ekster Senate. (It's a roguishly handsome pop-up wallet and my personal favorite.)
3. Set a Budget – and Stick to It
A budget sets limits and sometimes limits are what we need to help tame a near infinite number of choices. You don't want to become a victim of shopping card limbo, endlessly deliberating but never actually buying.
The rub, of course, is actually deciding on this budget. And that can be tricky. This is especially true if you haven't shopped around for wallets in a while or you are someone who always thinks he can spend more than he really should.
Set your budget that you want to spend when shopping for the perfect wallet and try not to deviate much.
Here are some quick bullet points that will help give you an idea about what your money will buy.
$10-$30 Minimalist RFID-blocking leather card holders, Ridge wallet knock-offs
$30-$50 Ekster and Secrid wallet card ejecting knock-offs, brand name minimalist card holders and zippered wallets, Bluetooth tracking cards
$50-$100+ High-end tactical and quick-access designs, fine leather, exotic metals like titanium, lots of smart design features
Remember that the market doesn't determine your budget. That's all on you. Only you can decide how big of an expense you can afford. But its best to err towards a more conservative number, particularly if you aren't the wallet equivalent of a sneakerhead.
Sticking somewhere middle of the road is always a safe bet, but there are gems out there, even those that are under 30 bucks. In fact, I've reviewed a ton of great budget options that easily hold up to their more expensive counterparts. (Links) Don't worry that your budget's too restrictive for a great wallet, because I can assure you it's not.
4. Think About Durability
Regardless of how much you're spending on your ideal wallet, it's still a long-term investment. Ideally, you want a wallet that'll last you for years, so you don't have to go through the shopping process again anytime soon. After all, you carry it every single day.
There's nothing worse than buying a new wallet or cardholder and discovering it's falling apart within a couple of months. To keep that at bay, you'll have to carefully gauge a potential wallet's durability by looking at a few different factors.
Materials
A. Leather Leather is the traditional standard. Always opt for top-grain and full-grain leather. It's the strongest part of any tanned cowhide.
If a wallet says they use "genuine leather," that's usually code for split leather. Run for the nearest exit. This is the weakest leather that came from the bottom layer of the hide next to the flesh. Avoid it.
B. Metal Metal wallets like the Ridge card holder and its many knock-offs and spinoffs are tough, long-lasting wallets that are usually limited only by the elastic that holds them together. The most common metals are aluminum, titanium, and stainless steel.
There are also many durable hybrids between leather and metal, too, like the tactical Dango D01 Dapper.
C. Carbon fiber Wallets made from carbon fiber have become extremely popular, particularly in minimalist wallets that are based on the design of the Ridge wallet. It is incredibly strong and light, with a lot of aesthetic character. Pound for pound, it's stronger than steel.
D. Polyester, high-tech plastic, canvas, and faux (vegan) leather are all legitimate materials for men and women's wallets. My advice, though, is to stick with a trusted brand that specializes in them since they'll usually opt for higher quality.
Herschel, for instance, makes excellent quality canvas wallets. Ekster has an entire line of vegan leather card holders.
Some wallets like the Flowfold are made from durable sailcloth. Even vegan leather like PU leather can be tough and long-lasting.
Slimfold wallets use Tyvek, which makes them almost impossibly slim and tough. If you've ever tried to tear Tyvek, you know what I mean.
Recycled Firefighter wallets don't recycle firefighters, but they do use re-purposed fire hose for their minimalist wallets. Ekster features more sustainable wallets and card holders made from recycled materials.
A good rule of thumb? Gravitate towards full-grain and top-grain leather or sturdy metal if you're unsure.
Workmanship
This is a tough one to predict, particularly with low-priced wallets. By far, most wallets (even from name brands like Ridge, Vaultskin, and Ekster) are made in China.
Bellroy is a high-end wallet manufacturer from Australia but all of their wallets are made in India. Surprisingly, many genuine designer wallets from brands like Kate Spade and Coach are made in southeast Asia.
For name brands, quality control is usually quite high, no matter where a wallet is made. But there are plenty of really inexpensive off-brand wallets made outside of the US that should be looked at on a case-by-case basis. For these, your best bet is to read lots of reviews, particularly by users who have carried a wallet for months or years.
Price doesn't necessarily determine quality or durability. Try not to equate the two immediately. You can still get a great, durable wallet at relatively low overall cost, or you can spend a ton and still get a wallet that falls apart a few days into its lifespan.
Lower prices simply mean you should pay more attention to the material quality, stitching, and overall user satisfaction. Like I said, always read lots of reviews.
The best wallets often offer a multi-year warranty. Some, like the Ridge, Dango, and Rugged Materials wallets promise lifetime warranties.
5. Opt for RFID-Blocking When Possible
The main goal of this article is to guide you towards your ideal wallet, not tell you precisely what that should look like. However, I'm making a slight exception here. When possible, always choose a wallet with RFID-blocking technology built-in.
The vast majority of us are now primarily carrying debit and credit cards over cash, which opens us up for all sorts of problems.
Nowadays, thieves don't even have to take your wallet to get at your money. It's all too easy for them to steal your bank information just with a little tech and skimming techniques alone.
That can have significant financial and personal consequences, even after reporting the theft to your financial institution, and is just a total headache all around. It's better just to stop this before it ever even happens. RFID-blocking wallets can help out here.
Essentially, these RFID wallets stop data theft by reducing or disrupting the signal power of the RFID technology being used to read your cards. The microchip is then prevented from working, and the thief won't be able to get any data back on their reader. Your cards are kept nice and safe as a result, with the peace of mind that goes with it.
Still, know that it's not full-proof. Often, only parts of an RFID wallet will block RFID while other parts are transparent to these types of radio waves. This is often by design.
For instance, you probably want to keep your tap-and-go contactless credit and debit cards behind an RFID-blocking barrier and then remove the card when you're ready to use. However, you can keep your hotel room card or staff ID in an unprotected slot so you can scan it without removing it.
Should you find your heart set on a more traditional, non-RFID wallet, check into getting an RFID jamming card like the Vaultcard. It'll turn any wallet into an RFID-blocking one. Although it does take up space you could be using for more cards. That's not a problem if you keep a tidy wallet, but it might pose problems for you packrats out there.
6. Keep Carrying Capacity in Mind
Speaking of space and packrats, don't forget one of the most critical features of a any wallet: carrying capacity! Your ideal fit must have plenty of room for all your essentials. What should be classified as essential, though, is all up to you.
Open up your current wallet and take stock of what you're carrying right now. How many cards do you have on hand, and how many do you really need to bring on the daily? Odds are the number is probably lower than you'd think. Use this as an opportunity to pare down where you can.
That doesn't mean to leave everything behind, obviously. At the bare minimum, you should always carry your driver's license (or other ID), health insurance card, debit card, and any frequently used credit cards. I like to carry my AAA card and sometimes a shopper card or gift card. My Chipolo CARD wallet tracker is also indispensable.
Still, anything else you use regularly should also be accounted for when shopping around for a savvy new wallet. Your card-carrying capacity might greatly differ from others by the end of this process. Some of you might only need something that holds 4-6 cards, whereas some might need to carry 10-12 or even more.
RELATED: For all you card hounds, read this post with recommendations for wallets with extra capacity.
Remember, though, that buying a new wallet also means re-evaluating what you really need to carry. Minimalism is now the "thing," and you need to focus on being as smart as your wallet.
This might seem like a no brainer, but carefully read smart wallet descriptions, specifications, and reviews to determine whether a slim, minimalist smart wallet has the capacity that you need. If it doesn't, consider meeting it halfway by reducing your personal wallet clutter.  
7. Pick a Good Color
Last but certainly not least, my final tip to help you choose your perfect smart wallet is to pick a good color. That might seem too obvious, but it deserves mentioning.
Sometimes, when weighing a wallet's pros and cons, considering general design, material, price, and features, can lead you to overlook the more basic stuff. You don't want to do this, especially not with something as in-your-face as color.
Get the wrong one, and you won't want to look at the thing, much less carry it around every day. You'll also be miscommunicating your style to those around you  — the opposite of what we're trying to do here.
With that in mind, allow yourself to be a little picky and a lot practical when choosing your wallet's color way. A neutral tone is typically a good starting point, so consider choosing one in a rich brown, tan, black, or navy.  These will look good no matter what your style is, and can work regardless of function, job, or wardrobe.
The Bellroy Note Sleeve, for example, offers 10 different colors that are "dyed-through" so that the color penetrates all of the leather.
My wife recommends buying a lighter colored wallet because many purse linings are dark. It's easier to find a tan, beige, or cognac wallet than a black one. Sounds like good advice to me.
The Ekster Senate smart cardholder comes in 7 different "feel good" colors that will make them stand out on your crowded dresser or desk. You'll look forward to pulling any of these out of your front pocket in the checkout aisle.
A guy or gal who likes to have a little fun? That's okay, too. You can choose loud, vibrant colors but be realistic about what will work for you and your life.
Vaultskin is an up-and-coming luxury wallet that's reasonably priced with top-grain leather and plenty of colors to choose from. The Vaultskin 'Notting Hill' has solid color on the exterior and two complimentary leather colors inside.
If you've got a formal office job, you probably won't want to whip out a bright yellow wallet at the next meeting or office function. Unless it's the Christmas party.
However, the biggest thing is to focus on finding a color that fits your personality and is versatile yet not boring. Balance those, and you'll be good to go.