A purse with a built in wallet will keep all of your cash and credit cards organized and instantly accessible. That means you can leave your space-hogging regular wallet at home.
In this article, I will explore some of the most fashionable purses with a built-in wallet and why one of them might be the one you've been looking for.
How they compare
Best: Minooy Bali Crossbody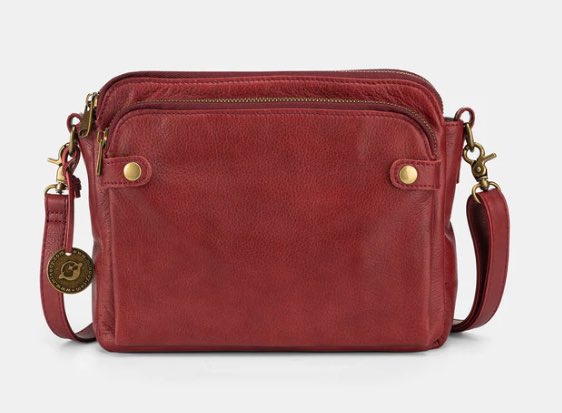 Like the ili Crossbody, the Minooy Bali features an external built-in wallet. But in my opinion, the exterior organizer wallet of the Minooy blends more subtly into the overall outline of the bag.
All-in-all, it's a classic bag that is perfect for matching a wide variety of outfits. Built to last and available in four neutral shades of popular colors, this simple bag is ideal for those who want to be able to carry the essentials in a comfortable and casual way.
Its simple design makes it an easy addition whether you are heading to work or out for a night with friends.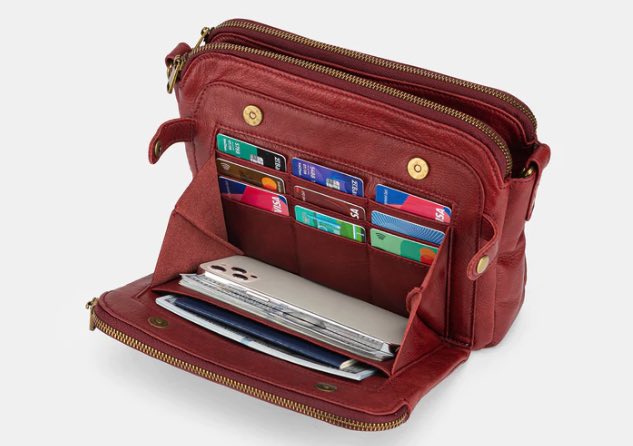 Offering RFID blocking, a built-in wallet, and incredible interior storage, the Minooy Crossbody bag stays organized for you, so you never have to worry about a mess. The leather is soft and attractive, bringing a little touch of subtle luxury to any outfit.
People love this brand for its practical functionality and appealing design, making it a great addition to your bag collection. With the different color options, you will find that you might need more than one!
Second Best: Nomad Crossbody Bag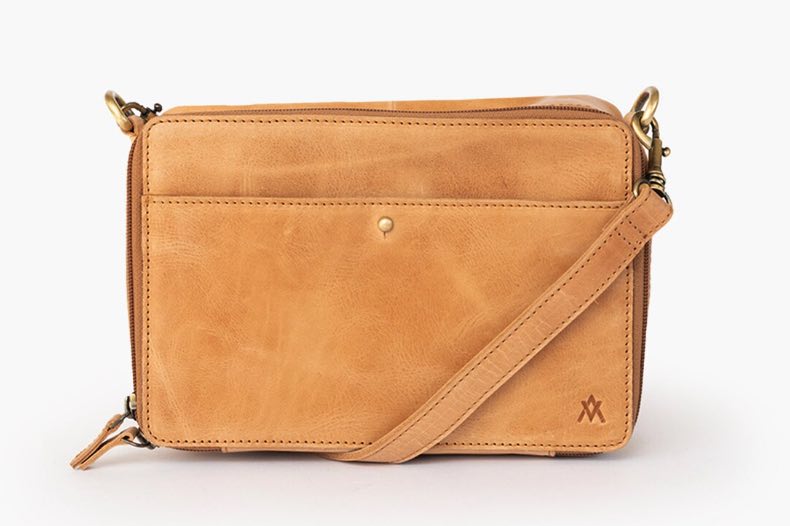 This gorgeous crossbody bag was inspired by a 70s vintage style, giving it a classic look that can accommodate a wide range of outfits. Its able to hold everything from EpiPens to a slew of cards.
The Nomad Crossbody is perfect for travelers, too, who are looking to maximize on space in a medium-size bag.
Ideal for daily use and your next big adventure, the Nomad Crossbody has plenty to offer as a handbag organizer. In fact, you will be amazed by the abundance of space this bag offers inside.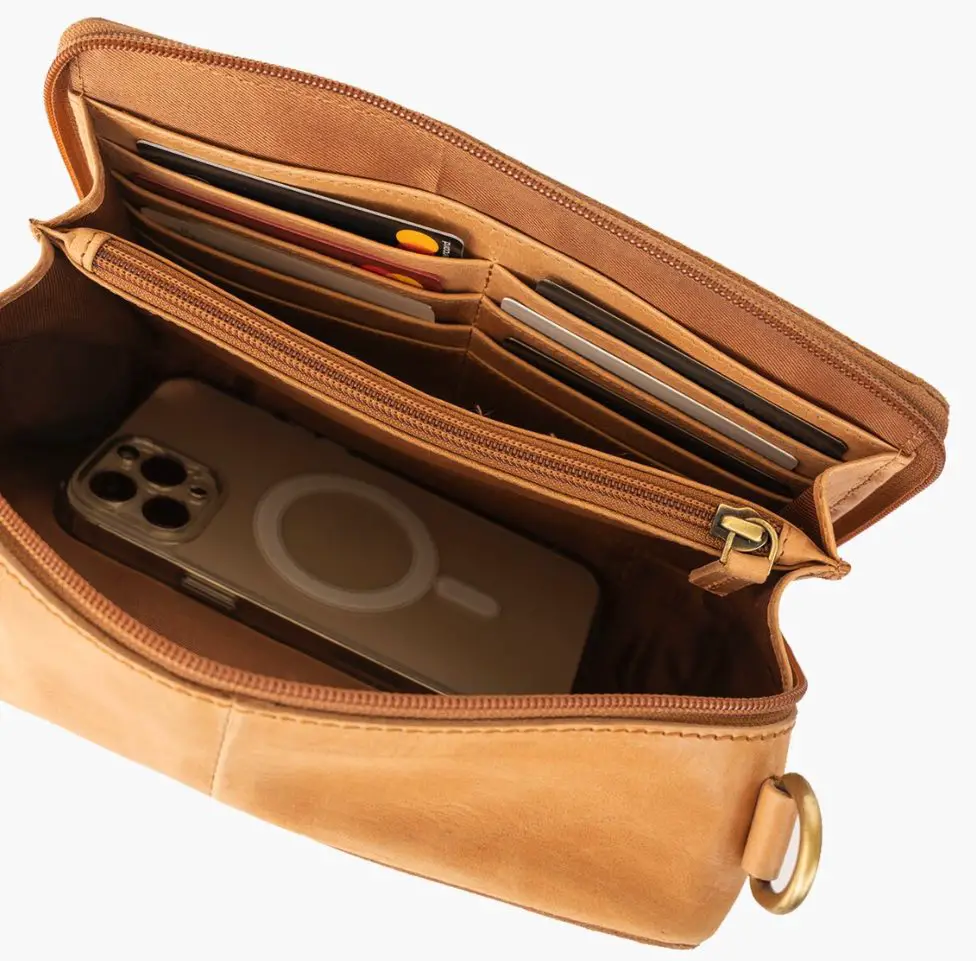 There's a built in wallet on one side, a center, zippered divider, and room for your other goodies on the opposite side. It's all sleek and efficient with just the right amount of storage.
The leather is full-grain and vegetable-tanned. Like all high-quality leather, it will develop it's own personality over time.
Covered in unique markings, the Nomad Crossbody leather bag is one of a kind—even if you see someone else with a similar style!
Oprah's Favorite: K.Carroll Kelsey Crossbody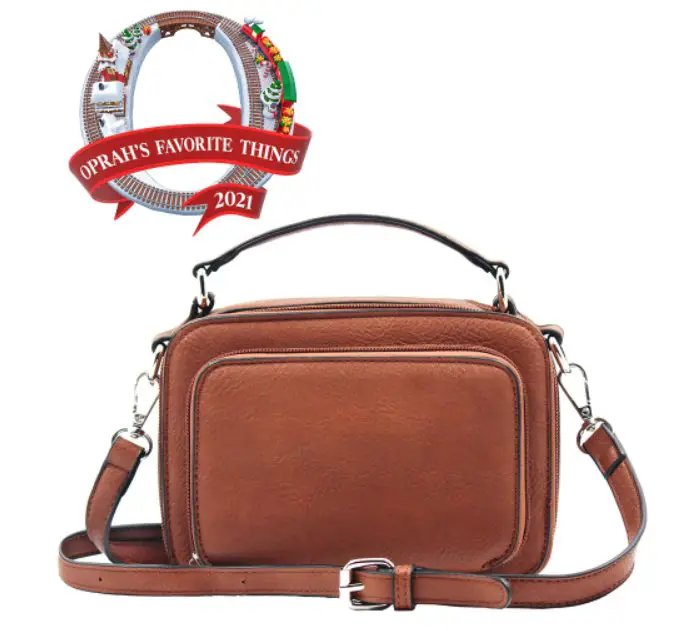 Oprah Winfrey picked this K.Carroll Kelsey crossbody organizer as one of Oprah's Favorite Things 2021. This is what she said about it:
"I lost count of this vegan-leather crossbody's compartments. That's a good thing, because it means it can hold all your essentials. And hooray for all the color options! Also, at $45, this is what I call bang for your buck."

Oprah Winfrey
It has two RFID card slots built in for storing a handful of cards and the front zippered compartment is just right for your phone. It's not a full blown wallet replacement, but it comes really close.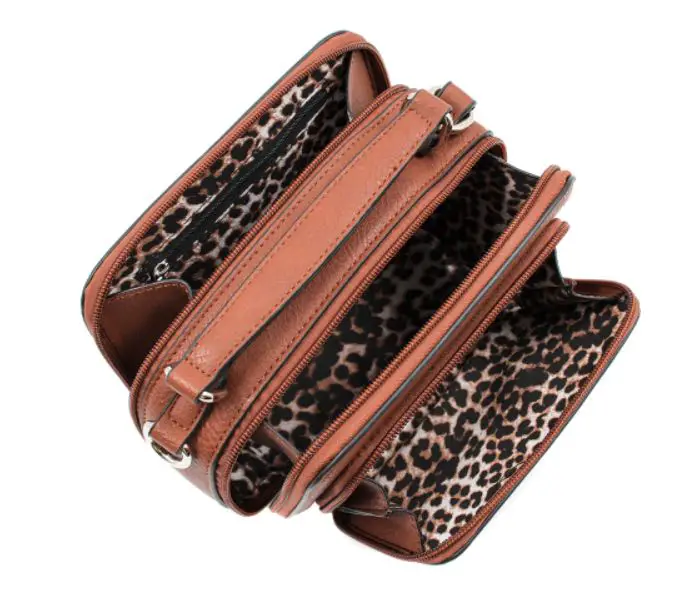 It's made from vegan leather, which isn't leather at all, yet it still feels rich to the touch. All of the compartments zip up so everything stays inside where it's supposed to be.
New colors for 2022 include leopard, plaid, camouflage, and navy. Women like the fact that the crossbody strap is detachable.
ili Crossbody Organizer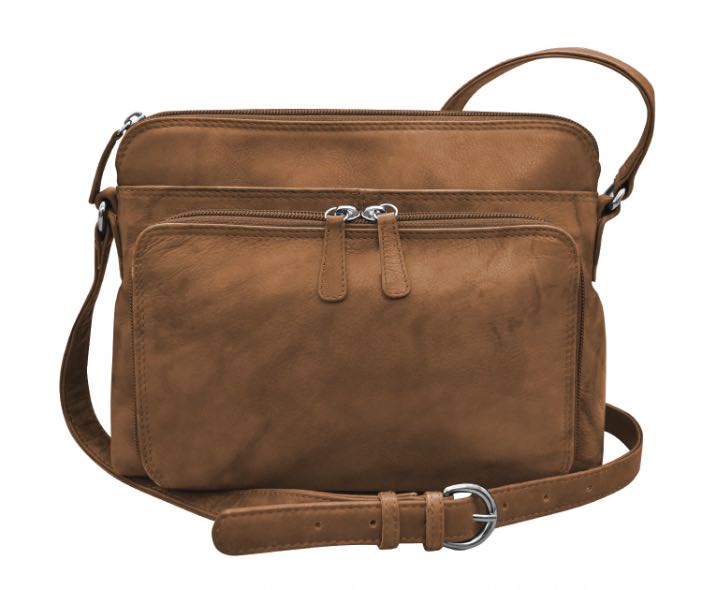 A good crossbody organizer should be able to support life on the go and this bag nails it. Available in thirteen different colors, it is always easy to find one that perfectly suits your preferred style.
Whether you want a neutral bag or something a little more eye-catching, the ili Crossbody transcends an easy description. Its understated look makes it fit seamlessly into most wardrobes.
It differs from the Nomad Crossbody with an exterior built-in wallet rather than interior. This frees up the interior with a bit more space for wallet essentials and other must-have items like mints or hand lotion.
With all the essential needs that a purse can come with, this adorable bag makes it easy for you to feel prepared when you walk into your day. Stylish and fun, Ili Crossbody bag offers a unique experience for everyone, regardless of aesthetic!
Jagger Crossbody Organizer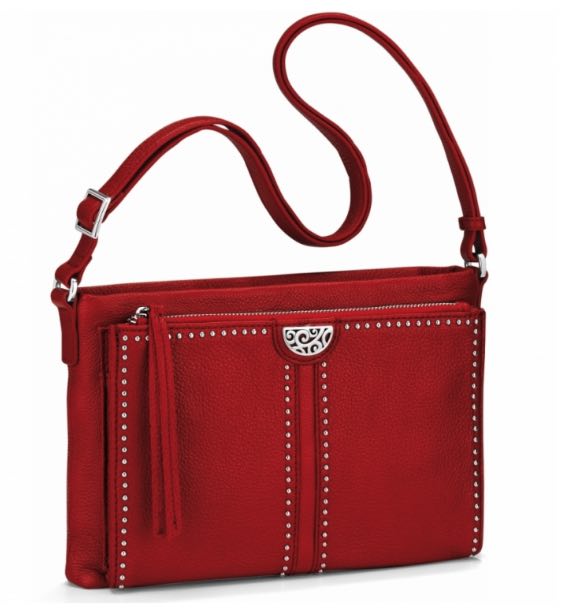 For those who want something with a little more flash and flavor, this Jagger Crossbody organizer offers an excellent bag upgrade. Available in different colors and offering a unique metallic design, this is ideal for those who want to give their style a big boost.
If you're looking for a little more a capacity, the Jagger is one of the larger purses at 11″ x 8″. and helpful interior organizers make it ideal for daily use. People love this bag for traveling and the convenience that it offers with easy access to all your essentials.
Those who enjoy purses with external organizers will love this bag. This crossbody organizer purse with built-in wallet is an obvious choice in all its colors.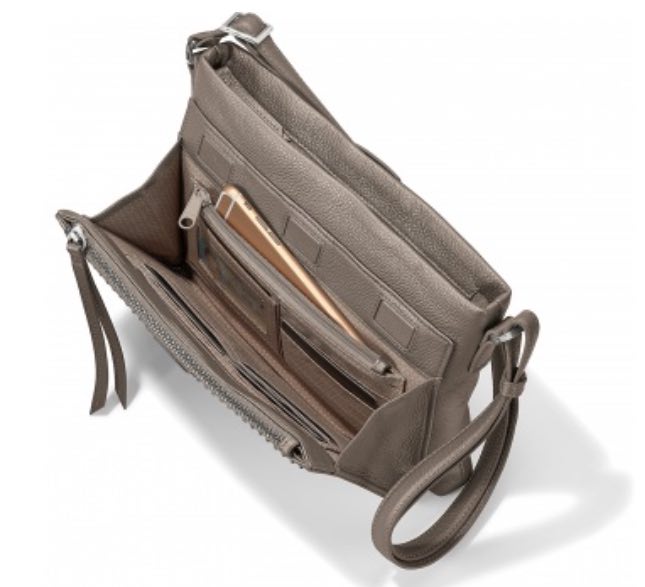 Its slim fit is perfect for daily wear when you don't want to lug around your larger bags, but it still holds a surprising number of materials inside for added convenience. The crossbody design allows it to fit comfortably across various body types, and it has a unique look that is guaranteed to get some compliments.
Light, durable, and easy to use, this is a great everyday bag for the fashion lovers among us!
Coach Hayden Crossbody in Signature Canvas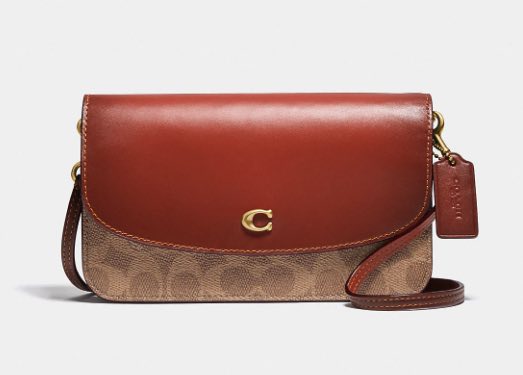 Coach is a brand that has been dazzling buyers with bags for ages, and this signature design is yet another incredible product. It's the smallest bag in this post, but it's arguably the most elegant.
With their classic Coach look, you can make sure that everyone knows what brand it is from across the room. Even so, the design is also effortlessly classy, making it wonderful for professionals who want to carry their essentials.
With the Coach Hayden Crossbody, you can expect to receive the comfort and quality that Coach is known for. Its small design makes it a lightweight carry for someone on the go.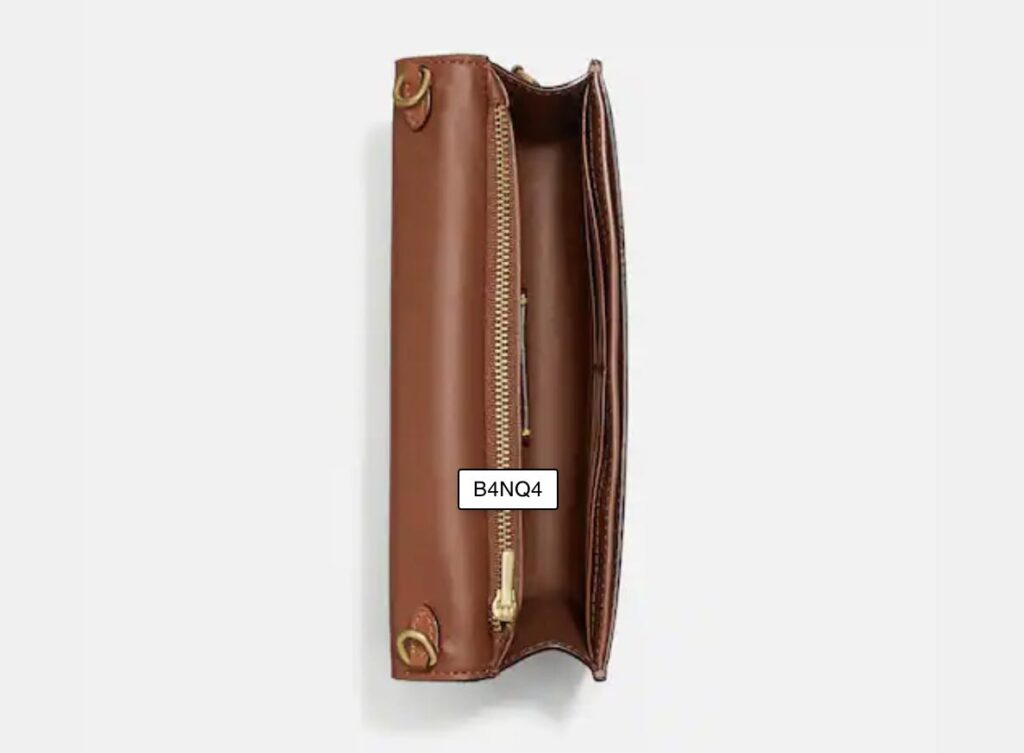 The interior design offers simple organizers and a nice open space for must-have items. It is neutral enough to go with most outfits but high-end enough to be the perfect fit when your look needs to be on point.
Built to last for years to come, Coach bags often find themselves being passed down through families and friends because they just keep giving!