Today, April 1, 2022, Ridge has introduced a new razor attachment for their signature Ridge wallet. Designed to remove hair, whiskers, and post-pubescent stubble wherever it grows, the Ridgescaped 10.0 attaches seamlessly and securely to your Ridge wallet for the closest shave ever.
Micronized servo motors, reportedly the spin-off of NASA technology developed for the International Space Station, SackSafe technology keeps this razor humming at an industry-leading velocity. It's almost completely silent, too, as if it's not running at all.
As Ridge themselves say, the carbon fiber Ridgescaped 10.0 is:
waterproof
bulletproof
fireproof
Behind the scenes testing has been conducted for several days now, and reviewers have consistently given the Ridgescaped 10.0 glowing 5-star reviews. From my own experience, I can only say that shaving above and below the belt has never been such a scintillating experience.
Why we love it
I especially love the fact that I can remove unwanted hair without removing any cards from my wallet. Whether I'm loaded with 3 cards or 10, the shaving attachment snaps onto my Ridge Aluminum card holder with a secure "click." I have the satisfaction of knowing I'm always ready for a quick trim while paying my restaurant bill at the same time.
The Ridgescape works with all brands of shaving creams and lotions, though it does leave some gooey residue that should be periodically wiped away with a soft chammy.
Designed to be carried in your pocket at all times, it comes in a Kevlar-reinforced red velvet sleeve that shields your sensitive outer thighs from lacerations in case it's switched on accidentally.
Perhaps the most outstanding feature is how easily the Ridgescaped 10.0 fits in my hand when shaving. Ridge has always been ahead of the curve with an ergonomic design to hold your credit cards, drivers license, and collection of Sephora loyalty cards. But who new this cutting-edge razor attachment was in their cross hairs?
I really like the fact that it can be charged with USB-C rather than an old-fashioned micro or mini USB. Fortunately, the packaging includes the appropriate charging block and a 2 meter long cable. (Are you listening Apple?)
The Ridgescaped 10.0 comes highly recommended from this reviewer, but word has it that it will only be available for a single day. The price will be revealed at checkout. You'd be a fool not to jump on this April 1st deal.
Coming Soon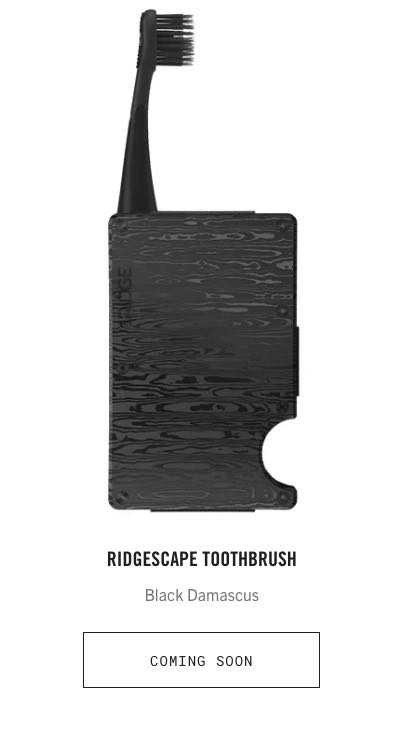 Ridge plans to contribute to your good personal hygiene even further with the Ridgescape Toothbrush. This handsome wallet was designed with your teeth in mind.