In this post, I'm going to do a quick overview of the Moft MagSafe wallet, also known as the Moft Snap-on Phone Stand and wallet, and the Moft MagSafe Enhanced case for your iPhone 12 or newer.
The Moft case really turbocharges the magnetic attachment of the Moft wallet. They're made to go together.
Moft MagSafe wallet with the Moft MagSafe Enhanced Case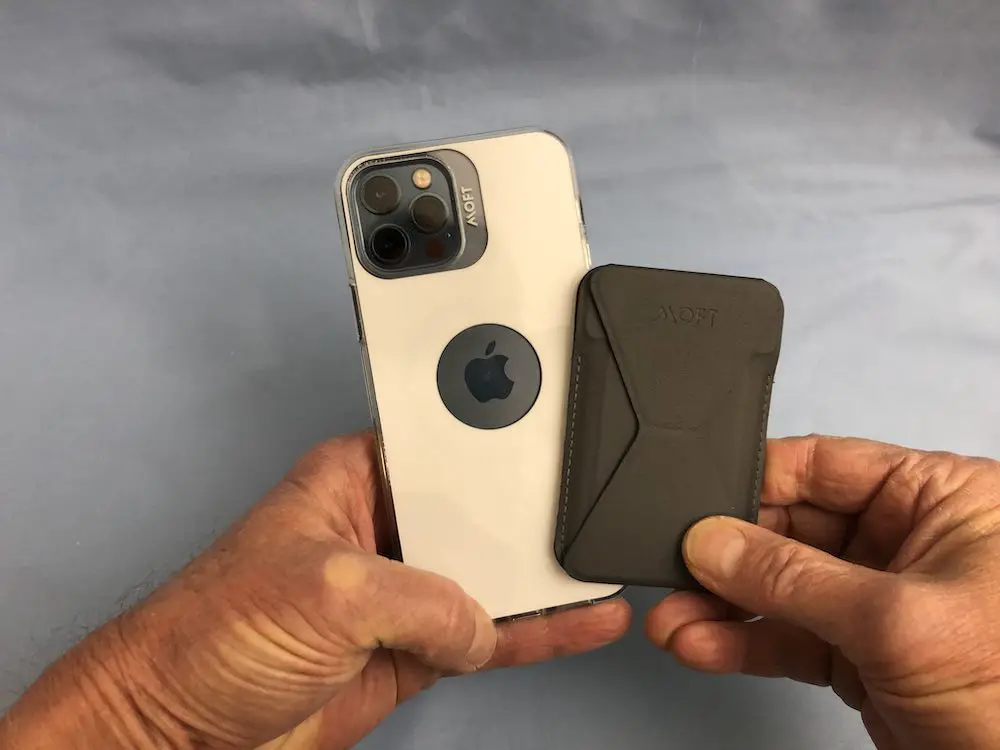 Moft MagSafe Wallet and Case
Magnet strength of the Moft MagSafe wallet
First of all, much has been said about the relatively weak magnet of the Moft MagSafe wallet.
Truthfully, after testing the relative magnet strength of 14 other MagSafe wallets, I place the Moft wallet in the "adequate" category. It's doesn't hold like epoxy, but it also isn't the magnetic equivalent of a Post-it Note.
By the way, I tested the Moft wallet with an Apple MagSafe silicone case on my iPhone 12 Pro. This is the same case and phone that I test all of my MagSafe wallets on.
That isn't to say that the magnet couldn't be stronger, because it could. But it's strong enough to do what it is designed to do. Which means: it will not accidentally fall off your phone into the campfire, toilet, or an open manhole.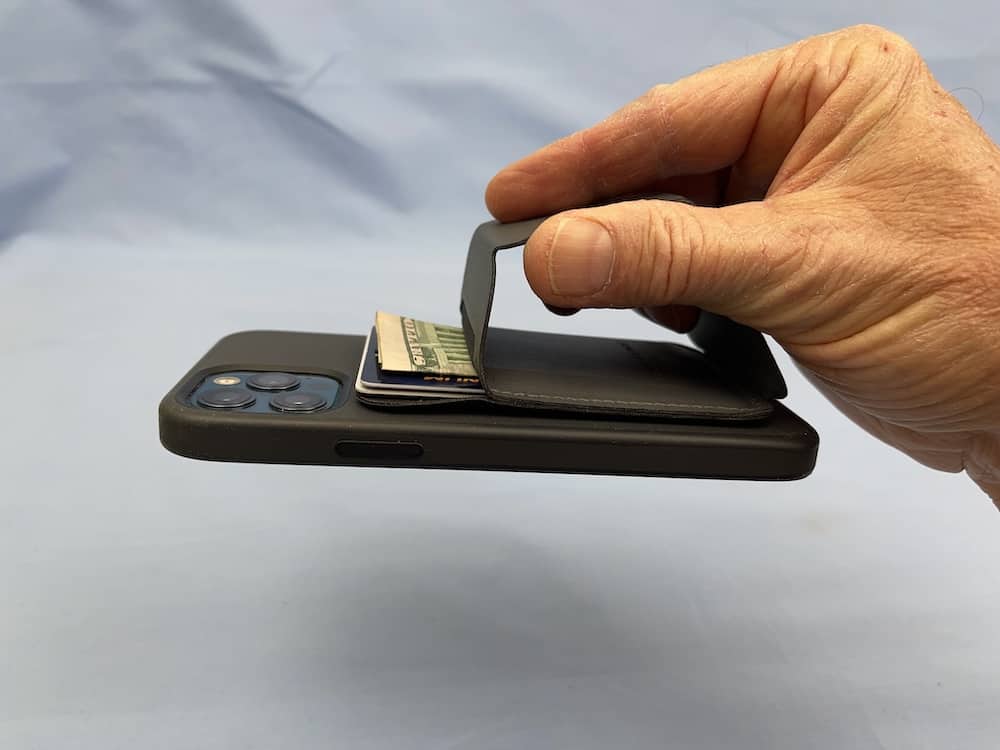 There are other MagSafe wallets, particularly the PopSockets PopWallet, that have stronger magnets. But none are as versatile as the Moft MagSafe wallet.
How to use the Moft MagSafe wallet
It's the only MagSafe wallet with 3 viewing positions
The key point is, even with my Apple MagSafe case, the Moft wallet stays attached to my phone in my pocket. And when I fold it out into a kickstand, it securely holds my phone in portrait, landscape, and floating positions.
However, because the matching round magnet array in the case and the wallet, you can rotate the wallet without breaking the magnetic connection. That's why you can rotate the Moft MagSafe wallet and view it in 3 different positions without it losing its grip.

Many people don't realize that there is also a positioning magnet in most MagSafe wallets (including the Moft) that matches the positioning magnet in the case (and in the phone, if you're not using a case). This is designed to keep the wallet square to your phone.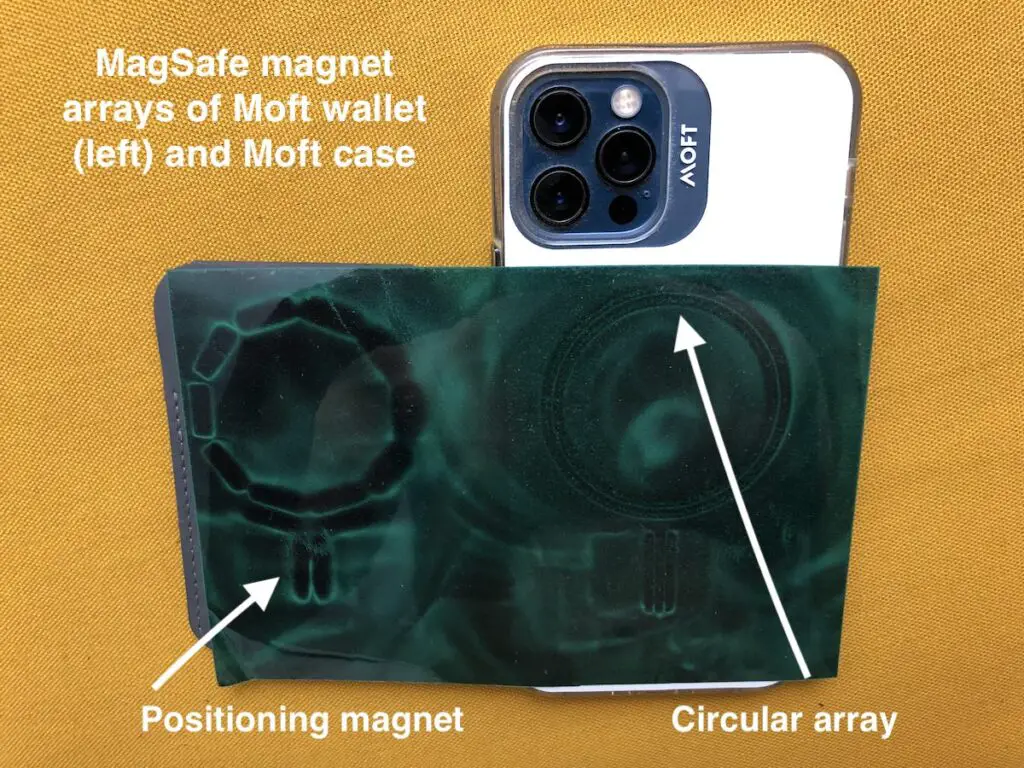 This positioning magnet is why you feel the wallet "snap" into place when it's placed in portrait viewing position. When it's rotated into landscape and floating viewing positions, this small magnet isn't used.
The thing to remember about all MagSafe wallets–regardless of manufacturer–is that they will all fall off when pulled or slid with enough force in one direction. There is no magnetic "elasticity" here. It's either 100% or zero. But they can be twisted or rotated without breaking the magnetic connection.
It holds 3 cards and some cash
The Moft MagSafe wallet holds up to 3 cards and a bill or two of cash that are easy to access without the need to remove the wallet from my phone first. That's a big plus for me, and just one of the reasons why it is a vast improvement over the Apple MagSafe wallet.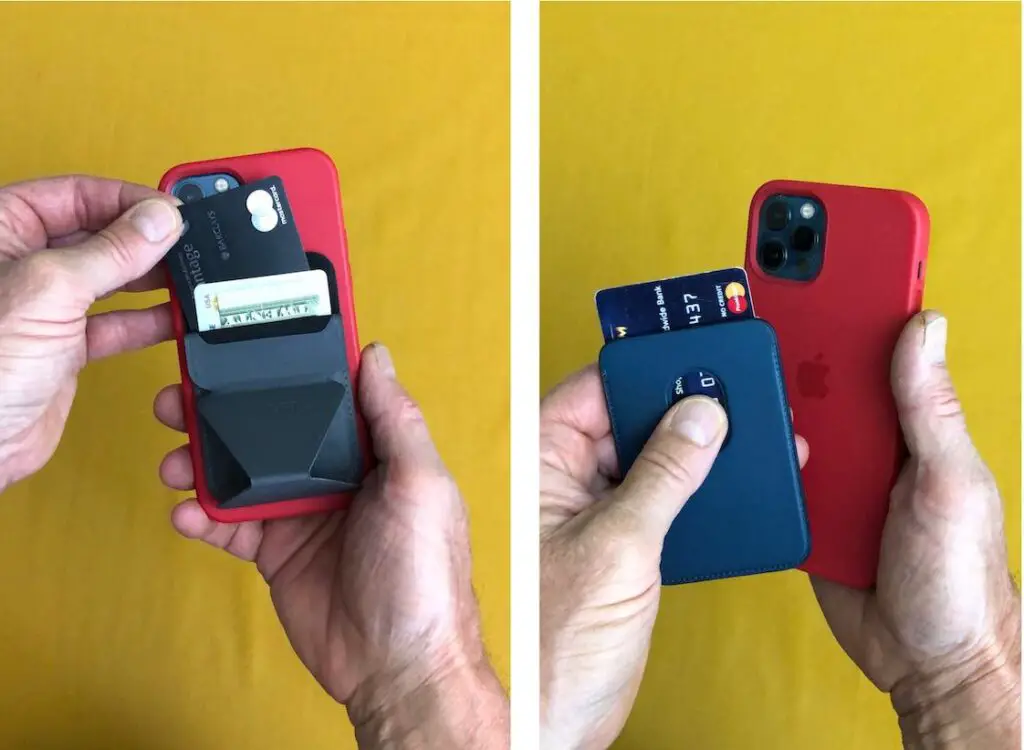 And you can even use it as a magnetic grip to hold your phone. I like to wrap my fingers around the phone for a little extra support, just in case.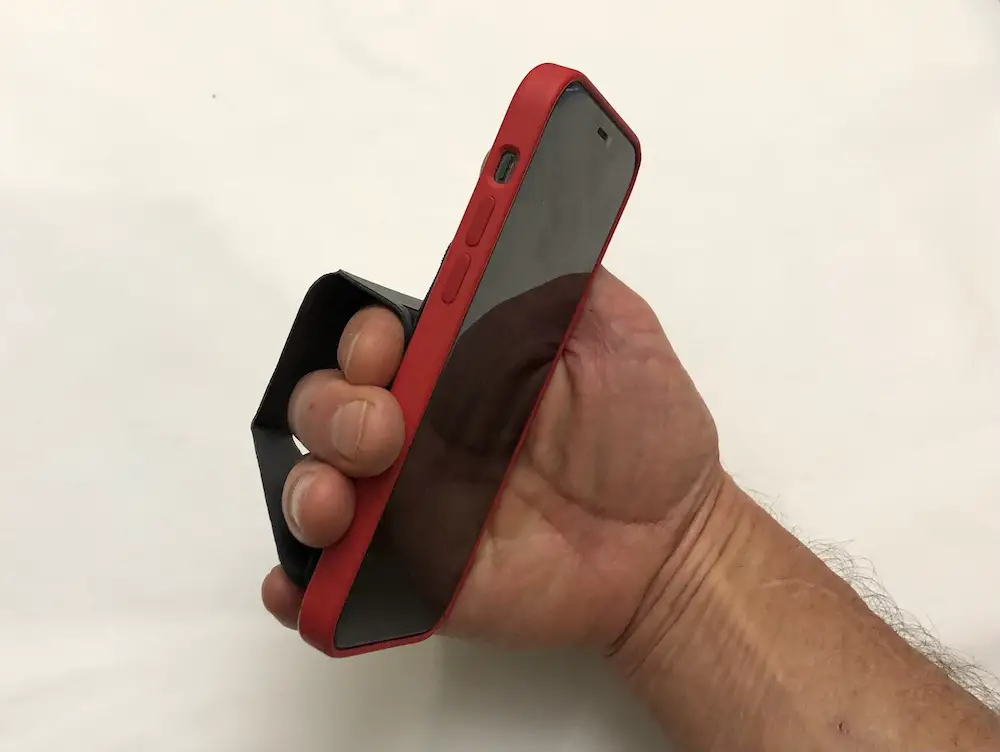 As an unexpected bonus, it will even magnetically attach to my Belkin Boost Charge car vent mount and hold my phone simultaneously. Of course, if I want my phone to charge, I have to remove the wallet.
Moft MagSafe Enhanced iPhone case
A huge increase in magnet strength
I don't think that is any question that Moft could have made the magnet on their MagSafe wallet stronger. After all, if you look at this table, you'll see there are other MagSafe wallets that have stronger magnets.
What they decided to do, instead, was produce a MagSafe case that VASTLY improves the strength of the magnetic between the Moft wallet and your phone.
I think it's safe to say that the strength nearly doubles. Or at least if feels that way.
It's like a whole different world when you compare place the Moft wallet on the Moft case versus the Apple MagSafe silicone case.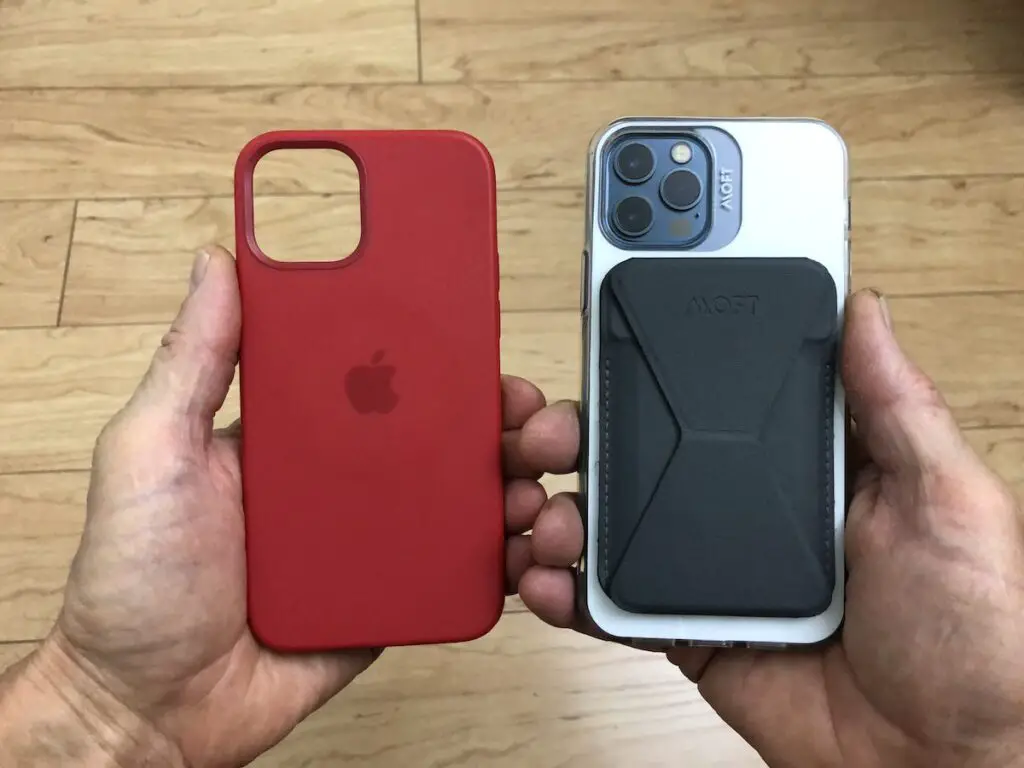 That's not say anything negative about the Apple case. It's my go-to case that works really well with all MagSafe wallets, in general.
In fact, I like the grippiness of the Apple silicone case better. The Moft MagSafe case is made from smooth plastic, so it's easier to slip through your fingers than the Apple case.
But the Moft MagSafe case super charges the magnetic attachment of the Moft wallet. I mean, it's a dramatic difference you can instantly feel. Just try pulling, sliding, and twisting it.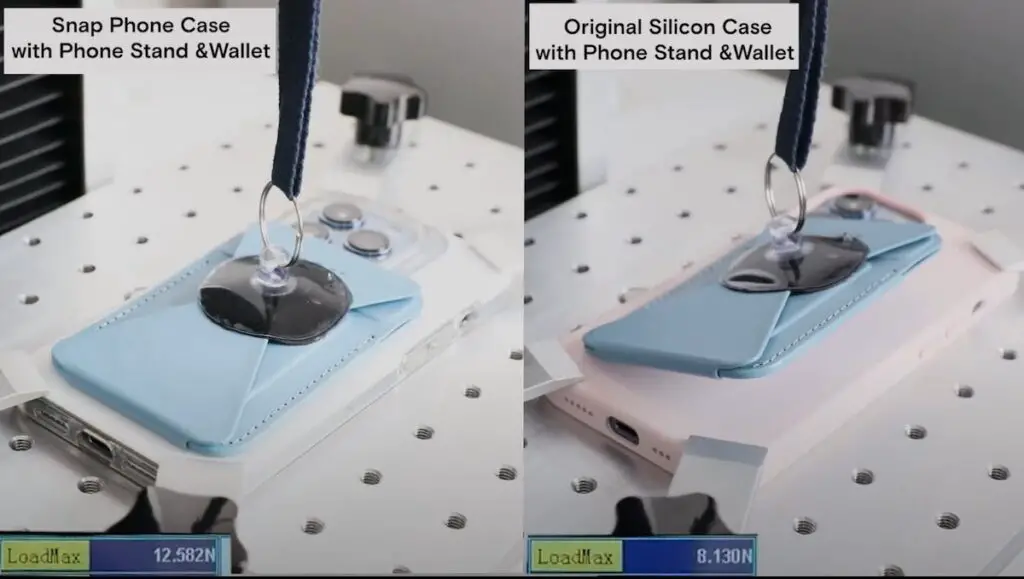 The magnet in the case is even strong enough to attach your phone securely to a refrigerator, gym machine, or any other steel surface. I shot this video to demonstrate.
You really have to put some muscle into it to get it to move.  This wallet ain't going anywhere. And it magnifies the magnet strength of every other kind of MagSafe wallet, too. It's just a really dynamite case when it comes to magnet strength.
The Moft Snap case lets your phone shine through
Aesthetically, it's a really attractive case with a combination of flexible transparent sides and either a white or smoky black back.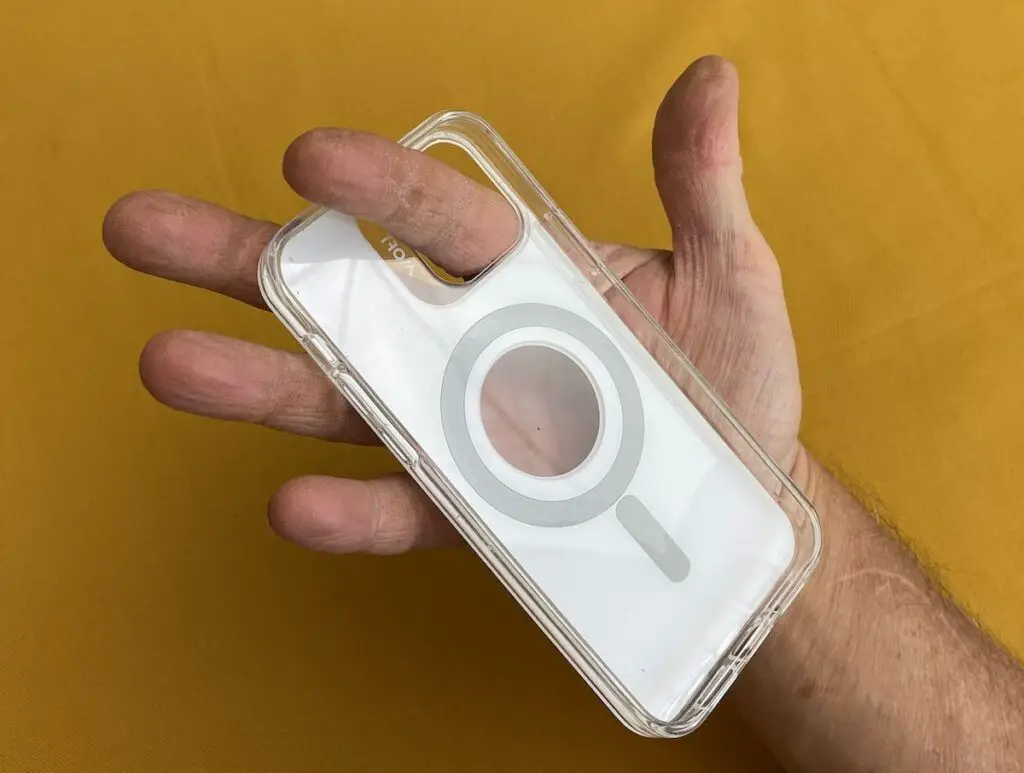 It lets the color of your phone shine through on the sides while exposing the Apple logo in back. The edges of the case are made from thermoplastic polyurethane which has an excellent reputation for absorbing shock should you drop your phone three times a week like I do.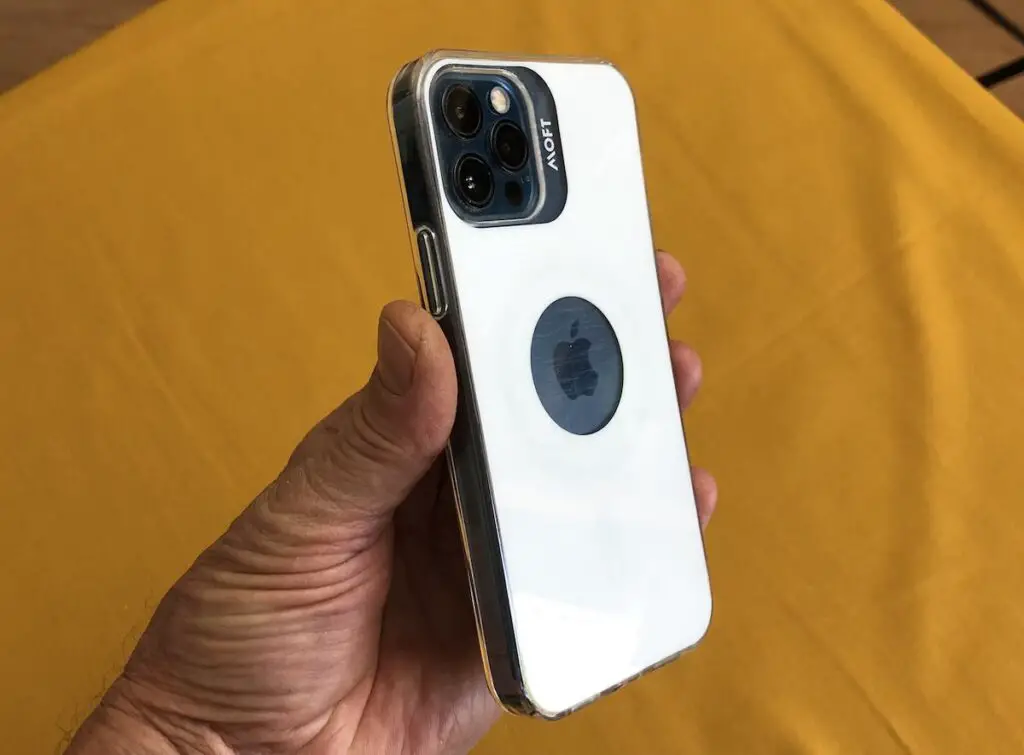 The Moft wallet sticks solidly to the back of the Moft MagSafe enhanced case, while giving you quick access to 3 cards and a bill or two of cash. You can even squeeze in a receipt, if you like. (I do it all the time.)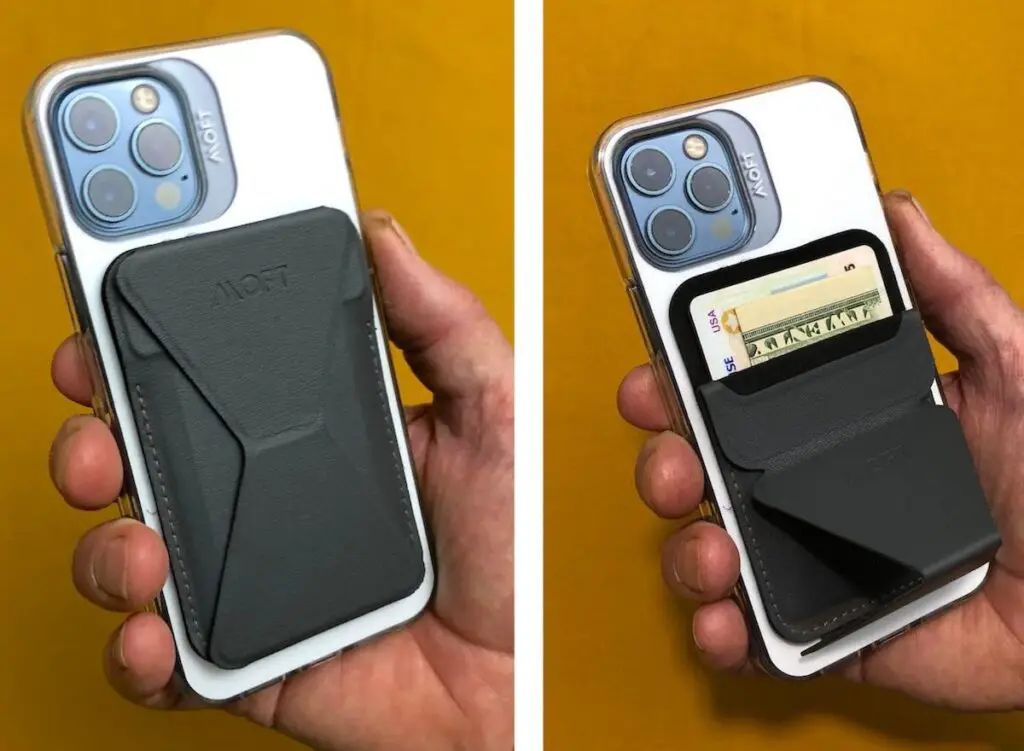 Moft claims that the case will protect your phone from a 5-foot drop, though I don't plan on testing it. Dropping your phone just isn't an option. Keep repeating that to yourself.