If you think wallets are boring, then you've never carried a magic wallet. These wallets are wicked smart, but not because of high tech mechanisms, tactical firepower, or tracking electronics.
Magic wallets use a deceptively simple design that is hundreds of years old, yet still manages to fool the most sophisticated among us who think we've seen it all.
Unsure about what a magic wallet is or curious about what's on the market right now? Here's our brief buyer's guide to help you out. 
What is a Magic Wallet?
It's the only wallet that seems to be missing a hinge, which means that you can open it from both sides. When you place a cash bill inside the right side, it will reappear underneath elastic straps on the left when you open it on that side. The cash then moves from side to side, depending on which side of the wallet is opened. 
A magic wallet is also known as a "flip wallet," because you can flip it over and open it from either side. While this all seems – well – magical at first glance, there's no actual sorcery going on here. Just really crafty design.
The body of a magic wallet is made of two independent pieces of leather that are attached together with a couple of elastic straps that secure it in an X-style formation. This forms two "hinges" rather than one, allowing you to seamlessly open the wallet from either side.
It's kind of hard to explain, so this short video should help.
From the front, a magic wallet looks like a traditional bifold wallet of days gone by. But the first time you open it (and the second and the third), you will be flabbergasted. It's a WTF moment if there ever was one.
I've done it dozens of times and I still scratch my head in disbelief. It's even more head dazzling when you watch the bills move from side to side.

1. My Favorite: Garzini Magic Wallet
Garzini is the reigning puppet master when it comes to the largest catalog of quality magic wallets.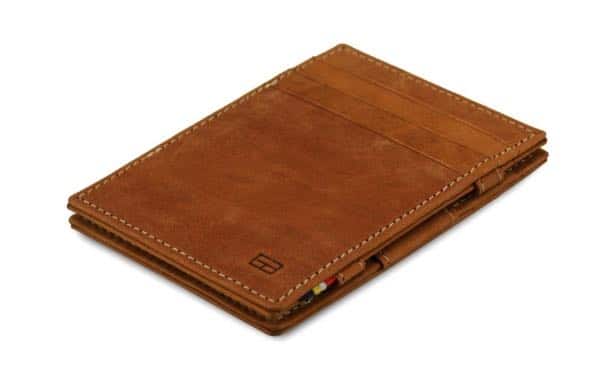 Even amongst other competing magic wallets and all the other amazing cardholders on the market today, the Garzini minimalist wallet is a rare find. In fact, magic wallets are all they make.
Perfectly balanced between form and function, the Garzini uses nothing but the best materials and the smartest design to keep all your cards and cash safe without sacrificing style along the way.
The wallet is made from high-quality top-grain leather and has a matte-finish, helping it look simultaneously rugged and expensive. Garzini has come up with their own design for their magic wallets with horizontal leather straps rather than X-crossed elastic.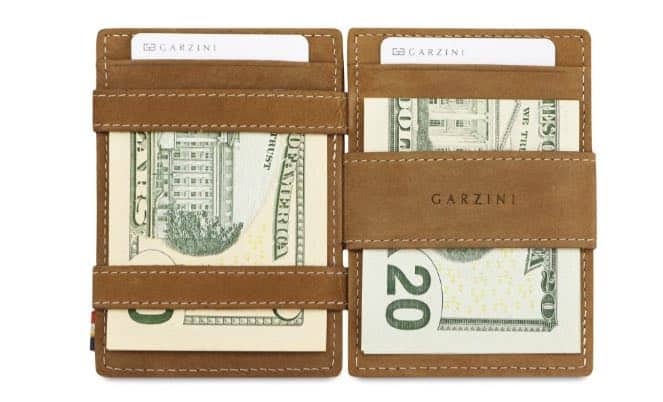 Other aspects of this wallet also strive to keep up in this department, using double-stitching, multi-layered bonded leather straps, and integrated silk to ensure you won't be replacing this beast anytime soon. Besides the great construction, Garzini's thin minimalist magic wallet also handles the actual storage stuff beautifully.
Not too spacious nor too tight, it has room for up to 10 flat cards plus cash and a few banknotes, receipts, or business cards. Combine that with RFID protection, its fun magic wallet system, and 1-year warranty, and you get one of the best flip wallets you can buy. 
2. Useful Thingy Magic Wallet
Despite the dopey name, this well-made magic wallet will fool you good.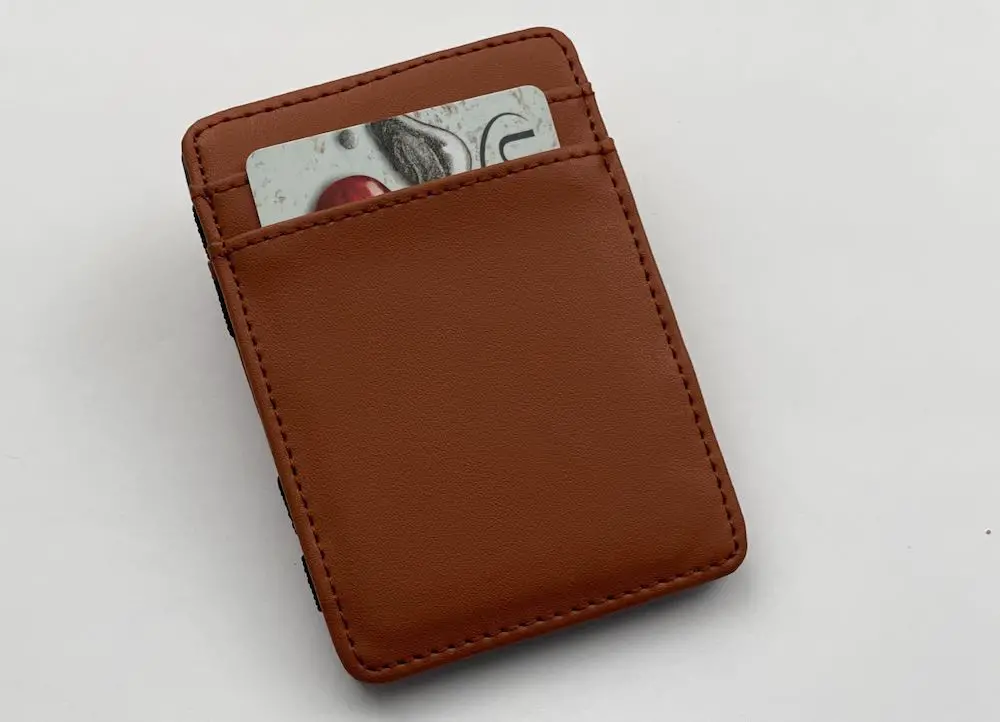 True to its sort of dopey name, the Useful Thingy Magic Wallet is a useful option – one that leaves all the bells and whistles behind. Unlike the Garzini minimalist, this wallet offers a slightly smaller carrying capacity with only 4 card slots on the outside and none inside. It's a good choice for those who prefer to keep their everyday carry as light as possible.
The pared-down storage is also followed with a pared-down aesthetic. Genuine leather is still used here for the main wallet but is a more basic, even tone, and the combined leather and silk straps have been traded for basic elastic.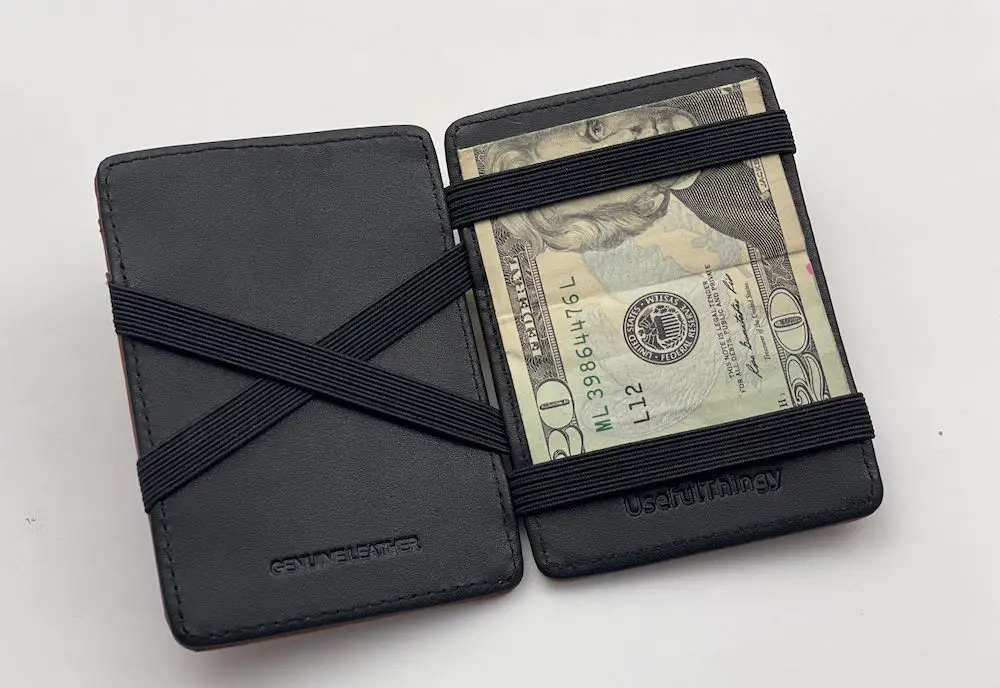 Longevity might be slightly impaired with continued use and day-to-day wear and tear doesn't seem too impacted, giving it fantastic value for the price. If you're looking for a budget magic wallet, this is your baby.
3. Hunterson – Vegan collection
This unusual magic wallet uses a textile made from pineapple leaves.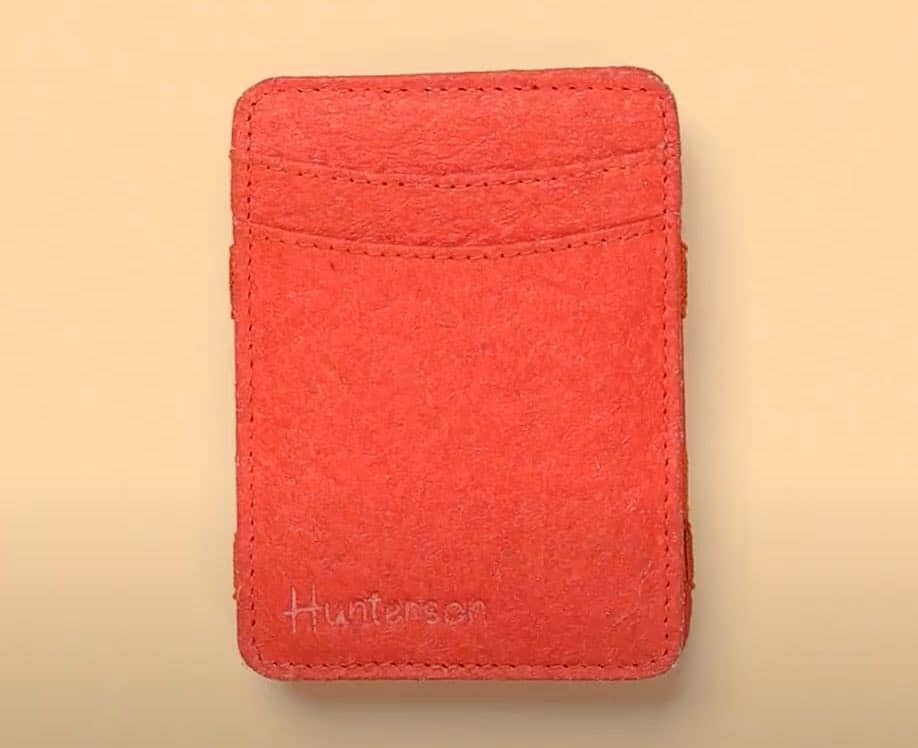 Flip wallets are just like any other, coming in everything from traditional and basic to ultra-flashy. The Hunterson Vegan hits the middle ground, using old-school construction, straightforward design, but uses vegan leather. This leather is–get this– made from pineapple leaves, a material called Piñatex.
It does make a few improvements here and there that make it more practical than its counterparts. The first of which is a simple fix: deeper pockets.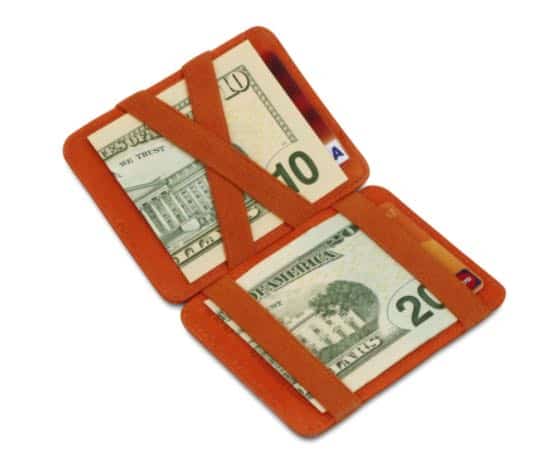 It's not a big deal on the surface, but it completely changes the card-carrying game, helping you keep 12 cards at once despite the wallet only having 4 outside and 2 inside sleeves. The strap system has also been optimized, strengthened to resist stretching, guaranteeing your cash, cards, and receipts are safe and secure.
Oh, and it also helps ensure so you can keep flipping and fidgeting away to your heart's content. Always a welcome bonus.
4. JCrew Magic Wallet
JCrew emerged from bankruptcy in Sept. 2020, so their inexpensive magic wallet is ready for prime time.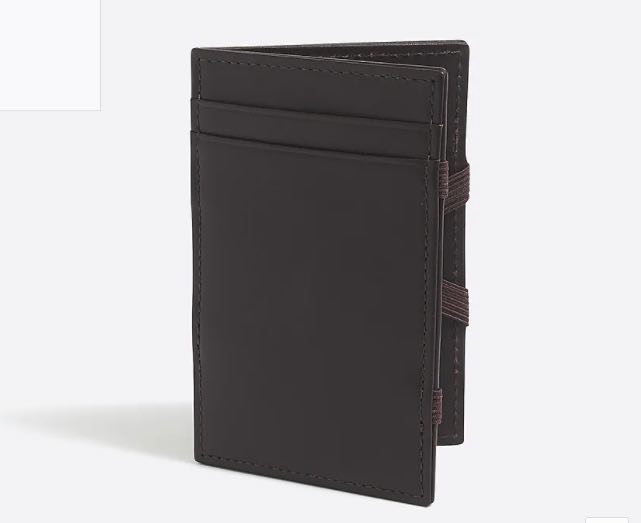 Did you know that JCrew was still a thing? Well, I didn't, but I'm glad they're still around, because their signature flip wallet is comfortable, simple, and inexpensive offering worth looking into.
For those who appreciate especially minimalist designs, this has your name written all over it, thanks to one-tone leather and dark, muted color choices of black or near-black (i.e., espresso).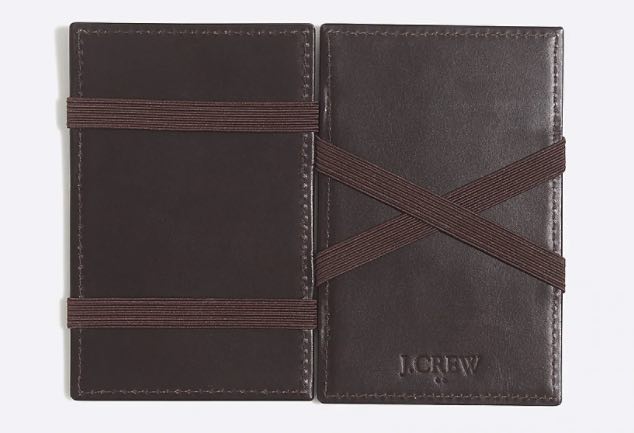 The leather feels nice to the touch and isn't overly flimsy despite the exceptionally low $10 price tag. Meanwhile, overall wallet construction is also generally impressive – a major win for any budget-friendly cardholder.
Concerned about the size? It actually looks significantly bigger in pictures than it is in reality. At 4 1/8″H x 2 3/5″, you shouldn't have any problems sliding it in a pocket or throwing it in a bag.
5. Auliv Leather Magic Wallet
The only magic wallet on this list to use vegetable-tanned leather.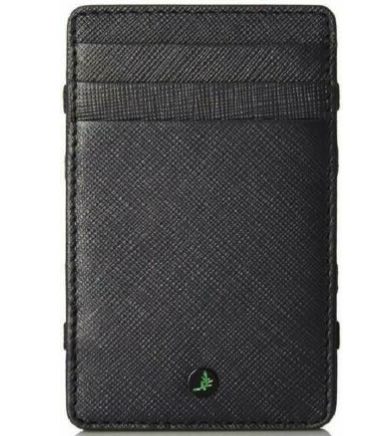 Haven't found quite the right magic wallet for you, yet? Consider giving the Auliv Leather version a try. This one has a similar look to many others, but uses vegetable-tanned leather and black elastic straps to attach the pieces. It also has the highest card carrying capacity.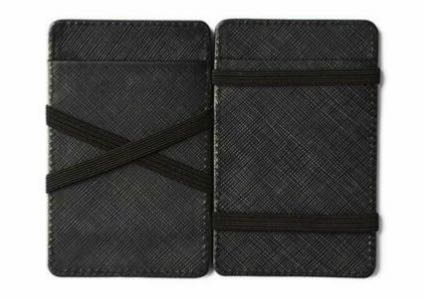 Where four card slots and 2 bill compartments seems to be the norm, the Auliv's flip wallet opts for 8 total card slots. What about the bills? Those are held entirely by the secure elastic. That makes it ideal for those who hoard old gift cards and faded gym memberships over torn dollar bills – so, practically everyone under 35.
Even if you're an old fart, it still makes for an exceptional magic wallet. Durable, not too expensive, and fun to play with, there's little reason to pass it up.