"The Helm" MacBook Pro Leather case from Andar is made from oil-waxed full-grain leather and designed to fit MacBook Pro laptops from Apple. 
This case isn't a sleeve. It's a hard shell case that comes in two separate pieces. One snaps onto the back of the screen (covering the Apple logo). The other half snaps onto the base. 
In many ways, this hard shell leather case is really unique because there aren't many equivalent leather cases out there. Certainly not of this quality.
Andar "The Helm" Laptop Case for MacBook Pro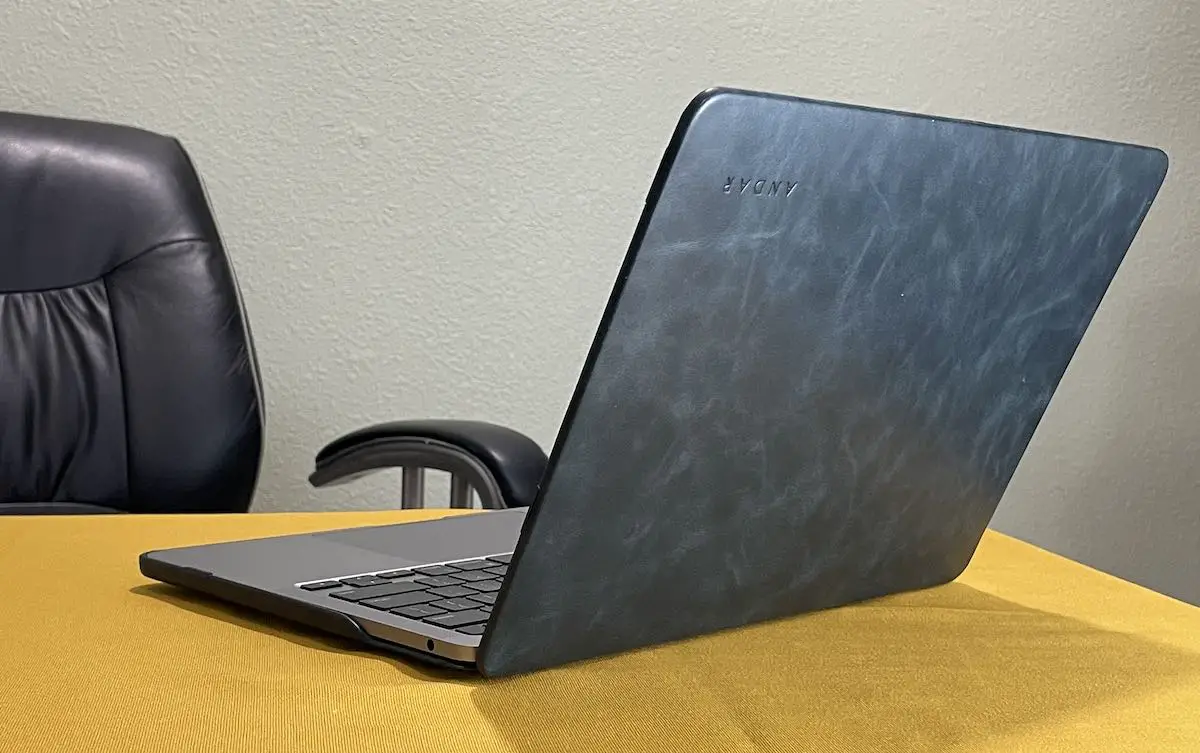 Summary
The Andar "The Helm" is an ultra-high quality leather case designed to fit Apple MacBook Pro laptops. The case snaps into place and fits perfectly. The leather is full-grain and beautiful on the outside, with microfiber fabric on the inside to protect your MacBook's finish. The only drawback is that it's a little pricey.
Easy to install and fits perfectly
The Helm MacBook Pro leather case comes in two pieces and I installed both of them in seconds on 13" MacBook Pro. Each of the leather panels has a micro fiber lining and they snap securely into place with little or no finagling. In fact, I would say that it fit my MacBook absolutely perfectly. 
This video shows you exactly how to install it.
There are 4 small bumper feet on the bottom panel which grip my wooden desk with no slipping or sliding unless I really nudge it. Like I said, the leather panels fit perfectly and allow me to open and close my Mac as smoothly as if they weren't there at all. 
The case keeps all USB-C ports and headphone jack on the sides lined up and fully exposed and useable. 4 slotted vents at the bottom panel allow heat to freely dissipate. Andar really thought of everything with this case. 
Advantages of the MacBook Pro leather case from Andar
Feels good, looks good, smells good
Andar uses oil-waxed, full-grain leather for The Helm case. The term "oil-waxed" might conjure up some sort oily or sticky feel, but there is absolutely none of that. The leather is smooth with a visible texture naturally embedded in the leather that you can feel with you finger tips. 
It looks and feels like high-quality leather because it IS. The leather is stretched over a lightweight rigid panel and covered with another layer of microfiber fabric on the inside. This is to protect the finish of your MacBook and it feels soft enough to be up to the task.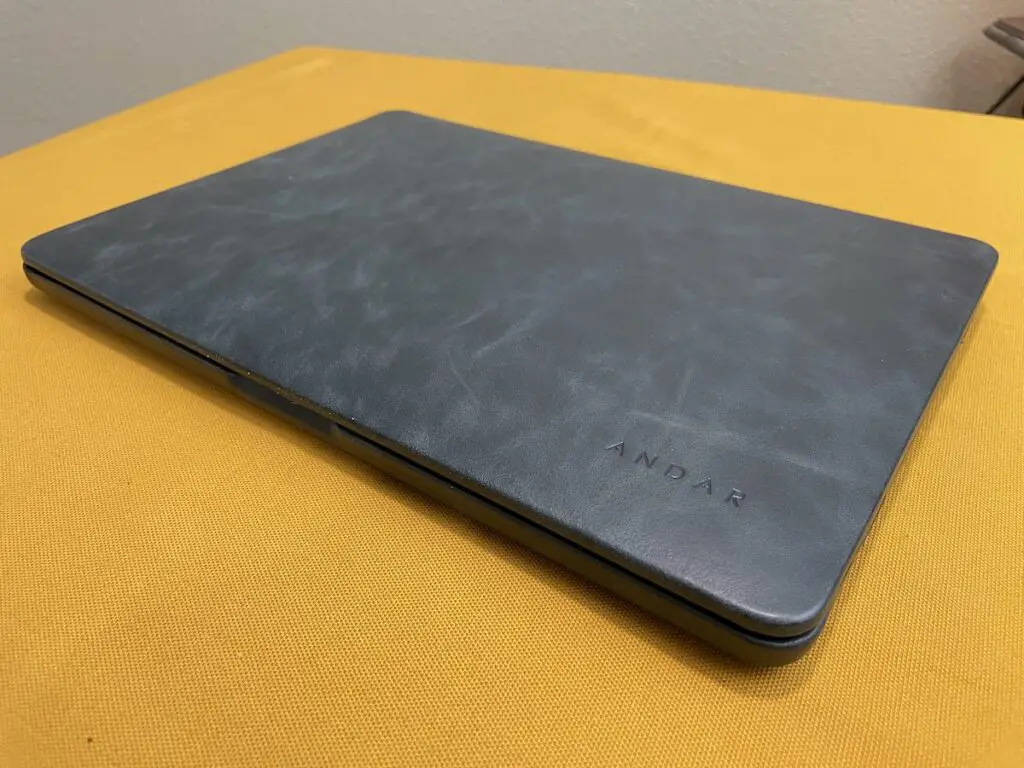 When I first removed The Helm from the packaging, I was about knocked over by the wonderful fragrance of the leather. I'm not sure if it's veg-tanned or chrome-tanned leather, but the smell is simply luscious. 
The leather fragrance was super strong for the first few days, but it has now stabilized to just a subtle note you can only detect by sticking your nose right against the leather. It's a nice reminder that this leather is the real McCoy.
Multiple colors available
Andar offers 5 different colors for the Helm. I was immediately drawn to the Navy color because it was the only "cool" color on the list. What I mean is that the other colors are all warmer color tones with more natural leather colors.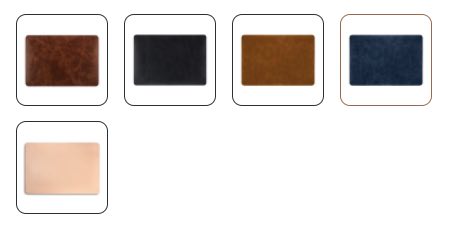 Each to his own, but I chose Navy because it is more complimentary to the Space Gray color of my MacBook. It just seems to blend in better, without shouting, "Hey, just look at my fancy leather-covered laptop!".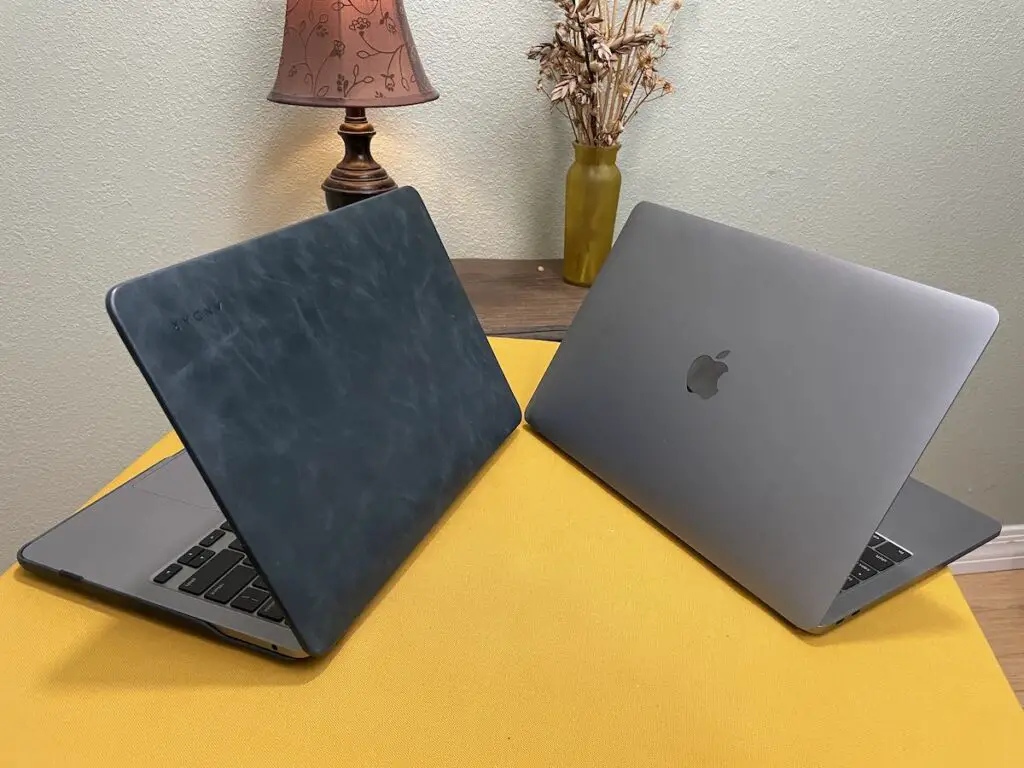 There is a visible "marbling" in the look of the leather, which is a result of the natural irregularities in the hide. As I already mentioned, this is a sign that it's truly full-grain leather.
Protects from scratches 
In May 2022, I installed The Helm case on my 13″ MacBook Pro and carried it on a week long trip from the west to the east coast and back again. I opened my laptop on airline tray tables, at airport eateries and hotels, and plenty of times on my lap at gate waiting areas.
With The Helm installed, it protected the finish of my MacBook (both top and bottom) from any scratches or dings. It adds a little bit of thickness and weight, but it also makes it feel more secure. I feel more secure in general with this case.
There is also a microfiber layer on the inside that protects the finish of the MacBook from any friction from the inside of the laptop case.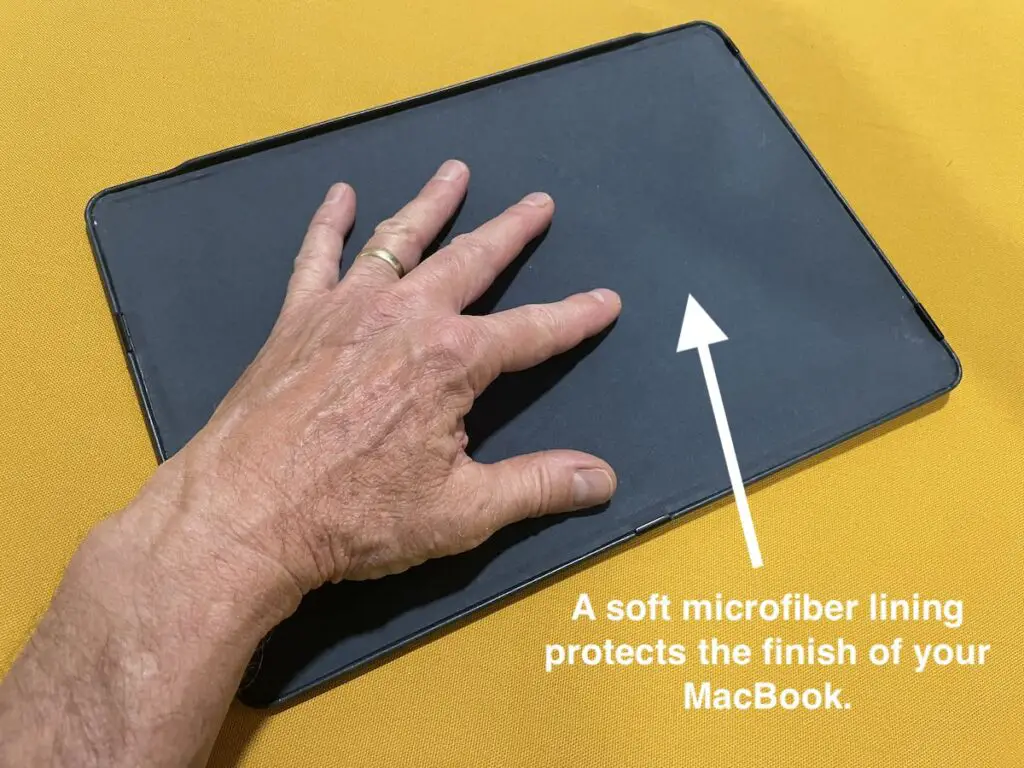 Out of habit, I still transport my MacBook in a padded laptop sleeve, though I probably don't need to. 
Gives some protection from accidental falls
I have never dropped my computer, but it's nice to know that this case will give it some condition should iI ever do such a stupid thing. The Helm isn't marketed as a shock-proof case, but the leather does wrap around all of the corners that would probably bear the brunt of fall. 
Because The Helm is made from naturally dense, full grain leather, it will "give" a little, absorbing some of the shock if your laptop ever slipped out of your hands.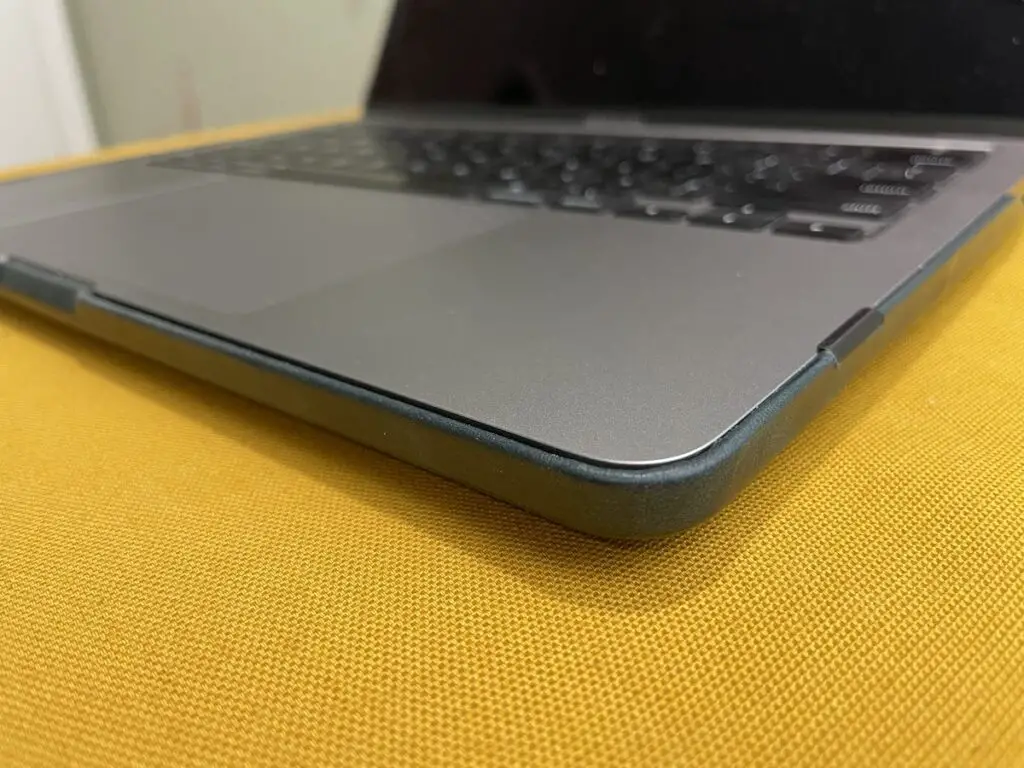 In addition, I found that the leather is grippier than bare aluminum when carrying the MacBook under my arm like a book. I definitely feel more secure carrying my MacBook with The Helm case on it than without it. 
Personalize your generic MacBook with fine leather elegance
Let's face it, MacBooks are a dime a dozen. Everybody's got one, and they all look the same.
The Helm from Andar is a much better way to personalize your MacBook than a bunch of gooey stickers. And it definitely beats the hand-knitted cover you received from your aunt last Christmas.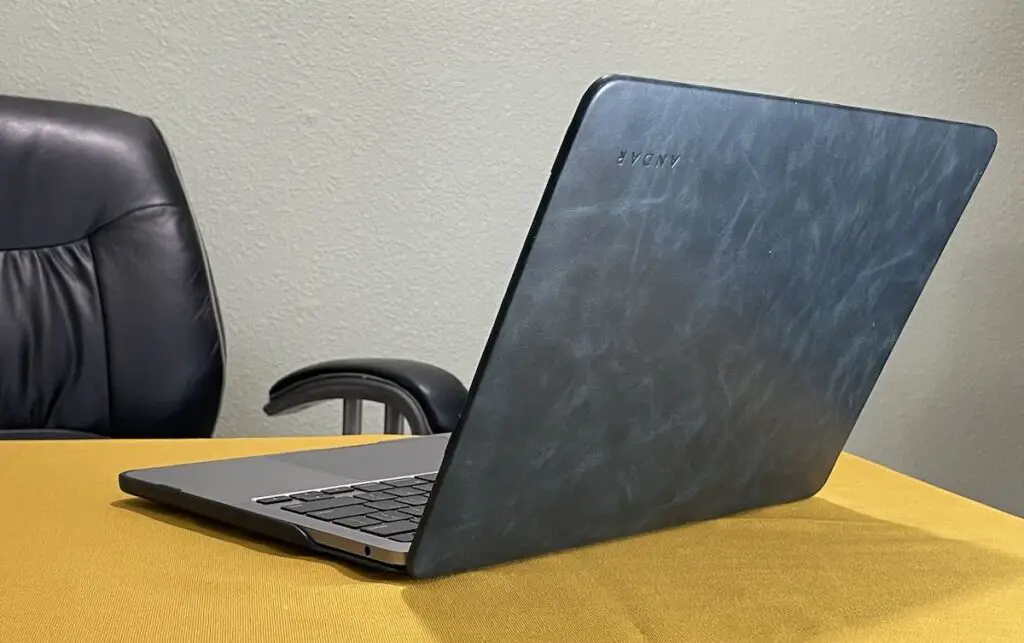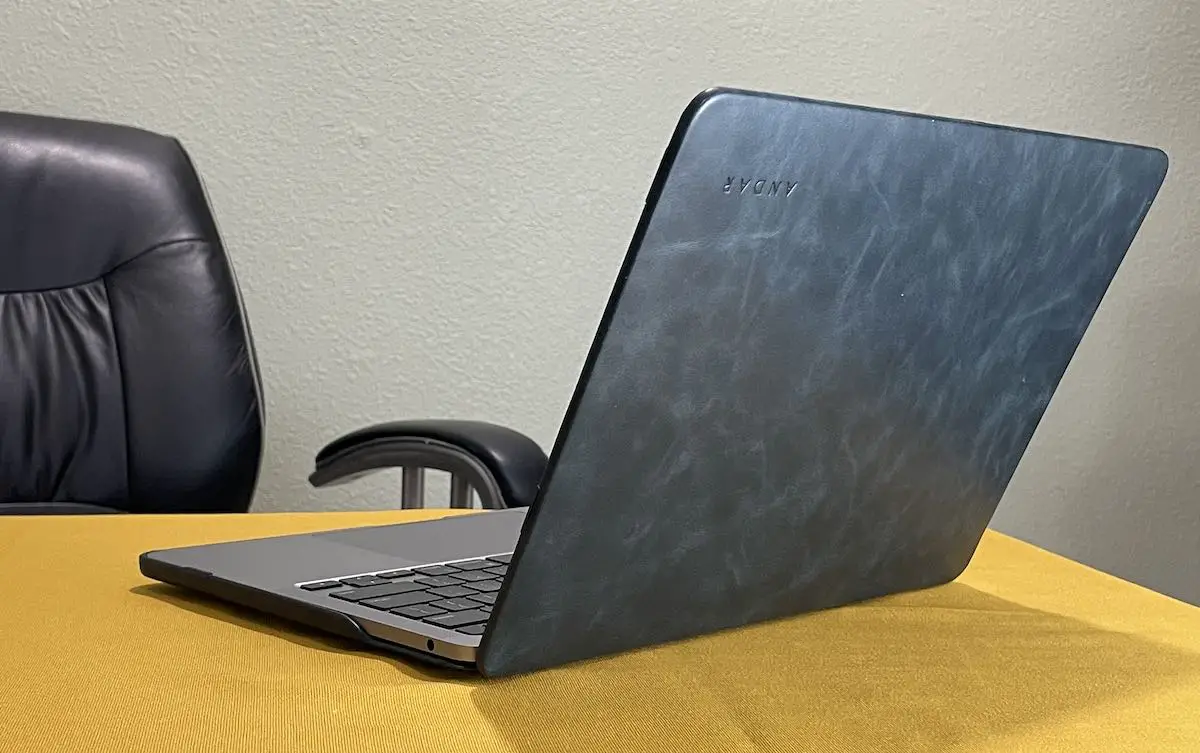 If you already love your Apple MacBook, The Helm case will take your enjoyment up another notch. The fit and finish couldn't be better, and the case doesn't interfere at all with the basic functionality of your MacBook. The case snaps on cleanly and comes off just as easily. 
And finally, you'll always be able to pick your MacBook out of a crowd.
A few disadvantages 
It blocks the Apple logo 
The half-bitten apple on the back of the screen of your MacBook will be replaced with the engraved Andar logo. In fact, every inch of the exposed parts of the laptop will be covered except for the ports on the side and the vents at the bottom.
It's only made for MacBooks
If you have any kind of laptop other than an Apple MacBook, you sort of SOL when it comes to The Helm laptop case. The case will fit these MacBooks.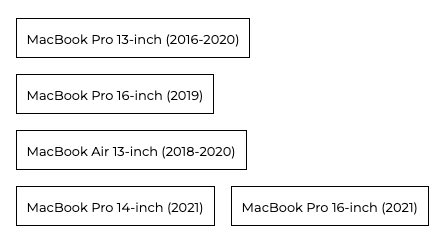 It makes your MacBook slightly thicker and slightly heavier
As I mentioned, I spent a week traveling with The Helm case on my 13" MacBook Pro. I used it in all sorts of different situations and I never felt that the thickness or slight extra weight was a downside. In fact, it made my laptop feel safer and more substantial. And less vulnerable.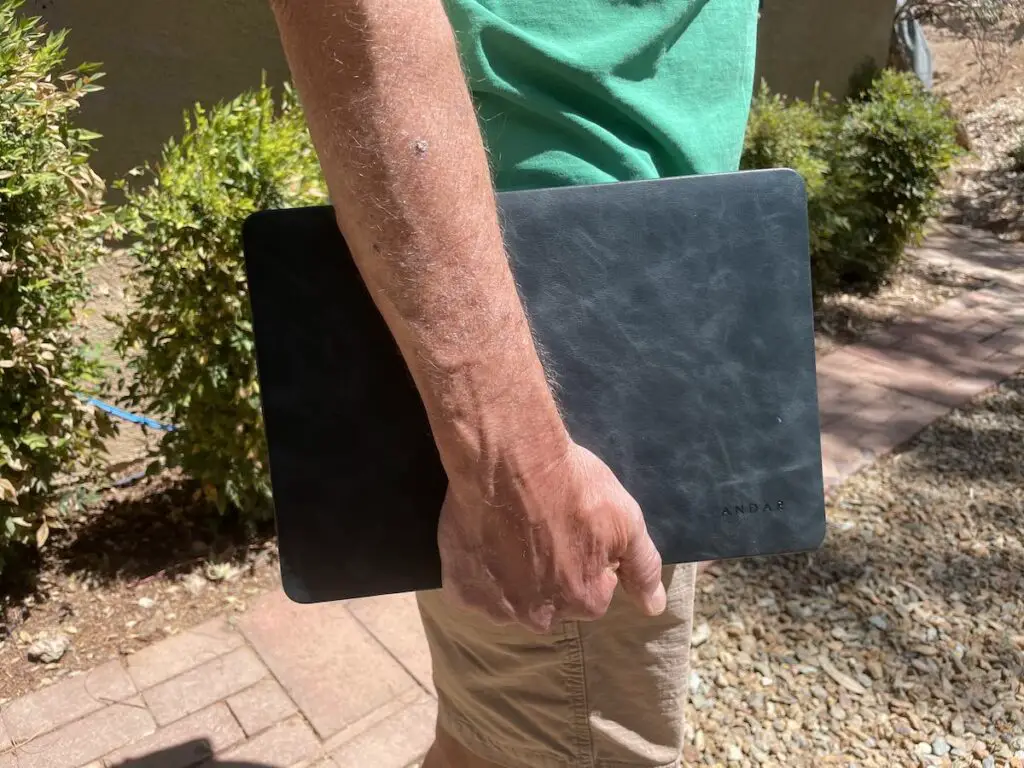 Kind of expensive
Unfortunately, there is no getting around the price. But even with a range of $125 – $135, I feel like it's worth it.
It's a beautifully crafted case with fine leather and a microfiber material on the inside to protect the finish on your MacBook. The fit is perfect and the whole case looks and feels like class.
There isn't much to find wrong about this MacBool Pro leather case.
Should you buy it? 
There are a zillion MacBook Pros out there, but only a paltry few have a leather case with the quality of The Helm from Andar.
At $125, The Helm is definitely a splurge. It's a luxury item that won't make your more productive as you pound away at the keys of your laptop. But what isn't so quantifiable is how good The Helm will make you feel while you labor away at the keys.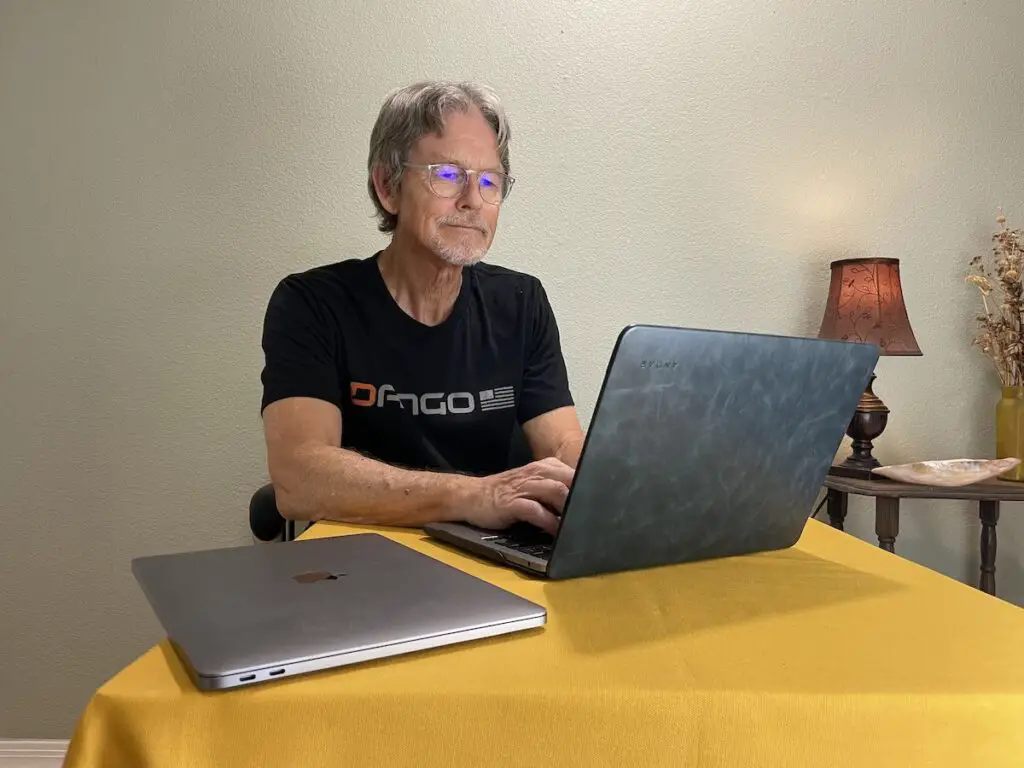 If you're anything like me, this case will make you feel just a little bit better whenever you open up your MacBook.
The Ekster Laptop Sleeve is a less expensive alternative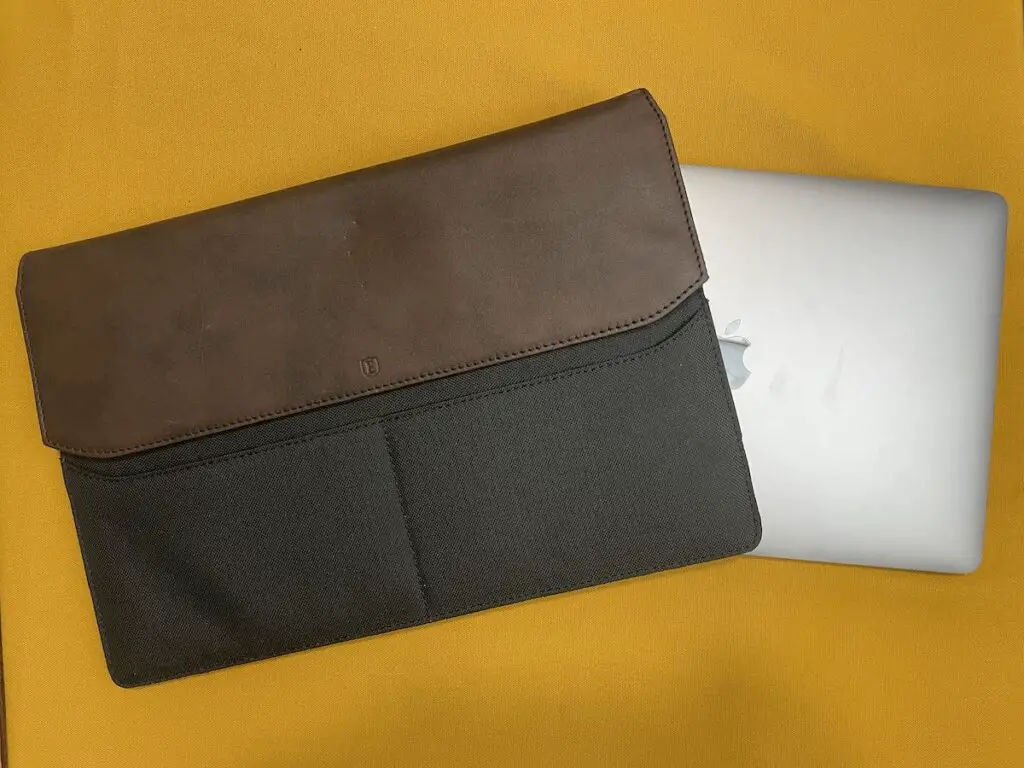 The laptop sleeve from Ekster is a good alternative if you have a 13″ laptop made by other manufactures than Apple. It uses both environmentally certified leather from ECCO and padded microfiber to protect your laptop.
This isn't a form fitting case but rather a sleeve. It comes with extra storage for cables, chargers, USB drives, pens, and even a document or two. It's much more versatile than The Helm, but it's also a bit bulkier and considerably larger.
Think of it more as a slim, multifunctional case for carrying your laptop and all the other accessories you need.