The Aviator wallet is one of my favorite minimalist cardholder wallets. Designed and handcrafted in Germany, it has a modular design with high-grade materials and smart card management. 
The problem is that the price can quickly become stratospheric, depending on the modular components you choose. 
In this post, I will clue you in on a promo code, some discounts, and other "hacks" to keep the price as low as possible, without sacrificing any of the Aviator wallet's good looks or functionality. 
Use discount code SURFER10
Aviator has been good enough to help Wallet Surfer readers save 10% on any Aviator wallet when you use the discount code SURFER10.
Choose the Aviator wallet that suits your fancy, then enter SURFER10 at checkout for an extra 10% discount.
This is an affiliate link, but it is at NO ADDITIONAL COST to you. You save 10%, Aviator makes a sale, and I receive a small commission for helping you make a sound buying decision. It's a win-win for everyone. 
Save 14% by using discount code VALENTINE14
For a limited time (until February 14), you can save 14% on several wallets that Aviator has specially priced.
Don't forget that to use the promo code SURFER10 at checkout to get an additional 10% off your purchase. This is a great deal.
Choose acrylic components rather than aluminum
When you build your Aviator Classic, Slide, or Slide One on the Aviator website, there is plenty of opportunity to upgrade to high-grade (and high dollar) aluminum and carbon fiber components.
But if you want to keep the price of your Aviator wallet as low as possible, always choose acrylic glass for the inner frame and the coin holder. You'll save $70 over the aluminum components.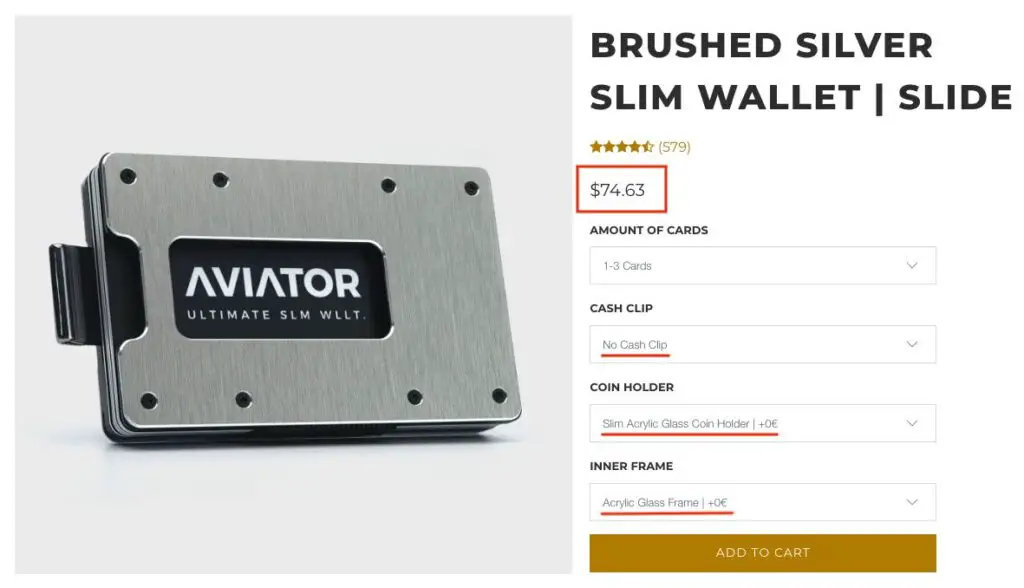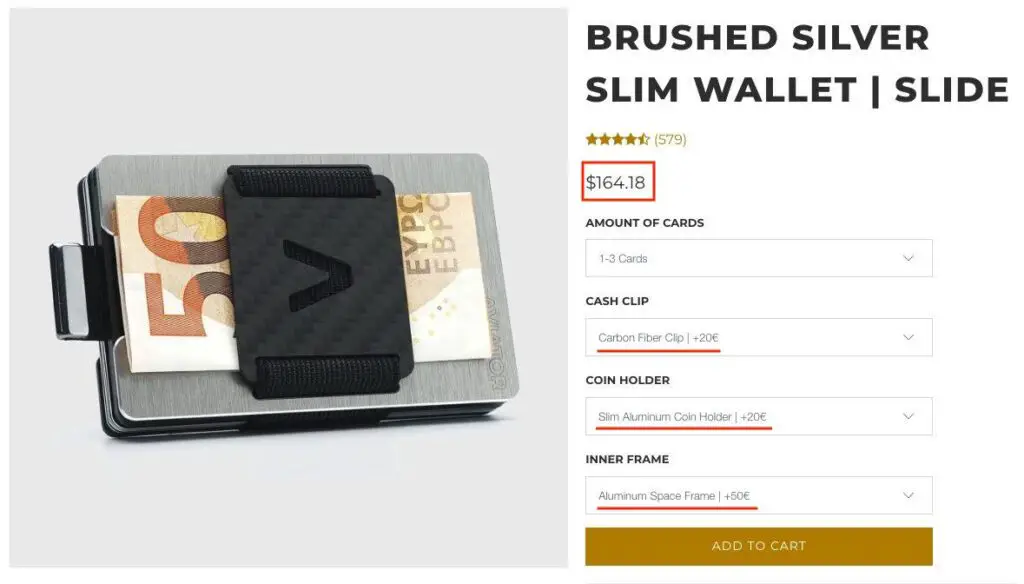 You'll lose nothing in functionality by staying with acrylic glass. In fact, it will make the wallet lighter than an all-aluminum metal wallet.
The only downside is that Aviator's lifetime warranty only applies to the aluminum and carbon fiber components. If the acrylic cracks or breaks, you'll have to purchase a replacement from the Aviator website.
In my mind, the chances of the acrylic breaking are slim to none because it is protected by the "sandwich" of rigid aluminum outer plates and the outstanding overall quality of the wallet.
Choose the Aviator Classic rather than the Aviator Slide or Aviator Slide One
Even though the Classic will save you between $5 and $15, I wouldn't recommend it.
What makes the Aviator Slide and Aviator Slide One so much better than the Classic is the addition of a pull strap to eject your cards. With the Classic, you only have a thumb slot to push out your cards.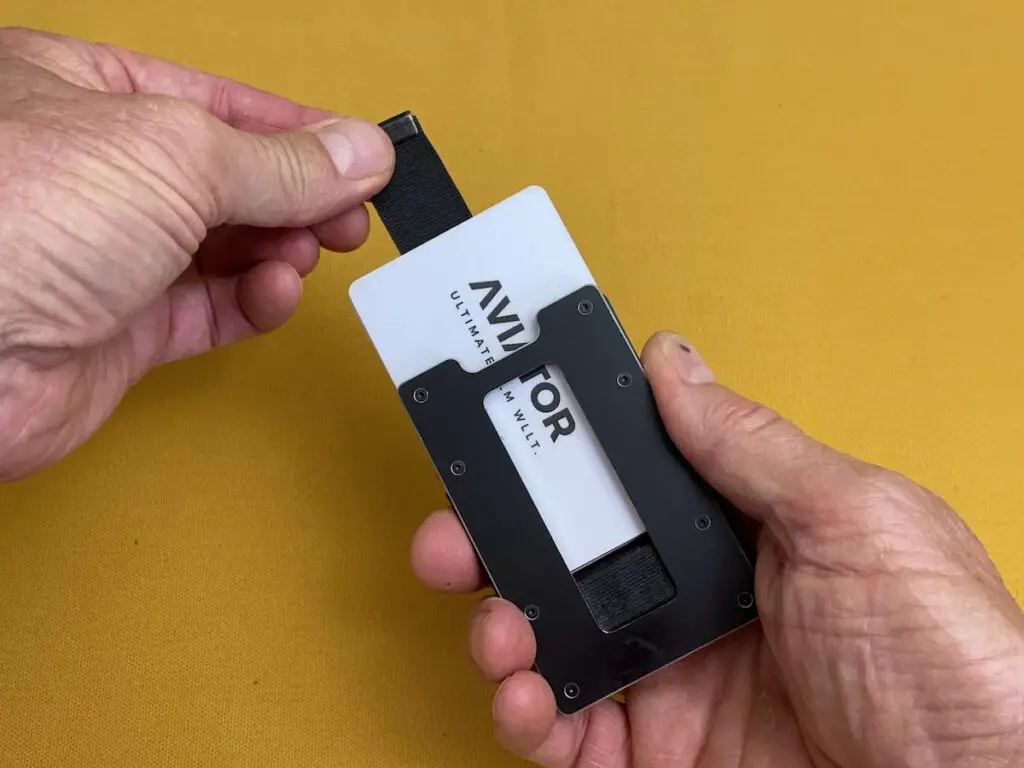 I LOVE the pull tab of the Slide and Slide One and I wouldn't want do without it. It's worth every penny. But if you REALLY want to pinch some pennies, you can opt for the Classic Aviator wallet to save up to $15.
Choose the recycled plastic cash clip, or do without it
All Aviator wallets come with an elastic strap that 1) holds the wallet together and 2) provides a place for a bill or two of cash to be tucked underneath it.
You can also purchase a recycled plastic cash clip ($7.50) or a carbon fiber cash clip at ($20) that fits on the elastic strap. It has the Aviator logo on it and I think it does make the wallet look sharper.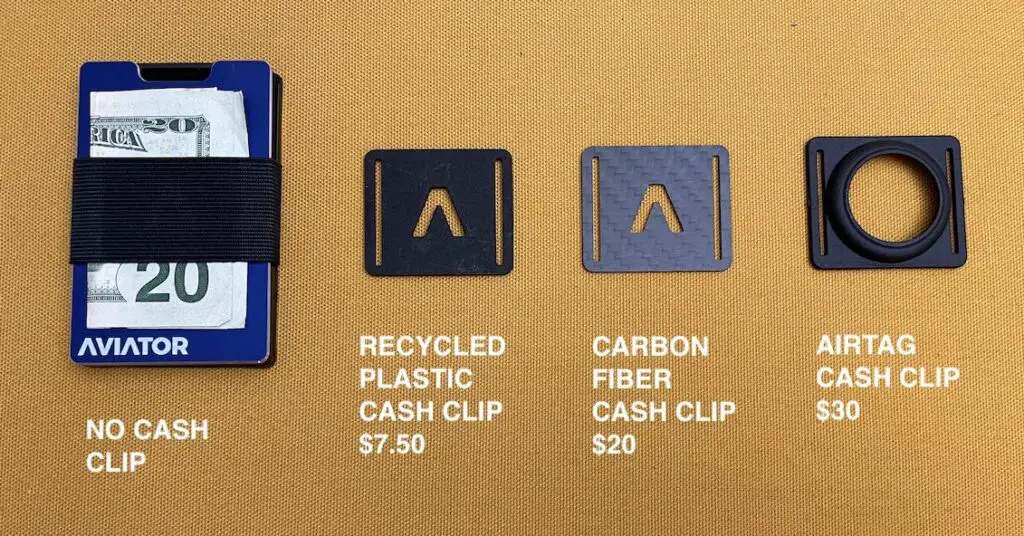 But the cash clip isn't necessary to hold cash under the elastic band. You can save up to $20 by ordering your Aviator wallet without it.
You can also purchase a 3D printed AirTag clip for $30 that fits on the elastic strap. If you want to convert your Aviator wallet to an AirTag wallet, I think the extra $30 for the AirTag clip is money will spent.
Free shipping
Aviator offers free worldwide shipping for all of their wallets. Everything is shipped directly from Germany, so delivery time is a little longer than domestic shipping.
I live in the U.S. and my Aviator wallets arrived in 10-14 days. It's a while to wait, but heck, you don't have to pay for shipping. That's a definite perk.