Downsizing from a bulky leather wallet to a card holder is the way of the world, my friends. Gone are the days of carrying a 10-pound Costanza wallet in your hip pocket. Cards are king and the need to carry a pocketful of cash lessens every day.
That's why I put together this roundup of minimalist aluminum card wallets. Despite the mountain of offerings that only fit a couple of your needs, there really are some that tick all the boxes.
To make your shopping journey easier, here are 6 of the best ones out on the market today. With quality materials and construction, they're sturdy, strong, and made to get sh_t done.
Here are the minimalist aluminum card wallets that I review in this post.
BEST: Ekster Senate card holder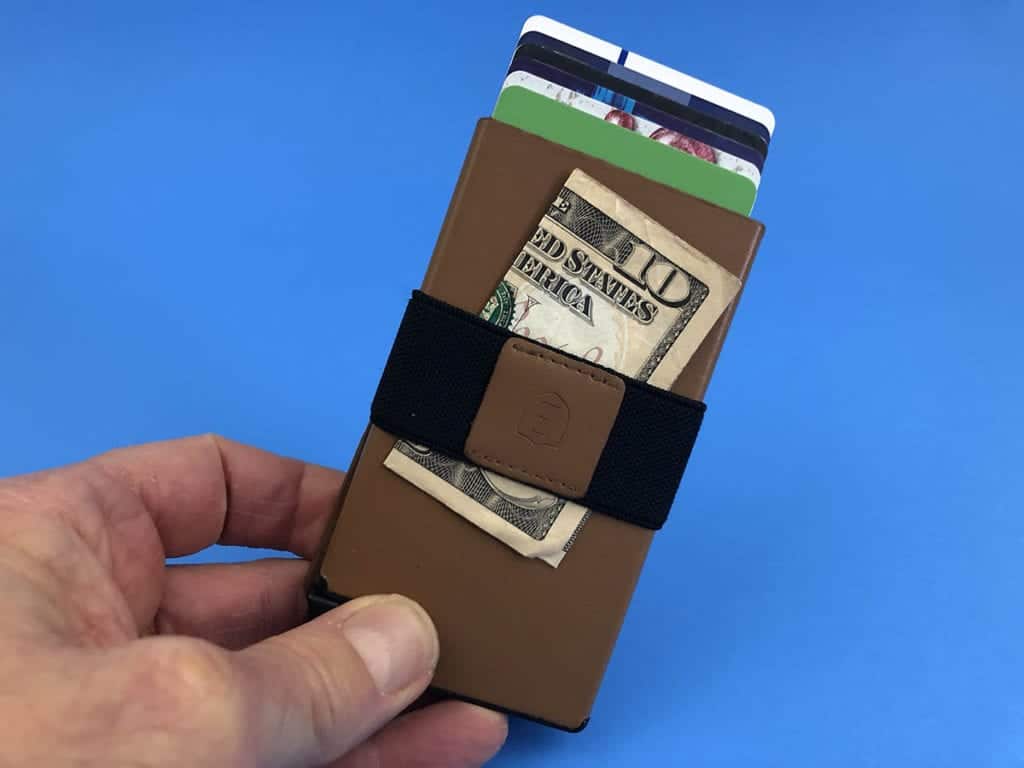 BEST: Ekster Senate
This pop-up card holder consistently gets my nod for best card holder. It smoothly ejects up to 6 cards with the push of a button.
Quick Facts:
Easy card access with the simple push of a button
Holds up to 6 cards in a rigid, RFID-protected aluminum enclosure
Premium leather for the purists out there
Comes in various colors to suit your taste
The Ekster Senate gets an A-plus in both form and function. Made with premium, top-grain leather and RFID-blocking aluminum, it's a metal card holder that's made to last.
Unlike your dad's circa-1990 behemoth of a wallet, the Ekster Senate is stylish as well as durable with a sleek silhouette and minimalist design. It's a heck of a lot smaller, too, clocking in at only .59 inches thick empty. 
As for its holding capabilities, the Ekster Senate can hold 6 cards within its rigid aluminum box. You can add another one or two more in the exterior cards slot in the back. Even better, add the Ekster solar tracking card to make your wallet impossible to lose.
The Senate's big claim to fame is its flawless pop-up card ejection system. One push of a button and all your cards snap out into a staggered fan. Place a few bills of cash under the elastic cash strap to keep them nice and tight.
PROS
Super light, super slim
easy and fun to use
integrated RFID protection
quick access button
CONS
back card pocket is tight
Secrid Cardprotector
Sale
Secrid Cardprotector
A truly minimalist card holder that's only 0.30 inches thick (fully loaded) with 6 cards inside.
Quick facts:
Super minimal design
Patented slide-out mechanism for easy use
Holds 4 embossed or 6 flat cards in aluminum case, plus several more inside leather pockets
Featherlight at only 50g unloaded
Secrid is the granddaddy of the pop-up style automatic wallet. It works similarly to the Ekster except that it uses a lever rather than a button to eject your cards from the aluminum case. It's perfect for those of you who really want to embrace a bare-bones. minimalistic experience.
It can hold most people's essentials – a driver's license, a couple credit cards, an insurance card, and the reminder card for your dentist that you'd rather forget.
Even fully loaded with as many as 6 cards, the Secrid Cardprotector's patented slide-out design pops your cards up for quick, simple selection. No more fumbling at the cash register! And for that, we are eternally grateful.
Just be careful about the cards you load into it. Embossed cards take up more space and will reduce the card-carrying capacity. What you'll give up is a money clip to hold cash, because, well, it doesn't have one.
RELATED: Here are 6 card holders that trade aluminum for carbon fiber.
PROS
streamlined for true minimalists
great, easy card access
not bulky in the slightest
protects agains RFID skimming
Dango D01 Dapper EDC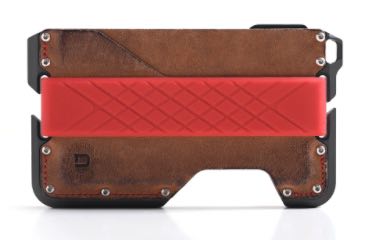 Dango D01 Dapper EDC
This is a tactical-style card holder that will appeal to the guy who likes a wallet that doubles as a tool.
Quick facts:
RFID blocking for identity protection
Designed to hold up to 12 cards with ease
TSA compliant (with multi-tool removed)
Included silicone money band for carrying cash
Lifetime guaranty and made in the USA
If you've read some of my other posts (such as Metal and Leather Wallets for Men), you've no doubt heard about Dango. I'm a pretty big fan of these tactical wallets and you should be, too. Dango's Dapper EDC gives you everything you need in an aluminum card holder.
It's stylish, it's light, it's durable, and it can hold more than enough. If you're worried minimalism means having to leave something behind, Dapper will prove you wrong every step of the way.
Unlike other card holders, the Dapper EDC can hold around 12 cards no problem, guaranteeing you'll always have everything on hand – even that credit card you keep for "emergencies only."  Those cards probably aren't going anywhere either thanks to a secure, aerospace-grade aluminum chassis, strong silicone cash band, and mil-spec bolts made for the long haul.
The practicality is fantastic, and you can make it more so with the MT02 Multi-tool. Rugged and masculine but modern, it's an everyday carry you'll actually want to carry every day.
PROS
safe against skimming
money band is thick and durable
made in USA
compatible with MT02 multi tool
CONS
multi-tool is difficult to insert and remove
Fidelo Hybrid
Sale
Fidelo Hybrid
A 3-piece design that gives you the choice to use the aluminum card holder, leather case, and two money straps separately or all together.
Quick facts:
Exclusive 3-piece design to use together or apart
Safe from scanning devices
1-year included warranty
Genuine leather case and aviation-grade aluminum compartment
Pretty much every brand out there has their answer to the minimalist EDC. The Fidelo Hybrid is a modular choice that's often referred to as 3-in-1. In a similar vein to the Secrid Cardprotector, Fidelo's aluminum card holder is pretty straightforward and intended to carry the essentials and little else.
You can carry your cards, cash, and ID with little fuss and rest assured they're safe because of Fidelo's built-in RFID blocking technology.
The internal metal case can fit up to five cards while the external leather one can hold two in its handy sleeve. (But like all card holders with rigid aluminum cases, they will hold less with thicker embossed cards). And, needless to say, you don't want any additional rubbing that can cause wear and tear on your cards.
Despite the similarities in capacity and general design to others like the Ekster and Secrid, Fidelo still finds ways to distinguish itself. Even though tastes vary, the Hybrid holds its own with a leather sleeve, careful stitching, and not 1, but 2, money bands. Even better? The Fidelo Hybrid is half the price of the Ekster and Secrid.
PROS
attractive design
has a modular design
good value/reasonably priced
uses top grain Crazy Horse leather
CONS
cards don't always cascade into a fan
The Ridge
Quick facts:
Can hold anywhere between 1 to 12 cards plus cash
Blocks RFID to prevent wireless theft
Backed by a lifetime warranty
Only 2 oz when empty
Includes money strap, clip, or both
We all know it and love it. And if you don't, you should! The Ridge is a bit of a superstar and one of my top favorites overall. First off, it's a very pretty metal wallet. Its matte aluminum is sleek and sexy, while the subtle branding, visible screws, and additional cash strap or clip provide that little extra bit of visual appeal. On a practical level is where the Ridge really shines, however. 
Comprised of rigid aluminum plates, this cardholder securely "sandwiches" your ID, credit cards with strong elastic straps that keeps your cards firmly where they belong. In other words, your cards don't exit your wallet until you want them to.
Even though it will hold 12 cards, 6 – 8 is a much easier number to manage. Of the dozens and dozens of wallets in my (always expanding) collection, the Ridge takes up the least amount of space in my front pocket. I like that.
PROS
safe and secure thanks to aluminum plate construction
elastic bands are stretch resistant and replaceable
one of the smallest card holders you can buy
CONS
displaying cards takes some practice
Ogon Big Stockholm
Ogon Big Stockholm
This rigid aluminum clamshell card holder stores up to 10 cards in an accordion display.
Quick facts:
10-12 card capacity plus banknotes or receipts
Tear-proof organizer pockets
Protective against fraud
Case made from recycled aluminum
Completely lead and nickel free
Rather than making use of metal plates or an aluminum inner sleeve, the Big Stockholm is a spacious aluminum case opened much like a suitcase or briefcase and closed with a simple snap closure. Inside is an accordian-style organizer for up to 12 cards and any additional cash or notes.  This allows for better organization than many metal wallets and far greater card access. Just pop it open and grab what you need.
Admittedly, the Big Stockholm is a little big to be an obvious "minimalist" choice at over 4 and a half inches long and 3.7 tall. Although, we just had to include it thanks to its streamlined capacity and modern aesthetic.
Despite its case size, it is still far from the bulging bifolds of old! You can buy it with anodized aluminum or printed aluminum with some really gnarly patterns.
PROS
good carrying capacity
waterproof and easy to clean
well-organized card access
affordable
CONS
the largest wallet on this list
Frequently Asked Questions
How do you use a card holder?
With a sandwich-design card holder (like the Ridge), you insert cards between metal plates, then push them out from one side. For pop-up styles (like the Ekster Senate), you eject your cards with the push of a button. For others (like the Kore Slim), you simply tug on a leather pull-out strap that pulls out your cards.
Should I get a wallet or a card holder?
If you carry a lot of cash, receipts, coins (and other excess baggage), then a more traditional wallet might be best for you. However, if you rely on just a few cards and are shooting towards a more minimalist everyday carry, definitely go with a slim and compact card holder. Example: Secrid Cardprotector.
Can you put money in a card holder?
Nearly all card holders include a money clip or money strap for small amounts of cash. Generally, you have to fold your bills over twice to make them fit the narrow profile that defines most card holder wallets. The Ekster Senate and Fidelo Hybrid, for instance, hold your cash under a secure elastic strap outside the wallet.
LEARN MORE
There are plenty more minimalist wallets that might strike your fancy. Check out my post: Best Minimalist Wallets. Rest assured, you have every opportunity to downsize the gargantuan leather wallet in your hip pocket.