In this post, I evaluate 6 carbon fiber card holder wallets that are all worth owning. Each of them will carry more cards than you'll ever need.
All of them have either a money clip, cash strap, or in the case of the Rossm card holder–both!
They're minimalist, lightweight, and take up practically no room in your front pocket. So let's dive right in and take a quick look at some real winners.
Best carbon fiber card holder wallets with a money clip.
Best overall: The Ridge Carbon Fiber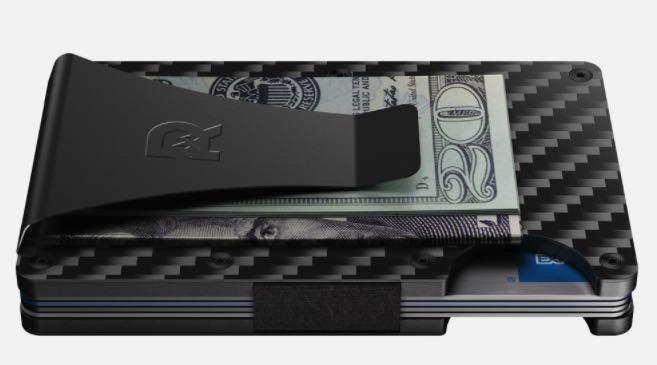 The Ridge is the original sandwich style wallet with carbon fiber plates and a lifetime warranty.
QUICK FACTS
Dimensions: 3.39″ x 2.13″ x .24″
Weight: 1.6 oz
Materials: 3K carbon fiber weave, aluminum inner plates
Capacity: 12 cards and 5-10 bills under the money clip
Warranty: Lifetime
The Ridge is the gold standard to which 3 wallets on this list are compared. In 2014, a father and son team came up with the idea of using rigid plates connected by tough elastic to hold credit cards in between. Since then, literally dozens of manufacturers (if not more) have blatantly ripped off the design. Not only that, they have undersold the original Ridge by turning these things out for about 25% of the price.
Even so, the Ridge remains the card holder of choice for someone who wants the real McCoy. It stands apart from an endless number of knock offs and clones with a lifetime warranty. And, of course, it has the Ridge moniker clear emblazoned on the faceplate of every wallet. The price of their carbon fiber model is up in the stratosphere, but a designer price like this comes with the cachet of owning the real thing. Check out my full review of the Ridge wallet here.
Rossm Card Holder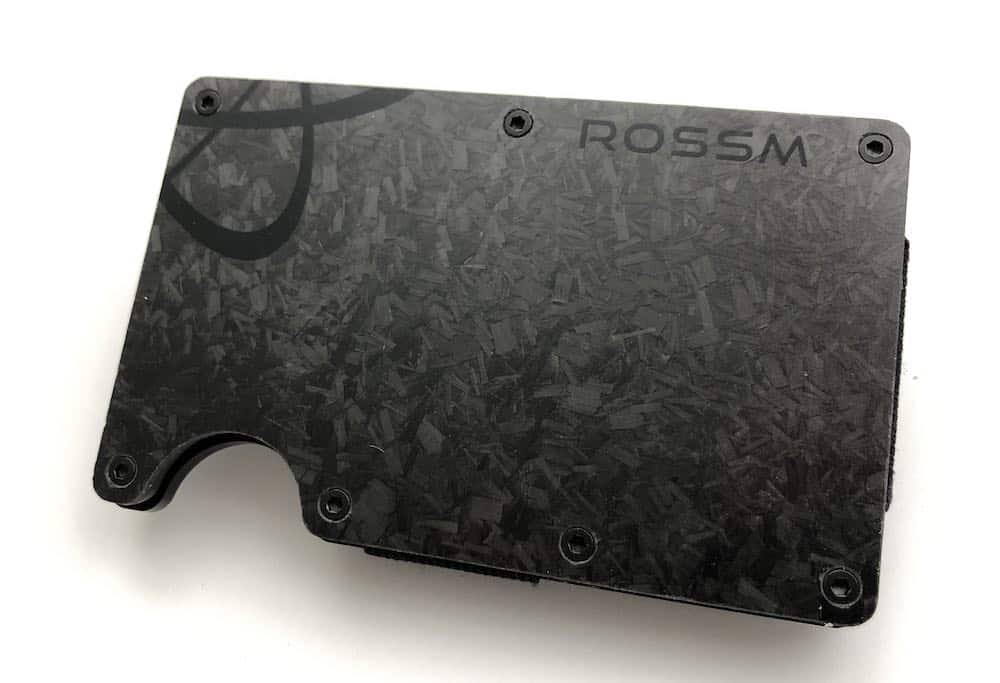 QUICK FACTS
Dimensions: 3.44 in x 2.16 in x 0.28 in
Weight: 1.9 oz
Materials: Carbon fiber face plates, metal inner plates
Capacity: 12 cards and 5-10 bills under the money clip
Warranty: 1 year
The Rossm carbon fiber card holder is a "carbon copy" of the famous Ridge wallet. What sets it apart is that the Ridge costs well over $100 and the Rossm clocks in at about 25% of that. It's just the right size to fit comfortably next to my phone in the front pocket of my 505 Levis.
And it should, because it's not one iota larger than a credit card. The more cards you add, however, the thicker this card holder will get. Even though it has a capacity of 12, it's much easier to handle if you carry just 6 or 7.
Carbon fiber alone does not block RFID frequencies, so, like all wallets of this type, Rossm adds metal plates inside the exterior carbon fiber plates. Elastic provides the tension that holds your cards in place, anchored by screws that bind it all everything together. Along with a repair kit, they throw in a money strap, too, so you can swap it out for the metal money clip.
Mana-o Carbon Fiber Minimalist
QUICK FACTS
Dimensions: 3.44 in x 2.16 in x 0.28 in
Materials: Carbon fiber faceplates, aluminum inner plates, steel multitool
Capacity: 12 cards, comes with extra carbon fiber money clip
Warranty: Lifetime
The Mana'o carbon fiber minimalist card holder is the same size and design as the original Ridge wallet. Yes, it's knock off, but with a few added features that set it apart.
For one, it ships with its own multitool. The tool is about the same thickness as a credit card and slightly smaller. That means that it not only fits in the Mana'o card holder, but also in the credit card slot of any other wallet you might choose to carry it in.
Like most of the carbon fiber Ridge clones, it has carbon fiber on the outside plates and aluminum attached to it on the inside. The plates are screwed together with elastic on 3 sides to provide the tension that holds up to 12 cards tight inside.
The second distinctive feature is a metal tab on the outside that's engravable. You can take it to your local trophy shop and have your name, rank, and serial number etched into it for all time.
Fidelo Prestige
Fidelo Prestige
A unique carbon fiber wallet that includes a total of four different color money bands.
QUICK FACTS
Dimensions: 3.4 in x 2.25 in x 0.36 in
Weight: 1 oz
Materials: 3K carbon fiber plus 4 elastic money bands
Capacity: 12 cards plus room for up to 10 bills under money band
Warranty: 100% satisfaction guaranty 
The Fidelo Prestige is the only carbon fiber card holder (or any wallet, for that matter) that comes with 3 extra money bands. When is the last chance you had to color coordinate your wallet with what you're wearing? That's going the extra mile, man.
Fidelo's credo is Be minimal, be free. At just 1 ounce in weight, this card holder is super light, but still 5 times stronger than steel! That's the kind of performance that carbon fiber buys you. 
Related: These super thin wallets have a money clip on the outside.
To display your cards, push them up from the V-shaped slot at the bottom. Pinch the bottom of the plates together and your cards will spread accordion style so you can pluck the one you want with two fingers.
The plates have beveled edges so you can easily replace your card when you're done. The inside surfaces of the plates are polished so that cards slide out without scratching.
Serman Brands Money Clip
QUICK FACTS
Dimensions: 2.75 in x 1.5 in x 0.5 in
Materials: Carbon fiber
Capacity: 15 bills and 10 credit cards
Warranty: Money back guaranty
In a continuing quest for ultra minimalism, the Serman Brands carbon fiber money clip is all clip and no wallet. The money clip has an excellent grip, tight enough to hold 1 bill as firmly as 10.
One owner said that after carrying numerous cards and cash in it for 3 years, it had not lost any of its tension. That's pretty damn impressive. Its rated capacity is 15 bills and 10 cards, which seems like WAY more than anyone should ever need to carry.
Related: Some money clips are made from super strong titanium.
The Serman Brands money clip comes with 6 different color options that accent the base black color of the carbon fiber. Even though the inside surface of the money clip is lined with a RFID-blocking material, I would be careful. Because it's only 1.5 inches wide, it may not cover the RFID antenna on your credit card.
It's super light (a few owners wish it had a little more weight) and the smallest carbon fiber card holder of the 5 in this post.
Tamashi Minimalist Carbon Fiber
QUICK FACTS
Dimensions: 3.44 in x 2.16 in
Materials: Carbon fiber
Capacity: 12 cards and up to 10 bills
Warranty: 90-day replacement
The Tamashi Minimalist wallet uses 100% 3K carbon fiber with a classy matte finish.  Just like the Ridge, it is an RFID-blocking card holder that uses another set of plates inside the carbon fiber outer plates to provide the anti-skimming protection.
You can purchase the Tamashi wallet with a money clip or a cash strap or both. The box comes with a screwdriver and extra screws if you want to swap out the money clip for the cash strap or vice versa. 
Like all Ridge wallet knock offs, clones and copies, there are 14 tiny screws that attach a band of elastic to the plates on 3 sides of the wallet. The warranty is a little short, only 90 days compared to most others that extend theirs for one year. But then it's so simple, there isn't much to go wrong. It's really a tiny wallet that will even fit in the same pocket as your phone (with room to spare).
What is carbon fiber?
Carbon fiber consists of thin filaments of carbon atoms that are bound together with a plastic polymer resin. It is rigid with high tensile strength while remaining very lightweight. The strength of carbon fiber depends on the weave and density of the carbon fibers. It can be five times stronger than aluminum or steel.
How do you use a money clip wallet?
Place your cards in the card holder part of the wallet and cash bills under the money clip. Minimalists can go super lean and use just the money clip alone for both cards and cash. You can have it both ways with the Kore Slim because it has a removable carbon fiber money clip that you can use with or without the wallet.