The bifold wallets with an inside money clip in this post are more like traditional wallets than newfangled smart wallets. But that doesn't mean they're old school or outdated.
Yes, all of these wallets are made from leather, but every one of them also has RFID-blocking protection from criminal scans. Some of them have quick access thumb slots and pull straps to help you access your cards wicked fast.
They're more similar than different, but each one has its own distinctive style and personality. Let's take a look.
These are the 7 bifold wallets with a money clip inside that I review in this post.
Top Pick: Serman Brands 1.0 Slim Bifold
Sale
QUICK FACTS:
Dimensions: 3.9 in x 2.85 in x 0.5 in
Materials: Available in both full-grain and top-grain leather
Capacity: 6-8 cards
Warranty: 1 year
Looking for a classic with a little modern updating? Serman Brands Slim Bifold wallet might be the perfect fit for you. This option is sleek and masculine with plenty of room for all the credit cards, bills, and such that you might need. Depending on whether they're embossed or flat, you can fit around 8 cards into it, and the stainless-steel money clip can hold plenty of folded cash.
Even better than the generous room for your heard earned money and credit cards, this wallet also has organization covered in spades. Featuring a convenient ID slot, quick access section for a few cards, and additional space for yet a couple more. It's ideal for keeping everything neat and tidy and ensures no more fumbling around at the store counter looking for the right card.
The inside money clip is also perfect for storing small notes or necessary receipts. With all the storage offered, just be sure to clean it out once in a while to minimize any additional bulk!
Ybonne Minimalist Wallet
QUICK FACTS:
Materials: Genuine crazy horse leather
Dimensions: 4.3 in x 2.9 in x 0.35 in
Weight: 1.8 oz
Capacity: 6-8 cards plus cash
Warranty: 1 year
While this list isn't ranked in any particular order, the Ybonne minimalist wallet would still hang close to the number one slot if it was. In short, it is a beautiful leather wallet and at a shockingly reasonable price. It's small, it's slim, and it fits perfectly in a front pocket.
The design is also sleek, modern, and sophisticated. if you think of tattered, overstuffed wallets when you think of bifolds, this option will completely change your thinking.
Even with as beautiful and minimal as it is, Ybonne's product still remains just as functional as the dad wallets of yore. Holding up to 8 credit cards, it provides more than enough space for all the essentials you need day in and out.
As for cash, you can fit several bills in its sturdy inside money clip and all without adding unnecessary bulk. If we were scoring this wallet, it would get an A-plus for sure.
Runbox Minimalist Slim
Sale
QUICK FACTS:
Dimensions: 4.0 in x 2.8 in x 0.4 in
Materials: Leather
Capacity: 6 cards plus cash
Warranty: Lifetime
For some folks, looks are one of their most important considerations when picking a good bifold. For others, that's not even high on the list in comparison to durability and practicality.
The latter will find the Runbox Minimalist Slim is everything they need and nothing they don't. Its design is nice and simple with a quality leather construction made to keep your wallet durable for years to come. Even with extensive use and abuse, it should easily stand up to whatever you can throw at it.
Related: Carbon fiber wallets with money clips
Even with how tough it is built, Runbox's offering still prioritizes function above all else. This wallet keeps all the important stuff front, center, and easy to access. The outside of the wallet is equipped with a card access slot, so you can quickly whip out the card you need at a moment's notice. It also has space for 6 cards and a money clip inside that can hold just as many bills as bigger, bulkier bifolds.
Travando Mens Phoenix Bifold
QUICK FACTS:
Dimensions: 4.5 in x 3.2 in x 0.8 in
Weight: 2.54 oz
Materials: Faux leather
Capacity: 9 cards
The old saying goes that you get what you pay for. Whoever came up with that obviously never knew anything about the Travando Mens Phoenix Bifold. Everything about the construction and design feels incredibly solid and high-quality.
The appearance is stylish and sophisticated, the faux leather is surprisingly soft and supple, and the integrated money clip is a thick stainless steel. The Phoenix is an excellent value and a good buy for anyone who wants an inexpensive bifold with an inside money clip.
As for the specific features, Travando's minimalist bifold has ample space for all your credit cards, bills, business cards, and ID needs. It offers 9 card pockets, a handy window for your driver's license or school badge, and a practical outside pocket that is perfect for quick payments when out and about.
The integrated internal money clip is perhaps even more impressive, well made and able to securely hold all the bills you can load into it.
Vaultskin Notting Hill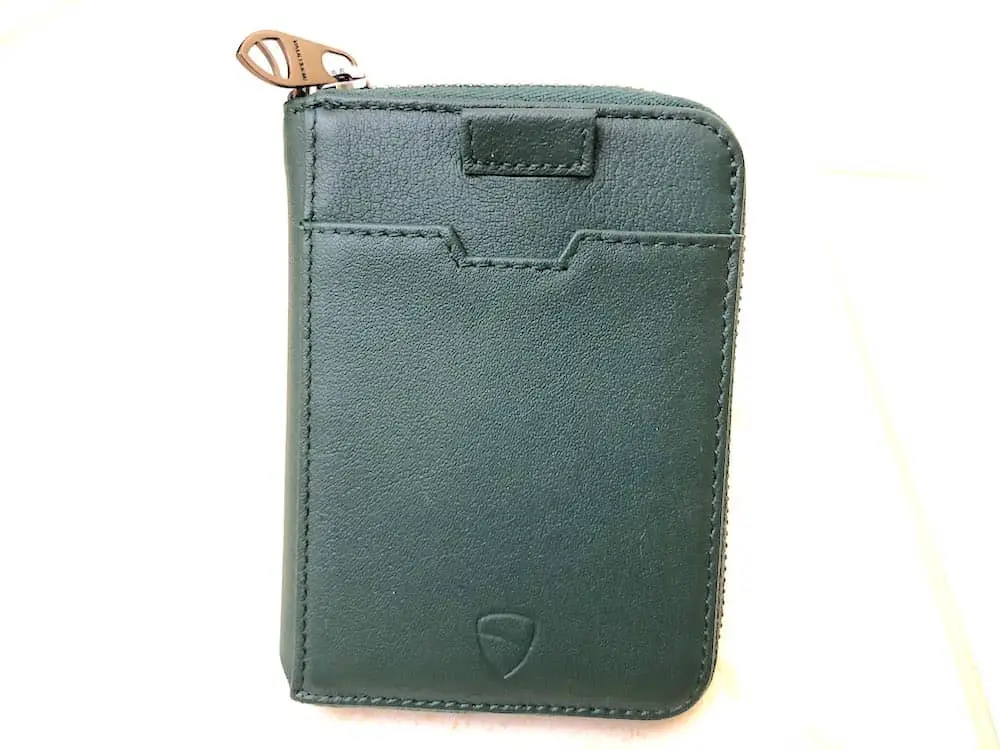 QUICK FACTS:
Dimensions: 4.2 in x 3.1 in x 0.60 in
Weight: 2.12 ounces
Materials: Top grain Italian leather
Capacity: 10 cards, bills, keys, and other small items
Not all wallets are created equal, although many of them are created practically indistinguishable from each other. This offering completely resists the status quo, opting instead for a completely different design and function that sets it apart from the rest of the crowd.
The Vaultskin Notting Hill utilizes the usefulness of zipper wallets and updates it with an elegant leather exterior. This makes it significantly thicker and heavier than most minimal bifolds or card holders, but it also allows it to carry a lot more.
Related: A zipper wallet will let you zip around town without anything falling out.
The wallet's interior contains space for up to 10 cards, whether they are embossed or smooth, and it also boasts a built-in money strap that can hold several bills with little struggle. Unlike its competition, however, it also has a handy compartment for small odds and ends you may need to carry such as a key, SIM card, light change, or a lip balm.
It's basically the more stylish, wallet-version of cargo shorts. I mean that in a good way.
Fossil Quinn Money Clip Bifold
QUICK FACTS:
Dimensions: 4 in x 2.75 in x 0.5 in
Weight: 3 oz
Materials: 100% Leather
Capacity: 5 cards, 15 bills
Warranty: 1 year
Fossil is known for excellent quality leather and the brand continues that trend with the Quinn Money Clip Bifold. More rugged and overtly masculine than some of their other products out there, it's still made with lasting materials that will its shape and keep your money safe for years to come.
Speaking of money, this is one of the few bifolds out there that keep their focus on physical cash over cards. Featuring 3 interior card slots and two interior slip pockets, the majority of space is saved for cash. It easily fits 10-15 folded bills,
Quinn is for the people who still prefer the old ways of doing things (but still want RFID protection). Bills are held with a large magnetic money clip that guarantees your money will stay safe and secure. Besides that, the wallet also features an ID window and a cotton twill lining that expertly resists tearing and fading.
F & H Signature Slim Wallet
QUICK FACTS:
Dimensions: 4.25" x 2.75"
Materials: Top-grain leather, stainless steel money clip
Capacity: 10 cards and 15 bills
Warranty: 1 year
Looking to jazz up your everyday carry? Forrest and Harold's (F & H) Signature Slim wallet is here to help you out. Where other wallets take themselves a little too seriously, this money clip bifold is a little more relaxed.
Its first draw comes with its playful but still sophisticated exterior, which comes in color combinations like red + black, navy blue + rust orange, and espresso brown +slate blue. Beyond that, the Signature Slim has a slim profile that doesn't lack in storage.
The interior is a little barer and minimal, but still has card slots that can hold around 6-10 debit or credit cards. The fixed money clip can also be found on the inside, capable of carrying around 15 bills folded in half. Both of these aspects considered, F and H's slim bifold boasts great function and appearance alike. It also comes along with a 1-hear hassle free warranty for some peace of mind.
Frequently Asked Questions
Can you put cards in a money clip?
Yes, but you need to be careful. Money clips made of aluminum, titanium, or steel can scratch the outside card where the clip touches. Most money clip wallets have a better place for cards inside the wallet. The money clip is either inside or outside for cash. A good example is the Ekster Senate smart wallet.
Will money clips damage credit cards?
Metal money clips can scratch and damage cards. A workaround is to insert your cards between cash bills in the clip to protect them. If you have a choice, choose a a soft money strap over a rigid money clip. Magnetic money clips (like the Fossil Quinn) are often covered in supple leather and are much more card friendly.
How much money can a money clip hold?
Most money clips can hold at least ten bills, but it's worth taking a look at the clip's specifications to verify the capacity. From a minimalist's point of view, it's better to carry two $20 bills than twenty $1 bills. If you're someone who likes to carry a lot of cash, you might consider a more traditional bifold. Example: Travando Phoenix.