Dozens of Ridge wallet knock offs, copycats, imposters, and clones have hit the market to ride the wave of the Ridge wallet success. If imitation is the sincerest form of flattery, then the Ridge is the most popular kid in class. 
The Ridge minimalist cardholder wallet got its start on Kickstarter way back in 2014. Since then, it has become an extremely popular and trendy wallet to carry. It's no larger than a credit card and feels feather-light in your pocket. But for a lot of folks, the price of the Ridge is just too expensive.
Even so, its design has become so popular that the knock-off industry in China has gone all-in to produce a wallet that is very close in every way to the Ridge. And they're doing it for a fraction of the price. 
Read my full Ridge Wallet Review here. 
Many of these knock offs are carbon copies of the original with only subtle differences that most people would never notice. 
In my mind, the Ridge's quality and attention to detail make it clearly the best. In fact, it's been my EDC for the past few months. But if you're looking for a less expensive alternative, here are 5 options to consider. 
Armour Supply RFID Money Clip wallet 
A wallet made from Bamboo? Yes, indeed.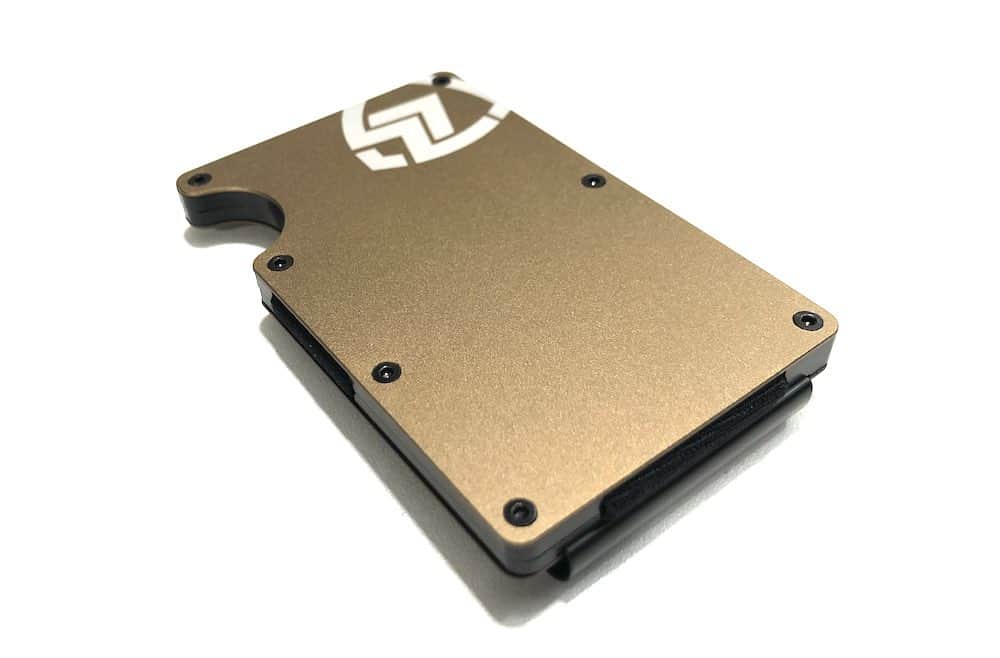 The Armour Supply Money Clip knock off of the Ridge wallet uses the same familiar design we all know and love. But in addition to an aluminum and carbon fiber model, they added a bamboo version. Like the Ridge, all of the Armory Supply wallets use thin aluminum plates inside the outer plates to block RFID skimming.
As long as these aluminum plates are in place, the outer plates can be made of just about anything. Even bamboo. Armour Supply sells a brass model, too, but this really adds some weight to the wallet.
All of them have a spring-loaded stainless steel money clip for carrying currency. The wallet comes as a gift set with an additional multitool card and key holder. If you prefer a cash strap over the money clip, you can use the enclosed screwdriver to swap them out with the extra band that ships with the wallet.
Most owners say they love the wallet. However, like the Ridge, it takes some practice to access your cards. For every wallet sold, Armour Supply donates $1 to help wounded warriors. And it comes with a lifetime warranty.
MouZie Carbon Fiber
A carbon fiber key organizer comes with this wallet.
The MouZie carbon fiber card holder shares the Ridge same design, but it throws in a few extras. First, the wallet ships with a metal money clip that has a velvet coating on the inside to protect your cash.
What's more, they include an elastic money band that you can use to swap out the money clip. Even better? Use them both at the same time. Keep the money clip on one side and install the money band on the other. This doubles your cash capacity.
This minimalist wallet is no larger than a credit card, so there is no pocket or compartment for a key. MouZie solves this little dilemma by including a carbon fiber key holder that can hold as many as 18 keys. Yikes, that's a lot of keys, but the capacity is there if you need it.
Both the carbon fiber faceplates and the inner aluminum plates block RFID skimming, so you're double covered there. It will hold up to 15 cards, but again, that's way too much. It will handle much better with 6 – 8 cards max.
Tamashi Minimalist wallet
This wallet uses real 3K carbon fiber.
The Tamashi Minimalist wallet uses 100% 3K carbon fiber with a classy matte finish.  Just like the Ridge, it is an RFID-blocking card holder that uses another set of plates inside the carbon fiber outer plates to provide the anti-skimming protection.
You can purchase the Tamashi wallet with a money clip or a cash strap or both. The box comes with a screwdriver and extra screws if you want to swap out the money clip for the cash strap or vice versa. 
Like most Ridge wallet knock offs, clones and copies, there are 14 tiny screws that attach a band of elastic to the plates on 3 sides of the wallet. Every so often, you'll need to tighten down the screws with the enclosed screwdriver or you're bound to lose one here and there.
Tamashi sweetens the deal for their knock off wallet by including a carbon fiber key organizer that holds up to 12 keys. In terms of bells and whistles, the Tamashi has everything that the original Ridge has—except one.  It doesn't have the Ridge logo that you'll only find on the real McCoy. 
Blue Hunter Minimalist Money clip wallet
It closely mimics the Ridge wallet's design but comes in some unique colors.
The Blue Hunter minimalist wallet comes in either an aluminum or carbon fiber model. Both of them protect your cards from bending or breaking while blocking the RFID frequencies that thieves can use to steal data from your credit card's electronic chip.
It's a bona fide Ridge wallet knock off, with an identical design that comes boxed with the familiar screwdriver and extra teeny tiny screws. If you're concerned about screws popping out, some owners suggest using Locktite to keep them in place.
The aluminum models come in eye-catching sky blue or bright red so there is little chance of losing your wallet in the clutter on your bedroom dresser. A 304 stainless steel money clip holds cash folded over twice. My son likes to use the clip to hook his wallet over the lip of his front pants pocket. Whatever works, I guess.
Best of all, the Blue Hunter is a third of the price of the genuine Ridge wallet. It's an ideal gift for yourself or anyone else whose old leather bifold looks like more like a deli sandwich than a wallet. 
Fidelo Prestige Minimalist wallet
Use the four different color cash bands to match your mood or your socks.
And now for something completely different. The Fidelo Prestige wallet borrows its design from the Ridge but it's not an identical knock off. 
First of all, you push your cards through the top of the wallet rather than the side. Instead of a C-shaped indentation, the Fidelo wallet uses a thumb slot to push your cards straight up.
Squeeze the bottom of the wallet, and up to 12 cards will flare out so you can easily choose the one you want. It's easy to re-insert your card after you've used it because the lip at the top is nicely beveled.
Like the Ridge, the footprint of the Fidelo Prestige is no larger than the cards it contains. It's just 2.25" x 3.4" small and really really lightweight at only 1 oz. And it does just as good a job of protecting your cards from RFID skimmers as the Ridge.
Another cool feature is the four different colors of cash bands that come with each wallet. You can swap them out to compliment your clothing or to fit your mood of the day. The edges and corners of the carbon fiber are smoothed and polished. Fidelo takes pride in their work and it gets excellent reviews for its quality and durability.
LEARN MORE: There are more Ridge wallet clones, copies, and knockoffs than you can shake a stick at. Read my post 7 Inexpensive Alternatives to the Ridge Wallet for some more ideas.