Who wants to carry a flimsy-ass wallet? I don't. I suspect you don't, either.
In this post, I review 6 card holder wallets that are built with sturdy materials like aluminum, steel, and tough polycarbonate. Just as important, they're made to fit comfortably in your front pocket.
If you're looking for a minimalist wallet that's stout and practical—without sacrificing good looks—then one of these wallets is surely for you.
These are the rugged and durable wallets in this post.
Top Pick: Rugged Material Ranger and Mulitool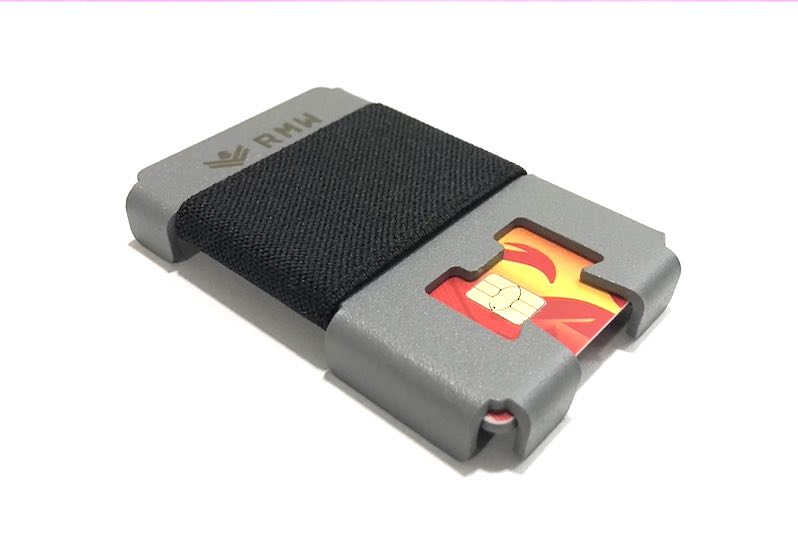 QUICK FACTS:
Dimensions: 3.37 in x 2.25 in x 0.3 in
Materials: steel body with elastic strap
Capacity: Fits 8 cards as well as some cash
Warranty: Lifetime
If you want to cut to the chase, the most durable wallet on this list is the Rugged Materials Ranger. Hands down, no contest. It's a minimalist card holder with a heavy-gauge steel frame. The entire wallet, including its steel tool card, has a powder-coated finish designed to last.
A tough elastic band binds the wallet together, holding up to 8 cards safely inside. Cards are also protected from the dangers of skimming with the entire card compartment RFID protected. 
While the Armour wallet is a great, more affordable Ridge alternative, the Rugged Material Ranger is by far one of the best budget tactical wallets on the market today. Its design is simple, constructed of just a steel body and a super-thick elastic cash strap, but it works beautifully.
But what about damage or wear and tear? Well, Ranger has that covered, as well. Turns out, the precision-cut, high-grade steel makes this sturdy wallet just as durable and corrosion resistant as you would expect.
If something does manage to happen that damages the wallet, though, you're still covered with a Rugged Material Lifetime Guarantee. It's unexpected at this affordable price point, but you won't hear us complaining about it anytime soon.
The Ridge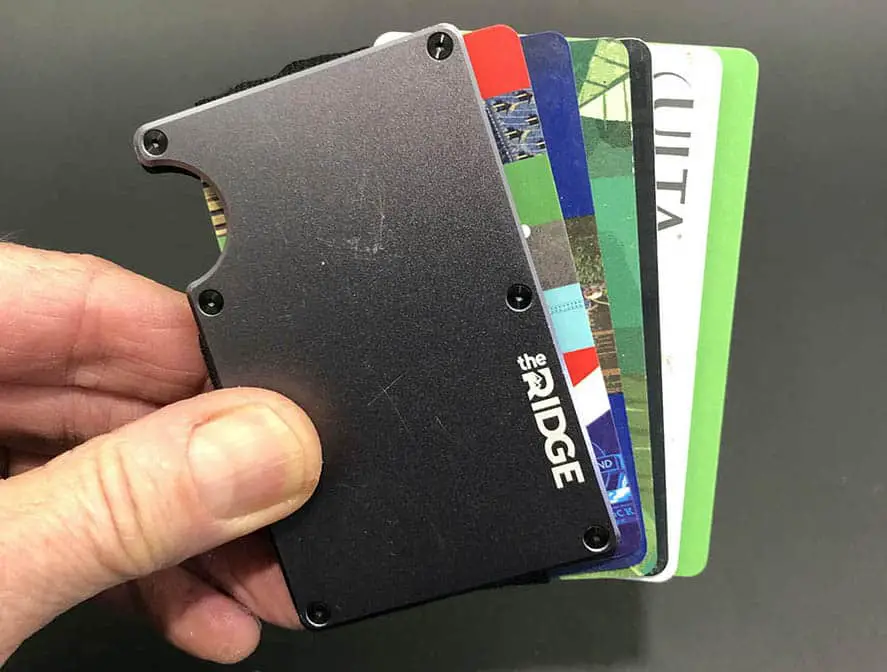 The Ridge is as tough as they come with faceplates made from two layers of metal or carbon fiber secured with 14 screws and bound by elastic.
QUICK FACTS:
Dimensions: 3.4 in x 2.1 in x 0.24 in
Weight: 2 oz (aluminum model)
Materials: aluminum, titanium, or carbon fiber
Capacity: Holds up to 12 cards plus cash
Warranty: Lifetime
Basically the cult classic of the wallet world, the Ridge card holder is almost always one of our top picks. No wallet is entirely indestructible, but this one feels like it comes close. Barring a dynamite explosion or a phaser blast, your most important cards and hard-earned cash are probably not going anywhere soon.
The aluminum, titanium, or carbon fiber body (all 3 are available) is both incredibly sturdy and incredibly handsome to look at. The fit of cards is tight and secure, and the cash strap is impressively resistant to stretching.
In other words, this wallet earns its stellar reputation and high ratings. The secure fit also means access takes a little practice, but it's worth it for the extra peace of mind.
Speaking of cards, you can actually carry plenty in this durable smart wallet. Up to 12 flat cards can be carried at once, so don't worry about leaving anything important behind. In my experience, though, it's MUCH easier to handle with a maximum of 6 – 8 cards.
Read my full review of the Ridge wallet.
Dango M1 Maverick Spec-ops Bifold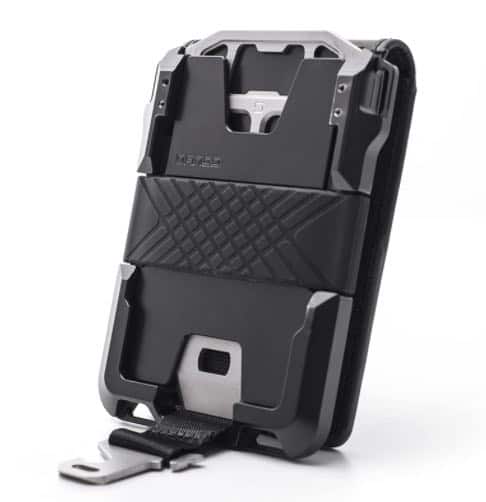 This tactical wallet is designed for anyone who knows that survival is not an option.
QUICK FACTS:
Dimensions: 3 in x 4.25 in
Weight: 5 oz
Materials: Crafted from CNC-machined 6061 aerospace aluminum and top grain leather or DTEX
Capacity: Holds 14-16 cards (less with multitool)
Warranty: Lifetime
Inspired by the military and by hardcore survivalists, the Dango M1 Maverick Spec-Ops is more than a simple card holder. Although, we'll be the first to tell you that it does take its duties as a card holder seriously, too. It features space for around 14 cards and a designated RFID blocking compartment for 6 of them.
With a modern silhouette that makes for an easy front pocket carry, it already does its job better than the majority of wallets out there. This is taken to a whole different level when you factor in the actual tech of the Maverick Spec-Ops. The body is made up of aerospace aluminum and either leather or DTEX, which makes this product close to bulletproof.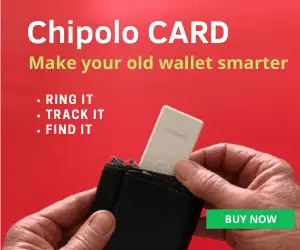 No matter how you mistreat this thing, you'll find it stays durable and resilient. Even more impressive than that? The multitool that comes with it is a serious survivalist tool, functioning as everything from a seat belt cutter to a paracord tensioner to a chisel and more.
Flipside 4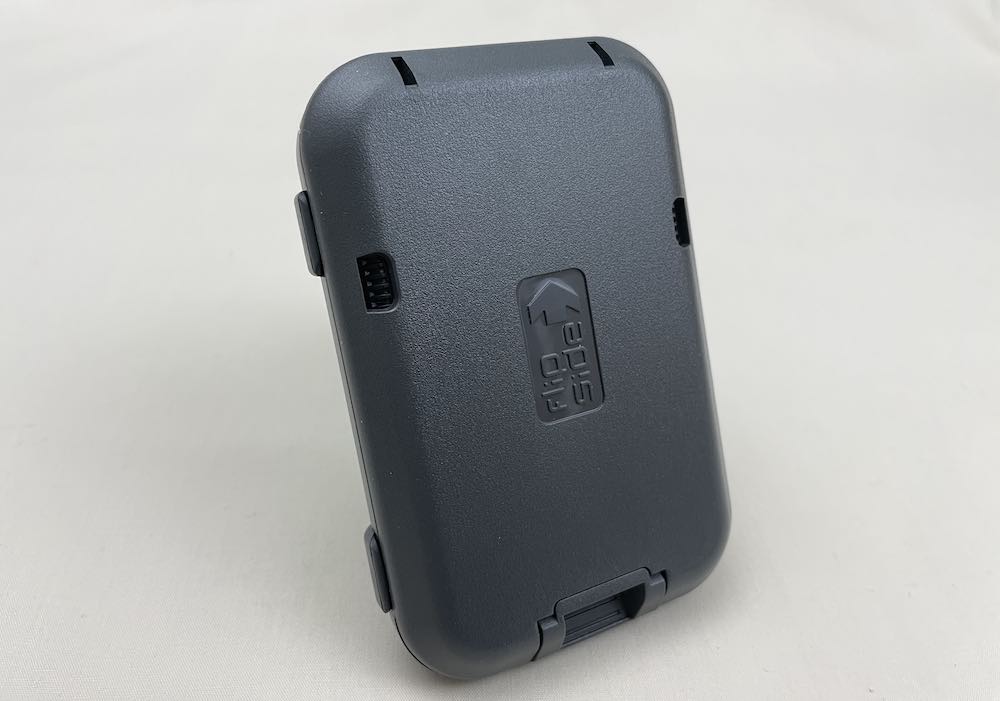 Wallet Specifications:
Dimensions: 4.25 in x 2.75 in x 0.75 in
Weight: 3 oz
Materials: heavy-duty polycarbonbate and aircraft-grade aluminum 
Capacity: up to 8 cards
Warranty: 2 years
Have you ever thought to yourself that it would be handy to have a vault in your pocket? If you're like most of us, the answer is probably not, but your answer might change after looking at the Flipside 4. This product is a very different kind of rugged smart wallet.
Instead of being comprised of carbon fiber, metal, or some other similar material, it is actually made with a heavy-duty polycarbonate that protects cards from bending, breaking, or cracking. Thanks to this, it is crush-resistant, water-resistant, scratch-resistant, and generally just infinitely safer than the traditional leather wallets that might come to mind. Inside this tough shell, you'll find enough space to hold a few cards or a few bills.
It's not the most spacious option around, but it's plenty for the ultra-minimalist among us and it quickly allows you to find what you. Just give the push button a quick tap and intuitively flip through the loaded cash and cards. Straightforward, durable, and unique, the Flipside 4 is a top hit for sure.
Armour Supply Minimalist Wallet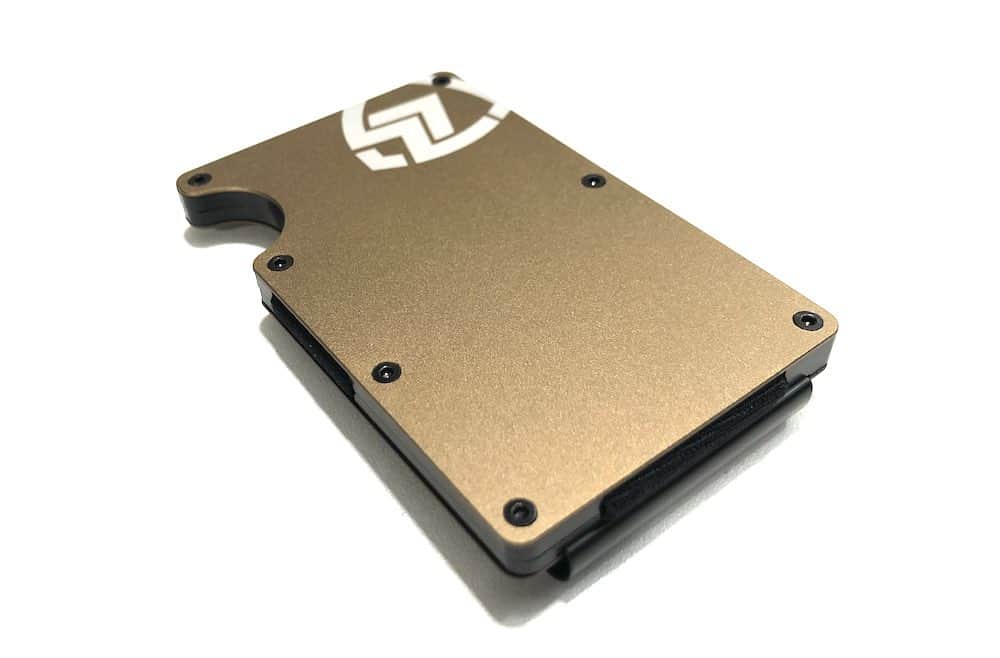 QUICK FACTS:
Dimensions: 3.4 in x 2.1in x 0.2 in
Weight: 2 oz
Capacity: 12 cards plus 5 folded bills
Materials: carbon fiber, titanium, bamboo wood, and more
Warranty: Lifetime
Do you really like the Ridge card holder but want something slightly less expensive? This wallet from Armour Supply Minimalist might be just the right alternative for you. The shape, size, and general style are very similar. Cards are still held together between two metal plates, cash is held with a strong money band or clip, and RFID blocking is a similar focus.
The Armour wallet even shares a very similar lifetime guarantee and body composition that makes it hard to distinguish from its competitor. All in all, both wallets are top-tier products and practically indestructible – meaning you can't lose no matter which you choose.
All that said, the Armour wallet does manage to edge out the competition on a couple of levels. The first already previously mentioned: price. It maintains a similar quality and construction, while still being the more affordable option. The second is that it comes with an included multitool and a separate key organizer. It isn't anything particularly fancy, but it gets the job done and provides even more bang for your buck.
Ogon Big Stockholm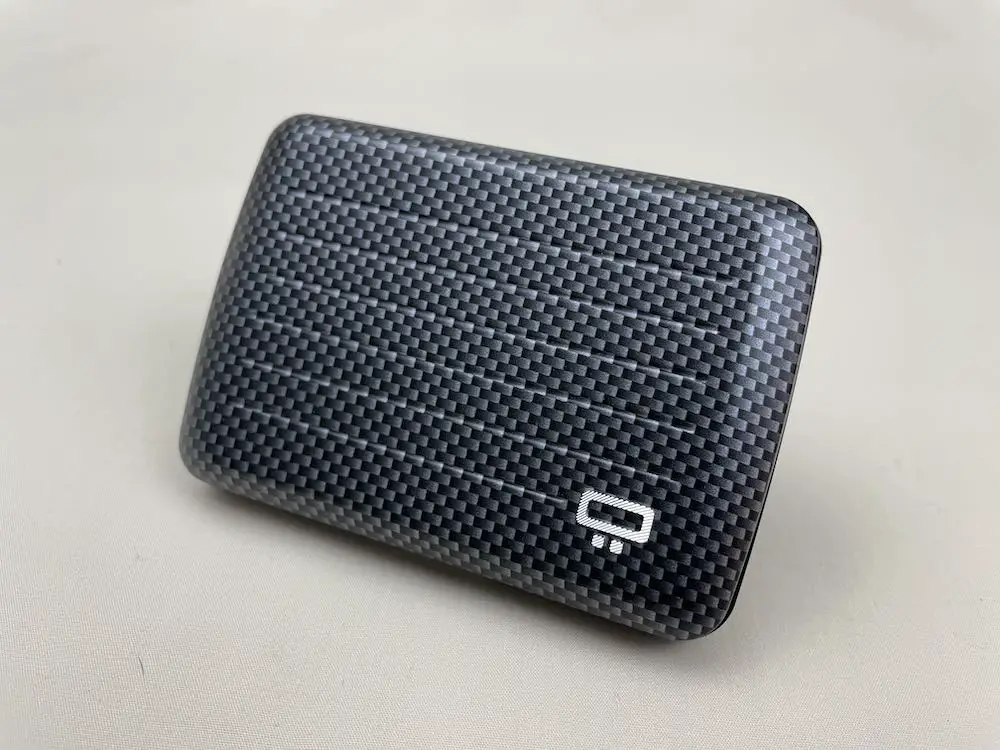 QUICK FACTS:
Dimensions: 4.33 in x 2.91 in x 0.83 in
Weight: 3.35 oz
Materials: aluminum body with vegan leather options available
Capacity: carries from 10 to 12 cards plus cash or receipts
Warranty: 2 years
While many rugged, durable wallets these days are of the "metal sandwich" variety, the Ogon Big Stockholm is a clamshell-type design. Much like the Flipside 4, it's more reminiscent of a pocket-sized case than an actual wallet. 
Featuring a spacious aluminum compartment, snap closure, and seven organizational pockets, it can carry all the cards and cash you need with even more room to grow. If you're a receipt junkie, you're going to love this option.
Protection-wise, Ogon has obviously put a lot of time and attention to detail into this wallet. The aluminum not only looks slick but also stands up to one hell of a beating. No denting or bending here!
Normal everyday use shouldn't even come close to seriously harming it, although a couple owners commented that it is not exactly scratch-proof. So, do be on the lookout for that. Even with this slight flaw, the Big Stockholm is an excellent offering that will keep you happy and your money safe. 
Frequently Asked Questions
How can I make my wallet last longer?
Leather wallet: Carry it in your front pocket (never sit on it). Don't overstuff it. Keep it clean with a damp cloth. If it gets too wet, dry it in the shade at room temperature. Metal wallet: Don't sit on it. Keep it dry and dust-free. Prevent scratches by carrying it in a pocket without keys or coins. Keep screws tightened.
How long should a good wallet last?
Quality leather and metal wallets should last decades if you take care of them properly. If you purchase one with a lifetime warranty, you'll have the best chance of fixing it along the way if something does go wrong. Examples of quality wallets with a lifetime warranty include:
Ridge
,
Dango
, and
Armour Supply
.