There is something about cold metal and rugged leather that just drives men wild. Go figure. Create a minimalist design with both metal and leather built into the same credit card holder wallet and you have something worth fighting for.
All of these wallet are made from a combination of leather and metal. They have the strength of metal, but are softened with the addition of high-quality leather. The two materials together create a uniquely functional wallet and an aesthetically interesting carry.
In this post, I describe 5 card holder wallets made from leather and metal with enough panache for your daily grind but still utilitarian enough for a weekend march through the mountains. They run the gamut from smooth and refined to edgy and tactical. Your front pocket is in for a treat. So let's get started.
Here's what I cover in this article.
| | | | | | |
| --- | --- | --- | --- | --- | --- |
| | | | | | |
| | | | | | |
| | | | | | |
| | | | | | |
| | | | | | |
| | | | | | |
| | | | | | |
| | | | | | |
| | | | | | |
| | | | | | |
Best overall: Ekster Senate Wallet
This is my top pick. Fine leather and shrewd engineering make this aluminum and leather wallet one of the best of its kind.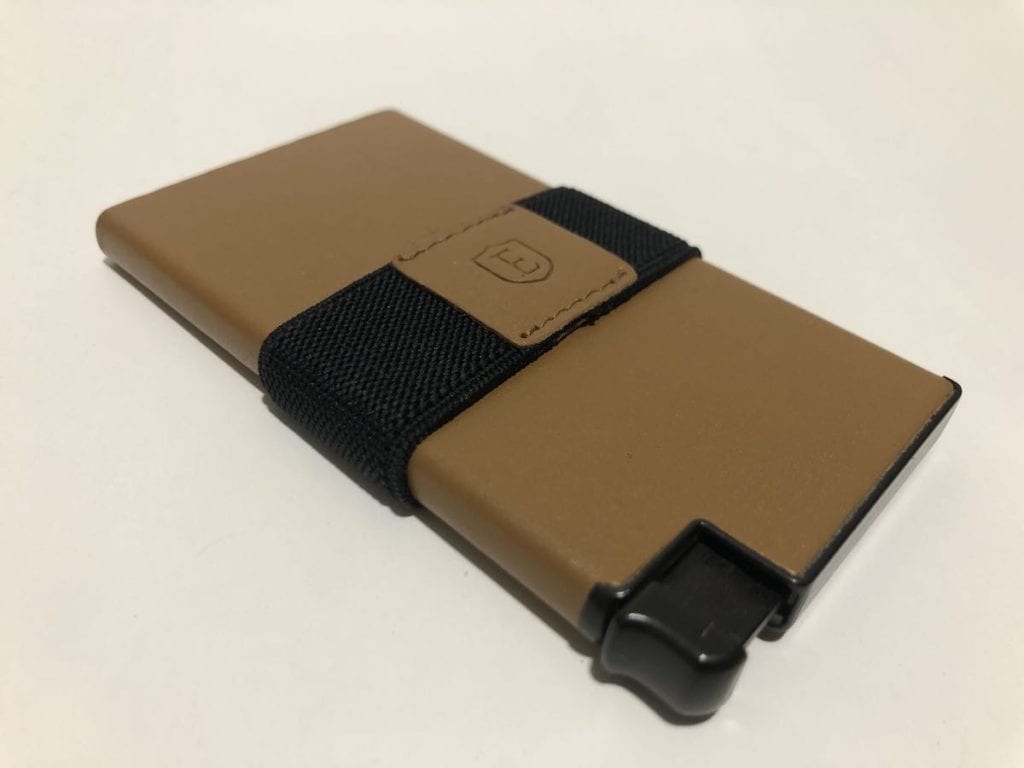 An aluminum case holds up to 6 cards that you eject into a staggered fan with the push of a button.
Leather has a beautiful two-tone finish with careful stitching
Smooth top-grain leather
The first Ekster trackable wallet was launched in 2016 after obtaining crowdfunding on Kickstarter. Three years later, they released the current Ekster Senate 3.0 wallet with a solar tracking card.
Ekster uses premium leather made from the hide of bulls and provides a two-toned finish. You can hold up to 6 cards with RFID protection and 2 in the back pocket.
This Ekster Senate is slim with a unique card ejection trigger. Push the button at the bottom corner and up to 6 of your cards will pop up into a staggered fan. Remove the card you want, then reinsert it and push all the card back in when you're done. So easy, a caveman could do it. 
You can also purchase the optional Ester solar-powered tracking card that will make your wallet impossible to lose. The newest version of the wallet tracker is powered by Chipolo. Download the Chipolo app and connect it to your smartphone with Bluetooth. If you misplace your wallet, you can use the Chipolo app to ring it. It works even if your phone is on silent.
I particularly like the way it rides comfortably next to my iPhone in my front pocket.
Best value: Fidelo Hybrid
This hybrid wallet lets you go strictly minimal with just the card holder or dress things up and increase capacity with a leather case and money strap.
Fidelo Hybrid
Ditch the bulky wallet - Our pop up wallets for men aluminum clip holds up to 7 cards & 10 bills. Compact wallet is 1.7oz / 4.3x2.6x0.32in. Case holds up to 2 cards & 15 bills / 0.8 oz / 4.3x2.9x0.5in
The Fidelo Hybrid is an RFID blocking aluminum card holder that comes with a quick eject trigger, genuine leather, a removable case, and carbon fiber money clips
It has a 3 piece design: the aluminum RFID protecting cardholder, full-grain crazy horse leather case, and bonus money clip bands.
You can store up to 7 cards, 5 inside the RFID-blocking aluminum case, and two at the back without RFID protection. Use the trigger to eject and fan out cards. The money band can hold up to 10 bills. The Fidelo Hybrid is compact, sleek, and perfect for budding or committed minimalists.
If you only need a card holder, the aluminum case alone might be enough. Team it up with the leather case for extra cards and cash. It's sleek and stylish design will make it the perfect gift for your loved ones. Fidelo provides a money-back guarantee for a year.
Best tactical: Trayvax Element
This is a bona-fide tactical wallet that will hold up 10 cards and open a beer at the same time.
A rugged tactical wallet with a stainless steel frame.
Has a bottle opener, inside money clip, and oil-tanned leather.
The Trayvax Element is a tactical leather metal wallet with a rugged stainless-steel frame and top-grain oil-tanned leather. It's lightweight and has a good quality build.
It can hold 3-10 cards and 1-5 bills which is ideal for minimalists. Initially, the card compartments may be tight and your cards may not slide in or come out smoothly. However, Trayvax has suggested soaking your leather wallet in water to help expand the leather.
I like the fact that the money clip is inside the main compartment and not exposed to prying eyes. The bottle opener and the carabiner loops are a great utility feature that comes with the wallet. 
Some owners say that the metal edges can dig into your legs. But it's a guy's wallet, you know? We're willing to trade all this tactical coolness for a smidgeon of discomfort. All-in-all, this wallet receives almost unanimous 5-star reviews from owners. Trayvax is pretty happy with their wallet, too, so they provide a lifetime heirloom warranty for this product.
Best materials: Dango D02 Dapper 2
Made in the USA from nickel-plated aluminum with a super slim profile.
Dango D02 Dapper 2
Holds up to 12 cards and cash, integrated silicone cash strap.
Single pocket design, ultra slim, 4.4"w x 2.6"h x 0.4" thickness, weighs only 2.5oz. Hand polished and nickel plated chassis/backplate.
The Dango D02 Dapper 2 is handcrafted and made in the USA. It comes with top grain leather secured to the Dango Wallet chassis with mil-spec bolts. The wallet comes with a nickel-plated aluminum frame.
A lot of effort and craftsmanship has gone into making a D02 Dapper 2 as each one is polished by hand. The end result is a perfectly crafted robust metal and leather wallet.
The D02 Dapper wallet is capable of holding up to 12 cards and has RFID blocking features that will keep your card information safe. The wallet is pretty slim and pocket-friendly, so it's perfect for anyone who wants a compact, stylish wallet to carry their cards and cash. 
The Dapper comes in three colors, Jet Black, Whiskey Brown, and Rawhide. It is also compatible with an MT02 multi-tool that's sold separately.
Best leather: Secrid Slim Wallet
An aluminum pop-up card holder and European full-grain leather makes this a luxurious front pocket EDC.
Secrid Slim
Men's Wallet Vintage Chocolate Leather With Chocolate Card Protecter
The Secrid slim wallet. Special design credit card holder made from aluminium and leather. With a click all cards slide out gradually. The cards will not fall out
Secrid began the revolutionary trend of pop up card wallets, which others, like Fidelo and Ekster, have followed. The Secrid Original Cardprotector wallet is where it all began. 
The Secrid Slim can store up to 6 cards (or closer to 4 if your cards are embossed with raised numbers). It also has a plastic cash slot where you can fold your bills handily in thirds. It is made with European full-grain leather that's fused to the solid aluminum card holder box. You can choose between 10 leather types.
The Secrid Slim is made in Holland. It is perfect for a front pocket wallet. The company claims that you can put it in your back pocket as well. To each his own. The cards are held in place due to the friction and won't fall out even if you shake it.
For me, I've found that the ejection lever always sticks open after I eject my cards. I have to pull out all of the cards about a millimeter for it to snape back into place. Kind of annoying. However, a strong majority of owners simply LOVE this wallet.
Secrid ups their 2-year warranty to 3 years if you register on their website using the serial number provided on the box.
LEARN MORE: Hey, if you're more into the metal than leather, I wrote another post about all metal wallets here. So many wallets, so little time.