In this post, I'll tell you about the best innovative wallets you can buy for men in 2020. But first, a real quick overview.
These new wallets have literally reinvented the tried-and-true "billfold" that humans have carried for millennia.  Not only can some of them help you find a lost wallet, but they can prevent you from losing it in the first place.  
Many have Bluetooth capability that syncs them with your smartphone through a dedicated app. They can protect your credit cards from thieves who want to steal your data with RFID scanners.
Some of the coolest wallets dispense these same cards in a staggered vertical fan for easy retrieval at the flip of a lever. 
Many of them are minimalist in size, barely larger than a credit card. Others are more conventional with supple leather and room to spare, but with all sorts of electronic wizardry inside. 
FATHER'S DAY IS JUNE 19 THIS YEAR.
These are the innovative wallets I review in this post.
Best overall: Ekster Parliament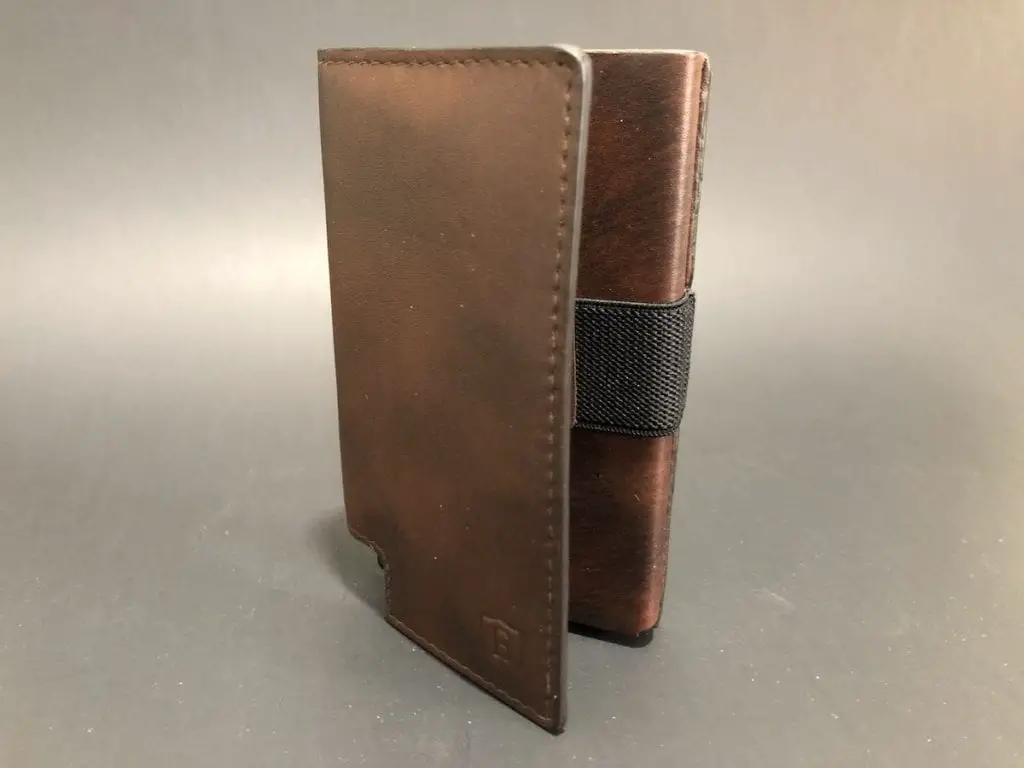 Best overall: Ekster Parliament
This is my top pick for the best savvy wallet in 2021. It's trackable with Ekster solar-powered tracking card.
The Ekster Parliament wallet is one of the thinnest wallets out there, measuring just over one-third of an inch thick. Its core design is very similar to the Secrid Slim wallet with an aluminum housing holds as many as six cards with RFID protection. A button at the bottom of the wallet ejects the cards so you can choose the one you want in a jiffy.
The high-quality leather is tanned under gold-rated Leather Working Group environmental protocols and sourced from bulls, not cows because the resultant leather has fewer imperfections. The longer the Ekster Parliament is worn, the more it will conform to the shape of whatever pocket it is carried in.
Check out my full Ekster Wallet Review here.
The bifold design opens to reveal a money strap that is sized to hold paper bills folded in thirds. Uniquely available to Ekster is a solar-powered tracking card with Chipolo technology that stays charged for 2 months with just a three-hour charge. It has both Bluetooth and crowd GPS which makes your phone practically impossible to lose. It can be voice-activated, too, with either Google Assistant or Amazon Alexa. 
Best pop-up: Secrid Slim Wallet
Secrid Slim
BEST if you want a pop-up style wallet with a HUGE number of colors and designs of leather.
For a man looking for a minimalist front pocket wallet, the Secrid Slim wallet has you covered. It holds 4 – 6 credit cards that slide out in a fan with the flick of a switch for easy retrieval. 
An aluminum housing holds the cards while providing structural stability and RFID protection. It's a beautiful wallet, too, with nearly 50 different colors, designs, and textures of leather to choose from.
The wallet design is a modified trifold, with room for 6 more cards and a handy slot for paper bills and receipts. Yet it all folds up empty to just over half an inch thick and weighs in at a mere 2.5 ounces. 
It's not quite as smart as some other wallets on the list, mainly because it lacks a way to communicate with your smartphone. But that can be remedied with an off-the-shelf tracking card such as the Tile Slim or Chipolo CARD.
Both of these cards are as super thin and either will fit comfortably into one the extra card slots in the Secrid Slim. 
Best traditional: Bellroy Note Sleeve
Best traditional: Bellroy Note Sleeve
BEST if you want a thin wallet that has RFID-blocking technology.
The Bellroy https://www.walletsurfer.com/recommends/belllroy-note-sleeve/Note Sleeve is probably the most conventional wallet on the list with storage for flat bills and even a hidden coin pocket that can also be used for business cards.
It holds from 4 to 11 cards, all RFID protected, with a pull tab for less used cards. It measures 3.5" x 4", which kicks it out of the minimalist category, yet it feels slim in your pocket.
The leather is premium tanned leather made under gold-rated Leather Working Group environmental protocols and died to eight available colors. The woven linings used inside are both durable and lightweight. It feels good in your hand and in your pocket.
Unusual in the wallet world is a generous 3-year warranty that covers defects in workmanship and materials. This is a wallet for someone who wants to carry a stylish, well-constructed wallet with supple leather and RFID protection but without the high tech bells and whistles.
A Designers Edition is available as an upgrade that features the distinctive feel of specialty leather tanned with progressive techniques that develop additional complexity in finish and texture. Bellroy also makes a wallet called Hide and Seek that has a hidden compartment.
Best minimalist: Ridge Cardholder Wallet
The Ridge
BEST if you want a super small minimalist wallet that won't bend your cards and fits like a dream in your front pocket
The Ridge card holder wallet is the most minimalist and slim wallet on this list by far. Only the size of a credit card, it measures just 3.4″ x 2.3″. It's so small, in fact, that it fits across the width of a typical man's hand with room to spare.
You can call it a model of simplicity, too, designed to hold up to 12 cards in a sort of credit card sandwich. A stout elastic band connects to two rigid plates that squeeze the cards tightly between them.
The plates are either made from aluminum, titanium, or light-but-strong carbon fiber. They not only protect your cards from bending, but isolate them from the potential hazards of RFID skimming.
To remove the cards, the Ridge wallet comes with a C-shaped notch on one side. Push the cards out about a half-inch with your finger or thumb.
Then pinch the side of the wallet with the thumb notch and voila! The cards will flare out so you can choose the one you want. Most owners find it easiest to put their most often used card in front.
For cash, receipts, or the occasional business card, the Ridge either comes with a money clip or money strap that neatly holds bills folded over twice. As a bonus, it's one of the few wallets that have a lifetime warranty.
Best tactical: Dango D01 Dapper EDC Wallet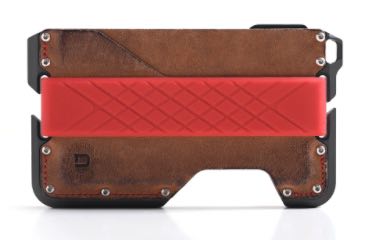 Best tactical: D01 Dapper EDC Wallet
BEST if you want a tactical made from leather and metal that also holds a handy multi-tool.
The Dango D01 Dapper EDC wallet looks like a leather smith and a metallurgist had a love child. It is an undeniable men's wallet with tiny exposed bolts that attach the leather to one side of an aluminum chassis.
You can place up to 4 cards in a slot under the leather on one side. Another 8 fits into an RFID-protected slot inside the aluminum frame on the opposite side. A silicon band on the outside holds currency or that reminder card for your next dentist appointment.
The Dapper wallet has a curious combination of style and function with an engineered metallic vibe. It even has an integrated bottle opener!
It's a slim wallet, just 3/8″ thick, so it will easily fit in any front pocket. Notches on both sides allow you to both push and pull your cards at the same time to remove them.
It ships in a metallic box with instructions for loading it with cards. There is also an enclosed lanyard if that's your thing. You might also look at the bifold version of this wallet with more capacity and a slightly more "cityfied" look.
Best lightweight construction: I-CLIP Cardholder Wallet
The I-Clip wallet is a deceptively simple design that has a way of catching you off guard. For starters, the frame of the wallet and the money clip are made from one piece of a high-performance plastic composite. Yes, I said plastic.
There is no mechanism to break, no screws to tighten, and no elastic to wear out. It looks like brushed aluminum but weighs in at just 0.5 ounces. It's so light that it practically floats.
I have been carrying this wallet for almost a month and I like it a little more every day. Designed and made in Germany, the I-CLIP smart wallet is a minimalist's dream.
Read my full review of the I-CLIP smart wallet here.
It holds up to 12 cards (though 5 – 8 work better) plus a few bills of cash folded in thirds. Just use your thumb to push out the card you want, then reinsert it in a flash.
It isn't an RFID blocking wallet unless you also buy two RFID shields that are sold separately. Most owners give the I-CLIP a glowing 4 to 5 stars.
Frequently Asked Questions

What is a tech wallet?
A tech wallet is any wallet with technical or design enhancements that go beyond the plain old leather billfold. Some block unauthorized RFID scans or contain a tracking device that makes them difficult to lose. Others have built-in mechanisms that instantly fan out credit cards. Example: Ekster Parliament
What is RFID blocking?
A contactless credit card uses an RFID chip to wirelessly transmit a card's account information to a credit card terminal. Thieves can potentially steal this information so, many new wallets use special materials to block specific wavelengths that RFID chips use to communicate. Example: Ridge card holder
What is a tactical wallet?
A tactical wallet is a card holder that doubles as a tool. It can store a $20 bill or pry a nail from a 2 x 4. The tools are either built-in to the wallet or a separate multi-tool is added. Tactical wallets appeal to outdoor enthusiasts who lean towards a minimalist, self-sufficient lifestyle. Example: Dango D01 Dapper EDC.
LEARN MORE